The latest Intel i5-10600k is a superb processor that comes with excellent hyperthreading capabilities. You will be able to use it for any kind of gaming that too, with increased framerates.
In a hurry, check my #1 CPU Cooler. Or, keep calm and read my take on some of the finest CPU coolers.
Unlike its superior cousin 10900k, this processor isn't that power-hungry. But that doesn't make it devoid of cooling demands.
That said, this processor also doesn't come up with a stock cooler, as it is a K series processor.
So, the question remains about which aftermarket cooler you should buy.
Worry not, fellow gamer!
After hours of research, I gathered some of the best cooling solutions for your system.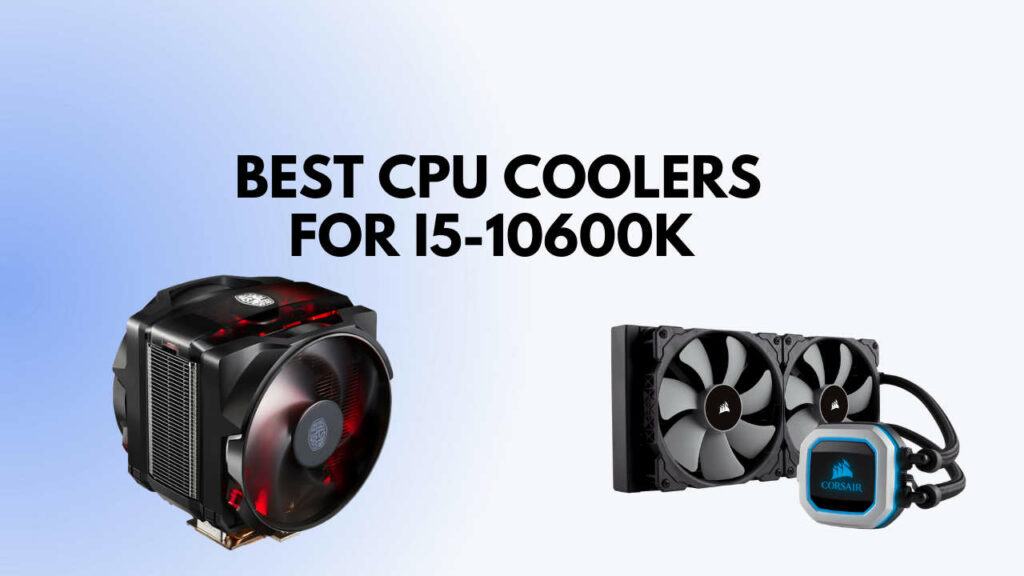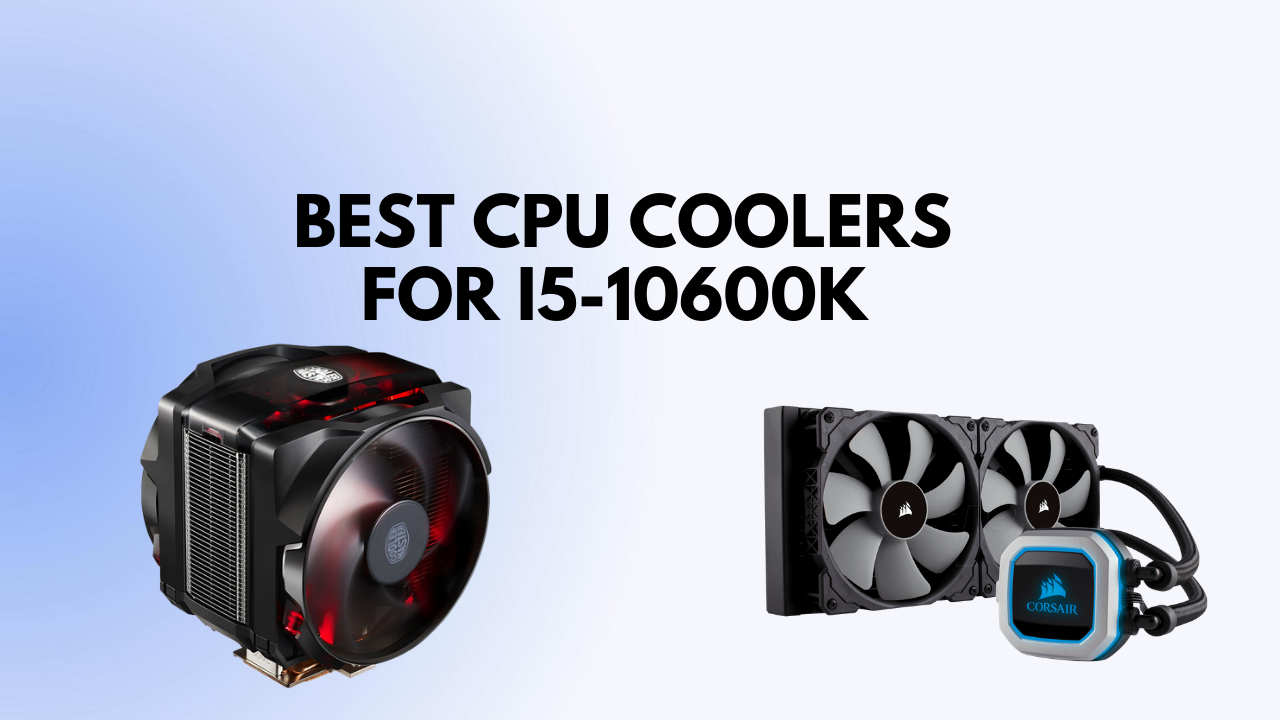 Best 10600k Cooler Reviewed
| Model | Radiator Size | Socket Support |
| --- | --- | --- |
| Corsair H100i RGB Platinum SE | 240 mm | LGA 1200, 1150,1151,1155,1156,1366,2011 |
| NZXT Kraken Z63 | 280 mm | LGA 1151, 1150, 1155, 1156, 1366, 2011, 2011-3, 2066 |
| Noctua NH-D15 Chromax.Black | N/A | LGA 1150, 1151, 1155, 1156, 1200 ,2011, 2066 |
| Coolermaster Hyper 212 RGB | N/A | LGA 2066, 2011-v3, 2011, 1151, 1150, 1156,1155 |
| Noctua NH-U12S | N/A | LGA 1150, 1151, 1155, 1156, 1200, 2011, 2066 |
| upHere N1055CF | N/A | LGA-1151,1150,1155,1156,1366,1200 |
| Deepcool GAMMAXX GT | N/A | LGA-20XX,1366,115X |
The general perception of choosing CPU cooling solutions is that it is a simple task.
But the reality is different.
Not adding the right cooler to your build might heavily affect your system's performance due to thermal throttling, which you need to check thoroughly.
Now, the question might arise about what standards to consider.
Well, it's a tricky process. Performance, budget, thermal outputs, aesthetics, etc., everything matters somehow. Even brand preferences can sometimes save you from buying a mediocre cooler.
Is the process getting too tough?
Umm.. it might be, but that shouldn't be an issue right now.
Like always, I am here to make your job easy. So, let's make it a bit straightforward.
Here are the seven best CPU coolers for i5-10600k:
1. Corsair H100i RGB Platinum SE
Corsair is a big brand in the PC component market. To date, they produced some top-notch cooling solutions.
As my top pick for i5-10600k, I opted for one of their models. It is the Corsair H100i RGB Platinum SE, which is the best option, in my opinion.
This model comes with the following features:
Aluminum-made
Multi-zone RGB pump
Noise Level: 25-36 dBA
Warranty of 5 years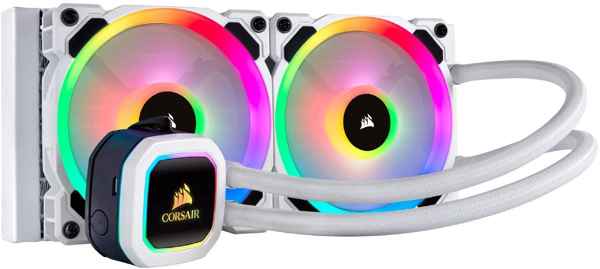 Check Today's Price of Corsair H100i RGB Platinum SE ➜➜
Here in this post, I will discuss the white version that I tested in my rig.
Now, if you forget the white texture, this 10600k cooler looks almost identical to the Corsair H100i Pro. But that doesn't imply that the performance will also be similar.
In fact, I say this CPU cooler is a beast in comparison to the H100i Pro.
It possesses a blocky pump housing, and PWM controls the pump. Also, check out the best CPU Coolers for i9-10900k.
Also, you need to know:
It sports a 240 mm radiator with an extended cooling area.
Now, If I seriously need to label something as the best part, I would go for the 2x ML120 fans. These are magnetic levitation PWM fans designed mainly for top-end cooling.
At least, they were able to prevent any thermal throttle in my rig when I was tweaking. So, I can vouch for their quality.
The base of the pump is smoothish and is with a satin finish.
Talking about the RGB, it's all maintained by the Corsair ICUE software. Like all other components from Corsair, you'll be able to control the lighting for this cooler too.
Besides, this software will allow you to adjust fan speeds and monitor the temps.
I found the installation very simple. Installing the block and the radiator was a straightforward task.
One thing left is cable management.
We all are somewhat worried about the wires getting tangled. Ain't we?
I mean, it's just frustrating when you see cables messed up inside the rig.
Corsair learned their lesson from their previous models and made sure that we won't face any issues related to wires anymore.
By far, this model has the best cable management, and it is so tidy that it prevents airflow interference in the chassis.
After so many good things, I think I should tell you about a few downsides. When the fans were running over 2000 RPM, I felt that they were somewhat noisy.
However, that is tolerable to some extent if you consider the superb specs that this CPU cooler for 10600k offers.
To sum up, this is my best recommendation, and I hope that it would be your topmost priority.
Pros
»

Nice RGB

»

ICUE controls everything

»

Easy to install

»

Excellent Cable management
Cons
»

Fans might get noisy at extreme speeds.

»

Expensive
2. NZXT Kraken Z63
The Kraken Z63 is the most popular CPU cooler from NZXT.
And why wouldn't it be?
This cooler is by far the most stylish cooler introduced by the brand.
This model from NZXT comes with the following specs:
Fan Speed: 500-1800 RPM
Fan Noise: 21-38 dBA
280 mm radiator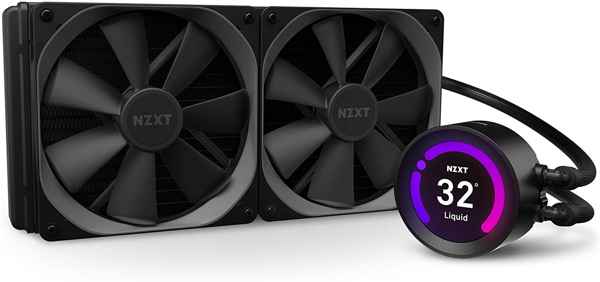 Check Today's Price of NZXT Kraken Z63 ➜➜
At first view, I bet you'll love the ecstatic appeal of the design.
Not just the design, this cooler is also about the high-end performance it offers.
In short, you can call this AIO for 10600k as the combination of beauty and the beast.
The maintenance of the cooler won't bother you a bit, thanks to the closed-loop design. Also, enough headroom is there with the 280 mm radiator.
The fans were excellent, in my opinion. They might not possess RGB elements, yet they do a great job in optimizing the airflow.
The pump used in the model is decent. At least it's way less quiet than the predecessor model.
I think the most awesome part about this cooler is its LCD. It fared pretty well, better than I expected.
Also, the CAM software is like a lifeline for this LCD as through this, I was able to customize it in different patterns.
Moreover, it's a great CPU cooler for i5-10600k. If costs aren't an issue, then do consider this.
Pros
»

Less buggy CAM software

»

The pump is almost noiseless.
Cons
»

No lighting in fans

»

Pricey
If you are thinking to buy one of these first two CPU cooler, you can check out the head-to-head comparison between NZXT Kraken Z63.and Corsair H115i Elite Capellix. It will help to choose the suitable brand depending on choice.
3. Noctua NH-D15 Chromax.Black
When it comes to air coolers, Noctua is the undisputed king.
There are only a few brands that can compete with them in this section.
That said, the Chromax.Black version of the original Noctua NH-D15 is my third recommendation for your Intel i5-10600k.
This model attributes some good specs:
Dual tower design
Six-year warranty
Dual-fan design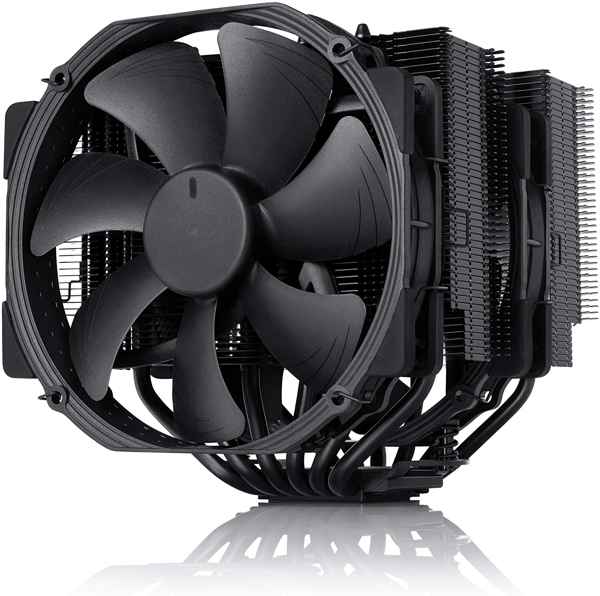 Check Today's Price of Noctua NH-D15 Chromax.Black ➜➜
Before I start, let me say something. If someone tells you that all black coating absorbs heat and affects cooling performance, DON'T LISTEN TO HIM.
Cause there is no sun rising to your PC case to provide those black colors.
In fact, I would say the all-black coating looks absolutely kickass.
If I compare this cooler for 10600k to its original version, there isn't any difference.
The installation process is hassle-free, thanks to the dual tower design.
The only downside that I felt is, no RGB in the fans. Most RGB freaks will hate this fact, I know.
But Noctua had some other plans.
As compensation for this, you can consider its almost silent operations. Also, it comes with the NF140 Chromax Black fan and Noctua fans are some of the best fans you can get right now.
While I tested in my rig at full load, the sound levels were pretty low.
Nonetheless, the Noctua NH-D15 Chromax.Black is a fine air cooler for i5-10600k and is on par with most liquid coolers.
Pros
»

Low noise

»

Simple installation process
Cons
»

Price might seem high.

»

Fans without RGB
Both of our 2nd and 3rd choice is good to serve its job. You can read the detailed review of NZXT Kraken Z63 and Noctua NH-D15 to pick the best one for your PC.
4. Coolermaster Hyper 212 RGB Black Edition
For you, here I bring another air cooling option. This time it is from Coolermaster, their Black Edition of Hyper 212 RGB.
This model comes with the following specs:
Fan speed: 600-2000 RPM
Warranty of 2 years
Noise level: 26 dBA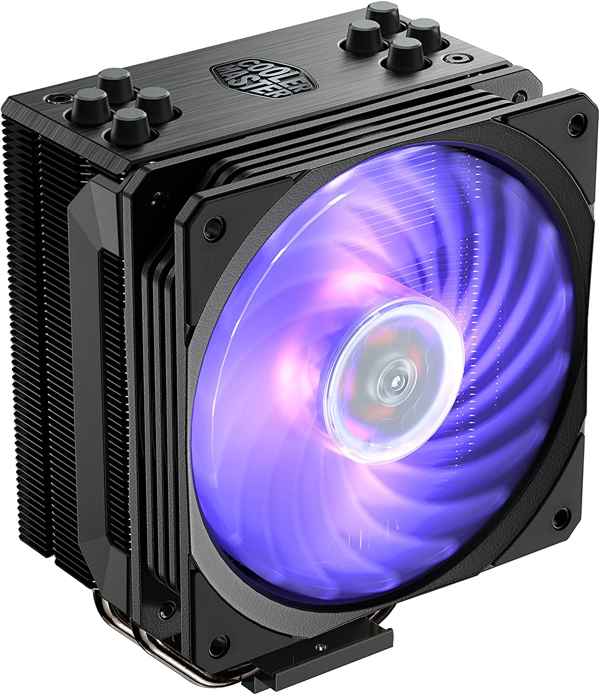 Check Today's Price of Coolermaster Hyper 212 ➜➜
To me, this is the best budget air cooler for the Intel i5-10600k that you will find in the market.
So, if you feel that your budget is short, here you go with the perfect option.
However, with a low price tag, many would feel that this cooler won't give reasonable output.
I think it's completely okay to feel like this. But I can assure you that this air-cooling solution will change your perception.
Maybe it costs less, but with performance, there is no compromise. Also, check out the best CPU Coolers for i7-11700k.
Now coming towards the design, this air cooler looks minimalistic. Dark chrome plating is seen on the heat pipes and the base.
The distinct part about this cooler is its fans. Each of them has RGB elements.
But the difference lies in the number of blades and their sizes. In one of the fans, you will find five larger-sized blades, and in the other, there are nine blades with narrower size.
As for performance, this air cooler does well as a budget option. While testing, my i5-10600k build didn't really face any thermal throttle, and I monitored the temp intensively, while we are gaming.
To sum up, this i5-10600k cooler is a superb option that you can find at a cheap rate. With the unique fan design, the airflow performance it provides is rare to find even on many high-end solutions.
Pros
»

Unique fan design

»

Affordable

»

Much better than its predecessor
Cons
»

Some might find it hard to install
5. Noctua NH-U12S
Not everyone loves to overclock their rig. And for them, I got the perfect option to rely on
The Noctua NH-U12S comes with the following features:
120 mm slim tower design
Anti-vibration pads
Compatible with tall RAMs
Fan noise: 18.6 dBA – 22.4 dBA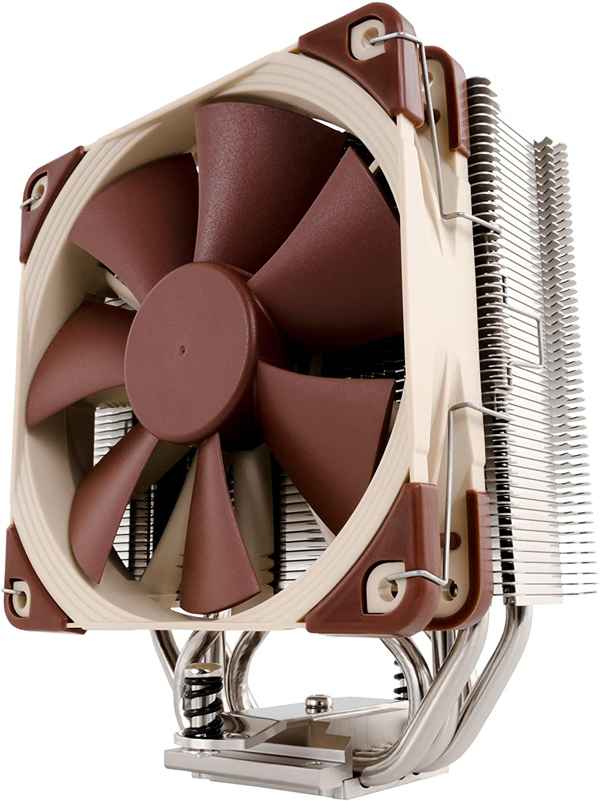 Check Today's Price of Noctua NH-U12S ➜➜
In comparison to the Noctua NH-D15, the NH-U12S is way cheaper. But the low price doesn't make it a less powerful cooling solution.
In fact, I say it is a good solution given its size, and that too with a durable build-up.
The best part about this cooler for i5-10600k is that it is utterly silent. I heard almost nothing when the fan was at full speed. Besides, there is more benefit to this single-tower cooler than a dual-tower cooler, such as RAM clearance.
The whole thing gets better when it is about installation. Compared to other cooling solutions from Noctua, it is way easy to install.
Moreover, with the size and price, I think it's a very well-made cooler.
Pros
»

Affordable

»

Super silent

»

Warranty of 6 years
Cons
»

Doesn't possess a second fan

»

Everyone might not like the beige color
There are people who love using Noctua CPU coolers. If you are one of them, you can check the best Noctua CPU coolers for your PC.
6. upHere N1055CF
Not many air cooling solutions come with a subtle implementation of RGB. In fact, most air coolers don't possess any RGB elements on them.
But this air cooler from upHere isn't one of those.
This model from upHere attributes some excellent specs:
Fan speed: 600 – 1800 RPM
Noise level: 15 – 25 dBA
4-pin PWM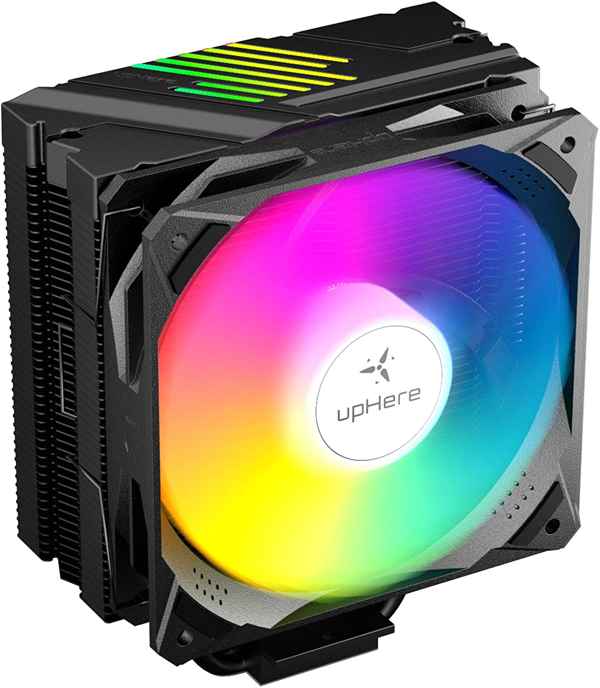 Check Today's Price of upHere N1055CF ➜➜
This SFF air cooler for i5-10600k is perfect for gaming rigs that require smaller space.
So, if you plan to build a mini-ITX build, this might be the right option to buy.
There are many reasons to opt for this cooling solution. As far as I am concerned, I was impressed with the optimum cooling performance taking a limited space in the rig.
Do take notes as not many SFF coolers will be providing you with this sort of output.
The best part was:
It bears a rainbow-like LED spectrum, which will mesmerize any RGB enthusiast. Also, it won't cause any clearance issues with the RAM modules.
Besides, the whisper-quiet performance adds a new dimension to its value proposition.
Pros
»

Whisper Quiet

»

Suitable for compact and small builds

»

Excellent RGB
Cons
»

Don't expect a high-end solution
7. Deepcool GAMMAXX GT BK
Deepcool, as a brand, provides a wide range of components. This model is one heck of an air cooler with RGB's superb touch from their line of cooling solutions.
This model comes with the following specs:
Noise level: 17-29.5 dBA
4-pin RGB port
Fan Speed: 500 -1500 RPM
One year warranty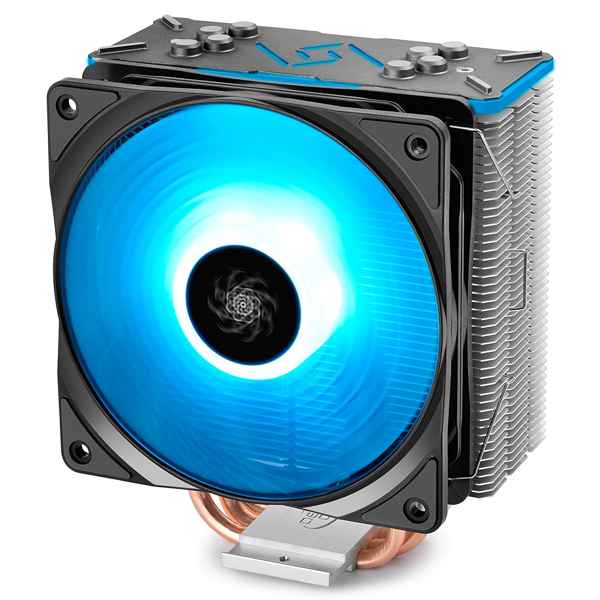 Check Today's Price of Deepcool GAMMAXX GT BK ➜➜
If you are a fan of RGB, I bet you'll love this cooling solution for Intel i5-10600k.
It comes with a simple single-tower design but possesses a gorgeous RGB implementation.
The build quality is devoid of significant issues. When I was installing it in my gaming rig, I found the process easy and straightforward.
The best part is:
This cooler didn't cause any clearance issues with the GPU. This thing was enough to put it into my good books.
However, I think Deepcool should think about the pricing again. The price I paid for this CPU cooler for i5-10600k didn't seem quite reasonable.
It's okay if you got the money, do go for it. But for gamers with some sort of budget constraints, the cooling solution may seem pricey.
Also, one year warranty just doesn't seem enough.
To conclude, this cooler may bear some flaws but still doesn't make it incompetent to other similar options.
If you feel that you like it, then JUST BUY IT!
Pros
»

Excellent RGB

»

Less noisy

»

Easy to put up

»

No clearance issues
Cons
»

The price might not be reasonable to many

»

Short warranty
10600k Cooling Guide
After buying a cooler and then adding it to your system, the job is not done.
You will tweak the system, and squeeze it to the limits, and for this, you need to ensure that your CPU isn't harmed at all by monitoring the temps.
Now, the question is how to ensure proper cooling.
Nothing to worry about as I prepared the all-in-all cooling guide for the Intel i5-10600k.
All you need to do is, go through it properly and implement it in the best possible way.
Here are the tips to cool your Intel i5-10600k:
Be free of mess
No matter what cooler you buy or whatever output you will be giving, if things are there around your rig that obstruct air flowing out of your PC case, it's a severe issue.
I suggest you clear everything out that blocks the exhausts of your rig.
Always prefer tidiness beside your rig.
Keep the fans clean
When layers of dust settle over the fan blades, it ultimately slows the standard fan speed.
If you don't want this to happen, you must clean your fans in an interval of a few months because the slower the fan speed, the worse the level of air circulation your rig will get.
Avoid heat-sensitive area
You must not place your gaming station beside any heat vent or window. External sources of heat will affect the internal cooling performance.
So, it's better you place your PC in a cool place.
FAQ
Question: Does Intel i5-10600k come with a stock cooler?
Answer: No, the intel i5-10600k doesn't come with a stock cooler. You need to buy an aftermarket cooler to get the optimum cooling solution.
Question: What is the best low-profile i5-10600k cooler?
Answer: The Noctua NH-L9a-AM4 Chromax.Black is the best SFF cooler that you can get for your i5-10600k.
Question: Is liquid cooling costlier than air cooling?
Answer: Yes, liquid cooling is a costlier process due to having a higher cooling potential. However, if you are on a tight budget, then air cooling is also an excellent option to go for.
Final Thoughts
So, fellow gamers!
These are my top seven picks for the best cooling solution for the Intel i5-10600k. Among all of these, I included the high-end, budget, and low-profile options for making your job easy.
I love liquid coolers, so my personal recommendation will be Corsair H100i RGB Platinum SE. Though the other options are also reasonable considering various buying needs.
Still, if any issues, do tell me. And other than coolers, if you need anything else, do check our review section.