The CPU is like the brain of your gaming rig. In your build, it's the most powerful entity, and its importance is paramount. So, you need to make sure that your CPU remains healthy and cool.
In a hurry? Check my all-time best air cooler.
Or take some time to read my entire review.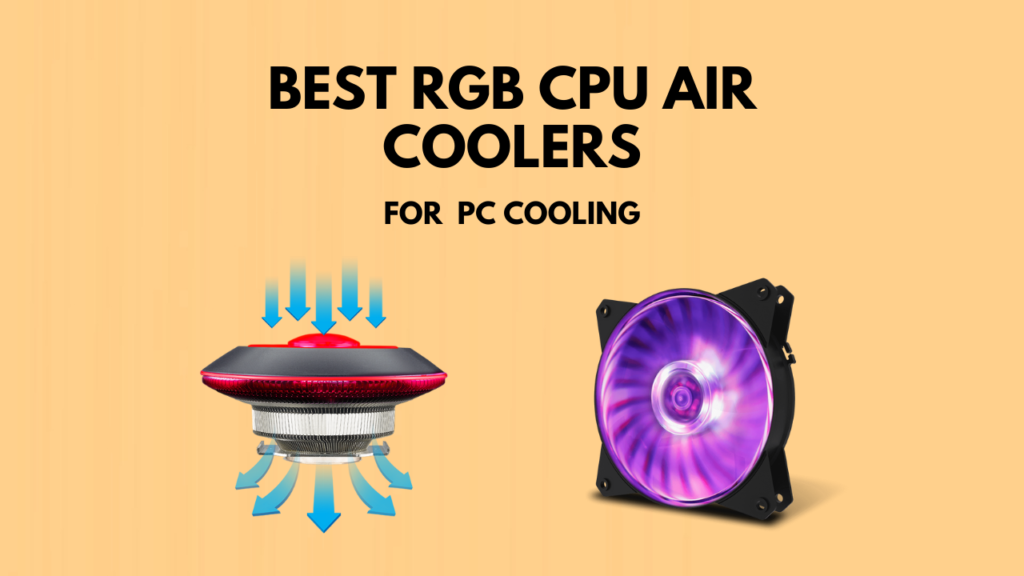 For doing this, what you need is a cooling solution of the best quality. And to be very honest, there are loads of options. You might get lost out here, but there is hope.
That's me, my friend!
I am here to help you out as I will give you a comprehensive list of RGB air coolers that can help you tame down high temps.
Best RGB CPU Air Cooler Reviewed
There is a notion that water coolers are better than air coolers in terms of cooling performance. To some extent, it's true as the water cooling solutions give better output than the air ones. But there are some air coolers, which can prove this point wrong.
You can run games for hours and still get optimal cooling performance through some air coolers. And that is the point of discussion in this blog.
I will be reviewing some of the RGB air coolers, which will not only ensure top-notch cooling but also add some flairs to your gaming rig. Therefore, let's not waste a moment and jump right into the review.
Here are the nine best RGB CPU Air coolers for your gaming rig:
1. Gigabyte Aorus ATC 800 RGB
If I had to name the top three brands for CPU cooling solutions, Gigabyte would surely be grabbing a place. This brand has been offering top-notch PC peripherals for quite a long time. Their cooling solutions are also one of a kind. Now, as an air cooling solution, this model is one of the best under its belt.
This RGB air cooler comes with the following specs:
Noise Level: 18-31 dBA
Fan Speed: 600-2200 RPM
Supports RGB Fusion 2.0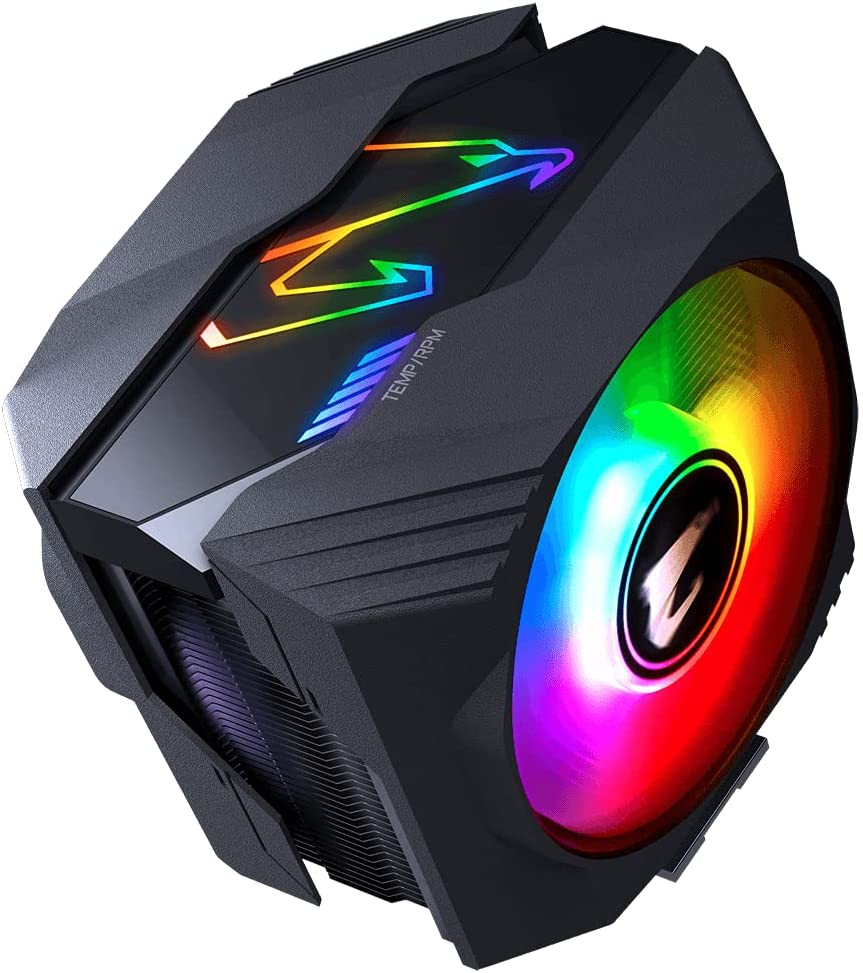 Check Today's Price of Gigabyte Aorus ATC 800 RGB ➜
There is a very good reason why this air cooler made it to my list. Starting from design to performance, everything is incredible. It is compatible with a broad range of CPUs, both from Intel and AMD. That means almost no issues regarding the socket compatibility.
As a cooler, it bears some unique elements. Like the borderless design, it comes with isn't present in most air cooling options. What I liked the most about this processor is that it's designed mainly for multicore processors. Also, the dual-ball bearing structure is something that isn't prevalent in most RGB CPU coolers.
Now, the question is:
What's the secret between such a high-end output from this cooler?
Well, the fans present have a lot to do with this. The blades present are unique in shape, which eventually helps in max airflow.
Another essential feature that makes this cooler edge over others is its smart RPM/temps indicator. When you are testing in your rig, you will see the color changing from blue to red or red to blue. That is when the temps are going up and falling. At lower temps, the light is bluish and red when it's high. And for RPM, the lighting bar indicates the fan speeds.
Isn't the whole feature excellent?
In my opinion, it actually is.
As for taming the temps, this cooler does the job very well. Incredibly while overclocking my rig, I was bewildered by its terrific output. And on top of that, the lighting effects were outstanding.
You will be able to control and customize this lighting with the RGB fusion 2.0 software. The software may come with few issues, but that's a rear scenario. However, the price might seem high. But if you look at its superb build quality and excellent operations, the tag is somewhat justified.
Take a moment and check if it is safe to run a CPU cooler without fan.
2. Coolermaster Masterair MA620M
Most air coolers aren't huge or gigantic. But this model from Coolermaster defies this very idea.
That said, this air cooler sports the following specs:
Dual tower heatsink
Fan Speed: 650-2000 RPM
Noise level: 8-30 dBA
SF 120R fan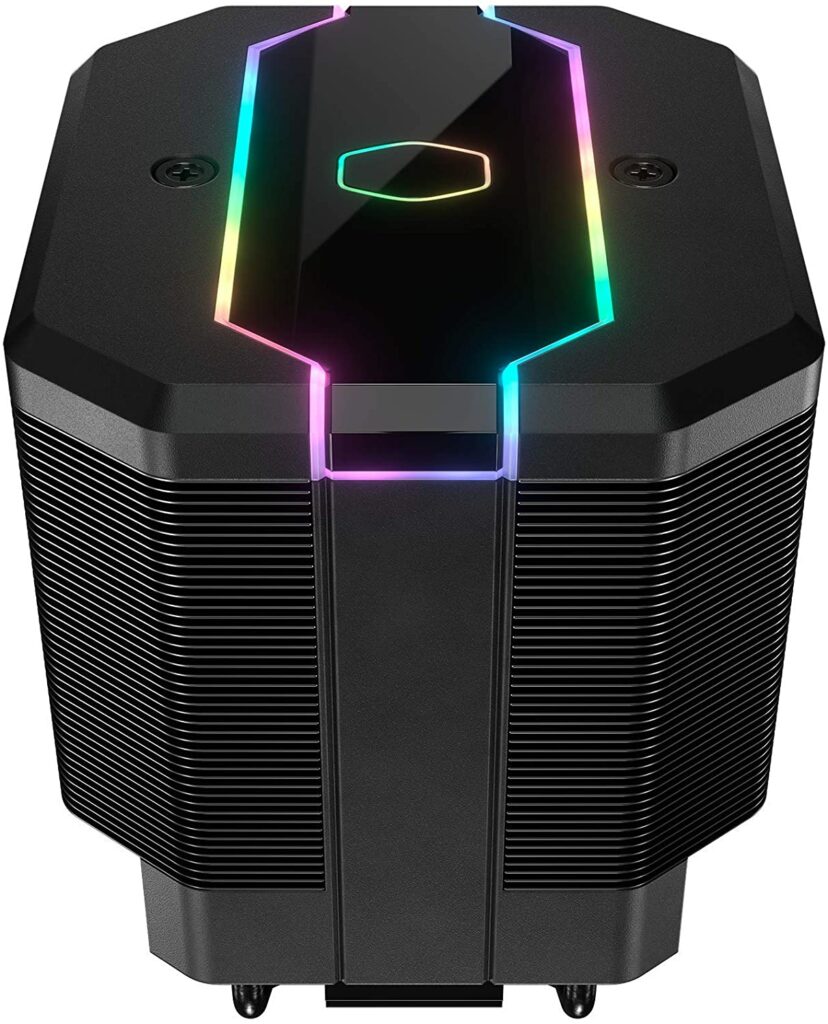 Check Today's Price of Masterair MA620M ➜
The first question that might come to your mind is, why should I buy this cooler.
The answer is pretty simple. It can help to minimize the extreme temps in high-end rigs. But is that enough?
It might be. Although, you can get a lot more from this particular cooling solution.
This model from Coolermaster is pretty big. We don't usually see air coolers of such size. But it is what it is.
Also, check out some best 240mm CPU coolers.
The cooler comes with a considerable height and is also heavy. From every angle, you will find it quite massive.
The clean matte texture all-over looks impressive. And the only fan that isn't visible from the outside runs at a decent speed ensuring smooth airflow. Though at max RPM, it can get a tad noisy, that's tolerable.
About the aesthetics, I already said that the black texturing looks fantastic. Apart from that, there is a sort of bling on the cooler's top with some subtle RGB lighting. There are two fine lines of addressable RGB LEDs, which I found pretty ecstatic. Also, there is an emblem of the Coolermaster logo in between them, which glows like an eye-candy.
The performance is decent enough. It fared pretty well in my Ryzen 3700x build. Also, you'll love it because the installation is painless and hassle-free.
Despite all this superb functionality, what you might not like is the price. But if money isn't an issue, this air cooler is worth a shot.
3. Arctic Freezer 50 TR
If you are looking for a cooler for your AMD threadripper processor, this model from the Arctic can just be the option.
This model attributes the following specs:
Dual-tower design
2x P-fans
Fan Speed: 200-1800 RPM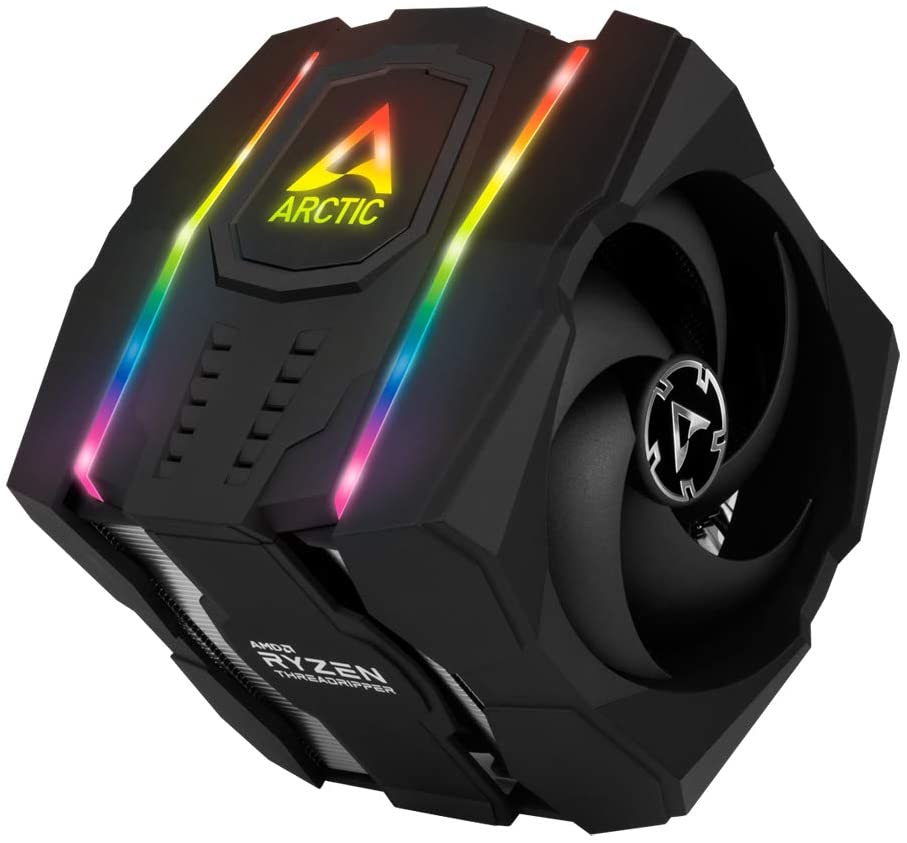 Check Today's Price of Arctic Freezer 50 TR ➜
It is a high-end solution that can precisely cater to your AMD gaming rig. This cooler has a dual-tower design consisting of eight U-shaped heatpipes, which play a big part in the heat dissipation process. These heat pipes are the best thing about this air cooler as it ensures superb efficiency along with top-notch performance.
Now, since it's an RGB cooler, aesthetics is a big factor to watch out for.
The best RGB Graphics card is what you need to make your PC aesthetically pleasing.
In my opinion, the RGB is well implemented and does offer a striking visual experience. It possesses 13 ARGB LEDs, and they glow like none other.
However, this CPU cooler isn't devoid of issues. It can cause you a headache when you will see it isn't providing enough clearance to the RAM modules. The space for memory DIMMs is only 37.5 mm. Also, the fan often gets loud at the time of gaming.
But, if you look at the bigger picture, this cooler can be a handy option. It is something you can get within a budget that offers you a high-end solution.
4. Coolermaster Masterair MA612 Stealth
What comes to your mind when you see the word stealth?
Maybe the jets with some eyegasmic designs. This air cooler exactly has that stealthy vibe in its design.
That said, it comes up with the following specifications:
Fan Speed: 650-1800 RPM
Fan Noise: 8-27 dBA
Six heat pipes
Check Today's Price of Masterair MA612 Stealth ➜
To be honest, the stealthy-like de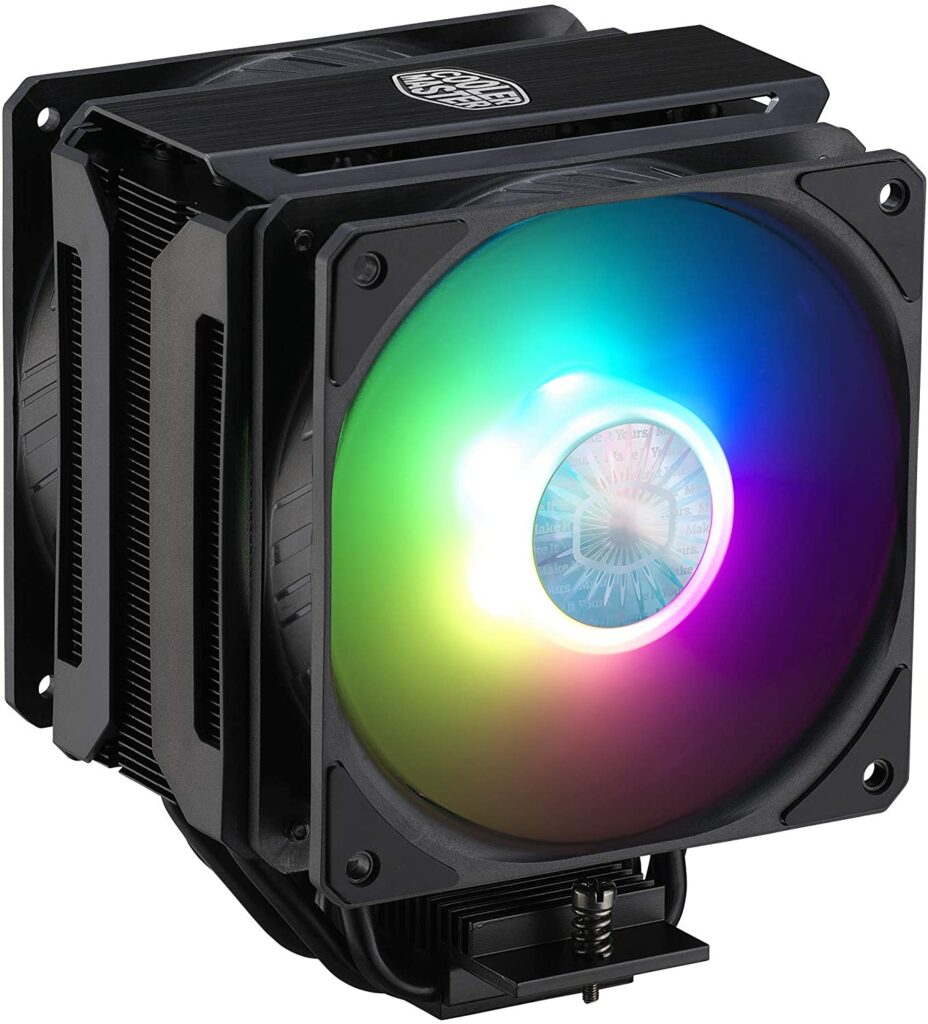 sign looks ridiculously impressive. It is one of the elements that can make you fall in love with this air cooling solution.
The best part about this cooler is that it will give your gaming rig enough RAM clearance, which is mainly possible due to the heatpipe design. Also, the heat pipes present don't block the airflow.
Now, one misconception exists that the coating of this CPU cooler conducts heat. This isn't true as I myself tested this air cooler and found no high temps issues.
In fact, this model from Coolermaster does pretty well when overclocking. The ARGB fans also run vibrantly and glow exquisitely.
Besides, the body is scratch-resistant and highly durable.
Overall, a decent air cooler that you can quickly get for your high-end build.
5. Coolermaster Masterair MA410M
Here I have another air cooler from the Masterair series of Coolermaster. This model comes with the notable specs mentioned below:
Fan Speed: 650-1800 RPM
Fan Noise: 6-31 dBA
2x 120 mm RGB fans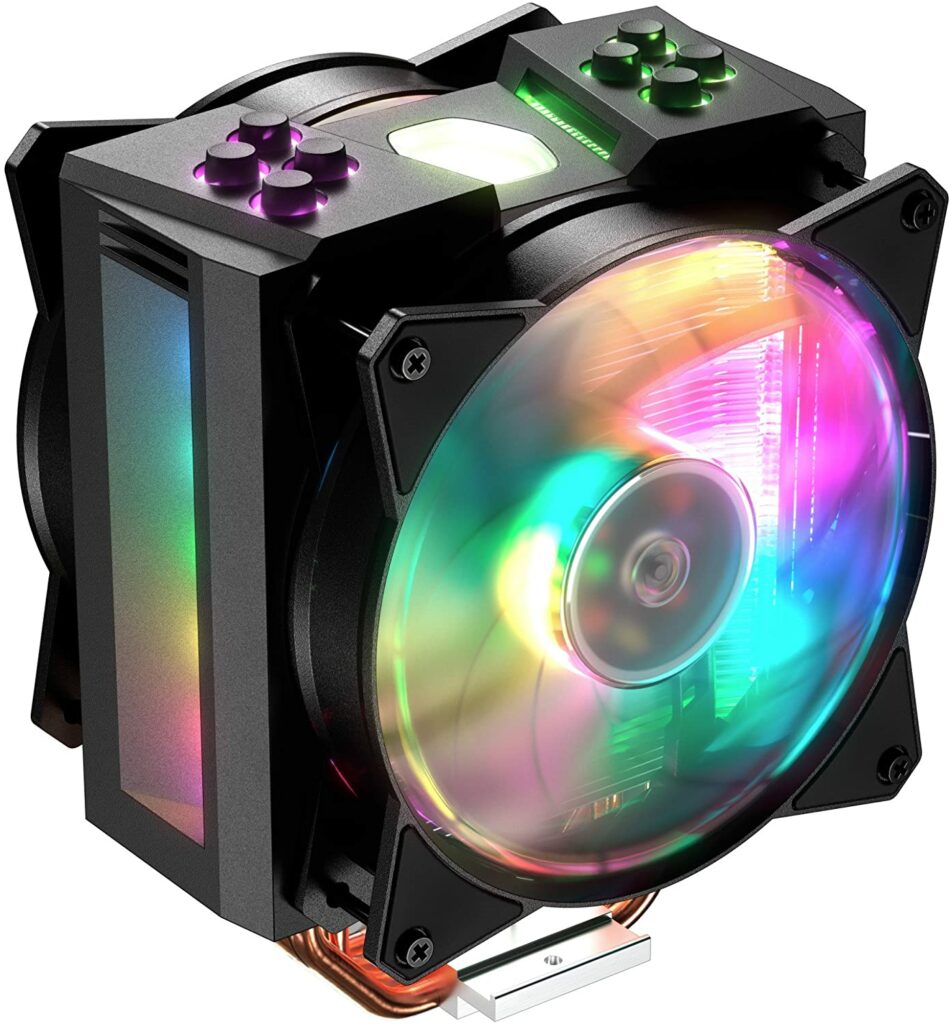 Check Today's Price of Masterair MA410M ➜
If you want a CPU cooler for your gaming build with a short form factor, this is one of the best options you can choose.
This air cooler is mainly for gamers who are aesthetically conscious. It is for those who want their gaming rig to be eye-candy. In this cooler, RGB elements are present on both the shroud and on the fans. Especially on the fans, the glow was terrific when I was testing it in my rig. On the whole, the total design scheme is very appealing.
What this air cooler might not cater to most coolers is a high-end output. It's good as a mid-range option, which is mainly due to its limited functionality. But for controlling extreme temps, my other options above are way better.
However, as I said, you won't find a better-looking air cooler than this. So, it's even-stevens. The noise is relatively low for this cooling solution, which also makes it a good prospect. Although, the price could've been a tad better.
For more cooler master options get a great view at the best cooler master cpu coolers.
6. Deepcool Neptwin RGB
Deepcool is a brand that is primarily known for its coolers. The cooling solutions from them always turn out to be top-notch.
This model from them sports the following specs:
Max noise: 27 dBA
Fan Speed: 500-1500 RPM
Anti-vibration rubber design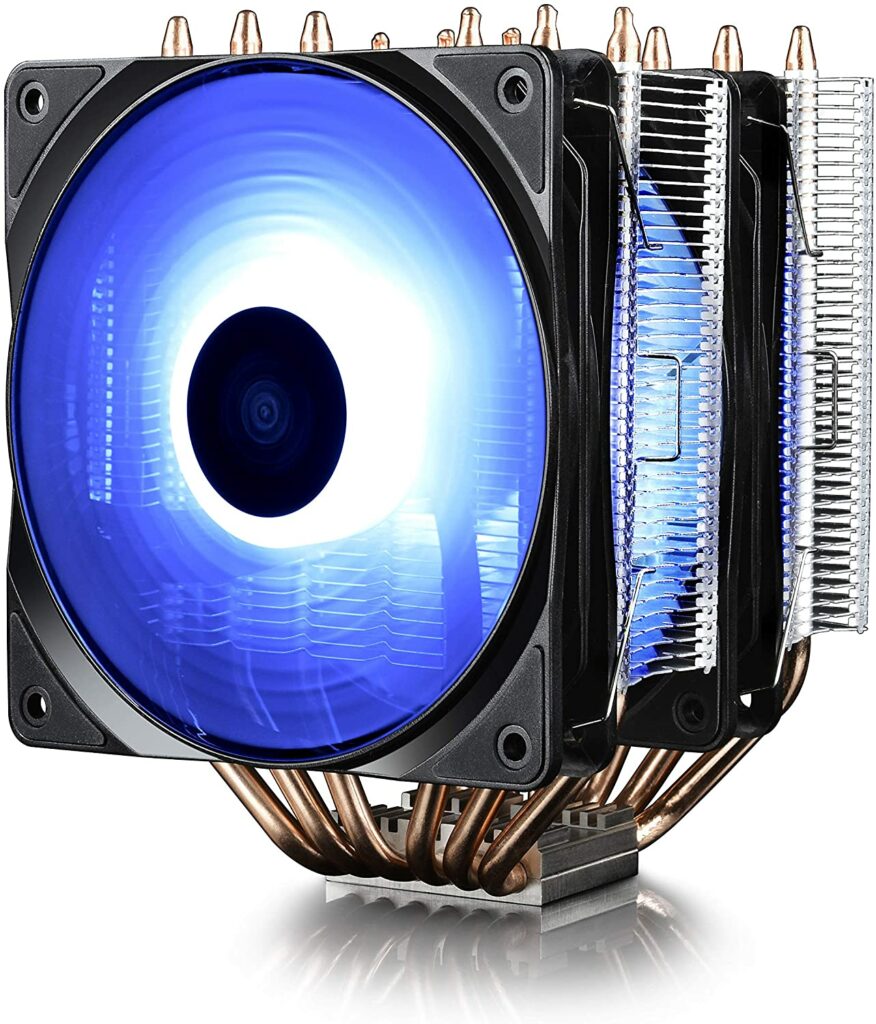 Check Today's Price of Deepcool Neptwin RGB ➜
It is a twin-tower style cooler that comes with a six heat pipe design. These pipes are bent in a U-shape. The total body comes with a beautiful design and finish, which makes it quite attractive.
The fans present are pretty good. They are quiet even under extreme loads and have vibrancy while at full speed. When I was testing it in my Intel 10th Gen build, I found a flawless glow. The reason behind this is the 6 LEDs present in each of the fans, which are of top quality.
About the performance, I would say that if you want to tweak your rig, this cooler can be a good option. My test results were pretty decent in a Ryzen 5800x rig. No significant complaints. But one thing I should warn you about is the time-consuming installation. The short-sized screws given are really a big problem to work with.
Other than this, this air cooler is a good option for adding in a gaming rig.
7. Antec A400 RGB
If you are seeking something affordable, this model from Antec can be the right option for you.
This model comes with the following specs:
Fan Speed: 600-1800 RPM
120 mm fan
Fan lifespan: 50000 hours
Noise level: 20.3-34.5 dBA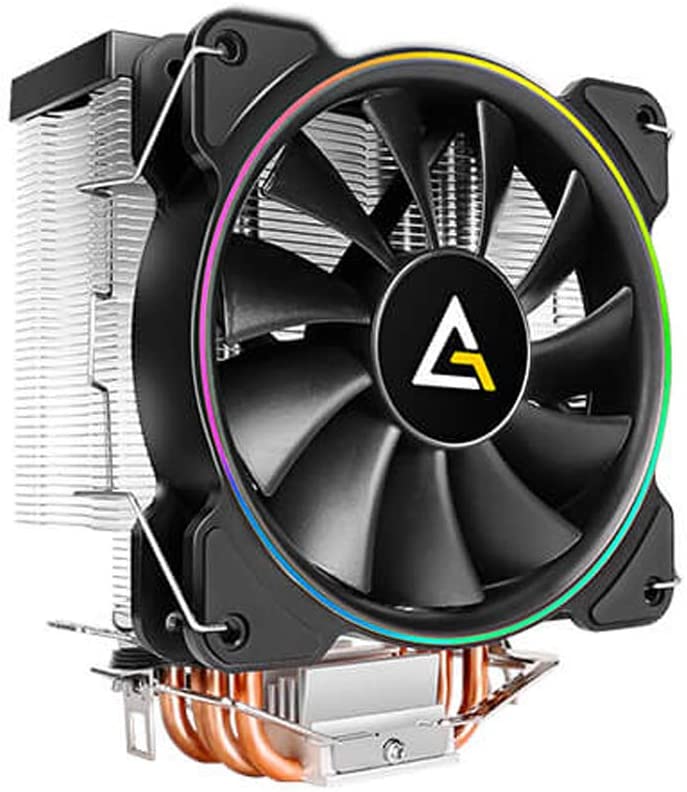 Check Today's Price of Antec A400 RGB ➜
I added this RGB air cooler to my list because it is potent enough to keep rigs under control and still give quiet acoustics. Like, you can't just expect anything better from a budget air cooler. It comes with a durable structure, which in turn makes sense for its 3-year manufacturer warranty.
I won't beat the bush around. So, let's get this thing straight.
You mean performance, Right?
This cooler is designed in such a way that it can give you a top-end solution. It was able to control temps while overclocking in an i9 10th Gen Intel processor. And I think this is enough evidence for the top-tier output.
The RGB looks stunning in the fan when at full speed. It has enough ability to give your rig that striking feature. However, the installation could've been an easy task.
Nonetheless, as an affordable option, it is a lovely prospect.
8. upHere N1055-CF
Both the brand and the model that I will be discussing right now are heavily underrated. That's why I felt, why not give this model a push.
This model from upHere has the following features:
120 mm PWM fan
Fan Speed: 600 – 1800 RPM
Fan Noise: 15-25 dBA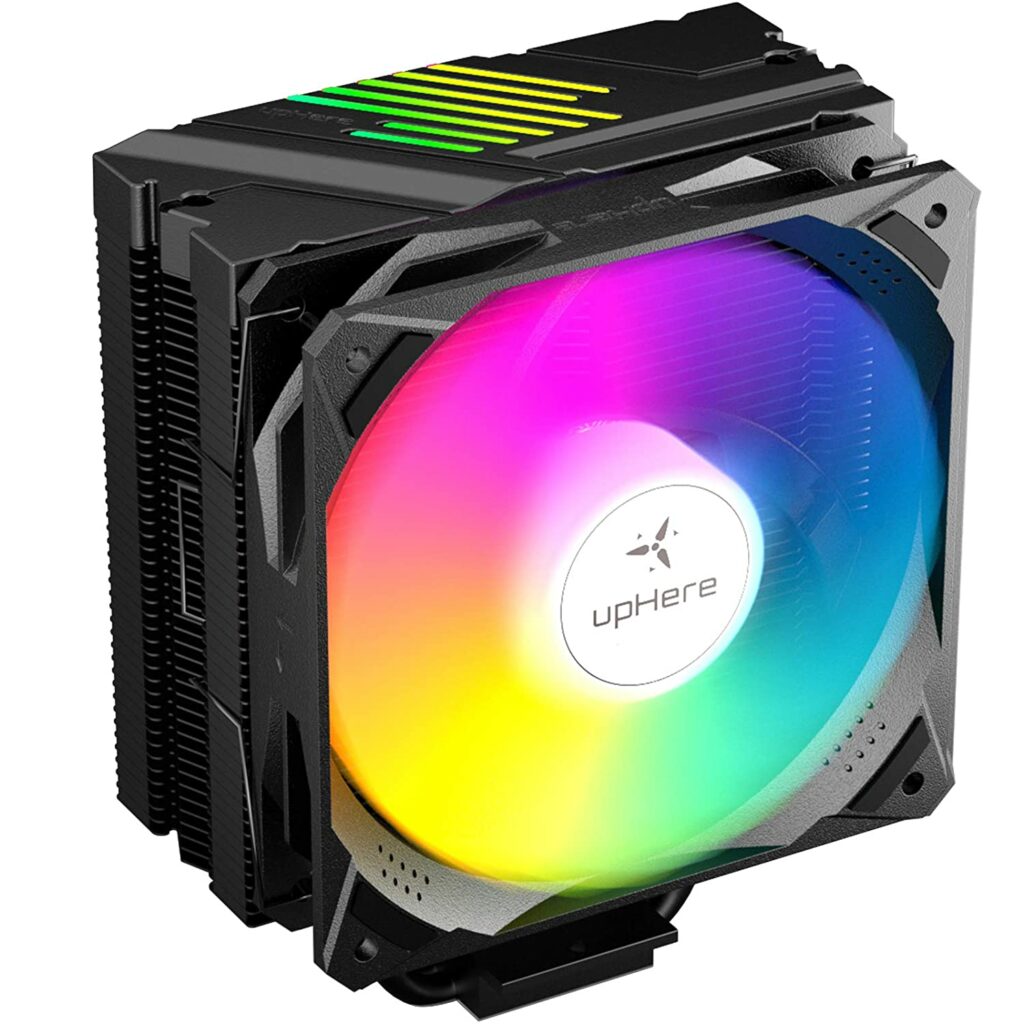 Check Today's Price of upHere N1055-CF ➜
This air cooler has something really realistic to offer. It won't make false promises, but whatever it aims to offer,  it does it ultimately.
To be honest, this cooler looks and feels solid. It has that touch that makes you feel like you've got a gem within a budget. The RGB implementation is gorgeous. Also, performance-wise, it performs too well as a cooler.
The best part is that there isn't any sort of RAM interference. That is, every issue related to clearance is sorted out in this model.
To end up, I will say, for the price you'll pay, it's a pretty good deal.
9. Thermaltake UX100
The last option of this list is from Thermaltake. I think this brand doesn't need any introduction. If you are into building gaming rigs, you must have used components from Thermaltake at least once. Now, this air cooler from this brand is a pretty reasonable option. It comes with the following specs:
15 LEDs
120 mm fan
Fan lifespan: 30000 hours
Universal socket compatibility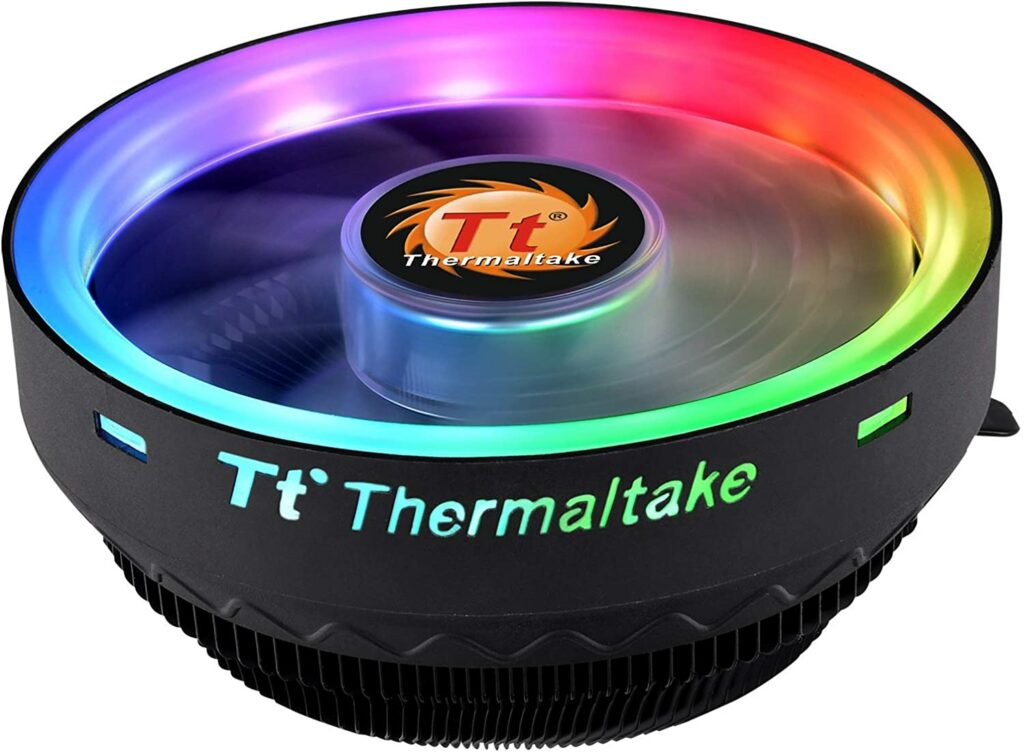 Check Today's Price of Thermaltake UX100 ➜
It's an inexpensive option to buy for your rig. That is why whatever money you will be paying for it would turn out to be a great deal. But one thing you shouldn't try is accommodating this cooler in a high-end build. Because this RGB air cooler is mainly suited to the low-tier or mid-range processors.
That is why trying in a top-end build won't result in anything.
Performance-wise, I would say the output is commendable for an entry-level cooler. The best part is that the noise from the single 120 mm fan is almost inaudible. Besides, the RGB lighting is pretty vivid and is a treat to the eyes.
To sum up, it's the perfect option to replace the stock cooler existing in your build.
If you change your mind on RGB, Noctua fans offers great cooling capability. Check out the best Noctua fans.
Final Thoughts
These are the top RGB air coolers that you can get for your gaming build. Among these nine options, you will indeed find your desired choice. My personal choice is the Gigabyte Aorus ATC800 RGB. Still, if you are confused about anything, do let me know.