Gone were those days when the CPU coolers were only about taming down the temperatures of a gaming rig. Nowadays, most gamers aren't only satisfied with optimum cooling performance. After testing over 167 CPU Coolers, I shortlisted the best ones. Among them, the ASUS ROG Ryujin 360 for overclocking and NZXT Kraken Z63 are considered the overall best CPU Cooler with Screens.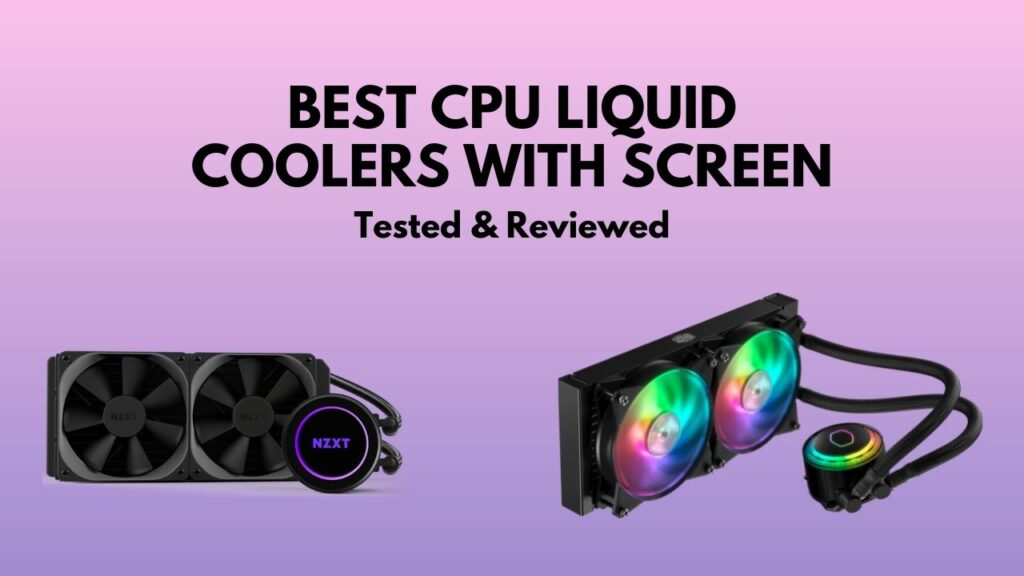 Check out our expert-recommended best low-profile cpu cooler for your chassis.
Best CPU Cooler with Screens Reviewed
We live in a day and age where we are getting a CPU cooling solution with a screen. Sounds awesome…Isn't it?
What's great about this type of CPU cooling solution is that you would be able to view various performance metrics through the screens. Also, the flairs that you will be able to add are worth mentioning.
So, what are we waiting for? Let's get this thing straight.
Here are the five best CPU coolers with screens:
1. NZXT Kraken Z63
In the PC gaming market, you'll find a lot of brands promising a lot of things. But when it comes to delivering the performance, most of them can't meet the expectations. That said, as a brand, NZXT isn't one of them. They have a good reputation in the market, which they have built over the years by offering top-notch gaming components.
This model from them attributes the following features:
Fan Speed: 500-1800 RPM
Noise level: 21-38 dBA
4-pin PWM connector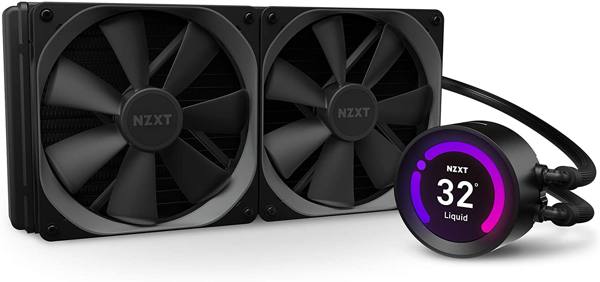 Check Today's Price of NZXT Kraken Z63→
NZXT, as a brand, is well known for the innovation that is pretty much evident in its products. Most of the components under its belt come with excellent aesthetics. The Kraken series of CPU coolers from them is one of the best things to get in the market.
The model here I am reviewing comes with a sleekest-looking radiator with a black texture. Also, it consists of 2x Aer P radiator fans, which move out the heat trapped inside very efficiently.
What I liked about this cooler is that it ensures proper cooling management. Compared to the other ones in the Kraken series like X53 or Z73, efficiency and consistency are much emphasized in this model. Whether it is for gaming, video edit, or HD streams, the heat produced is quickly brought under control through this cooler.
The best part is the CAM software that you can incorporate with this cooler. Though the software can get a bit problematic to handle at times, it's a perfect option to tweak the configurations. The process of altering fan speeds, temps, power management, etc. becomes quite flexible.
Aesthetics-wise, I would say that this model has one of the finest implementations. It looks minimalist yet elegant. In my opinion, it seems better than the Kraken X53. Also, the 2.36" LCD adds a new dimension to the overall styling. Other than viewing the system stats, you can even display gifs.
Now, the installation of this product is relatively easy. It is lightweight, and since it comes with braided sleeves, you will find it easy to maneuver. Also, under loads, the temps don't get beyond 65 C. Therefore, you can be highly assured about the quality performance it is going to deliver.
These are some of the best nzxt aio cooler. Have a quick look at it.
2. MSI MPG Coreliquid K360
The second cooler on my list is from MSI. They are a pretty big name among the gaming community, and this model from them lives up to the expectations.
That said. This liquid cooler sports the following features:
4" LCD
TORX Fan 3.0
Fan speed: Max. 2500 RPM
Noise level: Max. 40 dBA

Check Today's Price of MSI MPG Coreliquid K360
As a liquid cooler, this is one of the finest options that sports a top-quality LCD. It sports an additional VRM fan that you can find under the LCD, which provides enough airflow to the socket area. Not in many AIO's you'll find this option, which eventually gives this cooler a slight edge. That said, this same feature makes this cooler highly suitable for systems that possess lower-tier VRMs and a PC case with inadequate airflow.
The shroud looks pretty decent. It protects the display and creates an integrated look for the cooler by eradicating everything that may give it a bits and pieces type of outlook. Also, it plays a big part in moving the airflow to the RAM and VRM areas.
You'll also love to know that with this cooler, you'll always find sufficient clearance below the socket. The best part is that this trait allows you to use M.2 drives with massive heatsinks with ease. About the radiator, what I have found is that the fins are pretty standard. And the non-dense look makes it look aesthetically quite pleasing.
Now, coming to the lighting, you'll find ten modes of ARGB lighting to give some flair to your build. There is the rainbow effect that you can try out. And also, the bleeding and flashing modes look pretty ecstatic.
The LCD looks nifty, and you can add some extravagant flairs to it without any issues.
Also, check out our expert's recommended best cooler master cpu coolers.
Now let's talk business. Performance is what matters. Right?
What I have found out with this cooler, at the silent mode, the pump spins at a speed of 2000 RPM, and the CPU remains under 65 C. Besides, the temps around VRM also stay under 50 degree Celsius.
The temps have a slight spike at the balanced mode, but I would say it's well under control if you compare it to the extreme mode. However, in extreme mode, it can get a bit noisy. In my i7-10700K build, it went up to 48 dBA. It happened mainly due to ye extra fans, which at times do get noisy. Also, another thing you need to know about this cooler is its cable management, which can get tricky at times.
But what makes this cooler special is its high affordability compared to the other contemporaries. You may feel that you're going to get cheaper models at the same performance level. But trust me, with those models, you're gonna miss out on a lot of features.
You may check out our expert's recommended best water cooling kit for gaming PC.
3. ASUS ROG Ryujin 360
As a PC hardware brand, ASUS doesn't need any introduction. They have been here in the market for a long time and became a symbol of trust for gamers. That said, this version from the ROG Ryujin series is a serious contender if you want to buy a cooler with a screen.
It comes with the following notable specs;
Fan Speed: 450-2000 RPM
Noise: 29.7 dBA
77" Color OLED
Check Today's Price of ASUS ROG Ryujin 360
The specialty of this cooler is that it is an all-rounder. At normal modes, it can keep temps low at a tolerable noise level.
It consists of the Noctua fans, which are of industrial standard. This ensures high static pressures and also good airflow through the radiator. Besides, you'll like the tubes incorporated in the radiator as these are highly bendable.
Performance-wise, I would say that the overclockers will experience a performance boost by using this cooler. The cooling head and pump are incorporated into a much larger pumping station, which is one reason why such outputs are there.
Also, this station features RGB LEDs and also an OLED display. Like every display that exists on AIOs, it also portrays the system details.
The temps that I found on my testing were at a considerable level. But the problem with this cooler is that you'll only be able to use full features if you have other products from ASUS in your system. In short, it isn't quite that versatile when it comes to offering great values. That said, the cost for this cooler is also on the higher side.
Nonetheless, the 3-year warranty and a decent performance level are enough to attract most gamers to buy this model.
This is our pick for the best fanless CPU cooler for passively cooling the CPU.
4. Gigabyte Aorus RGB AIO 280
The Aorus line of CPU coolers from Gigabyte is good enough to match the level required for high-end CPUs. This model from them exactly promises that level of output, and it consists of the following features:
Fan Speed: 2300 RPM
Noise level: 22-44.5 dBA
Life expectancy: 70000 hours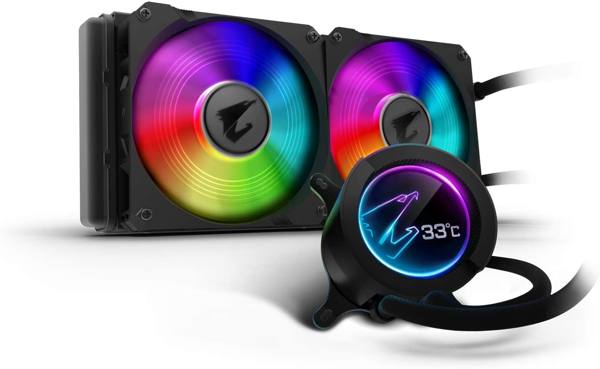 Check Today's Price of Aorus RGB AIO 280
One of the main attractions of this liquid cooler is its high aesthetic value. It will easily blend with your RGB gaming build, thanks to its top-notch RGB LEDs. It comes with an Asetek base design and consists of locking mechanisms on the mounting brackets. Eventually, such brackets make the installation process quite flexible.
Now, compared to its other variants, it has larger fans, which bears dual ball bearings. The reason behind these bearings is that it helps in low-noise optimized performance.
At first, I was skeptical about the claim made by Gigabyte. But when I tested it on my i7 10th Gen build, I was firmly assured. Even at extreme mode, the fans will produce noise measuring less than 45 dBA.
The temps were pretty good. I had previously used Corsair H60, and compared to that model, the Gigabyte Aorus Liquid cooler is well off in terms of temps and noise. The RGB Fusion 2.0 software does have some issues, and the applied stock thermal paste isn't that great, to be honest. But overall, the cooler doesn't suck in terms of performance.
5. ASUS ROG RYOU 120 RGB
The last cooler on my list is from the ROG RYOU series of cooling solutions from ASUS. This cooler attributes the following specs:
Fan Speed: 800 – 2500 RPM
77" OLED Panel
Noise level: 30-37.6 dBA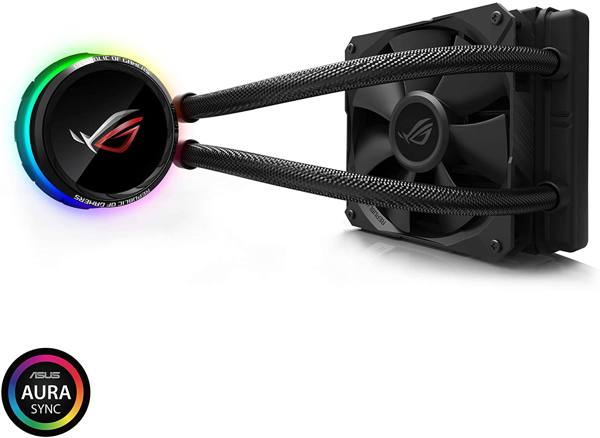 Check Today's Price of ASUS ROG RYOU 120 RGB
This looks quite attractive, mainly due to the aluminum-covered pump head. But its looks aren't the best thing that it has to offer.
Performance-wise this cooler is one of the highly reliable options under the category that it comes. It has a visually attractive OLED panel, which is highly customizable. You can try out all the predefined options. Also, if you want, you can display memes or GIFs and play around the tiny screen.
Coming back to the outputs, while overclocking, my testing results experienced 75 C at max. The fan, when tuned in at 1000 RPM, produced a noise measuring around 28 dBA. Although at turbo, it shots up to 41 dBA.
Overall, I would say that the cooler is a pretty good option to consider. Just the price is a tad high, which won't be an issue if you are not short of budget.
You may also like to read: CPU cooler with TR4 socket compatibility.
FAQ
Question: Can you put an animated GIF on a CPU cooler?
Answer: Yes, you can display GIFs in your CPU cooler that has a screen. The software interface that you use to control various aspects of the cooler now allows you to customize the screen of your cooler to add more aesthetic value.
Question: How to customize LCD on Aorus AIO?
Answer: To customize the LCD on an Aorus AIO, you need to follow three steps:
Launch the RGB Fusion Software
Tap on the graphics card icon
Click the option "LCD Display settings" and start your customization.
Final Thoughts
So, these are the top five CPU coolers with screens that you can get for your gaming build. Among all these, my best pick is the NZXT Kraken Z63. It fares up in all aspects and has a considerable competitive edge over other coolers on the list. If you look for affordability, I would suggest the MSI MPG Core Liquid K360. Other than these, the rest of the options are also good to go with.
Still, even after this comprehensive review, please let me know if you feel that I missed out on anything.