You would want to get the best out of a high-end CPU. The Ryzen 9 5900x falls under this category.
But while pushing your rig further, overheating can be a big issue.
In a hurry? Just get my #1 recommended Cooler.
No worries, mate! I'm here for you. After hours of researching, I came up with the following set of CPU coolers.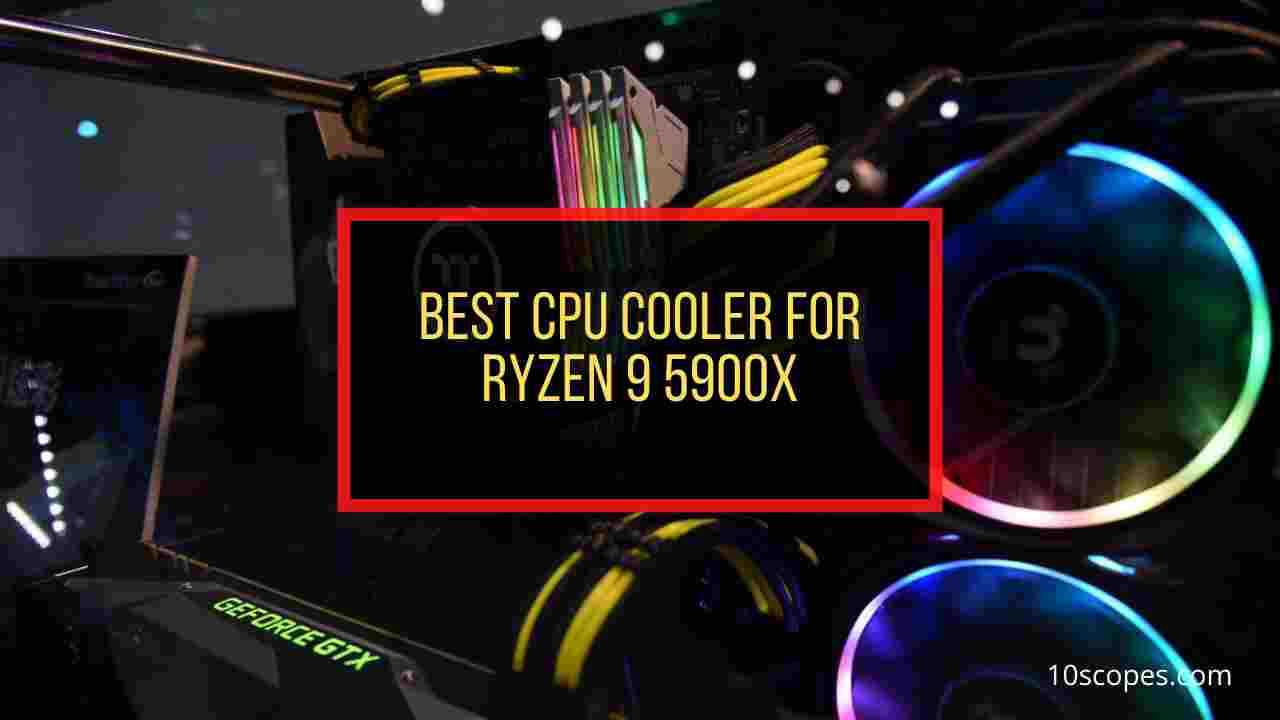 Or, stay with me right through this post to get the best one for your build.
Best Ryzen 5900x Cooler Reviewed
| Cooler Name | Radiator Size | Supported CPU Sockets |
| --- | --- | --- |
| NZXT Kraken Z63 | 280 mm | AM4, sTRX4 |
| Noctua NH-D15 | 165 mm | AM4, AM3+, AM3 ,AM2+, AM2, FM2+ |
| EK 120 AIO D-RGB | 240 mm | AM4 |
| Deepcool Castle 240EX | 240 mm | TR4, AM4, AM3+, AM3, AM2+, AM2, FM2+, FM2, FM1 |
| Deepcool Captain 360X | 360 mm | TR4, AM4, AM3+, AM3, AM2+, AM2, FM2+, FM2, FM1 |
| Noctua NH-U12S | 158 mm | AM4, AM3+, AM3, AM2+,  AM2 |
| Noctua NH-L9a-AM4 | 37 mm | AM4 |
Gaming at stock speeds won't do any harm to your build. But with a CPU like Ryzen 9 5900x, you ain't gonna game like that for sure.
I know that you will tweak your system for getting the max output. And while doing so, lowering the temps should be your top priority.
So, wanna get your ultimate cooling solution?
Let us go through the list that I got for you.
Also, Check out our experts recommended best CPU coolers for Ryzen 9 5950x.
Here are the best CPU cooler for Ryzen 9 5900x:
1. NZXT Kraken Z63
Good looks with impressive performance, this is what the NZXT Kraken Z63 stands for.
All of the cooling solutions in the Kraken series are top-end. The Kraken Z63 is no different, and it promises to deliver a top-notch solution for your AMD build.
This model from NZXT attributes some excellent specs:
280 mm radiator
2.36 inch LCD
Fluid Dynamic Bearings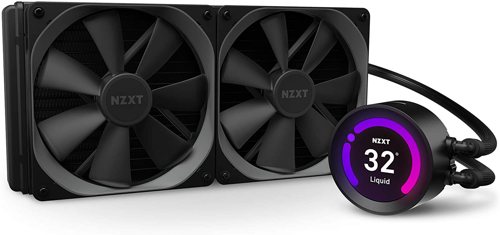 Check Today's Price of NZXT Kraken Z63 ➜➜
Believe me; I got amazed with the elegance in the design. But what's more important than the design is its performance.
This cooling solution from NZXT won't give you any chance to complain. Be it design or performance; it would never let you down.
It's an all in one package for any top-end gaming rig. The cooler sports a 280 mm radiator, giving your build enough headroom. So, worry not about accommodation.
It's a great cooler for your CPU. However, if something appears to be not working, check out how to fix CPU fan not spinning.
I loved the implementation of 2x fans. They bear fluid dynamic bearings and did a splendid job in controlling static pressure.
What I didn't like is the absence of RGB in the fans. I expected much from NZXT, at least in this particular model.
Though, don't be sad about non-RGB fans.
Because, If not on the fans, there are RGB elements on the pump face. So, as an RGB freak, you won't find this cooler disappointing.
Now, let me tell you something that made me rate this Cooler as the best one.
I found a 2.36 inch LCD as the best thing about this Ryzen 9 5900x CPU cooler. At the time of testing, my expectations from this LCD was on the lower side.
But, guess what!
It proved me wrong. It is highly customizable, and most importantly, it adds a unique aesthetic value.
The CAM software is there for customizing. NZXT finally paid heed to all the complaints about its software. I found it way less buggy and more responsive.
Pretty sure, you will find it too.
Overall, as a top-end CPU cooler, it's a bit costly. Then again, the top-notch liquid cooling performance makes it even-stevens. If budget isn't an issue, I would highly recommend you to buy this cooler.
Compare this cooler with the best Cpu cooler for Ryzen 5 5600x.
Pros
»

Superb design

»

Less buggy software

»

Top-end cooling
2. Noctua NH-D15 Chromax Black
If you want an air cooling solution, Noctua's model can be the perfect choice for your build.
The Noctua NH-15 Chromax Black comes with some superb specs:
Dual-fan design
NT-H1 thermal compound
6-years warranty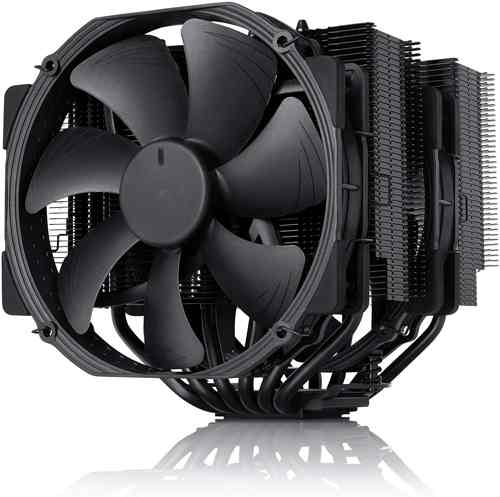 Check Today's Price of Noctua NH-D15 Chromax Black ➜➜
All-black schemes look quite natty. When I had the first glance of this air cooler, I found its all-black coating kickass.
One lingering question is whether such coating will affect overall thermal performance.
Well, to tell you the truth, there isn't any such thing. When I tested this, this cooler delivered the same cooling performance as its original iteration.
If you want RGB fans in your Ryzen 9 5900x cooler, then I am sorry. This cooler doesn't come with RGB implementation in its dual NF- A15 fans.
However, you will have some anti-vibration pads of different colors. I know that it won't have the same flair as that of RGB lights. Still, it's better than almost nothing.
You will have a lot of ease with the installation process. It's easy-going, thanks mainly to the dual-tower design. Also, you will love it's almost silent operations. At full load, it's whisper-quiet.
Overall, This Ryzen 9 5900x air cooler is a great option to have, and it's on par with most liquid cooling options.
Pros
»

Performance level similar to most liquid coolers

»

Easy-going installation

»

Whisper-quiet
Cons
»

No RGB elements

»

High price
Both of the first two coolers in our list are great. You can check the comparison between NZXT Kraken Z63 and Noctua NH-D15 to find the best one for your computer.
3. EK 120mm AIO D-RGB
EKWB, as a brand, is suitable for liquid cooling solutions. Most gaming enthusiasts prefer their EK-AIO series.
This EK-AIO D-RGB is of the best from their AIO line of coolers. I believe it can be the perfect liquid cooling solution for your Ryzen build.
This model comes up with the following features:
Pump Speed:450-2000 RPM
Fan Speed: 550-2000 RPM
Warranty of 5 years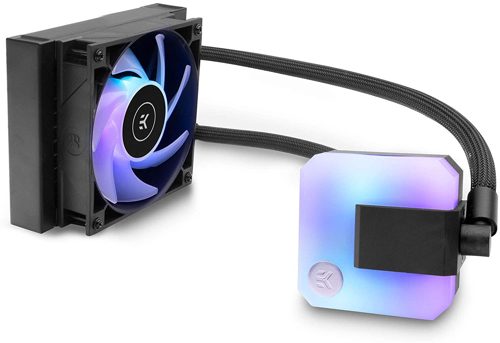 Check Today's Price of EK 120mm AIO D-RGB ➜➜
This water cooler sports an aluminum 240 mm radiator. It is the reason behind the heaviness that you will feel while installing.
I found the fittings to be top-notch. The way they set up the whole cooler has an elegant touch. The build quality is awesome. It will give you a top-end feel.
The pump this cooler sports has a semi-transparent white accent. It is something you won't find on most coolers.
There are LED lights, which are covered with black aluminum brackets. When these LEDs lit up, let me tell you something, mate.
The combination of white accents with the lights offers you a whole new level of soothing experience. I can bet that you won't find anything like this on any cooler present in the market.
However, if the aesthatic RGB fan doesn't work, check out the easiest way to fix CPU cooler not lighting up.
About the fans:They are chunky. Can hit decent speeds.
At the time of testing, I found that there is less scope of air escape. That is because the fans are sealed at the back.
I didn't like the loudness they produce at max speeds. If you don't prefer any noise, then better you drop down the speeds. The noise is much tolerable then.
Besides, this Ryzen 9 5900x CPU cooler won't give you any clearance issues. Obviously, that's a great job done on its design.
Even if you rotate the pump, your memory and also the GPU won't have any issues. The nature of RGB implementation is debatable. I loved it, but a few of my friends didn't.
Ending up:I would say it's a pretty good option to consider. 5-years warranty and also an easy-going installation is something you should look into.
Pros
»

Great GPU and memory clearance

»

Nice RGB lights

»

Super build-up
Cons
»

Loud at Max RPM

»

No manual RGB control
4. Deepcool Castle 240EX
Pretty yet pricey.
It sums up the white version of the Deepcool Castle 240EX.
This model from Deepcool attributes the following specs:
Anti-leak tech
Fan Speed: 500-1800 RPM
Warranty of 3 years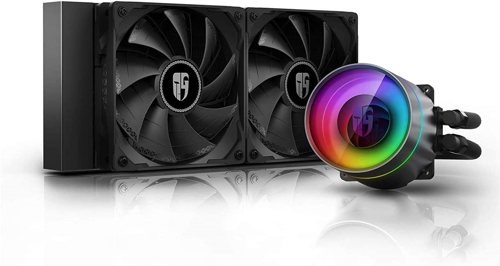 Check Today's Price of Deepcool Castle 240EX ➜➜
It is a cooling solution with a handsome design. If you are looking to build a white themed Ryzen build, I must say that this cooler would be a pretty good option.
The pump has a mirror-depth top. What makes the top attractive is the ARGB backlighting with pulsing effects. You can control this lighting, thanks to the 5V motherboard sync option.
The best about this cooler is the anti-leak technology. The cooler features an EPDM pressure release bag in which you will find one of the sides is exposed. Other side is surrounded by coolant that is inside the radiator.
You will also be able to customize the logo used in the pump. What you have to do is just twist off the pump face. You will have the flexibility of adjusting in 4 directions.
In case, If you want to change the logo, there is an extra chip to allow you to do so.
As for the performance, I found the pump having low noise but didn't like the loud fans. Also, having so many features makes this cooler pricey for budget-buyers.
So, before you choose this white themed cooler, just have a sneak-peak at your wallet.
Pros
»

Anti-leak tech

»

Customizable logo

»

Superb lighting on pump face
5. Deepcool Captain 360X
Another one for your white themed Ryzen build. Again, it's from the brand Deepcool but a different model.  The Deepcool Captain 360X has the following features:
Fan speed: 600-2000 RPM
Anti-leak tech
Fan noise: 17.6-39.3 dBA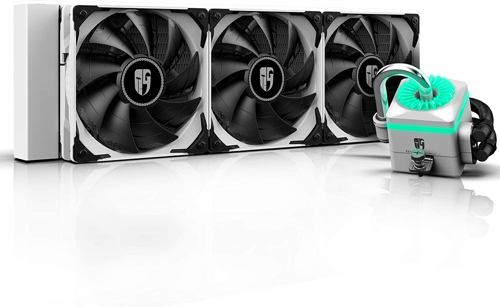 Check Today's Price of Deepcool Captain 360X ➜➜
It's damn good looking. The finishing given all-over is top-grade. The whitish accent all-over will complement your white themed Ryzen 9 5900x build.
I say that Deepcool nailed it absolutely with this design.
On top of that:
The build quality is also top-tier. I love the ease of the installation process. You won't face many difficulties, even if you are a noob.
The 3x fans do a great job in air circulation. What adds more value to them is that you can remove their blades.
Also, the presence of fluid dynamic bearings enhances their performance. Now, don't get thrilled with all these praises. There are a few downsides.
I felt the price performance for this cooler was on the higher side. If you compare its specs to Enermax Liqmax 120S, they are quite identical. Whereas the prices for both these coolers aren't as the model from Enermax is relatively cheap.
Besides, The fans are loud under heavy load.
To end up, all I can say is that the performance could've been better. Yet, it can be a good option for adding aesthetic value to your build since it's attractive.
Pros
»

Easy to install

»

Good build-up

»

Anti-leak tech
Cons
»

Fans are loud

»

Unreasonable price per performance

»

Tubing doesn't look nice.
6. Noctua NH-U12S Chromax.black
This cooler is the black version of the Noctua NH-U12S. So, specs are identical. This model has the following features:
PWM support
NF-F12 120 mm fan
Anti-vibration pads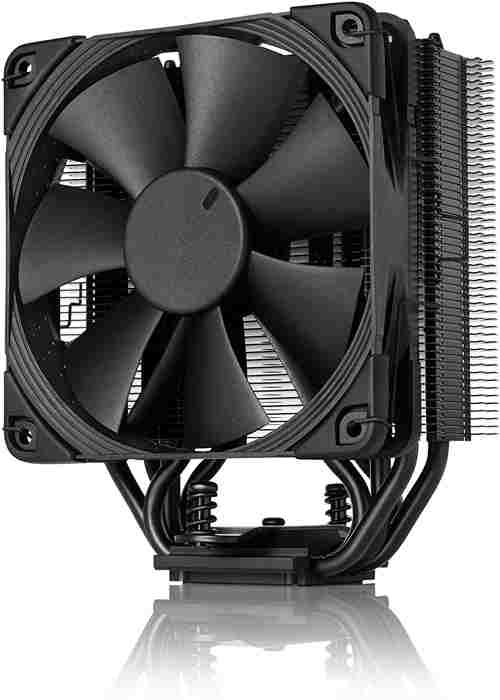 Check Today's Price of Noctua NH-U12S Chromax.black ➜➜
This model from Noctua sets the perfect exemplar of how silent a cooing solution can be. Like other chromax.black versions from Noctua, the black coating doesn't mean anything to this cooler.
Just the aesthetic touch for all-black builds. No implications in terms of performance. I found the installation to be amazingly comfortable. You just need to screw down the install brackets to the original backplate, then install the cooler.
As for performance:
Usually, the noise is low. But can get a bit high if you run at max speeds. That's why it's better if your fan speed is around 1800 RPM.
Overall, if you plan to have an all-black Ryzen 5900x build, it's an excellent option to have.
Pros
»

Top-notch functionality

»

Excellent for all-black builds
7. Noctua NH-L9a-AM4 Chromax.black
The last cooler in this list is for the gamers who are having a small compact build. If you are among them, I must tell you that Noctua's model will satisfy all your needs.
This model comes with the following specs:
Fan speed: 600-2500 RPM
Noise level: 23.6 dBA
NT-H1 thermal compound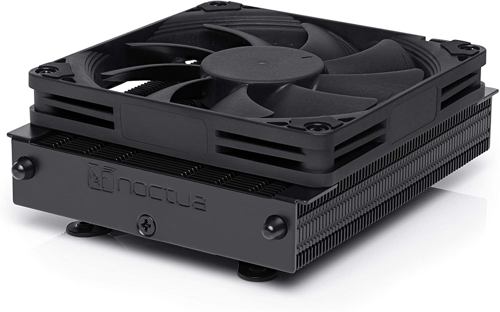 Check Today's Price of Noctua NH-L9a-AM4 Chromax.black ➜➜
Gaming rigs with limited space needs to have the perfect cooling solution. And when the CPU is a high-end one like Ryzen 9 5900x, the task gets more challenging.
Your task to find the cooler for your Mini-ITX build won't be tough. This model from Noctua is that one cooler that I got for you. As a CPU cooler, this model offers the optimum cooling level, taking the smallest of the space.
The heatsink it sports is quite dense with around 64 aluminum fins. Besides, there are also two heat pipes attached.
About performance:
I assure you about its best quality. Don't go by its size for measuring the performance. This cooler is the perfect example that size doesn't matter. The whisper-quiet fan made me root for this cooler over other coolers with small factors.
Therefore, if you're someone looking to buy Ryzen 9 5900x cooler for your build, I highly recommend purchasing this.
In case the cooler making a buzzing noise, follow our guide to fix CPU cooler clicking noise without any hassle.
Pros
»

Good for small builds

»

Whisper quiet
Ryzen 9 5900x Cooling Guide
A high-end CPU like Ryzen 5900x will heat up while you tweak your system.
So, What's the solution? How are you going to optimize your CPU cooler?
Here are the tips that you should follow for cooling your Ryzen 5900x build:
Clean the fans
You should often clean the fans present in your system. Clouds of dust settling down on the blades reduce the fan speed.
As a result, your CPU doesn't get the cooling performance it requires. Proper air circulation halts. So, for optimum cooling performance, cleaning fans is a MUST!
Also, check out our separate post on is it safe to run a CPU air cooler without a fan.
Speed up the fans
If you feel that cleaning isn't enough, try speeding up the fans using some software. There are programs like SpeedFan that enable your fans to run at a much higher speed.
The equation is simple. The higher the speed, the faster the air moves out, the lower the speed, the slower the air circulation.
Keep the CPU away from the heat-sensitive area
Where did you place the CPU?Is it near the window or any heat-vent?
If the answer is yes, you are doing it all wrong, mate. Try keeping your build away from heat-sensitive areas.
Here's a complete guide on why is my CPU cooler so loud.
Don't allow Clutter
I might not judge you for the condition of your Gamestation. But can't say the same about your CPU. If there are things that block the exhausts of your rig, then that's a problem.
A VERY BIG PROBLEM!
That is why try to keep the surroundings tidy.
FAQ
Question: Does Ryzen 9 5900x come with a stock cooler?
Answer: No, the Ryzen 9 5900x doesn't have a stock cooler.
Question: Is liquid cooling better for Ryzen 5900x?
Answer: Traditionally, liquid coolers are better performers. So, if you go by tradition, yes, it is better. However, few air coolers perform better than most liquid coolers.
Final Thoughts
So, these are the seven best cooling solutions for your Ryzen 9 5900x build. All these seven include both liquid and air coolers.
As for liquid cooling, I recommend NZXT's Kraken Z63, and for air cooling, my personal favorite is Noctua NH-U12S Chromax.black.
Your choice can differ. So, feel free to choose any of the options from the list. Even after that, if there is any issue, feel free to drop a comment.