Heads up: 10scopes is reader-supported. When you purchase through links on our side, we may receive a small commission at no extra cost to you. Learn more.
If you get bothered by the CPU cooler noises, you are not the only one. As a person who's on his PC all day, I found it quite annoying having to deal with the constant whirring of the CPU cooler. So I changed my CPU cooler into a Fanless one.
And trust me when I say it makes a night and day difference! It feels fresh and more relaxing than ever.
Here, I will show you the 3 best Fanless CPU Coolers available on the market today.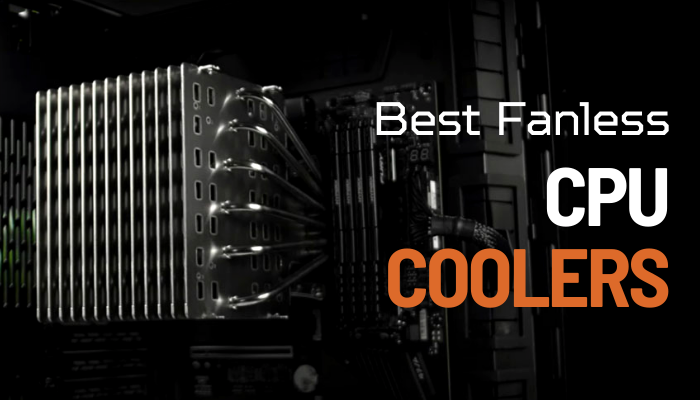 But in case you've to decide right away, choose the Noctua NH-P1 cooler as our top recommended model. It will give you the best value for the money for sure.
3 Best Fanless CPU Coolers You Can Buy Right Now
Information Disclaimer: The price and availability of the listed products are subject to change. As tons of product snoops in the market continuously, we update our list when necessary.
You can only use a fanless CPU cooler if you are using a low TDP CPU. Since the whole heat transfer process is passive, it is impossible to cool down high TDP or overclocked CPUs passively as they require rapid heat dissipation.
That's why if you are using an OCed processor, go for other cooling solutions. In that case, check out our best coolers for overclocking CPUs.
On the other hand, if you have a low TDP CPU and want to get rid of the constant noise coming from the PC, buying fanless components can save you from not only unwanted sound. But you can also get a CPU cooler with fans and even maintain a quiet environment. Check our 7 Quietest CPU Coolers to choose yours.
Here are the 3 best fanless CPU coolers available:
1. Editor's Choice: Noctua NH-P1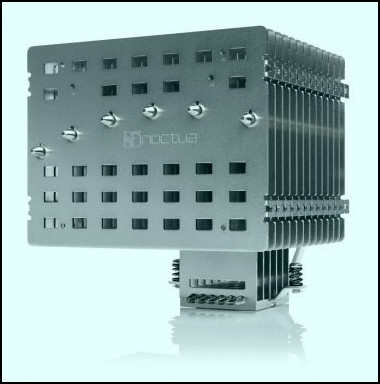 SPECIFICATIONS
Product Dimensions: 6.22 × 6.06 × 5.98 inches
Supported Socket: LGA 1700/1200, AM4/AM5, TR4/TRx4/SP3
Weight: 2.64 pounds
Material: Copper heat pipes and aluminum cooling fins
REASONS TO BUY
»

Silent

»

Admirable performance

»

Less Dust and 100% Fail-proof

»

Include NT-H2 thermal paste

»

6 years warranty
Check Today's Price of Noctua NH-P1 →
Why We Picked It
To design a powerful rig that gives the best performance while being completely silent, there aren't any other alternatives to Noctua's NH-P1 silent cooler. This cooler has a unique design, unlike any other heatsink that I've seen.
There are only 13 aluminum fins which is a fraction of what you generally have on a normal heat sync, and they are spaced super far apart. So that the heated air they create has room to blow itself outward, and new fresh air can take its place.
For mounting the NH-P1, the Noctua uses their SecuFirm2+, which is very reliable to support the massive weight of the cooler itself.
We've tested this cooler in an Intel Core i7-11700F PC with Nvidia 3060 TI and 32 gigs of RAM. When we run a 16-thread small FFT prime95, the processor still runs at 4.38 GHZ.
Also, we have tasted NH-P1 in the i9 12900 PC with other competitors in the Fanless CPU Cooler market. Here's the result we have found.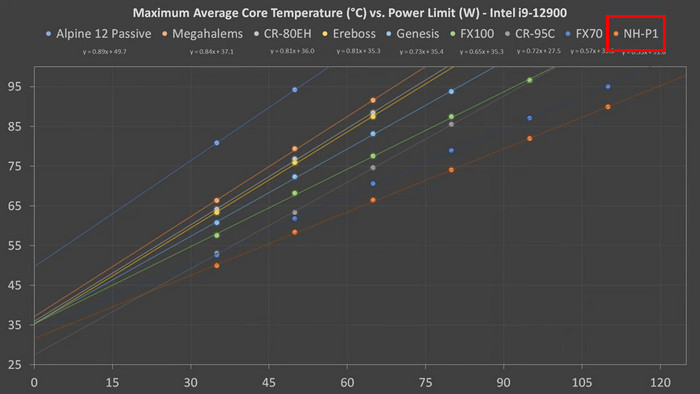 Here you can easily see how well this cooler has performed compared to other alternatives in the market. You should also check out our other Noctua fans for your CPU if you want to lower your temperature even more.
Who It's For
We recommend Noctua NH-P1 to everyone who wants a silent pinpoint environment while maintaining the temperature of their PC. Besides, people who like unorthodox PC builds can also try this passive cooling solution for their rig.
What We Liked Most
We mainly liked the build quality and effective design of this cooling device during our test. And also, its astonishing cooling performance was beyond any fanless CPU cooler we have ever seen.
What Could Be Improved
The main demerits of this cooler were its huge size and weight. NH-P1 weighs over a kilogram, which doesn't fit in most PC cases. Also, the $110 seems a bit much, even though the Noctua fans are usually worth every penny.
Verdict
From our viewpoint, Noctua's NH-P1 model is the most effective fanless cooling system that works with most modern CPUs. If you want a calm and quiet environment and don't do a huge amount of intensive work, just go for it.
2. Best looks: Nofan CR-80EH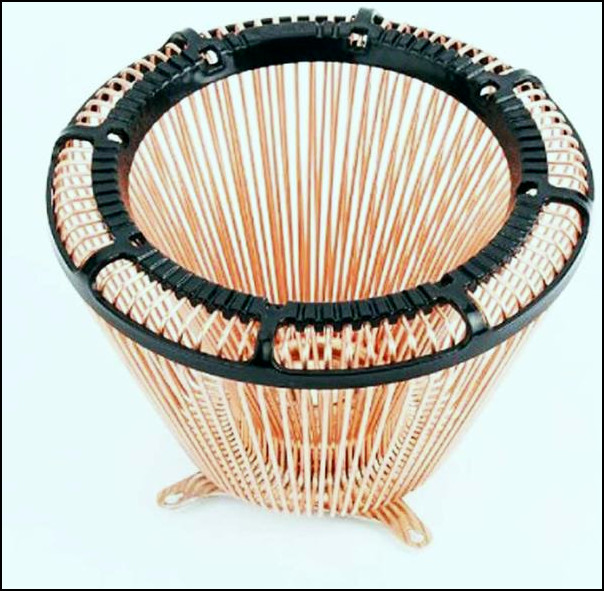 SPECIFICATIONS
Product Dimensions: 6.1 × 6.1 × 4.45 inches
Supported Socket: LGA 115x, 1366, 1200, AM4, AM5, sTRX4, TR4
Weight: 10.6 ounces
Material: Copper pipes
REASONS TO BUY
»

Easy installation

»

Maintenance free

»

Dust Free
REASONS TO AVOID
»

Not for high TDP CPU or overclocking
Check Today's Price of Nofan CR-80EH →
Why We Picked It
Well, for a fanless CPU cooler, Nofan CR-80EH performs remarkably with CPUs up to 80W TDP. It has an array of aluminum and copper heat pipes that round the cold copper plate in circles. These heat pipes conduct heat into the air, which passively cools your CPU.
The Nofan CR-80EH manages to cool down a regular CPU satisfactorily. Your CPU wouldn't experience thermal throttling unless you use a high TDP CPU or an overclocked one.
We tested the Nofan CR-80EH with an Intel i9 11900T CPU and the Asus Prime Z690A motherboard. In a 30-minute Cinebench R23 run, we get a 78℃ to 80℃ reading on HWmonitor for the first 30 minutes, which is good for any normal PC user.
The size of the cooler is also in the sweet spot. It's big enough to conduct heat efficiently but small enough to fit in most cases.
However, you might not want to go that far and stay within 65 Watts TDP CPUs for the best results.
What We Liked Most
We mainly liked the looks and the size of the Nofan CR-80EH, besides its cooling facility. Unlike most passive coolers, it easily fits into most PC cases.
What Could Be Improved
We didn't like its low TDP count. The 65 Watts TDP seems very basic to us. So they should try to increase the TDP threshold to increase their customer base.
Who It's For
I would advise buying the Nofan CR-80EH only if you are going for a zero-fan setup. If you, however, add some components to your PC that have fans, it will generate some levels of noise, which will fail the ultimate goal of a silent PC.
Verdict
The Nofan CR-80EH is a great passive cooler for low-end PC users. Its compatibility, effective cooling, and compact size will attract many customers across the globe.
However, besides its capabilities, we became addicted to its all-golden cylinder shape. That's why we gave it the Best Looks award among the choices.
3. Best 2U & Up Servers Cooler: Dynatron B12
SPECIFICATIONS
Product Dimensions: 3.54 × 2.52 × 3.54 inches
Supported Socket: LGA 3647
Weight: 590 g
Material: Copper Base and Aluminum Heatsink
REASONS TO BUY
»

Affordable

»

Stable cooling

»

TDP 205 Watts heat dissipation
Check Today's Price of Dynatron B12 →
Why We Picked It
The Dynatron b12 is an excellent choice for Intel® Xeon server processors. The footprint of this cooler allows it to fit any 2U servers or above. With a strong airflow from the chassis fan, it can do a stellar job of cooling the CPU.
This fanless cooler's construction feels rock-solid with a copper base and heat pipes and aluminum fins on the heatsink, making it perfect for any 2U server solutions.
The mounting hole distance is 90 × 90 mm making it suitable for a square LGA 3647 square socket motherboard. Dynatron B12 also has RoHS Compliant certification with TDP 205 Watts heat dissipation making it perfect for industrial use.
Also, it's relatively cheaper than other passive cooling alternatives available in the market. So any server user should consider this option.
What We Liked Most
We mainly liked the industrial-grade finishing, low price tag, and high TDP of Dynatron B12.
What Could Be Improved
The main discomfort of the Dynatron B12 is its limited processor choice. Dynatron should consider building similar products for personal use also. If they can accomplish it, we hope they will rule the fanless cooling market in the future.
Who It's For
Dynatron B12 is mainly for servers with Intel® Xeon ® Platinum, Gold, Silver, or Bronze Family Processors.
Verdict
All in all, we strongly suggest the Dynatron B12 for the LGA 3647 socket server processors in a 2U or up chassis. The performance is stable, and there is no CPU noise, so it's a no-brainer. The cherry on top is that it also comes with a minimal price tag.
How We Chose The Best Fanless CPU Coolers
When selecting the best fanless CPU coolers, we mainly considered quietness. Because a user mainly goes for a fanless build to get a pin of silence, where they can put their 100% concentration in their work.
We also considered factors like cooling capabilities, the material they used to build the cooler, and the price of that product, so the users can choose a well-optimized easy-to-use cooler for their peaceful, silent PC build.
Here are the factors that we considered while choosing the best fanless CPU coolers:
Heat Dissipation: We evaluated the coolers' ability to efficiently dissipate heat without the use of fans. And in that segment, coolers with larger surface areas, high-quality heat pipes, and effective heat transfer mechanisms got advantages.
Silent Operation: Since fanless coolers eliminate the noise generated by fans, we prioritized models that provided a completely silent cooling solution, ensuring a peaceful computing environment.
Compatibility: We assessed the coolers' compatibility with different CPU sockets to ensure a proper fit. Compatibility with various motherboard layouts and memory modules got priority in that section.
Build Quality and Materials: We examined the build quality and materials used in the construction of the coolers to ensure durability and efficient heat transfer.
Thermal Performance: We analyzed the coolers' thermal performance under varying CPU loads to ensure effective heat dissipation and temperature management, even under demanding conditions.
Price and Value: We compared the price-to-performance ratio of each fanless CPU cooler to assess their value. Coolers that provided excellent cooling performance at a reasonable price were given higher ratings.
After comparing all the above factors, we've made our picks of the best fanless CPU coolers available in the market.
FAQs
What is a passive CPU cooler?
A passive CPU cooler is a cooler without a fan, yet provides enough power to keep the heat of your processor at bay. Passive CPU coolers are mainly suitable for silent PC builds with low TDP processors. But most passive coolers can't handle the heat of OC processors.
Do fanless computers overheat?
Usually, fanless computers don't overheat during normal workloads. However, if you load your CPU with high-end graphical processes or do gaming, it will overheat.Is Active or passive cooling better?
If you want a silent PC and won't run any demanding programs then a passive cooling solution is better for you. However, for gamers or video editors active cooling is the way to go.