The latest Ryzen 5800X doesn't come up with a stock cooler. For a top-end CPU like this, you need the best possible aftermarket cooler.
Don't worry! I am here for you.
In a hurry? Just get my #1 CPU Cooler.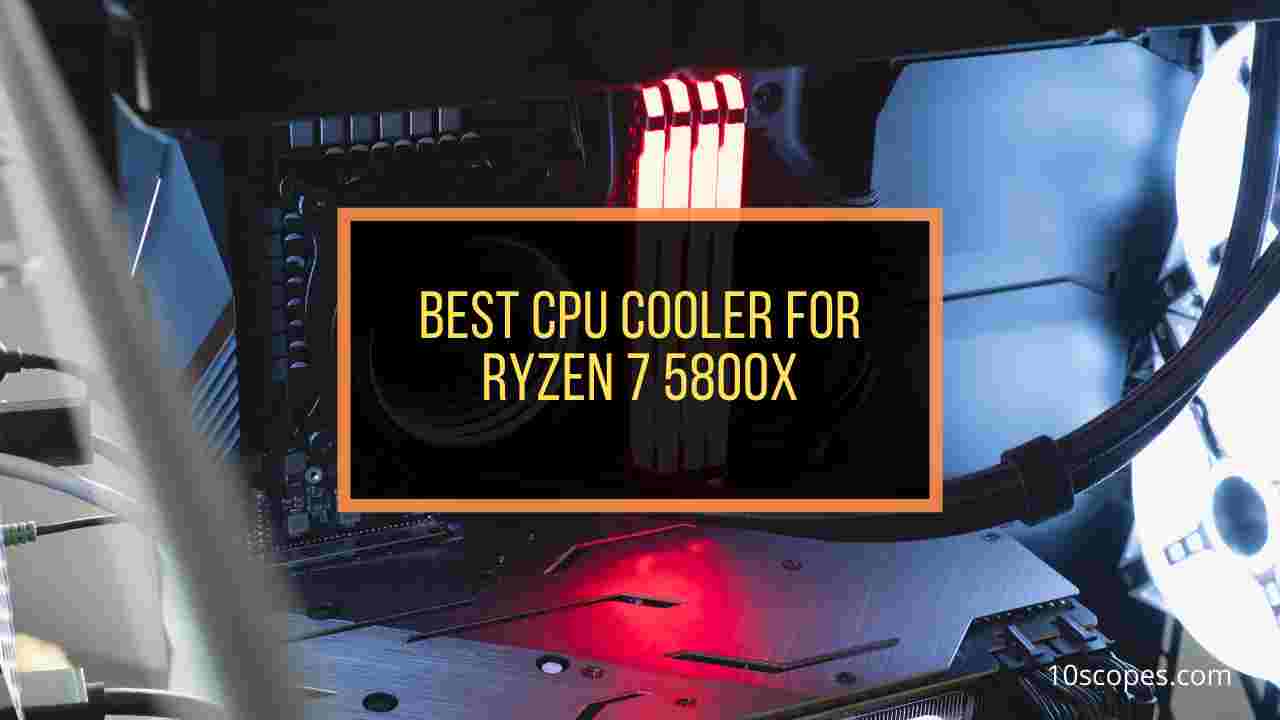 After hours of research and testing, I have shortlisted the following cooling solutions.
Or sit back, brew a cup of coffee and stay with me till the end of the blog.
Best Ryzen 5800X Cooler Reviewed
| CPU Cooler Name | Radiator Size | Supported CPU Sockets |
| --- | --- | --- |
| NZXT Kraken Z63 | 280 mm | AMD AM4, TR4 |
| Arctic Liquid Freezer II | 280 mm | AM4 |
| NZXT Kraken M22 | 120 mm | AM4, FM2+, FM2, FM1, AM3+, AM3, AM2+, AM2 |
| Corsair Hydro Series H60 | 120 mm | AM4,AM3 AM2 |
| Scythe Fuma 2 | 154.5 mm | AM4, AM2+, FM2. FM2+ |
The latest Zen 3 CPUs from AMD Ryzen are a step ahead in Zen architecture. One key feature of them is that they are highly power-efficient.
Your Ryzen 5800X will give you an incredible output with much less wattage. It means that your CPU wouldn't be hard to cool.
But the question is; Which one to buy? Well, as I told you earlier, I have a list for you.
Here are the best CPU Coolers for Ryzen 7 5800X:
1. NZXT Kraken Z63
To begin with, I have the most stylish CPU cooler for you. It is the Kraken Z63 from NZXT, which can be the perfect cooling solution for your latest AMD build.
This model from NZXT comes with the following specs:
280 mm radiator
Fan Speed: 500-1800 RPM
Fan Noise: 21- 38 dBA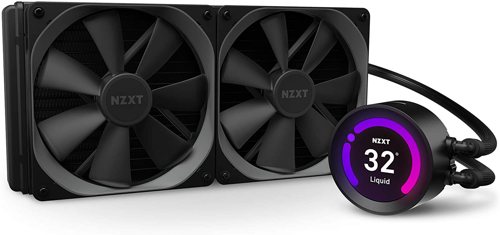 Check Today's Price of NZXT Kraken Z63 ➜➜
It is one of the most impressive looking coolers that you would find in the market. At first glance, I was in love with the ecstatic touch on its design. If I just praise its design, it would be an injustice to this top-end cooler. The performance is as good as how it looks.
You'll love the fact that using the Kraken Z63 will not make you worry about its maintenance. Because, It's a closed-loop cooler. Water is already pre-installed in the loop.
You will find enough headroom with the 280 mm radiator. No need to worry about its implications. 2x fans do an outstanding job. Mainly how it optimizes the static pressure is praiseworthy.
While overclocking, the temperature rises a lot than normal. To keep the component safe, cooling is a must. And NZXT Kraken Z63 is one of the best budget cooler for overclocking and does the job perfectly.
One setback for the fans is that they are non-RGB. I would have loved the RGB implementation, but NZXT had some other plans.
As for the pump, the 7th Gen Asatech pump is used in the cooler. This is an excellent job on the part of NZXT. I would thank them for this because previous Gen pumps were way noisy.
The 2.3-inch customizable LCD is the coolest thing about this Ryzen 5800X CPU cooler. I was messing around with this LCD for a couple of days. And guess what, I found the performance to be beyond my expectations.
Also, thanks to NZXT's CAM software, I was able to customize it in different ways. Like adding GIFs, CPU temperatures, fan speed, etc.
You can customize flexibly as the software is less buggy and more responsive.
To sum up, all I can say that it is an excellent cooling solution. It might be costly, but the specs somewhat make the price reasonable.
Compare this cooler with the best Cpu cooler for Ryzen 5 5600x.
Pros
»

Less noisy

»

Top-notch cooling performance

»

6-year warranty
2. Arctic Liquid Freezer II
I have to appreciate Arctic for introducing this cooler. After a long time, they came up with something good.
The Arctic Liquid Freezer II has some of the superb features:
280 mm radiator
Fan Speed: 200-1800 RPM
Fluid dynamic bearing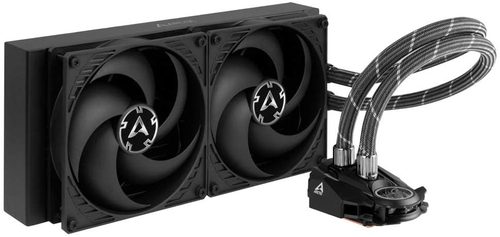 Check Today's Price of Arctic Liquid Freezer II ➜➜
While testing, I found out that Arctic has its pump design in the Liquid Freezer II. That is, they didn't rely on any third party or OEM.
If you are fond of futuristic design, the pump has it in store for you. It includes a 40 mm cooling fan that ensures proper circulation of air in the CPU block area. With the PWM control scheme on the pump, it gets easier to control this fan.
This CPU cooler also sports an all-black 280 mm radiator. When I got my hands on it, I felt that it has an additional cooling area, unlike most of its competitors.
The base of this cooler is made of copper. The material used is quite strained and milled. I found the pre-assembled fans bearing exhaust configuration. It will somewhat cut down the time for assembling and ease your job.
The fans in the cooler bear fluid dynamic bearings. They run at speed varying from 200- 1800, and believe me, and the noise is criminally low. Even I had to put my ears close to the case to feel any sound. What I found was almost inaudible.
The cable management for this Ryzen 5800X cooler is also something you will like.
Only one wire!
Yes, mate, you saw it right. There is only one wire in the cooler that makes cable management very easy. Everything from the pump speed, VRM fan, and the fan in the radiator is controlled by one wire.
Now, performance-wise, your CPU will be cool even you go for extreme overclocking. The system won't crankle. The only thing that might disappoint you is the absence of RGB in the cooler, but no problem if you ain't that RGB freak.
Overall, a great cooler at a very good price. I would highly recommend you add this to your Ryzen build.
Also, Check out our experts recommended best CPU coolers for Ryzen 9 5900x.
Pros
»

Great performance

»

Nice Cable Management

»

Reasonable price
3. NZXT Kraken M22
NZXT's long line of AIO cooling solutions is the reason why it is famous as a brand. Here I bring you one of the most budget-friendly AIO cooler in the market, the NZXT Kraken M22.
This model has the following specs to offer:
120 mm radiator
Fan noise: 21-38 dBA
6-years warranty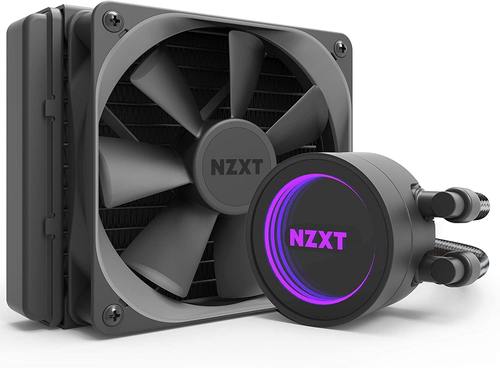 Check Today's Price of NZXT Kraken M22 ➜➜
This is one compact cooling solution that you can have for your PC. It does a perfect job despite having a low-profile. It has a sleekish design which looks excellent. Such enhanced design enables a superior cooling solution.
So, be assured about the superb output that you are going to get. The only fan it has does a great job in the circulation of air. However, it doesn't have RGB implementation.
I know as a gamer and also an RGB freak, it is a bit disappointing. This cooler does come with RGB elements in the pump. The lights produce a dazzling mirror-like effect on the pump face.
I found it quite funky, and I bet you'll too. That said, the CAM software gives you the chance to enhance this funkiness. You can set a variety of LED modes as per your liking.
Besides, the single Aer P 120 mm fan this Ryzen 7 5800X CPU cooler has produces minimal noise. So, don't worry about irritating noise. It also comes to the best 120 mm AIO CPU cooler for the computer.
Pros
»

Great for compact PC cases

»

Sleek design

»

Pump face has excellent RGB implementation.
Cons
»

Non-RGB fan

»

Not suitable for extreme overclocking
Follow our guide to fix CPU cooler clicking noise without any hassle.
4. Corsair Hydro Series H60
Another CPU cooler for PC cases with a smaller form factor. The Corsair hydro series H60 can be a good option for your compact Ryen build.
This model has the following features:
Fan Speed: 600-1700 RPM
120 mm radiator
Pump noise: 20-28 dBA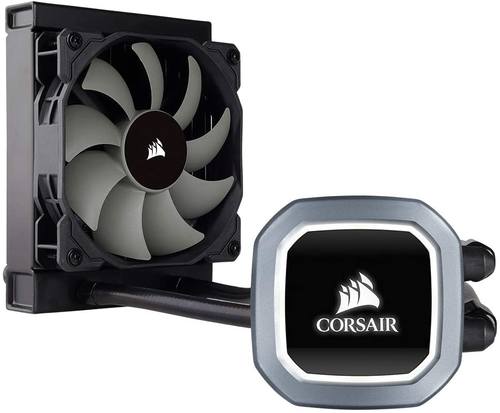 Check Today's Price of Corsair Hydro Series H60 ➜➜
I found this cooler to have a very simplistic touch in the design. If you love minimalistic or straightforward things, you will love the implementation in the design. It looks stylish though nothing over the top has been done.
The all-black design with a nice greyish touch makes it look very appealing. You will find the 120 mm radiator with a very high density. For me, the best part about it was the multi-CPU socket mounting.
The slim structure of this radiator doesn't compromise its durability. You can have full assurance about its durability. Now, it is normal to be concerned about performance. In the case of this cooler, I would say it delivers enthusiast-class performance.
When I tested it, I found the cooler producing very low noise. When not tweaked, the sound was almost silent. I liked the RGB flair on the pump-head. It is something you won't find in most simplistic coolers.
To sum up, It is a good cooler from Corsair that can do the job for your Ryzen 7 5800X CPU.
Pros
»

Standard cooling performance

»

Easy Installation

»

Very low noise
Also, check out our separate post on is it safe to run a CPU air cooler without a fan.
5. Scythe Fuma 2
Looking for an air cooler? Well, I have the one for you. The Scythe Fuma 2 can be the right air cooling solution for Ryzen 5800X.
This CPU cooler has some superb attributes to talk about:
154.5 mm dual tower heatsink
Fan Speed:300-1200 RPM
Fan Noise: 4-25 dBA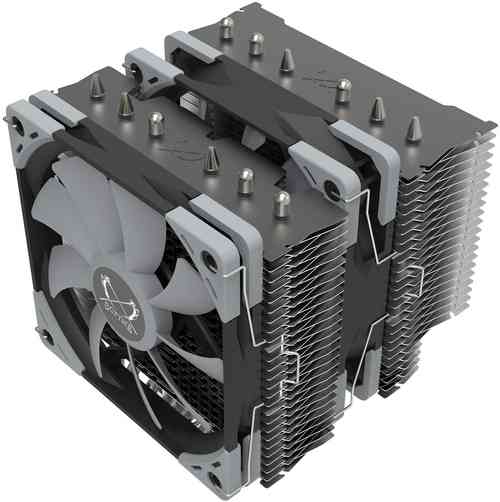 Check Today's Price of Scythe Fuma 2 ➜➜
Sythe is growing as a prominent brand, and Fuma 2 is one of their best products. This air cooling solution has a unique fan setup. The dual-tower heatsink is somewhat asymmetrical. You will see 49 evenly spaced fins.
These fins have angular sides and cutouts that resemble sawtooth. Overall, I would say the design is impeccable, and the cooler comes with a substantial build-up.
Now, It has two 120 mm Kaze flex fans that run at speed ranging from 300-1200 RPM. Though these fans lack RGB, yet its performance isn't something to question about. Performance-wise be it air circulation, noise level, or cooling its top-notch. As an air cooler, it slays.
Less noisy cooler is preferable and favorite to everyone. And Scythe Fuma 2 is one of the best quietest CPU coolers in the market.
If I have to compare this cooler with any other model, it would definitely be Noctua NH-U12A. They are almost similar in terms of performance and specs. But the difference that makes me root for Scythe Fuma 2 is the cheaper rate.
In conclusion, I would say that this Ryzen 7 5800X air cooler will offer tremendous value to your build. I rate it as the best air cooler for the Ryzen 5800X CPU.
Pros
»

High-end air cooling

»

Quiet operations

»

Solid build
Cons
»

Non-RGB fans

»

Overclocking performance could have been better.
6. CoolerMaster MA620M
Another air cooling solution but this time, it's from Coolermaster. A high-end cooling solution with a dual tower heatsink is what Coolermaster Masterair MA620M is all about.
This cooling solution comes up with the following specs:
Dual tower heatsink
Fan noise: 12-30 dBA
Fan Speed: 650-2000 RPM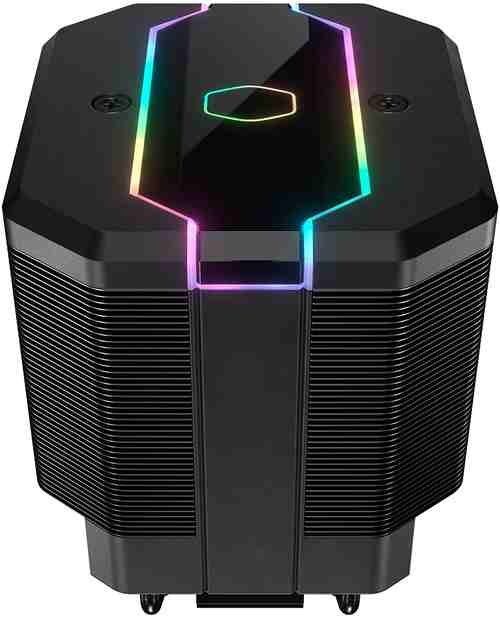 Check Today's Price of CoolerMaster MA620M ➜➜
The design is all-black. I liked the way the whole cooler is molded. It has six heat pipes, and the cooling towers provide up to 67 mm of RAM clearance.
It pretty much sums up that you will have a comfortable installation experience. For better heat dissipation, 55 aluminum cooling fins are there. It enables efficiency in the process.
I found the overall styling to be unique. The whole cooler resembles a large heatsink, but in reality, it isn't. The RGB elements on the top portion add a different value to the design. The fan inside works well and doesn't produce much noise. I found the base having a nice smoothish touch.
As for performance, the cooler does a great job of lowering down temperatures. And the simple installing process makes it quite lucrative to gamers.
Pros
»

Decent cooling performance

»

Zero clearance issues

»

Quiet Operations
Cons
»

Price not reasonable to specs
7. Noctua NH-L9x65
If you have a mini-ITX build, then the Noctua NH-L9x65 can be of great use.
This model comes with some superb features:
Height of 65 mm
Six heat pipes
Six-year warranty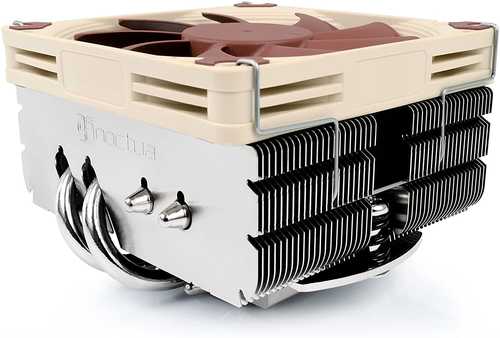 Check Today's Price of Noctua NH-L9x65 ➜➜
This low profile Ryzen 5800X CPU cooler is extremely good for compact builds. Its height is somewhat identical to that of the low profile expansion cards. This is what makes it useful for small builds.
At the time of testing, I found that it takes much less space. Also, it includes a single fan which produces low noise. I didn't find the brown-beige color scheme appealing. To be honest, I expected a bit more from Noctua.
That doesn't mean that it looks terrible. Few of my gamer friends found the scheme to be okay. And you might have the same feeling. The build quality deserves appreciation. They did a great job, and also the base seems well polished.
As for performance, cooling, I would say it's average. I expected a much better output at this price. Though the installation is relatively easy going.
Pros
»

Small and simple design

»

Near silent

»

Easy installation
Cons
»

Average cooling

»

High Price
If you want to compare Noctua with the best cooler in our list, check the NZXT Kraken Z63 Vs. Noctua NH-D15 article for the in-depth comparison.
8. Scythe Big Shuriken 3
This low profile cooler from Scythe is my personal favorite.
This model from them has the following specs:
5-Heatpipe design
Height of 69 mm
Fan Speed: 300-1800 RPM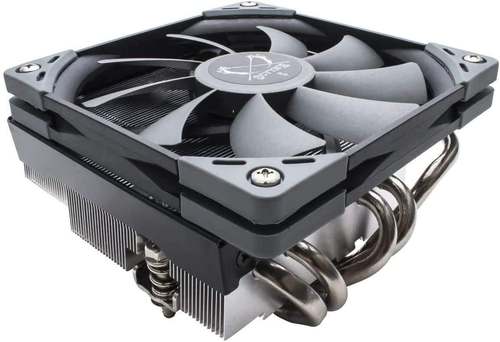 Check Today's Price of Scythe Big Shuriken 3 ➜➜
The reason why I like this is something you would find interesting. It might be cooler with the smaller form factor, yet it can give the broader PC cases the output.
I recommend that you should use this cooler mainly in micro-ATX and mini-ITX PC cases. The design is asymmetrical. And the best part about the design is that there is no interfering with DIMMs.
As an air cooler, it also sports a 120 mm fan. I didn't find it to be loud at all. You can call it inaudible to some extent.
You'll see the base with nickel coating in a flatish structure. This will give you a sort of top-end like vibe. As for performance, I rate this cooler on par with traditional tower coolers. It holds up well in OC tests.
However, there are a few issues that you might face. Like the thermal throttling due to its small size. Also, there might be clearance issues with few motherboards.
Overall, This cooling solution offers an impressive performance. As it is a whisper-quiet cooler, you can trust for taking care of your Ryzen build.
Pros
»

Inaudible performance

»

Good build-up

»

Easy installation
Cons
»

Clearance issues with few motherboards

»

Lacks RGB

»

Thermal throttling
9. AMD Wraith Prism RGB
I like this CPU cooler for its appearance. The low profile design, along with the subtle implementation of RGB, is something that will surely attract you.
This model comes with the following specifications:
Includes tronware thermal paste
4-pin PWM connector
4.13-inch fan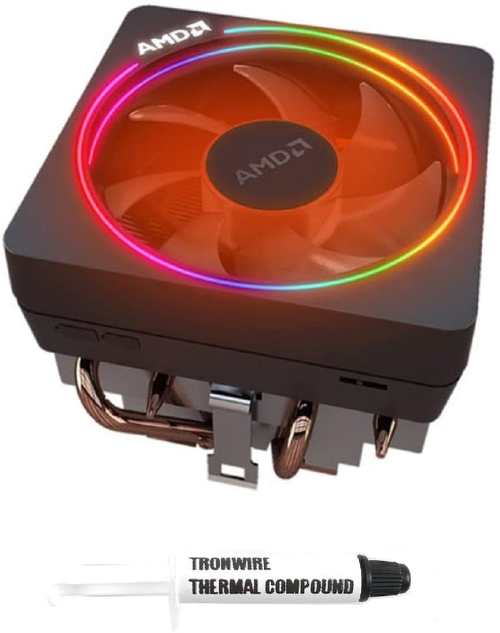 Check Today's Price of AMD Wraith Prism RGB ➜➜
Of all the low-profile cooling solutions mentioned above, this is the only one with RGB implementation. It can be an excellent addition to your Ryzen build. It also supports a plethora of motherboard sockets.
The 4.13 inch looks impressive when it is in full flow. You'll love the smooth RGB flair in it. The LED colors seem very bright and bold.
The near-silent operations is a plus point. While I was playing games or even while editing, I didn't face any significant issues. Pretty sure you won't face either.
To sum up, an excellent low-profile RGB cooler to buy at a reasonable price.
Pros
»

Budget Best

»

Smooth RGB Flair

»

Easy installation
If you are looking for other best aesthetic RGB CPU cooler, you can go through the article to find even more products.
Ryzen 7 5800X Cooling Guide
AMD Ryzen CPUs are the fastest ones out there. And the Zen 3 CPUs are the latest addition to the long lineup of Ryzen CPUs. There is no confusion about their abilities.
As a fellow gamer, I know that you would want to tweak your CPU. For that, you need to know the right techniques for getting an optimum output.
Here are the things you should do for keeping your Ryzen 7 5800X cool after overclocking:
Maintain Cleanliness
Your fans, heatsinks, and the case should be free from dust and unwanted obstructions. It doesn't matter what cooling solution you are having. Water Cooling or air cooling, the result is the same when the components inside are blocked or clogged.
Let me tell you my story:
My last build was pretty impressive, full of powerful components. It was going well for the first few months. I was able to hit decent speeds and tweak the system smoothly. After a few months, drastically, everything dropped.
I was like, what the hell man! What's wrong with the build. So, I decided to open up the case and see if anything went wrong.
Guess What!
Dusts radiator clogged the radiators, and there were webs and lots of unwanted things. After that, I realized what went wrong.
My earnest suggestion to you is to clean your system at least once in 6 months. Do not be a stupid idiot like me, or you won't get your desired overclocking performance. It will significantly improve overclocking performance.
The cleaner your build is, the cool it will be for better that good air flow.
Use Ryzen Master for Overclocking
The best software to overclock your Ryzen processors is the Ryzen Master. This is the official app from AMD for tuning your CPU speed.
Choose a few games with good benchmarks. Then, run-on the test with lower resolutions on the settings. Next, look up to static benchmarks to know the performance gains after pushing your CPU to the limit.
Always visit your motherboard's website to know if there were any updates.
FAQ
Question: Does Ryzen 7 5800X come with a stock cooler?
Answer: No, the Ryzen 7 5800X doesn't come up with a stock cooler.
Question: What should I do before overclocking my Ryzen 7 5800X?
Answer: Before overclocking, you must try to maintain the cleanliness of your system. Also, know the software and the implications of it.
Final Thoughts
These are the top 9 coolers that I promised you to discuss. You'll find both air cooling and water cooling solutions for your Ryzen 7 5800X.
For water cooling, I would recommend the NZXT Z63 and air cooling the Scythe Fuma 2.
Still mate, it's your choice to make. If you feel any confusion about anything after all this, do let me know.