A great CPU cooling solution is what makes your PC function properly.
In a hurry? Check my top AIO Cooler.
Or else read out my entire review on some fantastic AIO's.
The question is, will the CPU Coolers sync well with your RGB gaming build?
Worry not, mate!
I will be providing you a comprehensive list of RGB AIO cooling solutions that can meet your all needs.
If you want to overclock your CPU, here are some awesome budget best cpu cooler for overclocking.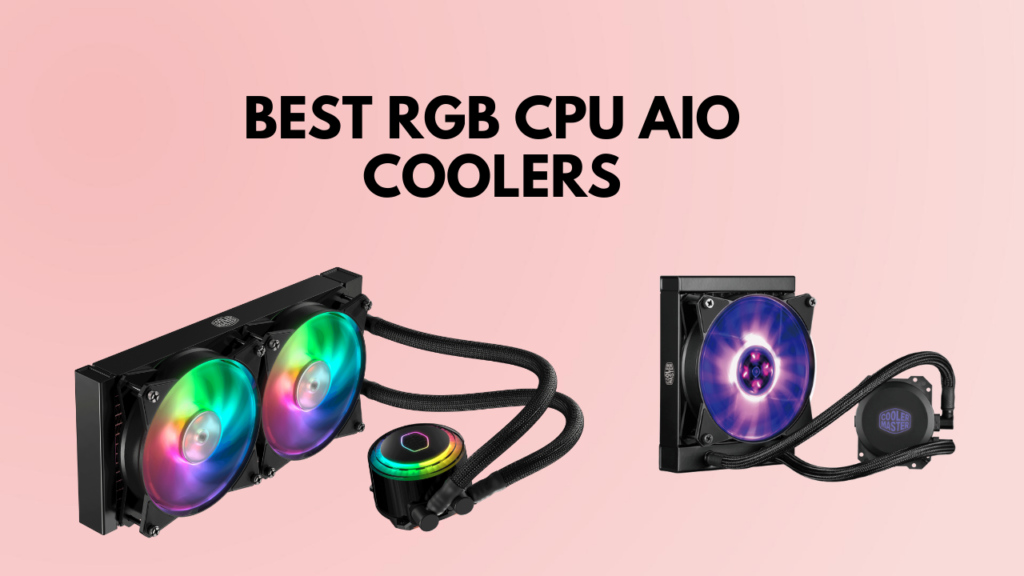 Best RGB CPU AIO Cooler Reviewed
While buying any PC hardware, we try to choose based on some criteria. What is your preference for the RGB AIO cooler?
Are you looking for something high-end? Or something mid-range is enough. Is aesthetics your prime focus? Or you prioritize performance the most.
Lot of questions to answer. Isn't it?
I won't waste your time as I know you have a lot of things to do. Therefore, lets' jump right into the answers you are looking for.
Also, take a quick tour to find the best low-profile cpu cooler for your chassis.
Here are the seven best RGB CPU AIO coolers for your gaming build:
1. NZXT Kraken X53
Starting off, I will be pretty honest with you. I am an avid fan of NZXT and their line of liquid coolers. All of the models I used to date always performed as per my expectations. That said, this model from their Kraken X-series comes with some serious specs:
2x Aer P 120 mm fans
CAM software integration
Fluid dynamic bearings
Fan Speed: 500-2300 RPM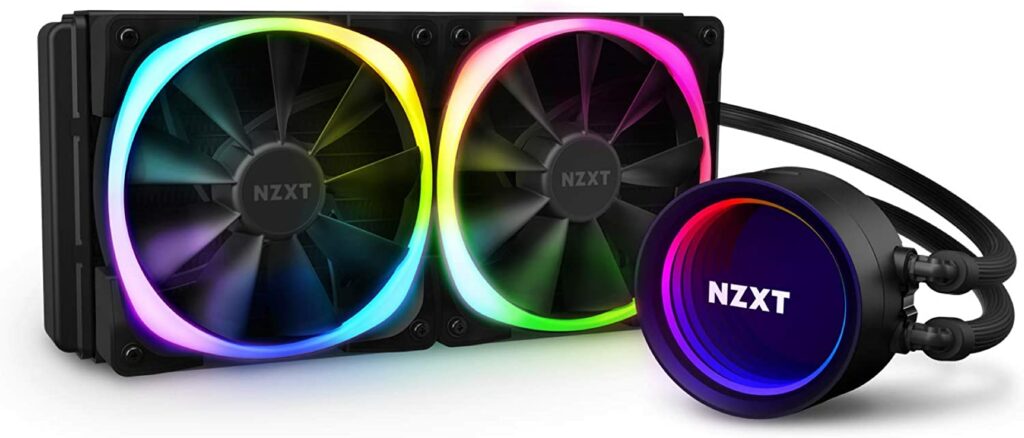 Check Today's Price of NZXT Kraken X53 ➜➜
NZXT is a top brand, especially when it comes to cooling solutions and PC cases. In my opinion, mostly, it is their CPU cooling solutions that made them what they are today.
The Kraken series of coolers have always been my top choice. And this model, that is the Kraken X53, is something of high quality, offering an excellent cooling solution.
It is one of those high-end solutions that offers excellent build quality. Its best-of-class durability is one of the prime reasons for it bearing a 6-year warranty tag.
As for the socket support, you don't need to worry at all. It supports all the sockets of both the Intel and AMD platforms.
Now, if you used any cooling solution from NZXT before, you would love the implementation done on the pump. It has that trademark mirror front appearance with a 10% bigger LED ring. What's intriguing about this pump-front is the vivid lighting it offers.
The fans possess a unique blade design. Such blades ensure that the fans don't create a noisy situation. Also, it provides a greater lifespan.
Moving on to the performance, I rate this cooler as the perfect exemplar of something high-end. In my stress tests, the cooler managed to keep temps at a stable level. And for monitoring all these things, the NZXT CAM software was like a lifesaver. You can do everything very precisely with the help of this software.
Overall, I would say that this AIO liquid cooler excels in performance as well as in aesthetics. I suggest that it should be one of your topmost priorities while selecting the right option.
You can also check out the best coolers NZXT offers.
2. Aorus Liquid Cooler 280
As a brand, Gigabyte is incredible. Their Aorus line of cooling solutions comes with some fantastic liquid coolers. This model from them sports the following specs:
Customizable LCD
2x 140 mm PWM fans
Noise level: 22.3-44.5 dBA
Fan life expectancy: 70000 hours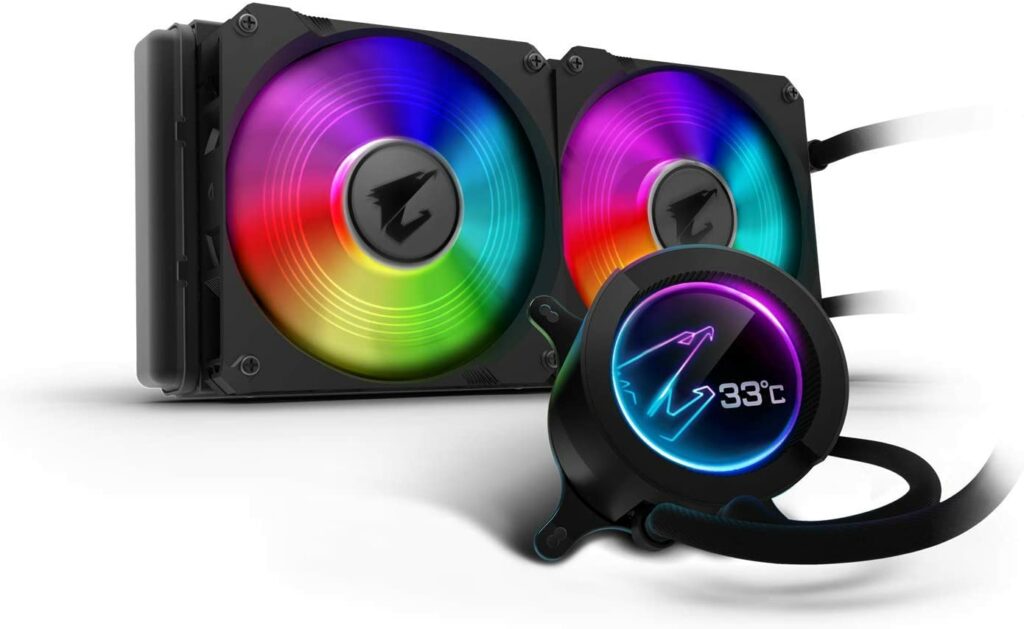 Check Today's Price of Aorus Liquid Cooler 280 ➜➜
This cooler from them is mainly for high-end builds. It is for those multi-core CPUs that tend to generate excessive heat.
It comes with an Asetek based design and also possesses a locking mechanism on the mounting brackets, which eventually makes this model relatively easier to set up inside your rig.
The best part of this cooler that you'll notice is the customizable LCD. You can regularly view temps, and if you wish, you can even add some bling to it. Arguably, it is one of the best AIO coolers with a screen.
Now, let's talk about what matters the most, the performance. I tested this cooler on my i9-9900K build, and to be honest, it performed to its potential. The noise level was considerably low, even during the stress tests. Also, there were zero issues at the time of overclocking.
The only thing that might concern you is its price. But, since it's a fancy option, such a tag is somewhat regular, in my opinion.
3. Thermaltake TH240 ARGB
If you seek something that will offer you the highest vibrancy level, this model from Thermaltake can be the right choice. It comes with the following features:
Fan Speed: Max 1500 RPM
Low-profile pump
Noise level: 28.2-30 dBA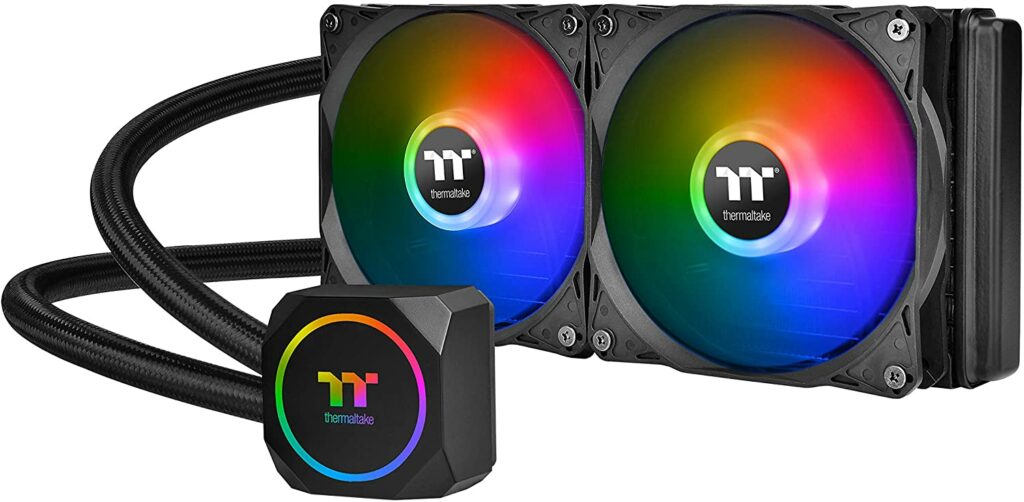 Check Today's Price of Thermaltake TH240 ➜➜
The lighting in this cooler is undoubtedly impressive. I would say the vibrancy and the glow that these models offer is unmatched by any of the list options. And that eventually supports the statement that RGB is the heart of this cooler.
But, this AIO liquid cooler has much more to offer. It can tame down the temperature pretty aptly and, in this process, does ensure decent acoustics.
Such evidence I found while using this cooler in my Ryzen 3700X build. The temps didn't bother the performance.
Apart from these things, this model does come with a very reliable pump. It does ensure that there is no leakage of coolants. Also, the effortless installation process is a plus point.
Moreover, I bet that you will love this cooling solution as it comes at a very reasonable price, which is a rarity among the high-end options.
4. ID-Cooling Iceflow 240 ARGB
If you're up for fancying something that too for mid-range builds, this model would be an excellent option. It sports the following specs:
Two-way RGB control
Fan Noise: 900-2500 RPM
Noise level:16-31.5 dBA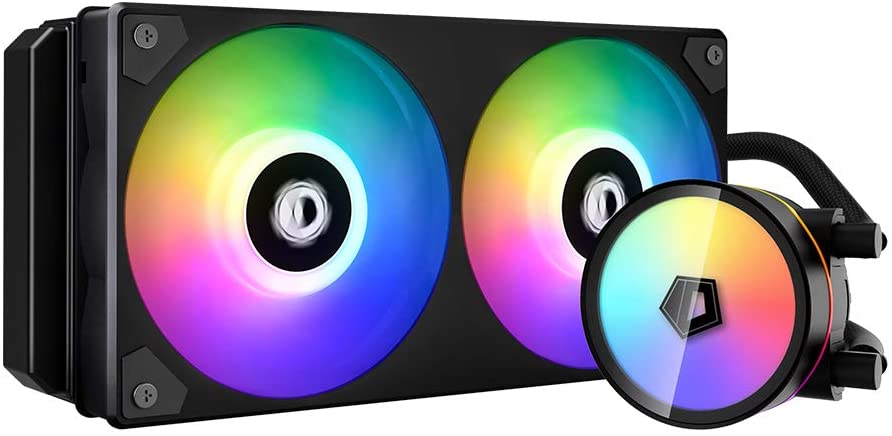 Check Today's Price of ID-Cooling Iceflow 240 ➜➜
ID-Cooling created something exceptional for the RGB enthusiasts with this cooler. It excited me a hell lot when I heard its first-hand review from one of my friends. And he was right to a great extent. In my testing, I found the overall lighting to be a visual orgasm. The vividness is top-tier and is similar to the ones you get in the top-end cooling solutions.
Performance-wise, I would say it's the best you can get for a mid-range option. But if you are looking for something really high-end, I'll disappoint you, my friend.
Besides, I feel that ID-Cooling should've put more emphasis on the total build-up. I won't say that the cooler looks fragile, but the quality could've been better.
The cable management is easy, and the acoustics are also low. The best part is that it comes in a reasonable price tag like the cherry on the top for a mid-range option.
5. MSI MAG Core Liquid 240R
MSI is a top brand for gaming peripherals, and there is no doubt about the quality they bring to the table. This model from them stands for that quality and has some excellent specs to offer:
Fan Speed: 500-2000 RPM
Pump Speed: 4200 RPM
Noise level: 14.3-34.3 dBA

Check Today's Price of MSI MAG Core Liquid 240R ➜➜
This model is something extremely effective from this brand. In terms of appearance, it's stylish as well as artistic to some extent. Especially the look of the pump block when the LEDs start to glow. You can even turn up this blockhead in different ways. Angularly you can rotate it up to 270-degrees.
The best thing about the fuel pump is its integration with the radiator. It plays a big part in the total sound dampening. Also, this phenomenon helps to increase the life expectancy of the pump.
The total cooler has an excellent RGB implementation. LEDs on the fans create a vibrant illumination. Also, when the pump headlights up, the MSI logo looks quite catchy to the eyes.
Performance-wise, I would say that I was satisfied with this cooler. I tried it on my Ryzen 3700X build, and even when I was tweaking the CPU, this AIO cooler ensured that everything remained under control. The extreme temps were around 70-75 C, which is fine enough for a 240 mm AIO cooler.
To sum up, my verdict is that it's the perfect replacement for stock coolers that come with a gorgeous RGB implementation.
6. Coolermaster Masterliquid ML240L
The cooling solutions from Coolermaster come with an outstanding reputation. This model from them stood exactly for that reputation and got the following notable specs to offer:
Fan Speed: 650-1800 RPM
Noise level: 8-27 dBA
2x Sickleflow RGB fans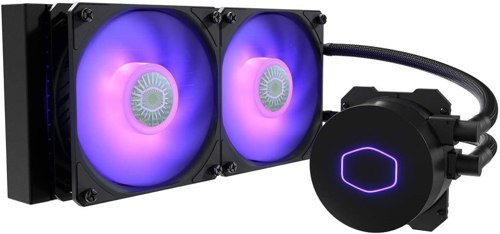 Check Today's Price of Coolermaster Masterliquid ML240L ➜➜
Everything about this AIO cooler from the masterliquid series is admirable. The design or the performance, you'll like almost everything.
When I tested this cooler on my rig, I noticed that it could offer some raw performance. There is no confusion about what this model promises to provide.
The design is quite attractive, and also the radiator gives a high-quality vibe. Overall, I am pretty sure that you would be delighted by the outlook of this model.
Also, don't forget to check out our best fanless CPU cooler for silently operating your PC.
Now, the way it tames down the temps is commendable. I didn't expect much from this particular model, but the output I got really amazed me.
Besides, you will find this cooler relatively easy to install. It offers a good clearance to GPU and the DIMMs.
Though the fans can often get noisy, it's never above 45 dBA at extreme settings. Typically, the noise level stays under 30 dBA, which is tolerable.
To sum up, I would say that this model is a good prospect for anyone seeking some raw output at a low price.
7. Gamdias Chione M2-240R
Now, the last AIO cooling solution on my list is from Gamedias. This model sports the following notable specs:
Fan Speed: 700-2000 RPM
Noise level: 16-22 dBA
Hydraulic bearings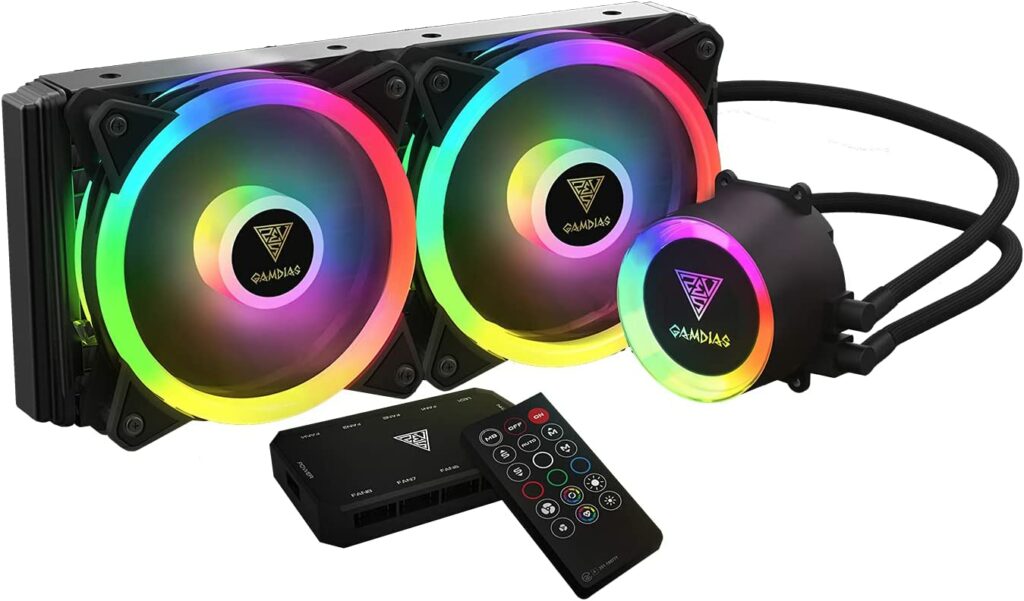 Check Today's Price of Gamdias Chione M2-240R ➜➜
This model from Gamedias is highly aesthetic focused offering decent performance. In fact, it is one of the most stylish RGB AIO coolers that you will find in the market.
Especially the RGB lighting in this cooler is one of a kind. It comes with dual ring RGB fans, and the pump also possesses a separate RGB ring.
That said, you will be amazed to know that 55 built-in lighting effects will allow you to tweak the lighting inside your rig.
The pump comes with a mirror-styled implementation, and the cutting-edge mirror finishing in it looks pretty ecstatic. Also, the overall build-up is excellent. It's well off to withstand high temps with ease.
Ending up, I would say that Gamingdias created something excellent so that you can have some gorgeous lighting in the rig. Also, not to mention the cooling performance, which is quite reasonable despite much emphasis on aesthetics.
Final Thoughts
Choosing the suitable CPU cooler is a crucial task as it is that component, which will ensure that your gaming rig stays healthy. In this article, I have tried to enlist all those coolers that can make a difference in your system's overall performance. My list includes high-end and budget options so that you don't feel that all options are pretty much similar.
So, this was all about the best RGB AIO coolers. Still, if you are clueless about anything, do let me know.