Overheating is always an issue for gamers because it risks gaming performance. That is why top-end gaming rigs require top-end cooling solutions.
But which cooling solution you should choose always remains a big question.
In a hurry? Check my 360mm AIO liquid cooler.
Or take some time to read my take on some top-performing 360mm liquid coolers.
As in this article, I reviewed some of the best AIO coolers of the 360mm category to satisfy your cooling needs.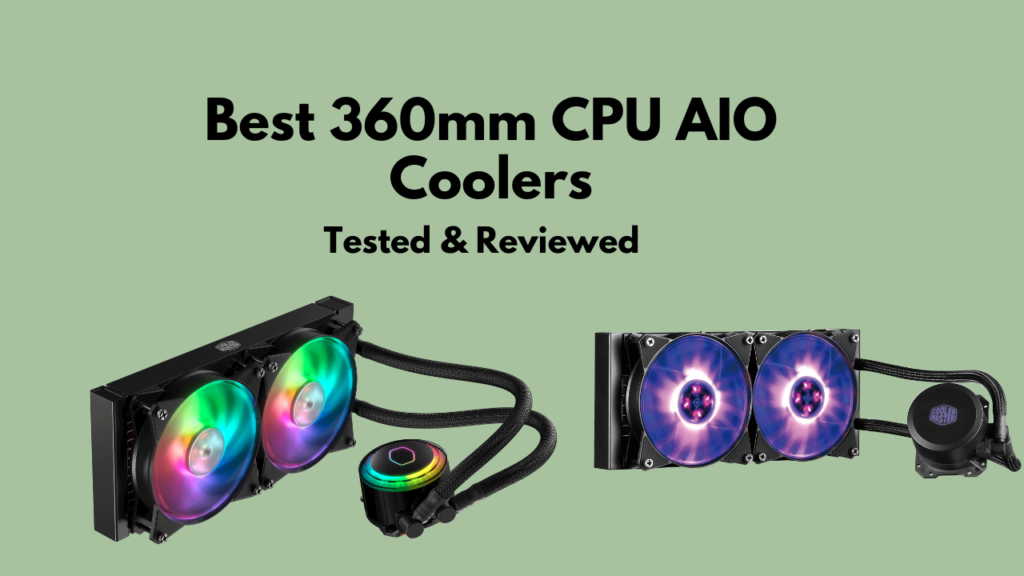 Best 360mm AIO Reviewed
If you are a gamer, your first priority should be to ensure that your gaming rig stays healthy. Because once your rig starts getting affected by things like overheating, then there is no going back.
Your system will slow down, and there will be high risks of thermal throttling.
Now, if you don't want to face this situation, a proper thermal solution is paramount. Especially the 360mm water coolers, which are highly suitable for top-end gaming rigs. Unlike the 120mm and 240mm variants, these coolers are much rugged and can address extreme cooling needs.
However, while choosing this type of AIOs, you might be considering different buying factors.
Don't worry. I got all those factors covered in my list, and I will not be making you wait anymore. Also, Check out our expert-recommended Aigo Water Liquid CPU Cooler for your PC.
Here is the list of the nine best 360mm AIO coolers:
1. ASUS ROG Ryujin 360 RGB
The Republic of Gamers Series of products from ASUS comes with an excellent reputation. They are a perfect choice for any gaming rig in any situation. That said, this AIO from this series can be an excellent option for your high-end gaming rig.
This model comes with the following specs:
Fan Speed: 450-2000 RPM
Fan Noise: Up to 29.7 dBA
77" OLED display
3-year warranty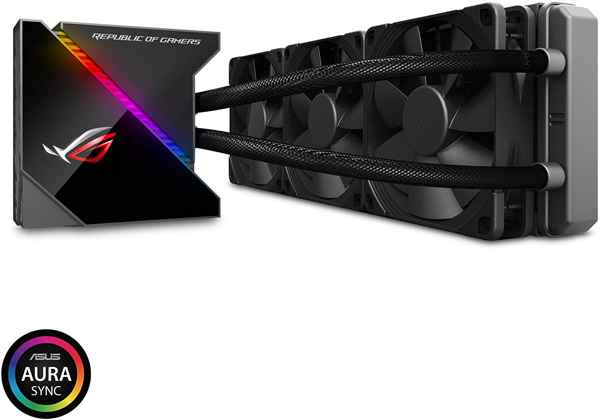 Check Today's Price of ASUS ROG Ryujin 360 RGB ➜➜
The design of this cooling solution from ASUS is incredible, in my opinion. In fact, I feel the whole scheme is the best one you'll find in the coolers of the ROG Ryujin series.
Now, coming to the main part, this cooler has some of the finest features you'll find in a liquid cooler.
One of them is the 1.77" OLED display. Through this, you can display the CPU stats like fan or pump speeds, CPU temps. You can even add animations as this display offers superb customizability.
The air circulation is pretty well done as the 3x fans are of top-notch quality. Their performance level is unquestionable. Their quality was pretty evident in my test results, as there was no massive spike in temps. In moving hot air out, there is no doubt that they are the best in the business.
Besides these fans, there is also an additional fan in the CPU block, whose main job is to keep a check on the VRM and M.2 areas of your CPU. Because those areas getting overheated can prove to be a big problem. Also, check out our expert's recommended best cooler master cpu coolers.
As for RGB, I would say it looked cool. The Aura sync software is there for proper customization of the lights.
The noise levels are okay. While gaming, you don't need to worry that you would ruin the sleep of your partner. Trust me; the sound is that low.
Overall, I would say that this water cooler is all good for a top-end rig. The price might seem a bit high, but that is what a high-performance cooler is supposed to have.
2. Deepcool Castle 360EX
Deepcool is a trusted brand for high-end cooling solutions. In the AIO market, their coolers are well received.
This model from them comes with the following attributes:
Fan Speed: 500-1800
Noise Level: up to 32 dBA
3-year warranty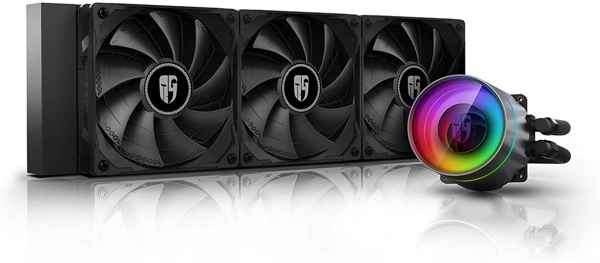 Check Today's Price of Deepcool Castle 360EX ➜➜
As a 360mm water cooler, this model possesses a fantastic build-up. This trait eventually plays a big part in providing the cooler tremendous durability.
The 360mm radiator looks cleanish and has a boxy shape. And with the all-black fans, the entire outlook of this AIO seems pretty nice.
Talking about the fans, they are non-RGB. However, the cooler isn't devoid of RGB elements. You would find the pump head boasting enough RGB lighting, which is very appealing.
This pump is also rotatable, which also makes it quite flexible for you to handle.
Now, if I have to talk about this cooler's best part, I would say it's the radiator's emergency release valve. This very part features the anti-leak technology of Deepcool.
Performance-wise, I would say the cooling efficiency that this cooling solution provides is unprecedented.
The fans do a great job in pushing the hot air out to keep the system cool. However, at 100% speed, they are a bit noisy.
As for the installation, you don't need to worry at all. It's straightforward, and it won't even take 10 mins.
The price might seem high for a cooler with non-RGB fans. Still, nothing to take away from the high-end solution that this cooler provides.
3. Corsair Hydro Series H150i Pro
The Hydro series of cooling solutions from Corsair is quite popular in the gaming community. Most gaming freaks like me find Corsair as a reliable brand when it is time for finding the right cooler.
That said, this model from Hydro Series attributes the following features:
Fan Speed: 400-1600 RPM
Fan Noise: 20-25 dBA
Zero RPM mode
5-year warranty

Check Today's Price of Hydro Series H150i Pro ➜➜
You would be delighted to know that this version of this 360 AIO cooler comes with some exciting changes.
Starting with the radiator, the braided tubing used there looks decent. It is way better than the corrugated tubing that was there in its predecessor, which looked awful.
The pump block is squarish. In the middle of it, you'll see a Corsair logo engraved. Also, the block comes with subtle RGB  elements.
Now, the question is:
What sort of performance this liquid has to offer?
Well, my testing results say it's good enough to handle loads. Especially while overclocking, you would find that this cooler can tame the temps quite easily.
Also, the fans present in it won't create a noisy situation for you. In my experience with this 360mm liquid cooler, I felt the sound levels were criminally low. I would say it is the best silent AIO on this list.
The reason behind such silent operations of the fans is the usage of magnetic levitation bearings. Corsair deserves a huge applaud for this.
Installation is also simple. The cooler will offer adequate clearance to the memory and GPU in your rig.
However, if you are on a budget, the price might seem high. But, if you aren't, I would highly suggest you go for this. It's worth a shot for high-end outputs along with inaudible operations.
For more low-noise level cooling solutions, check out the list of the 9 quietest CPU coolers you can get. However, if you want complete silence, see the best fanless CPU coolers available.
4. ID-Cooling Zoomflow 360X
If you are looking for affordable options, the brand ID-Cooling can be a smart choice. Because they offer some of the most reasonably priced cooling solutions.
This model from them has some fantastic things to offer:
Fan Speed: 700-1500 RPM
Noise Level: 18-26.4 dBA
Pump life expectancy: 50000 Hrs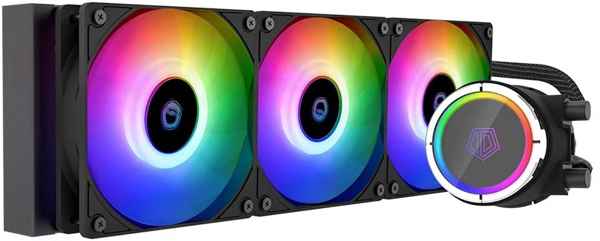 Check Today's Price of ID-Cooling Zoomflow 360X ➜➜
This 360mm CPU cooler bears one of the best design implementations. The aesthetics and the scheming did in it is absolutely top-notch.
I found nothing to criticize about the design. In a word, it's AWESOME!
The pump head has a nice touch all over it. The logo is there in the middle, and the ring-shaped pattern is there under which RGB LEDs are placed.
Talking about RGB, both the pump and fans offer some stunning effects. One of my friends was awestruck after watching the lighting performance in my rig. Especially when the RGB fans were lit and running at full speed, it looked blissful.
Now, coming to the performance, this 360mm AIO can handle the temps pretty well. But, if you want to push your system harder, then there might be some implications.
Here, I meant by implications that, unlike stock settings, if you force your rig to limits, controlling temps might prove to be a tad problematic.
Other than this, as a thermal solution, the cooler is decent enough to add in a rig.
Moreover, if you just seek stock performance, this cooler is a great option to buy.
5. Arctic Liquid Freezer II 360
While the craze for RGB lighting is at an all-time high now, few gamers prefer non-RGB implementations.
If you are one of them, this liquid cooling solution from the Arctic is for you.
Some of the notable specs of this cooler are mentioned below:
Fan Speed: 200-1800 RPM
Noise: up to 24.5 dBA
2-year warranty

Check Today's Price of Arctic Liquid Freezer II 360 ➜➜
This non-RGB water cooler makes it to my list because it offers a superb performance level. Also, the reasonable price tag it comes with is another significant factor in choosing it.
The total cooler possesses a blackish matte texture. What's more interesting about its design is its unique pump head, which also looks stylish.
This pump head also features a 40 mm fan whose main job is to cool the VRMs.
As for the compatibility, this cooler is more inclined towards Intel builds. It is compatible with almost all the latest sockets of Intel, whereas, from AMD, it only supports the AM4.
The best part is that this water cooler performs well under loads. What I have seen is temps are maintained on tolerable levels.
Now, this cooler has its share of imperfections.
Like, the small 40mm fan may appear to be a bit noisy at times. And the 2-year warranty doesn't suit a cooler of this stature.
Even after all these, I feel this liquid cooling solution is worth buying. The reasonable price along top performance levels makes it a good shot to take on.
6. Silverstone PF360-ARGB
If you're looking for a budget-friendly ARGB liquid cooler, this model from Silverstone is the best option to look for.
This 360mm liquid cooler comes with the following specs:
Fan Speed: 600-2200 RPM
Noise level: 7.4-35.6 dBA
4-pin PWM

Check Today's Price of Silverstone PF360-ARGB ➜➜
This is something flagship from Silverstone, which comes with a tremendous cooling potential.
You'll love the RGB implementation on the fans. They are one of a kind.
These fans run at adequate speed and move out hot air very efficiently. And they aren't loud at all, even at max RPM.
What's more interesting is:
These fans possess rib-edged blades, which is one of the prime reasons for its top-end operations. Also, at max speeds, your rig won't face any vibration because of the presence of high-quality rubber pads.
This cooler also consists of a top-notch RGB water block, which comes with a multi-chamber design. Such a design ensures the proper isolation of the hot and cold liquid channels.
On top of that:
This cooler also ensures that there won't be any sort of heat bleeding. Mainly thanks to its pump, which also appears to be less noisy.
Above all, this budget-friendly liquid solution is an incredible value for money that offers an excellent cooling potential.
For more low-budget cooling systems, check out the list of the top 11 low-profile CPU coolers available right now!
7. Fractal Design Celsius+ S36 Prisma
Cooling solutions from Fractal design aren't that popular. But that doesn't mean they aren't of top quality.
This model from them attributes some superb specs:
Fan Speed: 500-2000 RPM
Noise Level: up to 32.7 dBA
5-year warranty

Check Today's Price of Fractal Design Celsius+ S36 Prisma ➜➜
I know Fractal Design mostly for their PC cases. That's what they are famous for. As for CPU coolers, I wasn't sure about the quality that the brand has to offer.
But now that I have placed this cooler on my list, I assure you of its superb attributes.
In my opinion, this is a very good AIO that comes with some top-notch features.
Its pump head looks excellent with lovely matte finishing all around. The pump head's surface is highly reflective, and there is a ring shaped RGB lighting stripe on it.
Also, both the radiator and tubes come with a nice touch. You'll like the tubes as they offer a sheer amount of flexibility, which will enable you to install the cooler inside easily.
The 3x fans perform well, and while running at full speed, they look stunning. It is mainly due to the superb implementation of RGB as there are 6 LED emitters in the middle of each fan.
In terms of performance, I would say the cooler is okayish. The only downside I found is that at max speeds, the fan becomes a tad noisy.
Other than this, this 360 AIO cooler is a pretty good prospect that comes with a reasonable price tag. Should you buy an aio cooler?
8. Thermaltake Floe Triple Riing RGB 360 TT
If you are looking for something all RGB, this water cooler from Thermaltake would be the right solution for you.
This model from Thermaltake comes with the following specs:
Fan Speed: 500-1400 RPM
Noise Level: 19.8-24.7 dBA
2-year warranty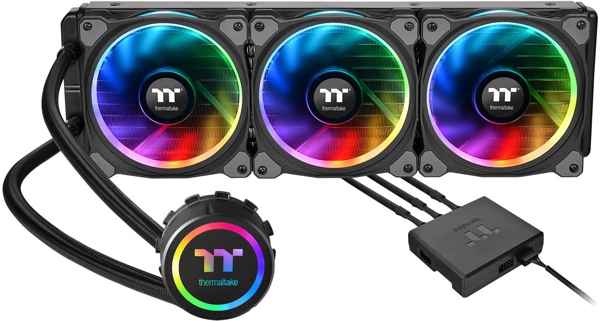 Check Today's Price of Thermaltake Floe Triple Riing ➜➜
This 360mm CPU cooler is one of the most stylish AIO out there in the market. It can cool down any high-end CPU with ease.
That said, it has no compatibility issues with both Intel and AMD CPUs.
Now, let me tell you about the best part. The RGB lighting in this CPU cooler is second to none. Both on the fan and pump, the glow that the LEDs give is pretty vibrant.
You can do the blending very beautifully using the Riing software. It is super customizable, and its responsiveness is also outstanding. You can even control the pump and fan speed using this software.
The best part is:
There is a mobile app version of this software, which enables you to control everything with the tip of your fingers in no time.
I found the build quality to be top-notch. Hoses are sleeved and swiveled nicely, which will make installation easy for you.
As for performance, my testing says that this cooler can stand tweaking without any issues. It will ensure that the temps inside your rig remain under 65° C.
The warranty isn't that good to be very honest. I expected a bit more from Thermaltake.
Overall, as a cooler, it boasts excellent lighting and cooling potential making it one of the most desirable options.
9. Enermax Liqtech II 360 
If you are looking for a mid-range water cooling solution, this AIO from Enermax is worth a shot.
This model from them boasts the following specs:
Fan Speed: 500-2300 RPM
Noise Level: 14-28 dBA
4-pin PWM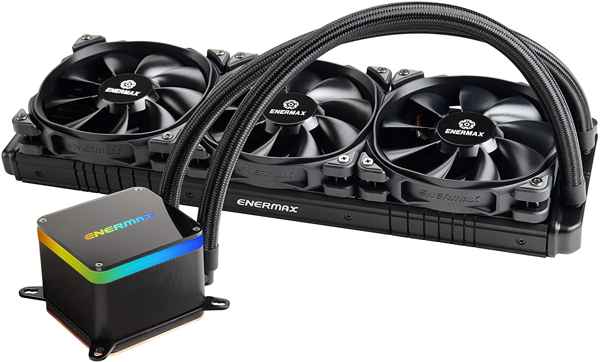 Check Today's Price of Enermax Liqtech II 360 ➜➜
Enermax is a reliable name in the PC hardware market. AIO coolers from them always turn out to be of top quality.
This 360mm radiator AIO from them is a nice mid-ranged option for gamers looking to save a bit of money. It is compatible with all the latest sockets from Intel and AMD.
The best thing about this cooler is its pump. It is 7x times more powerful than the one in any average AIO out there. This is because the pump has a very high flow rate, which results in increased cooling performance. Don't need air coolers for your rig?
As for the RGB lighting, I would say the glow that I noticed was impressive. There were ten pre-set effects that the cooler comes with.
Talking about performance, my testing showed that it has good OC potential. However, at high loads, the cooler can get a bit noisy.
To sum up, as a mid-range option, it's terrific, which also comes at a reasonable price.
Final Thoughts
Whether you're looking for an RGB or non-RGB cooler, high-end or mid-range option, premium or budget-friendly solution, my list got everything to offer.
All of the nine coolers mentioned in the list possess amazing features that will surely meet your needs. Hopefully, you will find the best 360 AIO from this list. Still, anything that seems confusing to you, then do let me know in the comments.