It's a no-brainer that for getting the best out of a flagship processor like Ryzen 9 5950X, a powerful cooler is mandatory.
But, which one to get?
In a hurry, check my #1 recommended CPU Cooler.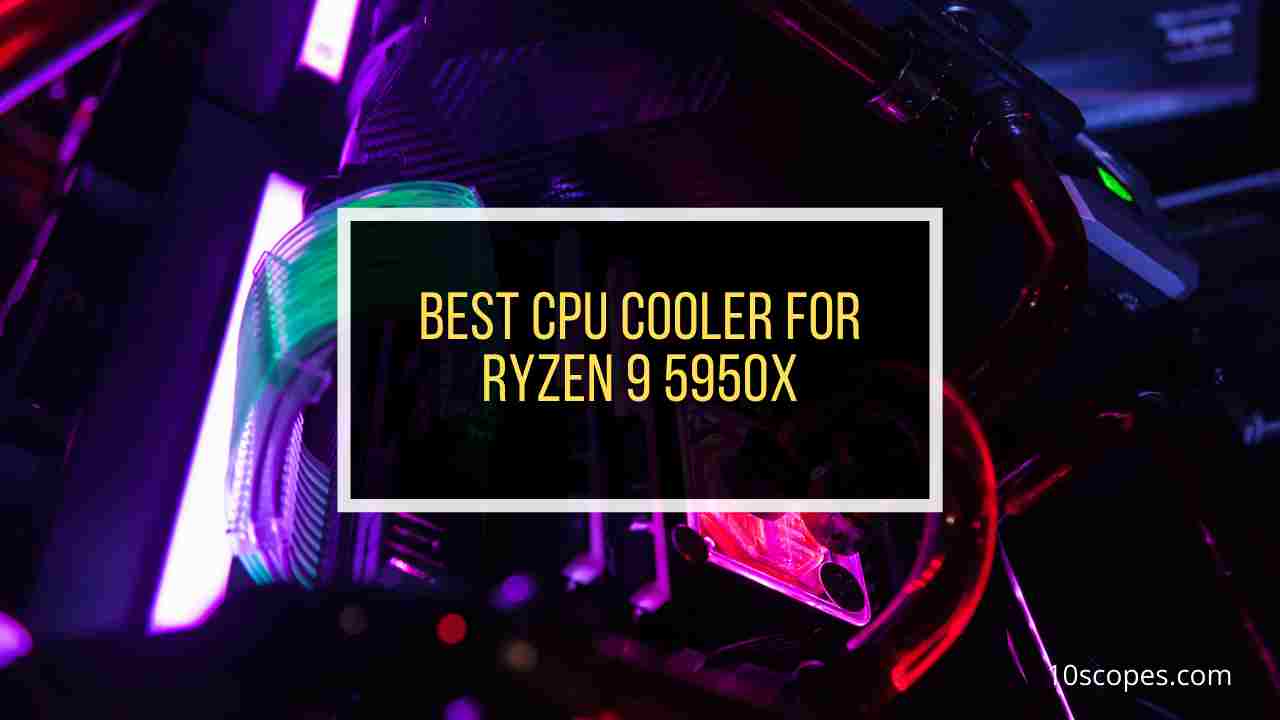 No worries, fellow gamer!
I am at your rescue. After days of research and testing, I enlisted the top-notch CPU coolers for you in this post.
Or grab some snacks before going in-depth with my CPU cooler review.
Best CPU Cooler for Ryzen 9 5950X
I must say, your choice of going for the latest Zen 3 CPUs is excellent. You'll be having an unparalleled gaming performance.
No question about that.
But buying a good CPU won't be enough to crush your extreme gaming performance. You'll need an excellent cooling solution for your Ryzen Zen 3 processor. Otherwise, everything will be a waste of your valuable time and money.
So, what are you waiting for?
Let's check out my comprehensive review of the industry-leading CPU coolers.
Also, receive some latest updates concerning the best CPU Cooler for Ryzen 7 5800x and best CPU coolers for Ryzen 9 5900x.
Here are the best CPU coolers for Ryzen 5900X:
1. Corsair H150i Elite Capellix
Corsair has made an uninterrupted biasedness among its users. They are consistently making the best components in the PC hardware industry.
Even I couldn't resist rating the H150i as the number one cooler for Ryzen Zen 3 processors.
This model comes with the following specs:
Fan Speed: 400-2400 RPM
Fan Noise: 20-36 dBA
Optimal cold plate design
Warranty of 5-years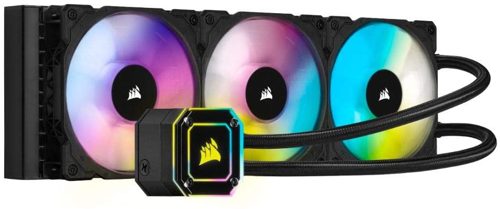 Check Today's Price of Corsair H150i Elite Capellix ➜➜
This remarkable cooler comes with a lot of heat dissipation area. For optimal cooling performance, this is what one requires in the CPU cooler in a rig.
The pump block looks like an octagon. I found it visually attractive. I feel this block seems way better than the ones in most other CPU coolers.
The overall design has a clean touch. That said, the pump face looks dazzling thanks to the 33 RGB LEDs. In case you want to change the pump face, there is an extra top part in the package.
I liked the way Corsair improved in their fittings. The 90-degree swivel fittings will make proper adjustments in the nylon-sleeved tubings. The three top-quality fans produce a decent output. The air circulation is excellent, given the speeds they run on.
Now, if you are a fan of RGB then Corsair has got your back cause the RGB of this cooler is phenomenal. Corsair's ICUE software support is amazing and highly compatible with this cooler.
You can change the RGB lighting of the pump and fans by selecting different zones. At the time of testing, they were as bright as a moon. However, if you are in some other mood like you want some cyberpunk-type feel, it's easy to get.
Isn't that amazing?
But a few things are there you might not like. If I talk about myself, I wasn't impressed with the fans running at max speed. They were annoying, just TOO LOUD.
Under high loads, I expected them to be at least tolerable. But they weren't. Though you can have no sound at all in the Zero-RPM mode, still under loads, the loudness was disappointing.
To sum up, the Corsair H150i Elite Capellix is a great performer that comes with a 5-year warranty. However, few issues are there, nothing to take away from the top-end output it gives.
Pros
»

Exceptional Cooling

»

Memory and GPU clearance

»

Good build-up

»

Superb RGB implementation
Cons
»

Fans loud under load

»

Expensive
2. NZXT Kraken Z63
When someone asks me about which is the best looking AIO cooler for a gaming PC, I always recommend the same thing.
Yup, it's none other but the most gorgeous-looking cooler, the NZXT Kraken Z63. This model attributes some superb specs:
Fluid dynamic bearings
Fan speed: 500-1800 RPM
Fan Noise: 21-36 dBA
6-year warranty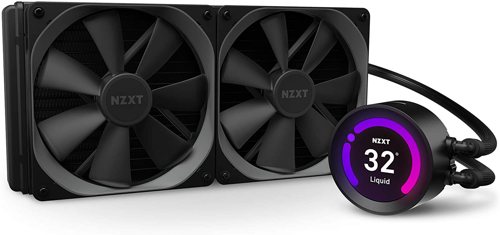 Check Today's Price of NZXT Kraken Z63 ➜➜
This liquid cooling solution is one of a kind. The design or performance, everything about this cooler, is just on another level.
This remarkable CPU cooler provides tremendous thermal headroom. The Z63 will never let you down in terms of extreme overclocking let alone performance lag. The fans do a fine job in air circulation. The main reason is the presence of fluid dynamic bearings, which enhances the output to the next level.
However, these fans don't bear any RGB elements. It is one downside I feel most gamers won't like. Though there are RGB elements in the pump face, still, it's not enough for most. At least in my case, I was disappointed.
But that disappointment somewhat got away with the superb LCD that this cooler got.
I played with it while testing, and to tell you the truth; it's super customizable.
Still images, GIFs, viewing fan speed or temps, etc., you can do all. Also, customization gets way more comfortable due to the less buggy CAM software.
Pros
»

Excellent LCD

»

Tolerable fan noise

»

Responsive software
Cons
»

Fans with no LEDs

»

High-price
The first two CPU cooler is very good for your Ryzen-powered computer. But, are you confused about which one to take? Here's a comparison between NZXT Kraken Z63 and Corsair H115i Elite Capellix to clear up all your question.
3. EK 120mm AIO D-RGB
All in one liquid coolers save a lot of time when it comes to maintenance. And so, I bring you a CPU cooler from EKWB that has a maintenance free design.
This liquid cooler has the following specs:
Fan Speed: 550-2200 RPM
Fan Noise: 20-36.8 dBA
120 mm radiator
5-year warranty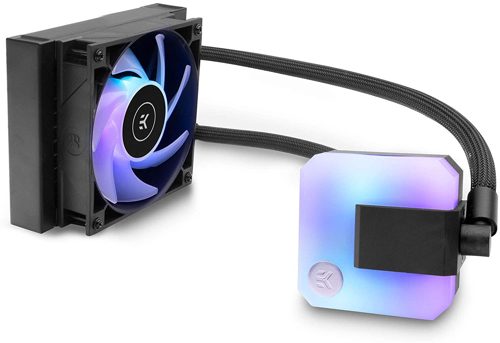 Check Today's Price of EK 120mm AIO D-RGB ➜➜
If you want your CPU to have a high aesthetic value while looking gorgeous then EK-AIO D-RGB will be the best choice for you right now.
It has a cool looking water block, unlike its other versions, like the ones with 240 mm or 360 mm radiators.
This smaller radiator size is what makes it lighter than other versions. I tested both the 120 mm and 240 mm versions. And I can assure you that installing the 120 mm one will feel way easier. The fittings and the cabling all-over has an awesome touch.
Now, let me tell you about the best part of this cooler. The sleekish dynamic RGB lighting makes it a fantastic addition to any type of build. The pump front has a light-diffusing type of accent, which produces a smooth lighting spectrum.
And I personally love the unique lighting style of this cooler beside it's excellent performance.
In conclusion, I must say that it's a pretty good cooler to have. It can be a great addition to the Ryzen 9 5950X build.
Pros
»

Easy Install

»

Vibrant RGB
Cons
»

Fans might be loud at max RPM.
4. Scythe Fuma 2
Enough talking about liquid coolers. Let's discuss air coolers now. The Scythe Fuma 2 can be an excellent option to consider if you want an air cooler in your rig.
This model composes some excellent features:
Kaze flex fans
Fan speed: 400-1200 RPM
Fan noise: 4-25 dBA
Asymmetric design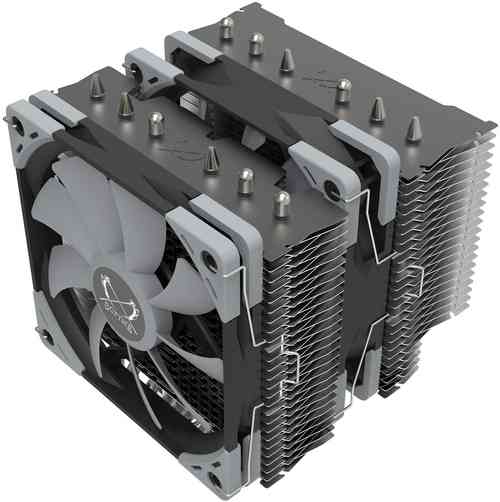 Check Today's Price of Scythe Fuma 2 ➜➜
Sporting a dual-tower heatsink, this cooler possesses an asymmetric design. Such a design will allow your build to have maximum space for memory slots.
All-over, you will notice evenly placed 49 fins stacked up. These fins possess a sawtooth-like shape in the cut-outs.
Moreover, the total build quality is flawless and gives substantial durability to the cooler. Now ,coming to the Kaze Flex fans, I found them hitting decent speeds. However, they lack RGB elements.
The output that I got while testing exceeded my expectations. This Ryzen 9 5950X air cooler comes at a cheaper rate.  So, I assumed that performance would be mediocre. But no, I was so wrong.
Thermals were excellent, especially the peak temps while I was overclocking it to the limit.
Want to know the best part?
I really didn't expect to get such silent yet efficient performance at this price point. And that's the main reason to include this cooling solution in my top favorite list.
The installation is a bit lengthy. It will take some time as the mounting is complicated. To sum up, the Scythe Fuma 2 is an impressive air cooler that you can get at an affordable rate.
Pros
»

Affordable price

»

Impeccable build quality

»

Whisper-quiet performance

»

No clearance issues
Cons
»

Non-RGB fans

»

Installation isn't easy
5. Noctua NH-L9A-AM4 Chromax Black
Noctua has always been the undisputed king in air cooling for high-end processors. And the NH-L9A-AM4 is one of the best among the top tier low profile cpu coolers.
The Noctua NH-L9A-AM4 Chromax.black comes with the following features:
Fan Speed: 600-2500 RPM
Fan noise: 14.8 – 23.6 dBA
Warranty of 6 years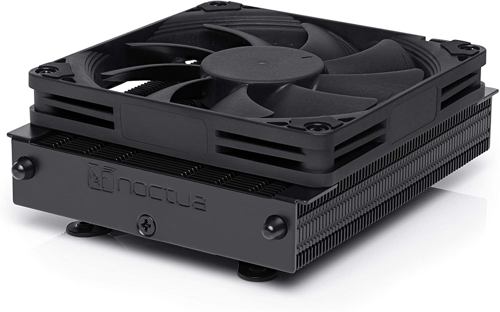 Check Today's Price of Noctua NH-L9A ➜➜
37mm in a low profile cooler!
Yup it's thick enough to cool down your angry overclocked cpu as it comes with the best noctua high static pressure fan.
This cooler will always be my number one choice for building a compact mini-ITX Gaming rig
This air cooling solution will take the least amount of in your build. Yet, it will deliver high-end performance, even will stand toe to toe with a few liquid coolers. I found its heatsink quite dense, stacked up with 64 fins.
Your unconscious mind will always thank me for recommending this cooler. Because this is a Tiny Beast. That's what she said JK.Your processor will decently cool at 4.5GHz without any worry while using this cooler.
The installation is also pretty simple. It fits nicely in most popular motherboards.
The bottom line is:
Moreover, if your Ryzen 9 5950X build is low-profile and cramped up with space, then I highly recommend you to buy this air cooler.
Compare this low profile cooler with the best Cpu cooler for Ryzen 5 5600x.
Pros
»

Perfect for low-profile builds

»

Superb output
Ryzen 9 5950X Cooling Guide
Buying and installing the right CPU cooler isn't the end of the job. You need to know how to utilize them properly.
I think the time has come to let you know the tips and tricks for having the best cooling performance. That is why, I listed up all the things I do to get the best out of my cooling solution for your benefit.
Here are those few tips you should follow for getting the best cooling performance:
Apply thermal paste
If you are using your current rig for a long time, I suggest reapplying the thermal paste on your OWN.
This paste fills up the space existing between heatsink and processor. And it helps to absorb the heat produced by the heatsink. Now, for applying the paste, you need to remove your CPU cooler. While doing this, be careful.
Clean the thermal paste off the CPU and reapply it with sufficient amount. Don't force or overapply pressure. Otherwise, like me, you'll end up hurting yourself.
Manage Cables Smartly
Tidy cable management is a plus for cooling performance. It is not necessary to have the cleanest looking interior. But few unwanted or misplaced cables can act as a blockage.
You need to remove all those unused cables that are causing your CPU higher temps.  Besides, you need to re-route a few cables that are restricting the airflow.
But, when you do, make sure all the connections are attached properly. Else, you may need to fix CPU cooler not lighting up problem.
Clean Up the fans
Layers of dust over the fan blades slow down its speed drastically. As a result, proper air circulation is absent within the rig. Therefore, open up your rig, take a piece of a soft cloth, and clean up the dust settling over.
If you don't clean the fans once in a while, it can start making noise. Follow our guide to fix CPU cooler clicking noise without any hassle.
Place your rig in a cool place
If your PC is placed near a heat-sensitive region, I guarantee you won't get the desired performance.
When I was a noob, I made this mistake, and it took me a long time to figure this out. So, don't be a noob like me. Set your PC in a colder region.
FAQ
Question: Does Ryzen 9 5950x come with a cooler?
Answer: No, the Ryzen 9 5950x doesn't come with a cooler. Only the Ryzen 5600x comes with a stock cooler.
Question: Is liquid cooling needed for Ryzen 9 5950x?
Answer: Liquid cooling is the best form of cooling solution for high-end builds. However, for Ryzen 9 5950x, few air coolers can perform better than most liquid coolers.
Final Thoughts
These are the five best cooling solutions that you can have for your latest Ryzen build as I end up.
My recommendation for you would be to go with liquid coolers. Although, the air coolers in this post, like the Scythe Fuma 2, are very good options.
No matter which one you choose, I believe all of the options I mentioned are competent enough for the Ryzen 9 5950X.