The Ryzen 5600x you are planning to buy is a high-end CPU. It is going to overheat your system drastically. So, for better cooling performance, I tested 150 CPU Coolers. Out of which, the Corsair H150i RGB Pro XT is the best AIO Cooler for Ryzen 5600X.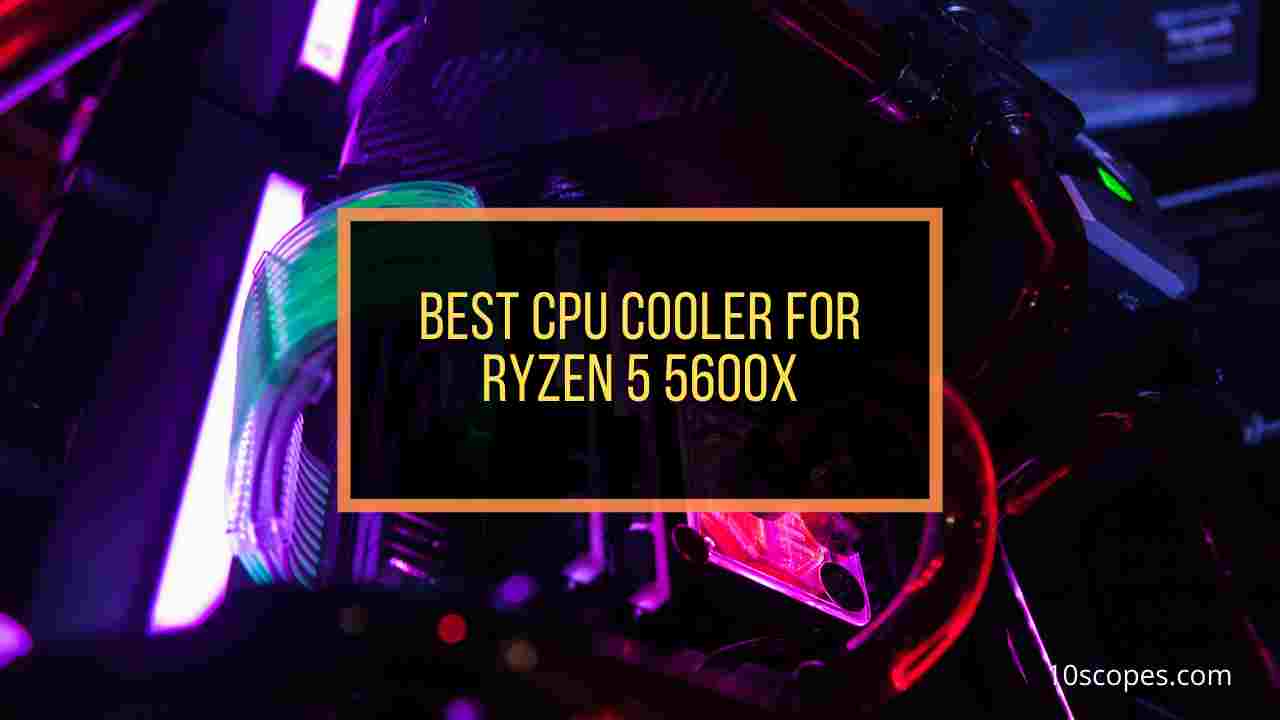 Best CPU Coolers for Ryzen 5 5600X
Whether you are going for a liquid cooler or opting for a traditional air cooler, the task of buying the right option can get tricky.
I know various questions are arising in your mind right now. Should I go for air or AIO? Or which brand?
Well, your decision matters as you choose one of the latest CPUs from AMD Ryzen.
Also, take a look at the best CPU Cooler for Ryzen 7 5800x.
Here are the best CPU coolers for Ryzen 5 5600X:
1. Corsair H150i RGB Pro XT
Corsair is a big name in the PC hardware market. And the H150i RGB Pro XT from them can be a top choice for your Ryzen 5 5600x build.
This cooler comes with some excellent features:
360 mm radiator
3x PWM fans
Zero RPM mode
Fan speed: 400-2400 RPM

Check Today's Price of Corsair H150i RGB Pro XT ➜➜
For those who are looking for an AIO cooler, it is a perfect fit. This Ryzen 5600x CPU cooler offers you excellent cooling performance with superb RGB.
It sports 3x 120 mm Corsair ML series fans. The a noticeable difference in these fans is in the magnetic levitation tech. In comparison to its predecessor, you will find these fans run at much free-flowing speed. Also, if you want your system to go full quiet, there is a scope.
The Zero-RPM mode will enable your system to be super silent. These fans also come with PWM headers, which allows them to hook up directly with the motherboard.
I found the 360 mm radiator to be excellent. Though it has that dense design element, the patterns are relatively uniform and easily blend with the build. The design of the pump is somewhat low-profile.
Check out our review for the best 360mm AIO CPU coolers.
But, I assure you not to worry as this design improves the cooler's compatibility with the motherboard. Besides, the pump head is RGB multizone. The lighting effects are something that would surely mesmerize you.
Thanks to the 16 addressable RGB LEDs, this cooling solution has cool and vibrant lighting. The modular mounting brackets make your job easier while mounting. For socket support, be tension-free as this CPU cooler is compatible with a good number of sockets.
With the help of Corsair iCUE software, you'll be able to customize lighting, monitor CPU temperature, and adjust fan speeds through a single interface. This cooler offers you a classy aesthetic with reliable cooling. In comparison with its competitor, like NZXT's Kraken X72, you'll find it at a much lower price.
I'll highly recommend this as one of the high-end cooling solutions for your latest Ryzen build.
Take a look at some of the best RAMs for Ryzen 9 5900x.
Pros
»

Quick Installation

»

Zero RPM mode

»

Excellent aesthetics
Cons
»

Non-RGB fans

»

Under load, fans are loud
2. NZXT Kraken X53
Here I have NZXT's Kraken X53, a liquid cooler with splendid RGB implementation for your latest Ryzen build. This cooling solution has some superb attributes to offer:
240 mm radiator
2x 120 mm fans
Fan Speed: 500-2000 RPM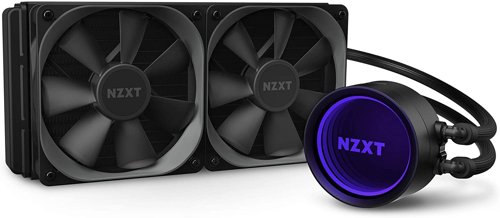 Check Today's Price of NZXT Kraken X53 ➜➜
Stylish is the exact word that I have for this liquid cooler. Because the vivid RGB lighting that this cooler offer is unprecedented, you should mostly thank NZXT for bringing a change in their design. The enhanced LED ring in the pump head makes the lighting stand out among all other options.
You will also adjust this pump head, that too, without altering the logo's direction. If I have to talk about the fans, I would say that NZXT has done a great job. The presence of fluid bearings is one of the critical aspects of this case. You can trust this cooler to offer you the silent-most operation along with better thermal results.
Check out the easiest way to fix noisy CPU coolers.
This cooler also has a comfortable and hassle-free installation. Also, the nylon mesh rubber tubing provides your system enough durability. The best part is you'll have much less possibility of mishandling.
For controlling and optimization, NZXT's CAM software is there for you. It will provide you a user-friendly interface and enable you to manage performance and lighting with precision. I would have loved the fans getting illuminated; still, not every cooler will offer you the exact things you want.
Other than this, it's still one of the best cooling solutions for your Ryzen 5 5600x build.
Thinking of building a gaming PC with all 3rd gen AMD components? Check out our experts' recommended best graphics cards for Ryzen 7 3700x.
Pros
»

Stylish

»

User-friendly CAM

»

6-year warranty

»

Simple installation
3. Coolermaster ML240L V2
A budget-oriented option with optimal cooling performance, the Coolermaster Masterliquid ML240L RGB V2, has it all for you. This model from Coolermaster comes up with some decent specs:
2x Sickleflow fans
240 mm radiator
3rd Gen Dual-chamber pump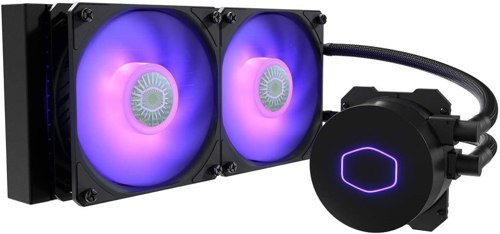 Check Today's Price of Coolermaster ML240L V2 ➜➜
This AIO cooler comes with a much-improved pump design. In this model, you will find the block taller than most other variants. With the high build-quality and dual-chamber design, your system's cooling efficiency goes to the next level.
When I first saw this cooler, I found the radiator with dense patterns all over. You shouldn't worry about such a design scheme. I believe that you'll like it, as this design optimizes better cooling performance.
The Sickleflow fans look excellent when they glow with the RGB lights on. For controlling these lights, you will get a controller through which you can customize the presets quite easily. I found the overall lighting to be flashy enough.
As for the cooling performance, at full load, the temperatures are tolerable. Whenever the load drops, the temperatures also fall. This drastic fall in the temperatures defines how good this cooler is.
The noise level isn't entirely silent but remarkably low. Unless you put your ears close to your rig, you won't hear anything significant. I found the mounting to be a bit annoying. It is one of the few downsides of this incredibly well built cooling solution.
Despite this one issue, it's still a decent budget option that you can get for your Ryzen 5600x processor.
Have a couple of minutes to spare? Check out our related post on whether expensive CPU coolers are worth it or not.
Pros
»

Dual chamber design

»

Reasonable price

»

Quiet operation
Cons
»

Mediocre Mounting

»

Lots of cables
Also, read our separate post on will a CPU cooler work on a GPU.
4. NZXT Kraken Z63
Killer looks, Godlike performance but a toll on your wallet. These are the prospects that the NZXT Kraken Z63 has to offer. This model from NZXT comes with some exciting features:
Customizable LCD
280 mm radiator
2x Aer P fans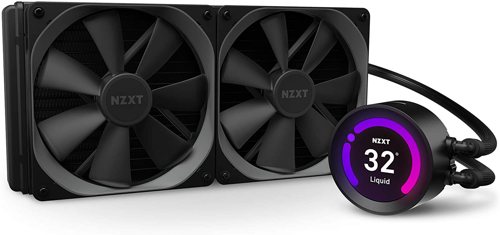 Check Today's Price of NZXT Kraken Z63 ➜➜
NZXT is known for producing top-end coolers. The Kraken Z63 is one of their latest additions in their lineup of top-end cooling solutions. As a thermal solution, this is a game-changer in the CPU cooler market.
This high-end cooler sports a 280 mm aluminum made radiator, which provides a significant headroom. I can conclude that the customizable LCD makes this cooler a standout from other contemporary options.
This LCD will give you a good view of your systems' stats. Also, you can add still images or even animated GIFs to enhance the system aesthetics. On top of that, having this cooler will also allow you to spin the fans down wholly. You can do this thing on those PC cases where the cooling involves using a pump and radiator.
There are 2x Aer P fans, which run pretty smoothly with almost producing no noise. But one downside about them is that they are non-RGB. I found the pump design to be better than the previous models. Here in the pump, there are RGB elements. You can use the NZXT CAM software to customize or add more flair to the existing lighting presets.
The cooling performance is top-notch. With that said, the installation is pretty simple and easy, thanks to the rotatable top part.
Spare a few moments and explore the best motherboard for Ryzen 5 5600x.
Pros
»

Top-notch cooling

»

6-year warranty

»

Excellent LCD
Follow our guide to know whether AIO coolers are best as intake or exhaust.
5. Noctua NH-D15 Black
If you are looking for the best air cooler for your Ryzen 5 5600x CPU, then Noctua NH-D15 Chromax Black is by far the best choice to make. This model from Noctua has some superb specs to offer:
Dual-tower design
2x NF-A15 Fans
Fan Speed: 300-1500 RPM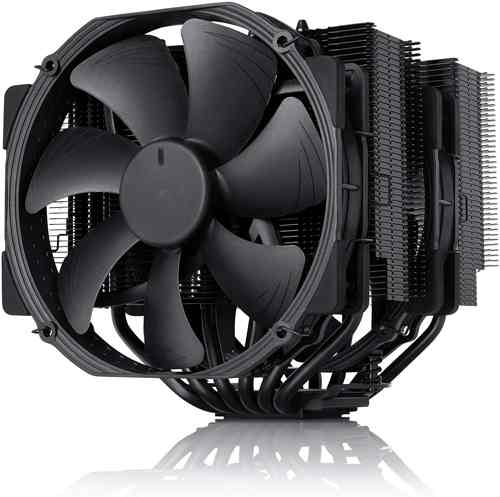 Check Today's Price of Noctua NH-D15 Black ➜➜
As an air cooler, it can be a great addition to your latest Ryzen build. This model is a black iteration of the original Noctua NH-D15. With the all-black color scheme, I found the cooler to look kickass. Also, the dual-fan design enables having two top-quality fans.
Whether the black coating will affect the overall heat transfer? No, it won't. Even when I compared it to the original D15, the changes were minimal. This matte black coating covers all the aspects of this cooling solution.
One thing that will disappoint you is the absence of RGB LEDs.No RGB elements are present in this all-black thermal solution. If you are wondering about the installation, then let me tell you this. This Ryzen 5 5600x air cooler has a pretty simple installation process, thanks to the dual-tower design.
Overall, It's a decent air cooler that can be a great alternative to liquid cooling options.
Pros
»

Low noise levels

»

Easy to install
Cons
»

Expensive

»

Fan cables inflexible
Also, don't forget to check out the best noctua cpu coolers available in the market.
6. Coolermaster Hyper 212 Back Edition
The Coolermaster Hyper 212 Black Edition brings excellent value to your system, given the price point at which it is available. The Hyper 212 Black Edition has the following specs:
Direct contact tech
2-year warranty
Fan Speed: 600-2000 RPM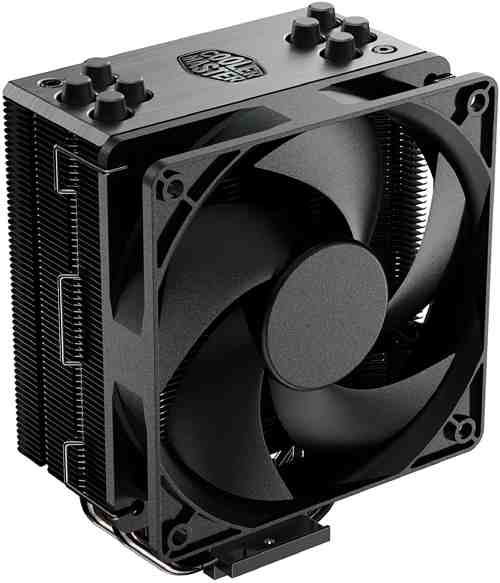 Check Today's Price of Coolermaster Hyper 212 ➜➜
It is another air cooler for you with an all-black scheme that I have enlisted in the review. I would rate this as the best budget air cooler that you will find in the market. So, no problem if you have budget constraints. Despite the low cost, this cooler provides you a relatively perfect thermal solution.
I found this cooler to have a minimal flair. It has a quad Heatpipe tower design, with a heatsink base and heat-pipes. You will find dark chrome plating present on both the base and heat-pipes.
Both the fans bear RGB elements. One of them is 5-blade with large blade size, and the other with 9-blade with narrower sizes. Eventually, such versatility in fan design, along with in combination with stacked up fins, ensures proper airflows.
Performance-wise the Hyper 212 black edition has the full ability to tame your Ryzen 5600x CPU. Even under full loads, your system won't face any issues relating to thermal throttle. This budget-friendly air cooling solution is reasonable enough to add to your system. If you are looking for an air cooler within a budget, I recommend you to buy it.
Compare this low profile cooler with the best Cpu cooler for Ryzen 5950x.
Pros
»

Affordable

»

Way better than its predecessor
7. be quiet! Dark Pro 4
Like by its name, the Be Quiet! Dark Pro 4 offers you one of the most silent air cooling solutions without compromising the performance. This cooler offers you the following quality features:
2x silent wing PWM fans
Dual-tower design
Fan Speed: 1200-1500 RPM
Warranty of 3 years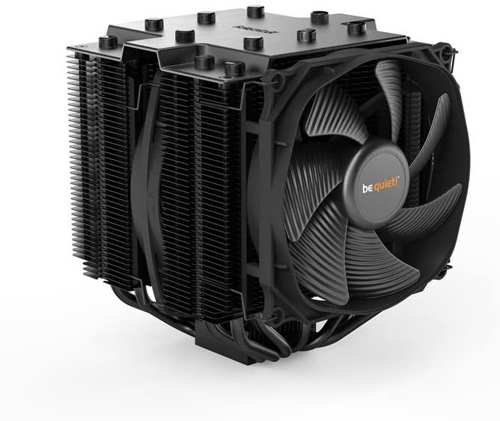 Check Today's Price of be quiet! Dark Pro 4 ➜➜
It is one of the flagship cooling solutions from the brand, and its quality is top tier. This Ryzen 5 5600x air cooler sports a dual-fan and dual tower design, entirely identical to its predecessor. The fans live up to the name of the cooler. They are super quiet, even at the time of full loads.
Due to the cooler's funnel shape, the air inlet in your PC increases air pressure. If you are a high overclocker, still there isn't any problem. The 250W TDP is there that will help your rig to achieve lower temperatures even at peak.
The only major downside I found about this air cooler is its large and bulky size. It can be troublesome for you to fit in small cases. Other than this, it is still a pretty decent air cooler to add in your latest Ryzen build.
Pros
»

Nice build quality

»

Super Silent
Ryzen 5 5600x Cooling Guide
Since from the Ryzen 5000 series, only the Ryzen 5 5600x can sport a CPU cooler; you need to know the process of optimizing it correctly. Properly utilizing the CPU cooler helps to keep your system healthy. It would be best if you prioritized keeping your system over most other aspects.
Here are a few things that you can do for achieving a better cooling solution in your Ryzen 5600x build:
Clean the fans
If the fans get covered with dust and dirt, it is a massive obstacle in reaching optimal cooling performance. The layer of dust that forms over the fans slows the fan speed to a great extent. That is why you should always clean them regularly.
Safety while overclocking
Overclocking might enhance your systems' performance to the next level. But you can't deny the fact that this process pushes the system to its limits. Sometimes the temperatures can rise to certain levels, which can be harmful to the system.
I suggest you be cautious enough while overclocking. Such cautiousness will better your systems' cooling ability.
Fit the Water Cooler properly
If you plan to opt for a water cooling solution, then I would suggest you fit it correctly in your system. If you don't ensure a secure connection of tubings, it increases the chances of possible leakage. Thus, it somewhat hampers the overall cooling performance.
FAQ
Question: Is the wraith stealth cooler enough for Ryzen 5 5600x?
Answer: If you aren't up for overclocking, then wraith stealth coolers are good. But in case you want to overclock, it would be better to go for high-end AIO or air coolers.
Question: Are Ryzen Stock Coolers good for overclocking?
Answer: Ryzen stock coolers are decent enough for regular overclocking. But for high-end overclocking, I don't recommend you to buy this type of cooler.
Final Thoughts
So, these are the seven best Ryzen CPU coolers that you can buy for your latest Ryzen 5 5600x build. I have tried to cover all types of coolers; be it AIO or air cooling solution, this blog has it all. My recommendation would be the Corsair H150i RGB Pro XT, although the other options aren't any less by any means.
Moreover, even after all this, let me know in the comments if you still feel confused about anything.