Liquid cooling is always a better option, especially for high-end CPUs.
Now that you are looking for AIOs let me tell you that the 240 mm AIOs are the best all-around options you can find.
In a hurry? Check my recommended high-end AIO cooler.
Or keep calm and read my take on some beastly performing liquid cooling solutions.
In this post, I bring you the best of the best AIO liquid coolers of the 240 mm category.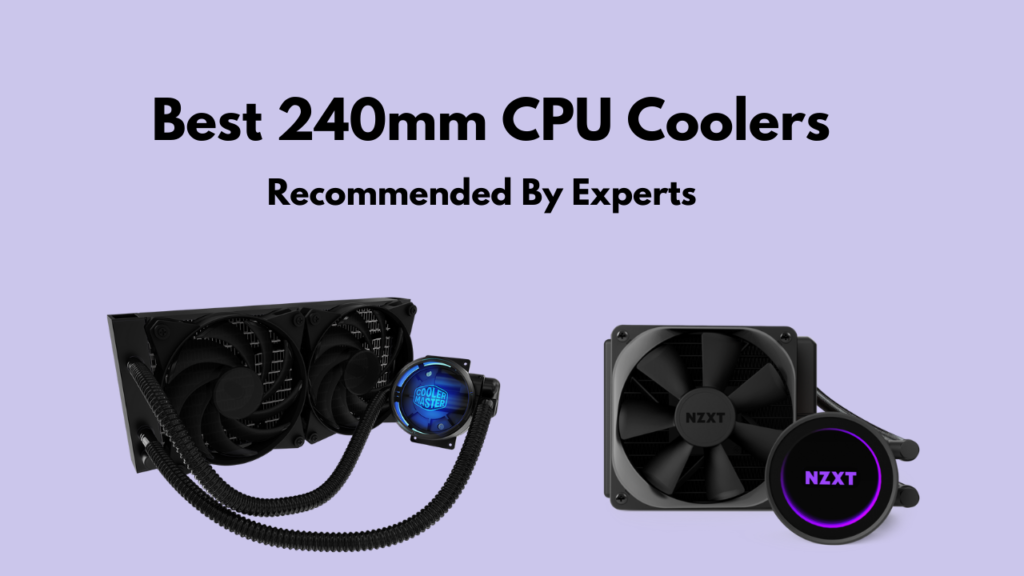 Best 240mm AIO Cooler Reviewed
To tell you the truth, the 240 mm AIO coolers are the best option for mini-ITX builds. They are considerably better than many air cooling options and do offer a competent performance.
But there are a lot of brands, which are offering similar sorts of options.
It can be a big pain in the ass to choose the right cooler for your build.
That is why I am here to make your job easy.
Also, Check out our expert-recommended best Aigo Water Liquid CPU Cooler for your PC.
Here is the list of the seven best 240mm AIO coolers:
1. Corsair iCUE H100i RGB Pro XT
First on my list is the best high-end 240mm liquid cooler that you can get for your build. It is a cooling solution from the brand Corsair, who are well-known for their top-end PC components.
This liquid cooler from Corsair attributes the following specs:
Dual 120 mm PWM fans
Fan Speed: 400-2400 RPM
Zero RPM cooling profile
5-year warranty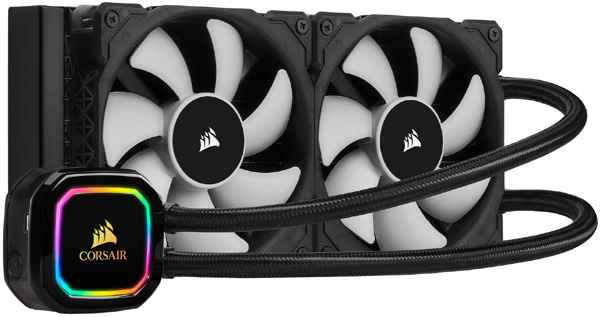 Check Today's Price of Corsair iCUE H100i RGB Pro XT ➜➜
If you want enhanced RGB lighting and responsive software for controlling it, this 240mm liquid cooler would be the right choice for you.
In my opinion, this cooler has the best RGB implementation on the pump. Not many coolers from Corsair have such a vibrant pump face. That's what makes it different.
On top of that:
The top-tier thermal performance that the cooler provides does make it a good bargain.
As for the design, you'll find it highly polished. Mainly the pump face, which has 16 RGB LEDs on it. These LEDs help to produce some fabulous accents that shine through the backlit trim.
Also, check out our expert's recommended best cooler master cpu coolers.
But what might be a bit disappointing is the non-RGB fans. In a high-performing cooler like this, full RGB implementation is expected. But Corsair had some other plans.
Performance-wise, this 240mm cooler was marvelous. I tried it on my Ryzen 9 3900x, and the noise level was tolerable. On full loads, the temps were under control.
The best part was the iCUE software. It has a pretty simplistic control panel, eventually making it easy to use.
Also, the cooler comes with a reasonable price tag. So, no worries about overpayment.
Therefore, the controlled noise level in combination with excellent thermal performance makes it the best choice for a cooler with a 240mm radiator. Don't forget to check out the best alternatives to dark rock pro 4 cpu cooler.
2. MSI MAG Core Liquid 240R
MSI is one of the top-rated brands in the gaming community. This cooling solution from them is a good option as a 240mm cooler.
This 240mm cooler comes with the following specs:
2x 120mm RGB PWM fans
Fan Speed: 500-2000 RPM
Fan Noise: 14.3-34.3 dBA
Pump Speed: 4200 RPM

Check Today's Price of MSI MAG Core Liquid 240R ➜➜
If you seek durability along with superior heat dissipation performance, this cooler from MSI is the ideal option for you. Also, the ARGB lighting that you'll enjoy in this cooling solution is absolutely blissful.
This cooler sports a radiator pump design. The best part about this design is that it plays a significant role in dampening and noise reduction.
Socket compatibility is excellent. The cooler has a plethora of socket support both from Intel and AMD platforms.
Besides, the pump had a rotatable face, which you can rotate 270°. Check out the cpu cooler with TR4 socket compatibility.
I used this cooling solution as an aftermarket cooler in my Ryzen 7 3700x build. The performance was way better than what my stock cooler offered. The temps were under control.
As for the lighting, it was vibrant enough. Mystic light software is responsible for controlling the RGB lights for both the fans and pump head.
With that said, I also loved the installation procedure. It's effortless to set it up.
In a nutshell, if you want to get rid of your mediocre stock cooler, this is the best 240mm AIO you can get. Don't forget to check out the list of the best cpu coolers for LGA 1200 socket compatibility.
3. ASUS ROG Strix LC 240 RGB
If you are a big fan of the ROG Strix series of components from ASUS, this RGB 240 mm cooler can be one hell of a choice to make.
This model from ASUS attributes the mentioned specs:
2x 120mm PWM fans
Fan Speed: 800-2500 RPM
Noise Level: 37.6 dBA
5-year warranty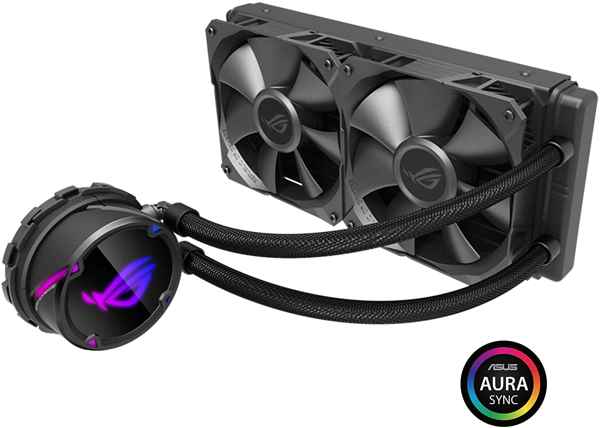 Check Today's Price of ASUS ROG Strix LC 240 RGB ➜➜
This 240mm liquid cooling solution is worth a shot for your gaming rig.
It's a perfect cooler for mid-sized gaming builds, which comes with a pretty reasonable price tag.
I loved this cooler because of its fans, as they possess an optimized design, ensuring superior cooling efficiency.
They run at decent speeds and won't annoy you with a loud noise. The only downside about these fans is that they are non-RGB.
If you are okay with no RGB elements, then the fans are almost flawless.
However, if you have a thing for RGB lighting, this cooler won't disappoint you.
The pump comes with RGB lighting with the ROG logo engraved on its face. When the logo lights up, it feels incredible to see such luminous illumination.
The best part is:
The pump comprises a cooling plate design, which is highly responsible for alleviating processor heat to a great extent.
As for performance, my friend tried this cooler on his i7-10700k build. And the temps on his build were under control with almost no processor heat.
Overall, my verdict about this 240mm cooler is that it's the best you can get for a mid-sized build at a reasonable price, offering top-notch output.
4. Coolermaster Masterliquid ML240P Mirage
This AIO liquid cooler from Coolermaster came to my attention mainly due to its nicely polished design.
This model comes up with the following specs:
Fan Speed: 1800-2200 RPM
Fan Noise: 23-27 dBA
2-year warranty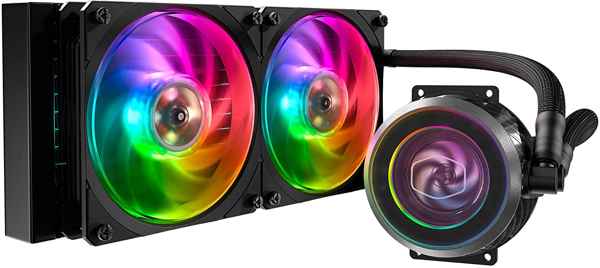 Check Today's Price of Masterliquid ML240P Mirage ➜➜
I was highly impressed with the RGB implementation in this 240mm AIO. Most of the people who have used it in their build feel that this AIO is an embodiment of RGB lighting.
It is an all-rounded option that comes with ample socket support from Intel and AMD. Therefore, compatibility won't be an issue, doesn't matter if you have a top-end or mid-ranged build.
The unique part is:
This water cooler sports a pump of a transparent design, which means the pump face possesses a translucent outlook.
With that said, the build quality is somewhat above average, but the finishing given is top-notch.
Installing this cooler in a build isn't a hideous task at all. You will find it quite comfortable as it gives enough clearance to memory and GPU.
Now coming to RGB, the lighting effects in the pump face create an illusion-type vibe. This is something most gamers would find really cool.
The fans run at a decent speed. The best part is, you won't be bothered by their sound at all as it's criminally low.
The only downside I found is its price. Not suitable for budget builds. However, if the price isn't any concern, then it's a good 240mm AIO to watch out for.
5. Gigabyte Aorus RGB 240
This AIO from Gigabyte is hands down the best RGB cooling solution that you can get under the 240mm category.
This model from Gigabyte sports the following specs:
Customizable LCD
2x 120mm RGB fans
Fan Speed: 250-2500 RPM
Noise level: 39.5 dBA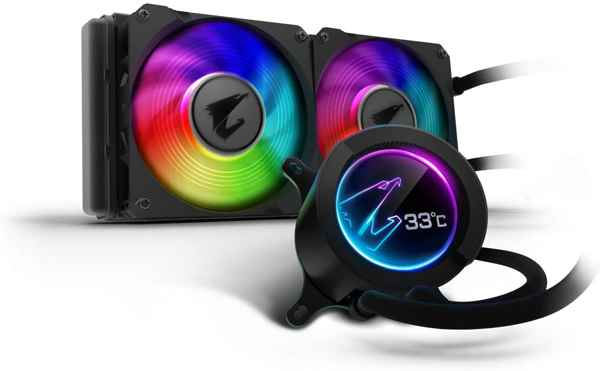 Check Today's Price of Gigabyte Aorus RGB 240 ➜➜
Gigabyte has always been my top choice while choosing PC components. They rarely disappoint.
With this cooler, they tried to introduce something high-end with some extra elements.
Taking just RGB into account, this cooler outshines all other coolers on this list.
Now, coming to the appearance, the pump possesses an LCD on the top. And the cover enclosing the pump is made up of aluminum, which has a sleek matte finishing.
The fin density in the 240mm radiator is normal. It's similar to the other contemporary coolers in the market.
Coming back to the LCD, you can customize it using the Fusion 2.0 software. While doing so, you can add your desired info like fan speed, CPU temps, etc., visible on the screen.
Besides, with this same software, you can customize the RGB lighting quite flexibly. I tried it on my build, and believe me, there were no lags on the software.
When the rig came to life, and the fans lit up with the flairs, I added, I got smitten by the LEDs' stunning output in the fan hub.
Despite all these awesome features, I was not happy with the cables snaking out of the pump. Managing them can be problematic at times. That's why you should be patient while installing so that no entanglement is there.
Moreover, as it's a high-end cooler, you need to have a reasonable budget. And to tell you the truth, because of the top-end outputs, each of the pence you'll spend on this will be worth it. Should you buy an aio cooler?
6. Silverstone PF240 ARGB
Over the years, Silverstone has made a name for itself in the PC hardware industry by providing reliable components.
That said, you can rely on this 240mm AIO cooler from them for getting the ultimate thermal output.
This AIO cooler attributes the following specs:
Fan Speed: 600-2200 RPM
Fan Noise: 7.3-35.6 dBA
2-year warranty

Check Today's Price of Silverstone PF240 ➜➜
This liquid cooling solution comes with the excellent build quality. The materials used are top-tier, which ensures superb longevity.
To me, the finishing seemed okayish. I won't tell it top-notch, but there aren't many significant flaws either.
What I liked is:
It causes no clearance issues. You can freely install without causing any changes to GPU and memory.
Now, given the affordable pricing it has, I feel the performance this cooler offers is exceptional. The sound from the fans is almost inaudible during normal operations. Even under loads, the noise is at an acceptable level.
My only concern is the warranty that Silverstone provided. To be honest, 2-years is nothing. Most gamers seek longevity, and with such a warranty, they do develop some biases regarding the product.
I am sure that Silverstone could've done it better.
Overall, this 240mm cooler won't really disappoint you. With an affordable price tag, it can be a reasonable buy for your gaming rig.
7. ID-Cooling Zoomflow 240x Snow
If you are looking for a cooler for your white-themed build, I have got the right option for you. This gorgeous looking white 240mm AIO from ID-cooling can be that option that I am talking about
This model comes up with the following specifications:
2x 120mm RGB Fans
Fan Speed: 700-1500 RPM
Noise Level: 18-26.4 dbA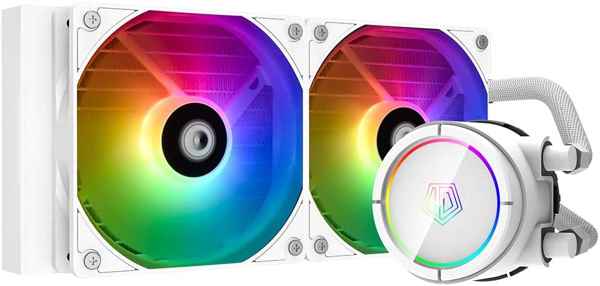 Check Today's Price of ID-Cooling Zoomflow ➜➜
It is one stylish-looking cooling solution with a lovely adaptation of the white texture. What adds more flair to such an attractive design is the RGB lighting. In this cooler, the full RGB implementation is top-notch.
At some point, it feels like a high-end cooler because of such lighting.
The 2x fans, when running at full speed with LEDs glowing, look very ecstatic.
As for the build quality, I don't have any complaints. But I feel that the mounting hardware is somewhat mediocre.
Besides, you'll love the fact that there are no issues regarding clearance around the socket area.
However, at times fans may sound a bit noisy, especially when at max speed under loads.
Overall, this gorgeous-looking white cooler is easily the best 240 AIO for your white gaming rig. I highly recommend you consider this as your topmost priority for a white build.
Final Thoughts
AIOs are always a viable option for cooling your gaming rig. That said, these seven are the best 240mm AIOs that you can avail of for top-end performance.
In this post, I brought up all those 240mm liquid coolers under different categories so that it gets easy for you to choose from a vast pool of options.
Whatever your priority is, I am quite sure that all my recommendations are enough to find the right one for you.