A proper cooling solution is one of the most prominent needs while building a gaming rig.
If you can't ensure that, you should stop expecting superior gaming performance.
That said, a liquid cooler can prove to be handy for getting such performance. If you are looking for one, I would recommend you buy the Aigo AT240 CPU Cooler. This AIO cooler can deliver the performance you desire for top-quality gaming.
And how is that?
Don't worry. I will tell you about all the aspects in this review article.
You need to just stay with me till the end of the article.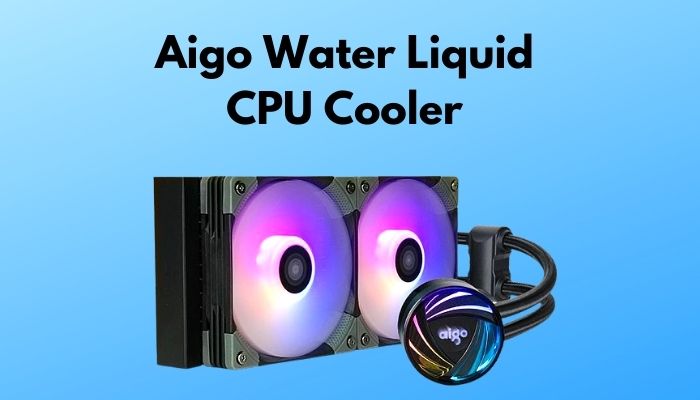 But before moving on to the review, let's have a sneak-peak at the specifications:
Specifications
Number of fans: 2
Fan Size: 120 X 120 X 25 mm
Fan Life: 40000 Hrs
Noise Level: 30 dBA
Fan Speed: 1800-2200 RPM
Air Flow: 64.20 CFM
Power Interface: 3pin/4pin
Heatsink Materials: Copper and Aluminum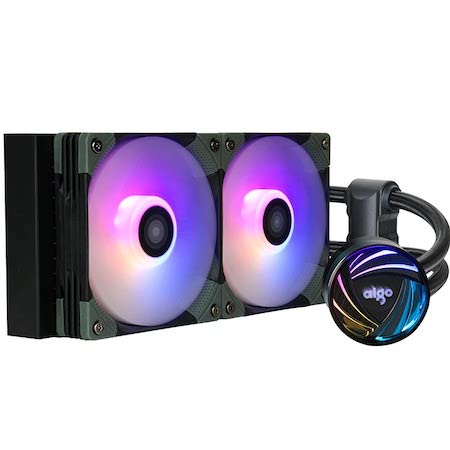 Here are the reasons why you should buy the Aigo Water Liquid CPU Cooler:
1. Audibility
You know, I always had the wildest dream of having a gaming rig that produces no sound at all. It would be a rig that would be completely soundless even during extreme gaming.
But both you and I know that it isn't possible. The gaming rig will inevitably consist of multiple fans, either on the PC case or in the components like GPU or CPU coolers.
And since there would be multiple fans, the sound will definitely exist; it doesn't matter if you want it or not.
But there is a level up to which the sound is tolerable. And if you want your rig to produce a sound that you can tolerate, you have to look for options tactically.
Now, let us talk about the Aigo AT240.
In my testing, I found out that the noise levels that the fans produce don't go above 32-33 dBA.
I mean, it is something you can at least tolerate. Isn't it?
In fact, even under loads, the level of noise wasn't too high. At the time of overclocking, it was still under 40 dBA.
Therefore, this model is a viable option if you seek something medium-level that isn't too high or too low.
2. Aesthetics
Who doesn't want to have a gaming rig that looks soothing to the eyes?
When your rig looks attractive, it feels good. It feels like one of those things that you can flaunt in front of your friends.
When you build a rig that feels and glows like none other, you feel proud that you build something top-notch.
Now, the question is, what will happen if you add this 240mm CPU Cooler to your gaming rig?
Honestly, I found the RGB lighting to be vibrant enough to impress someone fond of aesthetics. The glow was absolutely top-notch. It was producing something very alluring that would catch anyone's attention at first glance.
I felt that the exquisite glow of the fans is one of the best features that would push you to buy this CPU liquid cooling solution more than an air cooler.
3. Build-Up
You might question the reason behind considering the build quality of a CPU cooler.
Why would the build quality matter? Isn't the main job of the CPU cooler to cool processors?
Fair enough. But there is a lot more to it.
Let's talk about PC components in general. If you want to build a top-notch setup, you would definitely want to use the best of the best components.
Now, the best component is defined by a lot of attributes. And one of those most prominent is the build quality.
This build quality of a component tells a lot about the output that the CPU cooler may provide and make it better than others.
Let's say that the materials used in the build-up of the PC component are terrible. On the whole, it is such that the whole thing seems fragile, and it will break down pretty soon. Trust me; you never trust the quality of this type of product, no matter what it promises.
In the case of this model, the situation isn't such. When you see the construction, you will feel that quality materials are used, and it will definitely last long.
4. Compatibility
Not all the components are compatible with every type of build. There are always some options that have something different to offer.
That said, such differences often result in a component not getting fit in a system.
In a CPU cooler, there isn't much difference in the pictures. Most of them are homogeneous and offer almost similar types of specifications.
The only difference you might notice is in the CPU socket type. Be it a liquid or air cooling solution, there are some models where you would see that it doesn't support a specific socket type.
As for the Aigo AT240, I didn't notice this type of issue. It is compatible with all the major types of sockets from both AMD and internal platforms.
Therefore, you can be tension-free about hooking this cooler up to your system.
5. Performance
If your CPU cooler doesn't perform well, my friend, you're in serious trouble.
Cooling is one of the most important aspects of a Gaming Rig. For every type of build, whether it's low-range or high-end, there is a need for a significant level of cooling. Because specific if the heat produced isn't alleviated well, performance lag will be there. Also, there can be situations like a particular component failing.
Therefore, it is something you should prioritize the most.
Now, as for the performance of this cooler, I'll be honest with you. In my testing, I saw that this cooler could be effective to a large extent.
While regular gaming can meet all types of cooling needs overclocking, I was a tad skeptical at first but glad that this model fared pretty well.
Maybe if you push your rig to extreme levels too often, there can be some issues. Otherwise, as an AIO cooling solution, it is good to go with.
6. Reasonability
Now that you already have an idea about most of the aspects of this cooler.
It is time to know whether this CPU cooling solution would be reasonable for your gaming build or not. You have to focus on the factors and choose the right CPU cooler for your rig.
Now, in my opinion, this cooler comes at a reasonable price, which you can buy quite easily.
Therefore in terms of pricing, there is no major issue with this cooler.
Air Cooling or Liquid Cooling: Which is better?
This is a very long-term debate. That is why I won't waste much time here.
Both the air and liquid coolers are suitable at their places.
But if you want to fit them in every place, then I am sorry it is impossible.
CPU air coolers are generally the options that put less toll on your wallet. As a cooling solution, they are very good at pulling the heat away from the CPU. But still, the heat exists in the PC case. Overall, they are cheap and can be a perfect option for people with a short budget.
Whereas liquid coolers are costlier than air coolers. But in terms of the performance level, they are way ahead. They pull out the hot air entirely as they have a pump available and do a great job of dispersing heat through radiator fans. But having an airflow PC casing will improve the overall performance of a cooler & will support a larger radiator.
That is why, before determining which one you should buy, you need to make sure about your needs first. Because needs are what is going to drive your main buying decision.
Final Thoughts
Buying a proper cooling solution can be a tricky task, but not impossible. In this review article, I have tried to cover all those aspects that define Aigo AT240.
After reading this, I feel that you are pretty clear about all the things that matter.
Still, if you feel that I missed out on anything, do let me know in the comments.