If you are looking for a great coolant for your water-cooled gaming PC and you are confused about so many options available in the market, then this post will help you out. After testing several water cooling fluids, I have my personal favorite coolant, i.e the PrimoChill VUE for its cool ocular traits that showcase the coolant in the water-cooling loop.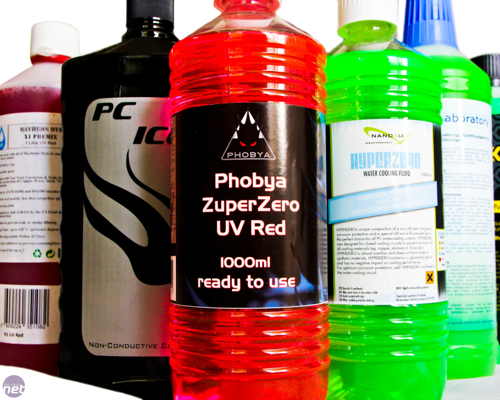 On a side note, our Aigo Water Liquid CPU Cooler Review might interest you.
Overall Leading Cooling Fluids
​Top 7 Best Water Cooling Coolant
A good coolant is necessary to keep the optimum temperature maintained in the system. The coolant should be germ-free and visually attractive too to illustrate the flow.
Some coolants can cause silting damaging the entire cooling system. And so, the finest quality coolant is needed.
Some more discussions on CPU Cooler VS Case Fans.
So, here are the leading PC water cooling coolant available for your gaming rig:
1. PrimoChill VUE
Primochill vue stands above all for showcasing the coolant in the watercooling loop with its cool ocular traits which is useful to illustrate fluid flow patterns.
Vue's unique water-based formulation allows the fluid to stay suspended for a long time providing longevity.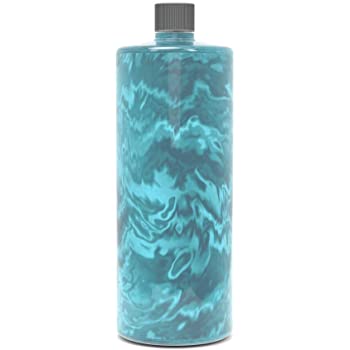 Check Today's Price of PrimoChill VUE ➜➜
One more interesting fact about VUE is:
This coolant includes non-toxic corrosive inhibitors and a natural antimicrobial growth fighter and is 100% safe to use with all rubber gaskets, acrylic tubing, pvc tubing, petg tubing, glass tubing, as well as nickel and copper components.
Special features of PrimoChill VUE are:
25 different available colors
32 oz cooling fluid
This coolant is bio-degradable, pre-dyed, and handmade but shows low conductivity.
Though this coolant has amazing visual traits, one downside of using VUE is that, it causes silting in radiator and water blocks. For which, your gaming PC will run slower than usual.
Overall, VUE has a high attraction to dyes and is mended for experienced users.
You should also read about our top 7 picks for Core i5 11400 CPU coolers.
2. EKWB EK-CryoFuel Solid Premix
EK-CryoFuel Solid is a non-transparent coolant that is premixed for PC watercooling loop. This coolant is based on a new patent-pending formula with high quality concentrated pigments for bright long-lasting saturated colors.
This cooling fluid contains everything a high-end water cooling system requires for competent thermal performance.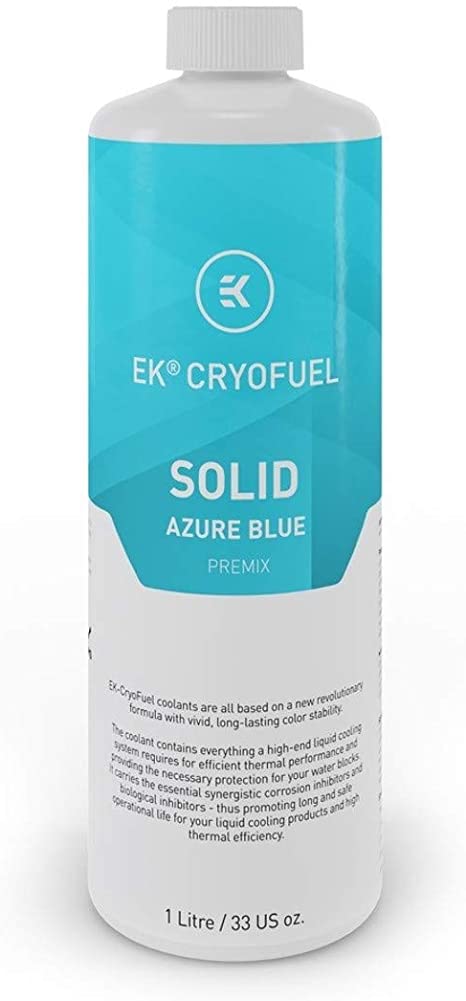 Check Today's Price of EKWB EK-CryoFuel Solid Premix ➜➜
Unlike the VUE, this coolant will provide protection to water blocks and radiator for avoiding stilting.
EK-CryoFuel Solid comes with:
7 vivid saturated colors
1000 mL coolant
According to BS5117 (ASTM D1384) standards, EK-CryoFuel Solid is the most chemically firm coolant that provides PC gaming enthusiasts with the superior possible level of operation.
In short:
This coolant has a unique feature of not sedimenting after long hours of inactivity. Also, a 1 year shelf life from date of bottling.
EK-CryoFuel contains symbiotic rusting inhibitors to protect metals in the computer liquid cooling system.
The only dropdown is that, the coolants color fades away if used for a long time.
Overall, this coolant doesn't contain any ethylene glycol or a bittering agent and thus it helps prevent fouling, promoting long performance life and thermal efficiency.
Don't forget to check our extended guide on CPU temperature.
3. Thermaltake C1000 Computer Cooling Coolant
The latest Thermaltake C1000 is a thick non transparent opaque coolant which is basically designed for component compatibility to give users a posh long lasting look to liquid cooling PC builds.
This coolant comes with 7 different colors and Anti-Corrosive, Anti-Freezing, Anti-Rusting and Water Scale preventive solution with a 3 years shelf life.
Thermaltake C1000 Computer Cooling Coolant is virtually odorless, non-flammable, and high performance liquid, presenting you a superb protection for compliant metals like copper, nickel, brass, and aluminum.
Check Today's Price of Thermaltake C1000 ➜➜
Thermaltake C1000 comes with:
1000 mL vivid color coolant
7 different pre-mixed colors
This coolant is easy to use and LCS certified.
One thing to keep in mind is that:
Distill water is to be added for flush cooling system prior to installation.
Overall, this liquid cooling fluid is considered a favorable deal when it comes to visualization.
Read our additional article to know whether you really need a CPU cooler for your PC or not.
4. EKWB EK-CryoFuel Solid Concentrate Coolant
This product model is similar to the premix one. The only difference is that, this cooling fluid is concentrated and lesser in amount for PC watercooling application.
This water cooling fluid is available in 7 colors with 250 mL liquid. It needs 750mL of distilled water to make it complete.
Like the premix model, this coolant is also low electrically conductive. It also has biologically growth inhibitors and also corrosion protectors.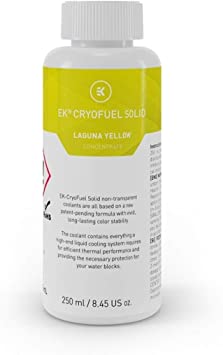 Check Today's Price of EKWB EK-CryoFuel Solid Concentrate ➜➜
The only problem with this coolant is that:
If you use it for more than 3 months, you will see that the liquid is cluttering your loop showing sediments.
This sedimentation is caused if you use this cooling liquid as it is and don't mix it with water.
Besides, the colors also fades away because of long term usage.
One more thing I don't like about this fluid is, it falls short when you have a high capacity reservoir, radiator, tubing etc.
If I have to compare the color and consistency of this fluid, it would definitely be milk.
Here's our epic review for the top 7 Ryzen 5600x coolers that might be up your alley.
5. Mayhems Pastel Nano Coolant Premix
Mayhems 1000mL pastel water cooling fluid features outstanding cooling power and comes with 13 outstanding colors.
This coolant is the best according to user reviews and surpasses anything in the market. This fluid can be used with all Mayhems Dyes to make own customizable colors.
As I have used this cooling liquid, it is watery like distilled water and if you look closely, it's almost like blue cool-aid. There are no obvious particulates. The solute is fully dissolved and doesn't look like it can separate easily.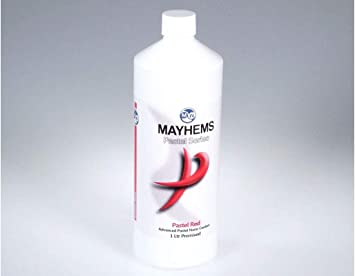 Check Today's Price of Mayhems Pastel ➜➜
It is blended with non-toxic corrosive and scale inhibitors for protection against metals like Copper, Brass, Steel, Nickel and Aluminium.
Thinking about drinking some fluid? (Just Kidding)
No problem. This cooling fluid has a very low oral toxicity lesser than propylene glycol and freezes at -8 degrees.
Nevertheless, the liquid can be stored for upto 3 years within a cool dry environment.
It is recommended to flush your system with Mayhems Blitz Cleaning System before use. And also, do not add any biological inhibitors except dyes (as inhibitors are already included).
One seriously important point to be noted:
This coolant is not recommended for Aluminium Radiators.
But, before that, do check our latest post on best Intel LGA 1200 socket compatible CPU coolers.
6. Corsair CX-9060001-WW Hydro X series
This water cooling fluid has a vibrant clear translucent color to enhance your cooling loop.
The Corsair Hydro X series has long lasting pre-mixed performance liquid that protects copper, brass, and nickel.
I like this product because, the liquids advanced anti-corrosion and anti-bacterial inhibitors won't blacken or damage your water blocks, fittings, or tubing.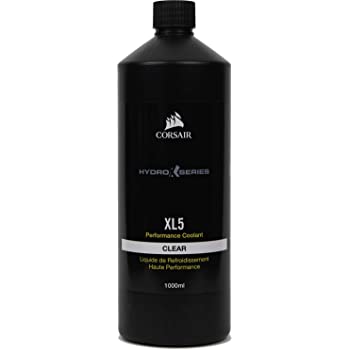 Check Today's Price of Corsair CX-9060001-WW ➜➜
The Corsair Hydro X series is:
1000mL cooling liquid
Color of this coolant is clear white
Overall, it is a good pre-treated fluid for your Corsair water loop and it's easy to use.
Have some time to spare? Check out our latest post about is an expensive CPU Cooler worth It?
7. PrimoChill True Infused – Insanely Concentrated Liquid
This truly infused concentrated liquid takes your cooling loop to another level by decreasing stress and concern over possible leaks.
Primochill True Fluid provides huge benefits in performance and aesthetics without any headache.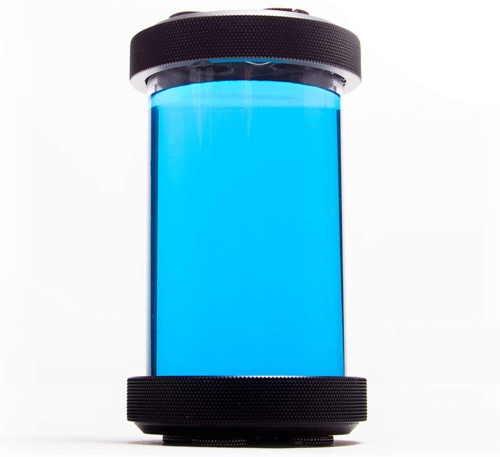 Check Today's Price of PrimoChill True ➜➜
The only drawback of this product is that it cannot be used with aluminium coated radiators.
Otherwise, it comes with 8 oz of liquid which is safe on all plastics, rubbers, miscellaneous gasket materials, and acrylic.
You just need to add 1 gallon Distilled Water to the concentrated fluid.
It is recommended to use the Primochill System Reboot and Primochill Sysprep-cooling lip pre-treatment before adding the coolant. In this way, your water cooled loop won't get damaged.
Go through our extended discussion about whether a CPU Cooler needs a backplate or not.
WaterCooling Liquid Buyer's Guide
There are some aspects you should consider before buying the liquid for your gaming rig.
A coolant is 99% needed component to optimize the temperature of the system.
As a gaming enthusiast, I myself studied several fluids. Some damaged the entire rig and as some faded their color. While the best ones i still have are most demanding in the market.
So, here are the aspects you need to consider before buying a cooling fluid:
Available Color
Watercooling fluids come in different available colors. So, choose the color of the fluid before buying one.
I personally like the aqua color in a soft tubing system more than anything. However, you can choose any of them according to your taste.
Type of Solution- Concentrated or Premix?
Cooling liquids come in two forms, concentrated and premix. In premix form, Distilled water is already added to the solution and so, you don't need to add any extra.
Whereas, in concentrated forms you have to accurately measure the distilled water amount and then mix it with the solution.
I prefer using the premix one, because in some countries distilled water is overpriced and hard to find.
Also check this guide about how to fix CPU Cooler clicking noise?
Amount of Fluid
It depends on your cooling loop, how much amount you need to pour in the system. Cooling fluids come in different quantities. If you have any spare liquid, it will be of a complete wastage.
And most cases, you don't want to notice short quantity of liquid. Do you?
So, it is essential to ask the amount of fluid before buying one
Don't forget to check out our separate post on EVGA ACX CPU Cooler Review.
FAQ
Question: Does distill water need to be added in water cooling liquids?
Answer: If it is a concentrated solution, then distill water is to be added. And, if the solution of the cooled liquid is premixed then, distill water is already added to the solution.
Question: What happens if water cooling fluid leaks through the tubes?
Answer: Your entire watercooling build will be damaged as the fluid itself is a chemical and it can corrode other components of your PC.
Final Thoughts
The best water cooling coolant are those which are naturally biodegradable, has anti-corroding and anti-bacterial agents in the solution.
Nevertheless, it should be appealing too and also it should be consistent enough to provide pump a helping hand in the flow.
Overall, Mayhem's Pastel is the finest of all and considered to be the most demanding one.
Do mention in the comments if you think any other cooling fluid is effective enough for the build.