For a water-cooling loop to work, tubing is considered a crucial step, which comes in soft and hard varieties.
Don't know what type of tubing is the best for your cooling loop?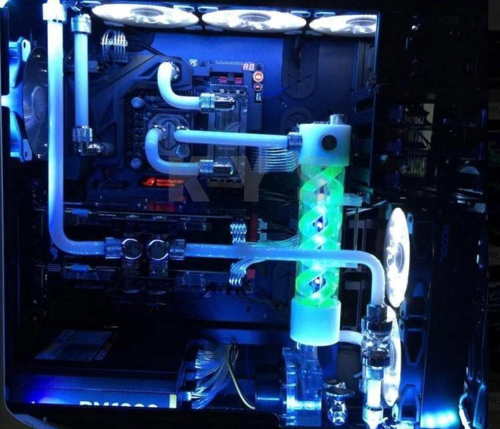 Not to worry because, in this post, you will get to know the 7 best PC water cooling tubing for your gaming loop.
So, let's get started.
Top 7 Best Water Cooling Tubing
For your gaming water-cooled PC, it is important to have the finest tubes possible. As, without pipes, the coolant cannot flow, and hence, your system won't even start.
It is important to choose between the two varieties that are completely dependent on your taste.
As I have researched a lot with these pipes, I came to a conclusion that a handful of them are worth spending the money on.
And, in this post, I am going to show you the superior pipes based on their features, and type.
Sidenote, you should read about how hot can a CPU run?
Here are the best watercooling tubes:
1. Nanoxia Coolforce PETG
Nanoxia Coolforce PETG Hard tubing is designed for experienced water cooling fans who want to customize their own PC build.
This model consists of a 50 cm long PETG Hard tube which is a thermoplastic polymer. You can trim the tube if needed and can bend also. For bending purposes, you can use a heat gun.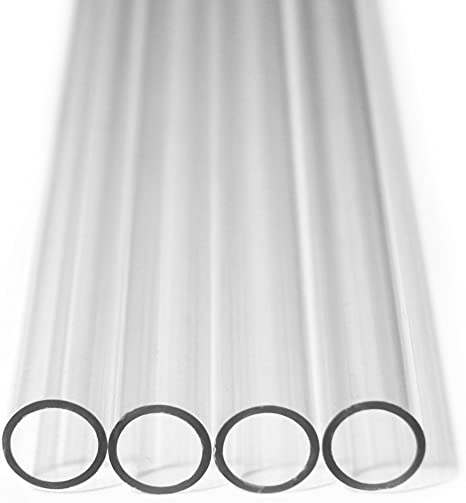 Other than that, the outer diameter of the tube is 16mm and the inner diameter is 13mm with a length of 4×50 cm.
This tube is so uniquely firm that it is almost impossible to break. As the manufacturer says that, with this hard tube, you can comprehend the most demanding projects with slight effort and creativity without the use of any fittings or adapter.
Although this tube is good, it is still recommended to use a 13 mm CF rubber core for extra stability of the tube to ensure safe and accident free-bending. Also, you will get suitable CF1 fittings to use with the hard tubes if necessary.
Overall, I would say it's a good deal within a small budget.
2. Thermaltake V-Tubler PETG Tube
Thermaltake V-Tubler PETG is another great deal for PC water cooling build.
This set consists of-
4×1000 mm length tubes
Type of Tubing: Hard
OD: 16mm, ID: 12mm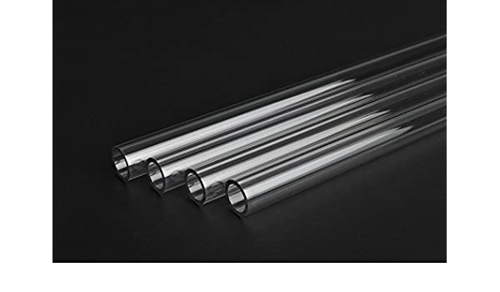 This rigid tubing allows enthusiasts to route the tubes that run exactly to their heart's content. For better mounting, and coolant flow this PETG tubing is what you need.
You may ask whether you can see the coolant through the tubes or not.
Well, the Thermaltake PETG hard tube is transparent enough to showcase the flow of liquid clearly.
Its thick wall design can support working temperatures ranging from -20 degrees to 62 degrees. So, these pipes are suitable to use for all custom water-cooling projects.
In short:
The Thermaltake V-Tubler PETG Hard Tube is absolutely right for the job.
Check out the easiest way about top 5 best water Cooling Pump Reviews.
3. EKWB EK-DuraClear Soft Tubing
EK-DuraClear is one of the high-quality transparent soft tubings featuring smooth inner walls that prevent any kind of bacterial or fungal adhesion. It is one of the most advanced liquid cooling pipes designed for users who wants to add soft tubes to their builds.
The EK-DuraClear structure is made to perform in a broad spectrum of closed-loop cooling systems, making it the first alternative for every water cooling enthusiast.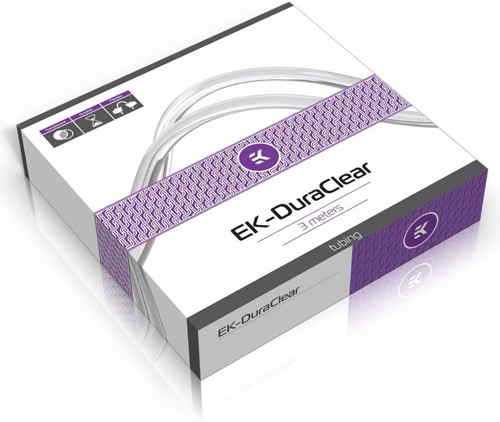 One thing that is absolutely like about this tube is that:
It has the best bend ratio and flexibility. As doing a tight turn in your loop has never been easier, these tubes help bend easier without the help of any kinks.
Also, you can use EK-coolants within these tubes. I would recommend doing so because this combination is the best. Check our other post regarding the Best Water Cooling Coolants.
Features of this soft tube include:
3m length tube
Type: Soft
12/16mm diameter
I like using the EK-DuraClear because it is UV resistant and logo-free. There aren't any prints on the tube which makes the tube transparent and the coolants are easily visualized. It can bear an operating temperature of -20 degrees to 80 degrees.
Overall, Ek-DuraClear is safe, non-toxic, budget-friendly, and the best soft tube for your advanced PC build. It's more of luxury within a low price range.
Check out how to pick the Best Water Cooling Kit for a gaming PC
4. PrimoFlex Advanced LRT
The PrimoFlex Advanced Low radius technology Soft Tube has been designed according to the modern needs of the water-cooled PC build. It is one of the most compatible watercooling tubing formulated in a wide variety of closed-loop cooling systems.
This set comes with Sysprep additives that are to be used to your liquid before firing up the loop. Also, the Inner Diameter: 3/8 inch, and the Outer Diameter: 1/2 inch.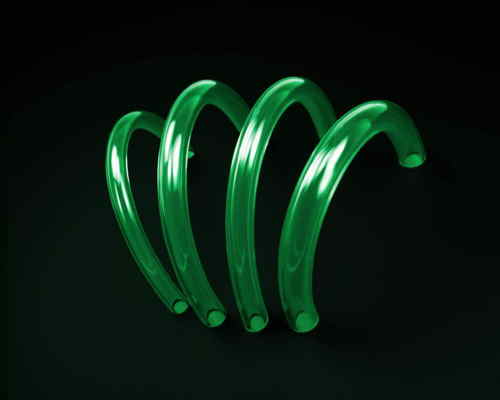 What I like about this tube is that:
It is extremely resistant to kinking. So, you can even get a very tight bend radius without restricting water flow which is a very desirable trait for tubing.
Another reason why I like Primoflex is that there are no prints or logos in the tube that are normally visible on some branded kits.
This pipe has a very smooth inner wall that Primoflex claims cause less junk to build upon the inside which makes it less likely for microbe growth.
If you have used the original LRT, you will notice that there was an additional antimicrobial coating, which is absent in the Advanced LRT. But still, they gave additives. So, no worries at all.
Overall, it is head and shoulders better than other tubes leaving your liquid cooling loop clean, clear, pristine, and ready for any type of coolant.
5. Corsair Hydro X Series Xt Hardline
Corsair launches their high-quality, straight-line tubing for perfect coolant flow. This tube completes the connections between Corsair Hydro x series custom water cooling equipment's by putting your water cooling fluid on display with its crystal-clear PMMA.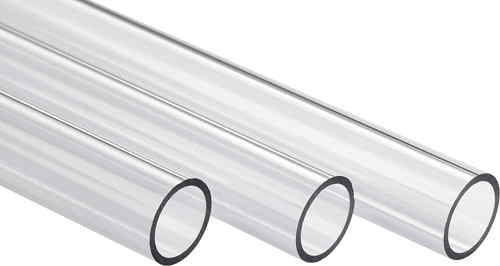 The Hydro X series has a resilient construction that makes the pipe last longer under high pressure and high coolant temperature. This soft tubing can easily be cut with a hacksaw.
The set comes with 12mm OD and 10mm ID, 3x1m long soft tubes.
Overall, comparing the price, this set of pipes is obviously a bigger bang for one's buck.
6. Bykski Rigid Acrylic Tube
If you are using metric size fittings then, the Bykski Acrylic tubing is easy to work with.
It is is crystal clear and sold as a 4 pack. Each pipe is 500 mm long providing you with enough residue of tubing.
This pipe is easy to cut, highly transparent, and easy to bend.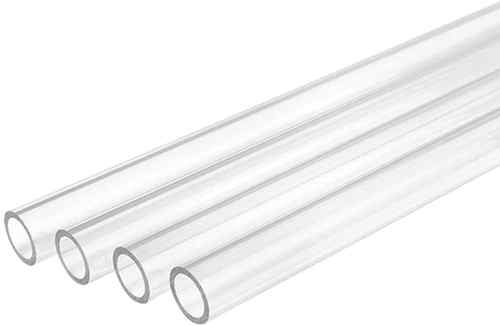 Specifications include:
ID= 12mm
OD= 16mm
Thickness= 2mm
Type: Hard Tubing
It is a good deal except in some cases you have to take things under consideration.
With the use of different fluids, materials, the appearance of the tubing may vary. Though acrylic tubings are compatible with a wide range of cooling components, the use of alcohols or ethylene glycol is strictly prohibited.
It is recommended to use a bending kit in order to bend this tube.
Overall, I would consider it a better bargain at its price.
7. Corsair CX-9059001-WW Hydro X Series
This is the cheapest Softline tube you can ever get. The Corsair CX-WW series is fully transparent showcasing your coolant on display.
It is constructed with PVC materials which are enough for tight bending inside your loop. Also, it is durable enough to flow the coolant for years.
This UV-resistant tube is made to withstand deformation and discoloration.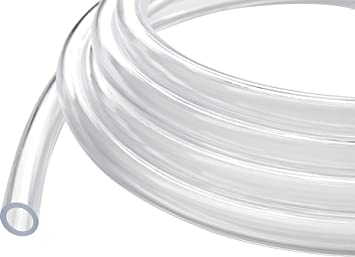 The set has specifications of-
3m long tube
10 mm ID
13mm OD
The only drawback to this product is that it is a very thin tube compared to other soft tubes.
However, within this budget, you won't get a good tube like this.
Is Soft Tube Better than Hard Tube?
It depends on a user's personal taste what type to choose.
Soft tubes are more comfortable to set up due to flexibility and it is easier to bend leading to an untidy system.
While harder tubes are capable of showcasing some amazing vision. It is difficult to bend and get it all mounted accurately.
It is recommended to use hard tubes only if you know how to handle the tube properly.
It is a very serious job to handle tubes with caution. Any small leakage can damage your entire system leading you to a great loss.
Although people prefer hard tubings over soft ones because hard tubings show some cool visionary satisfaction other than soft ones.
And in the case of performance, it's hard to differentiate.
In case you're interested, do check our latest post on are AIO water coolers for GPUs worth it?
PC Water cooling Tubing Buyer's Guide
A good watercooling pipe is needed to smooth the flow of the coolant through the entire loop.
You need to consider certain elements before buying one.
A water cooling system failure occurs 60-70% of the time because of bad quality tubing. And this can cause your entire system to break down in seconds.
That's why you need to buy the perfect quality pipe for your gaming PC.
So, here are the things you should consider before buying one cooling pipe:
Bending Ratio
The bending ratio is very important for your tube. A good quality tube must bear a good bending ability.
The more this ratio, the better the quality of a pipe.
Not only that, your pipe should bear strength to handle the bent.
In this case, Primochill Advanced LRT shows user interest as this set has a good bending ratio.
Type of Tube
There are two varieties of pipes for a water-cooling loop. They are soft tubes and hard tubes.
In this post, I mentioned the type of tubing of each product. Like that, it depends on your personal interest whether to buy a soft tube lining or a hard one for your build.
Both these types are very good considering their features and advantages.
However, I would recommend using the hard tubes only if you are an expert in dealing with the bending of pipes.
Flexibility & Length
Your pipe should be long enough to fit the entire loop and also flexible enough to bear the 90 degree bends.
Some soft pipes are seen breaking apart because of less flexibility. These are bad quality pipes and don't ever buy them. Wheres, the best quality pipes have greater flexibility and longer longevity.
Budget
Ofcourse, budget is important in case of buying anything. For pipes, your budget should be between 20$-50$. Within this range, you can buy superior linings for your custom build.
I would recommend buying a medium price range tube because, if it isn't long-lasting enough, it can easily damage your loop.
Also, check out our separate review on Aigo water liquid CPU cooler review.
Final Thoughts
The best water cooling tubings are those which have greater flexibility and longevity. Also, it should meet up your demands in the case of visualization too.
In your cooling loops 90% of ocular traits lie in pipes. If the pipe is transparent, you can easily see the coolant flowing through the loop giving your loop an extra appealing look.
If I were to buy a pipe, I would definitely buy the EK-DuraClear Soft Tubing because it meets all my demands.