Verdict: All these three coolers from EKWB, Thermaltake, and Corsair offer terrific potential. However, EKWB Ek-Quantum Power P360 is the best due to its high cooling potential and various accessories. That said, the Thermaltake Pacific C360 is more affordable than the models from Corsair and EKWB.
The trend of using a custom water cooling kit is quite common nowadays. Most gamers want to hook their rig with a custom cooling kit because they find it exciting.
Now, the Corsair Hydro X Series XH305i is one of those custom water cooling kits that can cater to your every need.
But is it better than the Thermaltake Pacific C360 and EKWB Ek-Quantum Power P360?
Don't worry. I got it all covered; as in this comparison guide, you'll learn about the pros and cons of each of these models.
So, what's waiting for? Let's check it out.
Check out the latest price for the best water cooling kit.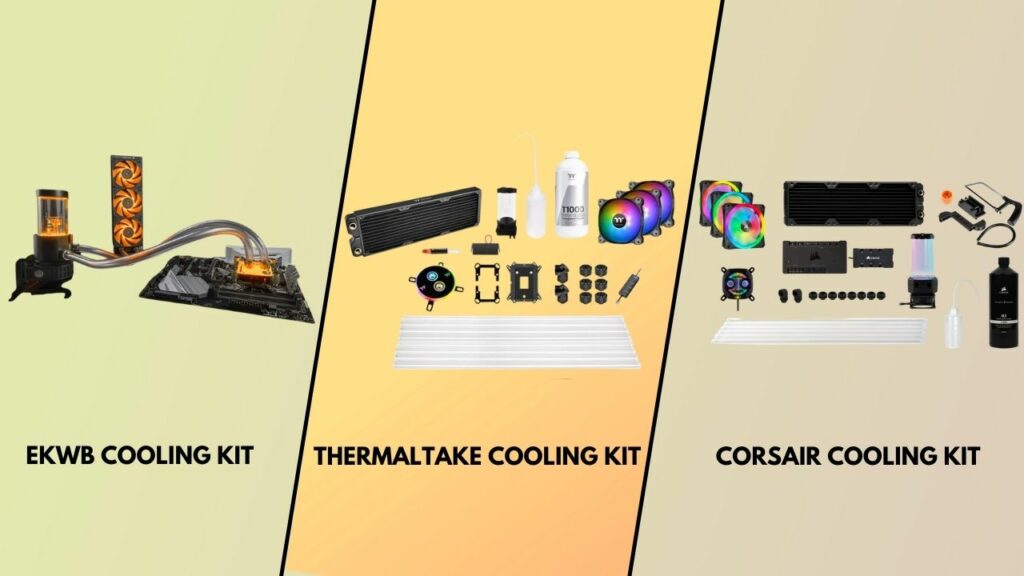 EKWB Vs. Thermaltake Vs. Corsair: Which Water cooler to Buy?
Here are the main differences between EKWB, Thermaltake, and Corsair Custom Water Cooling Kits:
1. Cooling Components
First of all, what matters in a custom water cooling kit is the number and type of cooling components that come with it.
You won't find all the components on every cooling kit, not even on the kits that are considered the best of class. There is something that seems missing.
However, that's no issue, as you can always add those components to meet the deficit. Want a Pump for your water-cooled PC? Here are some of the best-branded water-cooling pumps.
But how about having a kit that consists of almost everything. The hassle becomes less. Isn't it?
Among the three custom water coolers in this comparison guide, the EKWB Ek-Quantum Power P360 is the most self-sufficient one.
And how is that?
The Ek-Quantum Power P360 consists of everything that you need in a custom water cooling solution. From a universal CPU water block to D-RGB accessories, everything is available. Especially, there are diversified accessories for fittings that come with this model.
Compared to this model from EKWB, the other two models from Corsair and Thermaltake consist of pretty essential accessories. Both these models consist of all the things that are prime components of a custom water cooler.
But the edge that the model from EKWB has over them is mainly due to those extra brackets and splitter cables that don't come with these models.
2. Radiator Size
It is always wiser to opt for custom water coolers that come with a greater rad and reservoir size.
Now, the radiator is something that is primarily responsible for carrying out the cooling process. It's primary function is to exchange the hot air stacked in the fins with the surroundings.
The more the surface area, the more efficiently it will help to move out the heat.
In the case of these three custom liquid coolers we are discussing here, the EK-Quantum Power P360 comes with a greater surface area. And the best part is that this model is the thickest one of the three that we are comparing here.
The other two models come with somewhat similar rad size and thickness, making them slightly less effective than the model from EKWB.
Want to know which CPUs are best for RTX 3000 series GPU? Check out some budget-friendly CPUs for RTX 3070, 3080, 3090 series.
3. Price
All the custom water cooling kits are somewhat highly-priced compared to the traditional liquid coolers. These three models here aren't any exception.
Among them, the models from EKWB and Corsair are almost similarly priced, which is on the higher side.
That said, the model from Thermaltake would give you a bit of relief as it's the cheaper one of the three.
Therefore, if you are short of money, go for Thermaltake. Or else, choose one between Corsair and EKWB based on your needs.
What do I need for custom watercooling?
As the processors are getting more powerful these days, the cooling needs also face a major shift. Air coolers are okayish for mainstream builds, but liquid cooling is the answer if you want a powerful build.
Now, liquid coolers are of two types – AIOs and Custom loop coolers.
The custom loop lets you cool your other components like GPU, unlike the AIOs, which focus mainly on the CPUs. But AIOs are more simplistic compared to the custom loop coolers.
You need to be a bit patient in this regard, as setting up the entire loop is a bit complicated. However, it looks terrific and can ideally align with your system if you use the right components.
You can check out our review on Aigo water liquid CPU cooler for more info.
That said, here are the essential parts that are required for a custom loop water cooler:
Water Blocks
It is one of the most prominent custom loop components as it adheres to the GPU or the CPU. It looks almost similar to the air cooler, but the difference is that it uses liquid rather than a direct-to-air process.
Also, while selecting the water block, you need to ensure that your CPU or GPU socket is compatible with it.
Radiator
Radiator mainly does the job of transferring the heat produced by components. It transfers that heat into the air with the usage of the radiator fans.
The best part is that you can add multiple radiators for the custom loops, which eventually plays a big part in the cooling.
Follow our guide to fix CPU cooler clicking noise without any hassle.
Fans
Selecting the fans is a crucial thing for any custom cooler. Before that, you need to ask yourself one simple question that whether you want silence or high-performance.
Or else, do you want a combination of the two?
The choice is yours to make. My suggestion would be to go for the fans that provide higher static pressure.
Tubings
You can either go for soft tubings or hard tubings. Soft tubing is much more flexible compared to hard one. However, the hard one is much more organized, and it also looks a lot neater.
The best part is that these rigid tubes are much easier to bend as per your needs, which you can do with various tools. But since the soft tubes are already bendy, most prefer it as the perfect option to go with.
Fittings
To be honest, there isn't any false choice in this regard. The fittings you need to choose wholly depend on the type of fittings. You just need to make sure that your tubing fitting type aligns with the tubing size.
Coolants
Always try to use specialized cooling solutions. You can find it in premixed forms or even concentrated. The reason behind using them is that they prevent the growth of bacteria and algae. Also, it stops corrosion to a great extent.
Is a custom watercooling loop worth it?
The question of whether custom watercooling is worth the money depends a lot on what your end goal is.
If you want a whisper-quiet system, then it's pretty much possible with a custom loop water cooler. Now, if you prioritize cooling over anything, you need to add additional radiators.
But there are some setbacks, as the maintenance of these coolers is tough, to be honest. That eventually means it does require a good amount of money.
Yet, I would say that it's worth it. As for a CPU, cooling becomes a crucial factor in determining the output level.
Therefore, if you choose all the parts wisely, a custom watercooling loop is worth it.
FAQ
Question: Does radiator size matter for custom water cooling?
Answer: Yes, radiator size matters for custom liquid coolers. Greater surface area ensures better cooling performance. Because more surface area allows cooling the liquid more efficiently, resulting in enhanced cooling,
Question: Is liquid cooling worth it for a CPU?
Answer: Liquid cooling is by far the best option as it transfers heat more efficiently than the process of air cooling.
Final Thoughts
Custom water cooling kits need to be chosen carefully to utilize them to their true potential. All the three custom cooling kits in this comparison guide are excellent options.
Still, there are few differences, which I have tried to point out in this article. I hope this helps your case and makes you make the right buying decision.
Till then, goodbye, and if any question arises, do let me know.