So, you want the best water cooling system for your gaming PC?
And don't know which liquid cooling pump to take, then you landed on the correct page!
If you are in a hurry, check out my #1 recommended pump.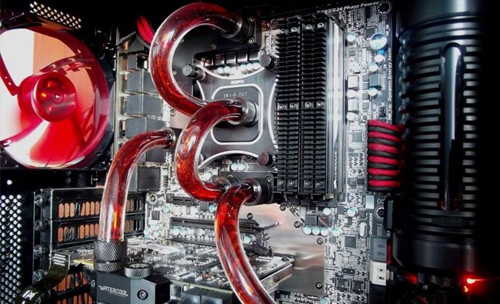 A water cooling pump is an important part to draw the coolant towards the reservoir.
If you want the best water-cooled system for your gaming PC, you will need a high-quality cooling pump.
I have made a list of my top 5 favorite best water-cooling pumps, which I will review in this post.
So, let's dive right into my epic review of the top 5 picks for the best water cooling pump available right now.
Top 5 Best Water Cooling Pump Reviewed
A cooling pump is a must-have component in a water-cooling system that draws the coolant (cooling fluid) from the reservoir towards the radiator. It helps the overall flow cycle of the liquid inside the water cooling loops in a gaming PC.
As a gaming PC enthusiast myself, I have researched using over fifty pumps for a water-cooled PC and found that a few are worth spending the money.
As a matter of fact:
In this post, I have reviewed the best pc liquid cooling pumps based on the pump's longevity, pricing, and also the flow rate.
So, here are the top 5 best water-cooling pumps reviewed:
1. Alphacool 13320 Eisdecke
If you want to take your cooling loop to the next stage then, the Alphacool 13320 Eisdecke D5 stands above all. This pump is well-known for its quiet, strong and spectacular quality.
More interestingly:
The maximum liquid flow capacity makes the Alphacool a showcase.
Alphacool 13320 Eisdecke acts as the universal companion for every water-cooling pump because of its multiple 1/4" threads. In order to increase the performance of your water cooled system, you can even connect two pumps in series.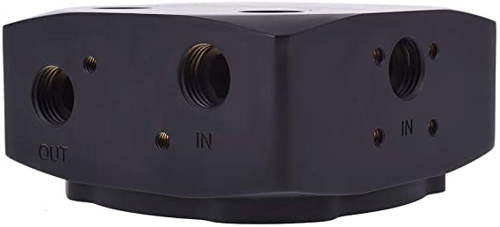 Check Today's Price of Alphacool 13320 ➜➜
Let me provide you with the technical product specifications more clearly for your ease:
Product Dimension: 80 X 80 X 40 mm
Material type: Brass Top and Aluminium Feet
Connections: 3x ¼" Inlet ports and 3x ¼" outlet ports
Compatibility: Alphacool Eispumpe VPP755, Alphacool VPP655, Watercool D5/PWM, Aqua Computer D5/PWM
Multiple Pump fittings tops
In fact, its optimum flexibility will give you the very much flexibility you need.
If you have already used a pump then, you might have faced the problems regarding the placement.
But, don't worry. The Alphacool 13320 Eisdecke can accommodate the way you want to place it in the cooling system.
In short:
One of the largest issues taken down is that you can mount this pump in any directions whether it is vertically, horizontally, at 45 degrees, or at a 90 degrees angle.
The Eisdecke D5 Brass Top is of high quality which makes the pump a stylish special highlight. Overall, making the pump noticeable inside your PC case.
Not but the least, a vibration damper along with the Alphacool 13320 makes the pump quitter tan you could ever imagine.
So, anyhow if you ever feel a noise cooling system, just substitute the existing pump with the Alphacool 13320 to remove the distracting noises. Remember, The Alphacool 13320 is only added for stylish show-casing, not for hearing.
Also, Check out our expert-recommended best low-profile cpu cooler for your chassis.
2. EKWB EK-XTOP Revo D5 PWM
If you are looking for a high-performance water cooling pump then, EKWB EK-XTOP Revo should be in your priority list.
The EKWB EK-XTOP Revo is ideal for a gaming PC as well as other electronics water cooling. This pump is attached with an electronically moving spherical motor. The motor consists of a spherically shaped rotor that is held in place by an ultra-hard, wear-resistant ceramic bearing ball.
If you are tensed with the installation of the pump then, you should be knowing that the EKWB EK-XTOP Revo pump's body has a fully rounded design making it easier for your placement at any angle within 360°. Additionally, for easier tube routing, horizontal and vertical positioning are also supported for this pump.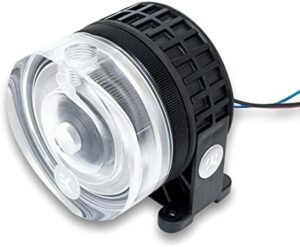 Check Today's Price of EKWB EK-XTOP Revo ➜➜
As far as the product specifications are concerned:
Material Type: Top made up of Acrylic material and tightening nuts made from CNC machined aluminium.
Pressure Head (max): Up to 3.9 m
Maximum Flow rate of liquid: Up to 1500L/h
Liquid Temperature (max): 60°C
Power connector: 4-Pin Molex and 4-Pin PWM FAN connector
The EKWB EK-XTOP Revo D5 operates silently because of the special rubber shock absorber that is used to de-couple the main pump's body from the mounting clip making it a vibration-free pump.
How long will this pump last?
If the temperature is at 25 degrees ambient then, the pump will last for 50,000 hrs MTBF.
Not but the least, the EKWB EK-XTOP Revo features a single port for suction purpose and an outlet port for pressure purpose for installation of two standard G1/4 threaded fittings/barbs.
Note that:
It is always better to use EK-ACF series compression fittings with the EKWB EK-XTOP Revo pump.
Check out the award-winning best nzxt aio cooler this month.
3. EKWB EK-XTOP DDC 3.2 PWM
EKWB EK-XTOP DDC 3.2 PWM Elite is another high-performance cooling pump in this list.
The DDC 3.2 unit offers an increased hydraulic performance of up to 15% compared to their other models. Whereas, the PWM control allows autoregulation of pumping speed depending on the CPU temperature.
The EKWB EK-XTOP DDC 3.2 PWM Elite pump shows a quiet operation in idle mode and also a full performance on-demand.
This pump features two G ¼ threaded ports, inlet, and outlet ports. For this pump, EK also recommends using the EK-ACF series compression fittings.
Despite being a small pump, the EKWB EK-XTOP remarkably provides superior liquid flow rates in the liquid cooling systems.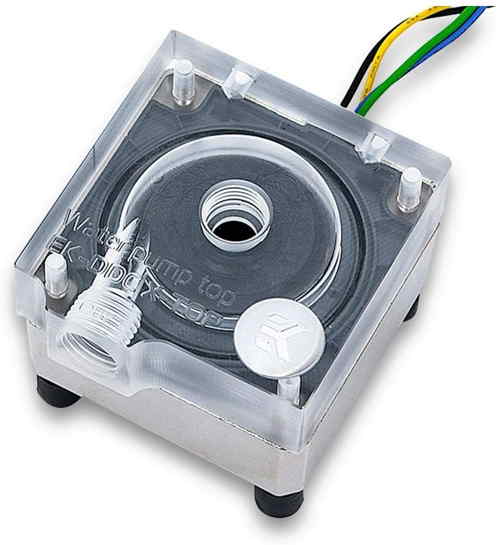 Check Today's Price of EKWB EK-XTOP ➜➜
Here are the product specifications in details:
Product Dimension: 63 X 68 X 55 mm
Material Type: Top made up of POM Acetal material
Maximum Liquid flow rate: Up to 1000 L/h
Maximum Pressure Head: Up to 5.2 m
Power connector: 4-Pin Molex and 4-Pin PWM FAN connector
The EKWB EK-XTOP DDC 3.2 is a highly reliable and high pressure tolerant industrial pump.
However, the pump also features a vibration dampening rubber that de-couples the pump from the computer parts.
Want to know the best part?
The EKWB EK-XTOP DDC 3.2 is embedded inside the EK-DDC heatsink housing which ultimately improves the cooling performance of the motor increasing the lifespan of the water pump. The Heatsink basically amplifies the effect of airflow. There are thermal pads also inside the heatsink for optimal heat transfer.
So, if you want to improve the overall cooling performance of your PC then, try using the EKWB EK-XTOP DDC 3.2 PWM Elite. It's worth it.
. Also, don't forget to check out our best fanless CPU cooler for silently operating your PC.
If you are looking for two perfect CNC machined surfaces with a high-performance cooling ability then, Bitspower Premium D5 is what you are looking for.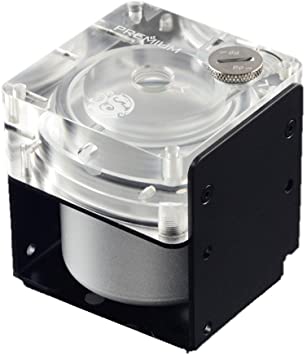 Check Today's Price of Bitspower Premium ➜➜
The Bitspower Premium has a special design for D5/MCP655 with two G ¼" ports (inlet and outlet MOD ports).
The pump is made up of high-quality copper material and usually comes with two colors, silver/acrylic, and black.
Overall, this pump is good for desktop-computer water cooled systems.
So, if you want to buy a PC water-cooling water liquid cooling cooler titan rig then, Bitspower Premium should be your only choice.
5. PrimoChill Enhanced D5 Liquid Cooling Pump
PrimoChill Enhanced D5 Liquid Cooling Pump is one of the reliable and smooth operating pumps. This pump has the new PWM control chip by which you can automate the pump speed based on the CPU temperature using the PWM CPU fan header. This feature helps the pump to run at speeds when needed.
One more useful feature of the pump is that:
The PrimpChill D5 has the ability to shut down automatically leaving you with an RPM feedback (if available in your BIOS).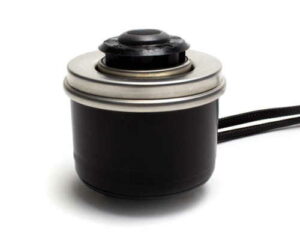 Check Today's Price of PrimoChill Enhanced ➜➜
About the product specifications:
Pressure Tolerance: High
Power Cables: Sleeved Black/Black
PWM Functionality
Maximum System Temperature: 60°C
Nominal Voltage: 12V DC
Operating Voltage Range: 8V-24V DC
Maximum Pressure Head: 3.9 m
Maximum Liquid flow rate: 1500 L/h
Despite being a useful pump, you have to take some precautionary measures as well.
If you use any abrasive coolants then, the lifespan of your pump will decrease.
Another important thing to keep in mind is that:
You should never run the D5 pump without fluid/ coolant.
Overall the pump is good and scales in a similar way as the DDC 3.25.
Also, check out our expert's recommended best cooler master cpu coolers.
Water Cooling Pump Ultimate Buyer's Guide
A good liquid cooling pump is needed to push the coolant around a water cooling loop.
You need to know and consider certain aspects before buying a pump for your gaming PC.
And I am going to discuss those factors in this buyer's guide.
There are only two pumps I personally recommend as the best cooling pump and they are the D5 and the DDC.
However, if you are confused about which pump you should buy, this section will surely help you.
The cooling pumps are not cheap and so it would be a wise choice to buy the best one which is budget-friendly and also the best.
Water cooling system failure occurs 60-70% of the times because of an expired pump. And this is risky for your system.
That's why you need to buy the best pump for your gaming PC.
So, here are things you should consider before buying a water cooling pump:
Liquid Flow Rate of the Pump
The Liquid Flow rate of the pump is measured by Litres per Hour (LPH). It means that, at full speed, the pump can move X amount of liquid at a 1 hr amount of time.
It may sound that, more flow rate = best pump.
But that's not the case. Head pressure in the case of pumps is just like static pressures in case of fans.
So, if you have more resistance in your cooling loop and you don't have a pump that has a good head pressure then, you are going to face a lot of drop-offs. Even though the D5 pumps are the best cooling pumps, it does not work well when it comes to resistance.
Resistances occur because of the blocks, water bocks/ GPU blocks and the sharp 90 degree bends in the fittings. So, in order to get the best pump, you have to make sure that the pump you are going to buy has great head pressure.
Budget
Cooling pumps are not the cheapest. So, it is better to be wise than to be sorry.
If you are spending much then, I would recommend spending it where it's worth it.
A good PC cooling pump has a price range starting from 250 bucks.
If you are lacking this much budget then, I would prefer you to wait and add a little more money to your budget because by now you know how crucial it is to buy a good pump.
Maximum Liquid Temperature Handling Pump
Your liquid cooling kit always gets warm when you are playing highly graphical games all the time.
It is better to buy pumps that can bear the high temperature of the coolant.
The D5 pumps get cooler while the liquid in your kit is flowing whereas the DDC pumps get hotter from time to time. So, if you want to have a DDC pump with no air cooling systems or heatsinks then it will be a complete waste of money.
Frequently Asked Questions
Question: Which pump is better between D5 and DDC?
Answer: D5 pumps are better when it comes to longevity and temperature bearing capabilities but, D5 pumps usually don't have a good pressure head as the DDC pumps.
Question: How long do water cooling pumps last?
Answer: Different pumps have different life spans. Some last for 50,000 hours while some cooling pump last for 20,000 hrs.
Question: How to know if your water cooling systems pump died?
Answer: If you see the pump not drawing the liquid coolant towards the reservoir then you should assume that the cooling pump is dead. If you are using a soft tube then it will be easier for you to see whether the pump died or not but if you are using a hard tube then, notice the temperature change of your CPU.
Final Thoughts
The best water cooling pump is essential to keep the flow of the coolant running continuously. Without the pump, no flow will occur.
People usually get confused about using a D5 pump and a DDC pump. However, both have pros and cons.
But, I recommend using the D5 pump when it comes to budget and performance.