Gaming rigs these days aren't only focused on performance anymore. There is more to it.
Gamers today are concerned about a lot of things. Alongside the performance, the gaming rig's aesthetics is one of the prime concerns of a gaming freak.
In a hurry? Check my top RGB Hub.
Or else, read my take on some excellent RGB controllers.
These people want to mix things up. Especially for better RGB lighting, proper syncing is required.
So, what to do?
It's simple, You just need to go through this article as I enlisted some of the finest RGB hubs that will help upgrade your PC's lighting game.
Also, check out some classy and aesthetically pleasing RGB CPU Air coolers. Don't need air coolers for your rig? Check out our experts tested and reviewed the best RGB CPU AIO cooler.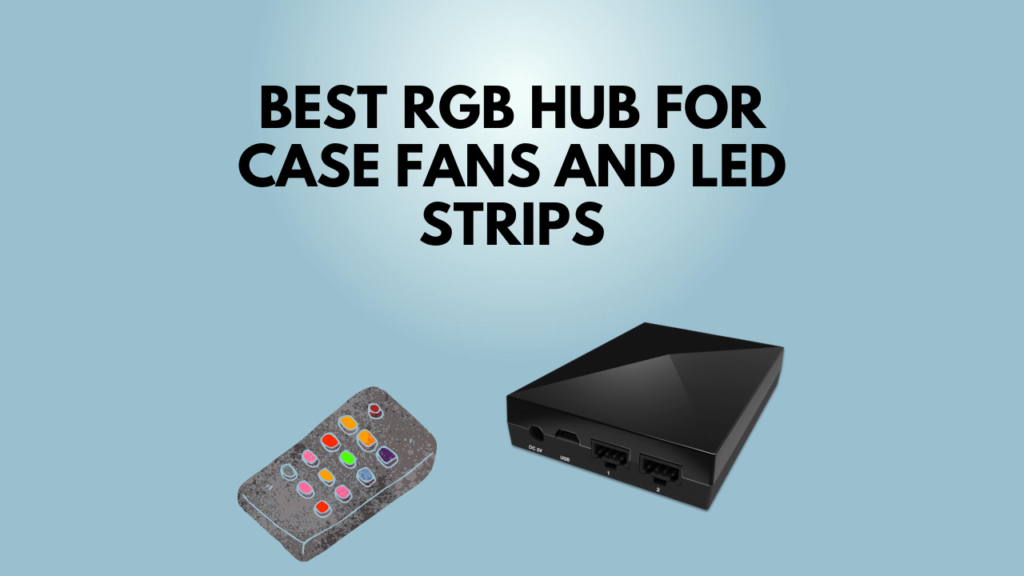 Best RGB Hub Reviewed
An RGB hub is a tool that will help you out in managing the RGB elements of the components inside a gaming PC. Sometimes it turns out to be a handy tool when you find there aren't enough RGB headers on your motherboard.
Now, the market is filled up with some fantastic RGB controllers.
But the question is:
Which of them is worth a shot?
After reading my review, I hope you'll get your answer. So let's not waste any more time.
Out of time? Check out some awesome RGB CPU coolers for your rig.
Here are the seven best RGB Controller for Fans and LED Strips:
1. SilverStone LSB02-E
Let me start with my top pick, which is a model from the brand Silverstone. This model attributes the following specs:
Plastic-made
4x ports for 3-pin or 4-pin fans
Thermal temperature probe
Remote control: Yes
Software support: No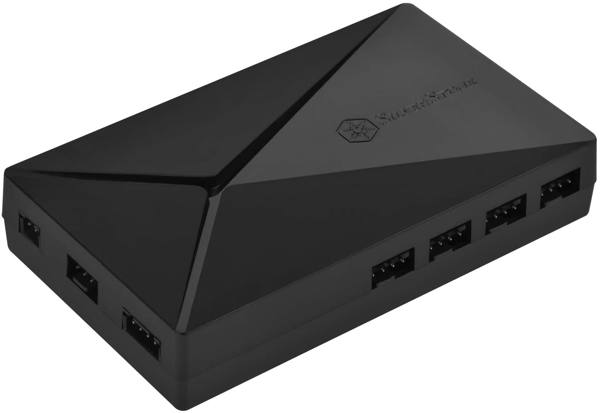 Check Today's Price of SilverStone LSB02-E ➜➜
The RGB lighting is one of the hottest aspects of gaming builds. You would hardly find any gamer who doesn't like RGB illumination in the rig.
Most builds with components from a similar brand face no hard time in sync. But since the ecosystem is ever-expanding, the gaming builds made with ingredients from different brands face some issues.
This RGB LED and fan hub from Silverstone is here to solve such issues. This controller comes in a package, which includes a remote with membrane-type buttons and a control box. Also, there are USB connections that will easily let you link this up with your system.
You'll also find 4x PWM connections and 6x ARGB lighting channels.
Want to know which CPUs are best for RTX 3000 series GPU? Check out some budget-friendly CPUs for RTX 3070, 3080, 3090 series.
Now, what would make you go over the moon is its superb RGB LED compatibility. For lighting, per port, it can support up to 72 LEDs.
When I got to know this feature, I was like… DAMN!
Besides, the button remote that comes with the package is what makes this unique. You can control everything; the fan, the lighting. And I am not joking because I tried using this myself on my rig.
I turned on/off the fans and the LEDs inside with this RGB fan controller. Also, it will allow you to try out different lighting pattern varieties, that too, just with the tip of the finger. When I was testing, I felt that the total control was smooth and seamless. The glow in LED strips and the promptness in the changing colors were excellent.
Should you buy an aio cooler? Check out how safe are aio coolers for your Rig.
One thing that is missing for this RGB hub is reliable software support. But that is not what matters the most.
With top-notch functioning and also bearing a reasonable price tag, this RGB Hub is by far the best option you can choose for your gaming PC.
2. Thermaltake TT Sync ARGB Controller
Thermaltake is a top brand when it comes to PC components. In the PC hardware market, they made a name for themselves by gaining the gamers' trust.
To date, whatever I bought from them turned out to be good. That said, this ARGB hub from them has some fantastic features to offer:
Can power up to 9 addressable LED products
Comes with 3 PWM signal cables
Remote control: No
Software support: Yes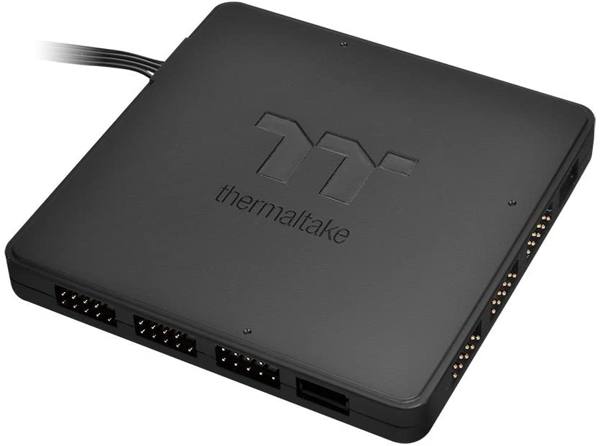 Check Today's Price of Thermaltake TT Sync ARGB Controller ➜➜
As an RGB hub, this model would be an awesome choice to make. I mean, why not?
It almost got everything to offer that a gamer would need to sync his RGB rig properly.
I say buying this ARGB controller will make things easy for you. It is compatible with all kinds of software and offers a wide range of functionality.
Check out some awesome AM4 socket-compatible cpu coolers.
Isn't that amazing?
Also, it comes up with all types of cables that you need for different motherboards. Therefore, whatever motherboard you buy and whatever chipset it has, doesn't really matter.
The Thermaltake Riing Plus software is there to help you out with RGB customization. It will help you out by adding flairs in the RGB fans and LED strips. As I said earlier about the software compatibility, the hub syncs pretty well with ASUS Aura Sync, Gigabyte RGB Fusion, ASRock Polychrome, etc.
Also, check out some best 240mm CPU coolers.
The only thing that can be problematic is the 9-pin port. Because anything with 3-pin or even 5-pin won't be compatible.
But other than this one issue, as an ARGB hub, this model performs well, in my opinion. Unlike my top pick, it doesn't come with remote control because it doesn't need it. The software does all the job. Also, the installation is pretty easy, won't really give you any headache. Overall, I would say that this ARGB hub does justice to its brand. It lives up to the expectations in terms of output.
3. NZXT RGB & Fan Controller
NZXT is well known for its line of cooling solutions. But in this case, this RGB hub made it to my list because of its top-end functionality.
This model comes with the following specs:
Two lighting channels
3x fan channels
Remote Control: No
Software support: Yes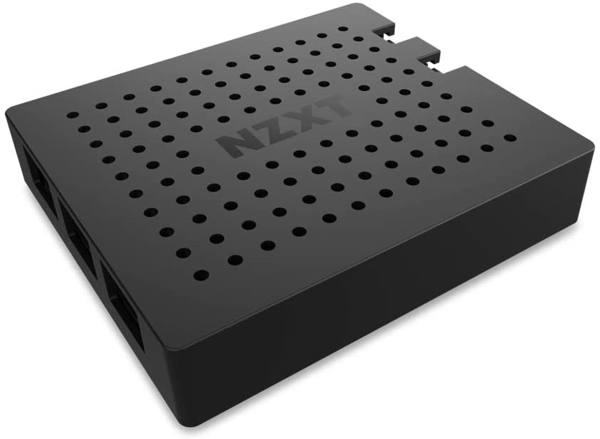 Check Today's Price of NZXT RGB & Fan Controller ➜➜
Not every motherboard comes with many headers, which is a massive problem for modern-day gaming builds. This model from NZXT can solve all these problems. It possesses the ability to handle all the lighting effects that you want in your rig through a single channel.
For this, you can use the NZXT CAM software, which makes your job pretty easy. It connects the fans and also other RGB strips into that single channel so that the whole controlling process gets smooth.
Also, check out some best 120mm CPU AIO coolers.
It has 3x fan ports and 2x RGB lighting channels, which you can easily tune the settings using the software. And it can support 40 LEDs per lighting channel.
As for the buildup, this RGB Fan & LED controller comes with a nice touch. To be honest, I found the total black coating quite sleek. Besides, a single SATA cable hooks up everything starting from providing power.
However, this RGB hub isn't devoid of a few issues. It is more likely to sync better with NZXT's own product compared to other brands. Even a few components might not sync at all. Also, the price for this RGB hub is on the higher side.
Still, if you think that none of these mentioned things would give you a headache, then feel free to buy this model. As it's one of the best RGB controllers that can help you get some fantastic LED lighting effects.
Also, check out some best 360mm CPU AIO coolers.
4. upHere ARGB Fan Hub
If you are looking for an addressable RGB LED controller that won't take a toll on your wallet, then I have the right option for you.
That said, this model comes with the notable specs below:
Supports up to 7 fans
PSU SATA connection
Compatible with all software
Software support: Yes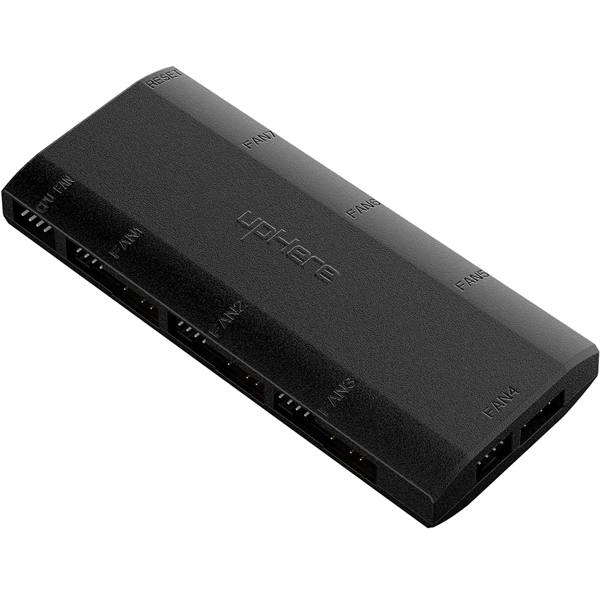 Check Today's Price of upHere ARGB Fan Hub ➜➜
To be honest, I feel that this ARGB hub is somewhat underrated. Like, there is no hype at all. In the crowd of all the NZXT's and Thermatake's, this is a hidden gem.
It looks decent and has a nice touch all over. The buildup is relatively compact. Unless any force or something untoward happens, this ARGB fan controller ain't breaking down. You can take my word for that.
That said, this ARGB fan controller can dictate up to seven RGB fans. You will have the freedom to customize the fans individually and make them function the way you want.
The best RGB Graphics card is what you need to make your PC aesthetically pleasing.
Besides, each of the ports has its PWM function. That is why adjusting the fan speed is simple and easy.  I found that it tunes the RGB LED strips placed inside the PC case quite seamlessly in my testing.
To sum up, I would say that it's an excellent option that comes with an affordable price tag.
5. Timack 12 way ARGB Splitter Hub
Another model from a not-so-famous brand, which can do the job of controlling pretty well.
This ARGB comes with the following specs:
PMMA case
Magnetic standoff design
Compatible to 3 pins ARGB headers
Software support: Yes
Remote control: No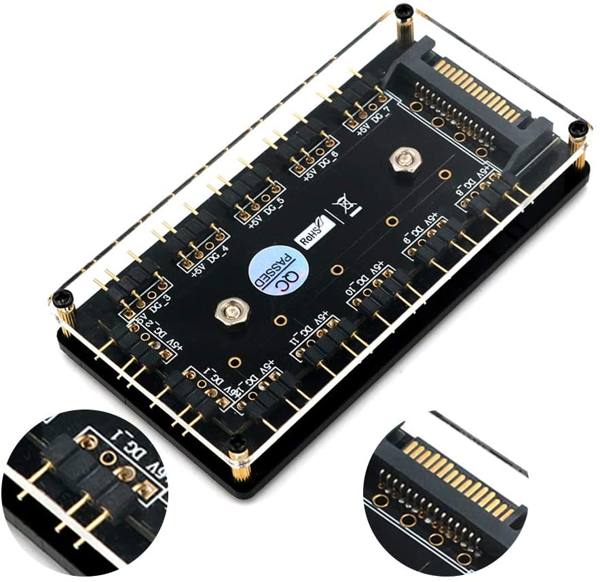 Check Today's Price of Timack 12 way ARGB Splitter Hub ➜➜
As an ARGB hub, it is one of the finest options that you can get. It comes with a magnetic standoff design, allowing you to quickly fix the hub on the chassis.
Before using it, I was quite skeptical about this model. Because I didn't hear much about this model, in a sense, you can say that I played a gamble, and it turned out in my favor.
As when I tried using it in my gaming rig, the output and responsiveness were fantastic.
The pins used in it are quite sturdy. So, the chances of breaking down are negligible.
Don't forget to check out some of the best 4800 MHz RAMs for a faster gaming experience.
Besides, I think you also should know that eleven slots are actually present as the twelfth one is used for connecting to the motherboard. Build quality is superb. The best part is that it is compatible with most software. It paired up quite decently with the aura sync software in my system.
As for the performance, this RGB controller fared up decently. I did the tuning without any issues with aura sync software, and the RGB lighting effects in the LED strips and case fans were marvelous.
Check out some of the best 4400 MHz RAMs for a faster gaming experience.
Moreover, this is such an ARGB hub that it should be on every gaming enthusiast's priority list.
6. Delaman RGB Hub
Here is another RGB controller that you can buy even after having a short budget.
This model features the following specs:
Horizontal pin design
10-channel
It comes with an extension cable
Software support: Yes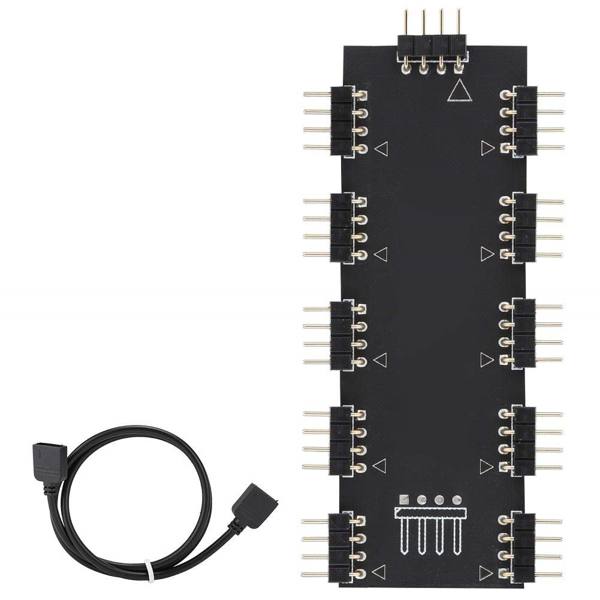 Check Today's Price of Delaman RGB Hub ➜➜
The main attribute of this RGB & LED fan controller is that it has a minimalistic look. For people who don't like extravaganza much, this is the option to buy.
That said, the main element of this RGB controller is the 10-channel hub. It allows the expansion of a single interface of the motherboard into 10. And that is required for the proper connection of multiple devices.
Don't forget to check out some of the best 4000 MHz RAMs for a faster gaming experience.
The pins present are also of the finest quality. So, remain assured about the sturdiness.
As for the performance, I felt the controller was okayish. The way it optimized the lighting effects in the LED strips, and RGB fans were commendable. Also, it is a matter of just a few minutes to install it.
Nonetheless, an excellent RGB lighting kit to buy if you are short of money.
Don't forget to check out some of the best 3000 MHz RAMs for a faster gaming experience.
7. CERRXIAN 12 way ARGB
This is the last option from my list of some of the finest RGB/ARGB hubs. This model sports some notable attributes:
11 ports
SATA power supply
Only supports 5V/3V pin
Software support: Yes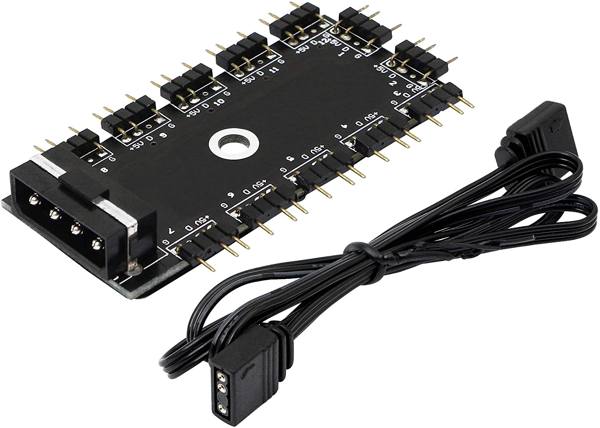 Check Today's Price of CERRXIAN 12 way ARGB ➜➜
This Fan and LED controller has a compact construction. And this thing is quite commendable, given the price tag that this model bears.
It includes a SATA power supply, which is there for stable output. Therefore, be assured about the top-end performance level that you are going to get.
Check out some of the best 2666 MHz RAMs for a faster gaming experience.
What I liked most about this ARGB hub is its excellent cable management. It is relatively easy, and there are almost no tangles. Therefore, no chance of untidiness. This eventually results in space-saving in your rig. Performance-wise, the RGB fans and LED strip were under control.
Other than this, the effortless installation and also simple handling make this model a tough bargain.
Don't forget to check out some of the best 3600 MHz DDR4 RAMs for a faster gaming experience.
How does the RGB Hub work
Inside the rig, the blending and diffusion of colors look fantastic. It is mainly possible due to the superb functionality of the RGB controller. The performance of RGB fans and the LED strips highly depends on it. Your rig might have a hell of palettes and patterns to work with, but all of them are worthless if you don't get the perfect device to tune in the settings.
Don't forget to check out some of the best 3200 MHz RAMs for a faster gaming experience.
This device that is the RGB hub works on a straightforward principle.
They alter the power on each of the channels, and in this process, they end up creating a unique color mix. And this process continues to generate different colors. While doing this, few specific channels which aren't required in the mix remain off.
Also, check out the best CPU cooler for i9-10900k.
How to install addressable RGB Hub
If you are a newbie, things might seem quite complicated to you. But then again, I am here to end all your complications.
Don't know how to install your RGB LED and Fan controller?
No worries! I can help you out with this thing.
Compare this cooler with the best Cpu cooler for Ryzen 5 5600x.
Here are the steps to install the ARGB hub:
Open the box, take out the cable given with your package and connect to a 3-pin ARGB header or 4-pin non-ARGB header.
Connect the very cable on the side of the RGB LED splitter hub.
Connect the other side to the SATA of your Power supply.
Connect the fans or the components.
Final Thoughts
These are the seven best RGB hubs that you can get for your gaming build. All of these options are potent enough for tuning the RGB lighting in your rig.
In my opinion, the Silverstone LSB02-E is the overall best controller that you can get for your RGB LEDs. Besides, performance-wise the model from Thermaltake and NZXT doesn't fall behind. In case if you want a budget option, the model from upHere can also be handy.
Now, it's up to you which one you will choose. Still, any confusion arises, do let me know in the comments.