Nowadays, building a kick-ass gaming PC isn't enough just about getting high performance. People also want to have that aesthetic factor in their thousand-dollar PC setup. And nothing screams personalized aesthetic more than RGB.
But in order to fully utilize the RGB setup, you'll need an RGB hub to manage multiple devices. That's where this article comes into play. To ensure maximum compatibility & useful feature set, I've tested & reviewed over 15 RGB hubs on various configs.
Among all the available RGB hubs on the market, here are my top 5 picks that you should consider. If you're in a hurry, just go for Razer Chroma RGB Controller, as it's the best RGB Hub that money can buy right now.
Top 5 RGB Hubs You Can Buy Right Now
An RGB hub is a tool that will help you out in managing the RGB elements of the components inside a gaming PC, such as RGB coolers, RGB splitter cables, etc. Sometimes it turns out to be a handy tool when you find there aren't enough RGB headers on your motherboard.
Now, the market is filled up with some fantastic RGB controllers.
But the question is: Which of them is worth a shot?
After reading my reviews, I hope you'll get your answer. So let's not waste any more time.
Here are the five best RGB Controller for Fans and LED Strips:
1. Razer Chroma Addressable RGB Controller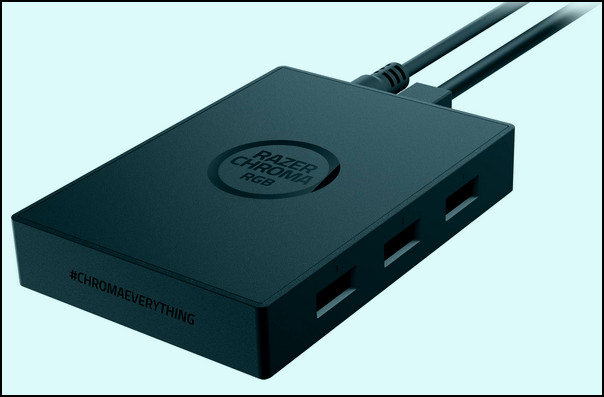 Specification
Headers: 6 addressable RGB headers.
Compatibility: Universal compatibility to work with any ARGB device.
Mount: SATA slot or 3M double-sided adhesive tape.
Power input: Molex to DC.
REASONS TO BUY
»

Perfectly syncs various ARGB devices with Razer Synapse 3.

»

Easy to install.

»

Tight 3-pin connectors.
REASONS TO AVOID
»

Corsair & NZXT RGB components are not supported.
What We Liked About It
Among all the RGB hubs me and my teams have tested, the Razer Chroma Addressable RGB Controller stood out the most. And it's not just due to the well-trusted Razer brand of their amazing RBG software; it's also the overall user experience of this accessory provided that impressed us.
Let's start with the unboxing. It comes with very basic packaging that includes the controller itself, one Molex to DC cable, one 9-pin power to micro-USB cable, two 3M tapes, some Razer stickers, and a user manual. It includes everything you need in an eco-friendly packaging.
The build quality of the controller felt quite sturdy. The cables had enough length to cover large cases. Not to mention, the 6 ARGB ports were tight enough to properly hold any splitter cables, and we all know how loose some RGB splitter cables can be.
Next up, installation. The RGB hub has SATA mounting holes to install it in the storage bracket. It also offers two double-sided 3M adhesive tape so that you can easily attach it anywhere in your PC tower. I have a love-hate relationship with such mounting methods, which I'll discuss later.
The most favorable part of the controller is the software support. After installing the hub, all you need is the Razer Synapse software which is not only quite simplified but also packed with so many features.
The software felt very responsive and straightforward. All the settings options were conveniently located and offered extended customizability for each component. Gamers who are familiar with the Synapse tool will have a great time using it.
An RGB hub is nothing if you don't have cool RGB products like RGB AIOs. So don't forget to check out our shortlist of the best RGB AIO coolers for your CPU.
What We Didn't Like
The hub doesn't support non-Razer software, like iCue. Despite saying that the hub is universal, what Razer meant is that any fans will work with it, not that it will work with any software. I also didn't like the lack of a magnetic mount.
One annoying scenario I faced while setting up the RGB hub was when I added new components. I had to restart the Synapse app for it to detect newly added RGB devices.
Who Is It For?
Whether you're an RGB fanatic or simply want to glow up your PC without too much hassle, the Razer Chroma RGB Controller is a suitable option for all kinds of PCs. Provided that you're willing to spend around 40 bucks on an RGB hub.
Verdict
The Razer Chroma Addressable RGB Controller offers precisely what it has advertised, a feature-packed RGB hub that is universally compatible with all setups. That's why we've picked the Razer Chroma ARGB Controller as the overall best RGB hub in 2023.
2. NZXT RGB & Fan Controller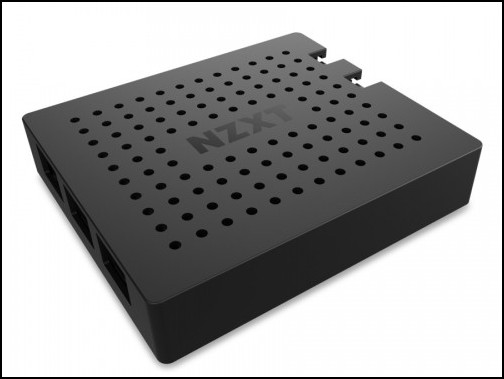 Specifications
Headers: 6 RGB and 3 fan channels
Compatibility: Works with any RGB fans and LED strips
Mount: Magnetic, double-sided adhesive strips or 2.5 drive bay mount.
Power input: SATA
REASONS TO BUY
»

Sleek and compact design.

»

Easy to mount.

»

SATA+USB connectors.
REASONS TO AVOID
»

Less compatible with non-NZXT products.

»

Relatively expensive.
What We Liked About It
NZXT is well known for its line of cooling solutions. But in this case, this RGB hub made it to my list because of its top-end functionality.
Not every motherboard comes with many headers, which is a massive problem for modern-day gaming builds. This model from NZXT can solve all these problems. It possesses the ability to handle all the lighting effects that you want in your rig through a single channel.
For this, the NZXT CAM software made our job pretty easy. It connected the fans and other RGB strips into that single customizable hub & made the whole controlling process much smoother.
It has 3x fan ports and 6x RGB lighting channels, or you can connect up to nine 3-pin DC/4-pin PWM fans. It can also manage fan speed and extended ARGB customization via NZXT CAM.  Not to mention, it can support up to 40 LEDs per lighting channel.
As for the build quality, the NZXT RGB hub comes with a nice touch. To be honest, I found the total black coating quite sleek. Besides, a single SATA cable hooks up everything, including power input.
What We Didn't Like
Unfortunately, this NZXT RGB hub isn't devoid of a few issues. It is more likely to sync better with NZXT's own product compared to other brands. Even a few components might not sync at all. Also, the price for this RGB hub is a bit higher compared to other, better offerings.
Still, if you think that none of these mentioned things would give you a headache, then feel free to buy this model. As it's one of the best RGB controllers that can help you get some fantastic LED lighting effects.
Who Is It For?
If you have a gaming build with NZXT RGB products, this hub can take your RGB customization experience to a whole new level with little to no effort.
Verdict
Despite having a few not-so-great aspects, the NZXT RGB & Fan Controller provided a satisfying user experience that can only be rivaled by the top-notch RGB hubs on the market. Hence, it's our second pick for the best RGB hub on the market right now.
3. DeepCool SC700 ARGB Hub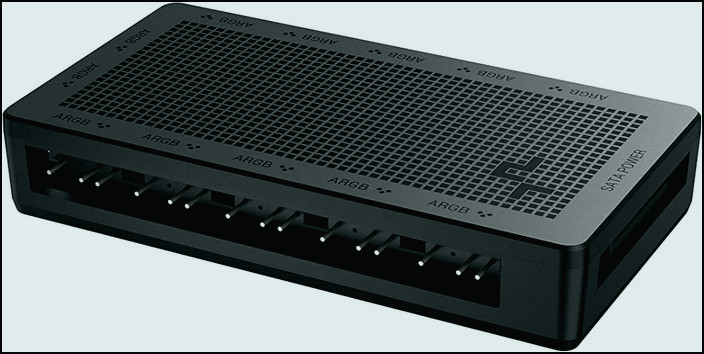 Specification
Headers: 12 ports, 3-pin ARGB port type
Compatibility: Compatible with any ARGB device via Aura Sync, Gigabyte RGB Fusion, MSI Mystic Light Sync, ASROCK Polychrome Sync, and SignalRGB software
Mount: Magnetic
Power input: SATA
REASONS TO BUY
»

As affordable as an RGB hub can be.

»

A wide range of compatibility.

»

Easy installation with magnetic backplate.
REASONS TO AVOID
»

Not compatible with 12v 4-pin ARGB products.

»

Weak magnetic mount.
What We Liked About It
Similar to other DeepCool products, the SC700 ARGB Hub provides unbeatable value for money. For around 9 bucks, you're getting 12 addressable RGB ports that are also compatible with ARGB products from various brands such as Asus, NZXT, Gigabyte, etc.
FYI, if you're getting confused about the whole RGB vs ARGB thing, check out the embedded article.
Right out of the bat, the packaging included everything required to set up the controller. The box included the controller itself, a 3-pin 5V cable, and a manual.
Speaking of setting up, the installation was very easy for my newbie colleague as the controller could be mountable anywhere in the PC case, thanks to the magnetic back panel. The controller connects to the 3-pin 5V addressable RGB connector on the motherboard via a single cable.
The most impressive thing about the hub is how much versatile the software support is. It doesn't come with its own software, but the controller is compatible with Aura Sync, RG Fusion, Mystic Light Sync, and many other RGB customization software.
Most of all, the product did what it was expected to, power and manage numerous 5V ARGB components simultaneously while occupying only one 3-pin header on the motherboard.
What We Didn't Like
During installation, the magnetic mount was too weak to hold the controller after I plugged in all 8 ARGB connectors.
Although I didn't face such an issue, many reviewers on the Amazon page have reported flickering issues with some RGB components. So keep that in mind before purchasing the product.
Who Is It For?
If you're really tight on budget and want to easily sync up all your RGB PC components, then the DeepCool SC700 is the best RGB Hub for you.
Verdict
The SC700 RGB controller provides such amazing value for money that many people think this product is too good to be true. I mean, just look at how much this product offers at such a low cost.
Therefore, the DeepCool SC700 RGB Hub is our budget pick for the best RGB hub roundup.
4. Thermaltake TT Sync ARGB Controller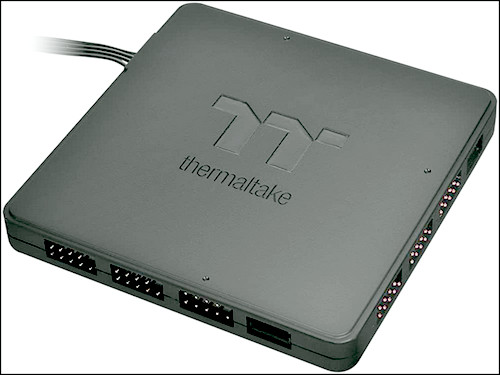 Specification
Headers: 9 ports
Compatibility: Works with any ARGB product via Aura Sync, Gigabyte RGB Fusion, or MSI Mystic Light Sync.
Mount: Velcro straps
Power input: SATA
REASONS TO BUY
»

Diverse software support.

»

Easy velcro mount.

»

Compatible with a large number of ARGB products.
What We Liked About It
Thermaltake is a top brand when it comes to PC components. In the PC hardware market, they made a name for themselves by gaining the gamers' trust. To date, whatever I bought from them turned out to be good.
As an RGB hub, this model would be an awesome choice to make. And why wouldn't it be?
It almost got everything to offer that a gamer would need to sync his RGB rig properly.
I say buying this ARGB controller will make things easy for you as it's compatible with all kinds of software and offers a wide range of functionality.
Isn't that amazing?
Also, it comes up with all types of cables that you need for different motherboards. 3 PWM signal cables and 2 mainboard signal bridge cables are included in the package along with the controller. Therefore, whatever motherboard you buy and whatever chipset it has doesn't really matter.
Furthermore, the Thermaltake Riing Plus software is there to help you out with RGB customization. The UI of the software felt intuitive enough to recommend this product to non-enthusiastic users.
And as I've said earlier about the software compatibility, the hub syncs pretty well with ASUS Aura Sync, Gigabyte RGB Fusion, ASRock Polychrome, etc.
What We Didn't Like
The only thing that can be problematic for some users is the 9-pin port. Because anything with 3-pin or even 5-pin won't be compatible. Additionally, having no remote control option on this RGB hub felt a bit disappointing.
Who Is It For?
If your PC build has RGB products from various vendors and you want to sync all these products with one single familiar software like Aura Sync, then the TT Sync ARGB Controller is the most suitable option for you.
Verdict
As an ARGB hub, this model performs well for all kinds of custom setups. Unlike my top pick, it doesn't come with remote control because it doesn't need it. The software does the job. Also, the installation is pretty easy and won't really give you any headaches.
Hence, I've chosen this product as the most user-friendly one among all the RGB hubs available in the market.
5. CoolerMaster ARGB LED Controller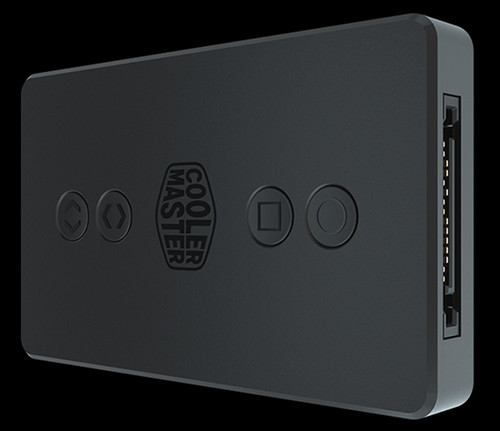 Specification
Headers: 4, 3-pin ports.
Compatibility: Compatibility with a wide range of ARGB products with Aura Sync, RGB Fusion, Mystic Light Sync, or ASRock Polychrome.
Mount: Magnetic
Power input: SATA
REASONS TO BUY
»

Easy to install and use, with a simple interface.

»

The lighting can be controlled using the buttons on the controller. No additional software is required.

»

Broader compatibility with 4-Pin RGB or 3-Pin ARGB motherboards.

»

Thermal detection function.
REASONS TO AVOID
»

RGB products (4-pin connectors) are not supported.

»

Only 4 addressable RGB headers.
What We Liked About It
The Cooler Master brand is well known among gamers, and for a good reason. While reviewing their RGB controller hub, I couldn't help but think that they built this product specifically for the gaming crowds. Here's why:
Unlike typical RGB hubs on the market like DeepCool SC700, the CM ARGB LED Controller can not only connect and manage various ARGB devices but also offers some nifty functions like thermal detection.
Such features are very important among gamers who like to keep tabs on their PC components during gaming. Not only that, it supports pretty much all the RGB customization software like Aura Sync or RGB Fusion which many gamers are familiar with.
Even for nongamers, the RGB hub should feel quite intuitive to set up and use. Compared to all the RGB hubs we've tested, the Cooler Master ARGB controller provided the most items in its packaging.
The box included the controller, one fan signal wire, one case restart wire, one motherboard restart wire, one RGB cable, one RGB motherboard cable, one USB header connector, one USB adapter, one ARGB motherboard connector, one thermal detection sensor wire, and four ARGB connectors.
Yes, all this. So you don't need to worry about buying additional wires to connect your peripherals to the hub.
Furthermore, the magnetic mount(in-frame magnets) of the slim case was convenient enough to easily install the hub in my already-crowded micro ATX build.
From installation to usability and service, the Cooler Master ARGB LED Controller was everything I was expecting from this brand.
What We Didn't Like
My biggest gripe against this product is the lack of support for 4-pin RGB components. I couldn't connect my Noctua RGB fans to the controller because of this compatibility issue. Not to mention, only 4 ARGB headers? Really? Even a 10$ RGB hub offers up to 6 or 9 headers.
The price also seemed to be on the higher side compared to other well-reviewed RGB hubs.
Who Is It For?
Overall, the Cooler Master ARGB LED Controller is a solid choice for gamers looking to add some colorful flair to their computer, with some minor drawbacks to consider.
Verdict
As I have mentioned before, this RGB controller is a well-rounded product that will serve very well to the PC crowd. As a result, the Cooler Master ARGB LED Controller is our pick for the Gamer's Choice award.
Which One Should You Buy?
Now that I've laid out all the products in front of you, with their corresponding awards, time to answer the big question: which one should you purchase?
Based on your preference and budget, I'd recommend you choose either Razer Chroma ARGB Hub or DeepCool SC700 RGB Controller. If neither of these controllers is in stock, the NZXT RGB and Fan Controller is the next best thing to consider.
To be honest, pretty much every RGB hub on the market will do the work for you. But it's always better to go for the one that is broadly well-received to ensure maximum compatibility and longevity, of course keeping your budget in mind.
Information Disclaimer: As tons of product snoops in the market continuously, we update our list when necessary.
How to Install Addressable RGB Hub
If you are a newbie, things might seem quite complicated to you. But then again, I am here to end all your complications.
Don't know how to install your RGB LED and Fan controller? No worries! I can help you out with this thing.
Here are the steps to install the ARGB hub:
Open the box, take out the cable given with your package, and connect to a 3-pin ARGB header or 4-pin non-ARGB header.
Connect the very cable on the side of the RGB LED splitter hub.
Connect the other side to the SATA of your Power supply.
Connect the fans or the components.
Before purchasing an RGB hub, ensure it's compatible with your motherboard's headers. Also, check out our review of the best RGB CPU air coolers that can add extra flare to your PC.
Frequently Asked Questions
Is Razer Chroma ARGB Hub Aura Sync compatible?
No. You can't control Razer Chroma ARGB Hub using Aura Sync. You'd need Razer's proprietary Synapse software to do so.
Can I connect the Cooler Master ARGB controller to my motherboard via a USB header?
Yes. The Cooler Master ARGB controller can be connected and controlled off a USB header from the motherboard.
Can I customize each LED color of my ARGB fan with Razer Chroma RGB Hub?
Yes. Via the Synapse software, you can customize each LED color of your fan or LED strip after connecting them to the Chroma ARGB Hub.