The ASRock Polychrome Sync software relinquishes remarkable performances and superior aesthetics for syncing all RGB components of a PC built with Polychrome RGB Sync-certified accessories.
Polychrome sync highlights onboard RGB headers and an Addressable RGB header that allows the motherboard to sync with compatible devices, including ASRock RGB, LED strips, CPU coolers, fans, RGB PC Case, etc.
But at times, you might not be able to sync the lighting styles with your ASRock polychrome RGB mobo in the way you want. In that case, downloading the latest software comes in handy.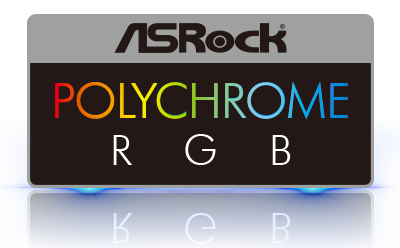 In this post, you will receive the download link for AsRock Polychrome RGB sync software with a 100% Working Installation Guide.
Point to be Noted: Many users face ASRock RGB-led access violation errors while running the software. Here is how you can fix ASRock Polychrome RGB Not Working issue in under 2 minutes.
AS Rock Polychrome RGB
If you have been thinking about picking up an ASROCK Polychrome Sync Motherboard, you will likely want to know how good their RGB control software is before you buy.
You may ask:
Is AS rock better than Gigabyte RGB Fusion?
I have made a complete tutorial regarding this question. You can check out our separate post and also feel free to download Gigabyte RGB Fusion.
The ASRock polychrome RGB program is a tool designed to create extraordinary personalized lighting for every user to sync all RGB components together.
So, How to flash ASRock polychrome sync?
Run ASRRGBLED software as administrator. Go to C:\Program Files (x86)\ASRock Utility\ASRRGBLED\Bin\ and Click on WriteFW.bat to flash the firmware.
The best thing about this software is, It supports the Razer Chroma effect providing a full-blown immersive gaming experience.
Why use Polychrome Sync RGB Software?
Polychrome Sync is used to sync all your RGB components of a PC compatible with an ASROCK motherboard. The primary use of ASRock RGB software is to adjust the color, area, lighting effect, and pattern on the motherboard alongside ASRock Polychrome certified accessories in harmony.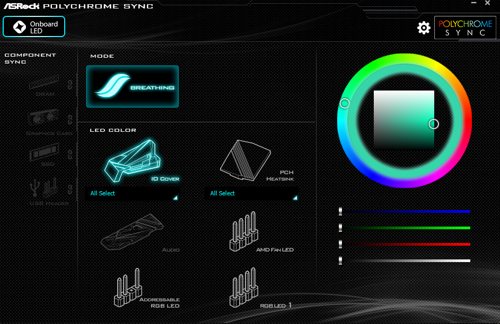 ASRock RGB software lets the RAM, PC case, fan, CPU cooler, and other components sync to create the unique Multi-LED Shining effects.
There are 15 lighting styles, including Rainbow, Strobe, Water, Stack, Wave, Cycling effects, etc.
Finally, you can adjust each LED's color individually through the polychrome sync app, trying to create your unique marvelous lighting effect and lightning styles.
Be sure to check our separate troubleshooting tutorial if your aura sync is not working? Or not detecting motherboard?
Download ASRock Polychrome Sync for Windows
| Name | ASRock Polychrome Sync |
| --- | --- |
| Latest Version | ver:2.0.71 (Beta) |
| Price | Free |
| File Size | 84.2 MB |
| Developer | ASRock |
| Category | RGB Software |
| Requirement | Windows® 10 64bit, ASRock Mobo |
| Released Date | 2020/5/4 |
| Rating | 4/5 |
Download Polychrome Sync V.2.0.71 ➜➜
ASRock Polychrome SYNC functions:
Personalized Lighting Styles
Razer Chroma Support
Immersive Gaming Experience
Ambient In-game Effects
READ THE NOTE CAREFULLY Before Clicking ASRock RGB control Download Button!
Many Websites and pages share fake links to the software. Thus, you get prone to several errors.
To help you get Rid of the Errors and Malfunctions, I am providing you with the 100% Working latest version of ASRock polychrome software that works for all ASRock Mobos.
Necessary: Clicking the ASRock Polychrome RGB Utility download button won't show any desired results. You have to follow the Installation Guide step by step, which I have provided below.
Quickly check our separate post if you are looking for a way to sync your Corsair RGB RAM with ASUS Aura Sync.
ASRock Polychrome RGB software – Quick Installation Process
This quick installation guide is pretty straightforward. So, don't mess around any steps while downloading the software.
Here are the steps to install ASRock Polychrome RGB:
Download the latest polychrome RGB by typing the mobo's name from the official website of ASRock.
Extract the zip file.
Run the exe and browse the file ASRock Utility / ASRRGBLED to the designated folder.
Install the software and run the software as Administrator.
Important: If you have pre-installed RGB software, Uninstall it before installing the ASRock RGB software.
You can download Logitech G Hub software and fix Logitech G hub not working issues in seconds by just scrolling through our epic post.
How to Use the Latest ASRock RGB LED Utility
Using the ASRock Polychrome RGB app is very easy and direct. Once you get the hang of it, you can easily customize the lighting effects for ASRock Polychrome RGB Sync-certified accessories.
Quickly check out the best aura sync compatible RGB fans.
Here are the steps to use ASRock polychrome RGB:
Select the Onboard LED on the motherboard to change LED settings On/Off.
Select the individual LED/component for customization.
Change the hue and saturation by dragging the tab on the color wheel.
Change the individual RGB values by dragging the tab up and down on the RGB sliders.
Change the lighting style and effect along with speed by using the drop-down menus.
Click Apply to save the changes.
How to reset ASRock polychrome sync
Reset the Polychrome Sync settings by erasing the data from C:\Program Files (x86)\ASRock Utility\ASRRGBLED and delete the File named ASRock Utility. Uninstall the ASRRGB LED software from the control panel and download ASRock RGB control.
Restart your PC after the installation is complete. You can also fix any Asrock Motherboard-related problems using this technique.
FAQ
Question: What is ASRock Polychrome?
Answer: ASRock Polychrome is a utility tool designed for ASRock motherboards for controlling the PC RGB lightings of each component.
Question: Can the Polychrome Sync Utility be used without ASRock motherboard?
Answer: No. You cannot use the Polychrome Sync without ASRock motherboards.
Final Thoughts
Polychrome Sync software is the easiest to handle when customizing unique Chroma effects for ASrock Mobo and its compatibles.
Besides, the Razer Chroma effect also enhances the beauty of gaming, creating a mini-chroma studio where you can modify your existing lighting styles.