Over the years, RGB lighting became one of the main aspects of a gaming build. Everyone wants their gaming rig to look aesthetically pleasing. And this idea eventually led to the RGB master race these days.
In a hurry, check my top splitter cable.
Or spare some time to read my take on some high-quality splitter cables.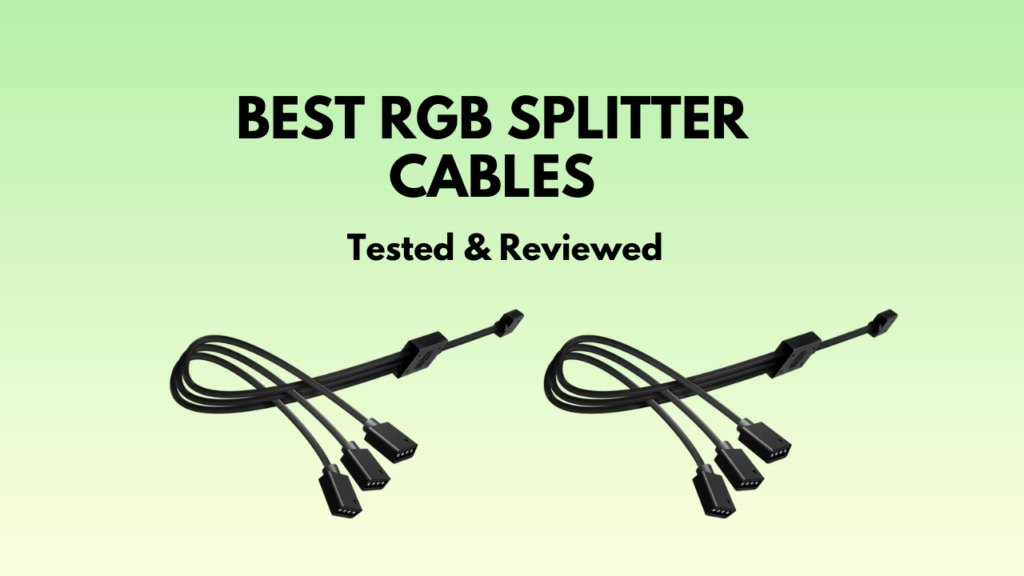 Now, to enhance the lighting inside your rig, one or two strips or even a couple of fans isn't enough. That is why to extend the number of strips or RGB fans, and the RGB splitter comes into action.
But the question is, which RGB/ARGB splitter you should buy.
No worries, fellow gamers. I understand your pain point. In this article, I'll be talking about some of the best RGB/ARGB splitters that can help you out to expand the RGB ecosystem.
Best RGB/ARGB Splitter Cable Reviewed
There are no ifs and buts when you try to adhere to all the RGB fans or strips in a single connection. An RGB splitter cable is a must in that situation.
That is why I compiled five such options that you use in your gaming rig.
Therefore, let's not waste time and jump right into the review.
Also, check out some best 240mm CPU coolers.
Here are the five best RGB/ARGB splitter cables for your gaming rig:
1. Coolermaster 1-to-5 ARGB Splitter Cable
To start, I got you something from the brand, Cooler Master. They are quite revered in the PC hardware market for their top-notch PC components. That said, this ARGB splitter cable from them sports some notable specs:
3-pin connector
Length: 58 cm
Rated Voltage: 5V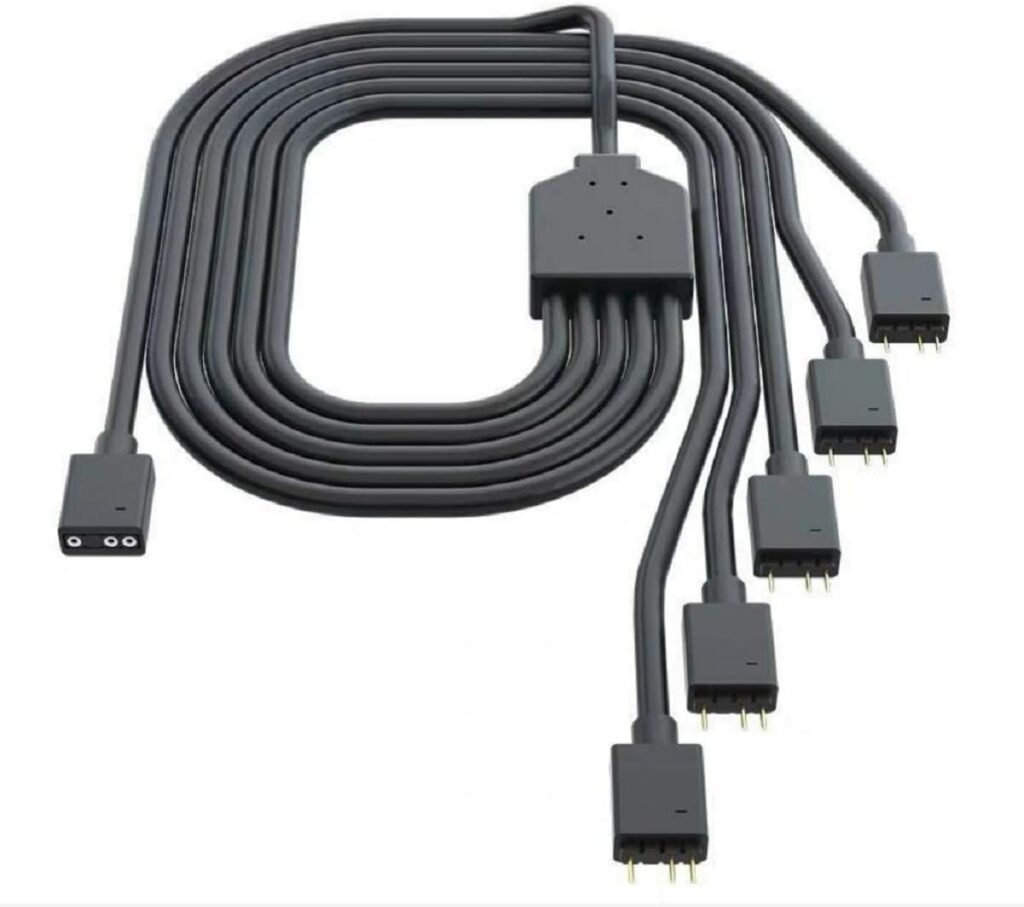 Check Today's Price of Coolermaster 1-to-5 ARGB Splitter Cable ➜➜
When you are looking forward to bringing all the RGB components into a single ecosystem, an excellent RGB splitter cable acts as a savior. Because adding more RGB features means increasing the flair of RGB in the gaming rig. It will eventually give you the true essence of RGB.
Now for connecting the components, RGB fans, or strips, something flexible should be the best choice. This model from Coolermaster exactly ensures such flexibility.
It comes with a pretty good length, which eventually makes it easily routable inside the RGB PC case. What I liked about this splitter is that it's pretty solid. Both the connectors and cables are of top quality.
Check out some awesome AM4 socket-compatible cpu coolers.
Also, you'll love the fact that it supports all branded RGB fans. I myself tried fans from Corsair and Gigabyte with this cable, and to be honest, there were no issues regarding compatibility. The best part is that it's budget-focused. So, you don't need to be concerned about the money at all.
Overall, a perfect product within a reasonable price range. In my opinion, you can't get anything better than this.
2. EKWB EK D-RGB Splitter Cable
My second splitter cable on this list is from the brand EKWB. It comes with the following notable specs:
Length: 30 cm
Rated Voltage: 5V
3-pin D-RGB headers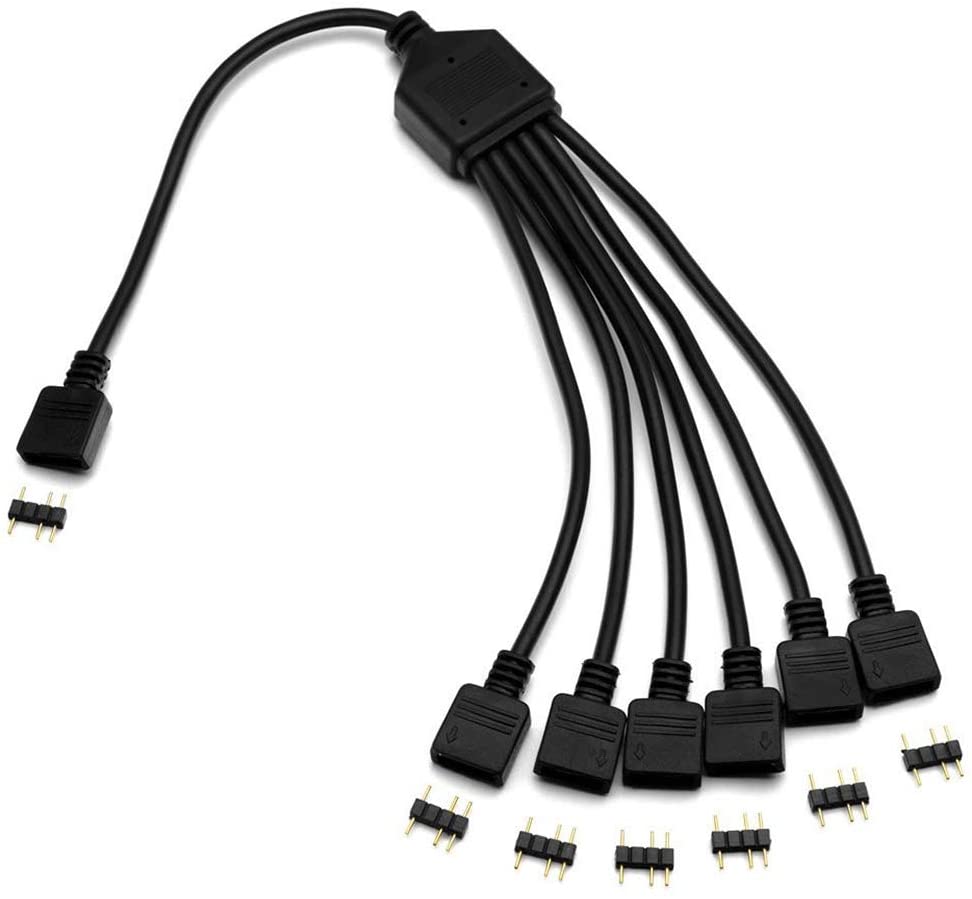 Check Today's Price of EK D-RGB Splitter Cable ➜➜
Before this, I had used a few products from the brand EKWB. Predominantly, most of them were CPU coolers. I didn't really know that they had RGB splitter cables under their line of PC accessories. And to be honest, this model from them is one of the best ones you will find in the market.
I am saying this is because you can connect up to six D-RGB components with this RGB splitter's help. Isn't that amazing?
Should you buy an aio cooler? Check out how safe are aio coolers for your Rig.
About the usability, I felt that this splitter cable is fantastic. It does the job decently. And the best part is that no mess is created while routing it.
I was quickly able to sync the LED strips and the RGB components inside. Therefore, Would highly recommend this splitter to you for your gaming build.
3. Uxcell 1-to-4 4P Waterproof Splitter Cable
The third one on my list is a 1-to-4 way splitter cable. It comes with the following specs:
Length: 30 cm
4-way connector
Weight: 30 gm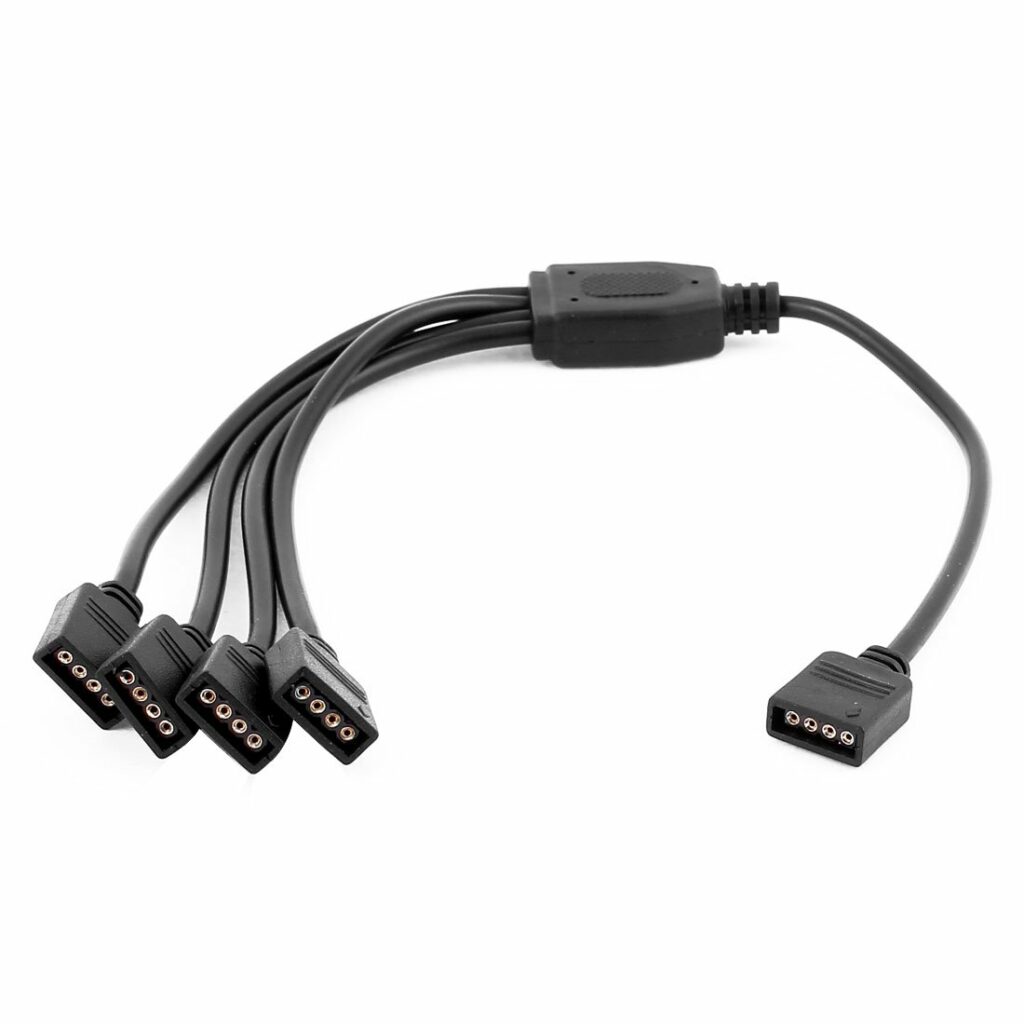 Check Today's Price of Uxcell Splitter Cable ➜➜
It is a decent enough splitter cable for your RGB gaming PC. The quality it brings to the table is top-notch. It can perfectly connect the RGB LED strips and other RGB components for creating a total RGB ecosystem.
As for me, I was really clueless about this brand as I didn't use any of their splitters or cables. But I think I am fortunate enough that they turned out to be pretty good.
That said, this cable has some durable connectors to offer, which won't break down easily. Also, the materials used in the wires are of high quality. The best thing is the cables are waterproof so that if there is any unwanted leakage of the coolants, won't cause any serious issues.
Performance-wise, it does proper functioning so that the RGB  products inside the rig look very cool.
Overall, I would say, for the price, this 4-pin RGB LED splitter cable is suitable to go with.
Want to know which CPUs are best for RTX 3000 series GPU? Check out some budget-friendly CPUs for RTX 3070, 3080, 3090 series.
4. Coolermaster R4-ACCY-RGBS-R2 1-to-3 RGB Splitter Cable
Here I got another model of RGB splitter cable from the brand Coolermaster. This time, as a cable, it attributes the following specs:
Length: 58 cm
4-pin and 5-pin RGB header Compatible
PVC-made cables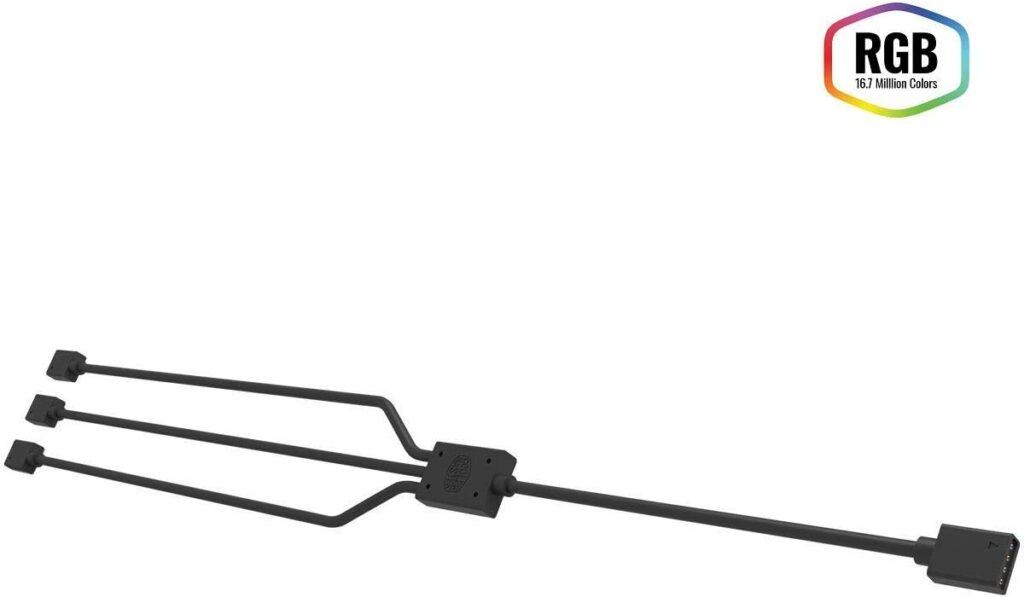 Check Today's Price of Coolermaster R4-ACCY-RGBS ➜➜
I must say that this model is another incredible rendition of top-quality LED splitter cables from Coolermaster. You might know them as one of the market leaders specifically for their wide range of CPU cooling solutions. But I must say that I am pretty impressed with both the RGB splitter cable models from them that are on this list.
This is a 1-to-3 way LED splitter cable, giving you enough freedom to connect multiple RGB components with ease. It is also long enough, which makes the routing relatively easy. And not to mention the high-grade materials used in the cables, giving it sheer durability.
Do you know the best part of using such materials?
The cables won't easily wear out and can withstand internal heat quite easily. Other than this, this 4-pin RGB LED splitter cable comes with a 2-year warranty, which I think is a decent longevity status.
Moreover, I would say that this splitter cable won't let you down in terms of usage and output.
5. Micro Connectors ARGB 1-to-4 Splitter Cable
It is the last option from the list of splitter cables on my list. This a 3-pin ARGB LED splitter, which attributes the following specs:
Length: 30 cm
3-pin header
PVC cables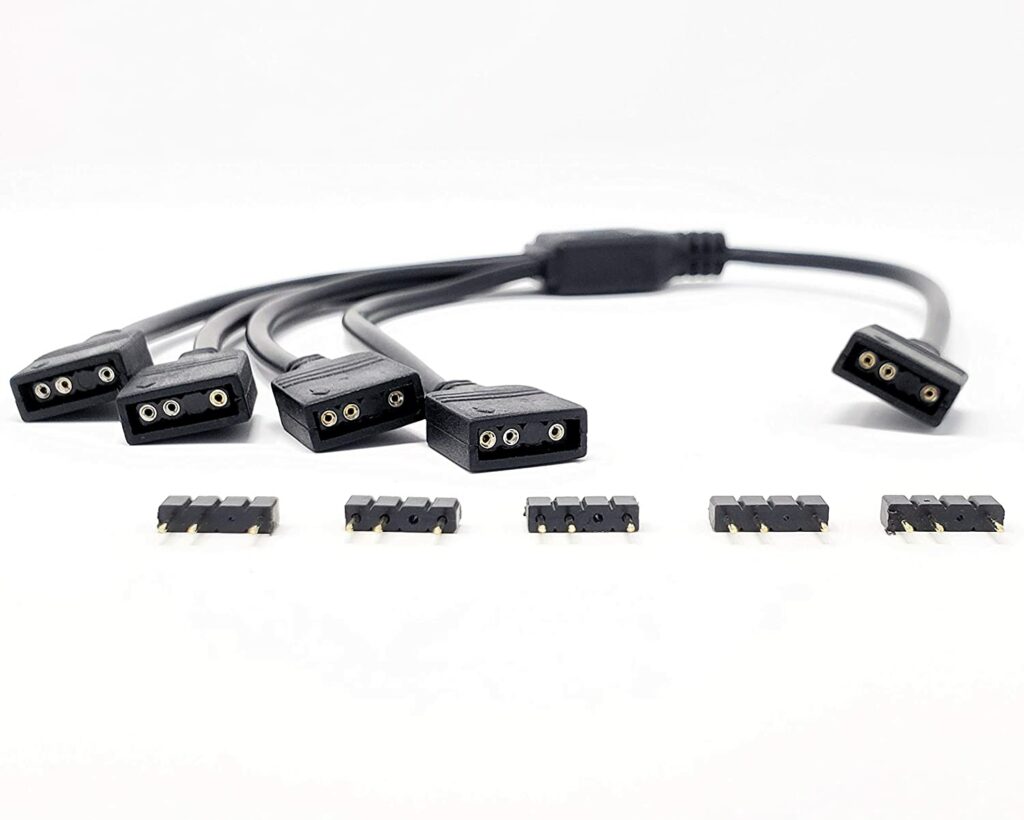 Check Today's Price of Micro Connectors ➜➜
In my opinion, this splitter cable is a very prospective option. It is made out of top-grade materials and is quite easygoing for routing around the gaming build.
I added this to my list because it's specifically very good for the build with the ITX form factor.
I used it on my ITX build, and the entire process from connecting the components to the routing was fine enough. It didn't really create any sort of cluttering, which I feel is one of the main issues most gamers would face with their ITX builds.
The price is also okayish, eventually turning it out to be a fine choice.
Final Thoughts
So, these are the five finest RGB/ARGB splitter cables that you can get for your RGB gaming build. I tried to include all types of options in my rig. Both the models from Coolermaster and also the one suited for ITX build are pretty decent options. Hope you would be able to find the right LED splitter from this list of mine. Still, any issues, do drop a comment below.