Over the years, Ryzen CPUs became quite popular among gaming enthusiasts. They are now competing for neck-to-neck with Intel to stay in the market.
That said, AM4 is the latest socket that is used in both Ryzen Zen 2 and the latest Zen 3 CPUs.
In a hurry, check my most recommended AM4 Cooler.
Or, take your time and read my review on some high-performance cooling solutions.
Now, to squeeze the best out of these processors, a top-notch cooler is paramount.
To help you out, I enlisted the best cooling solutions for your AMD Ryzen to build.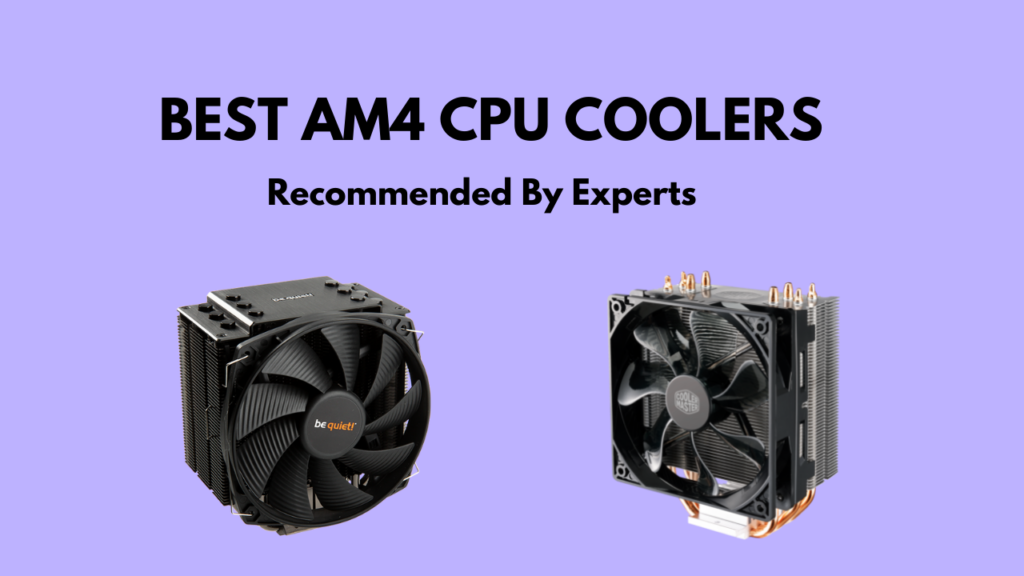 Best AM4 CPU Cooler Reviewed
Ryzen CPUs are perfectly suited for ensuring the best gaming performance. Some of those come with stock coolers, while some do not.
Mostly in the Ryzen 5000 series, stock coolers are absent. That is why you need to buy an aftermarket cooler for these particular types of CPUs.
However, not all stock coolers can prove to be potent for withstanding pressure. Most of those stock cooling solutions are suitable for regular use.
But, if you are into overclocking, it's a must for you to add a high-performance cooling solution.
You might be wondering:
How do I choose the right cooler for my Ryzen build?
Well, your concern is justified. There is a vast pool of options in the market. That's why I am here to help you out while choosing the right choice.
Out of time? Check out some awesome RGB CPU coolers for your rig.
Here is the list of the seven best AM4 CPU coolers:
1. Corsair H100i RGB Platinum
Corsair is an industry-leading brand in the PC hardware market. Right from Keyboards to cooling solutions, they produce components of all kinds.
As for a cooling solution, this model from their RGB platinum series is my top choice for Ryzen builds.
The Corsair H100i RGB Platinum attributes the following specs:
Dual ML120 Pro RGB Fans
Multi-zone RGB backlit pump
Fan speed: 400 – 2000 RPM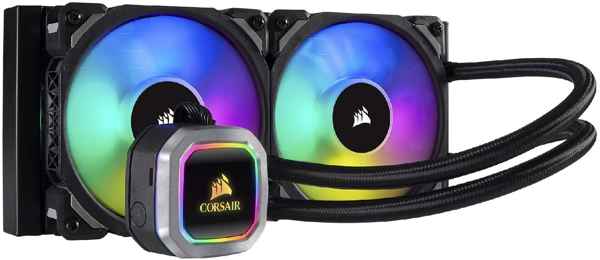 Check Today's Price of Corsair H100i RGB Platinum ➜➜
This is the perfect RGB liquid cooling solution that you can get for your Ryzen build.
In fact, this model from Corsair is way better than its predecessor, the Original H100i.
I think you'll agree with me when I say that this cooler bears a similar look and feel to the other contemporary cooling solutions in the market.
But there's something more to offer.
Corsair emphasized the RGB implementation in this model, which is much better than the previous version. And this trait makes this liquid cooler one of a kind.
The Pump block comes with a Corsair logo that looks freakishly awesome when illuminated. Such illumination is possible due to the presence of 16 individually controllable RGB LEDs in the pump head.
You'll be able to control them with the ever-responsive ICUe software from Corsair. The best part of this software is that it's bugless.No issue whatsoever whenever you will be adding some unique lighting flairs.
That said:
The RGB-enabled fans also do a great job. I mean, these fans aren't just about some cool lighting flairs that you're gonna experience. In my testing, they performed really well in circulating airflow.
Also, they ain't loud either.
Now, coming back to the performance, this liquid cooler is absolutely top-notch. My friend recommended it to me after he found superb outputs in his Ryzen 2700x build.
I tried it on my Ryzen 3700x, and guess what, it fared up pretty decently.
To sum up, this model from Corsair can withstand heavy loads and offer a vivid lighting experience, which is why I rate this as the best AM4 liquid cooler.
2. Scythe Ninja 5
Here I bring you the best AM4 air cooler for your Ryzen build.
Scythe is rising rapidly as a brand. This air cooler from their well-revered Ninja series can be a good buy.
This model comes with the following specs:
Dual fan design
HPMS mounting
2-year warranty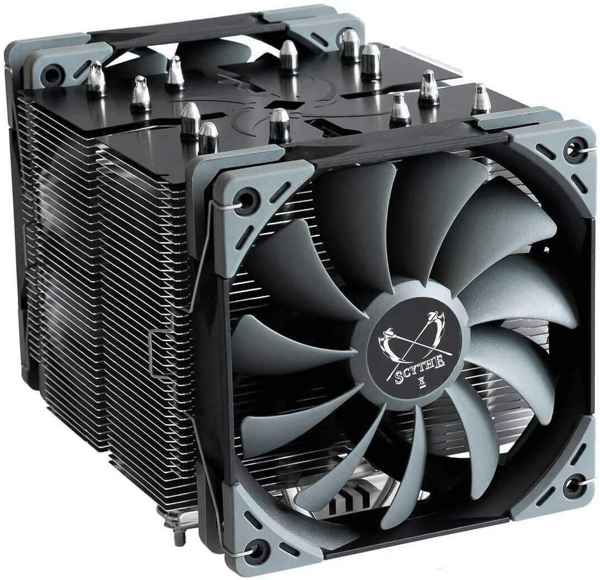 Check Today's Price of Scythe Ninja 5 ➜➜
Considering every aspect, in my opinion, this is the best air cooling solution on the list.
The cooler comes with a heatpipe tower-based design, which makes it pretty big compared to most other air coolers for Ryzen CPUs.
However, such a type of size won't cause you any headache. I assure you about its easy handling. Also, the effortless installation process adds much weight to my assurance.
Also, check out some best 240mm CPU coolers.
The best part is:
This air cooler changes the notion that air cooling solutions can't look attractive. Thanks to Scythe, they were bold enough to bring something out of the box in terms of looks.
The 2x Scythe Kaze Flex fans sport PWM support. While testing, they performed well in ensuring proper airflow.
Also, you'll love to know that there won't be any vibration noise. It is mainly due to the presence of the rubberized mounting elbows.
Performance-wise, this AM4 air cooler is excellent. If you seek high overclocking performance, I tell you, you won't find a better air cooler than this.
I would say that this cooler would give most liquid cooling solutions a run for their money.
To end up, this cooler is a smart pick for a Ryzen setup as a high-end air cooling solution.
Also, check out the best 120mm and 360mm CPU AIO coolers.
3. NZXT Kraken X53
NZXT is well known for its Kraken series of cooling solutions. Their Kraken X53 is one of the most sought liquid coolers.
This model consists of some superb specifications:
Fan Speed: 500-2000 RPM
Fan Noise: 21-36 dBA
4-pin PWM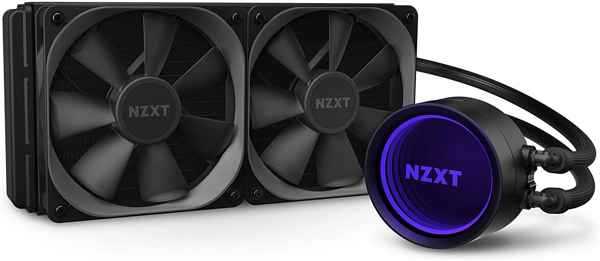 Check Today's Price of NZXT Kraken X53 ➜➜
One of the biggest reasons behind this liquid cooler's popularity is the exclusive styling present in it. That said, the RGB implementation in this model is the mind-boggling part.
The LED ring-type pump head looks quite gorgeous. In fact, the lighting aura that this part of the cooler offers makes it a standout among most other cooling solutions.
Besides, there are also provisions for you to adjust this pump. You can do this without changing the logo's projection.
It doesn't get any better.. Isn't it?
The fans used in this cooler were relatively silent while I was testing. They offer top-end air circulation, resulting in superb thermal performance. Also, the near-silent operation is like a cherry on the top.
Also, Check out our expert-recommended best low-profile cpu cooler for your chassis.
The NZXT CAM software is simple to use. It's handy for proper customization. You can use it simply, thanks to the user-friendly interface.
Now, you might get a bit disappointed with the non-RGB fans. But think of the other superb features you are going to get. Not many coolers with RGB fans can offer you those.
Trust me, this is the cooler you can rely on for top-end performance. The 6-year warranty, along with a reasonable price tag, makes it an excellent option to buy.
4. Coolermaster Masterair MA620M
Another high-end air cooling solution that I got for you. This time it is from Coolermaster.
This model from Coolermaster comes with some fantastic features:
Fan Speed: 650 – 2000 RPM
Fan noise: 12- 30 dBA
Addressable RGB LED controller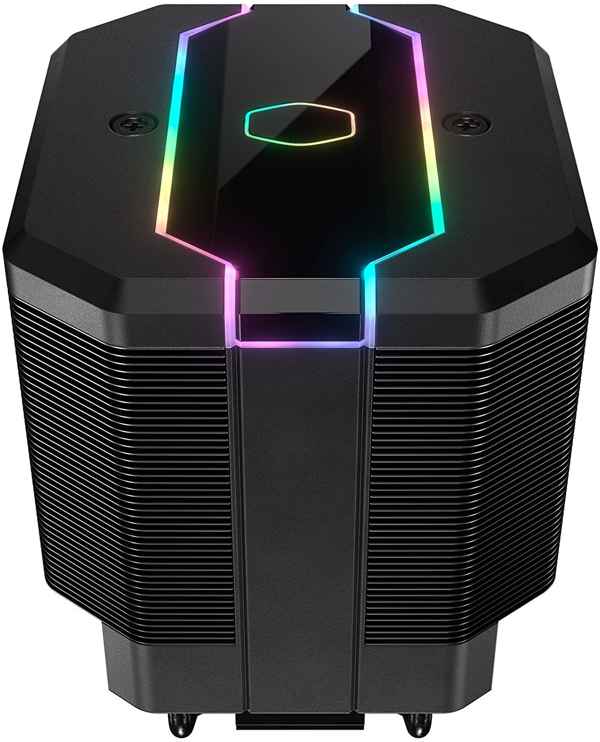 Check Today's Price of Masterair MA620M ➜➜
The dual tower heatsink design is something unusual. I don't remember any cooling solution with such a design.
Such a design offers clearance of 67 mm for RAM modules. It ultimately results in a comfortable installation process.
The total styling in the body is pretty unique. Whole-body resembles a large heatsink.
Don't forget to check out the list of the best cpu coolers for LGA 1200 socket compatibility.
As for the RGB, there are subtle elements on the top portion of the body. This somewhat looks pretty cool when illuminated.
Besides, the fan doesn't produce much noise.
As for the performance, I tried it on my Ryzen 9 3900x build. The temps were decent. For overclocking, if you try out PBO, this cooler will give you a decent headroom.
What I didn't like is that the mounting brackets were plastic-made. Perhaps any other material would have made it much more sturdy.
Still, nothing to take away from this air cooler. It's still a reliable option for Ryzen PCs.
But, before that, do check our latest post on the best CPU Coolers for i5-10600k.
5. Noctua NH-L9a
If you have a mini-ITX build, then a low-profile cooler is the most suitable option to choose. That said, this air cooler from Noctua can be that desired low-profile option for you.
This model comes with the following features:
Noise level: 15-23.6 dBA
Fan speed: 650 – 2500 RPM
NF-A9x14 thermal fan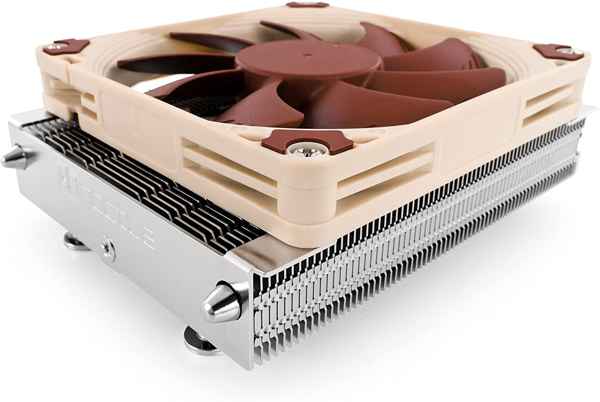 Check Today's Price of Noctua NH-L9a ➜➜
It's okay to have limited space. But that shouldn't discourage you from building superb gaming rigs.
In such scenarios, mini-ITX or mATX builds are preferable. And for adding a cooling solution in such rigs, this cooler from Noctua can be the right choice.
Also, don't forget to check out the best noctua cpu cooler available in the market.
I added this air cooler to my list because it can ensure optimum cooling performance, that too, by taking limited space.
The whisper-quiet fan is also another thing you should take into account.
Check out the award-winning best nzxt aio cooler this month.
However, I feel one setback for the cooler is its color scheme. Not many gamers may like brown-beige styling.
But that takes nothing away from the thermal performance that this cooler can offer to your SFF build.
6. be quiet! Dark Rock Pro 4
As a brand, Be quiet! makes no compromise in terms of silence and performance. This model from them stands for that promise.
The Dark Rock Pro 4 attributes the following specs:
Fan Speed: 1500 RPM
Noise level: 23.6 dBA
3-year warranty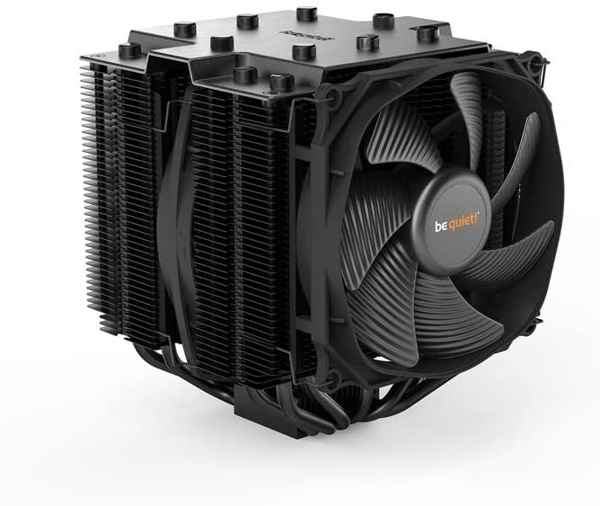 Check Today's Price of Dark Rock Pro 4 ➜➜
With this model, be quiet! has thrown a serious challenge to Noctua in the market of flagship air coolers.
It has a dual-tower design, which is quite similar to its predecessor. Also, the black ceramic coating looks top-notch.
The build quality is top-end. You can be assured of the durability it will offer. Check out the cpu cooler with TR4 socket compatibility.
The best part is:
This air cooler is way easier to install than its previous replicas like the Dark Rock Pro 3 and Dark Rock Pro 2. The clearance issue is also non-existent. While installing, it didn't mess with the memory modules or the GPU.
My only complaint about this AM4 air cooler is that it's a bit heavy. Also, aesthetics could've been a bit vibrant.
But, you need to understand the fact that you will not get so many features in a cooler with a limited price tag. That is why, if you want a good air cooling solution with decent specs, this option is worth considering.
Don't forget to check out the best alternatives to dark rock pro 4 cpu cooler.
7. Coolermaster Masterliquid ML360R
This model from Coolermaster is one hell of an option for your Ryzen build.
It comes with the following features:
Fan speed: 650-2000 RPM
Noise level: 30 dBA
2-year warranty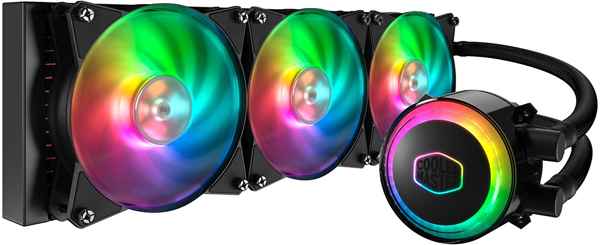 Check Today's Price of Masterliquid ML360R ➜➜
This liquid cooler has a nice RGB implementation. Any RGB enthusiast will fall for it.
Also, the design is quite enchanting. Will catch anyone's eyes.
It's also way better than its 240 mm version, both in terms of functionality and output.
The pump sports a dual-chamber design. The best part about this pump is that its cabling is done in a pretty hideous way.
Also, the structure the pump has makes it corrosion-free. Also, check out our expert's recommended best cooler master cpu coolers.
I personally found the RGB implementation on the fans pretty alluring. It looks soothing when the rig is on life.
However, the noise level may seem a bit high. But, if you aren't putting much load, it's no issue.
To sum up, it's an attractive option that can prove to be suitable for your rig, aside from some limitations.
But if you want your PC to be noise-free, check out the list of the 9 quietest CPU coolers you can choose from. You can also try fanless CPU coolers for absolute silence.
Final Thoughts
So, these are the seven finest AM4 cooling solutions for your gaming rig. I have tried to compile the best possible options that will comply with all your gaming needs.
Here from this list, I recommend you to go with the Corsair H100i RGB Platinum. It's the best AM4 liquid cooler that you can find.
That doesn't make the other options anything less. You can go for them if you feel that they will be able to meet your needs.
Even after all this, if you still feel confused about anything, please let me know in the comment section.