Despite being the first choice, PC community has been begging forever to get rid of the hideous Brown & Beige color scheme of the Noctua air coolers. On that accord, Noctua graced everyone with the release of the Chromax Black version of air coolers and fans.
Being late to the party, today we are about to review Noctua's most iconic air cooler— the NH-D15, but the Chromax Black edition.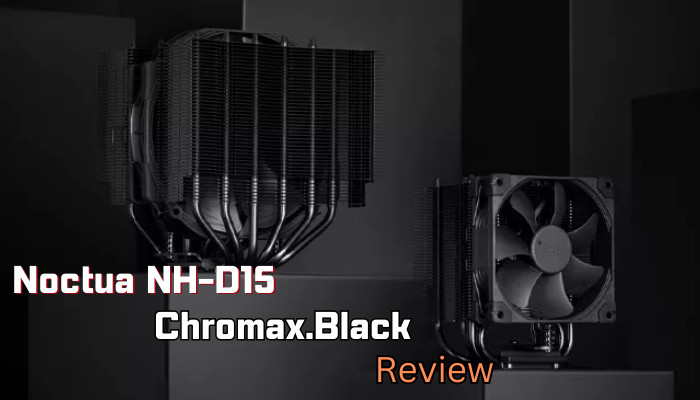 Without wasting a moment, let's get started.
Get Familiar with the Noctua NH-D15 chromax.black
For starters, chromax black NH-D15 retains the same footprint as the vanilla NH-D15 that came out back in 2014. The modern iteration brings a stunning, sleek outlook, hopefully with the same impressive performance we experienced with the older NH-D15. We'll look into that in detail later on.
For now, let's take a closer look at the speciations of the NH-D15 chromax black.
Key Specifications
Cooler Specs
Socket Compatibility: Intel LGA1700 (included since Q4 2021, older coolers require NM-i17xx-MP83), LGA1200, LGA1156, LGA1155, LGA1151, LGA1150, LGA2066, LGA2011-0, LGA2011-3 (Square ILM) & AMD AM4, AM5.
Dimension (Without Fan): 160 mm (height), 150 mm (width), 135 mm (depth).
Dimension (With Fan): 165 mm (height), 150 mm (width), 161 mm (depth).
Weight: 1320 g.
Material: Copper (Base Plate and Heat Pipes), Aluminium (fin stack), nickel plating.
Fan Compatibility: 140x150x25 (with 120mm mounting holes), 140x140x25 (with 120mm mounting holes), 120x120x25
Fan Specification
Model: 2x Noctua NF-A15 HS-PWM chromax.black
Bearing: SSO2
Max. rotational speed (+/- 10%): 1500 RPM
Max. rotational speed with L.N.A. (+/- 10%): 1200 RPM
Min. rotational speed @ 20% PWM (+/-20%): 300 RPM
Max. airflow: 140,2 m³/h
Max. airflow with L.N.A. : 115,5 m³/h
Max. acoustical noise: 24.6 dB(A)
Max. acoustical noise with L.N.A. :19.2 dB(A)
Voltage range: 12 V
MTTF: > 150.000 h
Source: Noctua
Unboxing the NH-D15 Chromax.Black for the First time
The Noctua NH-D15 Chromax Black comes in a rectangular black box with a brown accent on the right edge. Opening the cooler's box, the Accessories pack greets us with the fresh scent of electronics. The printing on this cardboard box eloquently describes what's inside.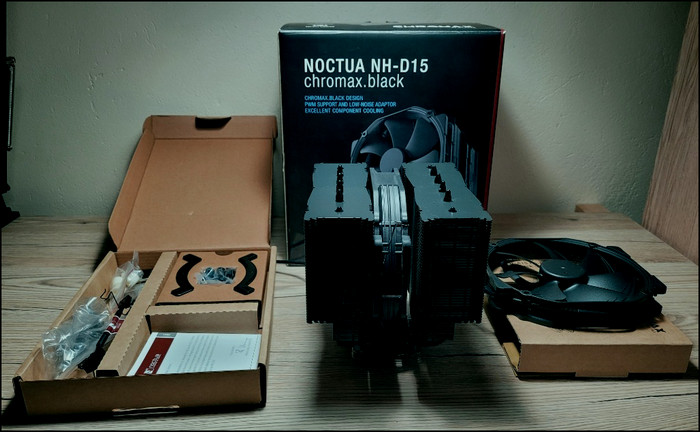 Moving it aside, we come across an EPE foam cover. Underneath are two more boxes — one for the heat sink and the other containing the second NF A15 140mm Chromax Black fan wrapped around with more EPE foam. This facilitates the cooler's protection from external force or drop. Thoughtful packaging!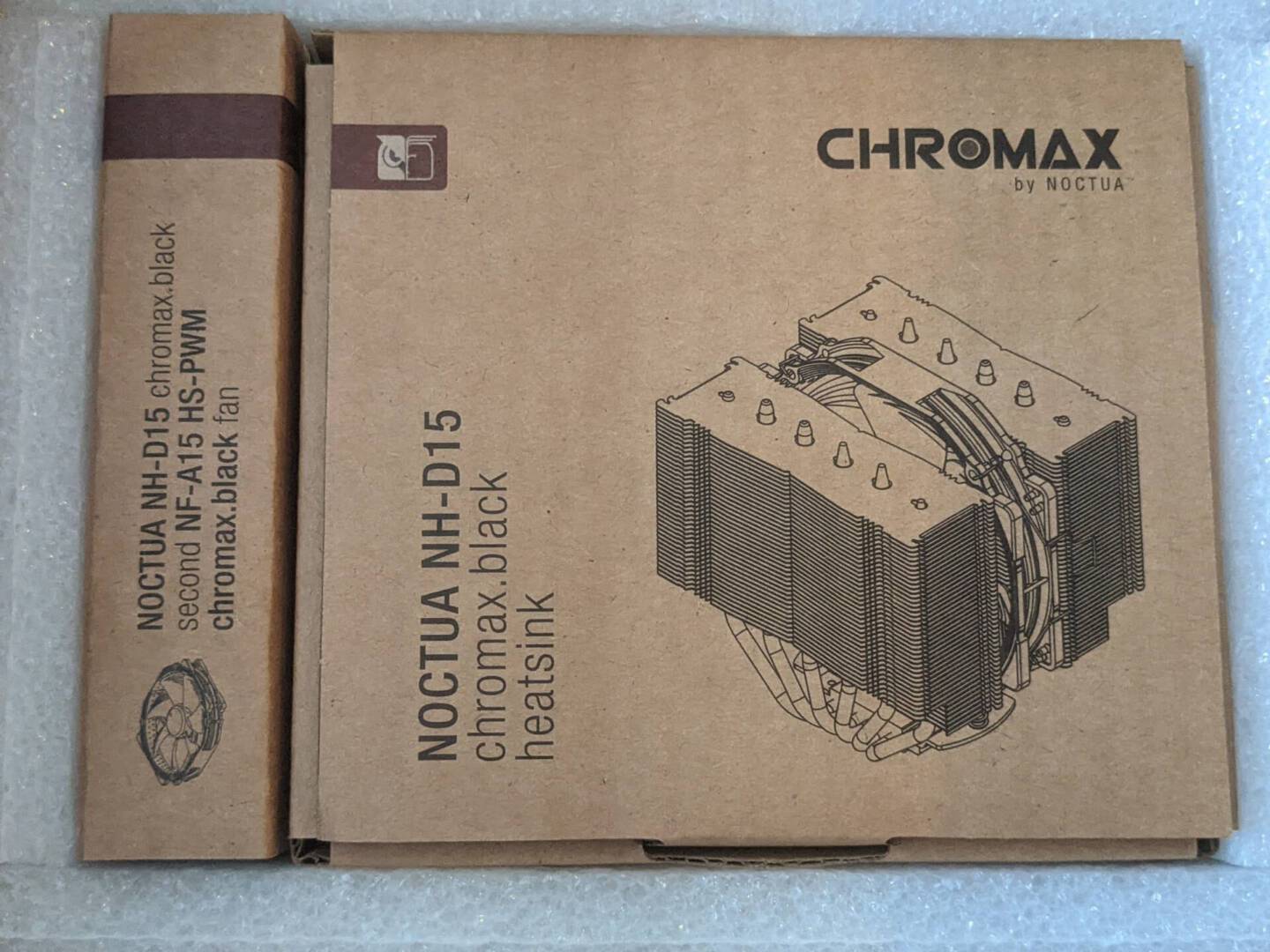 Now, it's time to unbox these boxes.
Cracking open the accessories pack, we get brackets for Intel & AMD sockets, a motherboard backplate, some thumb screws, a PWM fan connector, Noctua NT-H1 thermal paste, a pair of low-noise adapters, and some other stuff.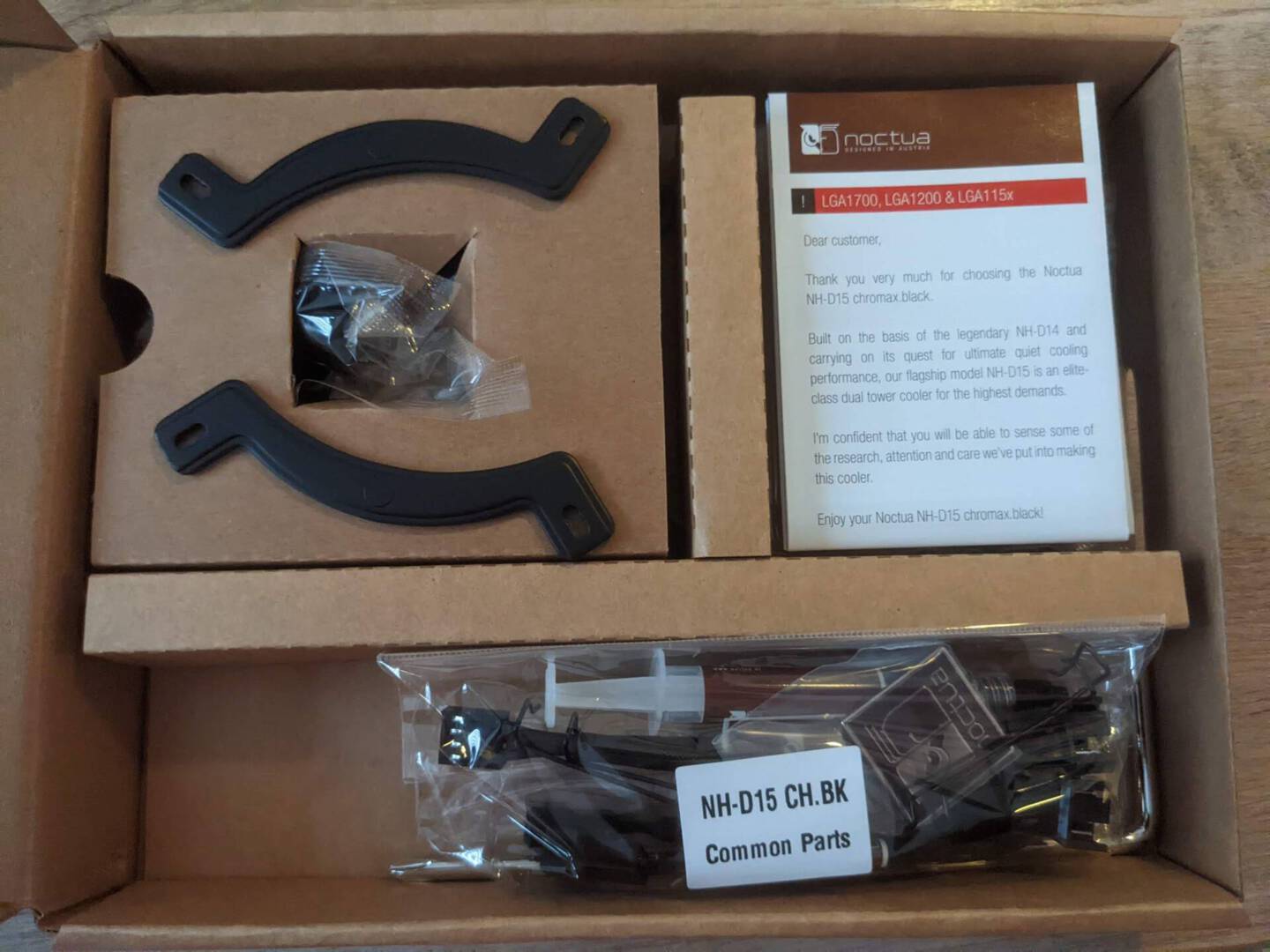 The bigger box holds the actual heat sink wrapped with more cardboard. The baseplate is covered with protective plastic. Boy, is it hefty!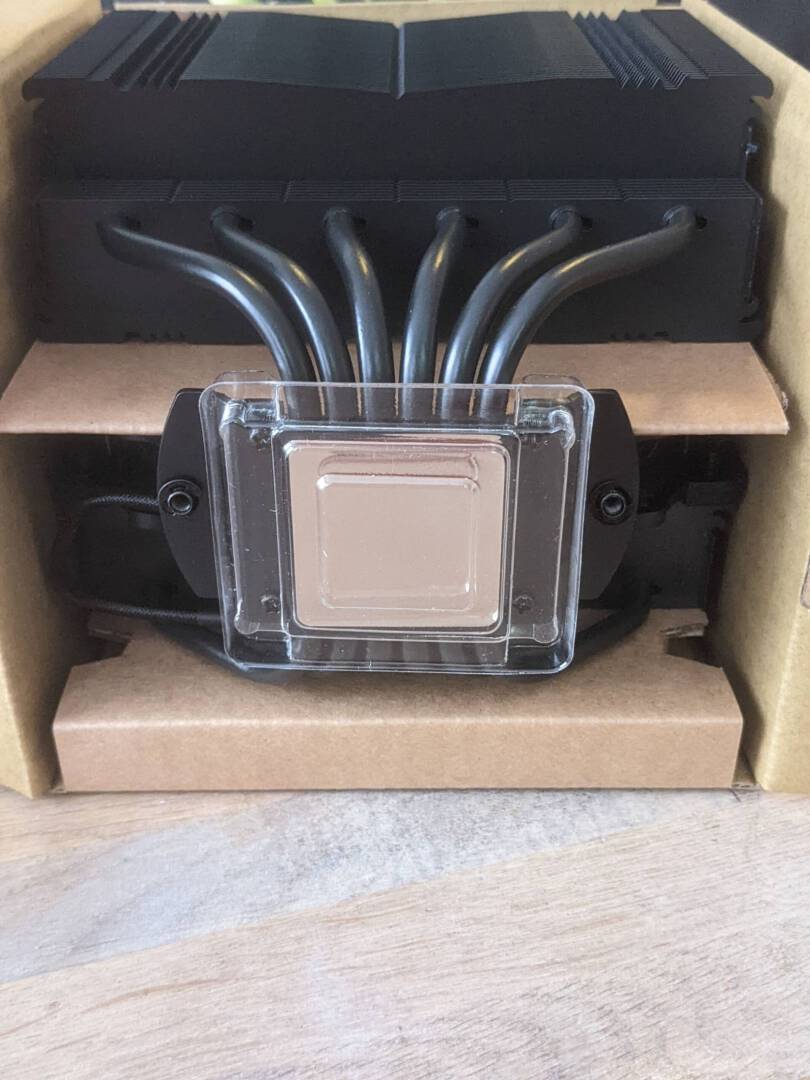 The second thin packet presents an NF A15 140mm Chromax Black fan. For your convenience, I've listed all the contents inside the box.
Box Contents
1x Intel backplate
2x Intel brackets
2x AMD brackets
4x White color spacers for older AMD sockets
4x Gray color spacers for AMD AM4 socket only
4x NM-ALS1 Screws for AMD
4x Black color spacers for Intel
4x NM-ITS1 Thumbscrews
4x NM-IBT2 Bolts for Intel Socket LGA-20xx
Some booklets with cooler mounting instructions.
1x Noctua NT-H1 thermal paste
2x NA-RC7 low-noise adapter
1x NA-YC1 Y-cable
4x All black metal fan clips
1x L-shaped screwdriver
1x Metal Noctua emblem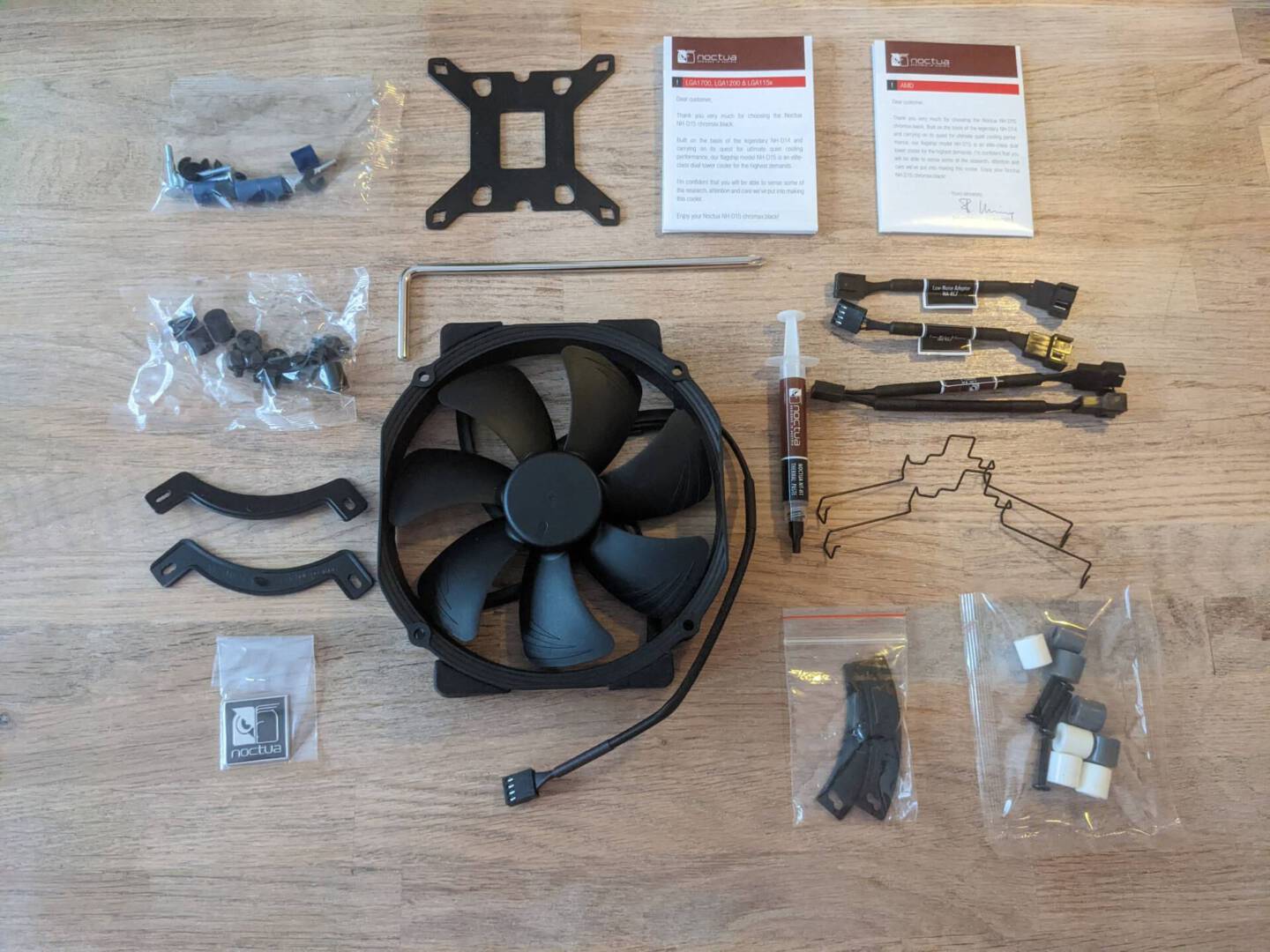 First Impression
The Noctua NH-D15 Chromax black is reminiscent of its beige sibling, only this time, it exhibits a moody classic panorama. That implies the gigantic dimension this cooler has with its stunning appearance. Thanks, Noctua!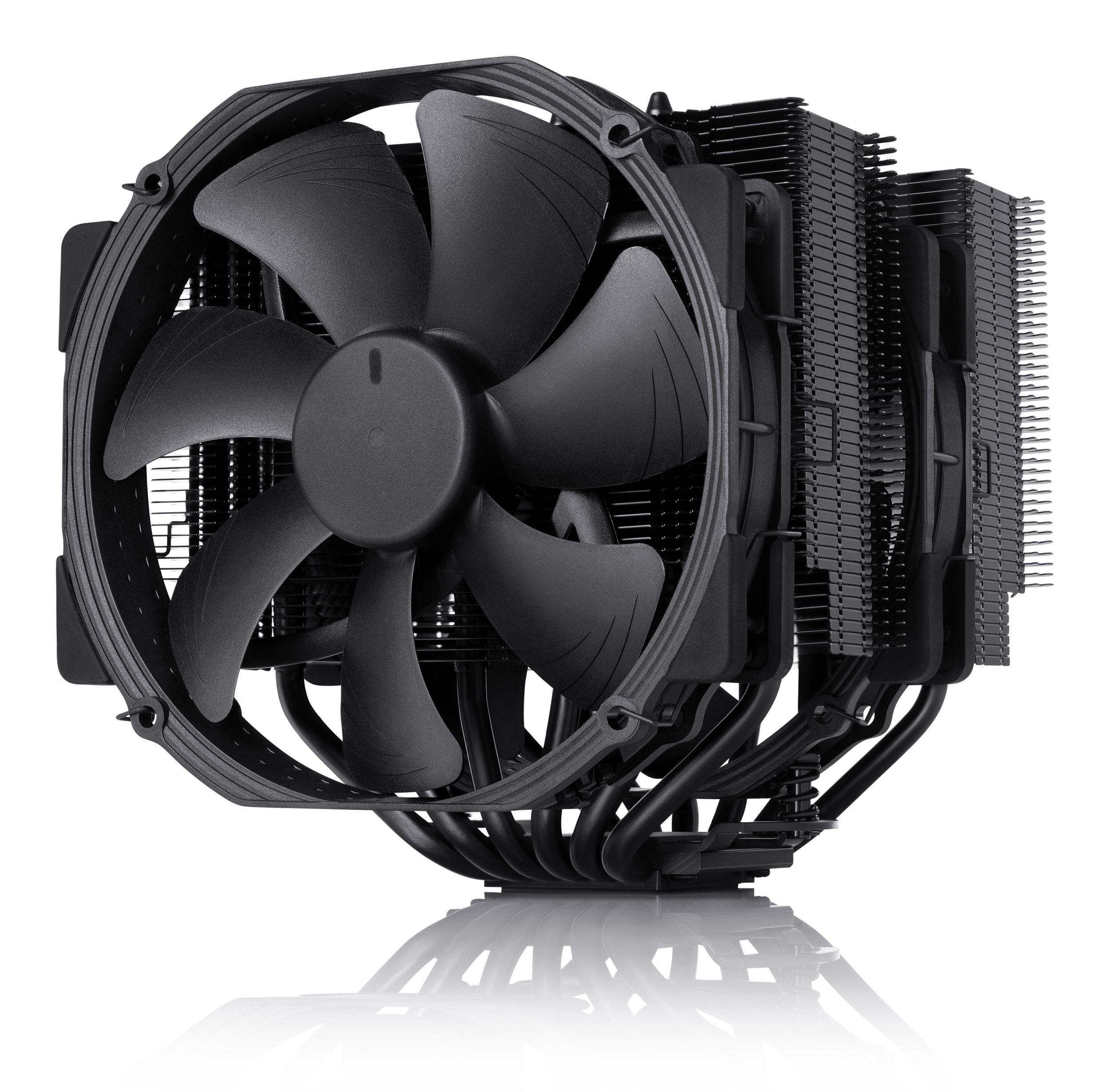 The well-spoken, sleek, black finish covers the entire heat sink. This magnificent new color scheme reaches the very nook and crannies of the cooler, including screws, brackets, and fan clips, like a black feast. Attention to detail is top-notch.
Six nickel-plated copper heat pipes run through the aluminum fins from the baseplate of the NH-D15 Chromax Black. These protrude at the top of both the fin stacks. Each fin stack tower has Noctua branding on them.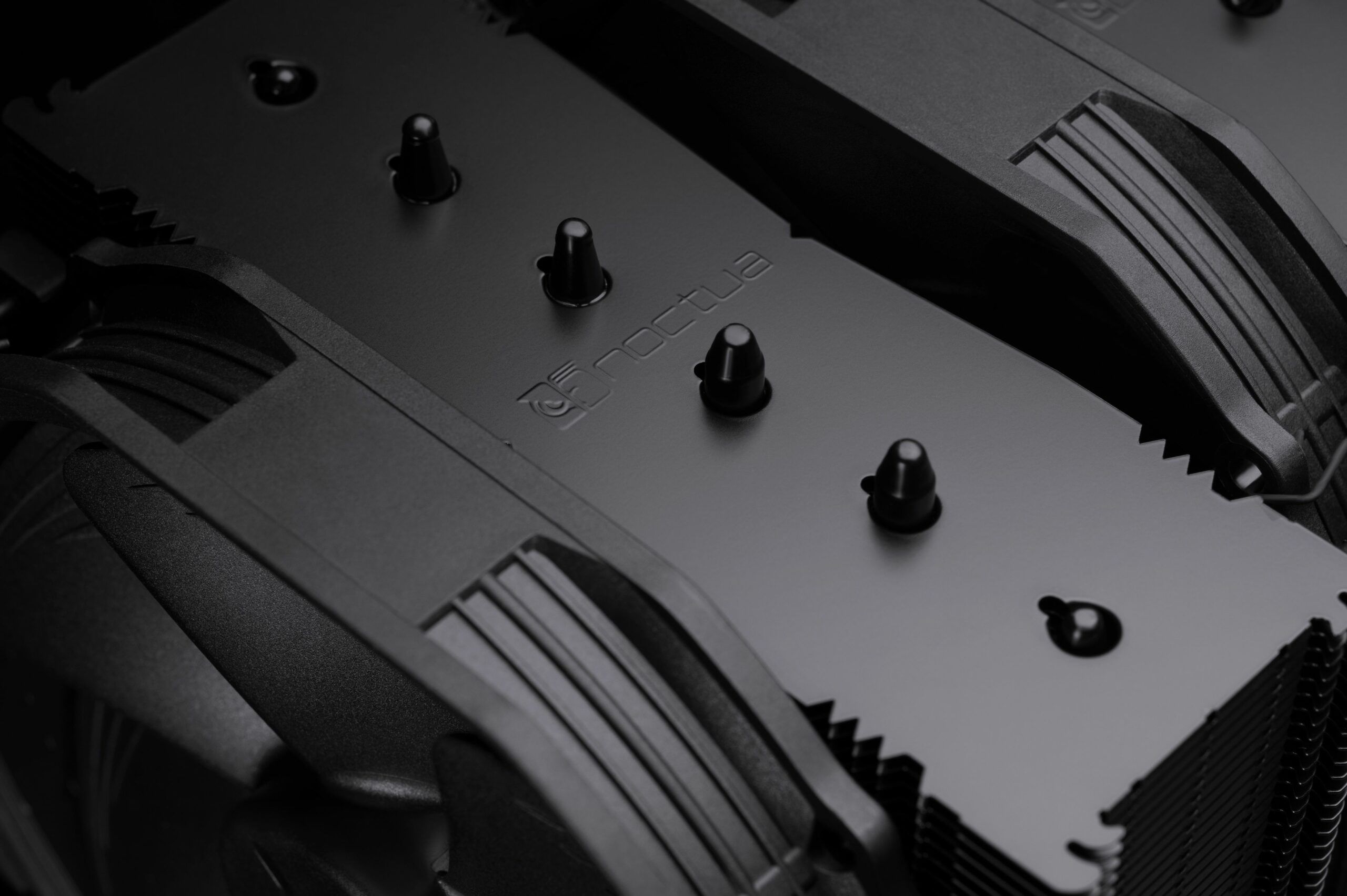 Speaking of the cold plate, we measured nickel plated 38×39mm surface area. This makes the NH-D15 Chromax black compatible with all mainstream CPUs in the market.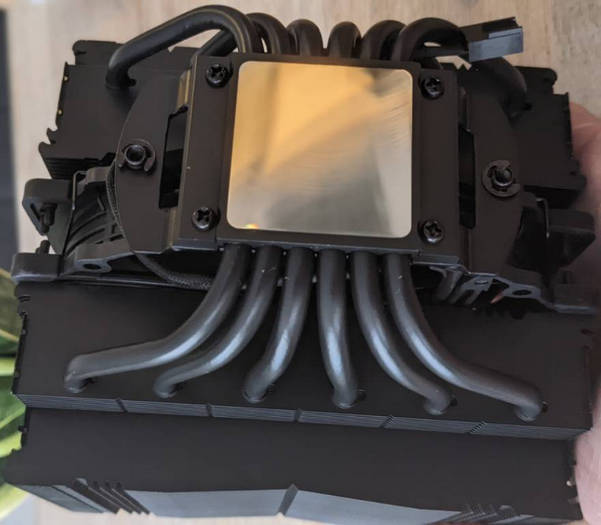 Now, coming back to the heat sink shape, It's nothing new, the same old wavy cut in the middle. It sports an asymmetrical dual-tower design. At the bottom, each fin tower has a cutout to accommodate the memory modules. That said, with everything coming in black, it rejuvenates the design better than we expected.
Also, the smooth hand feel, with no sharp edges on the heat sink, is a nice touch. It should be a painless sail when installing the cooler.
Installation Difficulty
When it comes to the installation process and difficulty, it's the amazing Noctua way — intuitive, simple, and clean.
As Noctua includes all the necessary tools like brackets, spacer, and thumb screws in the box, putting everything together is just like Lego pieces. Installation manuals for team Red (AMD) & Blue (Intel) motherboards add an extra layer of user-friendliness.
Install Noctua NH-D15 Chromax Black on Intel & AMD Motherboards
Installing the NH-D15 Chromax Black is as easy as it gets. Before you get down to the process, read the instruction manual first.
Once you know what to do, you can't really go wrong with the cooler mounting procedure. Kick things off with the included backplate for the Intel platform. Insert the long stand-off screws through the four holes of each corner.
Now attach the backplate with the long screws from the back of the motherboard through the holes around the CPU socket. Place the four spacers (Blue for LGA 1200, Black for others) through the protruding stand-offs. Place the SecuFirm 2 brackets on top and tighten with the thumbscrews. You can do this either horizontally or vertically.
On the AMD side of things, it is even easier. No need to remove the stock backplate. Simply remove the two plastic brackets and install Noctua's AMD brackets. The rest of the process is identical.
One thing to note, though, is that Grey spacers are for AM4 and AM5 sockets, and white ones are meant for previous-gen sockets such as FM2, AM3, AM3+ etc.
Next thing to do is, apply some thermal paste on the CPU IHS. Place the NH-D15 Chromax black on top and secure it with the included screwdriver. Finally, finish things off by securing the NF A15 140mm fans. One in the middle of the two towers and the other at the front facing the DIMM slots.
Make sure to attach the front fan a bit higher on the heat sink to make room for RAM modules. Connect all the cables to the same fan header using the included PWM splitter.
Out of all the coolers we've mounted so far, the Noctua NH-D15 Chromax Black has been the most enjoyable, hassle-free installation ever. It's a solid 5 out of 5 experience.
Compatibility & Clearance
At this point, it's redundant to say that Noctua NH-D15 Chromax Black is one of the largest coolers in the market. Not every case is compatible with this unit, especially most Micro ATX and Mini ITX PC chassis.
Also, memory modules with extended heat sinks that are higher than 32mm can not be installed while this cooler rests on the CPU. The good news is that you'll find a rife collection of RAM modules that cause no compatibility issues whatsoever.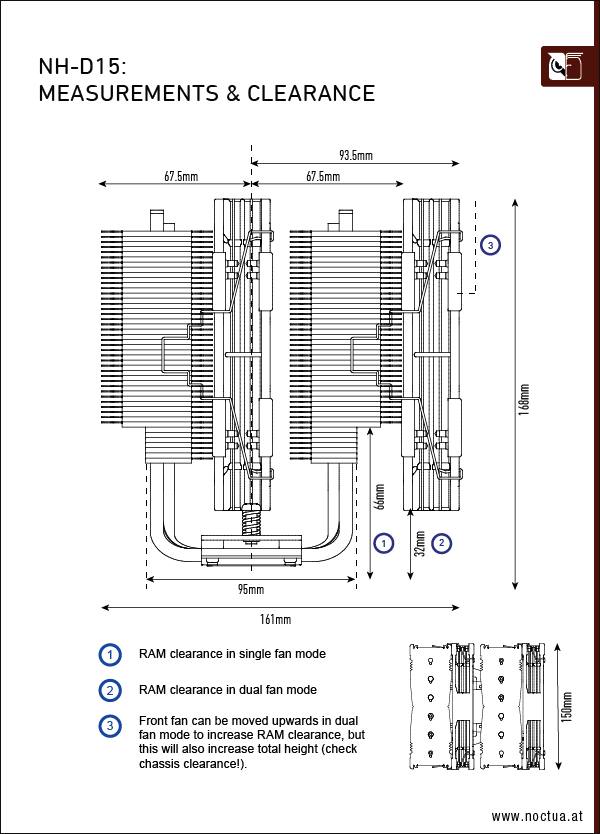 On account of compatibility, the Noctua NH-D15 Chromax Black can be mounted on any mainstream socket. HEDT platforms such as AMD Threadripper & Intel Sapphire Rapids are incompatible, nevertheless.
Performance
Great material & build quality, impressive outlook, and ease of use quickly fade if the performance is not up to the mark. While reviewing the Noctua NH-D15 Chromax Black, the question that nags our mind is, "Is it all the same as the original NH-D15?"
To seek the answer, we put it against Intel's latest, greatest, and hottest Core i9 13900K. We also tested our trusty old NH-D15. We ran several benchmarks at different power levels to push the Chromax Black NH-D15 to the edge.
For a better viewpoint, we also included two more coolers. One is another dual tower, Be Quiet Dark Rock Pro4, and the second one is the popular NZXT Kraken X52 240mm AIO cooler.
Thermals At No Power Limit Gaming
With all the power limits lifted, we ran several games, and the results were fantastic. The i9 13900K peaked at 70 degrees Celsius when paired with the NH-D15 Chromax Black. Great start for our Noctua bad boy.
The graph below shows how the Noctua NH-D15 Chromax Black stacks up against other coolers in our list.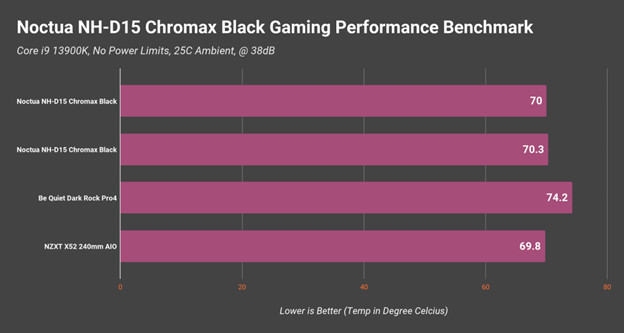 180W Thermal Performance
Taking things up a notch, we set the power limit at 180W for Intel's best CPU. Launched a Blender cycle test, and NH-D15 Chromax Black lives up to its name. The i9-13900K peaked at 72 degrees Celsius, retaining 4.8GHz on all core. Also, we experienced zero thermal throttling.
This result is in line with most of the 240mm AIOs in the market, if not much better.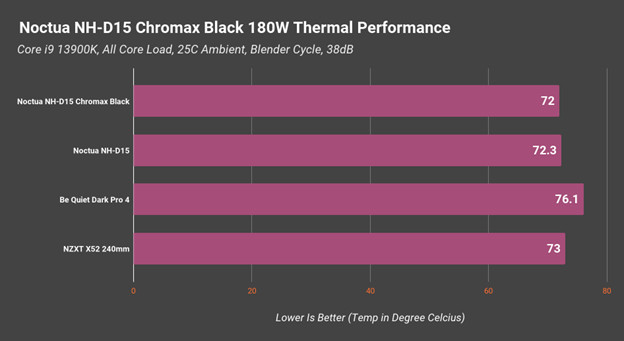 253W Thermal Performance
PL2 is where most of the air coolers have a hard time chilling down the i9-13900K. This monster heats up like a monkey climbs up a tree at 253W power.
Anyway, the Noctua NH-D15 Chromax Black does an exceptional job of keeping the CPU cool. Although it crossed 90 degrees Celsius, we saw no thermal throttling, which is well under the Tj max for this processor. Above all, the i9-13900K retained 5.23GHz on all cores.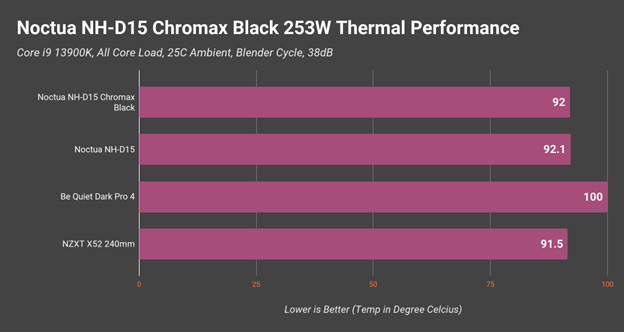 Noise Level
The black-coated NF A15 140mm fans on the Noctua NH-D15 Chromax Black deliver outstanding airflow at a lower RPM and low noise level all at once. Since, it's the only moving part on the cooler, it is indeed responsible for any noise coming out of the air cooler.
Testing with our dBA meter, we measured the intensity of the sound that this cooler produces. Our results include noise level at 25%, 50%, 75%, and 100% fan speed. FYI, the NF A15 140mm fans run at a maximum of 1500 RPM.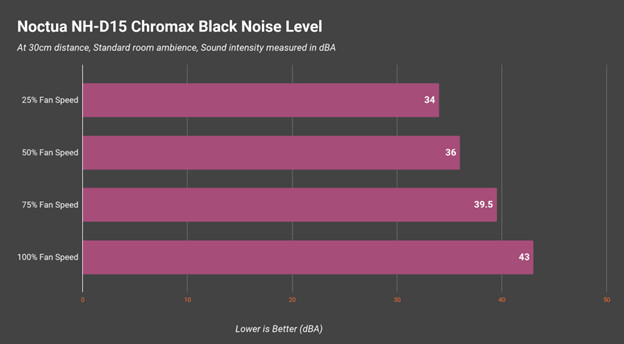 Analyzing the results, the Noctua NH-D15 Chromax.black remained dead silent at 25% and 50% fan speed. Ramping up the fan speed along with the CPU load, the noise level scaled up pretty well. At 100% load, 43 dBA is an impressive result, isn't it?
On an additional note, the included low-noise adapter locks the maximum fan speed at 1200 RPM, which provides a sweet spot between noise and thermal performance. You can, however, choose not to use it if maximum thermal performance is all you care about.
So, the Noctua NH-D15 is a true champ in terms of noise levels.
Pros & Cons of Noctua NH-D15 Chromax Black
The chromax black version of the Noctua NH-D15 is a heavyweight in terms of thermal performance. It also goes head-to-head with more expensive 240 mm closed-loop liquid coolers. As it happens, this cooler carries the legacy of the vanilla NH-D15 flawlessly.
But is it all cloud nine for the NH-D15 Chromax Black? Not really; like every other cooler, caveats can get in the way of this cooler as well.
Let's quickly go through all the pros & cons of the Noctua NH-D15 Chromax Black.
Pros
»

Outstanding air cooling performance.

»

Straight forward mounting mechanism with minimal difficulty.

»

Quiet operation.

»

Out-of-the-box industry standard high-quality thermal compound.

»

Detailed and easy-to-understand installation guide.

»

High-end included fans with a 150K MTTF (Mean Time To Failure) rating.

»

6 years of manufacturer's warranty.
Cons
»

Not all memory modules are usable with this cooler on the socket.

»

Not suitable for minimalistic PC cases.
Does Noctua NH-D15 Chromax Black Worth Your Attention?
Shooting for a stellar, no-compromise air-cooling performance with a breathtaking appearance, the Noctua NH-D15 Chromax Black is an obvious choice. This cooler can handle high TDP CPUs well enough, dodging thermal throttling. Though, we do not recommend this cooler for any CPU that chugs more than 260 watts.
In an ATX and EATX build, this cooler is a perfect fit. Some selective mATX cases, however, house this cooler perfectly fine.
In terms of value, with more competition in the market, we feel like this cooler should come at a lower price to firm its spot in the market. But hey! It's Noctua. You're paying extra dollars for a namesake brand, superior build quality, and amazing after-sales service.
Overall, the Noctua NH-D15 Chromax Black is an easy recommendation from us as a high-end air cooler for most ATX, EATX, and compatible mATX systems. It's a solid 8 out of 10.