The Air Cooling solutions from Thermalright are conquering the market as well as the internet by storm. The successor of the Peerless Assassin 120 一 120SE version became a rising star because of its aggressive price.
Shockingly, a 40$ budget cooler competes against the golden benchmark standard – the Noctua NH-D15 air cooler.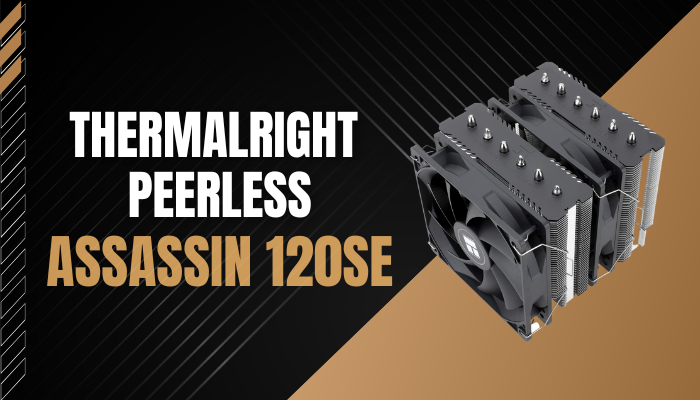 So let's find out the comparison results and evaluate its price worth & appearance.
Primary Introduction of Peerless Assassin 120SE with Specs
Even though the essential information about TR Peerless Assassin 120SE is easily discoverable on every seller's site or their website, I thought of keeping all insights in one place just to relieve your hands from tab-switching.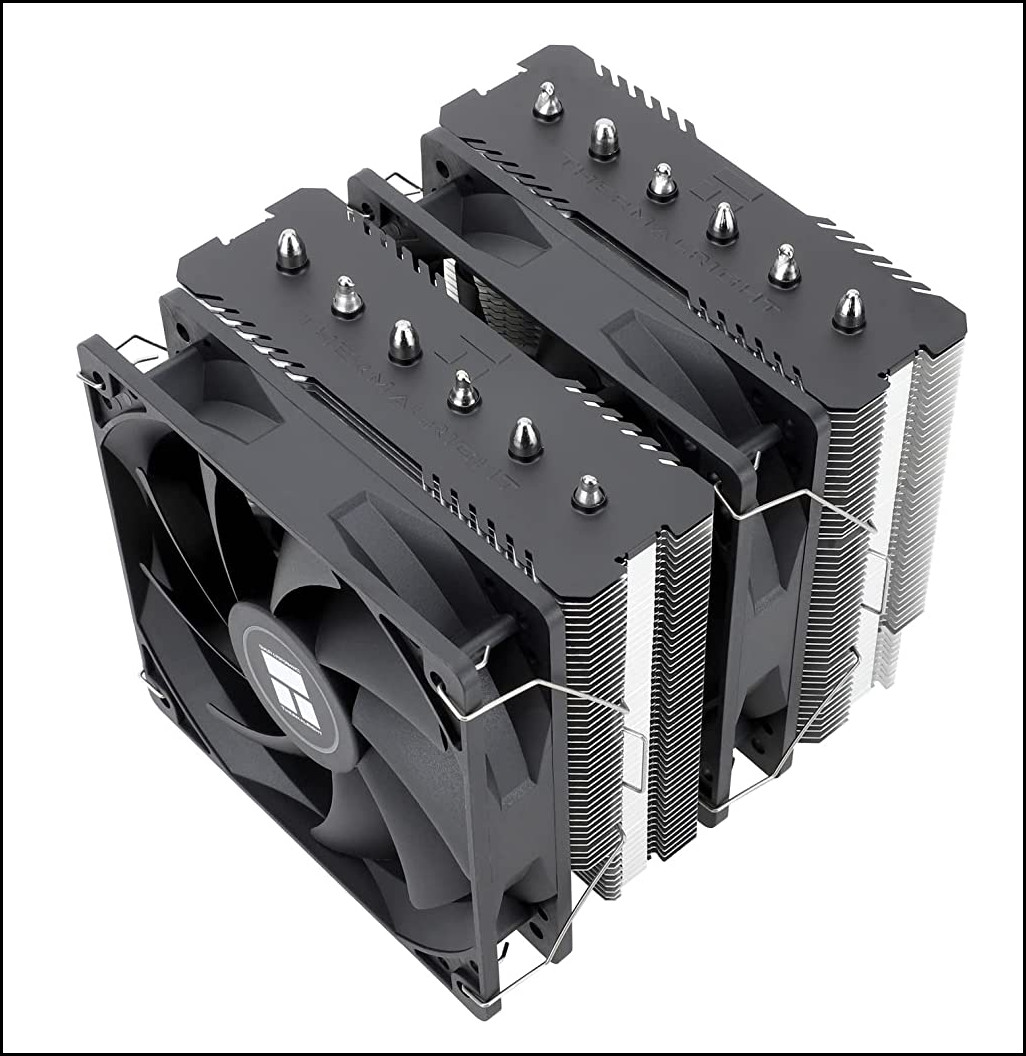 The TR Peerless Assassin 120SE includes 2x120mm fans and C1100 Pure copper nickel-plated base with a giant quality aluminum heatsink.
Key Specifications
Heatsink Material, Dimensions & Socket Compatibility
Heatsink Dimension: 125(L) x 110(W) x 155(H) mm.
Heat pipes: 6mm x6 unit
Cooler Block Material: Nickel-Plated C1100 Pure copper
Heatsink Material: Aluminum (50pcs fin with 1.8 mm between gap)
Weight: 850g(with fan)
CPU socket support: Intel:1150/1151/1155/1156/1200/1700/17XX | AMD: AM4/AM5
TL-C12C Fan Specifications
Fan Dimension: 120(L) x 120(W) x 25(H)mm (9 blades)
Max RPM: 1550 RPM±10%
Maximum Noise Level: 25.6 dBA
Bearing Type: S-FDB
Max Air Flow: 66.17 CFM
Max H2O air pressure: 1.53mm (for static pressure)
Fan Count & Connection: 2x fan with 4-pin PWM connector + 1x 4-Pin Y-cable included.
Note: The TR Peerless Assassin 120SE ARGB black/white versions used an almost identical Fan- TL-C12C-S instead of TL-C12C with the only difference of ARGB lighting and a 3-pin 5V ARGB header connector.
Unboxing Experience & Appearance of Three Different Versions
The unboxing experience wasn't very fancy, but It's definitely not on the list of cheap packaging. Each content in the box was organized and secured by EPE foam cutouts. Two fans on the left and the heatsink on the right, with an accessory box withheld between the dual tower's space.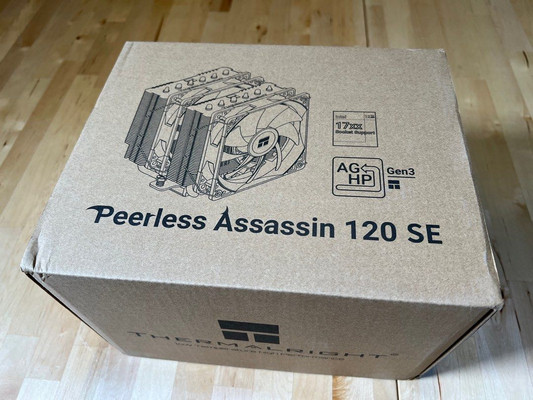 That's pretty much it; you'll see at first glance. All the mounting tools are in that box between the dual tower heatsink space. Let's take a look at each box's contents you'll receive.
Box Contents:
2x120mm TL-C12 (non-RGB) or TL-C12-S (ARGB) fans.
The heatsink itself is in a polyethylene wrap.
An Inner Box:

4x steel fan mount.
1x 4-pin Y-split cable.
3x Mount screw pack 一 Black LGA115X/1200, Blue LGA1700 & Red for AM4 & AM5 CPU Socket.
1x medium-sized Thermal Paste tube.
2x Backplate一 1x for LGA115X/1200 & 1x for LGA1700.
Two pairs of metal brackets, one for Intel & another for AMD.
Some paperwork and manual.
Note: There is no 3-pin Y-split ARGB header connector cable for the TR Peerless Assassin 120SE ARGB Black or White version. All three versions come with identical items mentioned above. And there is no backplate for AMD cause every AMD motherboard comes with one.
Apparently, the manufacturer has included every possible recent socket mount in their package. Each set of mounting tools is in separate boxes, and the labeling is on each item and packet.
But if anyone asks me which version of TR Peerless Assassin 120SE to choose, I'd definitely go for the ARGB White version because of the clean & attractive look. The best part about the White ARGB version's protruding heat pipes on the top is barely visible.
And the Black ARGB Heatsink is identical to the basic version except for the Fan illumination. You can choose either one by spending a little more or less.
TR Peerless Assassin 120SE Benchmark & Result Comparison
For the TR Peerless Assassin 120SE cooling performance test, we chose an unlocked AMD Ryzen 5-5800X CPU on an X570 motherboard with different power limits TDP.
To measure the worth of its price-to-performance ratio, we compared the results with one of its predecessors, Peerless Assassin 120, a similarly priced Deepcool AK620, and the best Air Cooler NH-D15 from Noctua.
We stressed the CPU with Prime 95 software. The ambient temperature during our test was 23℃ with an open bench setup.
The results include how these Air Coolers behave at different Temperatures, how much RPM creates an audible noise, and if the cooling is stable & efficient.
First, let's see how better or worse the TR Peerless Assassin 120SE performs against the TR Peerless Assassin 120. As expected, the air cooling efficiency is slightly better with the SE version. Precisely speaking, on 30w idle mode, both the coolers made a maximum of 31db(A) on 60% fan speed, and the temperature was around 41℃ (max).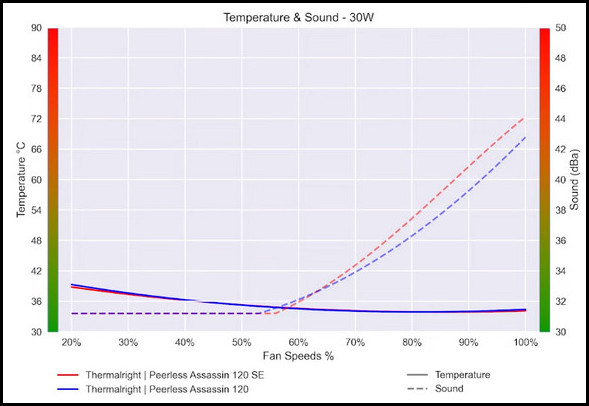 However, these Coolers showed different results on 105W TDP with 100% Fan speed. The old non-SE cooler has the advantage of a lower noise level of 41db(A), whereas the TR Peerless Assassin 120SE made 44db(A) noise.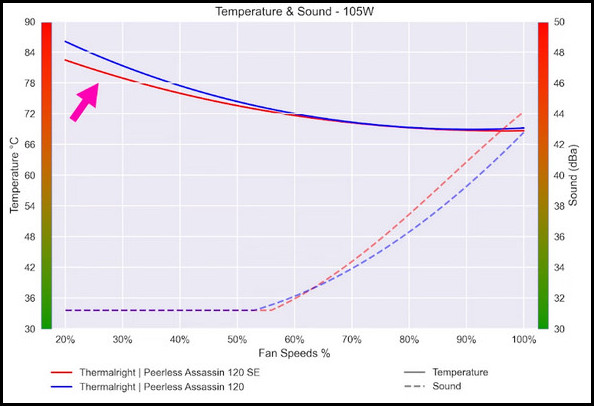 Contrary, the TR Peerless Assassin 120, the non-SE version, reaches up to 67℃, and the TR Peerless Assassin 120SE version's max temperature is capped at 64℃
Despite the extra noise level at higher RPM, the thermal was significantly better on the newer SE version.
The results were seemingly indifferent when comparing the golden benchmark NH-D15 vs. TR Peerless Assassin 120SE. When we ran our rig at 30w-idle mode with the temperature of 40℃, we found nearly identical thermal performance and noise level til 100% Fan speed.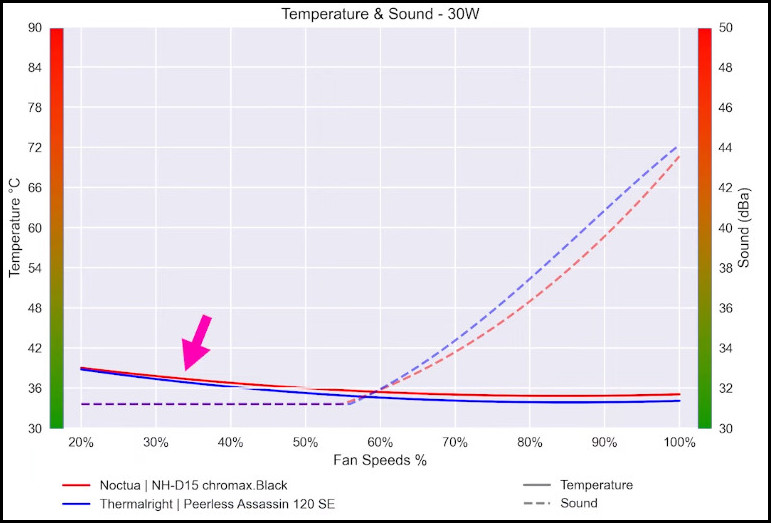 But the 105W higher temperature winner was NH-D15, with a slightly lower noise level and temperature headroom. It may occur because of the smaller heatsink size of the TR Peerless Assassin 120SE.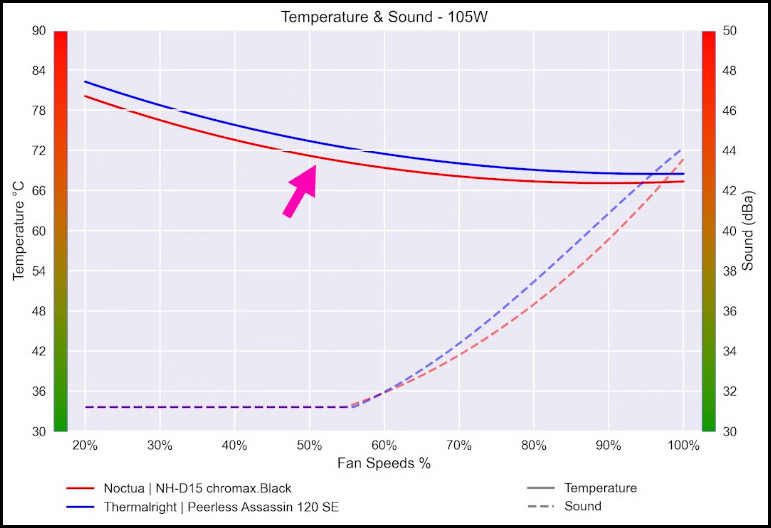 Returning to the budget segment, you have an alternative AK620 from Deepcool. Both of these coolers perform almost identically on our test.
However, the AK620 offers a lower noise level at a higher fan speed, but the TR Peerless Assassin 120SE is slightly better at cooling. You can choose either one regarding your budget and product availability.
Cautions & Advises for TR Peerless Assassin 120SE installation
You can mount this Cooler heatsink in both vertical and horizontal ways. So you have to decide which method is better for your very rig.
There are some other difficulties and parameters you need to consider before and after installing this Air Cooler on your motherboard, which is briefly explained here.
Installation Difficulties
People generally install the Air Cooler with the fan facing front (horizontal), but you can also set it vertically with the fan facing downward.
Consider your PC Case's conditions regarding case fan positions, vents, negative-positive air pressure, airflow direction, and GPU position as well. You must keep the airflow balanced and linear for the best possible outcome.
Luckily, the manufacturer includes each peripheral in the box except a screwdriver. FYI you'd need a long drive to avoid difficulties while tightening the block. A shorter one can't reach easily through the spilled area of the heatsink.
It's a complete solution since the Cooler includes Premium THERMALRIGHT TF-7 thermal paste. But remember to remove stickers from the CPU Cooler's block after applying thermal paste and installing the block on the CPU.
You might face The following possible difficulties in the RAM clearance, debunked in a further section.
Compatibilities and Clearance
Since the compatible sockets are mentioned in the spec section, you might already know how they should go. Then again, it's worth mentioning that it supports all the latest Regular CPU sockets like LGA 1200, LGA 115X, AM4 & AM5.
Now the Case & RAM clearance is crucial & unavoidable because the heatsink isn't tiny, 46mm to be exact. You can easily make some more space by replacing the fan placement from the default position. It's easy, just unmount the fan and mount it again by pushing it slightly upward.
Then measure the gap between your CPU surface & side panel to compare if it fits in your cabinet. Or else, you know you might have to use your PC without the side panel (LMAO). So be careful before purchasing.
Next, you must measure your RAM height before buying RAM or a Cooler to ensure the fittings between those items.
But luckily, the TR Peerless Assassin 120SE heatsink is fairly immune to that problem because the heatsink bottom edges have a cut-out to support RAMs with height. But be cautious if you want a vertical mount.
Other than those, we didn't face anything unusual throughout our test. Our test results and comparison results are in the further section.
Is the TR Peerless Assassin 120SE the Best CPU Cooler?
After analyzing the thermal and noise performance and comparing it with its famous and budget rivals, we had to choose whether it was worthy. Guess what!
It became the absolute best option because of its attractive and unbeatable price. Considering the price-to-performance ratio, the NH-D15 can't even come close to it. This super budget-friendly Aircooler under $40 can perform similarly, whereas the NH-D15 costs four times more.
Then again, the other budget cooler, AK620, is significantly higher, almost double the price, yet they perform similarly. Even the white ARGB version costs less than AK620.
Moreover, we benchmarked 240mm Liquid Cooling against this Air cooler and found this 120SE version could beat the 240mm AIO CPU cooler on that test.
Therefore, we came to a verdict with TR Peerless Assassin 120SE that it is one of THE best budget coolers in the current market with respective cooling performance and barely audible noise level.
FAQs
How much TDP Thermalright Peerless Assassin 120 SE can handle?
The TR Peerless Assassin 120 SE is a solid performer at a moderate workload but can easily handle 200+ TDP as well.
Is TR Peerless Assassin 120SE appropriate for the latest AMD 7000 & Intel 13th Gen CPUs?
This budget-friendly Air cooler is simply enough for up to i7 or Ryzen 7 CPUs, but the full potential of top-of-the-line CPUs can be cooled sufficiently.
Can I overclock my CPU with Thermalright Peerless Assassin 120 SE AirCooler?
Yes, you can overclock your CPU up to 200 TDP limit with this powerful Aircooler if you ensure proper PC airflow.