ASUS aura sync is the most popular and downloaded app by all users who love to showcase their gaming rig with RGB effects. In addition, a complete RGB gaming system resembles the movie Tron: Legacy, where everything has neon vibes.
If you are an RGB freak, you might want to control all your RGB lighting through the aura sync app.
However, this hugely popular RGB controlling software has some drawbacks too. This app is only compatible with ASUS aura sync supported motherboards.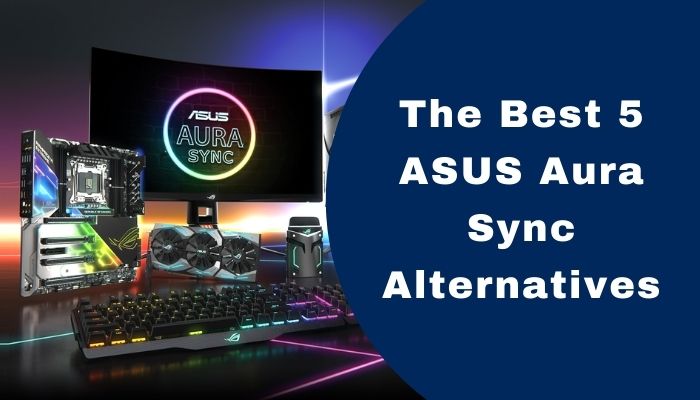 For your obsession with this app and not having an ASUS mobo, you might be looking for an alternative to this software. With this in mind, I have enlisted the best 5 alternatives of aura sync in this article.
Read till the end to find out which one is the best for you.
Why Do You Need ASUS Aura Sync Alternatives?
This app is compatible with ASUS motherboards alone, but not everyone has a gaming setup with this manufacturer's mobo. Aura sync does come with ASUS's high-end gaming mobos. Nevertheless, some RGB-compatible devices do not work perfectly with aura sync. That's why RGB fans look for substitutes for this app.
You will find it satisfactory as an RGB lover when all your RGB devices are perfectly synchronized. Without a perfect blend, nothing looks pleasing.
Aura sync app is known for its eye-soothing RGB synchronization and various transition effects. But this app has some drawbacks too. As I have mentioned earlier, this app might not work fluently for your RGB devices.
Consequently, looking for an alternative to the aura sync app becomes obligatory when your RGB devices are not syncing correctly. So, which apps are the best alternatives to the aura sync?
Let's find out.
Check out our separate post on best Aura Sync Compatible RGB/ARGB fans review.
The Best 5 Alternatives of Aura Sync
Among many utility apps to control RGB lighting — RGB Fusion 2.0, OpenRGB, JackNet RGB Sync, Corsair iCUE, and MSI Mystic Light are the best alternatives to aura sync. I have tested plenty of apps, and when it comes to synchronization, these softwares can handle it well.
Here are the best alternatives to ASUS Aura Sync:
1. RGB Fusion 2.0
RGB Fusion is one of the best software to control your RGB lighting effects. This software is capable of synchronizing various effects across all the devices. It is the best option when you want to customize the light effects individually and get a good gaming experience.
Gigabytes RGB Fusion 2.0 is a great app; you don't need a Gigabytes motherboard to run this. It is compatible with other motherboards and supports most RGB devices.
However, you may find that this software is not working perfectly. You can solve this by downloading the latest version of RGB Fusion 2.0. The newest version comes with bug fixes.
Also, check out our separate post on download ASUS FAN XPERT 4.
2. OpenRGB
OpenRGB is one of the top open source RGB lightning controller software. This app doesn't depend on the manufacturer's software, so it is highly compatible with all the RGB devices.
OpenAuraSDK was the first name of this app. Later updated to OpenRGB.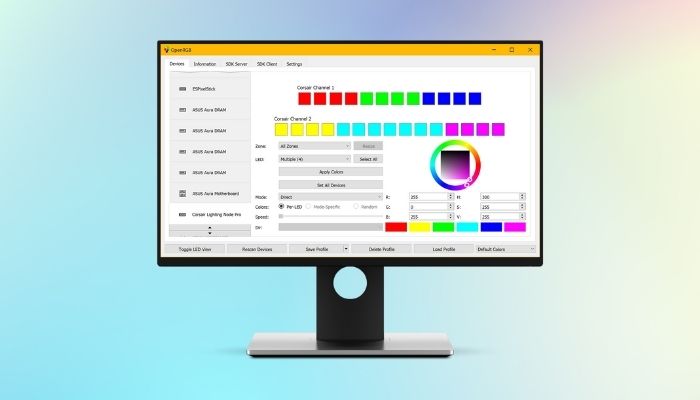 This app is supported both in Windows and Linux. In contrast, all the other apps only work on Windows-based systems. For this flexibility, it is used by many RGB lovers.
OpenRGB supports all the motherboards and devices from ASUS, Gigabyte, ASRock, MSI, Corsair, G.Skill, HyperX, Razer, Thermaltake, etc. Not all the manufacturer's softwares do support other devices properly. You have to test each of them to determine which works perfectly.
But keep in mind this app has limited capabilities as it is open-source software.
3. JackNet RGB
Like OpenRGB this is free software too. This app is the best when managing all the RGB devices from one place. JackNet can detect all the RGB components, making it more convenient for users.
It's straightforward to install this app, and its simplified UI makes it easier to control all the RGB devices. With this app, you can apply many RGB effects and synchronize those effects with many devices. You can also apply effects to individual components.
You must install and run the manufacturer's program to use this app.
Also, don't forget to check out our experts tested about ASUS RTX 3080 Vs. EVGA RTX 3080.
4. MSI Mystic Light
This app can do this if you want to control all the RGB-capable devices with just one click. This app is developed by the famous gaming hardware manufacturer MSI. No other app can beat this in terms of delivering a stable RGB performance.
Mystic Light can synchronize RGB effects across your RGB mouse, keyboard, casing fans, GPU, motherboard, RAMs, and CPU cooler. But, this app doesn't support numerous components. Please make sure which devices support MSI Mystic Light before using this app.
5. Corsair iCUE
Corsair always tries to do something special and unique. No other app offers additional functions like Corsair's iCUE app does. Besides light control, you can control fan speed, keyboard key function, and change mouse DPI settings with the Corsair iCUE.
By default, it has many lighting effects presets. Additionally, you can control key mapping, set complex keys, and set profiles for specific apps. You can manage all corsair products from this software.
But, the main drawback is this app can control corsair products only. Other than this, it's a great app to use.
Check out our experts tested and reviewed about ASUS Ryujin Vs. ASUS Ryuo.
FAQs
Which software is compatible with all RGB?
OpenRGB is the only software that supports all types of RGB lights. This software is a network-based app. That's why you can use this app as a third-party app, which can control all your RGB devices. Music visualization, ambient lighting, game integration, and many other things are possible with this app.
Which app can control ASUS RGB?
If you have a 12-Volt RGB header in your motherboard, you can try Corsair's iCUE app to control ASUS's RGB lights. From GPU to motherboard's RGB of ASUS, you can handle anything with iCUE.
Which is the universal RGB app?
JackNet RGB Sync is the best software for detecting all the RGB components. This app lets you control all the peripheral's RGB from one place. This app is compatible with all the manufacturer's RGB apps, and it's easy to use.
Final Word
I hope you have found your best alternative to the aura sync app. However, aura sync is best when using this app on an aura sync-supported motherboard.
Not everyone is an ASUS user. All the apps I mentioned in this article will work perfectly in your system. I have tested each of them, and they all work just fine.
It's your turn to find out which one works best in your system by giving you a stable RGB performance. Let me know which one you did go for.
Good luck with choosing your aura sync alternatives.