If you are building a complete RGB setup, you should definitely buy an Aura Sync compatible RGB Fan. RGB Fans are powerful, silently cool your system, and add icing to the cake using its visual colors. After testing hundreds of case fans in the past two years, I found out that this Cooler Master MF 120R Case Fan is the reliable and the best Aura Sync Fan for most people.
Best Aura Sync Compatible RGB Cooling Fans
The Best 5 Aura Sync Fans and Their Reviews
Let's not waste anymore time and get straight up to the point.
To make is easier for you:
I have first compared the basic differences between my top 5 picks then I've review them with pros and cons.
By the way you can easily download aura sync software from here.
Again if you face any installation or running error from aura sync then this Aura sync fix troubleshooting tutorial is for you.
So here are the top 5 best aura sync compatible RGB /ARGB fans:
1. Cooler Master Fan MF 120R ARGB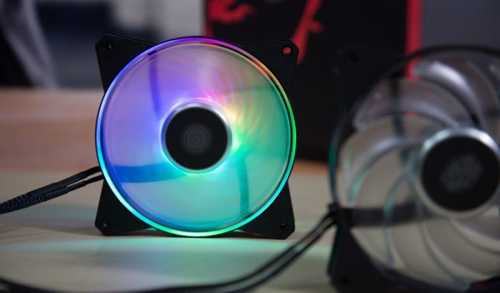 Check Today's Price of MF 120R ARGB ➜➜
To me, this fan looks the best as they are very color accurate and they look really awesome with the full ARGB illumination from the middle of the fans.
I personally use these fans as they come with the package of Cooler Master ML240R.
Another thing I love about these fans is:
These fans have the best static pressure among all the other fans in the market. And it can increase its speed up to an insane 2000RPM. So, this fan is a beast at cooling your PC.
These case fans give the cleanest and minimal look to your PC.
You may also like to read about how to set fan curve on PC?
2. Deep Cool CF 120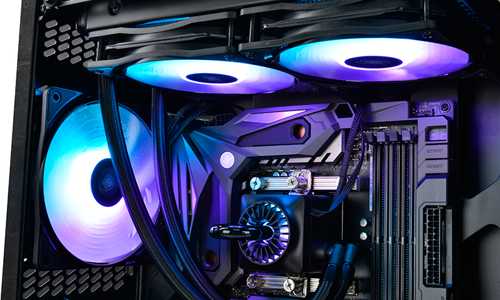 Check Today's Price of Deep Cool CF 120 ➜➜
Deepcool CF120 Fans look almost similar like the Cooler Master Fan MF 120R ARGB Fans. They comes in package with the deepcool castle 240 AIO cooler.
And they look stunning.
These case fans are the most silent fans in the market.
These fans can be synced with almost all the RGB light syncing apps.
3. Thermaltake Riing Plus 12 RGB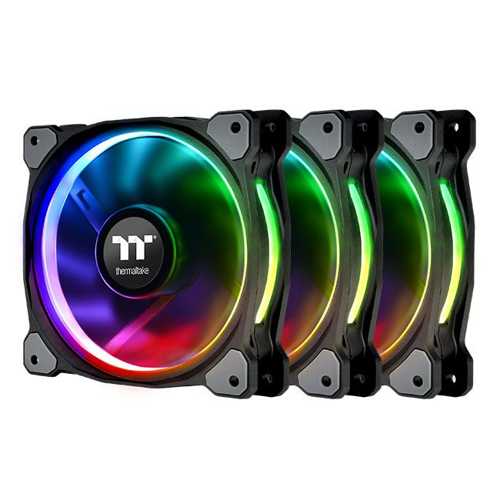 Check Today's Price of Riing Plus 12 ➜➜
I was amazed when I get to know that:
Thermaltake Riing Plus RGB fans can be controlled by your voice. Just say "Hello TT".
You can also control the RGB illumination by your android or ios devices too.
The bearing type of this fan is hydraulic. There are nine fan blades which makes the air blow better.
And most importantly insane 24 Addressable LEDs are set in the illuminating part to form a colorful ring shape.
The great thing about this case fan is:
They don't produce any rattling sound as there's anti vibration mounting system included with in these fans.
Related contents you should read top 5 best RGB Fusion fans review.
4. Cougar Vortex RGB HPB 120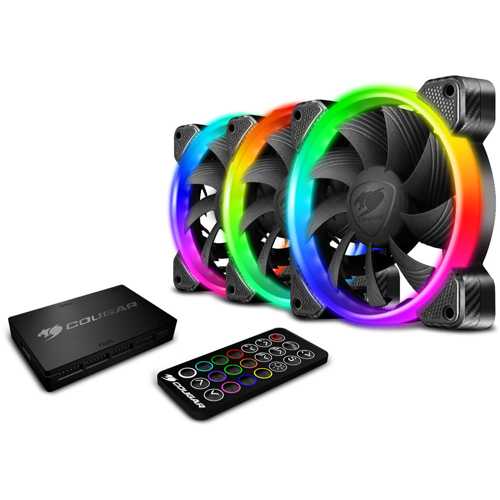 Check Today's Price of Vortex RGB HPB 120 ➜➜
The bearing type of this fans are Hydro Dynamic Bearing which has a central oil pressure.
The RGB illuminating part is ring shaped like that of thermaltake Riing RGB fans. But they look brighter and better when they light up.
This Fans are compatible with Aura Sync, MSI Mystic Light Sync, RGB Fusion, Polychrome Sync
This fans comes with RGB 18 LED.
The screw mounting holes also feels premium for the rubber coating and carbon fiber texture.
The most amazing thing is:
You can even control the fan's color light effects and speed just by the remote included with its package.
I just love the RGB illumination of this case fans. They look the most premium among all of the case fans in the market.
5. Bitfenix Spectre Pro RGB 120mm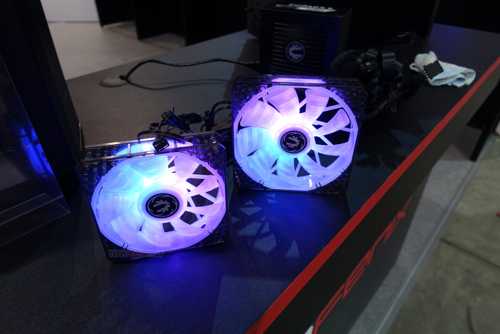 Check Today's Price of Bitfenix Spectre Pro 120mm RGB Fan with Controller ➜➜
This is a aura sync ready fan. That means it will instantly light up with an aura sync PC.
There is honey comb design in the mounting part of the fan. Liking this design is really a personal preference.
If any one is interested to make a white build then I think this is the best option to choose as the fan blades are pure white color.
They come with the new Fluid Dynamic Bearings.
The best thing about this case fan is:
This fan comes with a shield so that nothing can interrupt it spinning.
Factors that Make a Good Aura Sync Fan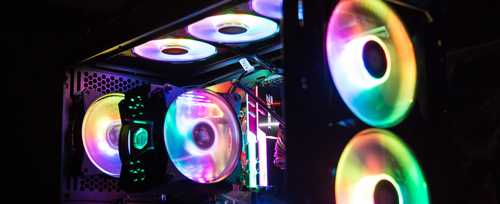 I've chosen these fans for the 3 fundamental factors. Which are:
Fan Speed
It is obvious that:
The more a fans speed is the better it will perform.
The measuring unit of fan speed is RPM. That means Rate of the fan's spins. The higher the RPM the higher will be the air flow as simple as that.
Fan air pressure
This feature is also known as static pressure of the fan.
One thing you need to know before understanding about static pressure is CFM.
CFM is a measurement of airflow of fans. Generally, it means the higher the cfm the better is the cooling performance of the fan.
When the CFM of the Fans are better the more the air pressure is given to the radiators which results for better cooling through the radiator.
Fan noise level
The noise created by Case fans is also a great matter of concern. As it might distract you while you are doing a serious task.
The measurement of this noise is measure in the scale of decibels (dBA)
RGB/ARGB Illumination
This is another great feature of the new PC case fans. The RGB and ARGB fans adds a better look to your gaming PC by adding beautiful color spectrums accompanied by attractive effects.
Your question might be how can a case fan be superior than another?
My simplest answer will be:
To me, the RGB/ ARGB fans having more compatible software will definitely take a better place.
And another feature which can make a fan more superior is having better illuminating part and the number of RGB LED illuminating the fan. The more will be its number the more attractive the fans will look.
FAQ
Question: How to sync RGB fans with aura sync?
Answer: At first download and install it properly. Then connect the fans to the RGB/ARGB header of the motherboard. And the fans will automatically light up and sync with aura sync if they are compatible with it.
Question: Can I use ARGB fans with a non-ARGB motherboard?
Answer: No, it;s not possible as the headers of RGB and ARGB are of different kind. But you can get the work done by using an external ARGB controller.
Question: How to know whether my RGB fans are compatible with aura sync?
Answer: You can know about if a fan is aura sync compatible or not by searching it on the internet. If it's compatible then the company will surely advertise it.