Failing to sync RGB components with Aura Sync?
Well, it thwarts all the excitement and ruins the day. But you are not alone. This is a widespread issue for ASUS's motherboards and GPU owners.
Calm yourself down though, as in this article, I'll help you fix all the issues of the Aura Sync software.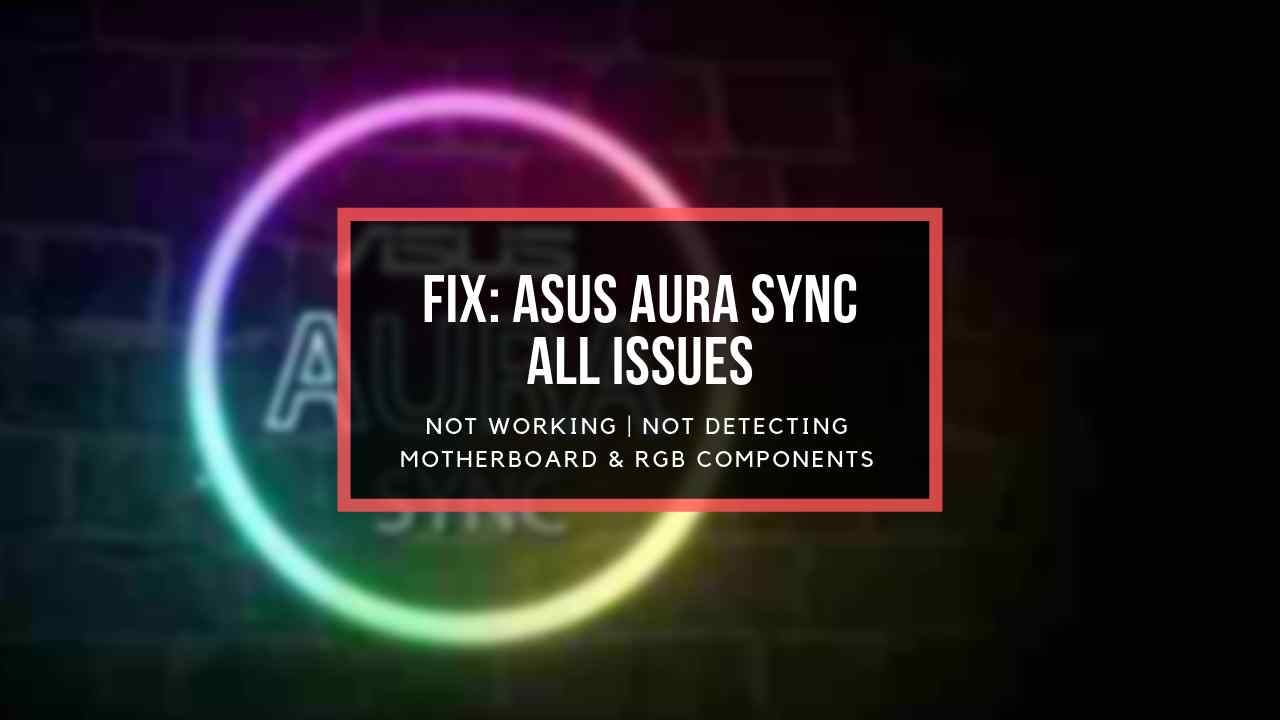 So buckle up for the ride, shall we?
Why is ASUS Aura Sync Not Working?
ASUS Aura Sync is not working due to damaged installation files, conflict with other RGB software, Windows Fast Startup, or RGB headers not being connected properly. Besides, an incompatible motherboard is not detected by Aura Sync at all. Not to mention, outdated Aura Sync app create issues too.
Before going furthermore, I think you need to know the main causes that create problems between Aura sync and your PC. This will surely help you to fix your specific problem very easily.
Here are some of the main reasons why ASUS Aura Sync is not working:
Corrupted Installation Files
This is a common problem that most people come across. With the new download link of the ASUS Aura Sync, you won't face any problems related to corrupted files.
Conflicting With other RGB Software
Aura Sync doesn't work properly when there is other RGB-controlling software installed on your PC. Sometimes free antivirus like Avast causes difficulty and restricts the Aura Sync app.
Recently, ASUS combined all the different apps and put them under the Armoury Crate app. If you have both the ASUS Aura Sync and Armoury Crate installed on your PC, most likely, you'll face issues.
Custom Installation Path
Aura Sync doesn't seem to open and work correctly when it's installed in any custom installation path. So, I will recommend you install it in the default directory.
Fast Startup of Windows
The Fast Startup feature of the Windows operating system lets the PC boot very fast, but it has some side effects too. You might face problems with Aura Sync when this feature is on.
To make sure that this reason is causing the problem, you will sometimes see that only the I/O shield of the motherboard is blinking with red light.
RGB Headers Connected Incorrectly
If the RGB/ARGB headers aren't connected in the right order, they will be unable to sync with the app. This will not let users control the RGB lighting as they wish.
Outdated Aura Sync App
The older versions of the Asus Aura Sync app have lots of bugs. So I will recommend you download and use the latest version of this app to get rid of ASUS Aura not working.
Possible Issues with the ASUS Aura Sync Software
Aura Sync is an excellent app for LED lighting control. But people face different problems with it.
I know this is crazy when your expensive RGB lighting components are not giving lighting effects according to your wish for a simple app like this.
Here are the Aura Sync issues:
Asus Aura Is Not Opening
Sometimes you may find that you are double-clicking on the Asus Aura Sync app shortcut icon, but it isn't opening.
You also might have tried running the app as an administrator or opening it from the search box but without any success.
This sometimes happens due to inappropriate installation and corrupted installation files. You need a proper and stable setup file to fix this issue. Also, the files should be placed in the default installation path.
ASUS AURA Has Stopped Working
ASUS Aura Sync usually stops working when it fails to sync with different RGB components. ASUS Aura has stopped working error also happens sometimes while opening the app. It outright crashes.
Buttons Inside Aura Sync App Not Responding
Unresponsive buttons are those which you will find a bit dark in color in the app as if they're disabled. When Aura Sync can't find any of the components to sync with, it shows unlickable buttons there.
Aura Sync Unable To Sync With All RGB Components
Yes, that's the most common problem with this software. ASUS Aura Sync can't adjust with all the RGB components unless they are compatible with the software.
So, you may find some of the components are lit differently, or they aren't glowing at all.
Aura Sync Not Detecting Motherboard
The most annoying problem with the Aura Sync software is that it can't detect your motherboard.
As a result, none of the compatible components can sync with Aura Sync. Which ultimately leads your PC to look like a sad non-RGB PC.
How to Fix Asus Aura Sync Not Working Error
To fix Aura Sync not working, reinstall the app. After uninstalling ASUS Aura, install the standalone version of Aura Sync Utility. Remove the previously installed Armoury Crate app, reset the LED from the BIOS, and reconnect all the RGB cables.
You might be tired of the Aura Sync issues after buying expensive RGB peripherals. Now let's get to the main point.
Warning: Before going to the fixes, you need to know if your components are Aura Sync compatible or not. If your motherboard isn't compatible with Aura Sync, none of my solutions will work.
Now, let's get into the solutions.
Here are the methods to fix Aura Sync not working:
1. Restart Aura Sync App
Temporary bugs and glitches are one of the rudimentary reasons why Aura Sync suddenly stops working on a computer. In such instances, the first thing to do is restart the aura sync application.
First, quit the RGB program from the background process. To do that, simply press Ctrl + Shift + Esc and fire up the task manager. Look for aura sync and right-click on it. End the process, and it's not disabled.
Open the Aura sync app again and check if it's working properly. Negative?
Restart your PC and launch the Aura Sync program, and it should be working properly.
2. Check Motherboard Compatibility
Aura Sync not detecting motherboards is a common and widespread issue. And this also explains why Aura Sync does not work on some computers.
So, first, it's important to check the compatibility of the main board. FYI, not all ASUS motherboard is compatible with Aura Sync software.
Here's how you can check motherboard compatibility for aura sync:
Within a few moments, all the supported boards will pop up. Check whether your board makes it into the list. If you don't find your board, it explains why Aura Sync is not working with your motherboard.
3. Update the Aura Sync
As newer motherboards constantly get released, the Aura Sync app often doesn't have the exact product number embedded in the software. However, with an update, this compatibility issue can be resolved.
It's basic troubleshooting for numerous Aura Sync issues, such as compatibility and not working.
To update Aura Sync, fire up Armoury Crate software on your machine. Go to Settings and click on Check for Updates.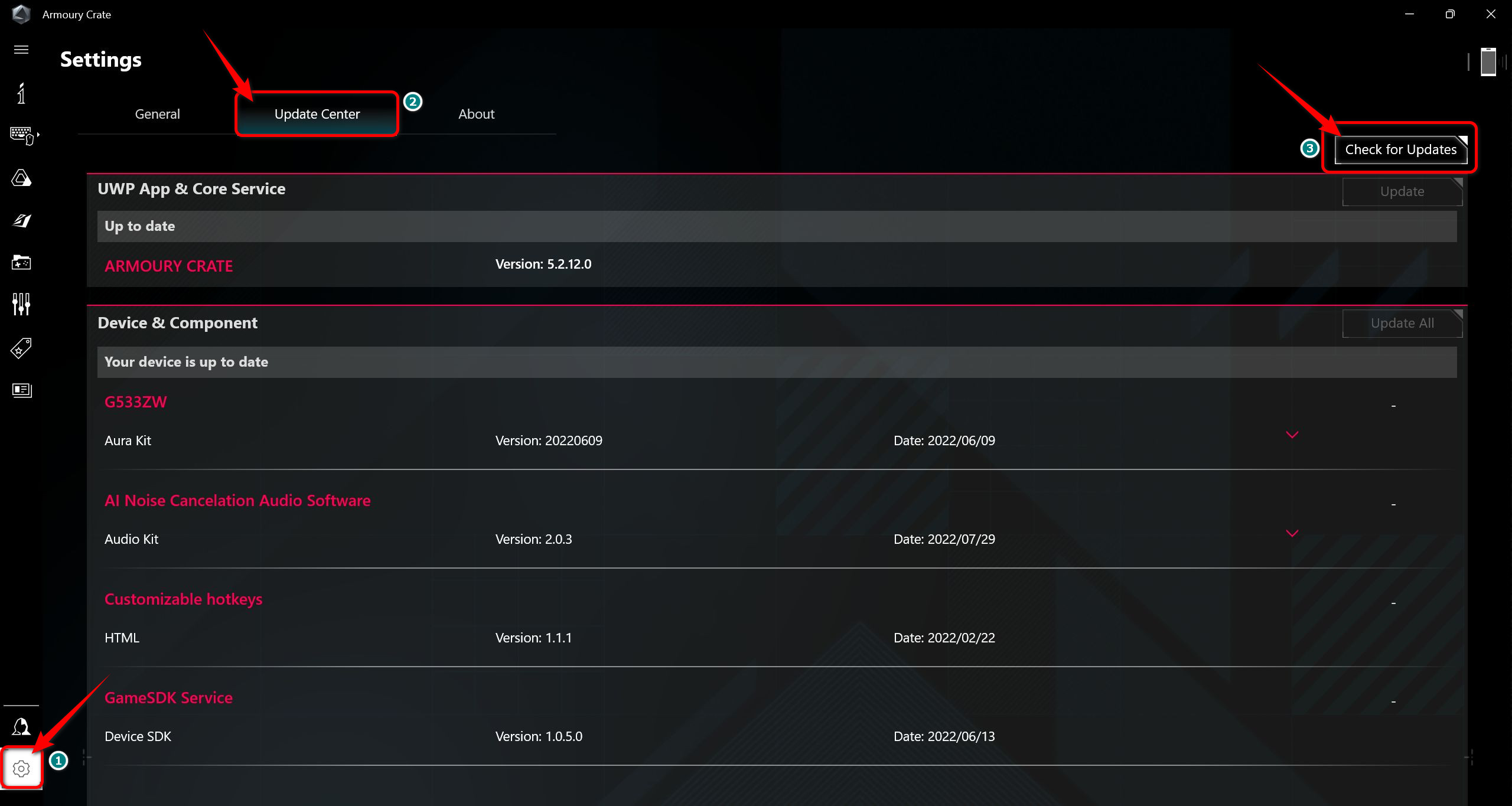 All the list of programs that needs an update will appear. Click on Update All, and it should be good to go. Now restart your computer and check whether Aura Sync issues are fixed.
4. Reinstall Aura Sync
In most cases, the Aura Sync issue arises due to incorrect installation or corrupted installation files.
Either way, the solution is to completely remove Aura Sync manually from the system and then install the latest standalone version of the app from the official website (ignore any third-party link). Try reinstalling the software using this method, as the fix worked in most cases.
Follow the steps below to reinstall Aura Sync:
Press Win+I to open Windows Settings.
Go to Apps.
Uninstall AURA and AURA Service.
Open File Explorer and go to C drive > Program Files (x86) folder.
Delete the LightingService folder.
Press Win+R to open the Run window.
Type temp and press Enter. It will open the temp files directory.
Press Ctrl+A to select all files, then press Delete to delete all temp files.
Restart the PC.
Download the latest standalone version of the ASUS Aura Sync Utility from this link. Note that instead of clicking on the big Download button, you need to use the link in the lower-right corner. See the screenshot for more details.
Unzip the file and run the "Setup.exe" file to install the Aura Sync application.
Once the ASUS Aura is installed, restart the PC again, and it should work now.
5. Uninstall Other RGB Syncing Apps
If reinstalling the software doesn't work, try this method.
To make sure that Asus Aura software works properly, you will have to uninstall other RGB lighting software. This includes apps from other manufacturers like ASRock Polychrome Sync, Razer Chrome, RGB Fusion, Corsair iCUE, Cooler Master MasterPlus+, etc.
Moreover, you should not install the ASUS Armoury Crate alongside the AURA Sync. Many users faced problems after installing the app, as both apps would clash with each other.
ASUS included all the features of the AURA Sync inside the Armoury Crate. AURA Sync will be discontinued in the future, and only Armoury Crate will get updates.
So, the first option is to only install Armoury Crate using the ASUS ROG Armoury Crate download link and get rid of the Aura Sync.
If you face issues using the Armoury Crate, we have a guide to fix Armoury Crate not working.
The second option is to use AURA Sync only. For either option, you have to remove any other RGB apps.
Here are the steps to uninstall other RGB syncing apps:
Press Win+I to go to Settings.
Go to Apps.
Click on the RGB software name.
Select Uninstall.
Go through the process of uninstallation.
Repeat the process for all the other RGB apps installed on your PC.
Once you're done, reboot the PC and check if the solution worked.
6. Disable Fast Startup
Fast Startup is a Windows 10 and 11 feature that caches the running processes in storage when you shut down the PC and then reloads them when you start the PC again. It shortens the boot time, and hence you're able to boot faster.
However, RGB apps like Aura Sync can face problems with it. If there's an error during the runtime of the app, the error remains even if you restart the PC, as the app never refreshes, and it continues from the previous session.
Users reported that this method works in many scenarios. Therefore, you need to disable the feature.
Here are the steps to disable the fast startup of Windows:
Go to Control Panel.
Select Large icons from the top-right corner.
Go to Power Options > Choose what the power buttons do.
Click Change Settings that are currently unavailable.
Uncheck the box that says Turn on fast startup.
Save changes.
Restart the PC.
Now Aura Sync should load fresh from a new start instead of continuing where it left off in the previous session and remove any errors.
7. Reconnect the RGB Headers​
Connecting the RGB/ ARGB headers to the motherboard is a very necessary task for lighting up your computer. Incorrectly or Poorly connected RGB headers won't work at all.
Some people mess up while making connections. So, make sure to connect the RGB headers perfectly to your motherboard.
3-pin headers are to be connected for ARGB devices, and 4-pin headers are made for RGB devices. Check if all the connections are made correctly. You can reconnect the cables to ensure they're fitted correctly.
If you're still facing issues with the Aura Sync, then you have to use ASUS Aura Sync alternatives.
8. Reset LED from BIOS
Resetting the LED from BIOS is an effective way to fix the glitchy Aura Sync program that suddenly stopped working. The lights on your computer might get stuck to a single color light or effect.
In such instances, just turn the RGB light off and on from the BIOS, and it should fix the issue.
To reset LED from BIOS:
At PC startup, access BIOS by continuously pressing the F2 or Delete button on your ASUS motherboard.
Switch to the Advanced tab.
Get to Onboard Device Configuration.
Find RGB LED Lighting and choose Off.
Scroll down and Select APM Configuration.
Choose Enable(S4+S5) for ErP Ready.
Press the F10 key to save the changes. This will restart your computer.
Get into the BIOS once again and turn on RGB LED lighting under the Advanced tab.
Save and restart your computer, and this should sync all your RGB with the Aura Sync software.
Frequently Asked Questions
Does Aura Sync Work On Any Graphics Card?
No, Aura Sync only works on ASUS GPUs. Graphics cards from other manufacturers won't be get detected by Aura Sync. Even all ASUS products don't support Aura Sync. Only some specific models, such as ROG Strix, Tuf, or Dual series cards, work with Aura Sync.
How Can I Sync My Whole Setup With Aura Sync?
To sync your whole setup with Aura Sync, you can use all the Aura Sync-compatible products or modify things by adding supported RGB or ARGB LED strips. Also, ensure to connect RGB/ARGB cable to the correct headers.
Why is Aura Sync Not Detecting RGB?
Aura Sync is not detecting RGB mainly due to incorrect connection of RGB or ARGB headers. If the connection is loose, this problem can arise. Besides, using Armoury Crate alongside Aura Sync can also cause issues.
What happened to Aura Sync?
All the different software and utilities of ASUS are brought under one app, the Armoury Crate. The features of the Aura Sync app is also merged into the Armoury Crate. Moreover, the standalone Aura Sync app will be discontinued.
Final Words
Problems with Aura Sync can cause a major issue with your RGB computer, as it's responsible for all the RGB controls of your setup.
That said, newer versions of the app or the new Armoury Crate app will be hopefully more convenient to use with ASUS RGB products.
If you have more question on your mind, reach us by making a comment.