You maintained a very tight schedule and worked so hard over the weekends that you're finally about to submit your work in the last hour. You need to communicate to your clients through Outlook, but suddenly you face your Outlook doesn't work on Wifi.
How frustrating!
Giving a restart to both your device and router failed to solve the issue. And now you don't have any clue what else you need to look for apart from blocked ports!
Don't worry, my friend.
The scenario can vary from the diversified aspect, but the issue can be the same for you and me.
Go through the reasons that occur, murmuring, Why am I connected to Wifi but it's not working on Outlook and apply the absolute working solutions to fix the problem right away.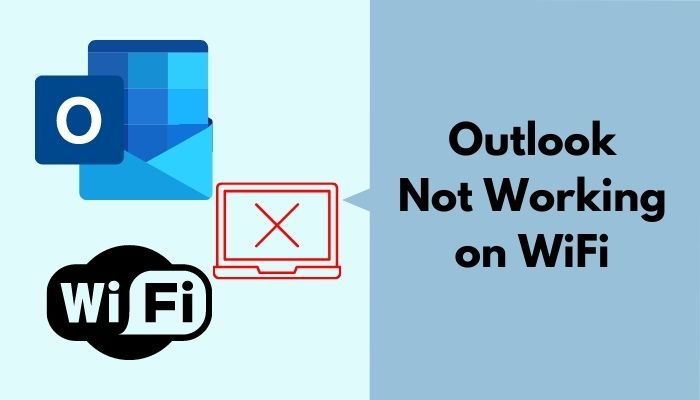 How to Fix Outlook not Connecting on Wifi
With possessing a great history, Microsoft's Outlook is known as a feature-rich more than an email management application. It offers a fantastic Ribbon feature, clean-up button, dedicated Archive folder, and the mighty built-in calendar and contacts.
Though I find Google a more convenient app than Outlook, I am not comparing these two here. Each of them has its own qualities and features people of different sectors benefit from.
But for Outlook users, everything fades away when a situation like Outlook does not connect to Wifi, whether in a home network or an office appears.
Pro Tip: A quick restart of your device is needed to fix temporary glitches and errors.
In this section of the article, we'll resolve our issue by applying the working fixes.
Let's get started.
Also, check out our separate post on how to view message headers in Outlook.
Here are the solutions to fix Outlook not connecting to Wifi:
Solution 1: Clear Outlook App Cache
Outlook app cache lets you enjoy a faster user experience when moving from one tab to another inside the Outlook application. It helps Outlook retrieve the files and finish the required action quickly.
If you face your Outlook application not working and connecting to your Wifi, this might result from making the cache storage full. So, you need to clear your app cache to see if this is the issue.
Here are some straightforward steps to clear the Outlook app cache:
Press Windows key+R to open the run prompt.
Type %localappdata%\Microsoft\Outlook and hit enter.
Move to RoamCache.
Press Ctrl+A to select them all.
Right-click on the files and choose Delete to remove all of them.
Restart your device and check if the problem stays or not.
Check out the easiest way to Enable Read Receipts In Outlook.
Solution 2: Reset your Router
If your router got an issue, there is a huge chance you might face your Outlook Android app not working on Wifi. Consider giving the router a simple reset to resolve the issue very quickly.
Here are some baby steps on how you can reset your router:
Find your router's reset button on the bottom or back.
Hold down the reset button using a paperclip for 15-20 seconds.
Let the button go and wait for your router to power back on.
Note: Make sure your router is plugged in when performing all the steps.  
See if the problem is gone. If it persists, the problem is not occurred due to a router issue.
Solution 3: Reset Current Wifi Network Settings
After resetting the router, when the issue stays, it indicates other techniques are needed to apply to fix the problem. You can reset the current Wifi network settings to see if this solves the issue.
Here is a quick way to reset current Wifi network settings:
Click on the Windows icon and navigate to Settings.
Move to Network & Internet and click on Status.
Click Network reset under the Status
Select Reset now and confirm your decision by selecting Yes.
Note: Save your whole work before performing this solution technique.
Have you resolved your issue already?
If the answer is no, don't get hopeless. A couple of solutions are left to try out. Go through them and fix the Outlook trying to connect Wifi problem.
Check out the easiest way to fix Steam not working on WiFi.
Solution 4: Connect to a Different Wifi Network
When you face Outlook not connecting to Wifi, connecting your device to a different Wifi network might resolve the issue. Also, you can get a good idea of tracking the source of the issue, whether it's on the network you were using or the device, by applying this particular method.
Connect your device to a different Wifi and give your suspicion to the confirmation. But moving to a different Wifi Network, you may fail to figure out the root of the problem.
Whether the case is closed or not, move forward. Have a look at the rest of the solutions.
Solution 5: Check the Private Network
You might face your Outlook app not working on Wifi because of a network issue. To solve this, consider making changes to the status of Microsoft Office Outlook in the Windows Defender Firewall.
Here's an effective way to check the Private Network: 
Press the Windows button and go to Settings.
Move to Network & Internet
Move to Network and Sharing Center.
Choose Windows Defender Firewall from the bottom left corner.
Select Allow an app or feature through Windows Defender Firewall.
Find Microsoft Office Outlook in the Allowed apps and features.
Click Change Settings and check the little box on Private Network.
Click OK and close all the tabs.
Restart your computer and connect Outlook to your Wifi to see if the problem is finally fixed.
Here's a complete guide on how to fix Netflix not working on WiFi.
Solution 6: Use Outlook Web Application
Outlook can't connect to your Wifi because your ISP is blocking the SMTP (Simple Mail Transfer Protocol) port needed to send the emails. ISP companies try to ensure that you won't be exploited as open relays and thus protect you by preventing spam from coming from multiple computers.
So, if your ISP blocks SMTP for the servers it doesn't own, you won't do anything but access only the Outlook web application.
Solution 7: Contact Outlook Support
If none of the above solutions can solve your problem, I suggest you contact Microsoft Support and let them know your situation.
Provide all the valid pieces of information you can remember and let them know what you have tried so far. It'll take a while to get an answer from them. So, don't lose hope but wait for proper instruction.
Also, check our exclusive tutorial on Instagram not working on WiFi.
FAQs
Why is my Outlook not connecting?
Your Outlook is connecting because of an internet error, account corruption, troubling data file, corrupt Office installation, third-party Outlook add-ins, etc.
Is Outlook safe on public Wifi?
Yes, it is safe to use public Wifi for using Outlook.
How to fix Outlook not connecting to the server?
Check Offline mode > Restart Outlook > Restore data files > repair Office Install.
How to connect Outlook to the internet?
Navigate to Settings > Mail > Add your email address to the Connected accounts.
A Final Thought
Outlook is a fantastic platform we use for sending and receiving emails, reminding special meetings or conferences, and using its built-in calendar. It works very fine until we face our Outlook fails to connect Wifi.
How I connect Outlook to my Wifi comes instantaneously to our mind, and we sit for hours and days fixing the issue.
All you need is to read this article thoroughly and apply the solutions accordingly to fix your problem.
Let me know which one solves your case in the comments below.
Have a great day!