Just logged out from your Uplay account and launched Steam to enjoy some gaming? And the pitch-black screen pops out saying could not connect to the Steam network? Although other internet services work just fine.
Unbelievable! And frustrating at the same time.
Well, if you are a new Steam user, that might hurt a bit more than the regular users. Connectivity errors became a recurring event for the typical steam crowd.
But not anymore! I can assure you, after reading this article, that there won't be a single network issue regarding your steam application.
So, let's not waste any time and dive deep into the problem, starting with,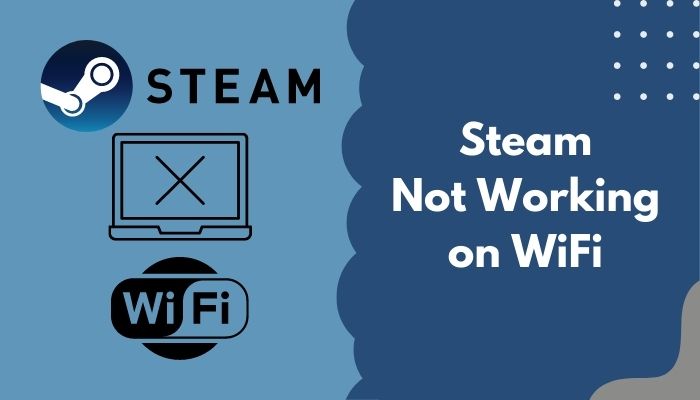 Check out our new post: SteamVR Error 108
Why is Steam not Working on WiFi?
Corrupted Steam installation file is the prime reason behind steam not connecting to wifi. Other than that, Steam server outrage, random app, or software bugs are the additional causes. However, it mostly happens because of a PC internet connection error.
Perplexed with the reasons? What to check first, and which probability to eliminate? Don't be. Let me clear out the reasons for you. Then you can decide on the working manual.
Here are the reasons that revoke your steam application from working on Wifi:
If you have installed the steam improperly, or any of the installation files are missing from your directory, you will likely face this network issue with wifi.
One of the most neglected reasons is server outrage. Whenever steam takes a moment to maintain its functionality, the applications seem to disconnect repeatedly.
If your steam application is outdated, several bugs tend to keep it disconnected from the network. It's also reasonable for steam not to connect to wifi.
And most importantly, if your computer's network driver is corrupted or outdated, you are most likely to encounter Steam stopped working on WiFi.
These are the most possible reasons behind your steam connection issue with WiFi. Now what? Since you are eager to figure out the pathway to leave this issue permanently, my suggestion would be to keep reading the article till the end.
Trust me! You'll thank me later.
Check out our separate post on how to Fix Discord Not Working on Wi-Fi
How to Fix Could Not Connect To Steam Network
To fix Steam not connecting to the WiFi network, you need to restart the internet connection first. After that, restart your computer. Close all the background applications including unnecessary startup applications from your computer. That will help you resolve the Steam network errors.
Steam shuts down its server for a short period. It is possible that you tried to connect to the Steam network at that very moment. Hence the network issue.
So, before starting to jump into solutions, check the steam server status.
If there's something wrong with the server status, wait for a while, then recheck the connectivity. Nothing works? Okay then, proceed to the following solutions.
Here are the solutions you should follow to resolve the Steam connectivity issue:
Troubleshoot Internet Connection
Could that WiFi issue occur because of a faulty internet driver? You are being connected to the internet, yet steam stops working indicates that. So, what you can do is troubleshoot the Steam network connection and see if that settles the issue.
Follow the upcoming steps if you don't know how to do that.
Read more on how to Set Steam to Start Automatically
Here are the steps to troubleshoot your internet connection: 
Press Windows + S button to open up the search box.
Type in Settings and select the result.
Go to System Settings from the top of that window.
Select Troubleshoot option from the left pane.
Click on Additional troubleshooter from the next page.
Select Internet Connection> Run the troubleshooter.
If any issues are found at the end, Windows will try automatically to resolve them. Follow the on-screen manual in that situation, and that will be enough.
Check if you are able to connect to the Steam network. Jump to the following solutions till the issue is resolved permanently.
Also related: SteamVR Error 306
Run Steam As an Administrator
When you provide administrative privilege to an application, it begins to run more efficiently as you gave permission to access limited parts of the windows.
Run the steam client as an admin. Your network issue is likely to be resolved once you give the administrative privilege.
Here are the steps to run steam as an administrator:
Right-click on the Steam icon from your desktop.
Select properties from the list.
Move to the compatibility
Tick on run this program as an administrator.
Click on Apply > OK.
You are all set. Double click on the steam app to launch. Click on Yes every time you launch the application.
Got the matter nailed down? Not yet? Okay! Try the subsequent methods. Your network issue with Steam will be long gone.
If you want to reduce the stress on your pc or storage device and want to stop Steam from opening on startup, please follow the simple steps below.
Disable Windows Firewall
When you disable the windows firewall, all data packets, including the restricted ones, run through your network system without any interruption.
Yes, that increases the security threat, but worth a try if you're unable to connect steam to a wifi network.
Related content you should read: SteamVR not Recognizing Oculus Quest 2
Here's the procedure to disable the windows firewall:
Search for Control Panel in the windows search box.
Select System & Security from the menu.
Click on Windows Defender Firewall from the list.
Select Turn windows defender firewall on or off from the left menu.
Tick on Turn Off in every segment of the following window and click
Check if the steam app is working appropriately over the wifi network. Turn on the windows firewall once the verifying is done.
You don't want to lose your data, right?
These are the initial steps you should follow once you find steam has stopped working on the wifi network. Follow the subsequent methods if you want your steam client to be utterly free from network issues.
Follow our guide on how to Uninstall Steam VR
How to Eliminate Steam Network Issues
If you have Steam installed on your computer for a particular time, you know how much it troubles with the internet connection. It shows no internet connectivity even if the network is working perfectly fine.
You can wipe out those issues by following the forthcoming solutions. That wouldn't take much of your time, believe me. Start from the top, and after performing all those techniques, Steam will run, excluding any network troubles.
Here are the methods that run Steam without any internet issues:
1. Update Steam Client
If you don't update applications on a regular basis, it starts to create various issues, including network errors. Update Steam from time to time to avoid such scenarios.
Usually, Steam checks for updates when you launch the program from your computer. But in case it doesn't seek updates while launching, press Ctrl + R to force check for updates.
Once the update is complete, relaunch the software and check whether your internet issue has been resolved or not.
Check out our separate post on how to Calibrate Steam VR
2. Change Steam's Internet Protocol
If steam's original internet protocol becomes unstable due to any irregularities, you can switch the internet protocol for a better user experience.
That will definitely resolve the inability to connect to the Steam network.
Here's the procedure to change Steam's internet protocol: 
Right-click on the Steam shortcut from your desktop.
Click on properties from the list.
Move to the shortcut tab and locate the target
Edit the name to C:\Program Files (x86)\Steam\Steam.exe" -tcp.
Launch steam after editing the internet protocol and check whether it is fully functional. Your network shouldn't fluctuate anymore after applying this technique.
Read more on how to Fix Steam Pending Transaction
3. Update Network Driver
Your outdated network driver becomes unresponsive due to obvious reasons. Update the drivers if you want to avoid such scenarios.
Updating applications regularly helps to stay safe from connectivity errors.
Here are the steps to update the network driver:
Press the Windows + X button to launch the system menu.
Select Device Manager from that list.
Right-click on your network driver and select Update Driver.
Select search for automatic updates in the next window.
Your work is pretty much done here. Windows will download the file on it's own as well as install it. Restart your rig after the installation.
4. Reinstall Steam
In case you can't connect Steam to the network even when your internet is fine, reinstalling Steam might be the last resort. Reinstalling will also fix the corrupted settings that are stopping you from a network connection.
Here are the steps to reinstall Steam:
Search for the Control panel in the Windows search menu.
Click on Uninstall a program in the program menu.
Locate Steam and right-click on it.
Select Uninstall and follow the remaining process.
After uninstalling, download Steam from the official website and install.  Launch steam and you will be amazed to notice that there's no sign of disconnection with the wifi.
Also read, how to Fix Steam Link Setup: No Host Computers Found
Frequently Asked Questions
Why is my Steam not Connecting to WiFi?
Your computer's network adapter might be disabled. Go to your network connections control panel, and enable the wireless connection.
How to Fix No Connection on Steam?
Go to Steam > go online > Connect to the server > restart Steam. Voila! Your issue is gone.
Does rebooting my Router help me to connect to Steam?
You can try the rebooting router method. Though it's not a technical solution, sometimes it helps.
The Bottom Line
Steam is a pure responsive application for gamers. Experiencing various issues is pretty standard for a steam user. Keep your cool and try the explained solutions whenever you face network issues on Steam.
If anything doesn't work according to the plan, know that I'm always here to guide you. Share this content with your friends so that they can get this advantage.
Enjoy your time with Steam!