It might feel a bit awkward when your insta-feed failed to load on wifi but worked perfectly on cellular data. And it gets irritating even more if you are uploading a reel.
So, what's the solution to this annoying issue?
I have encountered this connectivity issue more than once while surfing the insta world. And after the second time the wifi got vanished, I researched a lot about this. Three hours later, I discovered the grounds of this matter and how to solve it efficiently.
Would you like to know what I found out during my inquiry? Keep reading this troubleshoot tutorial till the end. Let's begin with,
Why is Instagram not working on WiFi?
The most probable reason behind your Instagram not loading on WiFi is server outrage (technical issue of the company). Apart from that, outdated software version/ outdated OS, application bugs are considered the primary reasons. However, a faulty internet connection can also be the culprit.
So, A LOT to consider before solving the connectivity issue, right? But trust me! You will quickly resolve the issue once you finish reading this article.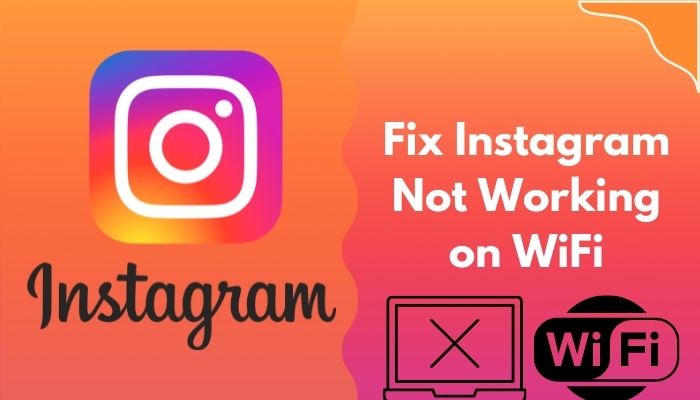 Check out the easiest way to Fix can't change Instagram username
How to Solve Instagram Stopped Loading on Wifi
In this era of social media, Instagram has become quite inseparable from our daily life. A handsome amount of business has extended- circling around Instagram. It could affect your insta-generated business if you fail to connect internet timely.
Now that you know the reasons and effects of Instagram connectivity issues let's solve 'em.
First, you need to close and reopen your installed application. Check your internet connection to see if it's actually working. You'll get a notification if your issue has been happening because of the insta server issue. And the sad part is that you can't do much if it's a server outrage.
Moving on to the part where you can contribute your knowledge and skill to solve the Instagram loading issue on wifi.
Here's a complete guide on What does an Instagram handle mean
Here are the solutions you can implement if your Instagram is not working on WiFi:
Method 1. Clear Instagram Application Cache
When the cache data of an application is full, it starts to malfunction/ can't perform as it used to. So, eventually deleting the cache files  helps an application to run properly.
Here are the steps to clear cache data from Instagram:
Launch Settings from your mobile.
Scroll down and tap on Apps from the list.
Select manage apps from the next page.
Locate Instagram on this page and tap on it.
Tap on Clear cache from the bottom corner.
That's the method you should utilize when you want to remove cache data from your android device.
What about clearing from iOS devices?
iOS devices clear caches from applications on a regular basis (automatically). So, don't worry about that.
Check if your issue has been resolved. Move out to the next solution if not.
Also, check out our separate post on Instagram Reels not Working
Method 2. Update Instagram
There's no need to explain the necessity of using an updated application. When you update an application, it assists in revoking the previous version's bugs and adding very new extra features to the user.
Not only that, updating an application alleviates the user experience. Follow the subsequent steps to update Instagram correctly.
Here are the steps to update Instagram on android:
Launch Google Play Store from your device.
Tap on your profile icon from the top right corner of the display.
Select Manage apps & devices from the popup window.
Locate Instagram from the application list and click on it.
Select Update if that's available.
That procedure is for android devices. But what if you are an iOS user? Follow the further part if you are.
Here are the steps to update Instagram on iOS: 
Launch the app store from your device.
Tap on your profile icon from the top.
Scroll down to Available Updates
Locate Instagram and click on update.
Relaunch the application once the update is installed. It should work properly after the update process is completed.
Check out the easiest way to Fix Instagram Not Sending SMS Code
Method 3. Re-Install Instagram
Well, that's the most workable solution found till now. I have been saving this for the last resort cause once you reinstall an application, all your saved data will be deleted. And that's including your login credentials.
So, make sure you remember your user ID and password before uninstalling.
Here are the steps to re-install Instagram:
Tap and hold the Instagram icon from your display.
Select Uninstall from the floating window.
Launch the play store again.
Search for Instagram in the search menu.
Click on Install and login with valid credentials.
Your connectivity issue on wifi should be resolved by now if you have reinstalled insta properly. Check out the next section if you are an iOS user.
Here are the steps to reinstall Instagram on iOS:
Tap + hold the insta icon.
Select Remove
Tap on delete app > delete to confirm.
Open the app store from your device.
Search Instagram and install it.
Launch the app and provide log-in information. Check if it's working on wifi after reinstalling.
Also read, Fixed: Instagram Stories Not Working
Method 4. Reset Network Settings
If you can't access Instagram using wifi network, you can reset your devices' network settings to resolve the issue.
Here are the steps to reset network settings on android:
Slide down the notification panel of your mobile.
Select the Settings to enter the settings menu.
Scroll down and tap on the connection & sharing
Locate the reset wifi and mobile networks menu from the bottom corner.
Tap on reset settings in the next window.
Insta on your mobile should work just fine after this trick.
These are the methods you should try when Instagram stops working on wifi. Check out the following section if you notice slow insta functionality, even though your internet is fast.
You may like to read: Fixed Instagram Could Not Refresh Feed
Why is Instagram Working Slow on WiFi?
That's a pretty common issue when you are surfing Instagram. It might occur because of faulty network connectivity, an outdated OS version of your device, and even the application itself.
In this section, I have enlisted the most effective fixes regarding this issue. Implement them on your device one after another. You will possibly resolve the issue on your own.
But wait, are you using any VPN or proxy server? Turn that off if yes. Using Instagram while connected to VPN might lead to a sloth internet connectivity.
Here are the techniques to solve Instagram working slow on wifi:
Review Your Internet Connection
If your internet connection is broken, you might encounter a slow internet issue. To avoid that, turn off the router, and plug out the cables from it.
Wait for a while, then reconnect the cables and the plug. Check if the internet is working properly. You can connect to another router and check if that's working for you.
Contact your isp if the other connection is working fine. And for additional support such as enhancing the internet speed.
Follow our guide to Fix Instagram Videos Not Playing
Update Device OS
Updating the device's operating system is also beneficial, the same as updating applications. You get new features, can get old bugs and glitches cleared, and so on.
If you are engaging with a slow wifi connection on Instagram more often, updating your devices' OS might help you resolve it.
Here are the steps to update the device OS on android:
Slide down the notification panel and tap on the Gear icon.
Click on About Phone from the list.
Select System update from the next window.
Wait for a while to let your device check if there's any update available.
Install the update after downloading. Restart the device and relaunch Instagram. Don't worry, your app data will not be deleted due to updating OS.
Concerned about updating iOS?
Follow this pathway if you are an iOS user. Navigate to the Settings > General > Software update. Select automatic update once you get into the menu.
After installing a recent system update, launch Instagram. Your issue should have been gone after these attempts. If not, try the forthcoming solution.
Switch to Instagram Web
This solution is more of a temporary fix. I know; it should have been enlisted in the earlier section. But hear out what I have to say.
You can switch to the web version of Instagram only when you are in a hurry. In cases of emergency, you won't get enough time to try all of these steps.
Just browse the official Instagram website and log in with your valid information. The steps mentioned above should be enough to resolve your issue permanently.
These are the fundamentals you must try if you engage in any issue regarding Instagram and WiFi. I was satisfied with using these tricks, and I hope you will be too.
Here's a complete guide on 7 verified Fixes For Instagram Ad Account Not Found
Wrapping Up
Finally, all of your worrying issues came to an end. What do you think of these techniques? Are you going to work it on, as I explained? Of course, you are! Don't hesitate to implement any of these procedures.
I am just a click away if anything goes south while solving the issue. Feel free to comment; my team will respond as soon as possible. Share these tips with your friends if you find them supporting.