Instagram is one of the most preferred ways to share our most treasured moments. Through captured images, you can grow yourself with its diverse, global community of one billion.
To safeguard this community, Instagram introduced the Two-factor authentication system in late 2016.
Two-factor authentication protects your Instagram account from unwanted sign-ins by sending a unique login code to your phone. And this SMS feature becomes one of the fundamentals of safeguarding your Instagram account.
But what if you don't receive a text to reset password from Instagram?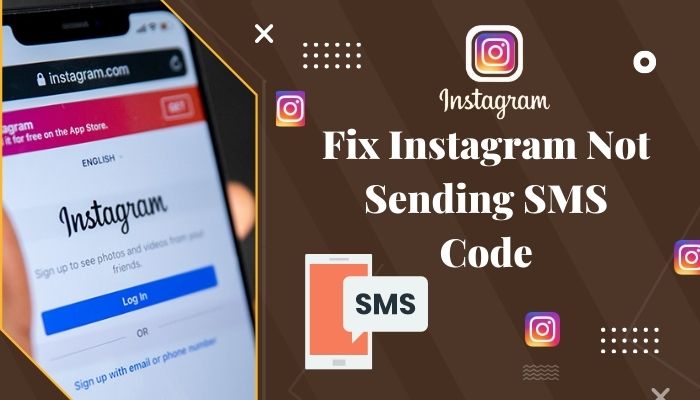 Well, this problem isn't as severe as it seems. Read this article to know the 10 proven ways to fix not sending SMS errors on Instagram. But before that, you need to understand why this issue appeared in the first place.
Here's a complete guide on what does an Instagram handle mean.
Why Aren't You Receiving SMS Texts From Instagram?
Mainly the Verification SMS problem on Instagram occurs for the problems in the Simcard provider's server. Also, entering a wrong phone number, blocked IP, using VPN, issues with the SIM, or not having permission can be responsible for not getting Two-factor authentication SMS.
Two-factor authentication is one of the common and Important options for social media security.
Hackers and scammers are trying to steal personal data using Social Media constantly. Instagram sends you a verification code to prevent this problem and ensures the actual account owner is logging in.
But before that, go through our epic guide on Instagram reels not working.
Here are the main reasons behind Instagram not sending SMS codes:
If you are operating in a low coverage area and your phone can fill network bars, you won't receive the SMS code from Instagram.
You may provide Your phone number or email address incorrectly.
Instagram authorities block your IP address.
You have used any banned VPN while using Instagram.
Instagram is overloaded.
You've submitted too many repetitive requests.
There is a problem with the SIM card server.
The Instagram application doesn't have SMS access.
These are the main reasons for not getting verification SMS from Instagram. To resolve this issue, try applying the 10 proven solutions described below.
Also, check out our separate post on Instagram Clear Search History Not Working
How To Fix Not Sending SMS Code On Instagram
Tech issues like Instagram verification messages not receiving can happen anytime. But don't be anxious; troubleshooting this error is very easy to manage. Apply the fixes below to solve this issue for good.
Here are the fixes for not Sending SMS Code On Instagram:
1. Wait a couple of hours
When you aren't receiving SMS on Instagram, the first thing to do is wait. Just wait for an hour or two, then try again. Sometimes for server overload, SIM error can delay the SMS from reaching your phone.
So wait for some time when you're not getting the verification code.
You may also like to read about 7 verified fixes for Instagram ad account not found.
2. Check SMS Status Of Your Phone
Sometimes the server of your network provider has some errors. For this reason, you are not getting SMS. This is a problem for your SIM provider, not your WiFi.
To ensure your SIM has a problem, you should try sending an SMS to your phone from any other mobile device.
If your device doesn't get any SMS, Contact your SIMs customer care.
Check out the easiest way to Fix Can't Change Instagram Username
3. Stable Internet Connection
You need to maintain a stable internet connection as well as a complete Phone network to get SMS. Not having either may cause SMS Code problems from Two-factor authentication.
You should use your phone in a less crowded area to get a stable network when you are not getting SMS codes from Instagram.
Related contents you should read about fix Instagram videos not playing.
4. Disable VPN
VPM makes it hard to trace your location. It is suitable for safe browsing. But Instagram may not send you an SMS verification code if you are using VPN.
Because of the time you are using VPN, Your phone number's location and the location you are browsing will be different. And Instagram won't be able to verify you.
So disable your VPN while applying 2-factor authentication.
Some more guides on Instagram could not refresh feed within 3 minutes.
5. Enable Permission
You need to give Instagram permission through the setting for getting SMS. Without permission, Instagram won't be able to send SMS, and you won't get the verification code.
Here are the steps to Enable permission for Instagram:
On Android:
Long press Instagram icon.
Touch the i icon.
Select Permission.
Enable All the Permission from the list.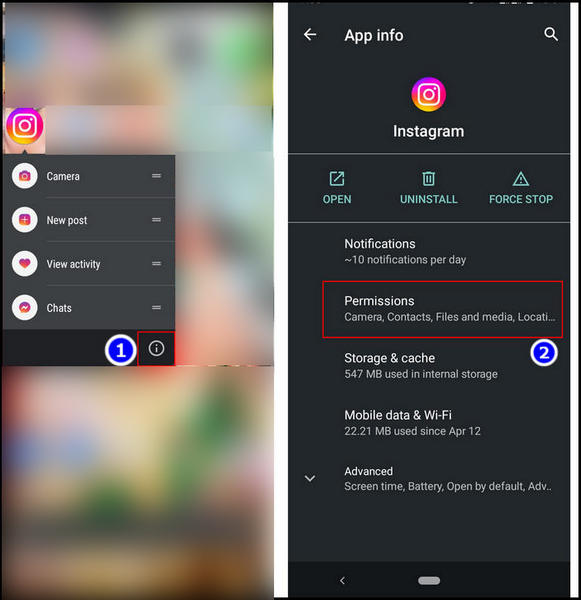 Also, check out our separate post on Fix Instagram Not Working on WiFi
On IOS:
Tap Settings.
Type Instagram in the search bar.
Click It from the search result.
Enable all the permission.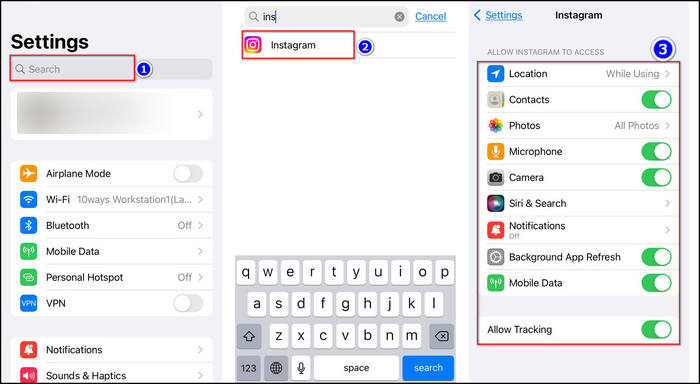 After completing these steps, you should restart your device to make sure the changes are working.
6. Update the Instagram App
Instagram updates remove the bugs and other problems that can prevent the stop message error. So you need to update Instagram regularly.
Here are the steps to update Instagram:
For Android:
Navigate to the Play Store.
Type Instagram in the search bar. (A green button named Update will appear in the Right corner.)
Click that Update button.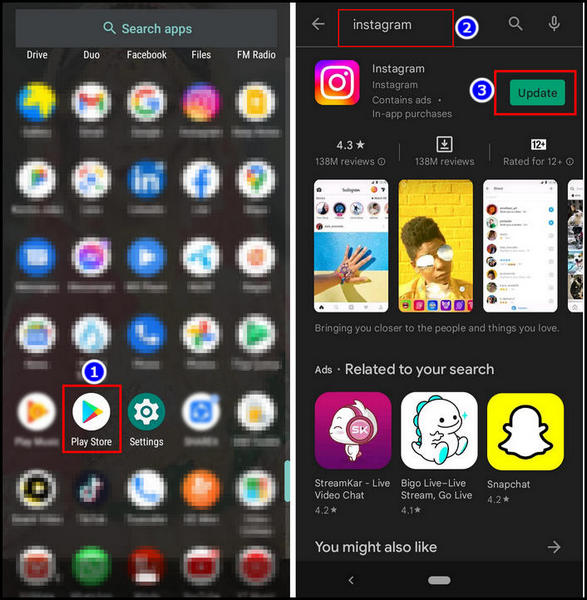 Follow our guide to know how to Group Chat With Multiple Instagram Users
For iOS:
Go to the App Store.
Hit the Profile icon.
Scroll Down to Pending updates and release notes.
Select Update next to the Instagram icon.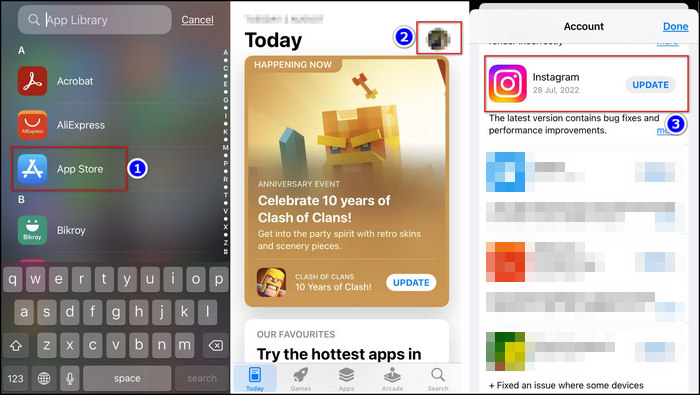 Instagram will start updating as you complete the steps. And after the update, you will see insta stories without any hassle.
As you execute these steps, the Instagram application will start updating. Wait for it to be fully updated, then restart the device. And you will start receiving SMS again.
But, before that, do check our latest post on Instagram "Oops an Error Occurred".
7. Try logging in with Facebook
Instagram lets you link your Facebook account with itself, and you can also log into insta using the log-in with Facebook button.
When you are not getting verification SMS from Instagram, You can try using the log-in with Facebook option to sign into your account.
However, this method won't work when your Facebook account isn't linked to the Instagram app.
Check out the easiest way about fixed: Instagram stories not working.
8. Use Different Verification Methods
You can use email verification or the one-time login code in case the SMS verification doesn't work. The One-time verification code is the best way to log into Instagram.
Here are the steps to see the one-time verification code to login into Instagram:
Open Instagram.
Choose your profile Icon in the bottom right.
Select 3-line icon > Touch Settings.
Hit Security > tap Two-factor authentication.
Select Additional methods.
Tap Backup codes.

You need to have the codes written previously somewhere to apply this method. Apply this code to login into Instagram.
Follow our guide to fix Instagram not sending SMS code.
9. Contact Instagram Support
if your issue isn't fixed after applying the above solutions, contact Instagram support to get a direct answer. It can take some time, but the authorities will contact you and provide on-site support.
Here are the steps to contact the Instagram help center:
Launch Instagram > Choose your profile page.
Hit the 3-line icon.
Touch Settings > Help.
Select Report a problem menu.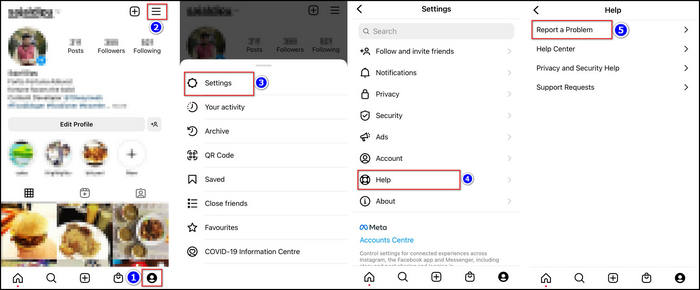 Here, describe your problem with available screenshots. Then send it, and Instagram will get back to you.
Also, check out our separate post on why isn't Instagram letting me post?
FAQ
Why Did I Receive the Instagram Security Code Even if I Have Not Asked for It?
You could receive Instagram Security Code Even if you didn't ask for it when someone tries to log in to your account. That time you should change your password.
How to Log Into Your Instagram without Using a Verification Code?
You can use either email verification or Backup codes if you don't want to use an SMS verification code.
Why has Instagram temporarily locked my account?
Instagram may lock your account for violating any guidelines.
Conclusion
Long story short, You can face Instagram not sending SMS codes mainly for problems with the SIM server. You should wait for some time if that happens. And for other reasons like the wrong phone number, blocked IP, or VPN, use the above 9 solutions.
After applying the fixes, I'm sure you are now getting the SMS from Instagram without any issues. Which one from the fix list did the trick for you? Comment below.