Having trouble explaining to your boss why your current status in Teams is stuck on out of office or offline? I've been there before but I didn't have to deal with the issue for too long.
Microsoft has been busy lately. After revealing their plans to integrate ChatGPT into Bing, it's understandable how a small issue related to Office status on Teams mobile or Teams desktop can fly under the radar. The good news is, we are here to pick up the pieces and guide you in the right direction.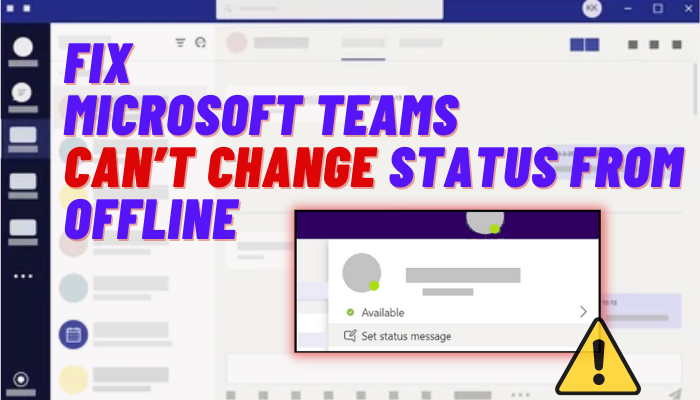 In this article, I've listed all the proven methods to fix Microsoft Teams status stuck on offline or out of office. These solutions are extremely simple to apply and were effective in our testing.
So, grab a cup of coffee and discover how to change the status message on Teams and fix this issue.
How to Fix Microsoft Teams Status Stuck On Offline
If your Outlook or Microsoft Teams status is stuck on offline, deleting cache files can help you fix the issue and change status. You can also use the web app instead of the desktop Microsoft Teams app to fix the status problem. In some cases, logging out and then back in can update your status.
Depending on your device and it's OS, like Windows 10 or Windows 11, the solution you're looking for can change, that's why here I exhibit all the working solutions. Keep at it until you find the one.
Here are the methods to fix Microsoft Teams can't change offline status:
1. Change Status Using Web Version
If you're facing the MS Teams stuck status glitch, you can try changing your status from the web or mobile version of MS Teams instead of the desktop app.
Here are the steps to change Teams' status using the Web version:
Open a browser and head over to the Microsoft Teams website.
Click on Sign-in.
Sign in using your credential.
Click on the status indicator beside your profile picture.
Set your status to Available and wait for a few minutes.
Log out of the web version and log in again in your MS Teams app.
Using the MS Teams app, check if your status is changed from Appear offline to Available. Plus, you can also Reset the status of Teams and for some users, this simple and easy technique works like charm. So give it a try.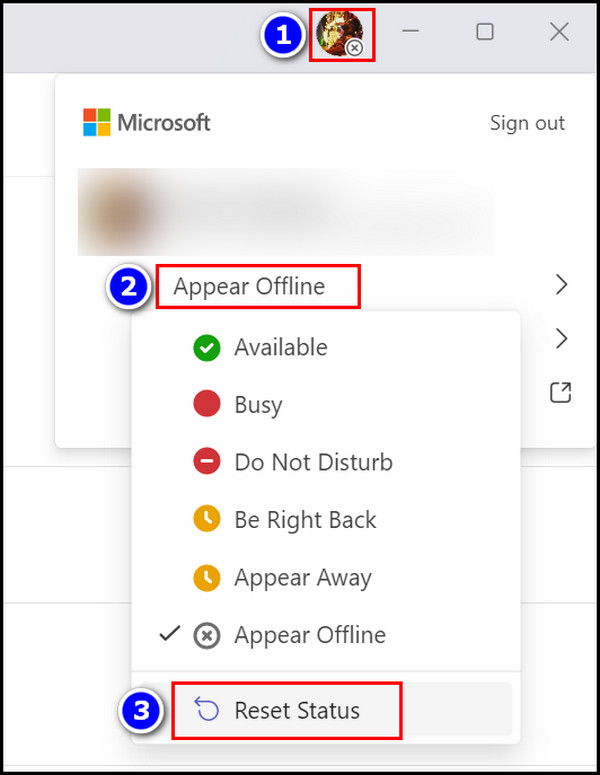 2. Log Out and Log Back In
What do we do when we first encounter a software problem? We log out and log back into that app, right? Similarly, you can try updating your status by signing out of your account and logging into Teams again.
But there is an easy hack before that, read on to know.
Here are the steps to log out and log back into MS Teams effectively:
Sign out from Microsoft Teams.
Press the Ctrl+Shift+Esc buttons to open Task Manager.
Find out any Teams program running in the background.
Right-click on them and choose the End task.
Relaunch the MS Teams.
Sign in with your ID and Password.
According to numerous regular users, this is it. However, if the offline difficulty still bothers you, then keep your nerve and move on with the next method. After solving the difficulty, you can add emojis to MS Teams chat and make the conversation more frosty.
3. Turn Off the VPN
MS Teams is a real-time business communication platform. Using a VPN delays its communication with its remote server. In the work case scenario, the MS Teams app cannot connect with the remote server through a VPN connection.
So, to avoid inconveniences like MS Team being stuck on the wrong status, stop using a VPN. Use a direct connection without a proxy server or a VPN to avoid issues like it.
Furthermore, due to VPN usage, you can also see errors like Teams can't access your content and Teams can't connect you. So you must use Teams without VPN to grasp all its functionality
4. Terminate All Other Sessions
If Teams status is still stuck, it might be because multiple devices are using your account in Teams simultaneously. This can only be solved by closing Teams on all other devices.
Follow the steps below to fix MS Teams not changing status from offline:
Log out of your Teams acount from all of your devices, including the one you're using right now.
Wait for a couple of minutes.
Open the MS Teams app on your device.
Reopen Teams and Log in again using your credentials.
Head over to the status indicator beside your profile icon.
Check if the status is changed to Available.
This simple hack can save you if your status got stuck . Then you can optimize Microsoft Teams to enhance its performance.
5. Clear Calendar Schedule
An invalid entry like holidays or vacations on your Outlook calendar might trigger the MS Teams app to set your status offline. MS Teams tracks the activities of other Microsoft 360 family products to ensure better user experiences.
That's why, if you have an entry on your Outlook calendar saying you're out of office (OOO), then the MS Teams app will set your status Appears offline.
So, check your Outlook calendar and delete any invalid entries. Then log in again in the MS Teams app, and check if the issue still appears. But when your MS Teams couldn't load your calendar, you must fix that first, then clear its false entries.
6. Delete Teams Cache Folder
Clearing the cache files of the MS Teams app might force it to restart its processes, which will calibrate your status in it.
Here's how to clear the cache files of the MS Teams app on your PC:
Right-click on the Taskbar.
Click on Task Manager.
Search the process of Microsoft Teams and click on it.
Click End task in the lower-right corner of the window, or right-click and choose End task.
Press Win+R on your keyboard to open the Run program.
Type %appdata%\Microsoft\teams inside the box and hit Enter key.
Delete the folders named: application cache, blob_storage, Cache, databases, GPUcache, IndexedDB, Local Storage, and tmp.
Open MS Teams again and check if the issue is solved.
Teams may fail to update your status due to a cache conflict, then the above workaround will back you up. Additionally, if you are using Teams on a shared computer, then clearing the credential cache can make your security more robust.
7. Schedule an All-day Meeting
If you schedule an all-day meeting, that should set your status back to online as you have to be online to attend the meeting. Ask for the help of one of your friends to book the meeting, and after 5 minutes, leave it and check your status.
Follow the steps below to schedule an all-day meeting on Teams:
Launch Microsoft Teams.
Go to the Calendar tab.
Select the New meeting option.
Choose the meeting day as your current date and set the time duration 24 hours apart.
Give the meeting a title, invite your friend, and add meeting details on the following pages.
Click Save to fix the meeting.
Join the meeting and stay for at least 5 minutes.
Leave the meeting and check your status.
This process will help you to get back your status as Available in MS Teams. Afterward, you can join a Teams meeting by changing your background, which will give you a fresh look.
8. Uninstall & Reinstall
After all the Colonel failed to win the war against the stuck offline issues on Teams, now it's time to call in the General! This means uninstalling the Microsoft Teams application and reinstalling it, which will resolve all your issues with the app.
Furthermore, if you have the option to use Teams on a different computer, give that a shot. And when your status issue is gone, to make your life simple and light again, you can become a potato and have fun with your mates in Teams.
Lastly, if you are using the chat app for Office purposes, you may need to alert the manager or admin of all users in your organization to enable coexistence mode from the Teams admin center.
How To Change Coexistence Mode in Microsoft Teams Admin Center
The coexistence mode feature in Microsoft Teams Admin Center allows users to choose how their Microsoft Teams and Skype for Business applications work together. Sometimes, users can get stuck in a coexistence mode that's not updating.
If this happens, the simplest way to fix it is to sign back into your account. The status can also be automatically changed if you're signed into Teams using more than one device or across the web. If you're still stuck, performing a clean uninstall and reinstall of Teams usually fixes any anomalies with the app.
To change the coexistence mode, simply go to the Teams Admin Center and select the account you want to manage.
You'll see an icon next to each account that allows users to switch modes or coexistence settings. By changing these settings, you can ensure that your Teams and Skype for Business applications are working seamlessly, giving you the best possible experience.
Why does Microsoft Teams Fail to Change Status to Available?
When you have multiple active sessions or an invalid calendar entry, then you can encounter the problem of being stuck offline on MS Teams. Plus, using a VPN, improper startup of the app, faulty cache and outdated app can create the status not changing error.
Here are the reasons why you can see the status showing offline issue on Teams:
Incorrect quitting of the MS Teams app.
Corrupted installation process.
A faulty cache of the app.
Opening the Teams app on various devices.
Out of Office (OOO) calendar entry.
An old version of Microsoft Teams.
However, you have nothing to worry about, all the available solutions are staffed in this article, so follow them accordingly and fix your status issue on Microsoft Teams.
FAQ
Why won't Microsoft Teams let me change my status?
When you are logged in to the app through multiple devices, then Microsoft Teams won't let you change your status. Also, due to infected cache, outdated app, and faulty installation of the application can give you the status won't change issue on Teams.
When does Microsoft Teams show offline?
Microsoft Teams will put your status to Appear Offline when you're not logged in to your MS Teams account, or you're away from your device for a few minutes. MS Teams detects your activities inside the app and changes your status accordingly.
Conclusion
Finally, I've covered all the complications and issues behind Microsoft Teams' offline status stuck issue. Just follow my leads about pointing out the problems, then apply the solutions properly to overcome them. You will be able to take advantage of the newly introduced presence status this way.
Comment down below if you've any questions or trouble applying the solutions. Our experts will answer any of your queries right away.