Converting your Doc file to PDF is a must if the file needs to move around other computers. Usually, MS word can convert your file to PDF, along with other document formats.
But due to the outdated version of Word and other viable reasons, an error message "export failed due to an unexpected error" appears on your screen while exporting to PDF. Then the application crashes.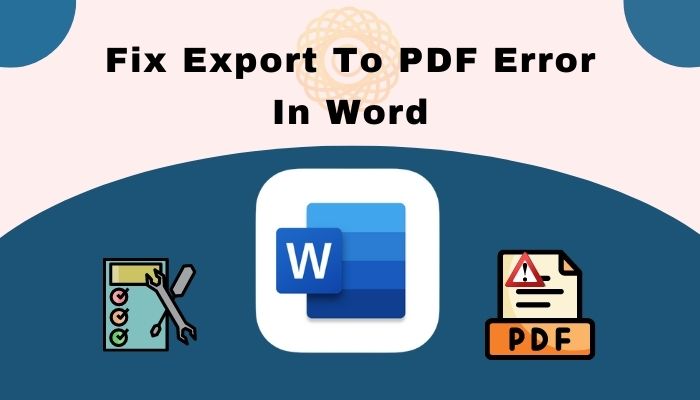 In case that's repeatedly happening on your computer, there are certain solutions that you might want to consider. I've enlisted the methods that you can apply whenever you face this issue.
Read the article till the end and follow the exact workarounds.
Follow our guide on Fix: Find and Replace Not Working On Microsoft Word
How to Fix Export to PDF Error in Microsoft Word
When the table of content page has a different orientation than your document, you might face this error. Other than that, using an Outdated version of the MS Word client, corrupted system files, or using a custom font in the document can lead to PDF error.
These issues are the primary obstacles behind your inability to export to PDF in MS word. The problems might be scary, but after performing the additional solutions, you'll be able to convert doc files to PDF easily.
Here are the methods to fix export to PDF error in Word:
1. Print to PDF
Converting the doc file to PDF while saving can crash the Word client. You can avoid this saving file and initiate a new strategy to save your document. Instead of File > Save as … follow the instructions below.
Here are the steps to saving PDF from the print section:
Launch MS Word from your device.
Go to the File section of your document from the dashboard.
Click on Print from the left menu.
Select Print again from the next Window. Word will require an appropriate name to save the file into a PDF format.
Set the name and click OK.
Note: If you have a printer installed, disconnect it before executing the solution.
Though this solution doesn't fix the save file into PDF format, you are now able to make a pdf format of your required document. That should be enough, right?
However, you can try out the following solution if this one doesn't resolve the issue.
Check out our separate post on Fix: Microsoft Word Table Of Contents Not Updating
2. Edit the Document
Editing can be the solution you couldn't find to resolve this matter. Usually, whenever this problem appears because of a corrupted section of your doc file. If you somehow manage to find and replace the section, you'll be able to export the document to PDF again.
The first step in this process is to split your document in half (by word). Suppose your document consists of 1500 words. Copy the first 750 words and paste them into a new document file.
Then, try to convert each of the documents to PDF. Supposedly, one of them will fail to convert. That's your problematic document. Split that document into half again and convert them to PDF.
Try breaking the document in this manner and check where the issue lies. Delete the last part, which fails to export to PDF.
Rearrange the document after removing the error part and write that specific part again. Your document will export to PDF once you implement this solution.
Here's a complete guide on how to set background image on MS Word.
3. Create a New Document
Copy the Word file and move it to a new document. Sometimes, unusual formatting in the Word document leads to the inability you are facing. You can resolve it by clearing the additional formats and making it a fresh doc.
Here are the steps to create a fresh document for exporting to PDF:
Copy the problematic document's items.
Go to the File section of MS Word and open a blank document.
Paste the items here that you copied earlier.
Select all the texts by pressing Ctrl + A.
Press Ctrl + \ to clear formatting.
Remove the bullet points from the file if you have any.
Your new document will export to PDF once you follow these instructions.
Also, check out our separate post on how to make only one page landscape in Word.
Export Failed Due to an Unexpected Error — Quick Solutions
Did you encounter "export failed due to an unexpected error" in Microsoft Word? Even after following my earlier instructions? Most probably, there's something wrong with the application. Try out the solutions that I'm sharing below. You'll be able to resolve the issue in no time.
Here are the methods to resolve the unexpected errors in MS Word:
1. Repair Microsoft Office
If the Office program is corrupted, you might face this issue while converting. Repairing the application from the control panel would resolve the issue.
Here's the procedure to repair Microsoft Office(Word):
Press Windows + I to launch Windows settings.
Select Apps from the left pane.
Locate Microsoft Office from the application list.
Click on the three dots beside the app and select modify.
Select quick repair when the next window appears.
Follow the on-screen command to finish the task.
After repairing your Microsoft client, relaunch Word and check whether the issue is repaired or not. Try the following solution if not repaired.
Quickly check out our epic guide on how to enable word wrap in notepad.
2. Fix Registry Editor for MS Word
When the sRGB Color Space Profile.icm file of MS word is set up in the wrong place; your application might act weird. Check whether it's edited correctly in the registry editor and take the necessary steps.
Here are the steps to fix the registry editor for MS Word:
Press Windows + R to launch the run command.
Type this command; regedit in the prompt and hit enter.
Navigate to this location; HKEY_CURRENT_USER\Software\Microsoft\Windows NT\CurrentVersion\ICM\RegisteredProfiles.
Locate the sRGB value and delete it from the registry.
Once you've deleted the value, you'll be able to export it to PDF in your Word client.
These are the solutions you must try whenever you fail to export a doc file to PDF. Now, if you have any questions regarding this topic, check out the subsequent section to clear out your doubts.
Follow our guide to Microsoft Word Ctrl+Z not Working
Frequently Asked Questions
Why is Export As PDF not Working?
In case you haven't updated the application for a long time, system files may get corrupted. That's why exporting as PDF is not working.
How do I enable Save as PDF in Word?
Go to the File tab > Click Save as > Select PDF from the drop-down menu and click Ok.
Why does my font change when I convert from Word to PDF?
When the fonts you use are not supported by the computer you send to, the font will change or break its formation.
Bottom Line
Your issues with Microsoft Word file converting won't be the same once you finish reading this article. As a writer, I always face complications using Microsoft Word. That's why the solutions that I provided here will work perfectly as they are tested.
But in case you encounter any challenges implementing these solutions, feel free to comment below. My team will communicate and resolve your issue in no time.