As a PC Gamer I know how complicated it is to manage all the RGB components.
That's where ASUS stepped up with their armoury crate software; as it helps to manage and sync all your ROG gaming gears.
But, what if the 'problem solver' itself creates 'the problem' ?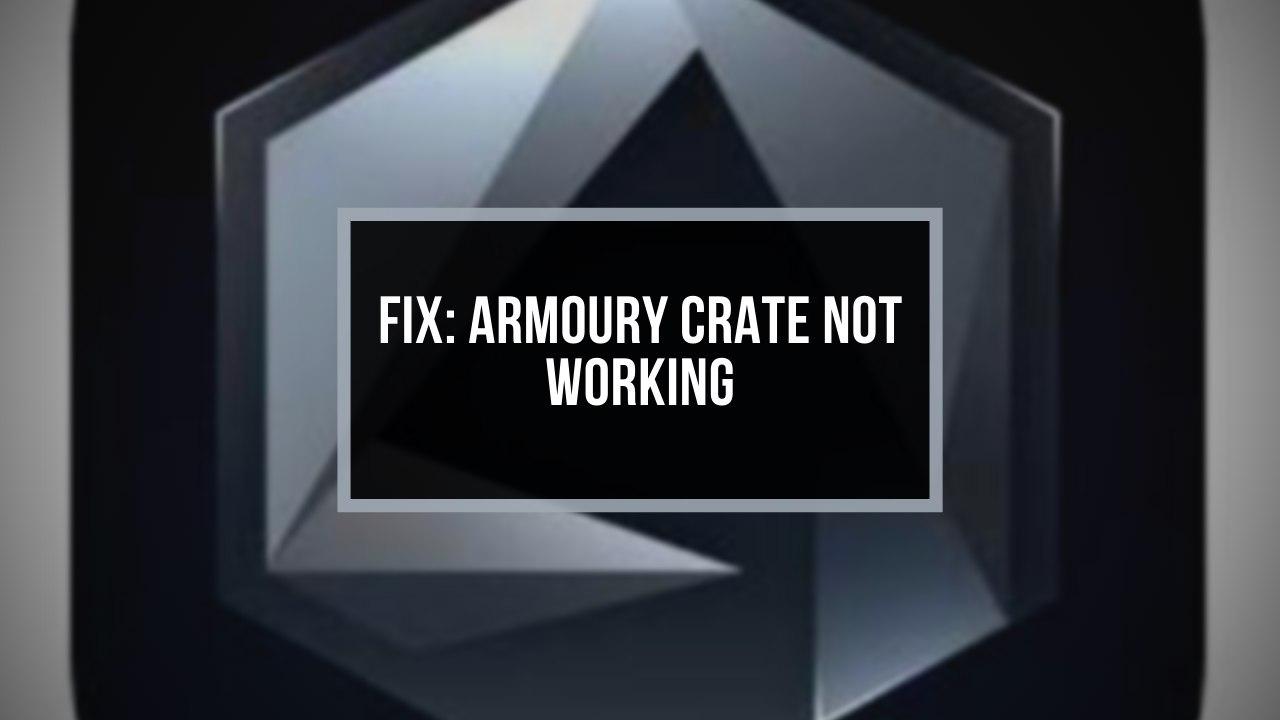 Armoury crate not working is EXACTLY what I am talking about.
Well well…Cool down gamers.
Make an extra chilled iced coffee and follow this epic guide, as I'm about to show you:
– What are the common issues with ASUS armoury crate software
– How you can detect your particular problem
– Where you can get the latest and working asus armoury crate and aura software
– Finally, how to troubleshoot all your armoury crate problems
​What is Armoury Crate?
Armoury Crate is a one-stop software designed by ASUS that allows you to install and modernize motherboard drivers and utilities, adjust RGB lightings and various other amazing controllable functions.
You can also:
Tune your System and synchronize your device with the Aura Sync App.
This software is a must for the dedicated RGB lovers.
Using the Armoury Crate you can:
Control your systems lighting effects. You can control plenty of ROG gaming products with this single interface. You can also get ROG news if you stay in touch with their community.
Note that:
Armoury crate App works on all ASUS products including ASUS ROG, ASUS Prime and ASUS Tuf. So, if you are using a Gigabyte product then you can't use Armoury crate. In that case, you have to download other apps to get these features unlocked.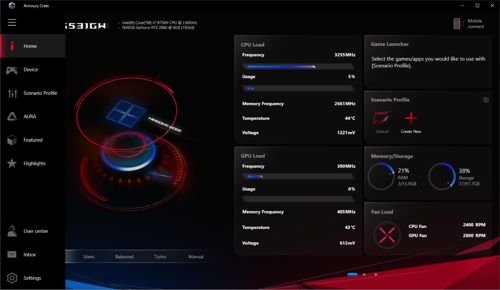 So, in short: Armoury crate sync all your top class ROG fans, ASUS ROG led strips and bring them under one umbrella.
Possible Issues with Armoury Crate Software
Armoury Crate is an excellent interface for all-in-one LED illumination, device configuration and fetching Latest product news.
But users face a little problem with this software.
I know it sounds crazy when your expensive PC parts don't meet up your demands and doesn't work properly.
Here are the issues that are commonly faced with the Armoury Crate App:
Armoury Crate Not Detecting Keyboard
If you are using the Aura Sync App along with the Armoury crate App then these problem will arise in no time.
The Aura Sync App clashes with the Armoury crate software and thus, you won't be able to change the lightings of your keyboard or gaming mouse with the software.
In this case, you have to change the lightings manually with and without the Aura Sync app.
Armoury Crate Not Recognizing Motherboard
The most annoying problem faced with the armoury crate app is that, this software sometimes can't recognize your Motherboard.
As a result, your Compatible PC components cannot synchronize with the APP.
It gets even worse because:
Your RGB PC won't be of any use anymore. It will completely turn into a non-RGB PC.
But don't worry. I will help you fix all the problems related to it. Just keep reading.
Armoury Crate Not Showing GPU
The lightings of the latest ASUS products like the ROG Matrix GeForce RTX™ 2080 Ti can be controlled with Armoury Crate Software.
But, sometimes the software won't detect the GPU.
In this case, check our fix at the end of this post.
Armoury Crate Not Downloading
Not all websites are trustworthy and so if you download Armoury crate from a non-reliable source then, the software will show extreme issues.
It is a very common issue complained by most of the users.
Armoury Crate Not Showing Aura
This problem is the most common problems faced by people so far. You will see that the RGB compatible parts aren't glowing.
You may think:
The problem is with your Components and you have to renew the parts.
But is this the real case?
Armoury crate is one of the best software to deal with RGB lightings along with Aura Sync compatibilities. Even though this app is superior, it often shows annoying problems like not showing Aura.
Armoury Crate Aura Not Working
Armoury crate has the Aura Sync Feature where you can adjust the RGB lightings of your PC without using any outbound apps.
Sometimes due to wrong installation of the Software or due to external software clash, the Armoury crate won't show the Aura feature.
The new feature of Armoury crate, Aura Creator will help you gain commands over RGB lightings very easily and smoothly.
Armoury Crate App Not Working
Are you tired of running this software as administrator?
Sometimes double clicking the software shows no response. This problem occurs due to inappropriate installation of the Software.
Armoury Crate Not Detecting Aura Devices
ASUS has some latest ROG products which are RGB compatible with Armoury crate. But due to some bugs, the Armoury crate can't detect the Aura Devices of your system.
As a result your RGB PC completely turns into a non-RGB PC.
To fix this, you have to update the Armoury crate software.
Armoury Crate Turbo Mode Not Available
Different ASUS products has different settings, you can't manually change the Turbo mode of your system with the app. The Turbo Mode is seen as the HyperFan Mode in the latest version of Armoury crate.
Inside the HyperFan Mode you will be able to balance or overclock the functions. The ROG notebooks have these overclocking features.
But keep in mind:
You cannot define the settings by yourself.
Definitive Fixes For Armoury Crate Not Working
I know you must be tired of seeing the armory crate issues.
So, now I am going to help you fix each and every problem related to the Armoury crate.
But First of all, you have to figure out whether your PC components are RGB compatible or not.
If you are using other company motherboards like MSI, gigabytes then, forget it. These fixes won't work for you.
So, here are the methods to fix Armoury crate not working issues:
1. Uninstall Aura Sync
Aura Sync along with Armoury crate in your PC will show a drastic problem with the interfaces.
Both the apps collides with your system.
So, you may ask:
What to do then?
Simply, uninstall Aura Sync app. You don't need that app because you have the Aura Creator Feature inside the Armoury Crate. Then why not take the advantage?
Simply open control panel > Uninstall a Program > Select name of the RGB syncing app > uninstall.
You can re-install aura sync later by downloading the latest ASUS Aura ; Also you can troubleshoot the software using our epic aura sync fix guide.
2. Reinstall Armoury Crate and Update Software
The latest version of Armoury crate unlocks all the features provided by ASUS products.
What about the download link? Here's the latest armoury crate working version.
Appropriate installation is required to keep the software running smoothly.
Keep in mind that:
Don't try to hack or modify the software as it may cause a huge damage to your existing RGB PC components.
Complete the installation properly because you need to apply a few tricks to get the app working.
3. Reconnect the RGB Headers
Connecting the RGB headers into the correct ports of your motherboard is an important task if you want your desired results.
Note that:
It is better to use Armoury crate software only on ASUS compatible motherboards.
Connect a 3-pin or a 4-pin RGB header perfectly into the port to get better results.
Side note: If you have RGB RAM from corsiar, you can follow this guide to control corsiar ram with your aura  software.
4. Disable Fast Startup of Windows
Fast startup of Windows won't be problematic unless the Armoury Crate software is installed.
But it is better to stop fast startup of windows.
To do so:
Go to Control panel > power options > what the power buttons do > Change Settings that are currently unavailable > Uncheck turn on fast startup > save > Restart your PC.
If you follow these steps then, you will be able to fix any Armoury crate not working issues very easily.
5. Install ASUS keyboard Hotkeys UAP/Driver
This is the best step so far. Install this driver and you are good to go.
Go to the My ASUS Windows Store and download the ASUS keyboard Hotkeys UAP/Driver selecting the product model. Install the Driver and also install Armoury crate. Reboot your device and your System should run smoothly.
Frequently Asked Questions
Question: What are the main problems with armoury crate?
Answer: The main issues with armoury crate are: not working, not detecting cpu/gpu/motherboard, not updating and other components.
Question: How do I reinstall my armoury crate software?
Answer: At first uninstall the software using windows Add or Remove Program feature, then get software using the mentioned download link. After that Install normally just like any other software.
Final Thoughts
Armoury Crate is the most decent software for controlling RGB lightings, fetching latest news and modifying PC components according to needs.
But sometimes this software cannot detect or adjust with your existing PC parts.
As a result you see Armoury crate not working issues more often.
By fixing it with the provided methods, you will no longer get the problem.