Are you are looking for the best Msi Mystic Light compatible fans for your PC?
If you are searching for an RGB fan that would sync up with the rest of your PC through MSI Mystic Light then, this post is for you.
In a hurry? Here's our recommended Overall Best ARGB fan.
I am assuming that, when you look it up online, you find hundreds of options from a lot of brands.
As you keep reading this post, you will get to know about 5 best Mystic fans available in the market.
Best Mystic Light Compatible RGB Fans Overview
Best Mystic Light Fans Reviewed
The list I made is not in any order. They are all considered best due to their amazing performance and unique looks.
So, here are the reviews of the 5 best Mystic Light Fans:
1. Fractal Design Prisma AL-12 ARGB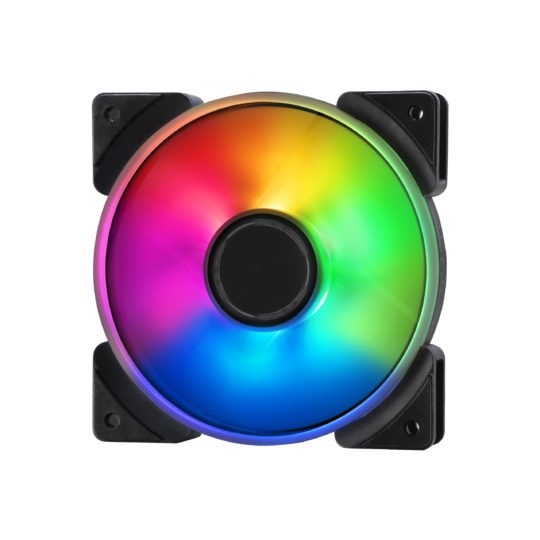 Check Today's Price of Fractal Design Prisma AL-12 ➜➜
The Prisma AL-12 fan comes first in our list due to its amazing look and the most silent performance.
It has 6 LEDs at the center that creates exceptionally uniform glow with the help of its specially designed seven white semi opaque blades and outer rings.
Each LED is individually addressable giving you powerful lightings in a full spectrum of 16.8 million colours.
The black sleeved cables allow you to connect multiple fans in a daisy chain keeping the wires hidden in plain sight with style.
Another great feature is its LLS bearings. These bearings give your fans a longer lifespan without the downside of noise.
Besides, the aerodynamic structure, embedded wirings, micro-turbulent layer and corners made from synthetic rubber promises you nearly zero vibration.
However, there are a few complains about a little noise at max speed.
And some users are upset as it doesn't come with a controller, but as long as you got MSI Mystic Light, you don't need that.
2. Cooler Master MF120R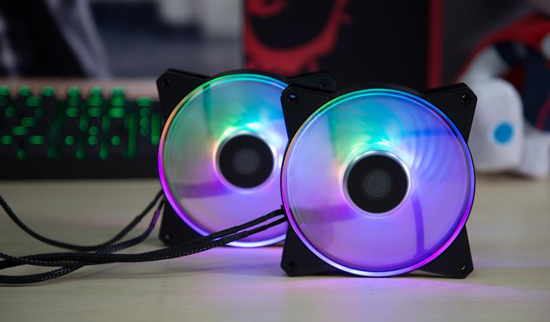 Check Today's Price of Cooler Master MF120R ➜➜
The MasterFan MF120R brings to you the brightest addressable RGB with 8 LEDs placed at the center. You can customize them the way you want, because this fan is certified to be compatible with the MSI Mystic Light.
I personally use these fans as they come with the package of Cooler Master ML240R.
Thanks to its rifle bearing, the MF120R gives you the smoothness of a ball bearing with the silence of a sleeve bearing.
Besides, its sound absorbing rubber padded corners make sure you get the peace and quiet even if you're working overtime or replaying you favorite chapter over and over again.
The best feature is:
Cooler Master designs the best hybrid blades, combining jet engine and helicopter blade designs. This design balances the static air pressure and airflow and ensures you the perfect cooling performance.
This fan is really smart. Sensors can shut down the fan if anything gets near the blade. So you don't have to worry about jammed cables anymore.
3. BitFenix Spectre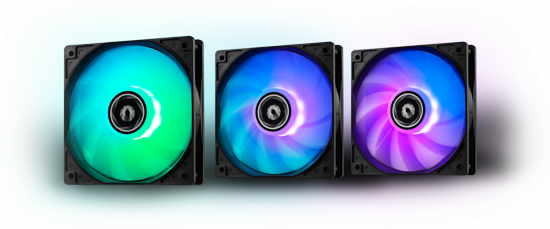 Check Today's Price of BitFenix Spectre ➜➜
Spectre case fans use their very own Alchemy 3.0 ARGB LED Strips.
They call it the TriBright LED Technology.
These LEDs placed at the center, give you brighter, more saturated and evenly scattered colours, ensuring longer lifespan and overall better illumination.
Nine sickled fan blades resist warping even at maximum speed, reducing turbulence and noise, while giving you a bright and uniform light show.
It is specially engineered to deliver focused stream of air through the tightest spots to allow cool air to reach the deepest part of your build.
The Spectre also comes with Rifle bearings to give you the smoothest and quietest performance.
4. Enermax T.B. RGB AD.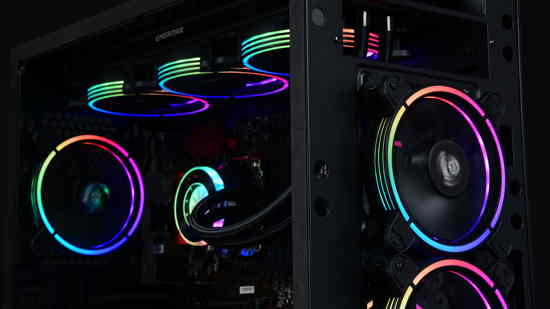 Check Today's Price of Enermax T.B. RGB AD. ➜➜
Enermax T.B. RGB AD. is one of the greatest MSI RGB fans.
This advanced edition of the T.B. RGB mystic light compatible fan gives your PC a futuristic look with its unique halo arc-shaped frame.
It can light up your build through its stunning 4-ring lighting effects. And you can easily create your own style with the MSI Mystic Light.
Enermax LED Lighting Technology brings you really bright and uniform light without any visible dark spot.
With its Twister bearings, the T.B. RGB case fan can spin very fast without any friction, thus increasing longevity and reducing noise.
Interesting fact is that:
The blade is detachable, in case you want to clean them.
The shockproof rubber paddings at the corners of each fan reduce vibration to a minimum.
Enermax's smart PWM controller spontaneously balances the speed to make sure the noise doesn't bother you.
5. Antec Prizm 120 ARGB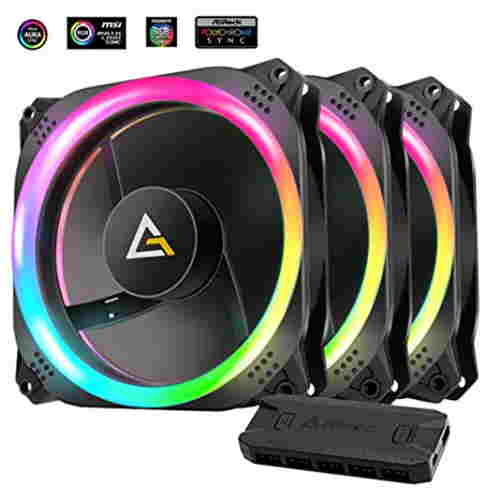 Check Today's Price of Antec Prizm 120 ARGB ➜➜
The Prizm 120 comes with a convex dual ring design, with 18 LEDs inside it.
You can customize these addressable RGBs to create a variety of lighting patterns in both the front and back ring, lighting up the interior and exterior of your build.
The rings can unbelievably smoothen out the RGB colours in such a way that you cannot see any gap between the LEDs from the outside.
With the MSI Mystic Light, you can customize nearly 116.8 million RGB colours.
However, You'll need to connect an additional cable to the motherboard to sync it using your Mystic Light.
With its PWM Controller, the Prizm 120 will automatically adjust its speed according to the temperature.
Moreover, The hydraulic bearings ensure smooth operation and shock absorbing rubber pads on four corners helps keep the noise low.
MSI Mystic Light Fans Buyer's Guide
Here are the 3 fundamental factors you should consider for buying a good mystic light fan:
1. Fan Speed & Noise
Check out what fan speed suits your performance. You can adjust the speed with a controller, or a better option, use the BIOS setting.
Also, Make sure you're okay with the amount of noise.
Only then, you're ready to choose the perfect msi mystic light fans fan that will give you the best performance with the minimal noise.
2. Fan Bearing type 
LLS (Long Life Sleeve) bearing: Regular sleeve bearing are just plain bearing with lubricant in the middle which often evaporate in high temperature and shortens the lifespan, but the Long Life Sleeve bearing comes with a closed system that doesn't allow the lubricant to evaporate too fast.
This one is less expensive, since its lifespan is comparatively less than other bearings, but it sure is the quietest.
Rifle bearing: This is a special type of bearing that gives you smooth performance like the ball bearing but silent operation like the sleeve bearing.
Hydraulic bearings: The type of bearings that has a layer of fluid between the moving and stationary elements.
Twister bearing: This is a type of magnetic bearing. This bearing supports its load (in this case, the fan blades) using magnetic levitation. So the moving part has no physical contact with the stationary part. This practically reduces the friction and noise to almost zero.
RGB illumination
First, choose your desired LED type, RGB or Addressable-RGB.
Also notice that:
Depending on the LEDs' position, the fans emit light in different direction, inward, outward, forward, backward, any two or three or all four ways. They might be placed on the rim or in the center. Make sure what you'd like.
And one more thing:
Notice that some blades are transparent, some are semi-opaque, and some are full black. Each reflecting the LEDs at different amounts and creating unique design in their own way while spinning.
Final Thoughts
I know, It's hard to choosing from so many options that you'll find online.
Hope I helped you to find the most suitable rgb fans compatible with msi mystic light for your gaming PC
Now that you're ready, buy a MSI Mystic Light fans, unbox it with care, remember to update your Mystic Light software if there's a newer version. And please read the manual before setting it up.
Your CPU should be cool and lit if you choose wisely.