Your gaming build consists of fans, which are an integral part of your system. The number of fans can vary depending on your needs.
Out of time, check my recommended splitter cable.
Or else, keep reading my review for getting the best cable for superior performance.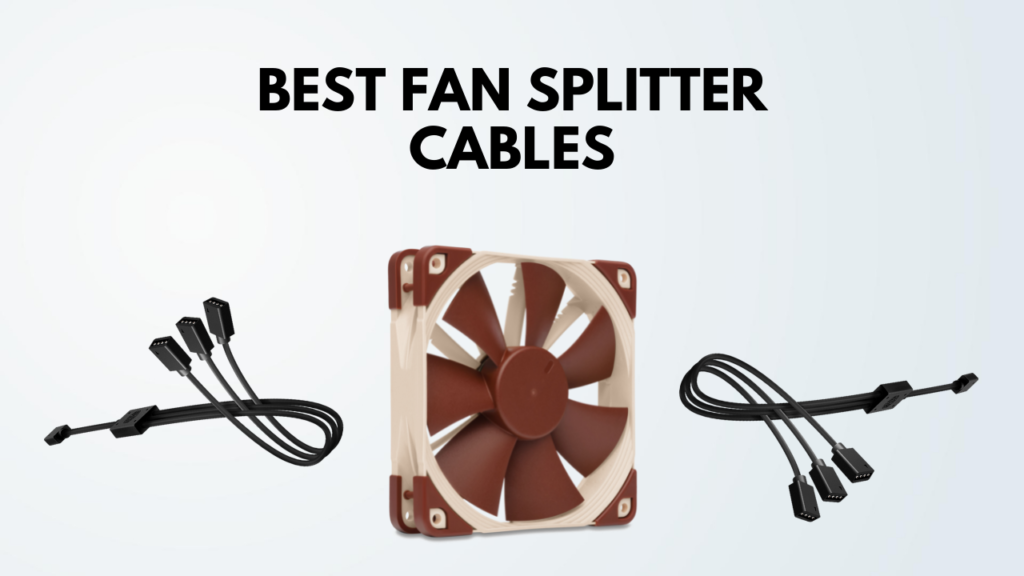 Now, connecting these PC case fans to mobo fan headers, a top-quality connector or cable is paramount.
Worry not, fellow gamer!
As in this post, I will present you with the seven finest fan splitter cables you can get for your gaming rig.
Best Fan Splitter Cable Reviewed
You need PC fans in your system for a variety of functions. The main task is to ensure an active cooling performance. Now, your motherboard might not possess enough fan headers.
In such a scenario, the solution is a fan splitter cable. However, not having the right cable can cause issues, especially fans not getting optimized.
I don't like killing time. So, let's get this straight.
Also, check out some classy and aesthetically pleasing RGB CPU Air coolers. Don't need air coolers for your rig? Check out our experts tested and reviewed the best RGB CPU AIO cooler.
Here are the best fan splitter cable for your PC case fans:
1. OCCUS PWM Y-Splitter Cable
Let's start with a model from Occus. As cable manufacturers, they are quite relevant in the market.
This model from them comes with some notable traits:
Color: Black
Length: 30 cm
Can connect six fans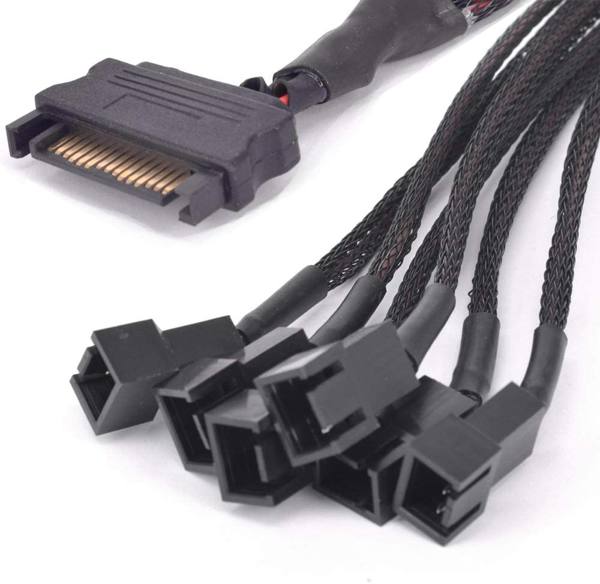 Check Today's Price of OCCUS PWM Y-Splitter Cable ➜➜
It is a Y-splitter fan cable. One end will be the SATA connection, and the other end will consist of fan connectors that are split in Y-shape.
The cables present in this model are nicely braided. You can remain tension-free of any sort of tangling as the flexibility of these cables is damn high.
Out of time? Check out some awesome RGB CPU coolers for your rig.
Besides, all of the fan connectors are 3 pins, making it an excellent option for a gaming build requiring multiple 3pin fans.
When I used it in my rig, it took less than five minutes to set up everything inside the PC case properly. No extra hassle was there.
The price is moderate, which I feel won't be an issue for you. Moreover, as a splitter cable, it's a decent option for hooking up multiple fans.
Want to know which CPUs are best for RTX 3000 series GPU? Check out some budget-friendly CPUs for RTX 3070, 3080, 3090 series.
2. Evercool Model EC-DF001
The brand Evercool is the epitome of trust to many PC builders. The PC hardware produced by them has gathered much praise lately.
This splitter cable from them comes with the following traits:
Cable length: 45 cm
It supports 5 PWM fans
Color: Black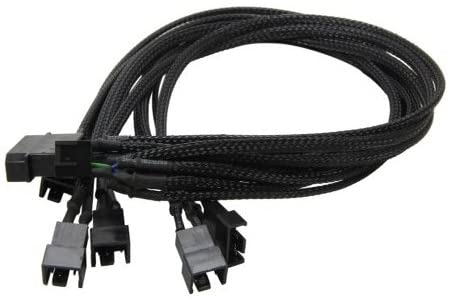 Check Today's Price of Evercool Model EC-DF001 ➜➜
It is a fan splitter that comes with braided cables. For protection, it comprises power strips and also a 14 AWG chord. The all-black texture over the cable blends well and mixes up with the component inside the computer.
You can power five fans with the help of this splitter cable. Out of the five splitters, one is used to connect the fan, giving RPM feedback to the motherboard and the rest four to other fans. Also, the cable consists of a red LED indicator for assuring you of its activeness.
In my testing, I found that the fans connected to the splitters function seamlessly. There were no issues with the RPM as all of the fans ran at the same speed. No variations were there.
The best part is that this cable comes with 4 pin Molex connectors, which is rare among most options.
The installation process was easy. I tell you, with this fan splitter cable, you'll be having the cleanest possible outlook inside your rig. It lets you connect the fans with ease at random places around the motherboard.
Overall, it's a legit cable that you can get at a reasonable price, eventually making it my top pick.
3. Occus Power Cables Cooling Fan Adapter
Here comes another model from the manufacturer Occus. This version comes with the following specs:
Length: 20 cm
Color: Red
Can connect six fans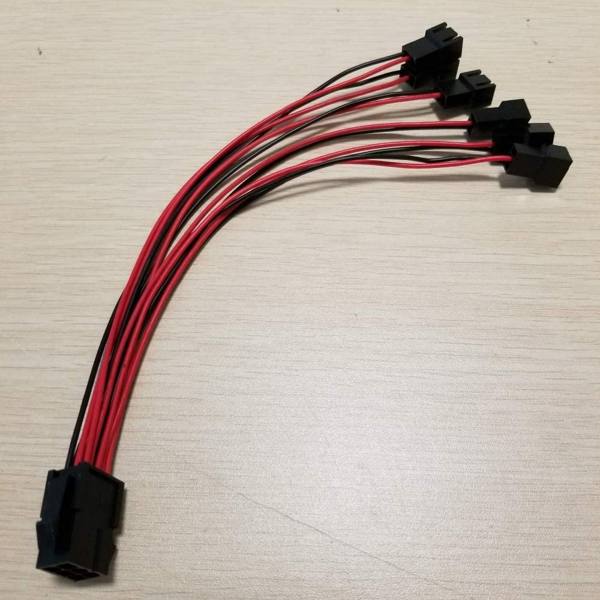 Check Today's Price of Occus Power Cables Cooling Fan Adapter ➜➜
In the list, this is another model from them that can connect six fans. Therefore, for multiple fan connectivity, it's a good choice to make.
The pins and the SATA part are exceptionally durable. Even the materials used in the cables are top-notch.
This cable is quite remarkable for connecting the fans for cooling the GPU. But unlike the previous options, this model can be a bit problematic for compact builds.
The splitter cables aren't braided, so there is a big chance of the wires getting tangled. So, be careful while setting and connecting fans.
4. ShineBear 3 pin PWM Fan Splitter
Here is another fan splitter, which is dedicated to 3 pin fans. This model comes with the following features:
Can connect up to 6 fans
Length: 30 cm
Color: Black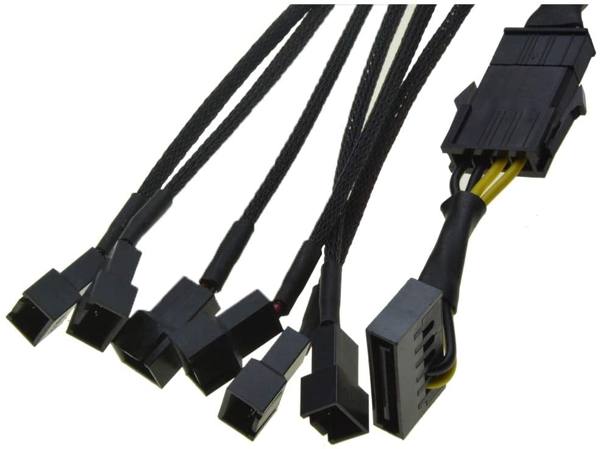 Check Today's Price of ShineBear 3 pin PWM Fan Splitter ➜➜
The cables in this model are ultra-dense waive braided. This feature makes the wires quite durable and also somewhat attractive.
The best part is, six such fans are connecting 3 pin cables that will enable you to hook up six fans at ease.
Sounds amazing… isn't it?
It gets better when you face no issues whatsoever with the wires not getting cluttered.
Apart from this:
From my testing, I found that the cable creates a quick link to the motherboard. Also, it played a big part in the process of optimizing the Noctua 120 mm fans in my rig.
To sum up, I highly recommend this model, especially for the 3 pin fans.
5. EKWB EK-Cable Y-Splitter
If you are looking for something within a budget, I mean at a low price, this splitter cable from EKWB is the perfect option.
This model sports some fantastic specs:
Length: 10 cm
RoHS compliant
Color: Black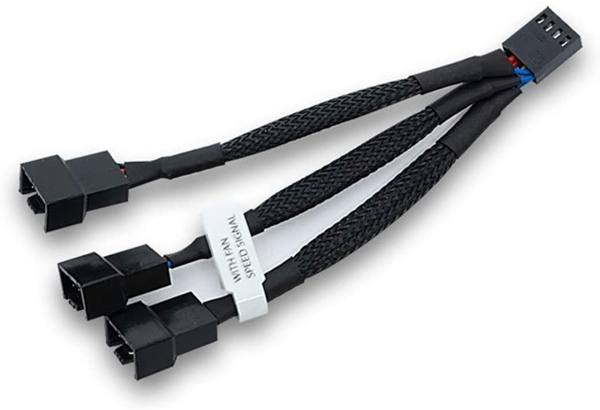 Check Today's Price of EKWB EK-Cable Y-Splitter ➜➜
As a cable, this model is decently braided with a subtle blackish touch all over.
Now, let's get straight to the point.
This splitter cable is perfect for controlling high-RPM fans. In my rig, I was able to achieve 100% RPM even after using it.
Using the ASUS bios, the control over the fans was pretty much smooth.
The best RGB Graphics card is what you need to make your PC aesthetically pleasing.
Now, apart from the PWM end, the fan consists of a separate cable for the fans.
One of the cables comes with 4 pins and the rest two with three pins each.
You might question the PWM signal. Is it different for the two types of pins?
Well, in this case, both 3 pin cables follow the same signal as that of the 4 pin.
To sum up, it is a very good fan splitter cable you can get at the water price.
6. Threebulls 2-pack 4 pin fan PWM Splitter Cable
This model from the list is the most suitable option for the motherboard with fewer fan headers.
That said, it comes with the notable specs below:
Can connect three fans
Braided cables
Color: Black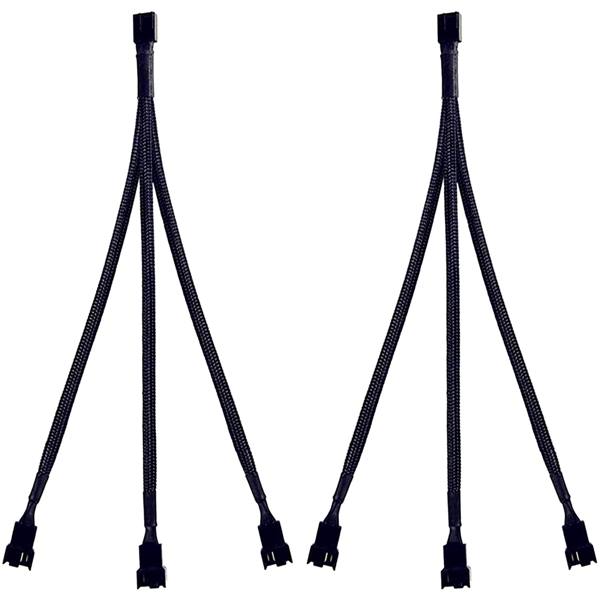 Check Today's Price of Threebulls 2-pack 4 pin fan PWM Splitter Cable ➜➜
This is an excellent option that you can get to create a proper link to your moboard and the fans.
You can connect both the 4 pin or 3 pin case fans. The cables in this model are pretty much braided, and they are also much durable. When you set this fan splitter inside, believe me, you'll see no untidiness.
As for performance, I would say that it's quite decent. There were no issues regarding connecting to the mobo fan headers and then making a proper route to the fans.
Overall, a commendable option to create a proper link between the fans and the motherboard for better optimization.
7. Phobya 3-Way PWM Fan Splitter
This is the last fan splitter from my list. It comes with some decent specs that are mentioned below:
Color: Black
Length: 30 cm
Can connect three fans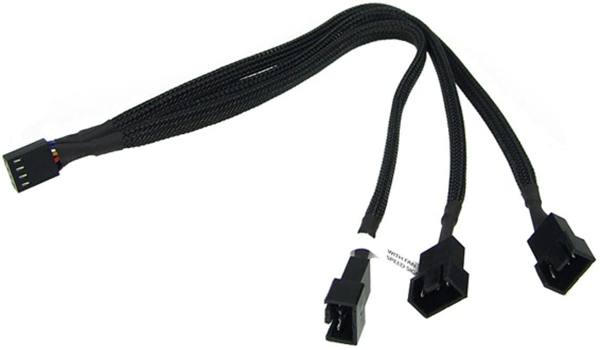 Check Today's Price of Phobya 3-Way PWM Fan Splitter ➜➜
I feel the quality of materials used in the formation of this fan splitter is top-notch. That is why its build quality turns out to be excellent.
The cables are braided with uniformity, which eventually makes them good-looking.
Now, as for me, I was able to power 3 RGB fans with this fan splitter. In my rig, I tried the Corsair LL120 RGB fans. And the best part was, I didn't require the Commander Pro.
The RGB performance, along with the fan speed optimization, worked well through the cable.
Moreover, if you avoid fiddling, then this cable can be long-lasting, which ultimately makes it a great option.
What is a PC Fan Splitter?
PC fan splitters are basically cables used to connect the PC case fans to a single fan header in a motherboard. It attaches three fans on a single board header and allows you to have other fans in your system to improve the rig's airflow.
The best part is that it doesn't really alter the fans' power difference, and there is also no loss in the RPM in most cases.
To be precise, it's safe to use and very good for fan optimization.
Final Thoughts
So these are the seven best fan splitter cables that you can buy from the market. My list includes all types of options, so I think you don't need to look at them anywhere else. These seven are enough to choose from and connect 4 pin or 3 pin fans or whatever you want.
In my opinion, the Evercool DF001 is the most perfect choice to buy. But in case you want something affordable, you can go for the model from EKWB.
To end up, I hope that you find your desired option on my list. Still, if any confusion arises, do let me know.