Cooling down the modern-day processors is a crucial task to do. When you are pushing your gaming further for a performance boost, it does generate some considerable heat.
In a hurry? Check my recommended cooler.
Or take some time to read my full review on some performance-enhancing CPU coolers.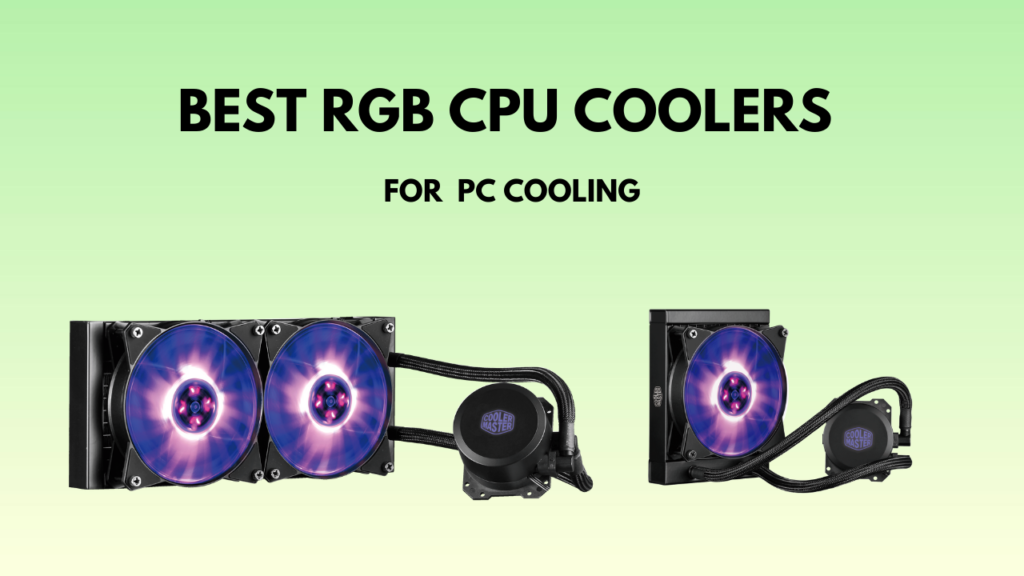 Now, heat can result in overheating your processors if not appropriately maintained. You wouldn't want that to happen. Will you?
No worries. I have the exact solution you are looking for.
In this article, I will review some of the best RGB CPU coolers that can cool down high temps and be a reason behind the boost in your gaming performance.
Best RGB CPU Cooler Reviewed
As a gamer, I always prefer to have some gorgeous lighting effects in my gaming build. Because I feel that the aesthetics of any gaming rig is equally important as the performance.
Now, you will get top-notch cooling performance. Be assured about that. But what about the flair that a cooler can add to your build. It feels good when in your RGB rig you see something visually striking. Isn't it?
I think by now, you are already getting what I am trying to say. So, let's not waste time anymore.
Here are the nine best RGB CPU coolers for your gaming build:
1. NZXT Kraken X73 RGB
Popular among gamers, the Kraken series of cooling solutions from NZXT is something to talk about. That said, a model from this line of coolers performed well enough to top my list.
This model comes with the following specs:
10% bigger LED Ring
CAM software integration
Fan Speed: 500-2300 RPM
Fan Noise: 21-36 dBA

Check Today's Price of NZXT Kraken X73 ➜➜
There is a reason why I added Kraken X73 as one of the best RGB coolers on my list. It is one of those AIO cooling solutions that offer a high-end solution, which comes at a competitive price. Fun fact, it is the cooler with the smallest radiator that you would find in the Kraken X series. But that takes nothing away from its superb functionality and its place from the best NZXT AIO coolers.
If you feel that I am hyping this cooler too much, I would say that I am actually doing it. It is a gem of a cooling solution that can offer incredible output.
The cooler consists of Aer P radiator fans, which run at a decent speed. It ensures optimum airflow so that hot air doesn't settle down on your system. What you will like the most is the low acoustics despite the fan running at MAX RPM. Also, for installing them, you will get enough brackets with the package.
This cooler also comes with a stylish RGB implementation. On the CPU block, the total mirror lighting effect creates a splendid aura inside the rig. And for customizing the effects, you get CAM software, which allows you to tweak the lighting and even overclocking. At least on my Ryzen 5600X build, the temps were very much under control.
To sum up, I would say that this cooler does justice to the tag it bears. It would be a quality investment for you as a gamer.
2. EK-AIO 240 D-RGB
Next on my list is a liquid cooler from the brand EKWB. Recently, they have been a fan-favorite for their quality outputs.
That said, this model from them has the following notable specs to offer:
Universal mounting
Fan Speed; 550-2300 RPM
Aluminum Radiator
Fan Noise: 36.4 dBA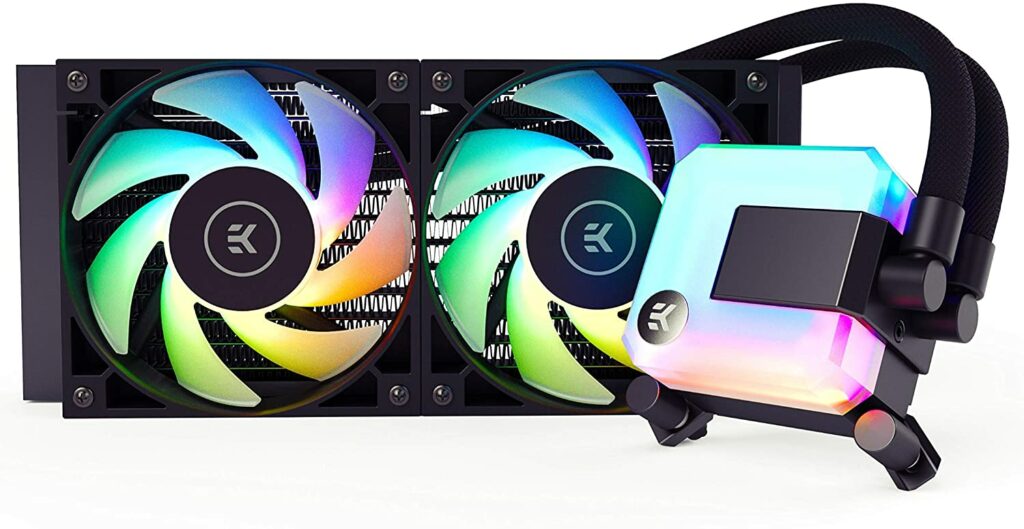 Check Today's Price of EK-AIO 240 D-RGB ➜➜
My honest opinion about this cooler is that it's a touch better than its larger variant. Especially in handling extreme temps, it fared up pretty well.
As a cooler, it comes with a subtle RGB implementation. When you view it through your RGB PC case, it will immediately catch your attention. Because the lighting that this model exhibits is comparatively better than all other models from the same brand.
The sleeved tubing done looks pretty awesome. The reason is the dark cabling and black design blends up pretty well. And that makes this cooler match up perfectly with any gaming build.
The EK-AIO 240 D-RGB is the 240mm version of EK-AIO Elite 360 D-RGB which is one of the best LGA 1200 socket cooler. The EK-AIO 240 D-RGB supports most of the popular socket in the market, so you won't need to worry about compatibility anymore.
In terms of installation, this cooler has a straightforward process. It's one of the easiest cooling kits out there that you can set up in your rig.
The only thing that seems problematic is its fans that get noisy, mostly at max RPM. Other than this, I found no significant flaws. The best part is, it comes with a 5-year extended warranty that ensures its long-lasting ability.
Overall, it's an outstanding prospect that can offer a top-notch solution.
3. Corsair ICUE H150i Elite Capellix
Corsair is a brand I always trust. And I feel most gamers would agree with me about the quality that Corsair brings on to the table. They are a hot-shot in the PC hardware market, mainly due to their high functioning products.
As a PC hardware brand, they got some excellent RGB cooling solutions. Now, this model from them is a point of discussion here. It bears the following specs:
Fan Speed: 400-2400 RPM
3x Corsair ML120 fans
Noise level: 20-36 dBA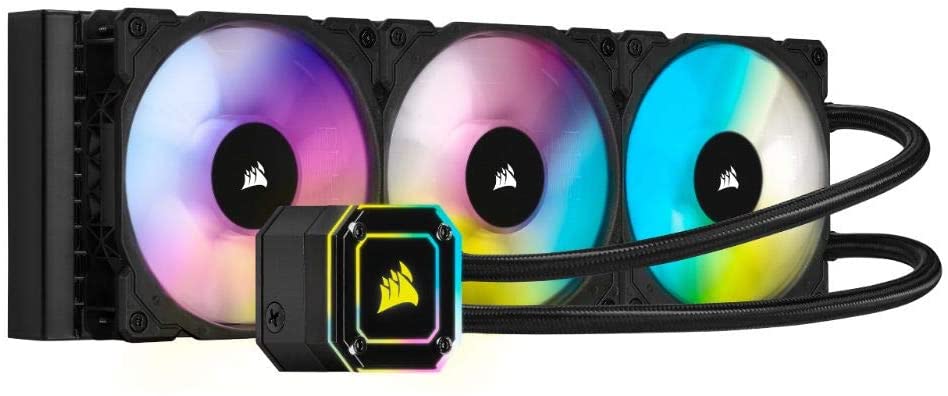 Check Today's Price of ICUE H150i Elite Capellix ➜➜
The H150i Elite Capellix is highly feature-focused. It is compatible with most modern sockets out there, which ensures its wide usability in different builds. The build quality is excellent, though few more fin bents in it would have been like the icing on the cake.
You will find that the pump chamber, cold plate, and design scheme are unchanged compared to the predecessor. What Corsair did in this model is the expansion of the RGB ecosystem. In the pump, you will find Capellix LEDs installed that ensure uniform lighting. Also, on the trio of fans, there are 8 LEDs each. From them, you will be getting a terrific glow.
Now, this triplet of fans comes with magnetic levitation technology. You know, what's the most remarkable part about it?
The superior airflow, which helps a lot in moving out the hot air. Besides, there is also the Zero RPM fan mode, which stops the fan when nothing is going on.
However, these fans proved to be a tad noisy on my stress tests. The noise level went beyond 45 dBA, something that I didn't expect.
But apart from this one issue, this model doesn't come up with any significant flaws. It's a performer-class RGB cooler that comes with a 5-year warranty. Nonetheless, as a cooler, I must say that it's one of the best CPU cooler for any high-end build.
4. ASUS ROG Strix LC 360
If you seek a cooler that is highly focused on enhancing your gaming rig's aesthetics, this model from ASUS might be the one.
It comes with the following notable features:
Reinforced sleeved tubing
Fan speed: 800-2500 RPM
Noise Level: Max 37.6 dBA
Aluminum radiator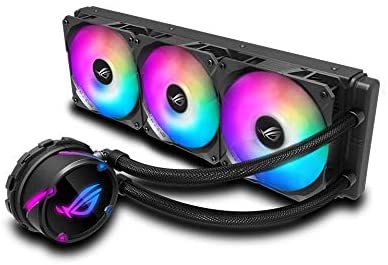 Check Today's Price of ASUS ROG Strix LC 360 ➜➜
It is the best RGB liquid cooler that I got on my list. I can vouch that the glow that this cooler will be providing will be like none other. It's one of a kind in terms of RGB, at least on this list.
The fans are pretty powerful, ensuring high static pressure. Also, the pump block looks good with the ROG logo on it. When the RGB LEDs on the block come to life, the ROG logo looks ecstatic. As for compatibility, the cooler is supported by most CPU sockets. If you're building a Ryzen PC, it would be the best CPU cooler to pair with the Ryzen 3 Pro 5350G.
And for build quality, I would say it's decent enough, making it a durable option.
The fans remain quiet, even at high RPM. The best part is RGB sync pretty well with the other components. As for the thermal performance, I was pretty impressed. Even if the cooler is highly focused on RGB, there is no compromise with the output level. On my testing results, normally, the temps were under 30°C. And in extreme settings, the average temps were around 60-70°C.
The only problem with this cooler is its price. But for the features and functionalities, I think every penny spent on it would be worth it.
5. Thermaltake TH360 ARGB
Here I bring you another liquid cooler focused on RGB lighting. It's from Thermaltake, and it can give your rig a neat appearance along with optimum cooling performance.
This model attributes the mentioned specs:
8 million colors
3x 120 mm ARGB Fans
Fan Speed: Max 1500 RPM

Check Today's Price of Thermaltake TH360 ➜➜
This model from Thermaltake sports a top-quality radiator. Also, the pump used in it is pretty reliable. The water circulation is pretty good in it. The best part is the tubes used in the cooler are of high-quality. You can always be assured that there will be leakage of coolants.
Now, what I liked the most about this 360 mm RGB cooler is that it comes with a smart fan controller. Not on many mainstream coolers; you will find this thing. It will allow you to switch in different RGB modes within a matter of seconds.
When talking about liquid cooling performance, the cooler performed decently on my i7-10700K build. Temps rarely went beyond 85 C, even in extreme settings. Also, the fan noise was low at Max RPM.
However, you may face difficulties in installing. This cooler only mounts in one way, which is an issue. Apart from that, it is an option that is good to go with.
6. ASUS TUF Gaming LC 240
When we talk about ASUS, it's always the case that the ROG series of products are prioritized. But this time, I included a cooler from their TUF gaming series, which I feel is worth a shot.
This model from the TUF series comes with the following specs:
Fan Speed: 800-2500 RPM
Noise: 29 dBA
Sleeve rubber tube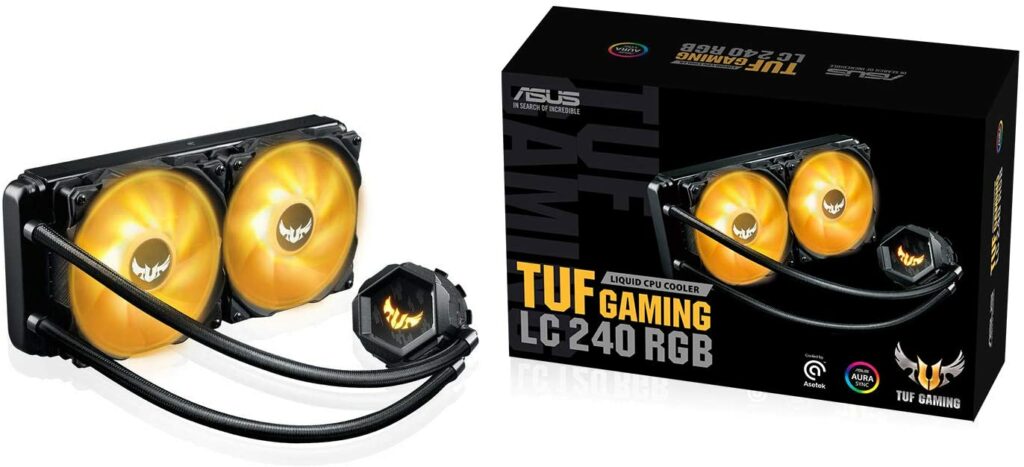 Check Today's Price of ASUS TUF Gaming LC 240 ➜➜
The main element of this cooler is the super silent operations. Like, when I was testing, I hardly heard anything very loud. Even under full loads, the noise level wasn't that high. If you compare it to the other contemporary coolers, you'll surely notice the difference I am talking about.
The pump is based on an Asetek design. Also, the aesthetics are pretty good. On the pump block, you'll find the TUF logo, which shines blissfully when the LEDs are on.
What is more important is that this liquid cooler's blackish design blends pretty well with maximum builds.
Now, trying out this cooler, I found that the temps are much under control. Also, the mounting system was easy compared to most coolers on this list.
7. MSI MAG Coreliquid 360R
This model is something mid-range from the brand MSI. It sports the following notable features:
Fan Speed: 500-2000 RPM
Noise: 14.3-34.3 dBA
4-pin PWM fan connector

Check Today's Price of MSI MAG Coreliquid 360R ➜➜
As a liquid cooling solution, this model comes with some eccentric features. In the CPU block, you will find the MSI dragon logo engraved, which looks pretty cool.
The fans run at a decent speed, and they come with a stunning RGB implementation. I loved the way it efficiently circulates the airflow within the rig.
About the thermal performance, I would say it's okayish. It could have been better but still somewhat manageable. You will also find the installation process pretty easy. And in addition to that, this cooler comes with extensive socket support.
The build-up, tubings, and fittings are of top-class. Maybe that's why the price is high for this particular model. The best part is that there is plenty of RAM clearance, which eventually doesn't create any issue while installing.
Moreover, a decent option when you seek a mid-range cooler.
8. Coolermaster Masterliquid ML360R
The brand Coolermaster is renowned for its line of CPU cooling solutions. I used a few of their models before and am aware of the quality they offer. That said, this model from their Masterliquid series is one of the best Cooler Master CPU cooler you can install on your PC. Some of its notable features are mentioned below:
Fan Speed: 650-2000 RPM
Fan Noise: 6-30 dBA
Low-profile dual-chamber pump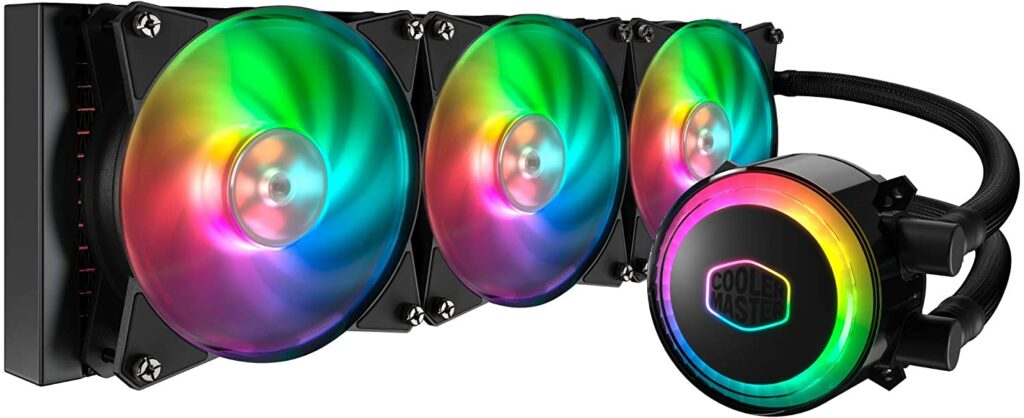 Check Today's Price of Masterliquid ML360R ➜➜
You will love the build quality of this cooler. The body gives good high-end vibes, which ensures its high durability. And that said, the design is pretty much attractive.
Now, let's get straight to the point.
The performance of any PC component is what matters. But in the case of this cooler, the performance didn't match up the brand's reputation. At standard settings, the thermal outputs were okay. But while overclocking, the result was somewhat underwhelming. Temps went beyond 90°C, which isn't an ideal range. Also, at max RPM, the fans were loud.
On the whole, If I have to describe this liquid cooler, I would say it does give you an excellent vibe for appearance. But in terms of performance, it's okayish, not the best of the kind.
9. Cougar Aqua ARGB 240
Now the last RGB cooler on my list is a budget option. It comes up with the following specs:
Fan Speed: 600-1800 RPM
Noise level: Max 35 dBA
100+ RGB effects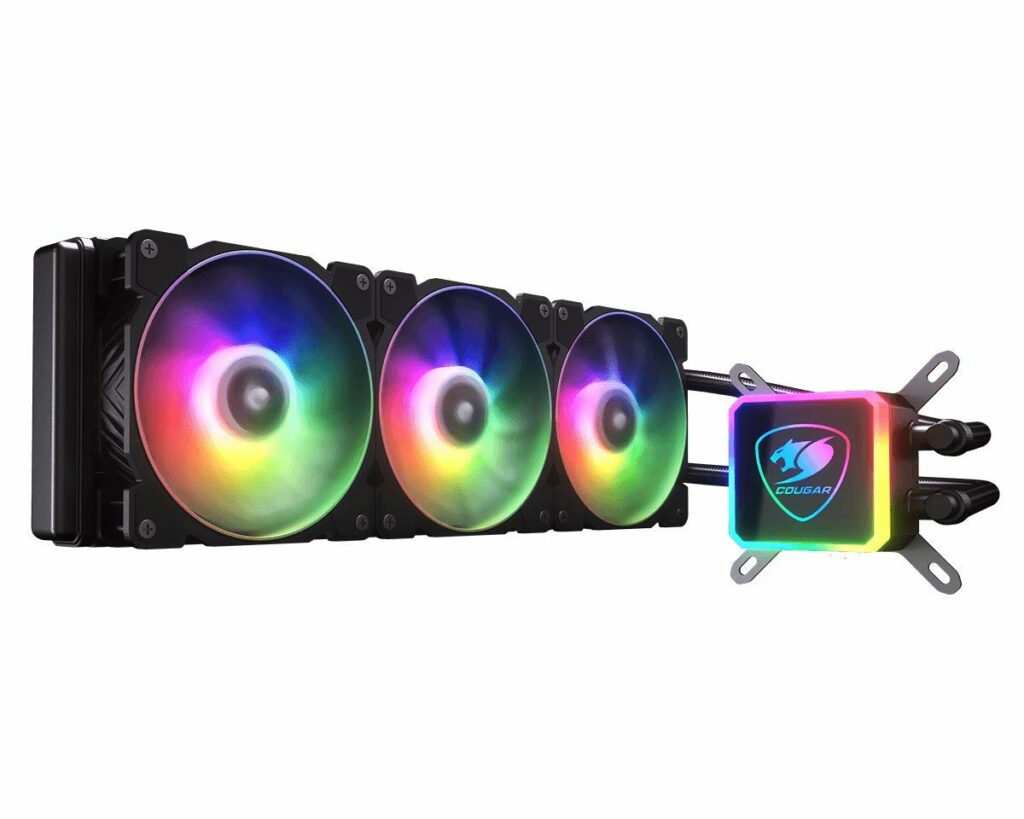 Check Today's Price of Cougar Aqua ARGB 240 ➜➜
Cougar, as a brand, is growing rapidly in the PC hardware industry. That said, this RGB liquid cooler from them offers you a high-end solution within affordability.
I must say that this cooler has some serious RGB implementation. Both on the pump block and the fans, you will see a gorgeous execution of RGB.
In terms of performance, I would say this cooler performed as expected. The temps were terrific in my test results. However, while overclocking, the fans seemed to be a bit noisy. But overall I would say that this cooler is an excellent value for money.
Final Thoughts
All I can say is that the nine coolers in this article are enough to cater to your cooling needs. Personally, I liked the NZXT Kraken X53 as it performed the best in my testing. However, the other ones, that is, the models from ASUS and Corsair, did give some high-end outputs. Moreover, whatever you choose, make sure that you keep a check on your budget and preference.