Gaming doesn't feel real when you don't have a great visual experience.
These days 4K gaming has become quite popular, and that is mainly due to some top-notch GPUs. There are various models out there available, and most of them will do a fine job for you.
Out of time? Check my best RGB Graphics Card.
Or grab some snacks and read my review on some of the finest GPUs.
But the question is, how will you find the right model to do the job.
I got it all covered. In this post, I enlisted some of the finest RGB graphics cards to help you out.
So, checkout our separate review on best motherboard for core i9 10th gen.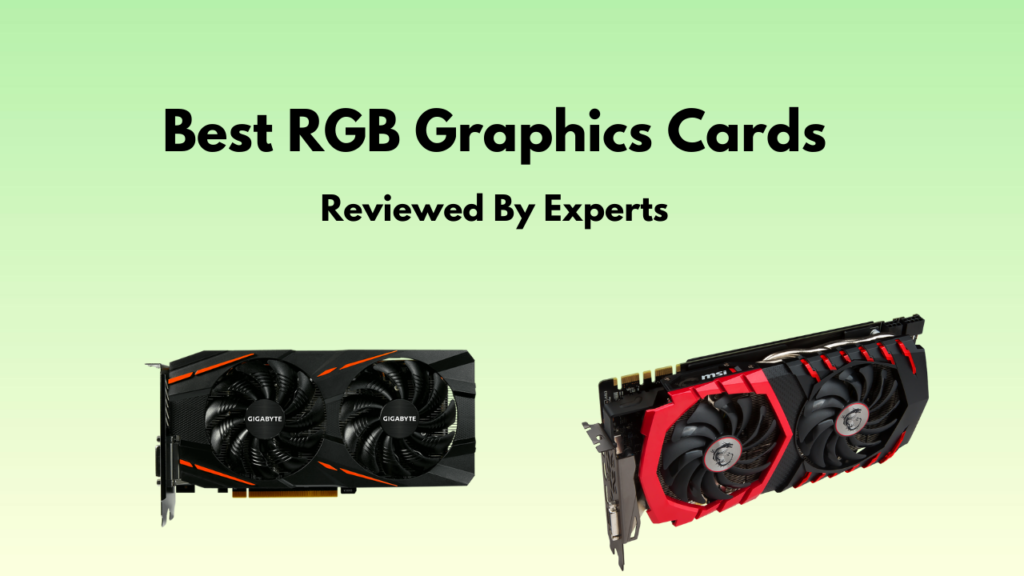 Best Graphics Card Reviewed
Whether you want to buy a GPU for gaming or do some professional stuff like video editing, 3D modeling, or even graphics designing, you need a top-end option.
You need a GPU that can handle some hotcakes. Because a drop in the resolution while gaming is a huge red flag, and you don't want that.
That is why I suggest you go through all the models that I will provide in my list. I won't waste your time anymore, so let's begin.
Here are the seven best RGB GPUs for your gaming rig:
1. MSI Geforce RTX 2080 Super Gaming X Trio
My first model from the list is from MSI. For PC components, they have been highly reliable over the years, and this GPU from them can be an excellent option for a gaming rig.
That said, this model offers the following specs:
NVIDIA Turing Architecture
Torx fan 3.0
Metallic backplate
Video memory: 8 GB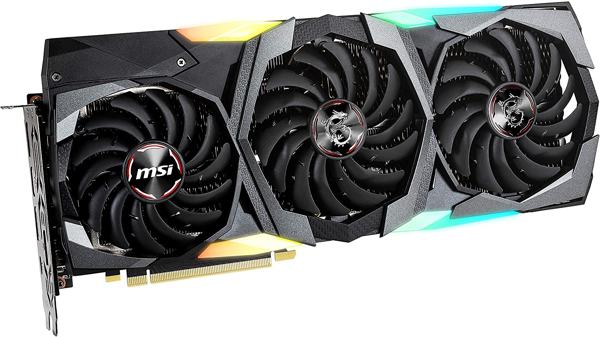 Check Today's Price of RTX 2080 Super Gaming X Trio ➜➜
I would term this video memory card as a beast. It comes with an NVIDIA Turing architecture, which is present in most new generation GPUs.
The best part is:
It comes with a metallic backplate, which provides a sheer amount of rigidity to the other parts of the card.
In fact, I would say MSI did a great job in redefining this model way better than the previous version.
Now, this RGB graphics chip comes with Torx 3.0 fans.
You might ask:
What's so special about these fans?
While answering, I would instead ask you what's not special. The 3x fans are nicely fitted and well-polished blades. What's more interesting is the new blade design.
This design eventually improves the cooling drastically. Also, you would be surprised to know that the noise level is shallow despite having three fans.
Why so?
Again, you should thank MSI for these upgrades in the blade design. What was thought to be around 35-38 dBA is now within 28-32 dBA. And why is that? Simply due to the improved blades.
Trust me, even if you run games at 4K resolution, there would be almost no noise from this GPU. Besides, there is the idle fan mode where the fan stops when the system doesn't require it to function. Also check out the best motherboards for Ryzen 7 3800XT.
As for RAM, this model is power efficient. But my problem with this trait is that it somewhat complicates overclocking. But if overclocked manually, it can offer a decent performance.
RGB-wise, the GPU is impressive. It has five different lighting zones, which you can customize using various patterns.
However, the price for this model is high. So, if the budget is short, then sorry mate, it's not for you.
Other than this, as a graphics card, it's top-notch. Any gamer seeking a less noisy and decent performance combo should go for this.  Check out some awesome AM4 socket-compatible cpu coolers.
2. Gigabyte Aorus Geforce RTX 2070 Super
Gigabyte is one of the leaders in the PC hardware industry. They have made their name over the years and gained the trust of gamers. Innovation and quality are their main elements in all of their components.
That said, this model from them attributes some fantastic specs:
Video memory: 8 GB
Aorus exclusive Halo fan RGB
NVIDIA G-Sync
4-years warranty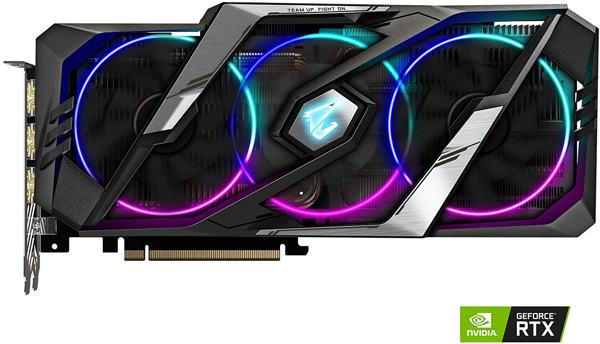 Check Today's Price of Geforce RTX 2070 Super ➜➜
The latest version of this RGB video card is way ahead of its previous version in terms of almost everything. This version comes with the NVIDIA architecture. It also enables real-time ray tracing and comes incorporated with AI.
I would say if you buy this GPU, then you will be able to experience something new, something which is exciting.
In terms of styling, this video is one of the best you can get. The design is inspired by the falcon aerodynamic wings, which gives a vibe of futurism. In my opinion, it is the most beautiful card on my list. Top-grade materials are used in construction, which eventually ensures stability and a long-life of this graphics chip.
Now, I found the RGB implementation pretty decent. The vibrancy was fantastic, but the fusion 2.0 software for customization turned out to be a bit problematic.
Performance-wise, it's top-notch. You can play games at 1440p with no dropdown of FPS below 60.
Also, to let you know, I tweaked a few settings at the time of testing, and the result was me playing games at 4K resolution. Also, check out some best 240mm CPU coolers.
Therefore, you can also play games at 4K; you just need to know some tricks. Other than this, with this GPU, you can also get an excellent overclocking headroom.
The price might be something to consider only if you're on a budget. Also, the card is heavy, which many gamers won't like.
However, these little things take nothing away from this top-end GPU. It's a top-rated option that can meet your every gaming needs.  Also, check out some best 120mm CPU AIO coolers.
3. PowerColor Red Devil AMD Radeon RX 5700 XT 
My third option from the list is a flagship graphics card from the brand PowerColor.
This model from them sports some notable specs:
Video memory: 8 GB
RDNA Architecture
Mute fan technology
Shader units: 2560
Check Today's Price of Red Devil AMD Radeon RX 5700 XT ➜➜
If you are an enthusiast-class gamer, this RGB video card is especially for you. It is a high-end offering that can do a terrific job giving you a blistering visual experience as a GPU.
My personal experience with this GPU is positive. When I tested it on my Ryzen rig, there was a good improvement in the performance. And this is mainly due to the factory overclock.
This RGB graphics card comes with 3x fans. I noticed that there is an excellent balance between the temps and the noise level. Despite having three fans, the noise was almost negligible to consider. The highest recorded in my testing was 27 dBA, which is too good for a  top-end graphics chip.
And as for the temps, it was under control. Even on full loads, the temperature didn't go above 72°C, which I feel is impressive. Because you can't find any RX 5700 XT GPU with such temp levels.
The RGB LEDs are of top quality, and they offer a decent glow. The color quality is spot on.
Overall, I would say it's a decent option for any build. I can bet that this GPU wouldn't let you down. So, don't worry. Buy it if you feel that it can meet your gaming needs.
4. ASUS ROG Strix Geforce RTX 2060 Super Advanced
How can I miss ASUS when discussing PC components? So, here it is. This RGB video card from the ROG Strix series can be a serious contender for your gaming rig.
This model comes with the following notable specs:
Video Memory: 8 GB
Aura Sync enabled
CUDA Cores: 2176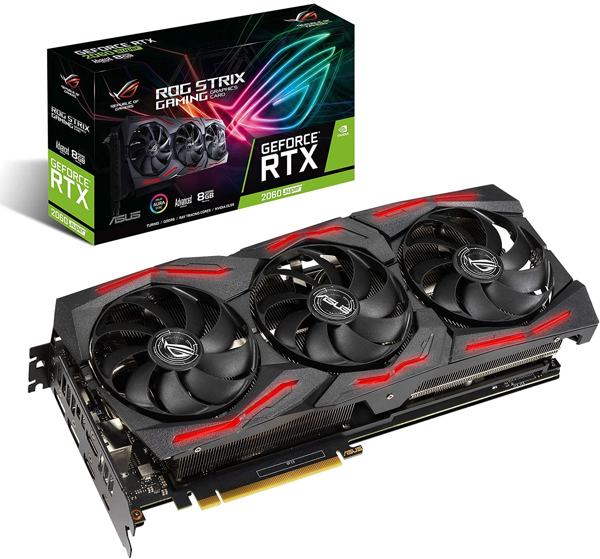 Check Today's Price of ROG Strix Geforce RTX 2060 Super Advanced ➜➜
It is one of the most potent RGB graphics cards out there in the market. As a new generation GPU, it will meet every need that you might seek.
I won't beat the bush around. So, let's get this thing straight.
I feel, as a GPU, it can be an outstanding addition to your build. It comes with a reinforced framing that is highly durable and corrosion-free. So, almost zero chances of breaking down.
The GPU also possesses 3x fans. The wing-blade design that exists in the fans reduces the drag to a great extent.
What I feel is:
RGB implementation in this model from ASUS is something any gamers will seek. Elements are there in the shroud and backplate.
You can customize the lighting in these zones using the Aura Sync software. The endless spectrum of colors may even confuse you about which to choose. When I was testing, I found the patterns of RGB have different flairs. You can set different colors for lighting depending on the temps. That is, when temperature changes, the color of the LEDs will also change. Also, you can incorporate illumination with the beats of music.
Sounds fun… Isn't it?
Now, this card is big, but that is no issue. It's pretty easy to install.
I gamed without any issues on max settings. You can even run games ultra at 1080p. The FPS won't drop at all. Therefore, performance-wise, there aren't any major flaws.
To sum up, I feel ASUS has done a great job in creating something for new-gen builds. With decent output and an awesome RGB, this GPU can be that hot-shot you are looking for.
5. Gigabyte Aorus Geforce RTX 2080 Ti Xtreme Waterforce
If you have a water-cooled gaming build, then this model from Gigabyte can be of your use.
That said, this model sports the following specs:
Video memory: 11 GB
Real-time ray tracing
Metallic backplate
4-year warranty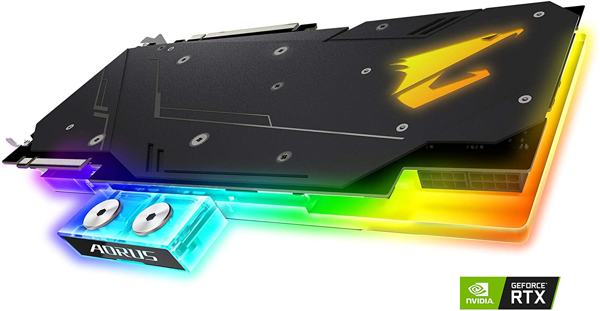 Check Today's Price of Geforce RTX 2080 Ti Xtreme Waterforce ➜➜
This RGB graphics card provides a generous thermal headroom. If you are looking for one such option, then it would be a great choice to make.
It also comes with a superb RGB implementation that too at a price that is reasonable.
The card comes with the water force cooling solution, which plays a big part in its performance.
You may ask, why?
It is because this feature enables an all-around cooling for all the components of the card. This eventually results in giving a massive boost.
As a GPU, it's also quite durable, thanks to the all-metal backplate. It provides rigidity to all the parts that constitute the card.
In terms of performance, this GPU turned out to be better than what I expected. You can play games at 4K with an FPS of 60 seamlessly.
Besides, the RGB lighting is terrific. You get 16.7 million colors to choose from to add flairs to the lighting. However, the Fusion 2.0 software for customizing might bear some issues.
But don't panic. It's not something everyone faces. Few of my gamer friends faced absolutely no issues.
What matters the most is the price, which is quite reasonable for RGB GPU. So, do consider it as one of your top picks.
6. EVGA Geforce RTX 2070 Super XC Gaming
EVGA is known for its CPU coolers and PSU. To date, I have only bought these components from them. But, as a brand, they have much more to offer.
That said, this video card from them comes with the following specs:
Video memory: 8 GB
Dual HDB fans
3-year technical support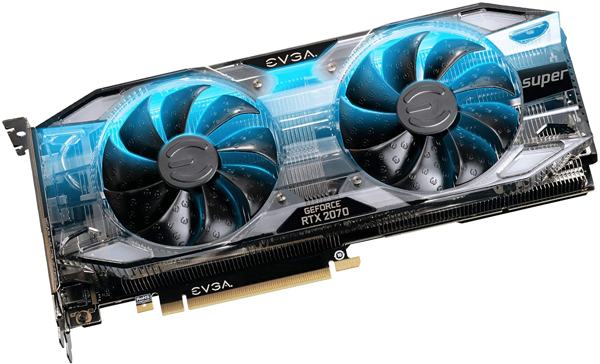 Check Today's Price of EVGA Geforce RTX 2070 Super XC ➜➜
I included this GPU in my list because I felt that it is somewhat underrated. Maybe people only think of EVGA when it comes to coolers or PSUs. But it's time that they should know about this great GPU.
As a graphics card, this model from them is freakishly amazing. It will offer you a top-end experience, which every gamer craves for.
The card has good durability. Materials of outstanding quality were used, which gives it a solid constitution. Also, it comes with an NVIDIA Turing architecture. Gamers expect such features for an increase in their gaming experience.
And in this card, such features result in a 6x boost to the performance compared to an average video card.
The dual HDB fans are quiet. No issues with temp levels as it always remains under 80°C. Also, the FPS doesn't drop Below 60-70.
The only problem you might feel with this RGB graphics card is its price.
But, apart from this, this option is good to go with.
7. Sapphire Nitro+ RX 5500 XT
My last RGB graphics card from the list is from Sapphire. This GPU comes with the following specs:
Video memory: 8 GB
Tough metal backplate
Fuse protection
Intelligent fan control IV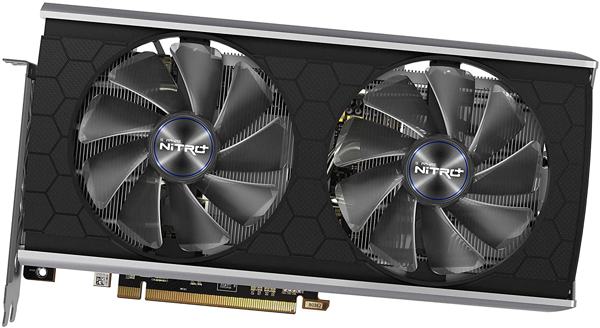 Check Today's Price of Sapphire Nitro+ RX 5500 XT ➜➜
This is another GPU in this list dedicated to the AMD Ryzen gaming builds. It comes with a decent design and consists of 2x fans.
These fans are high-speed and quiet. Also, they pull the air out quite efficiently.
Now, let's get this thing pretty straight.
You are here for performance. Aren't you?
This card can precisely deliver you what you are seeking. Everything is so inch-perfect. There are no FPS drops, no reductions in the visuals' quality, and even no heating. I played all games at 60+FPS with 1080p. There was no issue at all.
Also, it possesses ARGB LEDs in which you can add different flairs to enhance system aesthetics.
Overall, I feel that you will like this GPU. There might be some issues, but that doesn't cut off all the good things it can offer to you.
Final Thoughts
So, these are the seven best RGB GPUs you can get on your system. While choosing one from them, you should keep a check on your priorities because a graphics card is one of a PC's most critical components. And for gaming, its quality needs to be the best.
That is why check the design, specs, price and then decide for yourself what you need.
Still, even after all this, if you feel I missed something or you are unclear about something, please let me know.