4K resolution with a higher refresh rate offers immersive image quality with a crispier resolution, better color contrast, and text readability, which is a common desire of PC users.
Thus I broke the bank spending on an expensive 4K monitor. Unfortunately, I later regretted that my PC didn't support 4K output leaving me with no choice but to purchase a dedicated Graphics Card.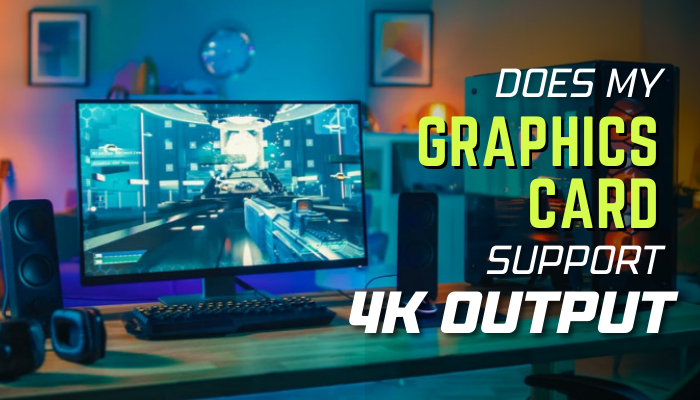 I'll share my experience of checking the process of 4K support of a graphics card. And whether your existing GPU is 4K capable.
How to Check if Your GPU Can Handle 4K Output?
The easiest way to verify your Graphics Card's 4K compatibility is by checking the spec sheet from the manufacturer's website. Although you can check the 4K support of a Graphics Card by connecting a 4K resolution monitor, it may not return an accurate result.
Since GPU requires specific hardware for 4k support, you must fulfill those to acquire native & true Ultra HD (4K) output. Certain obligations, including Video Port, monitor panel, graphics chipset, aspect ratio, etc., are complicated concerning matters.
You can follow the instruction below to check the ability of 4K Support of an existing Graphics Card.
1. Find your Graphics Cards Model
If you are curious about the 4K compatibility of your Graphics Card, you must know the exact model name of your GPU. Checking the model number of the GPU installed in your system is quite easy.
On the other hand, if you aren't sure what to do with your tad-old graphics cards, you can install those in a system that doesn't support 4K output without a discrete graphics card.
The good thing is that almost all Graphics Cards released after 2010 have at least HDMI 1.4 with the ability to provide 4K output. But it's better if you check before getting started.
Here is the process to check the Graphics Card's model number from your system:
Search "System Information" in the Windows Search Box.
Open System Information and Double Click on Components from the left section.
Select Display from the expanded list below Components.
Note the Name you see in the right area.
Alternatively, you can use the CPU-Z software to view the name of your graphics easily. The next step is to check whether you're already using a 4K resolution on a 4K-supported monitor by default.
2. Check the Current Resolution
There is a wide chance of already running the 4K resolution if your monitor is UHD compatible. You can easily check the current resolution from the Display Settings or system information to clear such doubts.
Here are the steps to check the current resolution from System Information:
Click on Search from the Taskbar, and search for "System Information."
Double-Click on Components.
Select Display.
Check Resolution.
To check from Display Settings,
Right-click on Desktop and select Display Settings.
Find Display Resolution with a Drop-down menu.
Check (Recommended) resolution.
If you see Recommended extinction with the resolution 4096 x 2304 or 3840 x 2160, you are eligible for a 4K resolution. If not, either your monitor is incompatible with adapting 4K resolution, or your Graphics is the obsolete part that can't pump up the resolution of your 4K monitor.
Alternatively, your monitor and Graphics both may have 4K compatibility, but the ports you're using aren't.
3. Evaluate GPU Video Output Port Version
Since several video outputs don't support 4K resolution, you must know which one to use. Furthermore, a different version of the same type of port acts differently.
In the previously mentioned circumstance, I took a Graphics Card and a monitor, which equally has 4K support but not working accordingly. Maybe you are using the wrong graphics card port because the VGA & DVI port doesn't support 4K resolution.
To be more accurate, VGA supports up to 2048×1536 resolution & DVI is capped at 2560×1600.
The rest of the ports can carry 4K resolution signals: HDMI (High-Definition Multimedia Interface), DP (DisplayPort), ThunderBolt, Type-C, etc.
But that's not all; There is a catch between True 4K and commercial 4K resolution. For instance, the resolution of 3840×2160 is not true 4K; it's the Commercial 4K resolution used in UHD TVs. And 4096×2160 is the True 4K resolution.
Therefore you must ensure that your monitor is connected to the right port. Sometimes, it feels confusing that you should connect your monitor to the GPU or the motherboard video output if you want a 4K signal.
I can't say that 'only' the GPU IO port will give you a 4K signal because your CPU may have integrated graphics that support 4K resolution. So you must know the variation between ports and port versions to choose the right video output.
In contrast, The DP 1.2 only supports commercial 4K of 3840×2160 resolution. But the other ports like HDMI 1.4 & 2.0 support up to 4096×2160, which is true 4K. And the rest of the ports surpass the 4K resolution up to 10K (10240 x 4320) in some cases.
4. Check Graphics Card's Refresh Rate
The Refresh Rate of the monitor and Graphics Card is a crucial factor considering the premium experience. Almost all monitors at least come with a 60Hz refresh rate, but it may not be enough for everyone.
For Example, competitive tactical shooting gamers need a higher refresh rate to utilize the high frame rates. Even a 120Hz monitor is not enough for them. Although it doesn't make an issue with FHD or QHD resolution, 4K resolution is hard to cope with a higher refresh rate.
As a result, HDMI 1.4 can't provide more than 24Hz refresh rate on True 4K (4096×2160) and only 30Hz at 3840×2160 resolution. Moreover, HDMI 2.0 has a decent refresh rate of up to 60Hz with a 4096×2160 resolution. Lastly, The DP 1.2 also has 60Hz, but only in commercial 4K (3840×2160) only.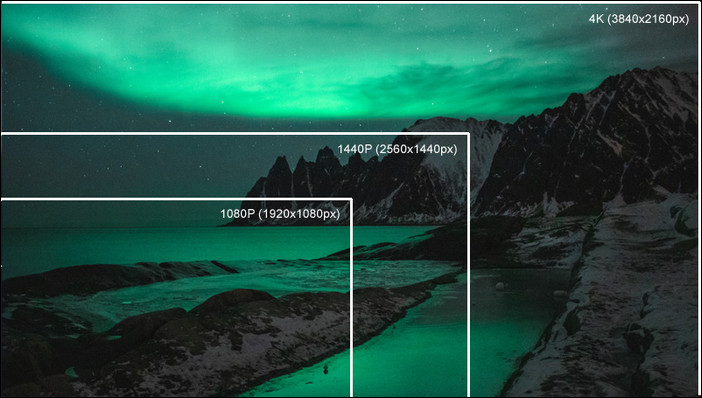 The rest of the latest ports have 4K support with more than 200Hz, varying over different ports and port versions.
Is 4K Resolution Necessary for Gaming and Content Watching?
If you ask how important the refresh rate is, the answer will vary over the user base. As an FPS gamer, I need at least a 144Hz monitor and similar GPU support. Because Games like Valorant, Fortnite, CS-GO, and Rainbow Six Siege show and require lots of frame rates. A higher refresh rate is a must to utilize such an extended Frame Rate.
Despite the fact, this type of game is usually played on FHD resolution. 4K isn't a big concern in this case.
Then again, AAA-type games are only playable with around 60 FPS at 4K resolution. 60Hz or 75Hz refresh rate is a sweet spot. Because if you play such games on 4K resolution, Even an RTX 4080 will generate 50-70 FPS on average. You won't need extra Hretz in such a case.
Lastly, the experience of content-watching heavily relies on resolution. Huge TVs must have high resolution to retain the clarity and richness of the content. I won't prefer an FHD resolution on a 55-inch TV, would you?
I bet you won't tolerate pixelized views while you're watching your favorite show on TV.
Which Graphics Cards Are Good For 4K Resolution Support?
It's easy to say to grab a higher-tier Graphics Card to get 4K output. But that's not the deal everyone can afford. The diverse community has a demand for different price segment abilities.
So, the solution can't be expressed in a couple of words. Instead, I'll try to explain the cheaper options, moderate, and best on-budget choices; so that you don't have to scratch the whole surface of the GPU Hierarchy.
Let's start with the cheapest option. I'm speaking of the people who just need a 4K output for their monitor and don't want to play games or impose a heavy workload. The Nvidia Geforce 1030 is a minimum-budget Graphics Card that can show true 4K with a 144Hz refresh rate.
Yes, I could recommend GT 730, but you'll barely find the stock on the market. If you can find one, you can go for it, and remember; it's only capable of up to 60Hz. You can also try eBay or Newegg for such GPUs.
The cheapest option for 4K budget gamers is GTX 1080 Ti. The VRAM of 11 GB can provide respective FPS while Gaming in this price segment. Moreover, you'll experience 144Hz on 4K resolution. In fact, the price is becoming more reasonable as it's getting old.
Furthermore, APU is an excellent choice if you want a decent performance overall that can cherish you with 4K video output. But it's only viable if you are eager to change the system's processor or build a new rig.
Last but not least, if money isn't an issue, you can go for the latest RTX 4000 series or Quadro series Graphics Cards for professional work and RTX 4080 for extreme 4K gaming.
FAQs
What are the minimum requirements for 4K?
You'll need at least a 7th-generation Intel Core (Kaby Lake) CPU to run 4K resolution properly.
Can GTX 1650 run 4K movies?
Easily! Even integrated graphics like vega/RDNA can handle 4K movies easily.
Do gamers use 4K?
It depends on the game, the person's preference, and the hardware capability. But most gamers use FHD(1080p) resolution statistically. And Triple-A type gamers are 4K demanding.
What is better, 1440p or 4K, for gaming?
If you have a screen with a 27-inch 1440p resolution is enough, but a 43-inch monitor demands a 4K resolution.
Is 8K worth it for gaming?
Still, the 8K resolution isn't mainstream yet. Few games that offer good stability and performance at 8K gaming.
Why is 4K so laggy?
It's the hardware that is holding back your PC's performance and showing a laggy result. So, you need an upgrade to enhance the smoothness of the experience.
Conclusion
If you have read the article, you'll feel like a pro in choosing and evaluating GPUs for 4K use. Although you can easily find a solution for your specific solution by searching whether a GPU supports 4K, the knowledge of the total ecosystem is worth knowing. So, make sure you share some gratitude by leaving a comment below. Or you can ask for more.