In gaming or video editing, integrated graphics processors, or iGPUs, provide some moderate performance. Individuals on a tight budget will find iGPU to be a godsend.
But which iGPU are you using? You must examine your system to determine which integrated graphics you have. In addition, I prepare this article to respond to this specific query.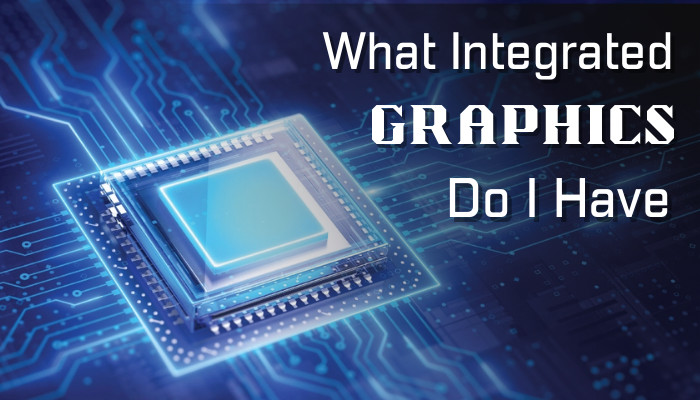 So, just bear with me, and you'll figure out what integrated graphics you have in no time.
What are Integrated Graphics?
The GPU is built into the processor when it is integrated or merged with graphics. Instead of having separate VRAM or memory for graphics or video, integrated graphics use the main memory/RAM. Merged graphics can use 1 to 5% of available memory at any time.
Another great piece of news is that integrated graphics units have advanced significantly in recent years. Allow me to brag a little about my AMD Ryzen 5 5600G processor. It is a reliable APU. I can play almost all games by lowering the graphics settings to medium or low, depending on the game.
Apart from that, the performance is adequate for graphics-related tasks such as video editing or other productive work. The best part is that the 5600G iGPUs are comparable to a GDDR5 GT 1030, which costs roughly $140.
To be honest, the performance of the most recent APUs is astounding. But keep in mind that dedicated graphics are much greater in every way than integrated graphics, and don't forget about the cost.
Cost is one of the main factors that influence people's decision to choose an iGPU over a dedicated GPU. Additionally, the performance they provide made many people happy. And there are numerous CPUs to choose from.
Do all CPUs have integrated Graphics?
Not really. Some CPUs have it, while others do not. The APU-integrated graphics are part of the Processor. Moreover, APU and CPU differ in their districts. As you can see, Intel CPU models are identified by letters like F, K, and U at the end.
While most Intel-based laptops use the U series, which has integrated graphics, the F series lacks integrated graphics. The K series offers overclocking options and integrated graphics. And AMD has the G series which has integrated graphics, also the X series which doesn't.
How Do I Know What Integrated Graphics I Have?
There are many ways to find out what integrated graphics you have. You can use the Device Manager, DirectX Diagnostic Tool, or System Information. Use reputable third-party applications like CPU-Z or GPU-Z as well.
Let's try the ways now and see what kind of integrated graphics you have.
Check Through System Information
Most bits of information about your computer are provided through Windows System Information. You can use it to properly learn about your graphical information as well as other pieces of information.
Here are the steps to check your integrated graphics through System Information:
Press Win + R key to put forward the Run command.
Type msinfo32 in the Run and click Ok.
New will prompt up and is the default it will show you the System Summary.
Expand Components, and then click on Display from the left side to find out your display option.
You will learn about your system's onboard graphics and display characteristics.
Read more on Uninstall Graphics Drivers Before Installing a new GPU.
Check With the Device Manager
Device Manager displays all of the driver information in your system. You can also use the device manager to update or disable any drivers that you want.
Follow these steps to check integrated graphics with Device Manager:
Press Win + X, and Click on Device Manager.
Locate the Display adapters and expand it.
Right-click on the expanded option and choose Properties.
Go to the Driver tab and you will find out information about your integrated graphics.
Check carefully to confirm what integrated graphics you have. You can also use reputable apps such as GPU-Z. Simply download and install the app to discover which onboard graphics you have. And, for your convenience, I've included an image example.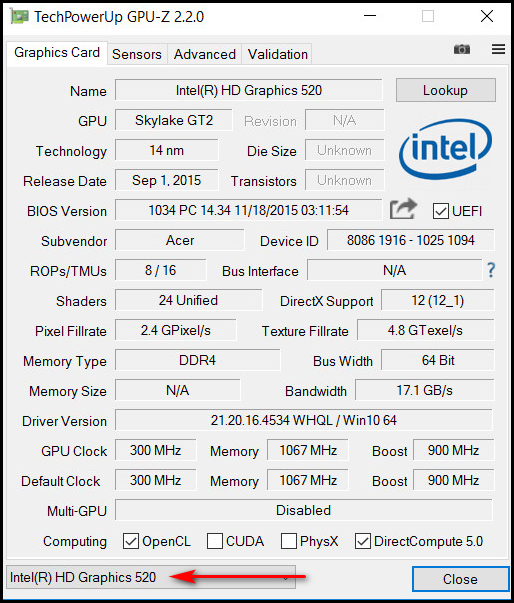 In addition, DirectX Diagnostic Tool can provide precise information about which merged graphics you have. Simply open the Run command and type dxdiag, then press Ok/Enter. A new window will appear, and from the top, select the Display tab.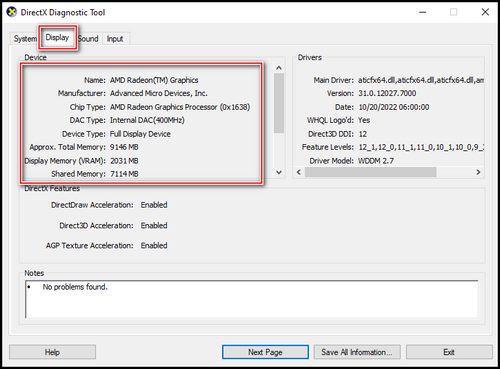 Nevertheless, you will find specific information about your integrated graphics. As you can see, there are numerous methods to check your integrated graphics information, which is simple and built into your system.
Also, related to this guide on can you Replace an Integrated Graphics Card.
Is it Necessary to Know Which Integrated Graphics I Have?
I believe it is necessary to know which onboard graphics you have, and I will explain my reasoning in this regard. When you choose an APU over a CPU for a desktop scenario, you are on a tight budget but still, require some performance for casual gaming and productivity work.
Further, iGPU is becoming more powerful by the day. And iGPUs such as AMD Ryzen 7 5700G, Intel Core i7-12700K, AMD Ryzen 5 5600G, and Intel Core i5-12600K outperform a 2 GB dedicated card.
An iGPU may not perform as well as dedicated graphics, but it can help you save money when building your PC. Dedicated graphics cards can easily cost several hundred dollars, whereas a Ryzen 5 5600G costs around 130 dollars and provide comparable graphical performance, while a dedicated GPU costs the same.
Some onboard graphics processors have poor performance while others can match the performance of an entry-level dedicated GPU. Also, when you get a dedicated GPU, you may need to turn off your onboard graphics, and you need to know which iGPU you have to turn off properly.
Taking everything into account, knowing which integrated graphics you have and how much performance it provides is essential. And if you want to buy one, you must first learn about them. Because AMD and Intel both make excellent APUs.
FAQs
What AMD-integrated graphics do I have?
Expand Device Manager by opening it. Display adapters as well as the graphic card model should be visible. The video card model in this example is the AMD Radeon(TM) Graphics.
How do I know if I am using Nvidia or AMD?
You can find out what video card you have by using the OS Device Manager. To access the Control Panel, go to your PC's Start menu and type "Device Manager" and press Enter. When you click the drop-down arrow next to Show adapters, your GPU should be listed.
Does Intel i3 have integrated graphics?
The Core i3-10100 uses an Intel UHD Graphics 630 chipset with a frequency of 350 MHz and a dynamic frequency of 1.1 GHz. There is also a heat transfer solution included.
Wrapping Up
The performance of APUs, or integrated graphics processors, is sufficient for casual gaming and graphics-related jobs. And they offer this CPU and GPU combo at a very reasonable price.
Knowing how to identify your integrated graphics can help you predict how they will perform and what you can expect from them. And I've already demonstrated how to determine what iGPU you're using and what graphics it has.