Let's get this thing straight.
You want to buy an aura sync compatible GPU but don't have enough ideas.
No problem, here is my #1 GPU.
I researched for almost 2 days. After that, all I can say is the 5 graphics cards I am going to review and rate in this post are better than every other option out there.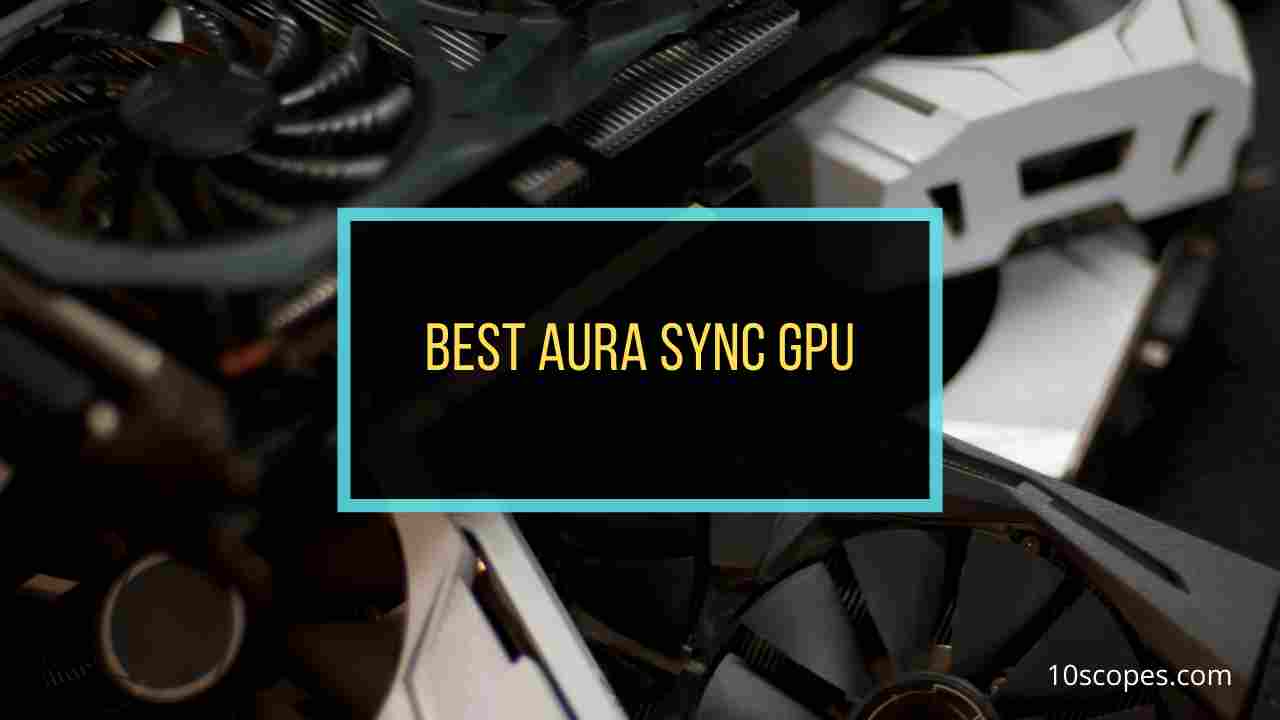 Best Aura Sync GPU Reviewed
There are graphics cards in the market that might seem lucrative enough to buy. The features that they possess will tempt you to buy one of them.
Here are our top 5 picks for the best aura sync GPU:
1. ASUS ROG Strix Geforce RTX 2080 Super
This flagship aura graphics card from ASUS is a top-end option with a hefty price tag. The ROG Strix Geforce RTX 2080 comes with some nifty features:
8 GB GDDR6 memory
3x axial tech 0db fans
Memory clock of 15.5 GB/s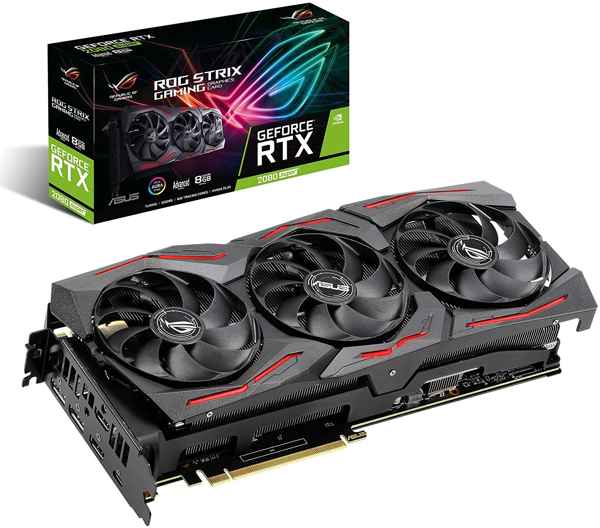 Check Today's Price of ROG Strix Geforce RTX 2080 Super ➜
Based on a Turing TU104 architecture, this GPU is one of the most powerful options that you can find on the market.
As an elite gamer, you'll love it because of the excellent output that this card gives while gaming.
The top-end performance level that I mentioned above is possible due to the inclusion of 3x axial-tech fans. What'll attract you the most is the eyebrow type resemblance at the top of the fans.
These fans play a massive part in keeping the temperature under control. Such a cooling performance is possible due to the newest design, facilitating increased air flows with lower noise levels.
This graphics card's clock speeds are decent, with the base clock being 1650 MHz and the boost clock being 1860 MHz. What makes this graphics processing unit astoundingly powerful is the memory speed of 1940 MHz that it possesses.
If you have an ATX motherboard, this card is a sure shot fit to your board. You'll find the heatsink to be massive. A black shroud covers it with the above mentioned axial fans on top.
That said, for small PC cases, I won't recommend you to choose this as a GPU for your build.
As for the performance, you'll be able to have a 6x better output than that of previous-generation GPUs. The Turing architecture from NVIDIA provides the card the ability to have the edge over other ones.
Pros
»

Excellent for 4K gaming

»

Quiet and effective cooling

»

Has idle fan stop

»

Fastest memory
Cons
»

Pricey

»

Not fit for small cases
2. ASUS TUF X3 RX5700XT EVO Gaming
The ASUS TUF X3 RX5700XT is one of those GPUs that you can buy within an affordable price tag.
The TUF X3 RX5700XT comes with some decent specs:
8 GB GDDR6 memory
Auto-Extreme Technology
2.7-slot design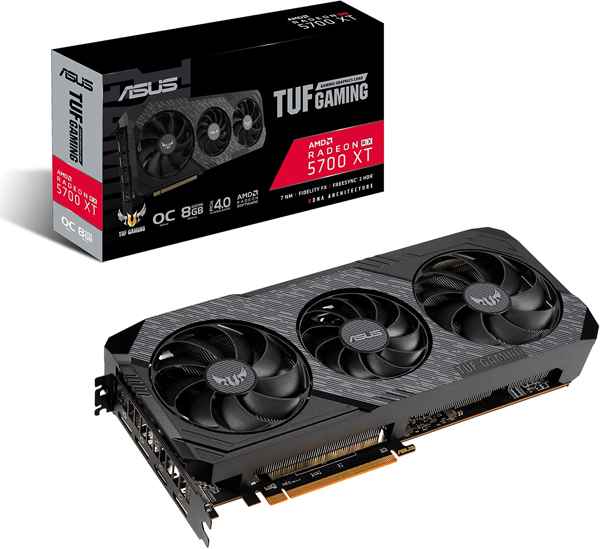 Check Today's Price of ASUS TUF X3 RX5700XT EVO Gaming ➜
With all the negativity out there about this cards' performance, ASUS has redesigned this video card, making it better than ever before.
The older version didn't have any heatsinks on GDDR6 chips. That is why there was an overdependence on the fans for an optimum thermal solution, which wasn't good enough. They restructured the total heatsink and the 3x fans, resulting in your system receiving improved thermal solution.
Using this graphics chip will satisfy you on every level. Just take the noiseless operations into account. It is mainly possible due to the dual ball bearings used in 3x axial-tech fans.
You also don't need to worry about the possible PCB flex because the card sports a rigid backplate, ensuring the component's super compactness.
As far as the displays are concerned, at max, you can have six monitors connected at a time. Also, there are 1x 6-pin and 1x 8-pin connectors, where there is a slight RGB touch.
The total card has a pretty minimalistic RGB lighting, which you can optimize using the aura software. Since it's a budget video card, it wouldn't be wise to expect a high-end output. When it comes to 1080p gaming, I would love to have this card in my system.
The graphics card is also much more power-efficient compared to its contemporaries. Also, it isn't that slow compared to what it seems through its specs.
Pros
»

Superb 1080p performance

»

Rigid backplate

»

Noiseless fans
Cons
»

Not the best RX5700XT

»

Not enough options for RGB
3. ASUS ROG Strix Geforce RTX 2070 Super
As an Aura sync graphics card, the RTX 2070 Super Advanced from ASUS is one of their top offerings. The ROG Strix Geforce RTX 2070 Super Advanced Gaming comes up with some fantastic features:
8 GB 256-bit memory
Can support up to 4 monitors
Auto-Extreme technology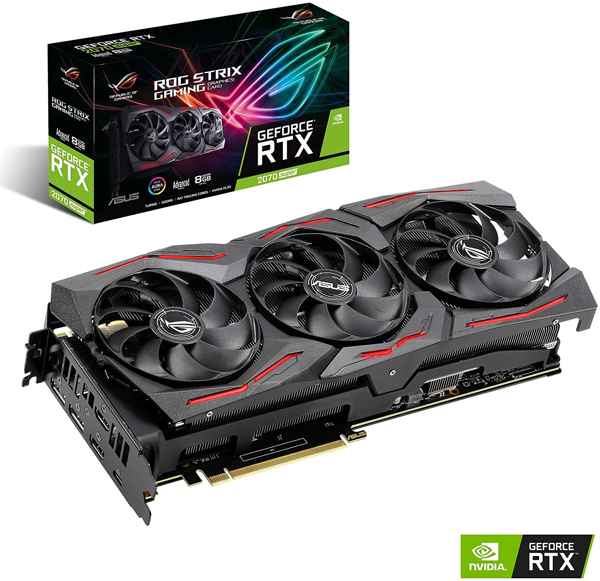 Check Today's Price of ROG Strix Geforce RTX 2070 Super ➜
The build-up gives somewhat of a top-end vibe, which looks incredibly compact. This custom GPU has a triple axial fan design, comprising fans with smaller hubs with longer blades. Eventually, this design helps to increase the downward air pressure resulting in a much enhanced cooling performance.
I found the heatsink relatively larger. It comes with a 2.7-slot design that helps in bettering the cooling in the physical surface area.
Like I said before, the ROG Strix RTX 2070 Super Advanced can accommodate up to 4 monitors. And to make it possible, there are 2x HDMI 2.0 and 2x Display port 1.4.
The feature of idle fan-stop, that stops the fan running when the GPU isn't functioning. Besides, the overclocking is alright. The speed limit is higher than most other cards of the same type.
The price tag is negative about this graphics module. You would find cards that are similar or close to it in terms of specs.
Pros
»

Idle fan-stop

»

Rigid backplate

»

Quiet operation
4. ASUS Turbo Geforce RTX 2060 Super 8G
With the sleek looking shroud, ASUS has tried something very different with the Turbo Geforce RTX 2060 Super 8G. The ASUS Turbo Geforce RTX 2060 Super comes with some decent specs:
8 GB GDD6 memory
Can accommodate up to 4 monitors
144-hour validation program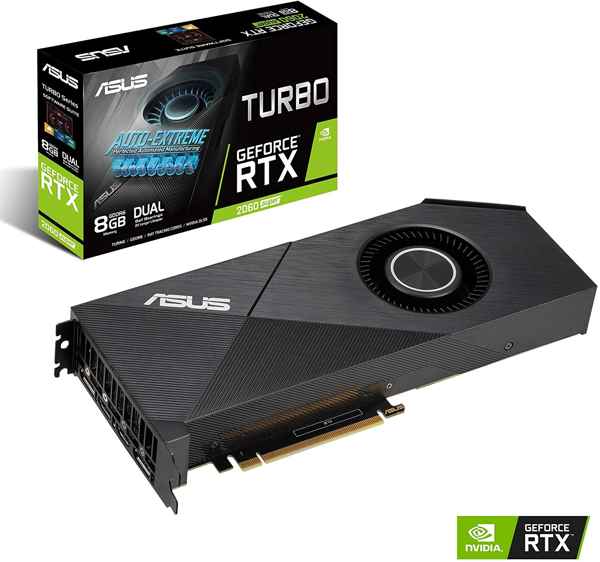 Check Today's Price of ASUS Turbo Geforce RTX 2060 Super ➜
This Aura sync compatible GPU comes with NVIDIA Turing architecture, enabling it to ensure the next-gen performance.
As a GPU, it can support up to 4x monitors at a time. Mostly, thanks to the presence of HDMI 2.0 and Displayport 1.4 ports.
It has an 8mm dual bearing fan that provides an optimum cooling solution by ensuring the superior airflow. Their lifespan is way more significant than that of the traditional sleeve bearing fans.
The thing you would love about this graphics card is the 144-hour validation program, whose main job is to ensure the card's utmost stability. This feature enables the card to withstand heavy workloads with ease.
The RGB lighting is quite simple, with various stripes over the body and on the hub. The aura sync software makes it easy to set and control the illumination presets as you want.
Pros
»

Good value for money

»

Great for ITX PC cases

»

Decent cooling performance
5. ASUS ROG Strix Geforce GTX 1660 Super
In case you are short of budget and looking for a cheaper option, this graphics chip from ASUS can prove to be the right choice for you. The ASUS ROG Strix Geforce GTX 1660S comes with some excellent specs:
6GB GDDR6 memory
Auto-Extreme Technology
GPU Tweak II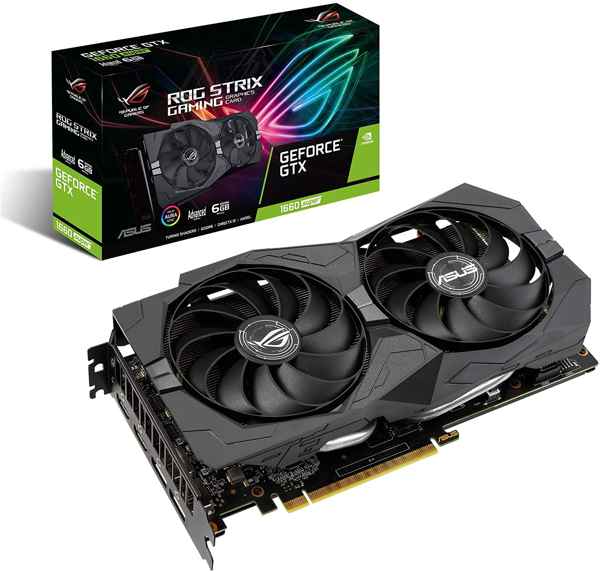 Check Today's Price of ROG Strix Geforce GTX 1660 Super ➜
Coming up with an NVIDIA Turing architecture, I found it highly suitable for modern gaming. As for 1080p gaming, I would say it is one of the best options.
The best part about this graphics module is the memory bandwidth of 14 GB/s gives it an edge over its competitors.
It comes up with 2x fans composed of axial-tech design with a smaller hub. This smaller hub holds the longer sized blades that ease the process of increasing downward air pressure.
A protective backplate is there in the prevention of damage and flexing of PCB.
Since the card can support four monitors at max, to make possible, 2x HDMI 2.0 and 2x DisplayPort 1.4 are there on the side panel. Besides, this video card supports GPU tweak II that enables easy handling of performance and thermal controls.
With all these, few drawbacks are there as the body of the GPU is a bit thick. Though a budget option, I didn't particularly appreciate that ASUS didn't add some additional features.
Still, let us take nothing away. It can always be a perfect choice for some budget builds.
Pros
»

Sturdy backplate

»

Highly affordable
Cons
»

Thick body

»

Lacks extra features
Aura Sync GPU Buying Guide
From a wide array of options, settling on a specific GPU might seem to be a tricky task. As the graphics card is one of the most vital components, you should be more cautious.
That is why, while you shop for GPU, you need to keep track of a few things.
Here the factors that you need to keep in mind while buying a GPU:
Size of GPU
Before you buy, you should crosscheck the size of the card. The size will determine whether the card you buy will be a fit in your PC case. It isn't always necessary that you should go for a more massive GPU.
Though having the larger option will produce less noise with a better output. But, if your PC case can't accommodate a more massive GPU, you shouldn't just go for it.
Monitor Resolution
The type of resolution you want while gaming, be it 4K, 1440p, or even 1080p, you need to select such a GPU that would produce your desired output.
Generally, the mainstream cards are more than good enough for 1080p gaming at 30-60 fps. If you are looking for 4K, then a high-end graphics chip is a must.
Type of Ports
You have to buy that graphics card that matches the requirements of the ports needed for your monitor.
Some monitors require HDMI, and some come with DisplayPort. Being aware of the type of ports used is to make sure that you won't need any additional adapter.
Aesthetics
The looks of the card aren't something that important. It won't affect the performance of the GPU. Still, everyone wants their system to look cool. You might be one such user who prefers the best looking option.
Cards come up with a variety of options like RGB logo, fans, or both. Moreover, the aesthetics of the graphics card should only matter when the total build is theme-based.
Clock Speed
This feature in the GPU is somewhat vital. The cards which are overclocked at the highest speed will comparatively have higher frame rates. It might not be that crucial, but the clock speed does make a little difference for high fps gaming.
FAQ
Question: Is Aura Sync only compatible with GPUs from ASUS?
Answer: Aura Sync is only compatible with GPUs from ASUS, and even if you try, it won't work on GPUs from other brands.
Question: What is the number of monitors an aura sync GPU can support?
Answer: Most aura sync GPUs support 4-6 monitors, though the numbers may vary.
Final Thoughts
As for now, these 5 GPUs that I have discussed are the best aura sync compatible GPUs that you can have in your system.
These 5 include all of the types, ranging from high-end to mid-range cards. Also, I have included a buying guide that might prove to be handy for you while choosing.
Still, if you face any confusion regarding anything, do let me know.