If your gaming rig is built around the core i7-10700K processor and you are looking for smooth gaming visuals then, this post is for you.
You might find it difficult to trace the right GPU for your system in the market. But, don't worry.
In a Hurry? Here's my recommended #1 Pick Graphics card.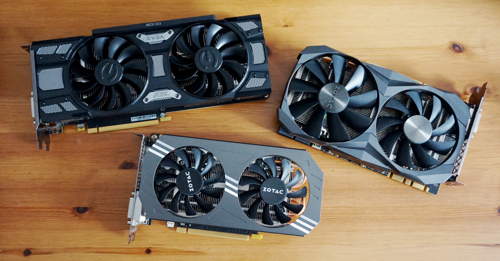 In this post, you will get to know about the coolest GPU for i7-10700k and also I will provide a comprehensive buying guide to help you out.
Best i7 10700K Graphics Card Reviewed
Being a hardcore gamer you must be quite anxious about the card that you will add to your setup.
You might be thinking:
Will I get my desired graphics processing unit in the market?
To clear up everything, I assure you that there are enough video cards available that are a fit for your gaming rig. You can trust me and stick to this blog to get the best deal available.
Here are the best graphics card for i7-10700K:
1. ASUS ROG Strix RTX 2080TI OC
The Republic of Gamers or ROG series of display cards from ASUS has made quite a stir in recent times on the market.
Their ROG Strix 2080Ti OC is one of the flagship cards which comes with top-notch features.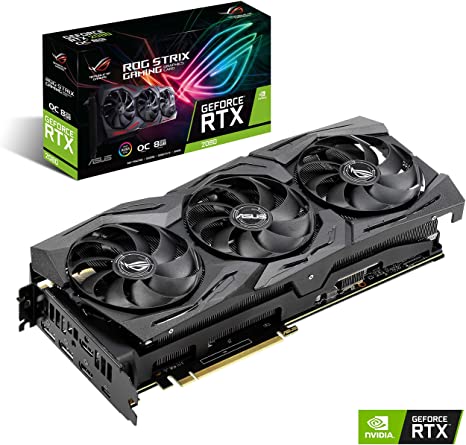 Check Today's Price of ASUS ROG Strix RTX 2080TI OC ➜➜
Best features of ASUS ROG Strix GeForce RTX 2080TI:
RAM size of 11 GB
The boost clock is of 1665 MHz and a base clock of 1350 MHz
4352 CUDA cores
3x adb fans
Total memory bandwidth of 616 GB/s
The design of this card is something that gives you a premium feel. It has a turing architecture and a very sophisticated outlook.
You will also find a brushed metal backplate with the front part being covered with a plastic chassis.
This graphics chip comes up with 3x 85mm fans and the best part about them is their reduced size with long blades helps to have more downward air pressure.
For RGB lighting you will have the ASUS Aura sync software which will help you to control and customize the lighting. There 4 different lighting effects along with numerous colors which can be changed using this software.
If you are up to buying this video adapter, get ready to have the ultimate 4K gaming experience.
By far it is the fastest card dedicated to gaming with the price you are willing to pay for it. You can easily play games like Far Cry 5, Shadow of tomb raider, Assassins creed origins, etc. with no issues.
The real-time ray tracing feature looks super cool in case of lighting and it is one of those things that gamers always craved for.
I would say it is a top choice to make among all the graphics chips for i7-10700k. You should go for this if you are looking for a card that can provide you with a top tier 4K gaming experience.
Pros
»

4K gaming performance of the highest level

»

Energy efficient

»

Silent Fans

»

Fans allow downward air pressure

»

Dual BIOS
Cons
»

Expensive

»

Doesn't support Windows 7

»

Idle fan-off feature unavailable
2. AMD Radeon VII
The Radeon VII from AMD is the first high-end video adapter from the company that can go beyond 60 fps at ultra-high settings.
It is the first card that has been built using the 7nm process.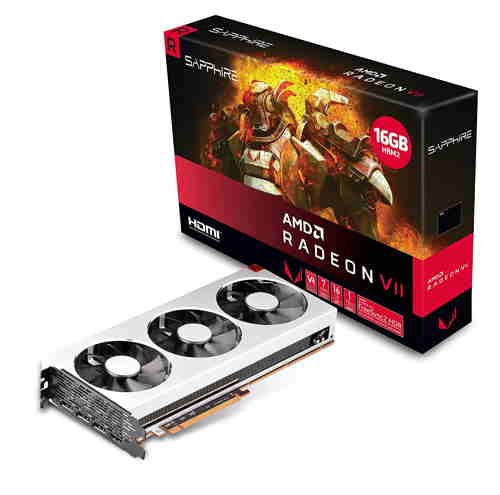 Check Today's Price of AMD Radeon VII ➜➜
Before I go a bit in detail about its uniqueness and performance, you need to know about its specifications.
Comes up with a 7nm architecture
Has 16 GB HBM 2 memory
It has a boost clock of 1800 MHz and a base clock of 1400 MHz
The memory bandwidth is of 1 TB/s
Also has PCIe 3.0 connectors
The number of stream processors is 3840 and texture units are 240
It looks stunning with the aluminum brushed design from top to bottom. It also comes up with 3x fans which help the heat to dissipate away from your card.
The 7nm architecture that this display card possesses, increases its performance to an extent.
If I have compared it with any of its close competitors, then I would take NVIDIA's RTX 2080 and would say that this card beats it from all aspects by a very good margin.
4K gaming performance is mind-blowing. Games like Resident Evil 5, Devil May Cry, etc. renders exceedingly well in this card. The workload taken for 4K video editing is also decent enough.
To sum up, it is a decent card to buy for your system that is being built around i7-10700k. I reckon it can be the best gaming GPU for your i7-10700k.
Pros
»

Superb for 4K gaming

»

Stunning design

»

7nm architecture

»

High Bandwidth memory
Cons
»

Ray tracing hardware is absent

»

Efficiency isn't high
3. Gigabyte RTX 2070 Super OC
Here for your core i7-10700k, I have another graphics card to talk about. It is the Gigabyte GeForce RTX 2080 Super Gaming OC.
Specifications Gigabyte GeForce RTX 2070 Super Gaming:
Number of CUDA cores: 2560
40 RT core and 160 texture units
Boost clock of 1815 MHz and a base clock of 1605 MHz
GDDR6 memory of 8GB
Memory bandwidth is of 448 GB/s
Windforce 3x fan-based cooling system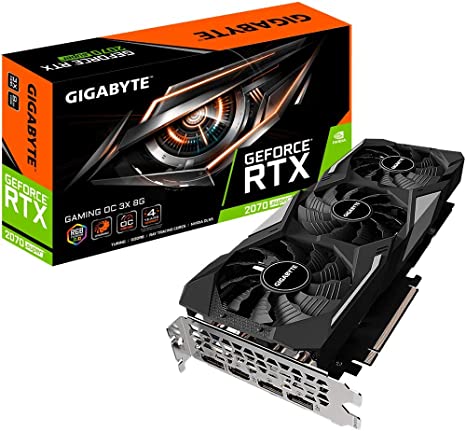 Check Today's Price of Gigabyte RTX 2070 Super OC ➜➜
The design of this card is very cool and simple. Compared to its predecessor version the specs and features this video chip has been much improved.
It's all black and sleek. You will also find some grey patches in the body.
The shroud that this graphics processing unit has some sharp edges which give it a bold outlook. The 3x fans that this card has are alternate spinning.
There is a triangular fan edge that dictates the airflow to split which plays a big part in the cooling process.
The performance is decent and the RGB LEDs are controlled by the RGB fusion 2.0 software.
If you don't like too much noise, buying this video card would be a win for you. The reason is its almost soundless operation.
It's a good display adapter for your i7-10700k that too at a reasonable price. I highly recommend you buy this.
Pros
»

Reasonably Priced

»

Fans are less noisy

»

1440p resolution can be rendered with ease

»

Lightweight
Cons
»

Not good enough for 4K ultra-HD gaming

»

Minimalistic look
4. Powercolor Red Devil RX5700 XT
It is another gaming display card with a memory of 8GB for your i7-10700k that too being an affordable one.
This card by Powercolor is a flagship custom-design that has a 7nm architecture and with a premium level features.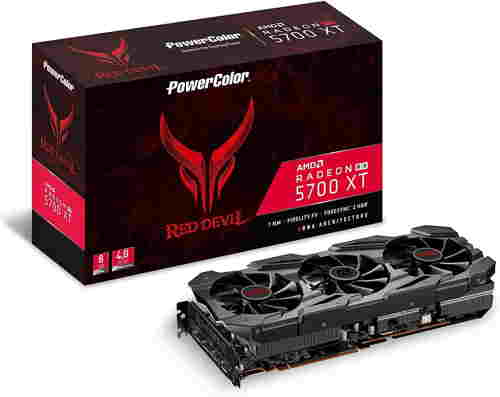 Check Today's Price of Red Devil RX5700 XT ➜➜
Red Devil Radeon RX 5700 XT has:
8GB GDDR6 memory
Base clock of 1770 MHz and a boost clock of 1905 MHz.
Dual BIOS
10 phase PWM
Ultimate mute fan technology
3x fan design
Like I said earlier that it has a custom design, it has a huge aluminum heatsink which is part of the cooling solution constructed around the 3x fans.
The design of this gaming display card is kickass. What adds more spice is the devil horn-type logo on the back which is illuminated through LED-backlit.
The output is decent and the overclocking performance is very good. This video adapter doesn't create a noisy situation.
So, you don't need to worry about the soundless operation.
This display chip offers you some killer features along with excellent performance level though it's being priced meagerly. As a cheap option, it is a top choice as a graphics card for I7-10700k.
Pros
»

Prices under $500

»

Soundless operation

»

Stylish design
Cons
»

May have issues with drivers
5. EVGA RTX 2060 Super SC
EVGA has been producing quality products for gaming rigs for a long time. When it comes to a top quality video, this very model from them is the answer to your every question.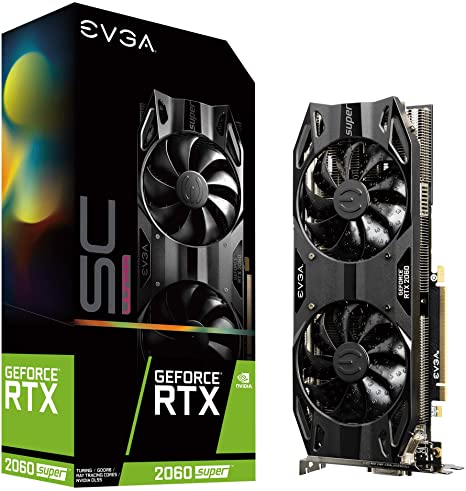 Check Today's Price of EVGA RTX 2060 Super SC ➜➜
Extra ordinary features of EVGA GeForce RTX 2060 Super are:
2176 CUDA cores
The boost clock is of 1680 MHz and the base clock is of 1470 MHz
8 GB GDDR6 RAM
Memory bandwidth is of 448 GB/s
The design of this card is pretty cool. It has an all-metal well-polished backplate
It has 2x HDB fans which do a very good job in the dissipation of heat. These fans aren't noisy at all.
You will find the RGB LEDs to be very neat and giving a commendable output. The idle-fan stop is also available in this model enabling you to have an energy-efficient gaming display card.
Overall:
Being a budget based card, it is a great option to add to your system.
Pros
»

Affordable

»

Much faster than RTX 2070

»

Quiet operation

»

Idle fan-stop present

»

Strong backplate
Cons
»

Overclocking can be complicated due to the power limiter

»

Might have issues with coil whining
6. XFX RX5600 XT Thicc III Pro
Are you short on budget? If you are, this video card is for you.
The XFX RX 5600 XT Thicc III pro is affordable and cheap.
Let me spill the tea. You will get this card cheaper than that of an RTX 2060(which performs similar). Isn't that awesome? I believe it is and so do you.
You might be thinking about the specs and be in a fix about the number of features that this card will provide.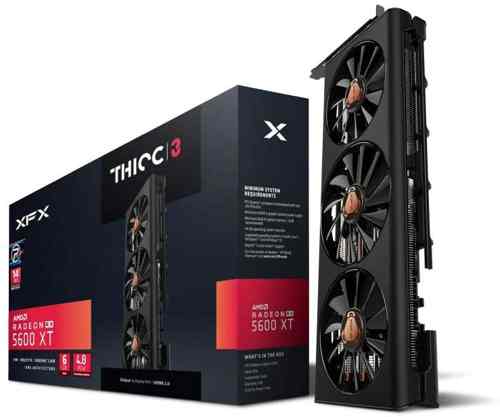 Check Today's Price of XFX RX5600 XT ➜➜
Let me assure you, it has a very good specification as a gaming video card. You will find that:
It has a 6GB GDDR6 memory
Comes up with a boost clock of 1750 MHz
Memory clock of 14 GB/s
The number of stream processors is 2304
Memory bus width of 192 bits
It has a design decent-looking design with specs complementing the price.
If you are up for having the ultimate 1080p gaming experience, then I must tell you that this display adapter is for you.
It comes up with high frame rates that are ultra-responsive. The 7nm architecture is applied very well in the case of this card. 3x fans are there which does an exceedingly well job.
In the end, I would tell it's the best gaming video card for i7-10700k given the price it has.
Pros
»

Very cheap

»

Can render games with ultra-settings

»

Stylish looking
Cons
»

There are issues with the drivers

»

Not enough customizing options
7. MSI GTX 1660 Super Gaming X
When it comes to graphics chips, MSI is a top brand to take into consideration. The Gaming GeForce GTX 1660 is one of those GPUs which you can consider for you i7-10700k.
MSI GTX 1660 Super Gaming X is special for:
Using a TU116 GPU and has a Turing architecture
The video memory is of 6GB
The boost clock is of 1830 MHz and a base clock of 1530 MHz
The number of stream processors is 1408
Has a memory bandwidth of 336 GB/s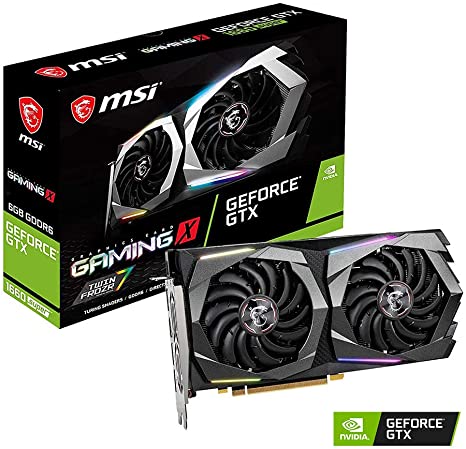 Check Today's Price of GTX 1660 Super Gaming X ➜➜
It has a dual-slot design and you can use the slot that is below as long as it's plugged in and doesn't mess up with the slot above.
The RGB in this display adapter is minimalistic and the dark black-greyish design gives it an eccentric look.
It is a mid-ranged card suitable for 1440p or 4K gaming.
For cooling, this display adapter comes up with the TWIN FROZR 7 technology, which gives a kickass output. A backplate is also there which also plays a big part in cooling.
Overall, If you are a 1080p or 1440p gamer, then as a mid-ranged option it is a decent choice as a graphics card for your i7-10700k. Do buy it if it meets your needs.
Pros
»

Performs well as a mid-ranged card

»

Quiet operation

»

Idle fan-stop

»

Energy efficient
Cons
»

Bit expensive compared to contemporaries

»

Hardware support for RTX isn't there
i7-10700K GPU Buyer's Guide
As there are numerous options, buying the right graphics adapters for your i7-10700k can prove to be a tricky task.
There is nothing to worry about. Like I said earlier, I am here to help you and make the process easy for you.
Here the factors you should consider before buying the best gaming video card for your i7-10700k:
Number of CUDA Cores or Stream Processors
For making the best deal while buying the display card, the number of CUDA cores or stream processors should be brought into consideration.
It helps to identify the performance level that a GPU will be able to provide, as these cores of processors are the performance unit of a graphics processing unit.
Clock Speed of the Card
It is another important factor to consider as the clock speed of a display adapter can differentiate it from the other.
The card that can be overclocked at a higher speed is supposed to have higher frame rates. Though, it doesn't cover everything as you also need to look at the CUDA cores still it's somewhat important.
Memory of the Card
For a pro gamer, the more the capacity of the video card the better it is. Cards with higher memory capacity tends to perform well.
That is why, if you are looking gaming then you must buy a graphics processing unit that has a memory of at least 6 GB.
TDP of the Card
Another factor that you can't get away from while buying. It is the measurement of heat dissipation.
It helps you to determine how many watts you require to run your gaming video card at specific settings.
Final Thoughts
So these are the graphics cards that I recommend for 17-10700k that you will find in the market. I have tried to cover all the options available and compile the list of the best ones for you.
In the blog, I have compiled the cards of different budgets and specs. Just like you will find pricey options, there are reasonable and cheaper ones too.
Each of the GPUs are effective in its ways and performs in accordance to its specs.
I hope you will get your desired graphics card. Still anything concerns you, do let me know.