Stress testing the graphics card is an essential job for any devoted Computer user, whether you're a gamer or an experienced graphic artist.
The procedure assists you in identifying any possible issues with your video card, such as excessive heat, instability problems, and performance bottlenecks.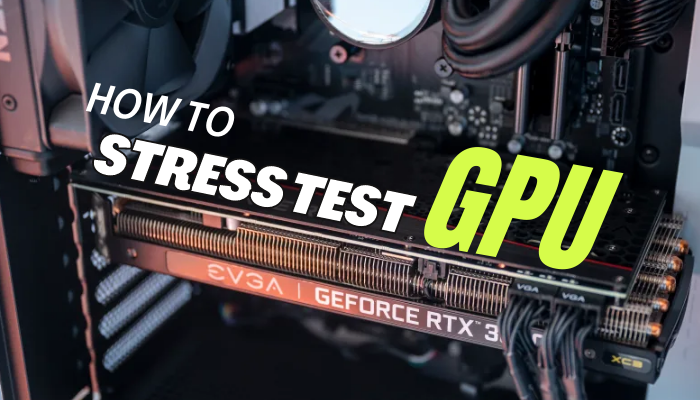 In this article, we'll look at how to adequately stress test the graphics card and the equipment and procedures you'll need.
Let's get started.
You may also like to read about why are GPUs so expensive?
How to Stress Test Your GPU
To stress-test, your GPU selects a stress-testing tool, configures it, and performs the stress test. Depending on the hardware, you should stress test your graphics device for 30 minutes to an hour. More time equals more video card stability.
Many software programs, including Furmark, 3Dmark, and Paessler, can stress test your GPU. We will use the FurMark stress test program for our stress test.
This stress-testing software is available for all platforms, including Windows, Linux, and Mac. Just follow the instruction below to find it out.
But, there is one thing you need to ensure before starting the test. Ensure your GPU is working correctly and you are ready to go.
Here are the steps for stress testing a GPU:
Download and Install FurMark.
Open FurMark.
Choose a preset that suits you best, either specified or custom.
Open GPU-Z and GPU Shank before starting the test.
Note: During the stress test, GPU-Z will display the details of your graphics card, and GPU Shank will show the temperature and TDP of your video card.
Click on the GPU Stress Test button to start the test.
Examine the findings to determine how well your GPU performed after finishing the stress test.
If your GPU completes the stress test, you can be sure it can withstand demanding workloads and elevated temperatures. The ideal GPU temperature determines how stable your graphics card is.
What is GPU Stress Test?
A GPU stress test is a procedure that subjects a graphics processing unit (GPU) to a rigorous and extended workload to evaluate its reliability. The test includes running a benchmark app that uses the video card to replicate heavy graphical rendering to assess its efficiency.
Graphics card evaluations are critical for evaluating a GPU's maximum processing power, mainly in high-performance computing (HPC) applications such as gaming, artificial intelligence (AI), and research simulations.
They can also assist in identifying any possible graphics card problems, such as overheating, device flaws, or problems with program compatibility.
During the graphics card stress test, the application monitors performance indicators such as frame rates, temperatures, and energy consumption.
These metrics offer a thorough analysis of the GPU's functionality during the test, enabling users to improve system performance, spot potential problems, and make well-informed choices about hardware upgrades.
Read more on confusion of Ti vs. Non-Ti GPU.
When User Stress Test their GPU?
Users must stress test their GPU when they need to overclock their graphics card, when they want to know the performance stability of the video card, and when they want to discover the fault or other problems in their graphic processing unit.
It is advised to perform stress testing when constructing a computer for the first time or enhancing an old one. This test is because it enables you to confirm that your system is capable of handling the workloads you plan to use it.
It's also an excellent plan to perform a stress test on your graphics card if you're having problems with your computer's performance, such as fails, freezes, or graphical errors.
Furthermore, stress testing can help with overclocking. Overclocking is raising your graphics card clock speed above the factory-recommended levels.
This overclocking can enhance efficiency but increases the risk of overheating and graphics card damage. Stress testing determines whether your graphics card can manage the higher clock speed rate without failing or overheating.
Go through our epic guide on how much GPU usage is normal for gaming?
5 Best GPU Stress Test Tools (Free/Paid) in 2023
FurMark, MSI Kombustor, Unigine Heaven, Paessler, V-Ray 5, and Speccy are the best graphics card stress test programs. Software for stress testing comes in both free and commercial varieties. Both free and expensive apps are very functional.
There is plenty of software accessible to stress test your GPU. Simply read on to find out.
The following are some of the best GPU stress test software:
| Name | Platform | Price |
| --- | --- | --- |
| Furmark | Windows 8/10/11 | Free |
| Speccy | Windows 8/10/11 | Free |
| 3Dmark | Android, iOS, Windows, macOS | Paid |
| OCCT | Windows, macOS | Free |
| V-Ray 5 | Windows, macOS, Linux | Paid |
| Heaven Unigine | Windows, macOS | Free |
| Matthew-x83 | Online | Free |
| Basemark Web 3.0 | Online | Free |
1. FurMark
FurMark is a famous and dependable GPU stress test program. It is a basic but efficient program for testing the performance of your graphics card under extreme conditions.
FurMark is intended to test your GPU's capabilities by exposing it to intensive visuals and rendering tasks. Additionally, it has a real-time temperature tracking function that makes it easier for you to keep tabs on the temperature of your graphics card.
Follow our guide to know about what does Ti stand for in GPU?
2. MSI Kombustor
MSI Kombustor is another famous GPU stress test program extensively used by gamers and experts. It is a comprehensive tool for testing your GPU's efficiency under various strain situations, such as heavy playing video games, multimedia rendering, and more.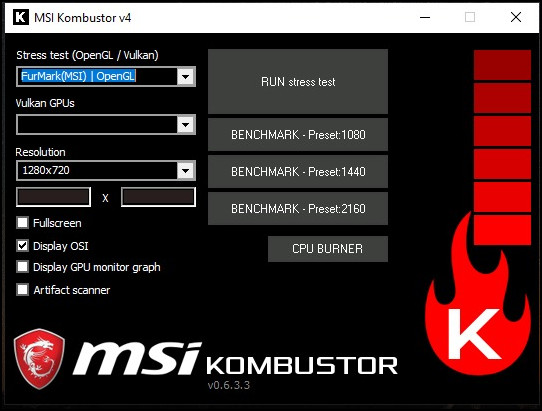 It includes a variety of tests and benchmarks that you can use to gauge the efficiency and reliability of your GPU.
Also read, can Motherboard Bottleneck GPU?
3. OCCT
OCCT is a renowned stress testing application that can help you evaluate the processor, graphics card, and power supply device.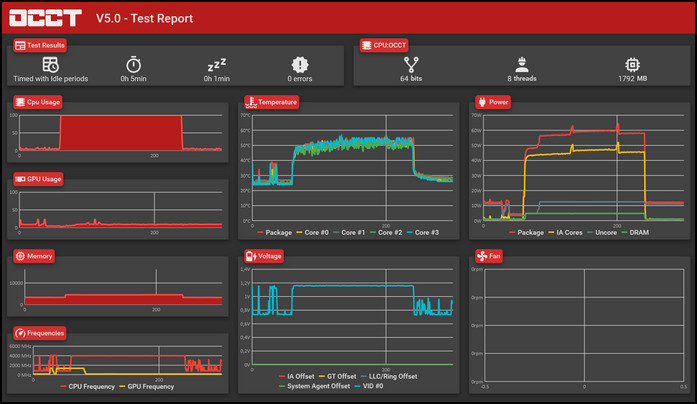 It is a flexible tool that can assist you in assessing the stability of your system under different stress situations, including intense gaming, multimedia rendering, and more.
Read out our separate post on how long do GPUs last?
4. 3DMark
3DMark is a complete testing program that can help evaluate your graphics processing unit's efficiency under different gaming and media rendering workloads.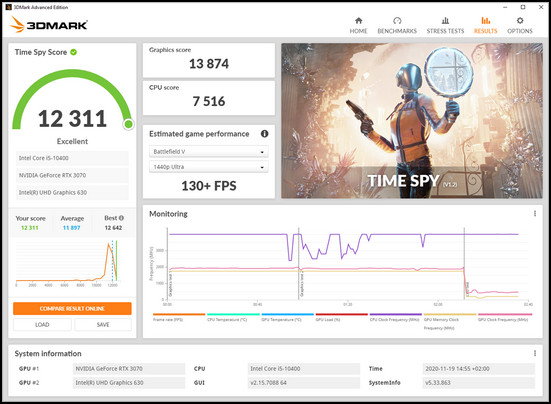 This software includes a variety of built-in assessments and metrics to help you assess the efficiency and dependability of your graphics card.
5. Unigine Heaven
Unigine Heaven has a detailed 3D world with changeable lighting, detailed textures, and accurate physics models.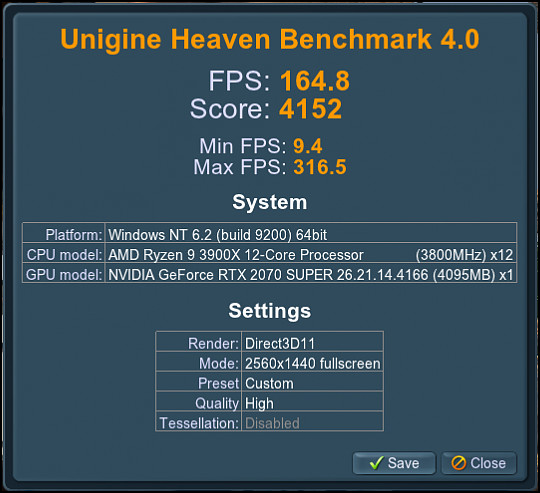 The tool also has programmable options that let users change resolution, image quality, anti-aliasing, and other visual settings to evaluate how well their system performs in various scenarios.
Frequently Asked Questions (FAQs)
Can I stress test my GPU?
You can conduct a stress test on your GPU to see how well it performs under pressure. Stress testing entails pushing the graphics card to its absolute limit and watching how it responds.
What should I use to Stress Test my GPU?
You can evaluate the stability and functionality of your GPU using several well-known GPU stress testing tools, including FurMark, 3DMark, and Unigine Heaven.
What temp should GPU be during the stress test?
Generally speaking, most GPUs can safely function during a stress test at temperatures up to about 90–95 °C. Still, it is advised to maintain a temperature below 85 °C to ensure the graphics card's lifespan and reliability.
Conclusion
Stress testing the graphics card is an essential step to ensuring it can handle whatever duties you require. Remember to monitor the temperature and efficiency of your graphics card and examine the findings to identify any problems.
With a solid and high-performance graphics card, you can experience flawless and smooth visuals in your apps and games.