Are you ready to light up your gaming PC with your desired colors and effects?
Then you have come to the right place.
Asus Aura Sync is the software we will use to control the fancy light effects. Here you will get the download link for Asus Aura Sync. And I will also provide you simple instructions by which you can sync your RGB components like you always wanted.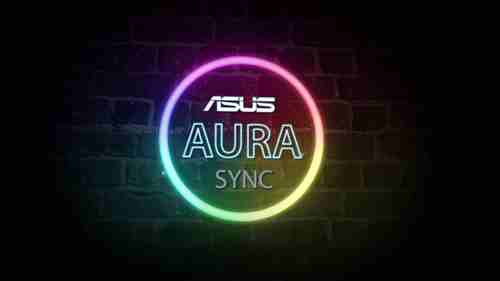 So, let's get started.
What is Aura Sync
ASUS Aura Sync is an app using which you can synchronize the RGB lighting components of your gaming PC.
You can turn your component's LED on/off lighting by using this software. You can also personalize the colors and set several wonderful effects to showcase your gorgeous gaming PC as well as to know various information.
A cool implementation of your RGB lights could be like this; the lights would be green for stable temperatures of all the components. As the components get hotter, the RGB turns red.
To do that, first, download Aura Sync. Then only the sky is your limit as you can set AuraSync to display almost any effects.
How to Download Asus Aura Sync
Asus bundles Aura Sync with its Armory Crate suite of utilities these days. If you install the Armory crate app, then everything is installed with it.
Important: You must have the latest BIOS firmware flashed on your motherboard for all features of Aura Sync to work properly.
The current version of Armory Crate is 3.2.3.0, which supports both Windows 10 and 11. Download the software based on your operating system below.
Download Armory Crate for Windows 10 and 11
If you wish to download a standalone installer for Aura Sync, Asus provides that option too. But note that this version will not receive future updates, as you get the tool built in with Armory Crate.
The current version of Aura Sync is 1.07.84_V2.
Download Aura Sync
Also, check out our ultimate review on the best budget AIO cooler Cooler Master ML240R. which is also Aura Sync compatible.
How to Install Asus Aura Sync
To install Aura Sync, first, extract the installer from the compressed file. You can use any software to de-compress this file, such as 7-Zip or WinRar. It is wise to create a new folder and put all the extracted files there. That way, your drive will be free from any clutter.
Next, run the installer and follow the on-screen instructions. If you are using Armory Crate to access RGB sync software, select Install Armory Crate at the start of the installation process.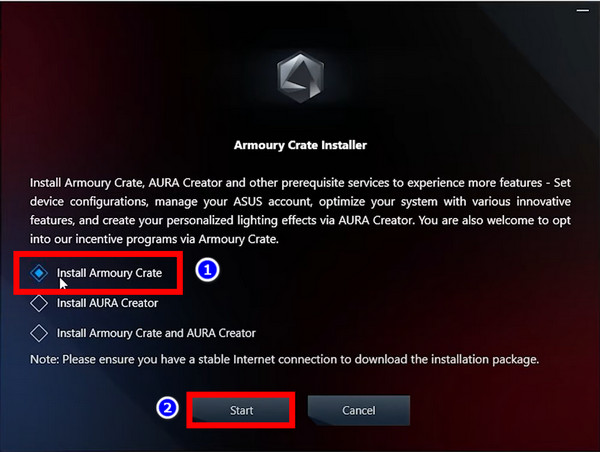 After the installation finishes, restart your computer.
In the next section, let's configure Aura Sync to make your boring PC stand out.
Also, check out our ultimate review on Aura Sync compatible Trident Z Royal RAM.
How to Use Asus Aura Sync to Synchronize RGB
First, open Armory Crate, and you will find a separate section for Aura Sync. Here you will find all the connected devices synced with the app. Once you sync all your devices, you can choose between many pre-built effects on your RGB setup.
Note: The components that support ARGB or have Aura Sync branding on their packaging will work with Asus Aura Sync. If your RGBs do not support programmable lights, you can not sync them using this app.
These are the steps to set up Asus Aura Sync on your computer: 
Open Armory Crate and click on the Aura Sync icon on the left tab.
Click on the Sync button at the top. Wait as all devices are detected and check for a tick next to each component.
Next, click on Aura Effects.
Select any effect from the app and customize its color and speed. You can also create your own custom RGB effect by installing Aura Creator. This has many advanced effects and customization options.
Apart from some static and dynamic effects, Aura Sync also has a cool music preset. Using this effect syncs all your RGBs with the music beats. It also works with videos very well. On a dark scene, the RGBs will be dim. When the brightness increases, the lights sync with the video. This is a perfect candidate for horror movies.
If you don't have any Aura Sync-compatible RGB fans and want one, check out our top Aura fans compilation.
How to Synchronize Non-Compatible Components With Aura Sync
If your motherboard does not support Aura Sync, there is one way to sync all the case fans and LED strips. You can use an RGB controller which connects all the fans and LED headers in a single place. I recommend using the ASUS ROG Aura Terminal, as it will provide the best compatibility with the Aura Sync app.
But note this: all the case fans, CPU coolers, and LED strips must be ARGB compatible to work with Aura Sync.
Here is how you can sync non-compatible components with Aura Sync:
Use a ROG Aura Terminal if your motherboard isn't aura sync compatible.
Replace the RGB LED strips of the non-compatible components with an Aura Sync-compatible LED strip.
Connect the LED strips, case fans, and CPU cooler RGB header to ROG Aura Terminal (If your motherboard isn't compatible with aura sync).
Install Aura Sync and customize the RGB effects to your heart's content.
Now all your components will sync together with a single click.
Is your laptop backlight not working anymore? You cannot type in the dark as a result. Then check out our troubleshooting guide to fix keyboard backlighting issues.
(Bonus) ​All About Lighting: RGB, ARGB Explained
You may already know what RGB is. But if you want a short explainer, this section will help you out.
What is RGB?
The term RGB stands for Red, Green, and Blue. In the case of PC Lighting, RGB means the LED of the Components and accessories can show several colors, mixing these three colors.
Most RGB components can show up to 16.8 million unique colors.
What is ARGB?
ARGB stands for Addressable RGB. In the case of PC lighting ARGB means the components will be able to show several lighting colors at a time and will be able to show a rainbow-type effect.
Addressable RGB can perform several effects that a simple RGB component can't.
What are the main differences between an RGB and ARGB component?
Well, this is a 2 step answer:
An RGB component has some light effects fixed by the manufacturer. It can only display these effects, and some models allow switching between them.
As for ARGB, you have full control over the colors and LED effects shown by the component. Using any RGB control software, such as Aura Sync, you can all control the lighting effects.
Have corsair RGB RAM and want to use it with Aura Sync? Then here's our guide for linking Aura sync with Corsair RGB RAM.
Final Words
Using our guide, you can finally have an RGB setup that is sure to impress your friends. And as always, you have the option to try new effects, the inspiration for which you can get from Reddit.
Do not forget to comment below if you face any issues.
With that said, it's time for goodbye.