Aura Sync LED strips are a must when you're making your own Gaming PC. Because, the more lighting effect you give, the more your PC standouts. To get your RGB strips flashing synchronously with the rest of the components, you need to make sure it's compatible with your motherboard. Although ASUS Aura Motherboards allow you to connect with lots of LED strips from 15 different brands, still, if you're having trouble picking, this post is just for you. After testing 56 different types of LED strips, I have found that the overall best aura sync compatible RGB LED Strip is the Phanteks Neon Digital RGB Strip for its perfect lighting effects and multiple color combinations.
Top 5 Best Aura Sync ARGB strips and Their Reviews
Let's not waste any more time and move on to the ultimate review of the aura sync RGB strip.
Related contents you should read about best Aura Sync compatible RGB/ARGB fans review (2023)
So here's a comparison between the top 5 best aura sync compatible RGB /ARGB LED Strips.
1. Phanteks Neon Digital RGB Strip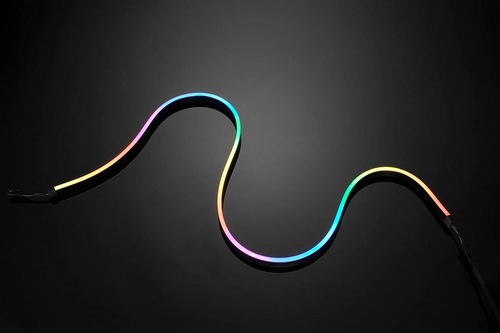 Check Today's Price of Phanteks Neon ➜➜
The Neon Digital addressable RGB strip brings you the perfect lighting effects, allowing you to choose from over 16.7 million colors all from the combinations of red, green, and blue 5050 diodes.
You also get extension cables and motherboard adapter to help you sync it in the most convenient way.
And, Due to its multiple mounting options you can light up your hardware with numerous configurations.
Moreover, This ARGB strip is easily compatible with Digital RGB equipped motherboards and other Phanteks Digital RGB products.
Interesting fact is that:
With the 3M adhesive you can stick it anywhere and connect two of them at ease with its daisy chain design.
Most importantly, You get guaranteed 20,000 hours lifespan with the Phanteks Neon Digital LED strip.
2. ASUS ROG ARGB LED Strip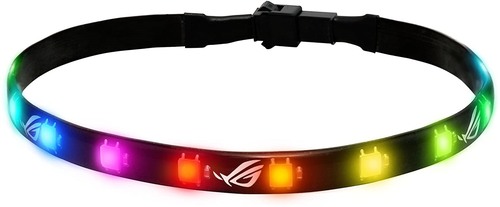 Check Today's Price of ASUS ROG ARGB LED Strip ➜➜
The ASUS ROG ARGB LED Strip is hands down the second best aura sync led strip which comes with a total of 21 high quality 5050 RGB LEDs, lighting up the entire PC interior with glory.
You can simply connect the strips to the motherboard's 3-pin ARGB header with the extension cable and easily synchronize and control it with the Aura Sync, as it is already certified.
ASUS ROG ARGB Strip gives you magnets and 3M back stickers to allow you to position it anywhere inside your case.
And, With its 3-pin male and female ends you can connect them is daisy chain as well.
The strips are made of long lasting polyurethane so that it doesn't break or crack no matter how much you bend it.
The downside of this LED strip is that it doesn't come with any control box.
The RGB are is addressable and considering the price you have a great deal in low budget.
3. BitFenix Alchemy 3.0 ARGB Strip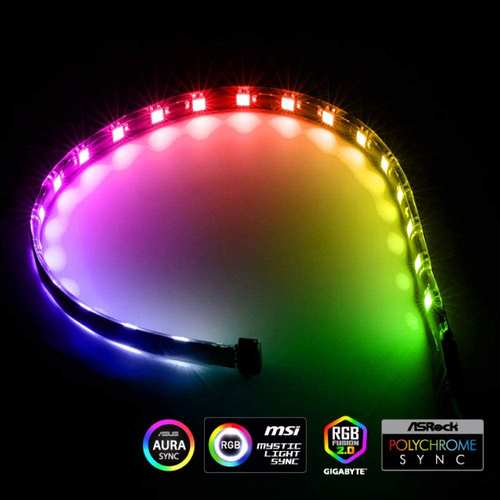 Check Today's Price of BitFenix Alchemy 3.0 ➜➜
The Alchemy 3.0 ARGB is certified to be compatible with Aura Sync motherboard brands with 3-pin addressable RGB support.
This RGB strip features TriBrightTM LED Technology that provides higher saturation, brightness and longevity with its individually addressable LEDs.
I think you will be amazed if i say:
With the Aura Sync, you can customise multi-colour rainbow modes and program them with various speed and brightness.
Moreover, The evenly scattered light castes softer shadows, and increases the overall lighting effect.
High quality 3M adhesives allow you to attach the strips on any flat surface.
And, These LED strips are also equipped with magnets allowing you to easily install and relocate them around the metallic parts of your case to create unique designs and change them as frequently as you want.
Outer surface of each strip is coated with clear rubber, which saves you from short circuit and helps in easy maintenance.
Follow our guide to fix best Aura Sync RGB Graphics Cards.
4. Silverstone LS04 ARGB Strip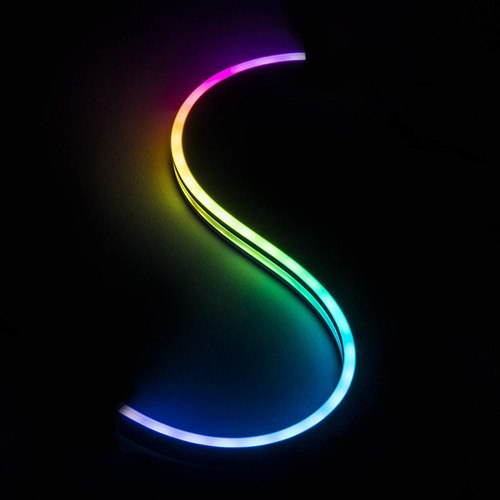 Check Today's Price of Silverstone LS04 ➜➜
I was amazed when I get to know that:
The LS04 brings you premium dual sided 2020 sized addressable ARGB LEDs that produced the brightest lights to illuminate your build.
Super flexible circuit board and coats made of advanced materials make sure you get uniform, dot-free lighting.
With the Aura Sync you can display any of nearly 16.8 million different colours.
The magnetic clips help you install strips literally anywhere on the metallic parts of the chassis and even change them whenever you want freely.
And, In case you want to extend the strip, you can connect two light strips using their male and female ends in the daisy chain formation.
Among all the argb strips, this one is a bit pricey but it's still worth the money.
5. Phanteks Multi-Color RGB Strip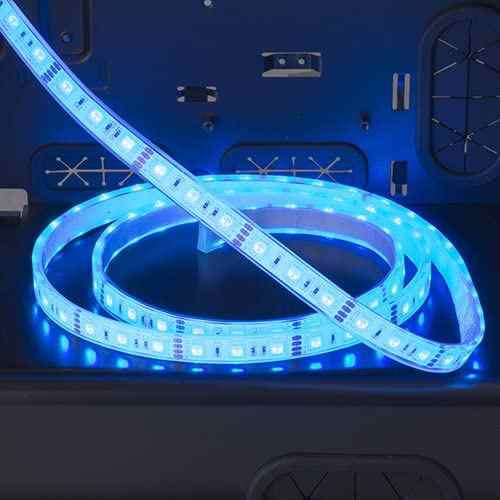 Check Today's Price of Phanteks Multi-Color RGB Strip ➜➜
Phanteks Multi-Color RGB Strip is the best aura sync rgb strip.
Multi-colour RGB strips from phonetics are compatible with very few cases, namely the Enthoo Luxe, Luxe Tempered Glass, Mini XL, Evolv ATX TG, and Eclips P400/P40S and P400/P400S Tempered Glass.
Yes, this is not a Adresable RGB one but it's hugely popular among all the asus aura compatible rgb strips.
So if you are using any of these, I highly recommend you to get the Phanteks multi-coloured LED strips.
This LED strip also comes with magnets and double-sided tape, giving you flexibility to attach them according to your wish.
It's 4 pin male and female ends let you connect two strips in daisy chain design.
Moreover, They are available in in 400 mm, 1 meter and 2 meter length with a density of 21 LED per 400 mm.
The most amazing thing is:
These LEDs have a lifespan of 20,000 hours.
But, before that, do check our latest post on 9 Best Aura Sync CPU Cooler.
Factors that Make A Good Aura Sync LED Strip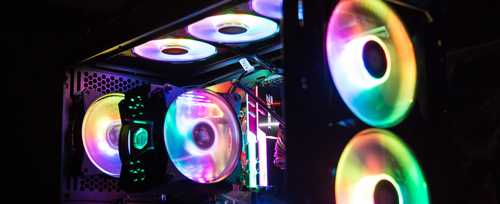 I've chosen these LED strips for the 4 fundamental factors.
Here are the things you should consider while choosing the best argb strips for pc compatible with ASUS Aura Sync:
Type of connector
3-pin ARGB connector: This type of connector has 3 slots, one for +5V power supply, one for data (D) and one for the ground (GND).
4-pin RGB connector: This type of connector has four slots, one for +12V power supply, and three ground or negative for each red (R), green (G) and blue (B).
Always remember to check the RGB header of your motherboard, if it is 3 pinned or 4 pinned.
LED diode type
RGB strips are Surface Mounted Devices (SMD) which are categorized in different types depending on their dimensions.
3528: These LEDs have a dimension of 3.5mm×2.8mm, making its surface area 9.8mm2.
5050: The most common LEDs with dimensions of 5.0mm×5.0mm are mostly used for RGB. They have a surface area of 25mm2.
These are the most commonly used LEDs for RGB/ARGB, but there are more like: 3014, 4014, 5630, 2835, 3030, etc. among which the 5630 has the highest brightness.
Material of the strip
The building material of the strip is really important. It has to be flexible so that it doesn't break or crack when you bend it around the corners in your case. Choose that wisely.
Magnets
While most LED strips come with 3M adhesive, some strips have built-in magnets. These are the best.
They allow you to conveniently attach, detach and relocate the strips on any metal surface without any tape.
Also, check out our separate post on 9 best Aura Sync Cases.
FAQ
Question: How to cut an LED strip?
Answer: Use a sharp scissor to cut LED strips only through the given cut line. Make sure you cut the two copper dots into two equal halves. If you cut the strip in any other way, you will have destroyed the circuit and it won't work.
Question: How to connect an LED strip?
Answer: You can only connect a 3-pin LED connector to a 3-pin header on your motherboard, and the 4-pin connector to a 4-pin header. It's really simple, you just have to plug it in the right way, that's it. So check your motherboard's RGB header before purchasing the LED strip.
Question: Can I leave the LEDs on the whole night?
Answer: Yes. They have a lifespan of 20,000 hours, that's like over 2 years. Although they do not pose any hazard but leaving them on for too long can overheat the transformer and dim your light over time. So it is wiser to turn them off before you go to bed.
Final Thoughts
Now that you have known about the top 5 best aura sync rgb strip you can purchase the one you desire just remember to be sure if the connector matches with your motherboards header
Create your own unique designs and light up your rig. You can now enjoy the RGB all alone sitting on your gaming chair or you can call your friends and show off your PC to them.