I know finding the right cooling solution for a build can be tricky.
That is why, after rigorous research for 8-10 hours, I concluded the 9 best aura sync compatible coolers.
In a hurry, check my #1 cpu cooler.
I have tested and reviewed them, and trust me; they are the best ones you can get.
So, to get the best one, all you have to do is sit back and go through the blog from top to bottom.
Best Aura Sync CPU Cooler Reviewed
A capable CPU cooler is an asset for a system. It will prevent your system from throttling and ensure an optimized cooling solution.
As we are talking about aura sync coolers, the cooling solution you are looking for must support ASUS aura software.
There are a good number of options with such compatibility. But not all of them will be a perfect fit for your rig.
To make your job easy, here I have enlisted the top 9 best aura sync CPU Cooler.
1. ASUS ROG Ryujin 240 RGB Liquid AIO Cooler
ASUS is a big brand in the PC component world. From them, you will find almost everything that a perfect gaming rig needs.
It's been a couple of years since they entered the AIO cooler market. Between Ryujin and Ryuo, their ROG Ryujin 240 AIO cooler is one of the top-tier liquid coolers in the market.
The ROG Ryujin 240 AIO Cooler comes with some excellent specs:
240 mm Radiator
Compatible with Intel LGA 115x, LGA 1366, LGA 2066, AMD AM4 sockets
The fan speed of 450-2000 RPM
Warranty of 3 years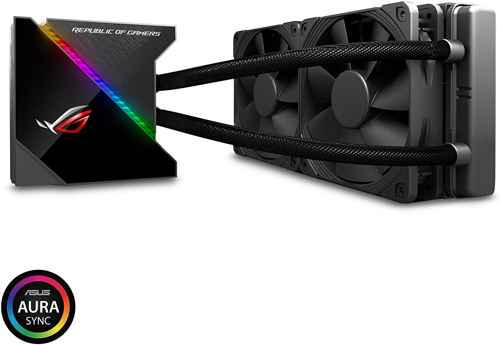 Check Today's Price of ASUS ROG Ryujin ➜➜
ASUS has maintained a decent design scheme in this AIO cooler. When I looked at it, I found it sleekish from the top with a blackish texture all-over. The coloring scheme has both bland and shiny parts.
When you unbox the product, you'll find the ROG logo engraved on the shiny part that is patterned diagonally on the upper surface. Most coolers do produce a lot of noise. But in the case of this CPU cooling solution, noise isn't an issue.
Buying this cooler will offer you excellent cooling potential that, too, at a shallow noise level. Such noiseless operation is possible due to the presence of 2x 120 mm Noctua PWM fans.
Going inside the cooler, you would notice the pump housing is a bit different. A 60mm fan is also embedded in the pump that facilitates air circulation through VRMs and memory modules.
The addition of the LiveDash OLED display is what will make it more alluring to you. You will be able to customize this 1.77″ display with GIFs or images using the LiveDash software.
Also, since the cooler is aura sync compatible, you can enjoy the dramatic lighting effects in the shroud by using the latest aura sync software.
Such lighting adds a new dimension to the aesthetics of the rig. The fans do a great job of cooling the VRM heatsinks. Besides, the superb customizability of OLED displays and lighting is also worth mentioning.
To sum it up, not a good option if you are on a budget. If budget isn't an issue, it is the best cooler to provide an exquisite cooling solution even when highly overclocked.
Pros
»

Noctua PPC fans

»

Customizable OLED display

»

Doesn't throttle even on high overclocking
2. Deepcool Captain 240 PRO V2
Though CPU liquid cooling might be the best process to contain your processor temperatures, it is not aloof from issues. One such problem that you might face using liquid coolers is the leakage of coolants. But, Deepcool Captain 240 PRO is free from this type of situation.
The Deepcool Captain 240 PRO V2 comes up with some fantastic attributes:
Anti-leak tech
Radiator size of 240 mm
Compatible with AMD TR4, AM4, AM3; Intel LGA 20XX, 1366.
Warranty of 3 years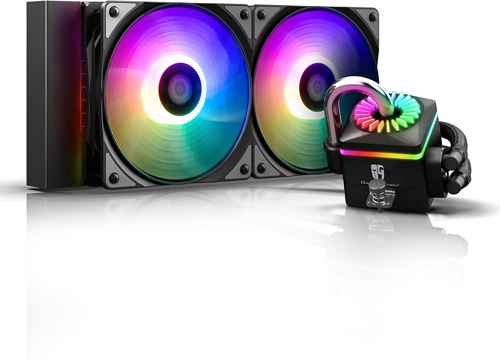 Check Today's Price of Deepcool Captain 240 PRO ➜➜
Superb socket compatibility with both Intel and AMD Ryzen platforms makes this liquid cooler a unique prospect among all other options. Not many coolers you will find with such a feature.
This super functional cooler has a simple, user-friendly installation procedure, thanks to the nickel-plated fasteners and threaded offsets.
As I talked about coolant leakage, the anti-leak tech in this cooler makes it possible that the whole cooling function using coolant doesn't get messed up.
You might ask how the leakage is prevented.
Well, there is an automatic diaphragm valve that enables the cooler to release excess pressure that it took due to heat. This procedure results in no leaks, and thus your internals is free from getting messed up.
The innovative design that the pump has does play a massive role in improving the cooling. I called it innovative because of the dual-chamber design, which is rare in new-gen cooling solutions.
The U-shaped steel pipe that comes right from the bottom part of the pump is a catchy prospect about the design that will immediately gain anyone's attention. The 2x 120mm fans pull off a great job in the circulation of hot airflow.
To make the lighting more attractive, you'll get five different lightings presets to customize. You will have a plethora of color schemes, to be precise, 16.7 million colors. With the help of ASUS aura sync, you can set the whole lighting theme like the way you want.
The fans can get noisy while overclocking, but that takes nothing away from this cooler.
Overall, as an RGB enthusiast, you would love this aura sync cooling solution. It gives a reliable thermal performance with almost no lags.
Pros
»

Stunning RGB

»

Anti-leak technology

»

Easy installation
Cons
»

At high overclocking, fans might get noisy
3. ASUS ROG Strix LC240 RGB
This one from ASUS is a well-designed high-end cooler with dedicated RGB, which will attract most RGB freaks. The ROG Strix LC240 RGB does sport some finest specs:
2x 120 mm RGB fans
Compatible with Intel LGA 1150, 1151,1152,1156,2011,2011-3,2066; AMD AM4, TR4.
Fan Speed: 800-2500 RPM
5-year warranty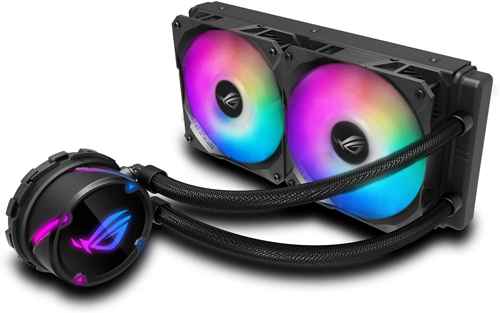 Check Today's Price of ASUS ROG Strix LC240 ➜➜
As a thermal solution that is styled and made for ROG motherboards, the ROG Strix LC240 is a decent option to choose for high-end builds. The pump has a closed-loop design that somehow is one of the reasons behind its top-notch cooling performance.
It features micro-channels, enhancing the intensity of heat moving away by providing more space for thermal dissipation. The pump also features the iconic ROG logo.
The best part about the logo is its illuminating feature. You can customize the lighting color for the logo using the aura sync software.
The tubing is 38 cm and is sleeved. It can be easily mounted and braided. This aura cooling solution also sports 2x sleekish looking fans with their hubs bearing the ROG logo. They are well-optimized and do a commendable job in moving out hot air.
I would say the striking and vibrant RGB lighting is what will attract you the most. Also, take nothing away from the superb cooling output facilitated by the optimized fans.
Pros
»

Good looking

»

Nice Cable Management

»

Low noise
Cons
»

Incompatible with 4-pin RGB headers
4. Cougar Helor 240 AIO Cooler
Featuring a top-quality pump with a combination of flashy RGB. This is what the Cougar Helor 240 AIO cooler stands for.
The Cougar Helor 240 AIO liquid cooler has some superb features to offer:
Fan speed: 600-1800 RPM
240 mm radiator
Compatible with Intel LGA 2011, 2066, 2011-3,1366,1151,1150; also AMD AM4, AM3+, AM2+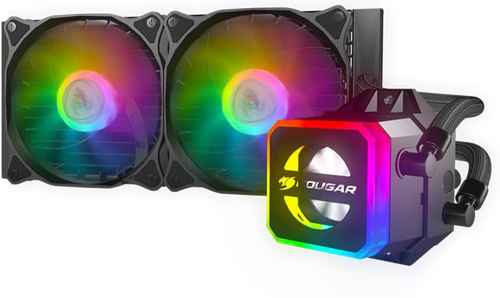 Check Today's Price of Cougar Helor 240 ➜➜
This is the best offering from them, not just as a cooler but also as a product. Top-notch quality, reasonable price, and superb performance are what make it so.
The most significant impact it will have on you is its dynamic addressable RGB lighting. The cooler possesses 2x dynamic fans, each having a diameter of 120 mm. These fans are different from other contemporary ones due to their enhanced blade size.
You'll be able to have more excellent airflow. Also, the noise levels are insignificant. This is only possible due to the increased blade size. Besides, the inclusion of the anti-vibration mounts takes the performance to a whole new level.
The cabling done is quite simplistic. Each of the fans is wired with two cables, and one is for controlling PWM fans, and the other looks after the RGB lighting. The aura sync is responsible for controlling the lighting. This includes setting presets and customizing lighting colors.
You'll have a pool of 100 different presets to choose from. Thus, giving the lighting a whole new dimension becomes an exciting thing to do. The pump seems pretty cool. It looks compact and won't hinder the placement of RAM modules.
Moreover, aura sync compatible cooler can be a great choice. It's perfect for highly overclocked rigs, making it an excellent option with a combination of distinctive looks and output.
Pros
»

Good performance

»

Beautiful RGB

»

Easy to set up
Cons
»

Not compatible with AMD TR4 socket
5. ASUS ROG Ryou 240 AIO Cooler
Ryou, the dragon king in Japanese mythology, is a water god who looks after and maintains his people's safety by balancing the weather.
Going by its name, the ASUS ROG Ryou is somewhat of that archetype that vouches for ensuring the best possible thermal solution for a CPU.
This ROG Ryou 240 AIO has some impressive features to offer:
1.77″ OLED display
Compatible with a plethora of Intel and AMD sockets
Fan speed: 800-2500 RPM
Warranty of 3 years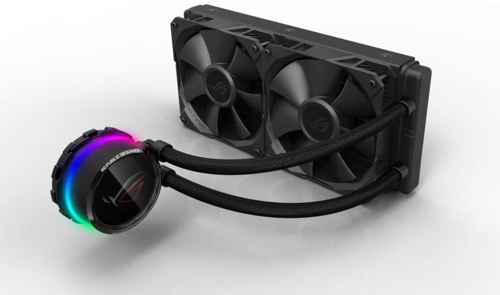 Check Today's Price of ASUS ROG Ryou 240 ➜➜
The radiator of the 240mm AIO cooler that this cooler sports is slim. It has aluminum construction, which eventually makes it lightweight. The tubing is sleeved with rubber engraved with sleek patterns all over and looks incredible.
Another vital component of the cooler, the water block, is micro-channels that ensure top-quality thermal dissipation by driving the heat away from the processor. The black color tone used on the pump makes it look ecstatic.
Since the pump also houses a circular design, there is a barb fitting at the back of the housing that ensures the tubes' proper and easy handling. This cooler is quite popular because of the 1.77″ OLED display it features.
You can view useful information through it; plus, you can also add DIY or animation to make the whole thing look kickass. Thanks to the LiveDash software that makes it possible for you to customize all these.
You'll also be pleased with the RGB implementation both on the water block and fans. The 2x highly optimized fans are where the RGB implementation is the best among all notable coolers. What adds more flair is the option of 6 different lighting modes in both regions, as mentioned above.
Controlling the lighting isn't an issue, as the cooler is compatible with the brand's aura sync software. Anyone with basic knowledge will understand the procedures. The thermal performance is good, which makes sure that there isn't any blockage due to overheating.
Pros
»

Customizable OLED

»

6 modes for lighting

»

Easy to install
6. Coolermaster Masterliquid ML360R
If you are looking for a good-sized cooler with one of the best RGB implementations to offer, the Coolermaster Masterliquid ML360R can be an excellent option to buy.
The Coolermaster Masterliquid ML360R comes with some top-notch features:
Radiator size of 360 mm
Compatible with Intel LGA 2066,2011x,1366,115x; AMD AM2+, AM3+.
Fan speed: 650-2000
2-year warranty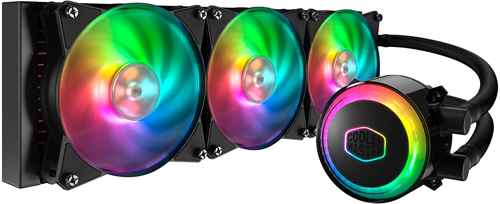 Check Today's Price of Coolermaster Masterliquid ML360R ➜➜
This aura liquid cooler with an aluminum made 360 mm radiator comes with full RGB functionality. It is way better than its predecessor, with a 240 mm radiator in function and cooling performance.
The design looks attractive, with the main element being the unique sleeved tubing, which catches anyone's eye at first glance.
Now, coming to the pump.
It has a dual-chamber design that looks pretty solid. An exceptional element is the wiring that is done in such a way that it seems pretty hideous. The pump has a glass chamber construction, and the top part of it is easily rotatable. This sort of structure also makes it free from corrosion and oxidation.
3x 120 mm fans are used, which also ensures superb airflow with enhanced cooling. With the LEDs on, they come to life and make the cooler in the rig look aesthetically very pleasing.
In case you are planning to add this to your rig, there is one issue that might bother you. At high loads, the fans get noisy, which might be a bit annoying. Though, at low loads, the noise is tolerable.
On the whole, the attractive design is the main thing about the cooler. Though outputs aren't that bad, things could've been better with the price point it comes with.
Pros
»

Excellent design

»

Clearance around socket
Cons
»

Less warranty

»

Loud at max RPM

»

Price/performance isn't complimentary.
7. Deepcool Castle 240EX
Not many CPU coolers out there come with a mirror-faced design. Among the few ones that come with it, the Deepcool Castle 240EX is one of the best.
The Castle 240EX from Deepcool comes with the following features:
Customizable logo
Anti-leak tech
3-year warranty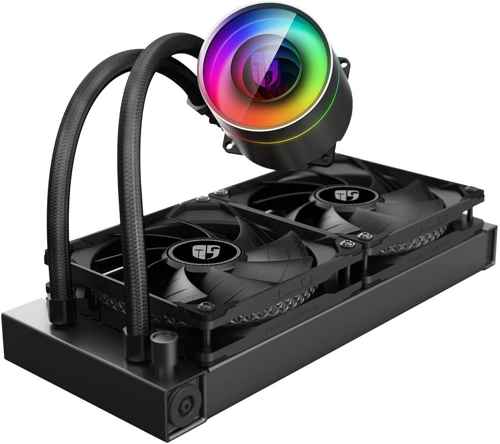 Check Today's Price of Deepcool Castle 240EX ➜➜
This design also lowers the chances of potential coolant leaks. So, you don't have any additional things to worry about. Compatible with almost all Intel and AMD Ryzen sockets, this cooler offers you much flexibility.
It has a copper base on the back of 25% skived fins, which extends heat absorption. The pump block is tall. On the head of the pump block display, you can fit your customized logo.
The 2x 120 mm fans come with pattered edges, enabling smooth air outflow. Though they are non-RGB, lighting elements will be there once you turn on your system. When we talk a bit further about RGB, they are adjustable to its connection to the motherboard with a 5V 3-pin connector. Hence, it gets easier to sync.
This aura sync-compatible CPU cooler has a smart and sleek outlook, with the pump bearing all RGB elements. A few issues might be there, like it can get a bit noisy while overclocking. But, other than this, it's a great cooler.
Pros
»

The pump face has RGB elements.

»

Anti-leak tech saves coolants.

»

Supports almost all types of sockets
Cons
»

Fans come with no RGB elements.

»

The price is high for a 240 mm cooler.
8. Deepcool Neptwin RGB Air Cooler
The best attribute of this cooler from Deepcool is that it's super-silent. So, if you are looking for options that don't create a noisy situation, this cooler by far is the best one.
The Deepcool Neptwin RGB Air Cooler comes with some superb specifications:
6 U-shaped heat pipes
Anti-vibration design
Twin tower heatsinks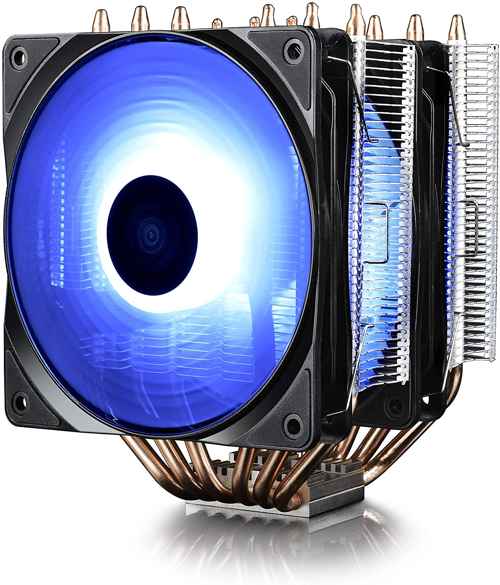 Check Today's Price of Deepcool Neptwin ➜➜
One word for this cooler when discussing its design is UNCONVENTIONAL. This cooling solution's structure is primarily based on the six heat pipes that the cooler possesses and the twin tower heatsinks.
The thermal resistance elimination gets easy because this cooler comes with a mirror-polished base.
You'll love this cooler with its superb compatibility with the plethora of sockets from Intel and AMD Ryzen. It gives you the chance to not worry about this factor and care more about the other important aspects while buying a cooling solution.
As for the size, the cooler is fit for most mid-size PC cases and will be a great fit for almost all the best airflow PC casings.
The twin tower style means two separate parallel stacks of aluminum fins that run through 6 copper heat pipes. These heat pipes have a huge role in the prevention of overheating. Also, they look very good with the coating done on them.
Moreover, this cooler is fitted with 2x 120 mm fans with PWM controls. These fans sport 6 RGB LEDs in them, and when they light up, I bet you would get awestruck.
What adds more to the lighting intensity is multiple RGB modes, which can be controlled and customized easily using the aura sync software. This makes the whole thing within the system look aesthetically very pleasing.
Pros
»

Super silent fans

»

Affordable
9. Coolermaster A71C ARGB Air Cooler
Budget is something that always dictates the buying decision. If the case is such that you are short of money, yet you are not in the mood to compromise with the quality of performance, then this cooler might be a suitable option to go for.
The Coolermaster A71C ARGB has some coolest of the features:
Compatible with AMD AM4
Copper made base
Fan speed: 650-1800 RPM
Single 120mm PWM fan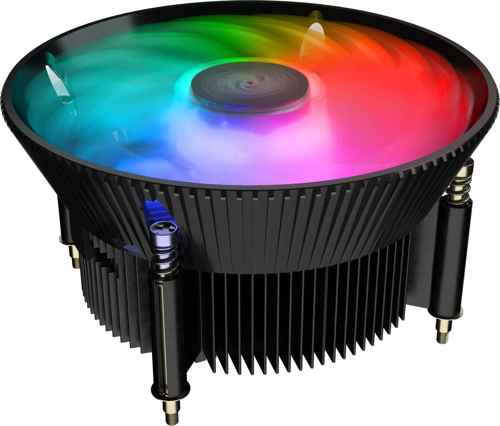 Check Today's Price of Coolermaster A71C ➜➜
Given the price point, this cooler has a low profile yet Compact design. It looks somewhat bowl-shaped with a single 120 mm fan on top. Such size makes it suitable for PC cases with limited form factors.
Coming back to the fan, the fins that it includes are made of aluminum, which ensures steady airflow. Also, it gets better when there is almost no noise, even at the time of high loads. Surrounding the structure comprises black anodized aluminum fins, which maximizes heat dissipation.
All in all, with a warranty of 2 years and a low price, it is undoubtedly the best budget CPU cooler that you can get.
Pros
»

Quiet operation

»

Compact built

»

Suits limited form factor PC cases
Cons
»

Not for high-end rigs

»

Cooling performance mediocre
Aura Sync Cooler Buying Guide
Since you are on the verge of shopping, it is time to decide which type of cooler you should choose. The cooler that ensures the avoidance of thermal throttling, as well as noiseless functioning, is an ideal option to include in your system.
There are a few other aspects to consider that might influence the overall cooling solution. These are those factors that would surely help you pick your desired CPU cooler.
Here below are some of those notable factors that you should consider.
Air Cooler or Liquid Cooler
CPU coolers are mainly of two types, Air Coolers and Liquid Coolers. Air coolers use the traditional cooling methods using the fans to drive heat out of the PC. In the case of liquid cooling, the usage of fans is way less.
There is a coolant-filled loop used in a liquid cooling method for lowering down the temperatures. Both these methods have their benefits and setbacks.
I find liquid cooling a viable option, but that does not necessarily mean that air coolers are incompetent. You can avail of either one after you have gone through their details and is okay with their pros and cons.
Clearance of the cooler
Before you buy, you should ensure that the cooler is entirely adjustable to the PC case.
Mostly the big air coolers can bump against other PC components. That is why you should be aware of the height, bulkiness, and radiator size of the cooler you want to buy.  Not all coolers will be of the same dimensions. You should choose the one that is compatible with the PC case.
TDP rating of the cooler
You should choose the cooler with a higher TDP rating compared to the rating of your processor. Because, for processors with a higher rating, there are risks associated with the CPU throttling down.
When the rating of the cooler will be high, the risks of throttling are less. Also, it ensures a much noiseless operation.
Noise Levels
The greater the number of fans of the cooler, the more noise it produces. Fans are an essential part of the cooler that ensures heat-dissipating away from the components. Their role is vital to lower temperatures. But fans often result in producing much noise, which most users wouldn't perceive well.
Though, not every cooler with multiple fans will produce a noisy situation. Yet, few ones can be problematic in terms of the noise level. You should always look for the CPU cooling option with some particular features dedicated just for noise reduction.
Type of CPU Socket
Though most brands keep a common type of socket in their coolers, it is still better to check the spec sheet for safety. Like coolers compatible with a definite model of a CPU, the number of exceptions might be negligible. Still, you won't want to end up wasting your money on them.
For this reason, be cautious and check before buying.
FAQ
Question: How to buy the best aura sync cooler?
Answer: According to my research, to buy the aura sync cooler, you need to:1.  Check the clearance2. Check the noise levels.3. Observe the TDP ratings4. Check the type of CPU socket
Question: What is an AIO Cooler?
Answer: AIO or All in one cooler refers to liquid cooling options that involve water block, tubes fans, etc. in a single system as a cooling solution.
Question: Is liquid cooling quieter?
Answer: Yes, liquid cooling quieter than air cooling mainly due to not depending solely on fans' cooling.
Final Thoughts
Be it liquid cooling or air cooling; my blog contains all you need to have a clear idea about the market's best options.
I have compiled 9 best aura sync compatible CPU coolers considering everything that needs to be done for determining the suitable option for every type of system. There are high-end cooling solutions, as well as budget ones. Also, a buying guide to help you out to make a choice.
If there is anything about the article you are still confused about, please let me know in the comments.