If you want to have the best PC case for housing aura sync components, then you are in the right place.
I have enlisted 9 such aura sync PC cases that I found to be the best ones after their every trait. This process involved comprehensive research that took a hell lot of time.
In a hurry, here's my #1 favorite CPU Case.
Also, you'll be getting a guide to help you with making the right decision.
So, stay with me and go through this blog.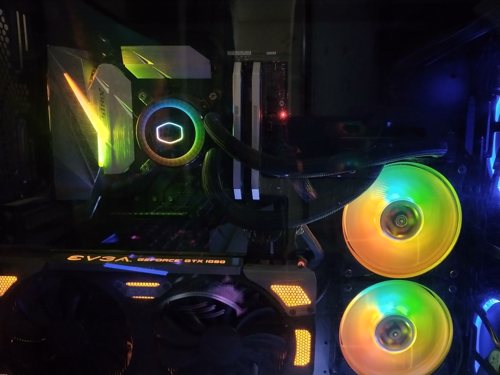 Best Aura Sync Case Reviewed
| Case Name | Form Factor | Motherboard Support |
| --- | --- | --- |
| Coolermaster Cosmos C700M | Full Tower | Mini ITX, Micro ATX, E-ATX. |
| ASUS ROG Strix Helios GX601 | Full Tower | Micro-ATX, Mini-ITX, ATX, E-ATX. |
| Lian Li O11 Dynamic XL | Full Tower | E-ATX, ATX, Mini-ITX |
| Phanteks Enthoo Elite Extreme | Full Tower | E-ATX, uATX, Mini-ITX, ATX |
| In Win A1 Plus White | Mini-Tower | Mini-ITX |
| Coolermaster Mastercase H500M ARGB | Mid-Tower | Micro-ATX, Mini-ITX, ATX,E-ATX |
| Thermaltake Level 20 GT RGB Plus | Mid-Tower | E-ATX |
| ASUS TUF Gaming GT501 | Mid-Tower | E-ATX |
| Thermaltake View 51 TG | Full Tower | Mini-ITX, Micro-ATX, E-ATX |
While researching the best aura sync compatible PC cases, I have found a handful of products.
In my opinion, all of them are kickass in terms of looks irrespective of sizes and price tags.
Still, not all of them will meet your needs or go with your taste.
In such a situation, I believe the 9 PC cases that will be a part of my discussion are more than enough as the choices from which you might end up selecting one.
Why not build your whole rig with aura sync compatibles? Find out the latest updates regarding aura sync compatible LED strips and aura sync CPU coolers.
Here are the list of best aura sync case:
1. Coolermaster Cosmos C700M
Big, expensive, and stylish, the combination of these three traits perfectly describes the Coolermaster Cosmos C700M.
The Coolermaster Cosmos C700M comes with some excellent specs:
Expansion slots: 8
A panoramic side glass panel
Form factor: Full Tower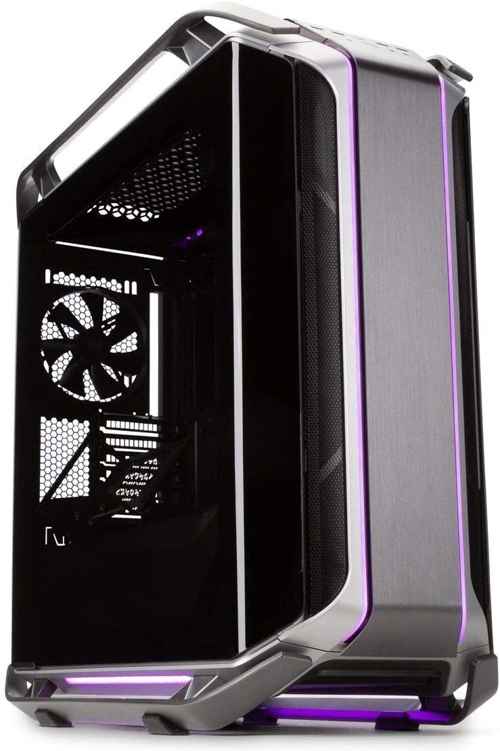 Check Today's Price of Coolermaster Cosmos C700M ➜➜
Coolermaster produces such PC cases that come in various shapes, sizes, and design schemes.
The Cosmos C700M is one of their best offerings to date that can hold the aura sync components.
With the full tower size, the Case looks gigantic. The whole body has a steel build, which makes it super durable. The materials used in the building and the height, in this Case, have made it quite heavy, weighing about 50 pounds.
The outlook of the body is stunning, thanks to the edgy design. At the top of the body, there are an array of cutouts that accelerates the air inflow. Also, there are several such cutouts all around the body that improvises the inward airflow.
As for the motherboard support, this Case is compatible with different form factors. You can hold either of the Mini ITX, Micro ATX, ATX, or even E-ATX. Mounting important components like GPU, PSU, and cooler is super easy.
The RGB of the Case is based on two parallel strips that run down from the top panel. Those strips are placed between the portion having a metallic finish and the plastic part. Besides, the Coolermaster logo placed on the I/O panel also lights up.
Talking about the I/O panel, it is equipped with rich connectivity. A USB 3.1 Type-C port along with 4x USB 3.0 ports are there. The routing of cables isn't complicated as the wires come pre-installed, which are placed appropriately.
Overall, this aura case is a perfect option for building a high-end end rig. Its massive size, along with an easy mounting process, makes it much reliable for holding high-end components.
Also, Get an aura sync compatible RGB fan for your rig!
Pros
»

A curved side glass panel

»

Stylish design

»

Has enough room

»

Easy mounting
Cons
»

High price

»

Heavy

»

Usage of plastic in the build
2. ASUS ROG Strix Helios GX601
When you are building a high-end rig, you need to ensure that the build has the best of the internals' best view. Or else, what's the use of adding such components that are aesthetically pleasing.
The ASUS ROG Strix Helios GX601 gives you the chance to have such a rig. The White edition of GX601 offers you some of the finest features:
420 mm radiator support
Expansion slots: 7
Form Factor: ATX Mid-tower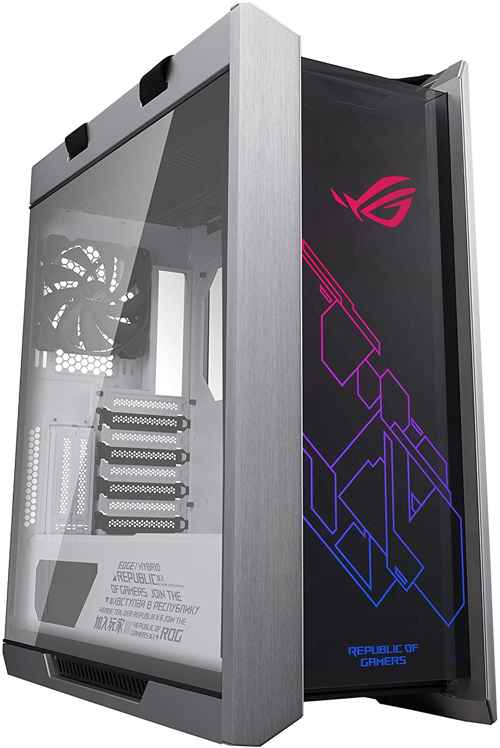 Check Today's Price of ASUS ROG Strix Helios GX601 ➜➜
With the touch of premium-ness all over its body, this aura case is one of the few attractive looking PC cases currently available. The aesthetics of this Case is overwhelming, will mesmerize anyone when the system is powered on.
Aluminum framing has been implemented in the body, that subtly holds three tempered glass panels.
As an aura sync compatible case, it is compatible with motherboards with different form factors. You can have Micro-ATX, Mini-ITX, ATX, or even E-ATX motherboard being added up in the Case.
No matter which type of motherboard you choose, you will get enough room for setting up a 420 mm front radiator.
The cable routing and management are somewhat flexible for this aura sync case. It is because the presence of multifunction cover facilitated by braces makes it easy to hide the cables.
I also found the GPU mounting a bit interesting. Usually, you can mount 3. But for adding flair, it is possible to mount 2 that too vertically. Besides, the presence of removable brackets makes it easy to mount the fans and radiators.
There are a handful of ports placed on the advanced I/O panel. The panel includes USB 3.1 Type-C, 4x USB 3.0, and an RGB lighting control button.
Talking more about the RGB, the LEDs used creates a remarkable effect on the frontal part of the Case. The compatibility with the ASUS aura sync adds a new dimension to the lighting as it is possible to customize using wide range colors using multiple modes.
Last but not least, the fabric handles on the top panel makes the handling super flexible. It makes it possible for you to carry and move this Case with ease.
Also, check out the best aura sync keyboards for a premium feel.
Pros
»

Nicely crafted side panels

»

Fabric handles

»

Good cabling

»

Huge space
Cons
»

Dust filters are stiff.

»

Heavy
3. Lian Li O11 Dynamic XL
Assembling the PC case can be a big issue for some. Most people find it tiring to spend too much time while setting up components inside. The Lian Li O11 Dynamic XL is one such option that eases the process of assembling or disassembling.
The Luan Li O11 Dynamic XL comes with some superb attributes:
Can accommodate 3x 360 mm radiators
Form Factor: ATX Full Tower
4x dust filters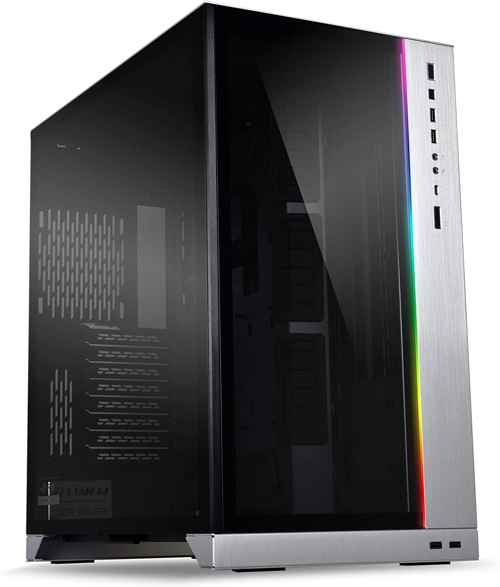 Check Today's Price of Lian Li O11 Dynamic XL ➜➜
As by the name it goes, the Dynamic XL is way bigger than its predecessor. The overall body has the best implementation of modern design. You will find the Case to have a dual-chamber chassis, with the front and the side panels bearing tempered glass.
The top and the right panel is made of premium grade aluminum that increases this aura sync case's sturdiness.
Such a combination of an aluminum structure and shiny tempered glasses makes it stand out among all others. In the interior, there is a considerable space for holding the motherboard. Other essential components won't come in the way while setting up the board of your choice.
On the top, bottom, and side panels, mounting options will enable you to have multiple radiators.  Dual PSU can be housed within, having the drive caddy replaced.
Easy assembling is possible for this aura sync compatible case because of the unlock buttons on the side panels. That eases the job of disassembling the exterior parts so that you can sneak inside in no time.
The 4x dust filters do a great job through the magnetic dust filtration process. Besides, both the front and side panels flaunt RGB lighting as strips are present there to do so.
The Case is also equipped with a plethora of ports, among which USB 3.0, Type-C, HD audio jack are some notable ones.
Fix any aura sync issues under 2 minutes with this definitive guide.
Pros
»

Easy Assembly

»

Dust resistant

»

Plethora of ports
Cons
»

Cable management not so good
4. Phantecs Enthoo Elite Extreme
The elite in the name defines the premium quality of this PC case from Phanteks. It is one of their top-tier offerings for individuals seeking a touch of sophistication in their build.
The Phanteks Enthoo Elite Extreme has some top-notch features:
Form Factor: Full Tower
Tri Chamber Design
Swappable Panels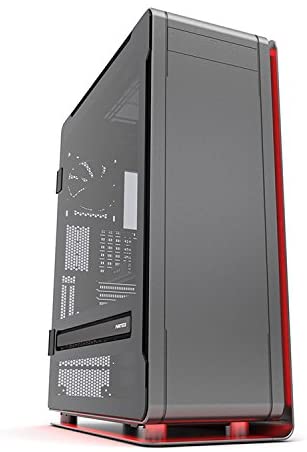 Check Today's Price of Phantecs Enthoo Elite Extreme ➜➜
The exterior looks absolutely stunning with the sandblasted aluminum-made body. Also, there are tempered glass windows that are toolless, gives you a nice sneak-peak inside the interior. You'll find the interior to have a nicely polished aluminum build. Inside the cable management is aptly done.
You would like the positioning of the PSU inside, which seems hidden. This aura sync case comes with a tri-chamber design, enabling the idea of having a full-size GPU inside. This design also allows the process of isolated water-cooling.
Now, let us talk a bit about some of the regular features of a PC case present in this one. There are 5x 140 mm Phanteks pre-installed fans of premium class that look after the build's airflow. Besides, this aura case has a good number of ports to offer.
In the I/O panel, you'll find a handful of options, like the USB 3.0, HDMI 2.0, USB Type-C, and so on. You'll also have the option of vertical GPU mounting along with 6x SSD mounts.
The feature that makes this PC Case stand out is the option of having swappable panels. It is easy to remove the tempered glass panels because of the presence of hinges. Also, the side-mounted brackets are flexible to swap.
Before I end, I would like to mention the unique prospect of cable management in the interior. You'll have a 35 mm cable management space along with an additional compartment.
Pros
»

Spacious Interior

»

Solid build-up

»

Good ventilation
5. In Win A1 Plus White
If you have a short space for setting up your system, it is better to have a mini-sized PC case. Finding one such isn't an issue, but finding the best one can prove to be tricky.
I would suggest the In Win A1 Plus White to be the right option to choose in such situations.
The In Win A1 Plus White has the following specs to offer:
Form Factor: Mini-ITX tower
650W PSU
Expansion Slots: PCIe x2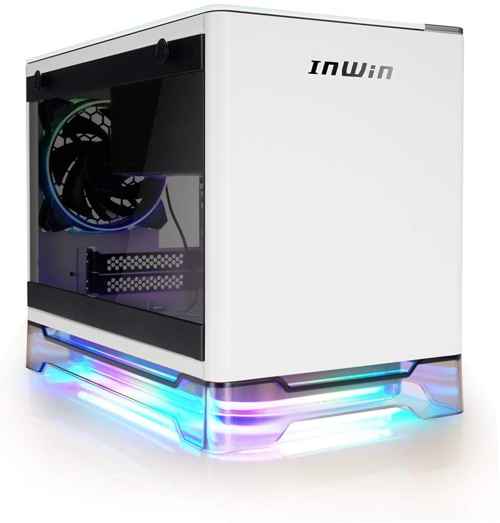 Check Today's Price of In Win A1 Plus White ➜➜
This is a small-sized aura sync compatible Case that has a PSU pre-installed in it. That is why a big part of the assembling of the components inside the Case is relieved. It comes with an uncomplicated structure, which makes it easy to open up.
The total build-up is substantial, with the tempered glass being hard-wearing. What adds more to the design is its innovativeness, which enhances the overall cooling performance.
Such design plays a big part in the aesthetics of the PC case. The airflow in and out of the Case is overwhelming. It enters through side panels and exhausts from the back.
The best part about this aura case is, In Win has implemented the innovative feature of fast qi charge. That is, when you place your phone on the top panel, it will get fully charged in no time.
As the Case is small in size, it is easily accessible, thanks to the 2 screws at the back and 2 snaps at the front. The pre-installed PSU also gives out a superb output, making the Case a desirable option for many.
With an affordable price tag and minimal form factor, this is one PC case that is reasonable in every aspect.
Pros
»

Easy cable management

»

Sturdy build

»

Eye-catching aesthetics
Cons
»

Splinters absent in fan cables

»

PSU can often get noisy
6. Coolermaster Mastercase H500M ARGB
Stunning looks with rich connectivity, this model Coolermaster has all to offer. The Coolermaster Mastercase H500M ARGB has the following features to offer:
Changeable front panels
2x ARGB fans
Form Factor: ATX Mid Tower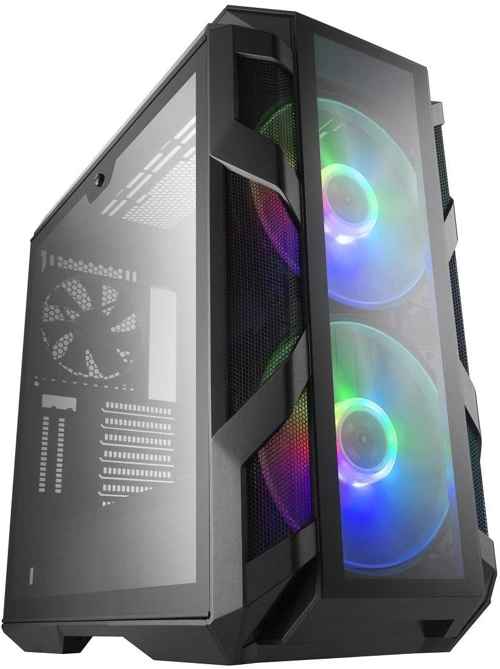 Check Today's Price of Coolermaster Mastercase H500M ➜➜
This is one Case that offers you the option to hold a variety of top-end components altogether. At first look, you'll find it quite similar to its predecessor, but there is a difference. This is the difference that makes it stand out among the aura sync compatible cases of the same type.
The entire chassis is made up of steel and plastic. In the top panel, tempered glass is being used. Also, just below this panel, you'll find mounting locations for the fans.
Now, you'll be able to change the frontal part of this Case as it offers you two options. Either you can set a tempered glass front panel or a steel mesh panel, you'll have all the flexibility.
The Case's front part also has 2x 200mm ARGB fans installed, which glows like none other when the system is on.
Watercooling support is there, also the space to hold a 360 mm radiator right there at the front. The dedicated pump bracket present makes the mounting much more comfortable than before.
Pros
»

4x tempered glass

»

Good thermal performance

»

Excellent connectivity
Cons
»

Side panel locks have some issues.

»

Type-C cable is short.
7. Thermaltake Level 20 GT RGB Plus
Thermaltake has some good PC cases to offer under their radar. When talking about this particular model, I think they have created something out and out appealing for their fans.
The Thermaltake Level 20 GT RGB Plus has some impressive specs to offer:
Form Factor: Full Tower
E-ATX motherboard support
2x 200 mm RGB fans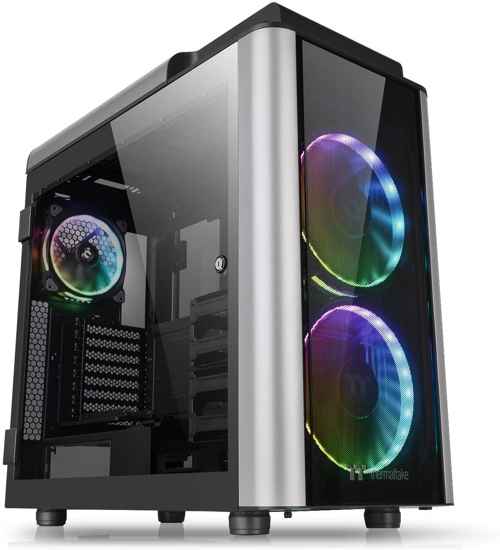 Check Today's Price of Thermaltake Level 20 GT RGB Plus ➜➜
This aura sync compatible PC case comes up with a full tower chassis. Also, there is 4x tempered glass all round the total build. One of those glasses is there in the front, through which you can easily view the pre-installed 2x 200 mm RGB fans.
You'll find another 140 mm fan whose primary function is to flow the hot air out in the rear. The aura case also supports an E-ATX motherboard along with coolers with a height of 200 mm.
As if you need it, then you can also house liquid cooling options. The radiators that can be mounted inside can be done vertically, which also helps in having a better view of the RGB fans.
On top of that, the interior is very tidy looking, mainly due to the proper cable management done through power covers.
Pros
»

Air cooling support

»

Spacious Inside
Cons
»

Air filters are stiff.

»

High price
8. ASUS TUF Gaming GT501
This PC case from Asus is a perfect option for holding top-end hardware along with a liquid cooling solution. The ASUS TUF Gaming GT501 is equipped with some of the coolest features:
Form Factor: Mid Tower
E-ATX motherboard support
Cotton handles easily for handling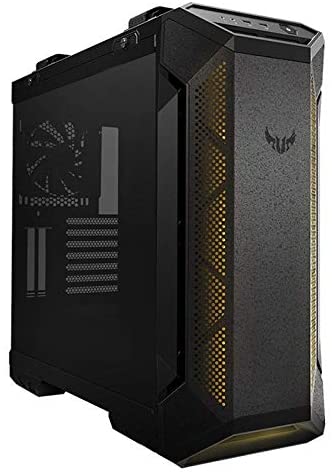 Check Today's Price of ASUS TUF Gaming GT501 ➜➜
It comes with a modular design with the front panel being made of metal. The panel has a unique pattern coated with the TUF logo engraved. Also, there is a bit of a mesh-like structure on the sides.
The special coating on the front panel makes it scratch resistant. Now moving on to the tempered glass side panels, I must tell you that they give a super view of the internals inside. The hinges in these panels make it easy to remove them when necessary.
About the motherboard compatibility, this aura case can hold almost all types of boards. Be it E-ATX, micro-ATX, or even Mini-ITX, each of them is a fit in the interior. There are 3x 120 mm fans on the front and a single 140 mm on the rear, all of which are pre-installed. They are RGB enabled, and so they offer ambient lighting.
Integrated cable management makes the interior tidy enough, and there is also pre-installed physical support for the motherboard.
Pros
»

Superb Functionality

»

Compact side glass panels
Cons
»

The rear fan has no RGB

»

A bit larger in size
9. Thermaltake View 51 TG
This is one such PC case that gives you a superb view of the glowing hardware inside.
The Thermaltake View 51 TG comes with some exciting specs:
Vertical GPU mount
Form Factor: Full Tower
Smart space design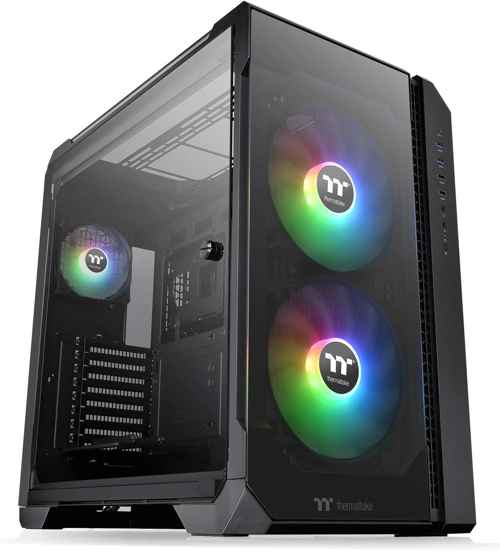 Check Today's Price of Thermaltake View 51 TG ➜➜
As for the looks, this PC case looks way elegant than most of its contemporaries. There is a modernish touch all over the body. It has 4x tempered glass panels that are scratch-resistant and bears a swing door specifically on the left side panel.
You would find this Case to be super flexible because of its easy dismantling feature. The brackets, racks, and panels can be pulled apart in no time. The Case also comes with 5v ARGB 2x 200 mm fans and a 120 mm rear fan for the ventilation process.
The 200 mm ones bear 9 addressable LEDs with hydraulic bearings. When the system is on, these fans light up ambiently. You have the option of customizing the lighting with 16.8 million colors with a variety of modes.
These modes can be controlled by a small interface on the I/O panel. Also, it gets better as there are patented rotational PCIe slots for GPU mounting. They eventually prevent GPUs from sagging.
Pros
»

Easy mounting

»

Eye-catching design
Cons
»

Absence of dust filters on the front
Aura Sync Case Buying Guide
When buying a PC case, most of us often do go for eye candy. We go for options that make us feel like:
Wow, this is awesome. I'm definitely going to buy this no matter what. But this is a big big mistake that we make.
The aesthetics of your PC case isn't everything. A PC case is way more than that. It is just one of those aspects that you should consider while choosing the right option.
That said, out of all those aspects, I have gathered some notable ones that would definitely result in a good buy.
Here are those things that you should keep in mind while buying the aura sync case:
Form Factor of the Case
The PC case's size or form factor determines what type of components are to be used inside. Generally, PC cases come in three different sizes – Mini tower, Mid-tower, and Full tower.
Such sizes play a big part in determining the size of essential components like GPU, Motherboard, and Cooler. Like the way there are different types of motherboards for every kind of size, it's also the same for GPUs and coolers.
Each of these cases tends to have their own unique traits. That is why you have to check these traits carefully to ensure that your aura sync components fit the PC case you are up for buying.
Cable Management
Routing the cables inside the system must be flexible. Now, not all PC cases offer the same level of flexibility. While choosing the most viable option, always search for a case that will provide enough cutouts in the motherboard tray.
This enables perfect routing of cables through the rear end of the Case. Some models also have features like wire covers or even tie-offs for keeping the wires free from getting tangled.
Fan Compatibility
It is more likely that the more fans you can accommodate in your PC Case, the better the chances are for superb airflow.
The number of aura sync fans varies that you can include in the Case varies by the size of the Case. There are PC cases that can hold 3x fans. Also, some options can have just a single one.
So, it would be better to decide what sort of cooling performance you require and how long you will use the PC case.
Aesthetics
The way a PC case looks somewhat matters in choosing the right option. PC cases come in with different types of designs and patterns. The usage of glass in the outer structure has been a trend these days.
Having a killer view of the internals might be one of your needs while choosing a case for your aura sync build. Go for the ones where there is a decent combination of looks and compactness.
FAQ
Question: How many types of PC cases are there?
Answer: There are three types of PC cases. They are- Full tower, mid-tower, and mini-tower.
Question: How to choose an aura sync case?
Answer: If you want to choose an aura sync case, it is better to notice a few important things. They are- 1. Form Factor2. Fan Compatibility3. Cable Management4. Price5. Aesthetics
Final Thoughts
So, these are the 9 finest aura sync compatible PC cases. I have gathered the options to cover all the types that a PC enthusiast often looks for.
You can easily differentiate between the budget option and a high-end option after reading out this entire blog.
Above all, I hope that you would be able to get the product that you desire. In Case any difficulty arises about anything that I told you, do let me know.