You need to a aura sync keyboard to accomplish your 'RGB EVERYTHING' mission, right?
As a Aura sync user, I know it can be tricky to choose your match among so many options!
In a hurry? Then just get my personal favorite Aura sync Keyboard.
I researched and tested lots of keyboards and came up with this list.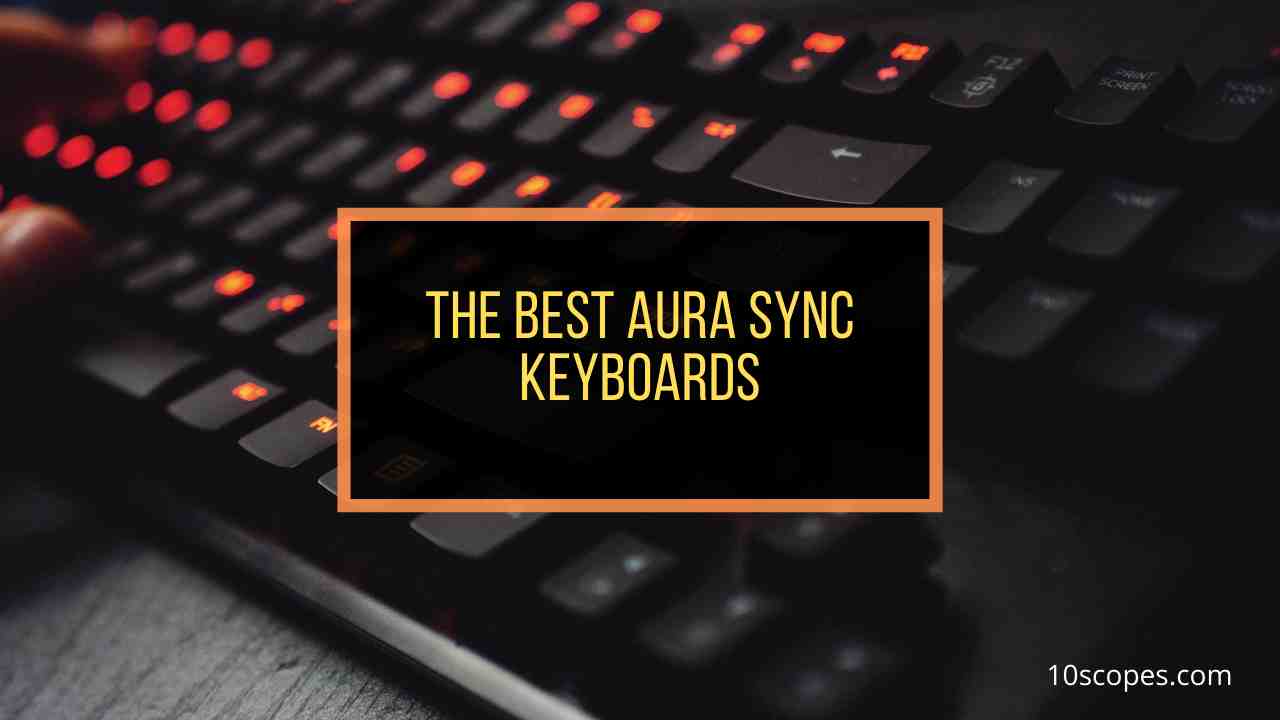 Or read this article till the end to discover your best fit…
Best Asus Aura Keyboards
To have the perfect keyboard is essential for a smooth gaming experience.
You would want to have the option that elevates your gaming experience.
Here are the best Asus Aura compatible RGB keyboards:
1. ASUS ROG Strix Scope TKL
As a tenkeyless keyboard, the ASUS ROG Strix Scope TKL is one such model that any gamer who wants a high-grade product will crave for.
The ASUS ROG Strix Scope TKL comes with some fantastic features:
Has an ergonomic wrist rest
Comes with detachable USB Type-C cable
Anti-ghosting technology
Cherry MX switches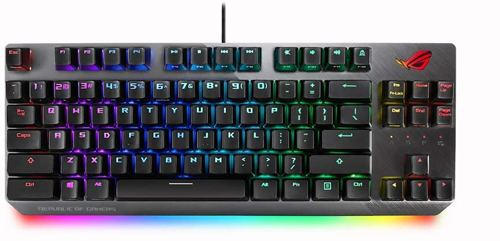 Check Today's Price of ROG Strix Scope TKL ➜➜
This sturdy and sleek looking keyboard is by far the best tenkeyless keyboard that ASUS has produced. It has a lot of things to offer for you which makes it a top choice among extreme gamers.
The build-up that this keyboard has is compact and solid.
You will have the all-in-all premium feel as it belongs to the ROG series of products.
This keyboard has a military-grade construction which also plays a big in its outstanding durability. The aluminum top-plating that has been used is up with a cleanish finish.
The premium craftsmanship from ASUS is something that adds a lot to the robustness of this keyboard.
The dual-tone black-greyish texture that is used in the body gives it a killer outlook.
Talking about the switches, the Cherry MX brown ones are used in this model.
The keycaps used on the board are hard-wearing. And since the ROG typeface is used, it unleashes the aggressiveness of the keyboard in terms of performance.
Though it doesn't come up with the macro keys, you will be able to enjoy the option of having the multimedia keys by toggling up the FN keys.
Besides, it also has an ergonomic magnetic wrist-rest which may not be the best one available but does a decent job in providing comfort to your hands.
As for performance:
It is the best you can get for FPS gaming. The anti-ghosting feature is also right there to provide you a competitive advantage while gaming. You don't need to worry about multiple mishits at a time.
As you already know, the Armoury II software will enable you to create customized profiles.
You can have at most 5 lighting presets as a part of making the aesthetics of the board look enhancing.
The lock lights look super cool and they are placed just above the arrow keys.
This keyboard is highly portable which makes it easy for you to carry it in your backpack.
Pros
»

Sleekish look and sturdy design

»

Best for high FPS gaming

»

Comfortable wrist-rest
2. ASUS ROG Claymore
If you are looking for a keyboard with multifarious features the ROG claymore is here for you.
The ASUS ROG claymore comes with some exciting specs:
Anti-ghosting tech with N-key rollover
Onboard memory
Programmable keys
Removable Numpad

Check Today's Price of ASUS ROG Claymore ➜➜
The ASUS ROG claymore comes with durable aluminum construction. This is a wired keyboard and is compatible with Windows 10 and 7.
The solid aluminum body along with the customizable RGB makes it a premium product from ASUS.
As a keyboard, it has two parts. A core tenkeyless keyboard and a removable Numpad. The best part about this Numpad is that it can be attached on either side of the core keyboard.
It is well crafted. The blackish finishing that is given on the body looks catchy to the eyes.
Anyone with the first glance of this keyboard will find this to be a premium and expensive option and this is true to some extent.
The looks, the build-up, and the unmatchable sturdiness it got support the idea of this keyboard being an expensive one.
The Cherry MX RGB Mechanical switches have been used in this keyboard. You'll find the black version of this type of switches being used in this model.
Since its RGB, you have the freedom of lighting them up with any color you want to. In this case, the Armoury II software is there to help you out in customizing per-key RGB.
The superb part about the keys is that it will last up to 50 million keystrokes.
This ASUS RGB keyboard has the anti-ghosting technology installed in it. That is an essential aspect for a gamer for having an improved gaming performance.
What makes this keyboard unique is its detachable Numpad.
Like I told you earlier, you can attach it on either side and the adjoining sides are well-designed. Plus at the top of it, there is a volume roller to control the sound levels.
Each of the keys on the board is remappable. You'll be able to customize and create your macros
In terms of performance, it's an ideal option for gamers. Apart from gaming, if you want to use it for typing then I must tell you that it can offer you a solid level of performance.
You will need a bit of time to get used to this keyboard as the keycaps are positioned very closely.
But don't worry. It's not going to take too long if you're already a pro.
The keys can be a bit noisy but that it overweighed by the superb features that this keyboard has in store.
Pros
»

Per-key RGB

»

Numpad can be attached on either side

»

Sturdy body
Cons
»

Expensive

»

Possibility of Numpad going loose

»

Wrist-rest absent
3. ASUS ROG Strix Flare: COD Edition
If you're a COD lover then I bet that you'll love this rendition of this keyboard.
ASUS has tried to do something out of the box through the introduction of the theme-based ROG Strix keyboards. This very model is one such great example of it.
The ASUS ROG Strix Flare COD version comes with some finest features:
Equipped with a wrist-rest
100% anti-ghosting technology
Full sized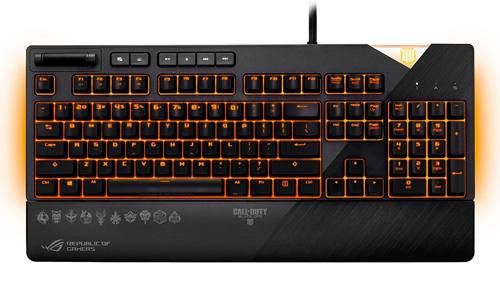 Check Today's Price of ASUS ROG Strix Flare ➜➜
This is one fantastic keyboard to have in your rig for having a top-notch gaming experience.
It is slim and has a decent weight.
ASUS went for an all-black texture for this particular keyboard. The finishing that is given all over the body will give you a futuristic feel.
The Cherry MX RGB ones have been used for this keyboard. All of them are of topmost quality.
The keys used are finger pleasing. You can type with ease without having any issues.
Even if you're with small hands, it won't cause that many problems.
The Keycaps are made of ABS polymer. So while you type, you might feel a bit hollow.
This keyboard is also equipped with media keys that are there to make the process easy for controlling several functions.
For instance, look at the wheel right there at the upper left of the keyboard. This smooth wheel enables you to have the control over sound levels of your system right from the board.
At the top right you will find the USB pass-through along with a removable clear acrylic slide with a logo. You can customize and create your logo on the slide.
For the lighting, the ASUS aura lighting software is up there to make your job easy in case of customization.
You can have up to 13 different presets for the board. Also, the board has per-key RGB which enables you to customize by choosing any color you want from the spectrum.
In this keyboard, you'll find up to two USB plug-ins, one for data connection, and another for multiple usages. There is also a wrist-rest with this keyboard which doesn't seem to be that smooth.
Nonetheless, this ASUS ROG keyboard being a theme-based option is an excellent choice if you are looking for such an option.
Pros
»

Customizable logo slide

»

Media keys

»

Top-notch finishing
Cons
»

Wrist-rest ain't smooth

»

A bit expensive
4. ASUS ROG Strix Scope
If you don't like keyboards in which things are being overstated, then the ASUS ROG Strix Scope is here to your rescue.
The ROG Strix Scope from ASUS has the following specs:
Aluminum top-plating
Has WASD keycaps
Can have 10 RGB presets
Fully sized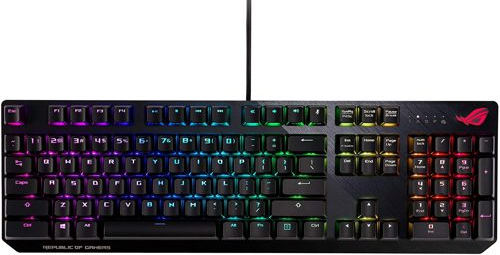 Check Today's Price of ASUS ROG Strix Scope ➜➜
ASUS stuck to basics in terms of designing this keyboard. The overall outlook of this keyboard has a touch of sublimeness with nothing being overdone.
This is such a keyboard that will attract any gamer because of its high reliability and responsiveness.
The top plate has a matte black covering with an aluminum brushing at the corner.
It might not be something by which you would get awestruck, still, it's decent enough.
The simplicity in the looks doesn't compromise with its compactness.
As an Asus Aura keyboard, it offers great flexibility. You can carry it with ease at different places, it isn't that heavy.
The Cherry MX brown switch keyboards are vastly popular in this model.
These switches are highly responsive as well as durable. You would also find them very comfortable to type with.
Other than this, the performance of this keyboard is commendable considering every aspect.
Though there are few things like the absence of a wrist rest and dedicated media keys, the other features somehow outweigh the whole thing.
Pros
»

Compact body

»

Super responsive keys

»

Good design
Cons
»

No dedicated media keys

»

No wrist-rest
5. ASUS TUF Gaming K7
With this keyboard, the tech giants have tried to come up with something future-proof.
They have tried to develop something that would attract such users who like to explore innovative products.
The ASUS TUF Gaming K7 comes up with some notable specifications:
It is full-sized
Detachable wrist-rest
Water and dust resistant
Can withstand 100 million keystrokes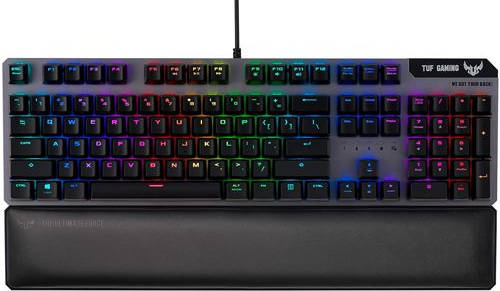 Check Today's Price of ASUS TUF Gaming K7 ➜➜
This is one of the best-looking keyboards out there. It looks flashy and sturdy.
It is not the heaviest keyboard out there.
On its frame aluminum brushing has been done and with the solid aluminum framing, it is one of the most durable keyboards available.
It comes with a floating key design which makes the layout look very cool.
A leather wristpad is equipped with this keyboard which is magnetic as well as detachable.
Now if I have to talk about the switches used, I will say those are the best thing about this keyboard.
The optical-mechanical switches that are being used here are 25x times faster than the traditional switches.
Though, the output is very solid with the highest level of precision.
Another important feature of this keyboard is that it's waterproof.
It highly spills resistant, so that while gaming in case any liquid like tea or water fells on the surface, it won't cause any issues.
The backlighting is excellent with the feature of per-key RGB. It's well-coordinated by the ASUS Armoury II software.
With all these exciting features available, few things got missing which could have been a superb addition.
Dedicated media keys, USB passthrough ports, and an audio jack.
However, that doesn't take anything away from this superb ASUS Aura compatible keyboard.
Pros
»

Comfortable wrist-rest

»

Superfast keys

»

Waterproof
Cons
»

No extra USB pass-through
6. ASUS TUF Gaming K5
If you are aware of membrane keyboards, then you already know what are the perks of using it.
The ASUS TUF Gaming K5 has the following features:
•It is wired and fully sized•Spill and dust resistant•Comes with a wrist pad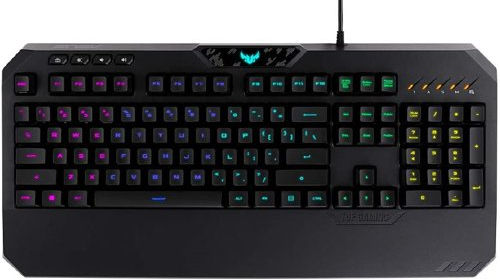 Check Today's Price of ASUS TUF Gaming K5 ➜➜
Membrane keyboards are not as clicky or tactile like that of the traditional ones. Generally, they are very responsive and come with very good actuation.
The body is all plastic and it is well built. The usage of premium quality plastic is the reason behind its sturdy nature. The best part about this keyboard is there is a sort of coverage that is being done all over its body.
This is what makes it spill and dust resistant. Therefore, you don't need to worry about any accidental pouring over of any sort of liquid over the board.
As for keys, they have a travel distance of 3.5 mm.
The keycaps have concave surfaces along with reasonable spacing between them.
The TUF logo is up there at the top-center of the keyboard.
All of the keys have backlit options but the feature of per-key RGB is absent.
The keyboard has 5 illumination zones with the Armoury II software responsible for controlling and customizing.
This ASUS RGB keyboard also comes up with anti-ghosting tech along with 24-key rollover.
You will find the media keys available which is great to have .
For elevating the keyboard there are four rubber legs below so that you can work with ease.
Along with that, the feature of having onboard memory does make it a top choice among most other options.
Pros
»

Affordable

»

Great for typing

»

Spill-resistant
Cons
»

Wrist pad not detachable

»

No per-key RGBNo per-key RGB
Asus Aura Keyboard Buyer's Guide
All of the keyboards out there in the market are unique in their ways. It's often tough to choose which one you should buy.
Since we are talking about the aura keyboards, the options to choose from are already specified.
Still, there are few factors you need to take into consideration to buy the best board for your system.
Here are the things that you need to look for while buying the aura sync compatible keyboard:
Type of switches
Well, the type of switches matters in determining your overall experience with the keyboard.
Different types of switches have different types of outputs as well as different actuation points.
While selecting you should be aware of the level of loudness as well as how responsive the switches can be.
The easiness while typing matters a lot. Some keyboards require soft touch whereas there are also options that require hard pressing.
That is why, before choosing you should have a comprehensive idea about them.
Size of the keyboard
Keyboards come in different sizes. In the case of asus keyboards, two sizes are most predominant.
The keyboards that are fully synced and the tenkeyless ones.
So, before choosing, be sure about the size you prefer. Plus you should also know that there are keyboards that come with detachable Numpad or wrist-rest.
This also somehow affects their sizes. Therefore while buying, take a decision considering every aspect.
Wired/Wireless
The most common drawback of using a wired keyboard is that it clutters your workstation.
While in the case of wireless options, they tend to lag which is a red flag because it hampers the gameplay.
Therefore, for gaming go for the wired ones, and for casual work, wireless seems to be a better option.
Conclusion
So these are the most demanding asus aura RGB keyboards that you can find in the market.
I have arranged 6 of them considering every aspect that needs to be done for determining the best available option. Plus there is a short guide that will help you choose the right option.
Still, if any issue arises, do not hesitate to let me know.