When you are gaming, sometimes you just don't do it for fun. There will be situations when you will feel that performance matters.
You will feel that you aren't getting the desired results even after using the finest mechanical keyboard out there in the market.
So, what can you do right now?
Simple. Add a gaming keypad to your gaming rig. But the question remains whether it's worth buying.
Don't worry, fellow gamer!
This review will tell you how a gaming keypad can be a good solution and discuss the finest options available to buy.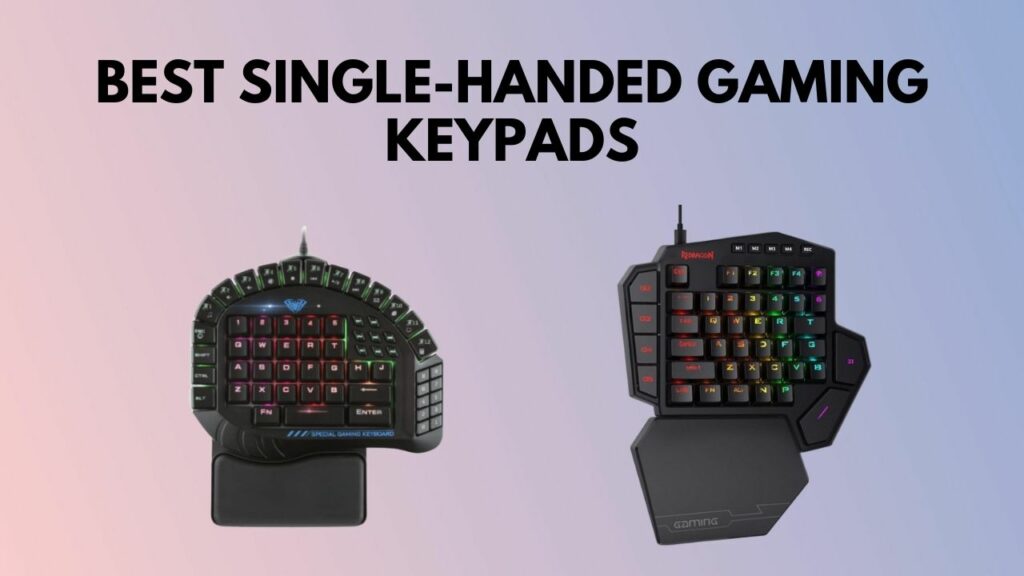 Best Gaming Keypads Reviewed
Sometimes building an insane gaming rig can't give you the exact feeling that you expected. You can add all those high-end GPUs, motherboards, and cooling solutions. But still, if there is something you lack in gaming, it won't feel right.
That said, the keyboard is one of the most prominent components that matter for gaming. But what's the use of it if you can't use it rightly.
What's the use if you can't have the right headshot or the right tap while gaming. I mean no disrespect, but certain gamers often face this sort of issue and get annoyed at their gaming performance.
If you are one of them, fear not. In this situation, a gaming keypad can be the most viable solution for you. Because for casual gamers, maybe a regular RGB mechanical keyboard is enough.
But for a gaming freak like you, a gaming keypad would give an additional advantage.
Check out some awesome AM4 socket-compatible cpu coolers.
Now, as there are a lot of options available to choose from, you might get puzzled. There is no reason to worry, as I have listed down some best keypads you can buy as a gaming weapon.
So, what's waiting for…
Here are the best gaming keypads to buy:
1. Razer Tartarus Pro Gaming Keypad
Razer is one of the most prominent brands for gaming components. I used their headsets, mice, and keyboards to date. And to be honest, I have no complaints regarding them.
That said, this gaming keypad from them is one of their niche products. Also, check out some best 240mm CPU coolers.
This keypad sports the following specs as below:
32 programmable keys
8 quick toggle profiles
Analog optical switch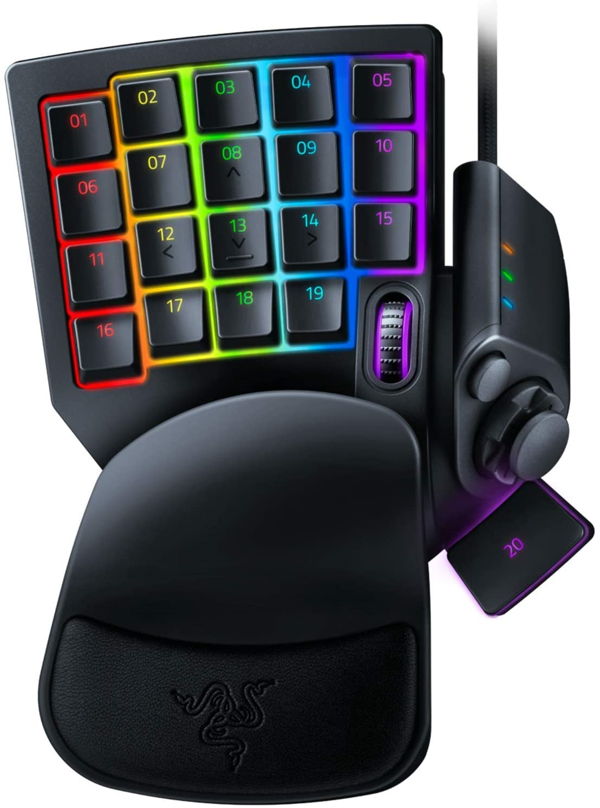 You'd love to know that this gaming keypad exactly lets you replicate the gaming keys from your mechanical keyboard. Also, due to its high customizability, most gaming enthusiasts would prefer it without any hesitation.
Now, this gaming keypad is the upgraded version of the Razer Tartarus V2 Chroma.
Compared to its previous version, this gaming keypad is much more feature-rich. It sports some of the best of class Analog keys.
The best part is that it offers the features of a controller or, Eight to some extent, a full-sized keyboard for gaming.
Let's now talk about the basics. In terms of shape and design, this model is quite identical to its predecessor. Exactly like the previous version, you will find four rows of numbered buttons. And that said, the space bar placement is appropriately under the thumb, which makes it pretty easy.
Another thing you will like is the advantage that this keypad gives to the one-handed players. I can assure you that you will love it as a one-handed player, as it is designed mainly for people like you. You can fit this model quite easily beside your full-sized keyboard, even on a messy desk. Check out some of the best graphics cards for ryzen 9 5950x.
Do you want to know the most awesome thing about this model?
It's actually the Analog Optical Keys that I mentioned before. In this model, the Tartarus have analog optical switches that feel more like buttons. When I tested this model, I found that these buttons are pretty smooth and have dual actuation points.
I felt pretty comfortable using them, but it can differ in the case of you. Compared to the ones in full-sized keyboards, there can be situations when you need to reach out to some keys by stretching your hands further, Which can only happen if you have small hands.
But this one thing takes nothing away from this keyboard. Check out some budget-friendly CPUs for RTX 3070, 3080, 3090 series.
Overall, I would say that this model can be a pretty good companion for your gaming keyboard. It might not completely eliminate the need for a keyboard, but if you want superior gaming performance, this model can surely help.
Pros
»

Great Analog Optical Switches

»

Padded wrist support

»

Good build quality

»

Highly customizable
Cons
»

Expensive

»

Not for the ones with smaller hands
2. Redragon K585 DITI Elite Wireless
Redragon is one of the most liked brands for gaming peripherals. You would hardly see anyone despising this brand for their gaming components.
And that is because almost all of their gaming components are durable and also of high quality.
That said, this keypad from them is specially designed to keep Gamers in mind.
It comes up with the following notable features:
28 programmable macro keys
5 RGB backlit modes
Built-in 3000 mAh battery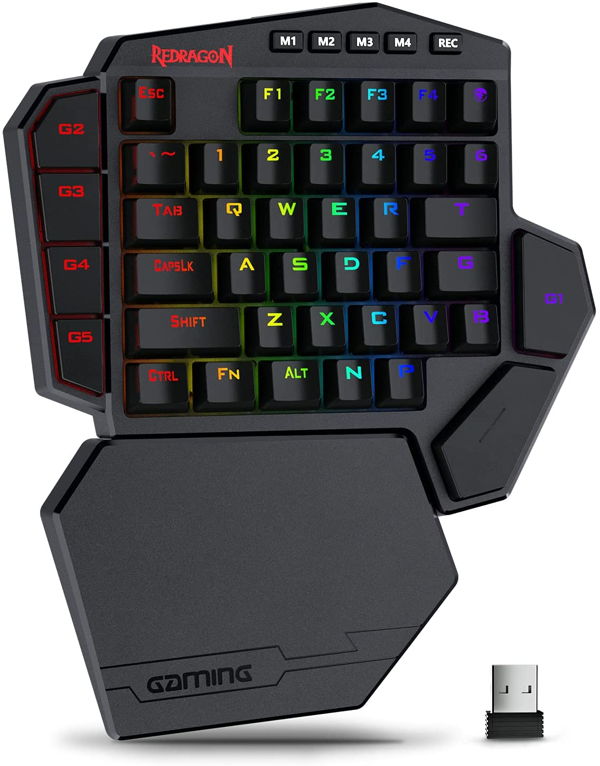 As a gamer, transitioning from consoles to traditional gaming keyboards can often get tricky for many. Not everyone is highly adaptable to everything, and as a result, there is a drastic change in gaming performance.
You can avoid this change in performance by using a gaming keypad. When using a gaming keypad, there is a plus point while gaming. Especially the convenience level is top-notch, and there is no need for high-end products.
Now, if you want to make your life easier while gaming, this model from Redragon can be a great resort.  It has an ergonomic design and offers flexibility while gaming.The keystrokes are okayish and produce decent clicks.
And that said, while gaming, the biggest problem you might face is getting used to the WASD keys.
But here is the kicker. With this model using those keys gets easier as they are placed in such a way so that you can get a proper gripping. Don't forget to check out the best alternatives to dark rock pro 4 cpu cooler.
Now let's talk about the switches. In this keypad, you'll find outemu switches of blue and brown variants. They are pretty responsive and can quickly produce some sharp clicks. You also have the freedom to remove them if you want.
Want to know the best part about these switches?
It is just that they possess the hot-swappable trait. It will be easy for you to remove them and replace them with different ones. What results from this is that the keypad becomes more versatile.
Another thing that you might ponder about is the space bar. Most Gamers are pretty skeptical regarding the space bar in a gaming keypad.
However, if you're comfortable using the spacebar with your left thumb, this model is perfect for you.
It has that wireless feature, which enables the keyboard to be stored and ensures super portability.
Other than this, the battery support is awesome. When I tested this keypad with my build, I was pretty satisfied with the runtime, even with the RGB lights.
But the 10-hour charging is something you might not like. It should've been much less, in my opinion.
You'll also find the wrist pad having an unorthodox shape. It is detachable, but unfortunately, it comes with no padding. Check out some of the best 4400 MHz RAMs for a faster gaming experience.
But it gets better as this wrist pad helps to elevate the wrist at a much more natural position and angle.
To sum up, with this model you can get everything quite reasonably. As this gaming keypad aims to provide you everything that your gaming session needs.
Moreover, it is a decent option that comes at an affordable price.
Pros
»

Affordable

»

Good for small hands

»

Great battery support

»

Good portability
Cons
»

Wrist pad with no padding

»

Long charging time
3. Razer Tartarus V2 Gaming Keypad
As a brand for gaming components, Razer needs no new introduction. It is one of those top-tier brands that most Gamers trust.
This model from them is an incredible option like all other Razer Products. It comes with the following specs:
Anti-Ghosting Capability
32 Programmable Keys
Customizable Backlighting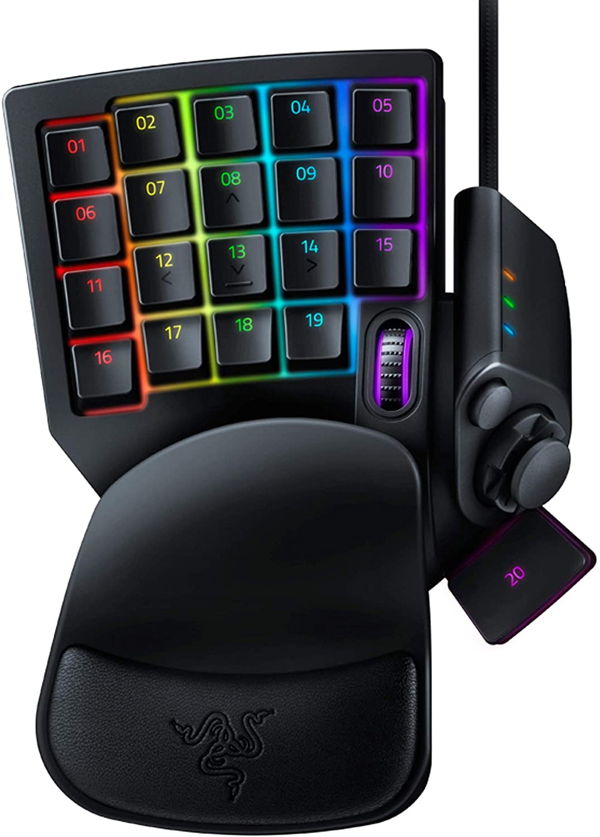 To be honest, this model is not just like another average keypad. It has some top-class specs to offer.
This model sports a classic outlook, which eventually gives the vibe of the original Razer Nostromo. In my opinion, the whole outlook featuring the matte black finish looks eye-catching.
Also, their non-textured keycaps look decent.
Despite this, you might question the plastic build-up. However, you should not worry at all because the build is excellent and doesn't feel cheap. I can assure you that.
Now, let's talk about the keys. As you already know about the 32 programmable keys, 15 keys are a part of the multi-touch membrane.
Besides, you'll find eight different positions in the programmable D-pad.
The best part about this D-pad is that you can control the positions easily with your thumb. Don't forget to check out some of the best 4000 MHz RAMs for a faster gaming experience.
And why is that?
It's primarily because of the design, which offers access to the thumbs to the D-pad.
In my opinion, the total design will give the utmost comfort to your thumbs as well as your fingertips during long hours of gaming.
Let me tell you about my experience. I played for 3 hours at a stretch and had no fatigue. The wrist rest was quite comfortable and perfect for swift gaming.
I tried COD and PUBG during this test, and believe me, shooting doesn't get as easy as this.
You also keep into account that there are retractable legs on the lower part of the keypad. These legs are pretty good enough to make proper placement on the table.
Moreover, this keypad will give you an edge in the case of some games. But still, the keyboard has the upper hand. Also, check out the best CPU cooler for i9-10900k.
There are some games where you would find ease while playing. But at the same time, there are games where the gameplay can get a bit tricky.
The scroll present in the keypad looks odd, which is one of the most prominent reasons you won't get the desired gameplay for some games. It will take time for you to achieve fluency in that case.
Overall, this is an excellent keypad for games that involve shooting. The price might be a tad higher, but it does offer outstanding comfort.
Pros
»

Ergonomic design

»

Easily programmable

»

Perfect for shooting
Cons
»

Pricey

»

It takes time to get used to
4. Razer Nostromo PC Gaming Keypad
In terms of priority, gaming is always the second option for keyboards. Be it a mechanical keyboard or a traditional one; typing is always the priority.
But the gaming keypads are entirely different.
These are some purpose-driven components that focus mainly on gaming performance.
With all that said, this gaming keypad from Razer can assure you the best of class gameplay that you crave for. Also, check out our tested quietest cpu cooler for your PC.
This model from Razer comes with the following specs:
Adjustable wrist pad
16 programmable hyperesponse keys
Tournament grade layout
Unlimited customizable profiles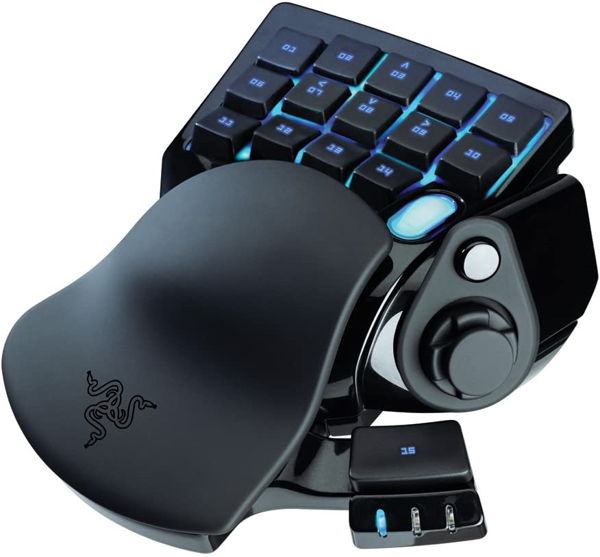 This is a model from Razer, whose performance level can't be matched by most standard keyboards.
You'll especially like its design as it enables all the gaming commands at your fingertips.
It offers the highest amount of customization you need. Also, the comfort level you will have gaming is way too high.
You might be thinking that I am joking with you. But the reality is different.
The flexibility that you'll get while gaming is highly commendable. The main reason is that the positioning of your fingers will be like your needs.
The best part is that it will eliminate the strain you often face while using a mechanical keyboard.
The overall build-up is quite good. It has a nice texture all over with the glossy plastic-looking catchy to the eyes. The rubber wrist rest is also of decent quality. It won't be like all those models, where the wedding wears out quite easily.
Now, what matters is the performance. I tested this gaming keypad while intensively gaming. Check out our expert's recommended best aftermarket RX 3080 GPU.
What transpired from the testing is that the controls of the keypad are intuitive. Also, another thing I found out is that the layout of the Programmable buttons is comfortable. I created profiles for different stuff like  work, gaming, graphics etc.
They didn't turn out to be problematic.
Mostly in using a regular keyboard, you might face difficulties in reaching the Alt and Shift keys. But with this model from Razer, there are no such issues.
I tried out intricate combinations and didn't face any severe issues.
However, if you are with short hands, there might be few problems in handling.
Other than this, there are no other significant complaints.
Overall an excellent gaming keypad that is an excellent alternative to the traditional keyboards. Choose some of the best ryzen 9 5900x graphics cards.
Pros
»

Highly comfortable

»

Reasonable price

»

Ergonomic design
Cons
»

Not for small or extra-large hands
5. Logitech G13 Advanced Keypad
Logitech has been in the market for a long time selling gaming peripherals. And to be honest, they produce some reasonable gaming components. This model from them is one of those components that can help you get better gaming performance.
This model comes up with the following specs:
25 programmable keys
Game panel LCD
Customizable Backlighting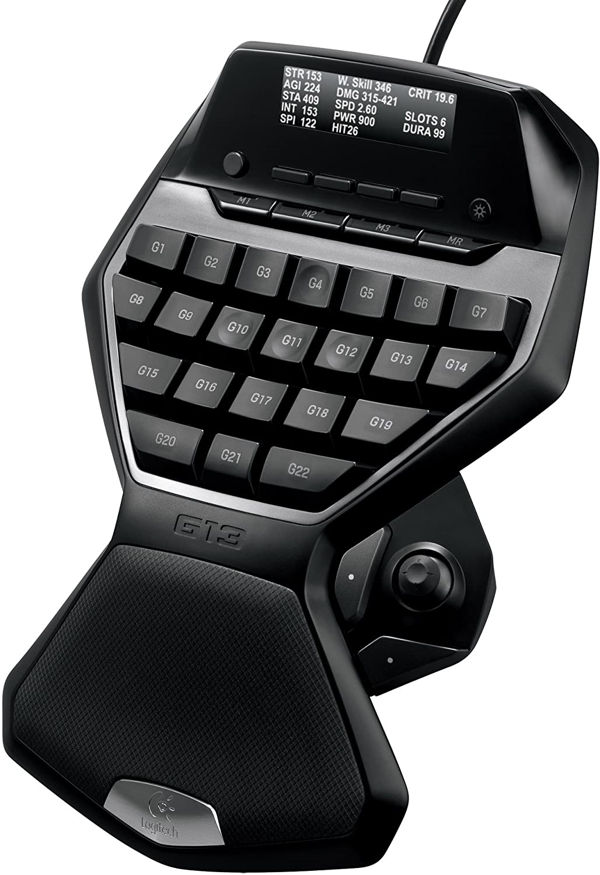 While gaming, there can be situations where you would want a little more control. And that is because sometimes the keyboard and mice aren't just good enough. They can't assure you of supreme control during the gameplay.
But with this model from Logitech, you don't have to think about the things mentioned above. It provides you all the gaming controls that ensure prompt commands.
The reason behind saying this is the super flexible design of this keypad. Such a design will enable any gamer to take huge strides in their gaming performance.
Besides, this keypad comes with robust construction. It is super comfortable as you get the chance to have all the programmable buttons under your fingertips. The 22 programmable keys available on the keypad are placed in such a way that they will fall naturally under your fingers.
Now, let's talk about the comfort zone of using this model.
This model sports a wrist rest that is well padded with high-quality rubber. It eventually enables any gamer to have longer gaming sessions.
There is also a small joystick present beside the place where your thumb rests.
As an alternative, this stick is a good prospect over the WASD keys. Like for the small tasks, you can use this Mini joystick and manage it pretty well.
However, if you want to do complex tasks, this joystick isn't any good.
Apart from this, the LCD in this advanced gaming keypad is pretty useful. It is an added feature and through this you can view various stats of your system. Like the ones you have for CPU or GPU.
Another thing you need to know is that the customizability of this keypad is very flexible. The Logitech gaming software eases the job to a great extent. In my opinion, this software is even better than the synapse of Razer.
Do you want to know the best part?
Then listen. With this highly responsive software, you can group the macros in the different profiles you create for gaming.
Now, if I have to compare this keypad with a contemporary model, it has to be the Razer Tartarus Chroma. And to be honest, the Logitech G13 is way better.
Nonetheless, this is a niche product from Logitech. Aside from a few issues, it is an excellent option to have.
Pros
»

Great for productivity

»

Robust build

»

Top-notch LCD

»

Bugless software
Cons
»

The function of the joystick is limited.
6. Kchibo One Handed Gaming Keypad
As a gamer, everyone prefers reliability and suitability. Especially when you crave a modest gaming performance, both these traits matter.
And that is why I added this gaming keypad to my list. As a keypad, it comes with the following specs:
35 basic keys
Four independent macro definition keys
RGB Backlit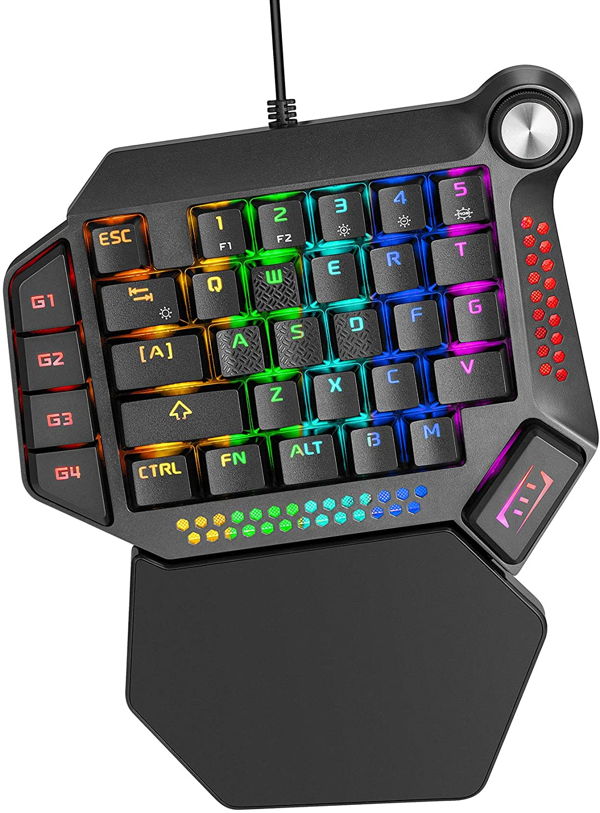 Like I said in the beginning, this model is highly reliable and suitable. It might not have the best of the features, but it does offer the things accurately that it promises.
And that said, if you are a gamer who loves swiftness in the gameplay, this keypad can be your desired solution.
It might seem that this one-handed gaming keypad possesses limited abilities. But there are things that you'll end up liking.
As an avid gamer, if I talk about myself, I got the chance to use a good number of options to date. And to be honest, only a few options were there that provided a comfortable design. This model is one of them, and it eradicates all kinds of complexities regarding the movement of fingertips and hands.
Besides, it comes with a nice wrist pad, with the help of which one can have the utmost comfort level. Another thing about this wrist pad is that it helps significantly in the case of gameplay, especially shooting games.
The RGB backlighting is top-notch. The vibrancy you will receive is of superb quality.
Also, with the fast macro recording, you can create and content complex macros with ease.
Moreover, this gaming keypad is highly portable and convenient to use. If you want something minimal within a budget, it is a great option.
Pros
»

Great RGB

»

Comfortable design

»

Highly portable
7. Razer Orbweaver Chroma
Here is another keypad from Razer that can turn out to be an excellent option for your gaming PC.
It comes up with the following notable specifications:
30 fully Programmable keys
8-way thumb pad
8 million customizable color
Adjustable palm rest
If you are a gaming freak, using the mouse and the keyboard is crucial for productive gameplay. In any situation, you would feel that you require a top-notch gaming performance.
However, the harsh reality is that sometimes the WASD keys of the keyboard aren't just enough for that level of output. There can be situations when you will feel that your fingers aren't just alright during the gameplay.
In this regard, you need some extra flexibility, and that is where this model can help you.
This keypad is the upgraded version of the Razer Orbweaver Elite. The most unique thing about this keypad is that it sports mechanical keys, unlike the other contemporary models.
However, that trait is not the best thing you'll get from this version. There is more to it.
When you place your hands, I can assure you that it will feel amazing. I myself can vouch for this assurance.
Also, this model is highly adjustable, making it fit for any gamer with any hand type.
It comes with the thumbs switch, which makes the process of dictating the combination relatively easy. Also, every click on the buttons feels very satisfying for the fingers.
The RGB backlighting is also commendable. Razer Synapse software will help the case of tweaking the lighting.
But this keypad isn't devoid of issues. You might find it challenging to map everything in the Programmable keys. Especially in games that require a variety of hotkeys. Another thing I noticed is that, often, it is difficult to differentiate between the shift and Alt keys.
Moreover, it also comes with relatively expensive pricing.
Ending up, I would say that this model is a good upgrade of the Orbweaver Elite. As a gaming peripheral, it can be of great use.
Pros
»

Highly adjustable

»

Not too audible keys

»

Decent Backlighting
Cons
»

Pricey

»

Issues in mapping programmable keys
8. EQEOVGA One-Handed Mechanical Keyboard
If you are looking for a budget-friendly option, this model can prove to be an excellent buy for you.
It comes with the following notable specs:
Multiple Backlit modes
Onboard Macros
Total of 35 keys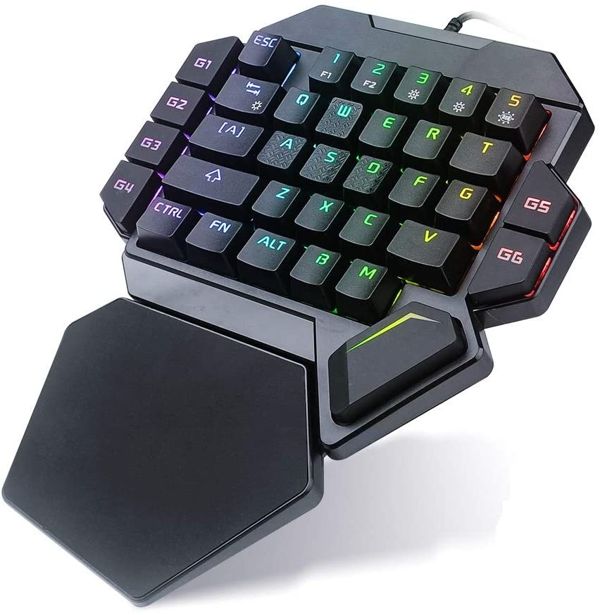 There is nothing wrong with having a short budget. It's a pretty typical issue that many gamers often face. But that shouldn't stop you from having superior gameplay.
In fact, no gamers should face this issue. Whenever I used to feel that I am short of money, I used to research a lot to find the most reasonable alternative.
But you don't have to do this, as I have already added this model to my list.
This gaming keypad goes easy on your wallet. It possesses an excellent build quality, which makes it long-lasting.
The overall styling is also alluring, and the overall comfort level that you'll get using this keypad is also commendable.
One thing I particularly liked about this gaming keypad is the lighting that it offers. It offers a pretty cool glow, which I found to be quite attractive.
The best part is that the buttons of this keypad aren't stiff at all. When I tested, I was comfortably hitting them.
However, there are few issues with this model that you need to look into.
The keys in this keypad are larger than the average size. And if you are a user with medium-sized hands, you will face trouble reaching them without lifting your hands. I would say it's not at all suitable for you.
Another thing you need to note is that these keys are pretty loud compared to the ones in similar models.
However, this is a budget keypad. Therefore, few issues are considerable. Overall, as an affordable option, it is a superb addition that you can have for your gaming build.
Pros
»

Affordable

»

Glowing backlit

»

Flexible buttons
Cons
»

Loud buttons

»

Keys aren't suited for medium-sized hands
9. Delux T9
If you're someone with larger hands, sometimes finding the right gaming keypad can be an issue.
But how about you find something at affordable pricing?
It just doesn't get better. Isn't it?
This model from Delux is exactly what you are looking for. It has the following specifications to offer:
Portable design
Double-Space Key
Recess Keys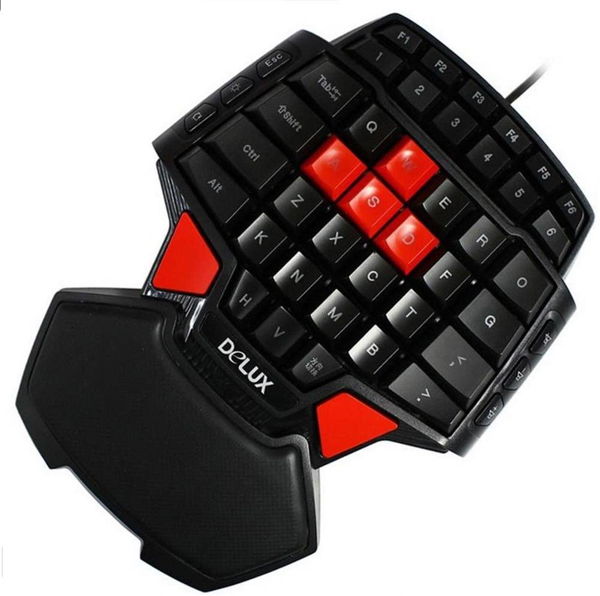 It might look like a generic keypad, but in reality, it is a lot different. I can assure you that your gaming will get a lot easier after using this during the gameplay.
I personally used this model for gaming. It comes with a lot of standard hotkeys, and the tactile feedback is also top-tier.
Let's now talk about the design.
This model is a tad different from its previous iterations. The difference is that it doesn't possess a joystick like the other models. As a keypad, I found it to be relatively compact. It comes with all the necessities that you might need.
This keypad comes with 46 keys comprising different functions. They are recess-type keys, which is a good thing, in my opinion. It eventually makes them user-friendly.
But since the keys have dedicated functions, you can't assign them macros.
Overall, this is a budget-friendly option that does lack some features. But when you are short of budget, there can't be any other option better than this.
Pros
»

Super affordable

»

Compact

»

Easy to handle
Cons
»

It doesn't come with a joystick

»

You can assign no macros to keys
10. Jancal RGB 35 Keypad
This is the last keypad on my list that can be of your use. It sports some decent features, which are listed below:
Total of 35 keys
PS4 Compatibility
Compact size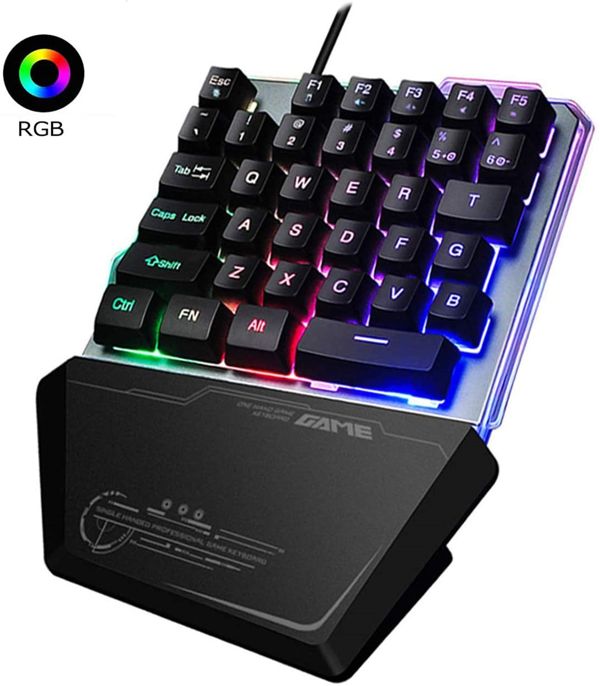 It is a compact keyboard that you can use for light use beside your main mechanical keyboard.
When I tested this model in my build, I found that it is pretty simplistic. It is mainly suited to all those gamers who prefer light gaming.
It sports a wrist pad, which I found out to be pretty average. It's tilted in nature, and there is no comfort in resting the palm on it. Also, the keys are pretty generic, nothing extraordinary about them.
The best part is that it won't take much space on your desk. Therefore, if you have a messy workstation, this keyboard perfectly suits your desk.
To sum up, as a cheap option, it is a decent option for light usage. It does the job for the gaming with all the minimalist things it already has.
Cons
»

Not for extreme gaming

»

Not durable
What is a Gaming Keypad?
Gaming keypads are the alternative to mechanical gaming keyboards. These are very different from any conventional gaming keyboard that is used during gameplay.
These are some options that are compact and have all types of keys that are required for gaming.
The best part about them is that they don't eat up much space in the workstation like a traditional gaming keyboard.
Besides, this type of gaming component also provides extra comfort to the Gamers while gaming.
You might question the reason behind it. It is simple.
In most gaming keypads, you'll find rubber-padded wrist rest that lets the Gamers feel comfortable. And that said, for the people who like single-handed gaming operations, this type of keypad is a must.
Keypad Vs. Keyboard
Keyboards have evolved a lot in recent years. And that is because of the increasing focus on the gaming peripherals. Especially the mechanical keyboard comes with a huge demand these days.
However, as days are passing by, the frequency of using a keyboard for gaming is getting lower. Here, mainly the logic is that the keyboards take up a considerable amount of space in the gaming desk. Whereas you don't even need all of the keys from the board for gaming.
There are games that require keys that are way past the left hand. To be honest, they're hard to hit and remain completely useless.
Compared to this, a gaming keypad is very relevant. These are some gaming components that are highly reliable and offer superb convenience. In my opinion they are pretty good enough to replace any regular mechanical gaming keyboard.
In addition, these gaming keypads aren't only limited to the PCs. You can even use them in your PS4, android and IOS devices.
Buyer's Guide: One-handed Gaming Keypad
Since we already talked about some of the finest gaming keypads you will find in the market, it's time to know the proper process behind buying them.
Do you want to get the best possible option?
If it is the case, you shouldn't compromise anything.
But before making any decisions, you should have deep knowledge about a few things. Eventually this knowledge will help you select the best possible option for your gaming build.
Now let me tell you a straightforward thing. The gaming keypad market is niche. So, the knowledge of most of the buyers is kind of limited.
Therefore, what's the solution?
You don't need to worry at all. After rigorous research, I found some specific factors that will help you to decide the right option.
So, let us begin our guide and look at the things that matter while purchasing.
Here are the things to consider while buying gaming keypad:
Design
The design does matter in the selection of a proper gaming keypad. Most of the options do come with extremely variable designs.
And that is because most of these models are produced keeping a particular genre of games in mind.
As a gamer, you need to understand a few specific things. You need to ascertain what will work best with your gaming rig.
The design layout of the keypad plays a massive role in this regard. Some layouts come up with keys that mess around with the gameplay. don't
What's more important in this regard is that you need to set your priorities right before choosing anything.
Type of Switches
Switches do matter if you want a superior gaming performance. It doesn't matter whether you are using a gaming keyboard or keypad.
The importance of the proper switch lies in both cases.
If I have to break it down, there are mainly two types of switches – mechanical and membrane switches.
Mechanical switches are the ones that help to type faster that too with precision. They are also loud in nature. And in the case of membrane switches, these are near-silent and come at a way cheaper tag than mechanical ones.
Now, if you are into gaming, the switches do have some role to play. Mostly, the fast-paced games require linear mechanical switches. Because these are some switches that provide an edge while playing shooting-based games.
And since the number of keystrokes is high for these switches, they turn out to be very durable.
Therefore, I would suggest you consider the type of switches closely in the keypads. As the type of output, you seek from the keypad largely depends on the switches.
Size of the Keypads
To be honest, you won't find any widely accepted sizes of gaming keypads. It widely depends on the needs of the users.
You will find Gamers who are content with small-sized options. And some people feel cramped due to the compact structure.
In this regard, I would say that the size of the hands plays a part.
For the people with large-sized hands, you will find specific models. And the same goes for the people with small and medium-sized hands.
So what I would recommend is that you should check your hand size beforehand and then make a proper buying decision.
Comfort Level
Gaming gets better when your hands feel good at the time of gameplay.
Just think of an instance while you are gaming, and you feel discomfort.
You will feel like there is a cramp for space and won't be able to move your hands or fingers freely.
At that time, the only thing that will pop up in your mind is that it isn't going alright. Isn't it?
I know what you are thinking about. In this regard, the only solution is that you go for an option that gives you utmost comfort.
You might question whether it is possible to get comfortable with performance. I would say it definitely is.
In the market, you will find nicely padded up with wrist-rest options, while some are not.
Now it is up to you to decide what do you prefer the most. Do you want long hours of gaming sessions, or do you want to settle with something affordable?
It wholly depends on you. My recommendation would be to look for comfortable options, mainly the ones that are nicely padded with rubber or foams.
Because that would help in the cause of better gameplay, other than this, it is all your call what to go for.
RGB Lighting
Modern gaming components are RGB enabled. The gaming keypads aren't any different. You will find options in the market that sports variable RGB elements.
What matters in this regard is that you have to determine the level of lighting you prefer in your gaming keypad.
There are options that provide great lighting profiles. On the other hand, there are also models, that portray dull lighting. You need to set your priorities about the type of backlighting and other aesthetic features you want to get from your gaming keypad.
Software
You might be puzzled about the need for software for a gaming keypad.
But to be very honest, there is no reason to be. The gaming keypad isn't different from other PC components. So it's quite okay for it to have dedicated software.
Now, there are a lot of reasons behind a keypad requiring software. And one of the most prominent reasons is that keypads require mapping and programming the keys.
This is where software comes into act. You should always go for softwares that is high quality and highly responsive.
Because high-quality software has a wide range of compatibility. And the most crucial thing that this software does is that it enables map keys in the games that are devoid of good key binding.
There are softwares that are easy to use while there are some that can often get problematic and less responsive. I would highly suggest you to go with brands like Logitech and Razer, only if you are highly doubtful about the software quality. Configuration of the buttons
The total number of buttons in any gaming keypad is highly variable. It can be either 15 or more than 20. There can be situations where this number can fluctuate even higher.
In this regard, what you should keep in mind is that these buttons aren't supposed to be traditional keys all the time. They can include specialised buttons, which are specifically catered towards gaming.
What matters in this case is the number of Programmable buttons. But you need to keep in mind that all buttons are not Programmable. So, all of them must be differentiated precisely.
Price
Pricing matters as this is the thing that will drive you in making a suitable buying decision. It is quite normal that not everyone will have the ability to have a free budget.
That is why, you need to consider all the mentioned points above in such a way that it aligns with your budget.
You don't need to worry at all as there are both types of options available in the market. Be it cheap or high-end, you would get everything.
You just need to make sure that your priorities are clear and then make a proper move.
Which games are for keypads?
As I said before, most gaming keypads are designed keeping certain games in mind. Some of the models are specifically designed for greater activation of power.
While there are also models that are focused mainly on the games that require a gamer to feel natural instead of rush.
That said, you can programme most keys in the keypad if not all of them. And that results in allowing these buttons to change the sensitivity of the mouse.
While some might use repetitive commands, which is very good for games like CS:GO.
The keypads also come with different layouts that support various games. These layouts allow actions like jumping,crouching etc. pretty appropriate.once the keys are mapped out.
Another aspect you need to be concerned about is that you have the ability to assign text messages to the macros for flexible communication.
You would rarely face any problems due to the limited set of button numbers in your keypad.
It is just that there might be few games where some specific buttons might control some characters.
Mostly, these games are very old, and they didn't truly benefit from the usage of a gaming keypad.
These are some minor issues in the old games, with mods or missing buttons that aren't really required for superior gaming performance.
Any modern gaming keypad enables you not to care about such petty issues, with simply no significant conflicts.
Is a gaming keypad worth it?
The primary purpose of using a gaming keypad is superior gaming performance. It is an additional thing that a gamer adds just beside his mechanical gaming keyboard.
There are different reasons behind using a dedicated keypad for gaming. When you are a gamer, and even after tons of spending on high-end components, it eventually gets frustrating if you don't get your desired result.
In that situation, you might end up questioning yourself and your gaming abilities. But it is okay as some of us aren't suited to the traditional mechanical keyboards. And for people who don't get desired output, gaming keypads are the answer.
It enables them to play with utmost precision and control compared to a mechanical keyboard.
Now, whether this type of component is worth spending the money on is a matter of debate.
If these keypads come with all the good traits that a top-notch gaming keyboard has, it is undoubtedly then worth spending the bucks.
These gaming keypads save the space of the gaming station and, to some extent, perform better than most conventional keyboards. And performance-wise, most of the options do offer great value for money.
Therefore, as a component, gaming keypads are definitely worth spending.
Final Thoughts
As I end up, these are the finest gaming keypads that you can avail of for your gaming build.
After hours of research and testing, I listed them from a huge pool of options. And among them, the best option is the Razer Tartarus Pro Gaming.
However, the other options are also good. It is just that this model from Razer has the edge over the others. That's all for my part; I hope you're all clear about the gaming keypads. Still, if there is an issue, do let me know in the comments.