Be it for gaming or official tasks, mechanical keyboards are becoming a norm. Especially the 60% mechanical keyboards are especially getting very popular as they help keep the desk clean and easy to handle.
The Ducky One 2 mini is one of the finest 60% mechanical keyboards you would find in the market. It sports some terrific features that every gamer would love.
But is it better than the Anne Pro 2?
We'll find that out shortly. This comparison guide will tell you about all those things that matter while deciding the better one between two mechanical keyboards.
So, wasting no time, let's dive into the discussion.
Check out the latest price for the best water cooling kit.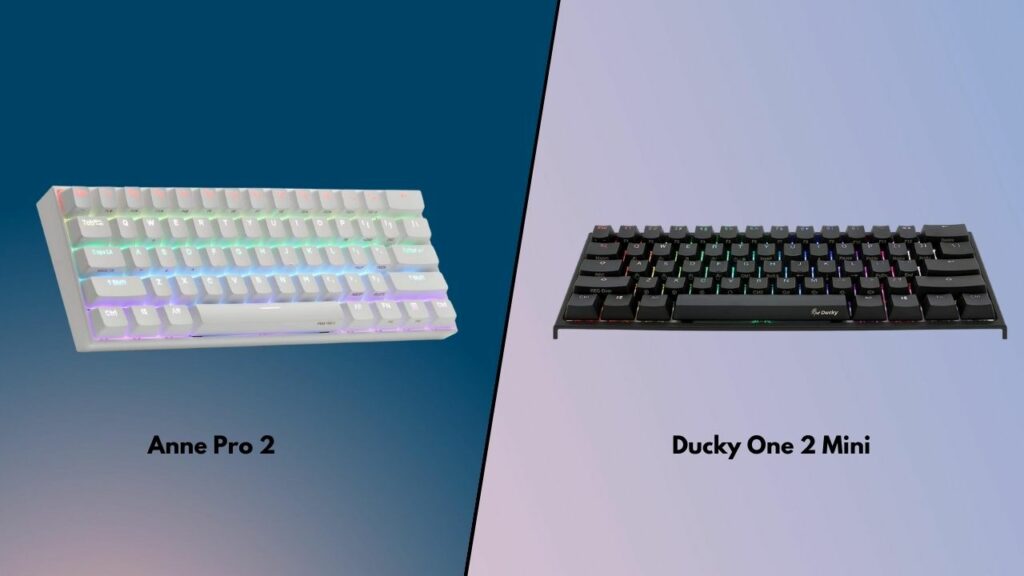 Is Ducky One 2 Mini better than Anne Pro 2?
A keyboard is always worth investing in. It is something that you use every day, either for gaming or for professional stuff.
Now, mechanical keyboards have been in the market for an extended period. But the question remains about the thing that played a big part in their resurgence.
What is it?
Mainly these keyboards are on the rise have a lot to do with the feeling that any user gets while using them. And mechanical keyboards tend to be more responsive and have good key travel.
The best part is that when you have the right mechanical keyboard with you, it can provide you with a comfortable experience for a long time. Want a Pump for your water-cooled PC? Here are some of the best-branded water-cooling pumps.
Now, what about 60% mechanical keyboards?
To tell you the truth, they offer all the traits of a mechanical keyboard along with saving a lot of space in your workstation. Also, if you are a gamer, these keyboards should be your topmost priority.
As a hardcore gaming enthusiast, you'll love these keyboards as these consist of high-end switches along with a compact design.
That said, both the Ducky One 2 mini and Anne Pro 2 are terrific 60% mechanical keyboards. It is tough to choose between these two but not impossible. All you need to consider is some aspects which would help you make the best choice. Check out the comparison between 120mm and 140mm case fans.
Here are the differences between Ducky One 2 Mini and Anne Pro 2:
1. Build Quality
Build the quality of your keyboard is something you should consider first as you wouldn't want to end up with something frail. It is the trait that would determine how long-lasting your keyboard would be.
That said, the easiest way to differentiate between a good and a bad mechanical keyboard is by its build quality.
Now, both the Ducky One 2 Mini and the Anne Pro possess a tremendous build-up. These keyboards are almost neck to neck if we take various aspects into account. They stand on the same ground for keycaps; as in both these models, the caps are made of PBT. The best part is that PBT caps are way ahead of other keycap materials in terms of durability.
Even after heavy use, symbols aren't painted off easily. They don't wear off as solid plastic sports an incredible lifespan. Check out some aura sync keyboards.
You would find the frame materials and structure also identical. The steel plate in them plays a big part in the stability of usage.
Overall, there is not much difference between them. However, there is a notion that the Ducky One 2 Mini is more reliable in this regard.
The reason is mainly their good presentation of build quality, which is absent in Anne Pro 2.
2. Design
If you consider design, both these keyboards offer exciting prospects.
Design of any keyboard matters because it determines how comfortable it would be to use them. The more flexible the design is, the better it gets for any gamer or regular user to operate.
Now, both the sizes of Ducky One 2 Mini and the Anne Pro 2 are almost similar. And that is also the same in the case of weight.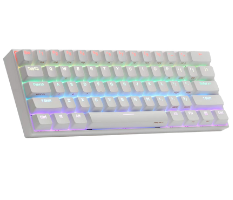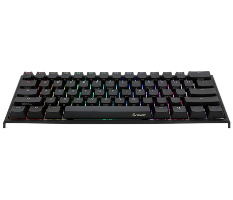 However, when you compare rigorously, you would find that the Ducky One 2 Mini is a better option.
The reason is quite simple. The Ducky One 2 Mini comes with extendable feet offering greater flexibility, unlike the Anne Pro 2. As a result, the Ducky One 2 Mini allows a better incline than the Anne Pro 2.
3. Switches
Switches greatly determine the magnitude of how good a mechanical keyboard would be. Your entire experience of using a mechanical keyboard would be based on the type of switches used in it.
The type of switches used in the keyboard finds out the noise level and the type of bump you will have. And when you set your mind about a particular option, it eventually narrows down your task.
There are various switches available in the market, and each of them has something different to offer.
For the Ducky One 2 Mini, you can only use the Cherry MX Switches. When it comes to quality, the Cherry MX switches are the undisputed leaders. They come in different colors, with each having different functionalities. And the best part is, Ducky One 2 Mini is available with all these variations. Check out the expert's recommended best coolants for your water-cooled PC.
In the case of Anne Pro 2, you'll get a good range of switches to choose from. You can use Gateron, Cherry MX, and Kailh Switches.
This greater range of choices eventually gives the Anne Pro 2 an edge over the Ducky One 2 Mini.
But when you talk about quality and precision, there is nothing better than Cherry MX switches. So, in this aspect, Duck One 2 Mini has a slight edge.
4. Backlighting
RGB lighting adds a greater aesthetic appeal to any keyboard. Especially when you game at night, it gets easy and comfortable.
You can play long hours by adding some exciting flairs to your keyboard. Also, it gets better when other RGB components blend with the backlighting
of your Keyboard.
Both the models in this guide offer quality performance for RGB lighting. However, if you need to go with a certain one, it must be the Ducky One 2 Mini.
The backlighting of Ducky One 2 Mini is customizable to some extent. There is ready-made software on the board with which you can color each key individually. And that said, also use multiple presets when giving lighting effects.
The brightness level is too vibrant, which eventually makes it a better option than Anne Pro 2.
In the case of Anne Pro 2, it does offer vibrant lighting. It has highly customizable software, with which you can use independent lighting effects to a great extent.
However, it falls behind in terms of brightness. And that's why Ducky One 2 Mini is ahead of Anne Pro 2 in the case of backlighting.
5. Software
When you aim for total customization of your keyboard, the software is essential. As software will enable you to make specific changes on the keyboard. These changes are mainly related to backlighting and setting up macros.
The Ducky One Mini 2 doesn't come with downloadable software. It also doesn't do the total customization of the keymap, but you'll get some room for setting up some custom macros and generic tweaking.
However, Anne Pro 2 is much more flexible in this regard. It has the OLS software, which allows you to adjust things without relying upon the onboard functions. Especially, the interface of this software is very easy to comprehend and too straightforward for usage.
Moreover, this software does give a real advantage to the Anne Pro 2 over the Ducky One 2 Mini.
6. Pricing
Pricing of any component matters when you want the best value for your money. When you are concerned with reasonability, it plays a huge part.
If you look for something budget-friendly between these models, then go for the Anne Pro 2.
Compared to the Ducky One 2 Mini, the Anne Pro 2 is almost 15-20% cheaper. And that said, Anne Pro 2 is also quite reasonable if you align its feature with its pricing.
The Ducky One 2 Mini with a higher price tag isn't that bad when you consider reasonability. It is just that Anne Pro 2 is the best for the bucks.
Is Ducky One 2 Mini Worth it?
The Ducky One 2 Mini is one of the best mechanical keyboards that are available in the market. To an extent, it can also be called the king of 60% mechanical keyboards.
It comes with a top-notch build quality along with a classy design. The flair is simplistic, which eventually gives a nice touch on the board. That said, if you are a minimalist, you will become a fan of this keyboard.
It also uses Cherry MX switches, which are best of class, and the keycaps used in it are durable enough for long-lastingness.
However, this model doesn't come with onboard software. Still, it doesn't make this keyboard any less. It can support up to 3 macros and six different profiles. And the dip switches in the model mainly take part in the modification of this board.
Lastly, the Ducky One 2 Mini is a model that doesn't have any direct competitors. It does have an expensive price tag, but the high-end features and compact design make up for it.
Final Thoughts
The Ducky One 2 Mini and the Anne Pro 2 are highly relevant among gamers. These two keyboards set the bars so high that it became difficult for other models to compete.
However, both carry an advantage in certain aspects, which I tried to portray in this guide. After going through this thoroughly, I hope you can make a perfect buying decision based on your needs.
Moreover, the main aim of this guide was to ease your job. Still, if you feel anything that is still unclear to you, do let me know.