Finding the right mouse that syncs well with aura sync can get tricky.
I have been there, and I know what it takes to decide on the perfect gaming mouse.
In a hurry? Check our experts recommended aura sync compatible mouse.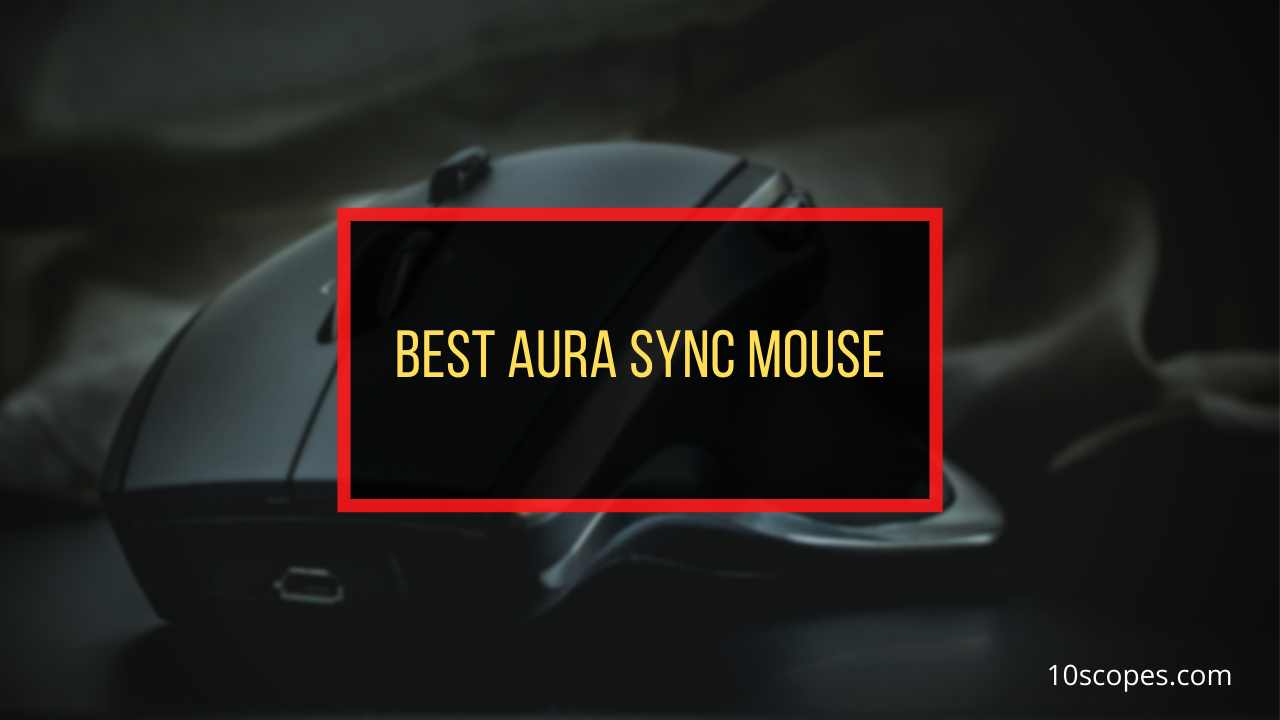 After thorough research of 5-6 hours, I found the best option that suits my needs. If you want to save these 5-6 hours that I spent, then go through this post.
In this post, I have rated and reviewed nine such aura sync mice that could be the most compatible with your system.
Or, sit back and stay with me right through this post.
Best Aura Sync Mouse Reviewed
Like all brands, ASUS also comes up with its products under different series or lineups. We are going to discuss the mice that are under the ROG and TUF series of products.
Each of these products is unique in its ways, and to know more about them, you have to stay with me right through this post.
Here are the nine best aura sync mice for gaming:
1. ASUS ROG Chakram
If I have to talk about the best mouse out there in the market, it would be the ASUS ROG Chakram. The ASUS Chakram comes up with some exciting features:
Tri-mode connectivity
3 RGB lighting zones
Optical sensors
Qi-tech for wireless charging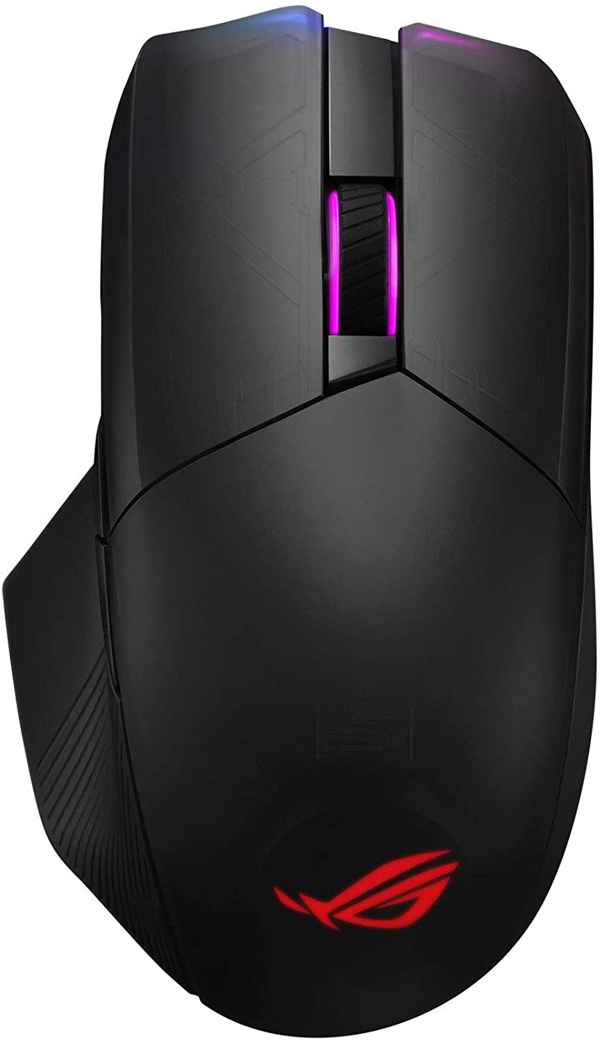 Check Today's Price of ASUS ROG Chakram ➜➜
You would love the ROG Chakram as a gaming weapon. This wireless gaming mouse can get as deadly to enable you to experience the smoothest performance. You might like dual functionality. So, you can use this mouse both as a joystick and also as a mouse.
When it comes to the design, I would call its type to be a rarity.
It might seem to be a bit fragile to you because of so many pieces over its body with the first look. But the magnetic part underneath those pieces doesn't let it to be. Such a design makes it a perfect gaming weapon.
Since you might think that buttons' removal has complexities, let me assure you that it isn't. When I got my hands on it, I found the removal easy due to the buttons' magnetic placements. You will also be able to switch the ROG logo with your customized one on a blank plate.
You can also remove the two main buttons with the tool used to remove the parts mentioned above.
Talking more about its features, it comes with 16000 DPI sensors along with 400 IPS optical sensors. The polling rate is 1000 Hz, with the acceleration being 40g. You will have the option of connectivity through Bluetooth, USB dongle, or the 2.4 GHz wireless.
The thing I Iove about this mouse is:
It has a two-way charging option. You can charge it via a USB-C type port or through the qi charging pad. And the best part about the charge is that the mouse can last 12 hours with a single amount of 15 minutes.
The scroll wheel is comfortable, and the thumbstick will not make you feel like you are getting restricted. Though, if you are playing shooting-based games, it lacks a dedicated sniper button. Other than this, everything is pretty subtle.
Pros
»

Super responsive

»

Both wireless/wired charging available

»

Parts are easily swappable.
Cons
»

Pricey

»

Removable buttons might feel clumsy.
2. ASUS ROG Gladius II
The ROG Gladius II wireless version is one of the latest releases from the brand. The ASUS ROG Gladius II wireless comes with some fantastic specs:
16000 DPI optical sensors
Omron switches
Built-in 800 mAH battery
Six buttons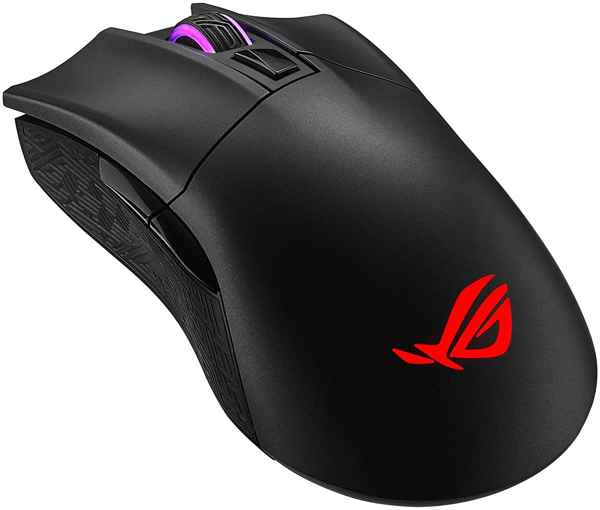 Check Today's Price of ASUS ROG Gladius II ➜➜
This mouse comes up with the same type of body, button, and design, just like its predecessor. Such consistency in design is there because of the competitive advantage that the mouse will offer.
First and foremost, if you are a right-hander, this mouse is for you.  The size it has is something in between medium and large.
In the shell-like body, you will find six buttons along with a scroll wheel. For the main controls, swappable Omron switches are available. The body doesn't come up with angular bits. While moving your hand swiftly, you won't face issues because of the grippy patterns that don't let you lose the grip.
The lighting has three zones: scroll wheel, logo, and underneath the mouse. The lighting effects are ecstatic. The mouse comes with 16000 DPI sensors, as well as an acceleration of 50 g. With that acceleration, the mouse gets astoundingly fast and responsive.
Eventually, you get a perfect device for fast-paced gaming. Now considering all these things, it doesn't come up with an affordable price tag. But the impeccable build-quality and super responsiveness make it one of the best aura sync mice.
Pros
»

Excellent build quality

»

Neat RGB lighting

»

Super responsiveness
Cons
»

Pricey

»

Lacks few features
3. ASUS ROG Spatha
Some mice have the feature of availing of both the wireless or wired option. Here, I have one such for you. The ASUS ROG Spatha Laser Gaming comes with some superb features:
12 programmable buttons
Built-in storage
8200 DPI laser sensor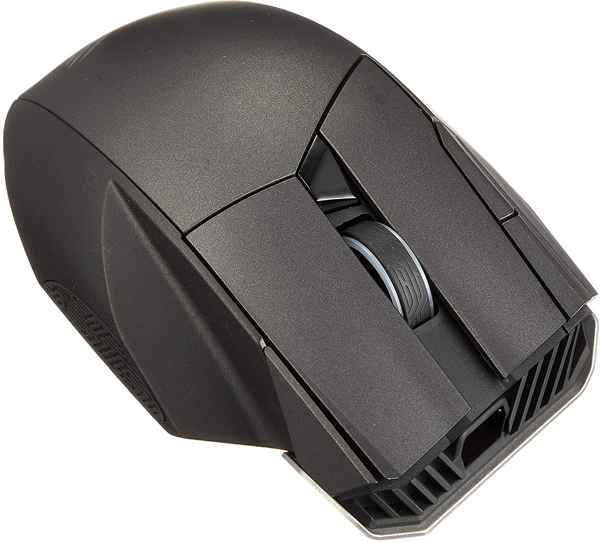 Check Today's Price of ASUS ROG Spatha ➜➜
It is a flagship mouse that delivers top-end performance. It also comes up with superb customizability, which will enchant any user who often likes to change the device's formation. Therefore, as an extreme gamer, anyone will like this to have in his system.
Now coming to its looks, the Asus ROG mouse has an angular design, which is a unique part of it. It's quite big, which is also one of the main reasons behind it being heavy.
That this mouse has a smooth base, and the surface is grippy enough to handle. Given the mammoth chassis it has, it comes with 12 reprogrammable buttons and six hotkeys on its side.
As a fast-paced gamer, you might get annoyed while using it as the keys are sticky. It comes with three different zones, which are – logo, scroll wheel, and side buttons.
There are six different modes for lighting, which you can customize using the ASUS Armoury II software. Besides, 16 million colors are there to choose from for improving your aesthetics.
The buttons' swapping is also an easy task as ASUS gives you a star dip screwdriver to smoothly carry out the function. At best, it would take a minute or a half.
Pros
»

Top tier performance

»

Comfortable
4. ASUS ROG Pugio
With not many options available for gamers who are lefties, this very mouse from ASUS can be an ideal option. The ASUS ROG Pugio sports some decent specs:
3 RGB zones
Push-fit socket design
Ambidextrous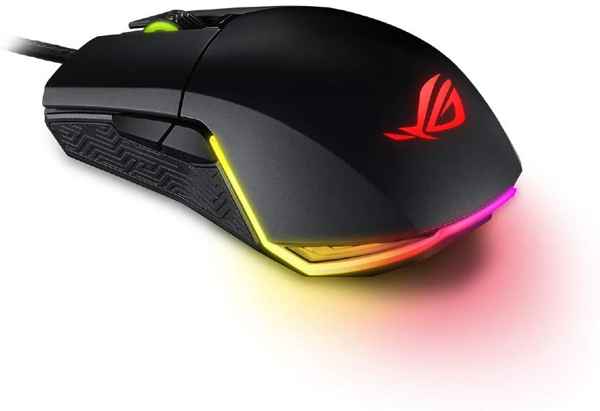 Check Today's Price of ASUS ROG Pugio ➜➜
Both left and right-handed gamers can use this ambidextrous mouse. It offers that sort of flexibility.
It is an excellent gaming mouse that is small in size that facilitates with programmable side buttons. If you want, you have the freedom to detach them. It would be pleasing to your palm if you are up for using it at a stretch.
Be it for gaming or official works, it suits every freaking thing. The thing I like about this mouse is its push-fit socket design. Such a configuration enables you to change the switches with ease.  As for features, this Asus ROG mouse has a 7200 DPI optical sensor with 200 IPS tracking speed.
Since they are Omron switches, they have a longevity of 50 million clicks. Also, the lighting for this mouse is superb. You can see the illuminating parts in the scroll wheel, logo, and around your palm.
The rubber made grips are more than enough for a superb experience while handling.
Pros
»

Both for lefties and righties

»

Lightweight and small

»

Side buttons are configurable
Cons
»

Issues with ROG software
5. ASUS ROG Gladius II Origin
The ROG Gladius series from ASUS has the nicest of the gaming mice. Among them, the Gladius II Origin is another one you can watch out for. The ASUS ROG Gladius II Origin comes up with some decent features:
Push-fit socket design
Wired
12000 DPI
Check Today's Price of ASUS ROG Gladius II Origin ➜➜
Like its predecessors, it looks the same in terms of design. It is almost identical to its previous version Gladius II. If you're right-handed, then you would be pleased to know that this mouse is best suited for right-handers. The lopsided hour-glass shape makes it so.
The smoothish outlook that this aura sync mouse has due to the greyish finish all over. Besides, you'll find grips having similar patterns on both the sides of the mouse and also on the scroll wheel.
Now, behind the scroll wheel, you'll notice a DPI switch, which will enable you to shift between two custom settings. The thing about its RGB is that it's flashy yet not distracting.
There are three lighting zones in which you can use unlimited colors, and for customizing the lighting, the Armoury II software is there for you. Besides, you'll also be able to swap the switches in no time, thanks to the push-fit socket design.
For performance, I would say the mouse is quick. The 12000 DPI with 50g acceleration is behind such consistent responsiveness.
You may find its price tag a bit hard to digest. If that is not the case, then it's an excellent option to consider.
Pros
»

Smooth performance

»

Good lighting

»

Provides comfort to the palm
Cons
»

Grips bit slippery

»

Expensive compare to specs
6. ASUS ROG Strix Evolve
The ASUS ROG Strix Evolve comes up with the following specs:
Fit for both lefties and righties
Omron switches
7200 DPI optical sensors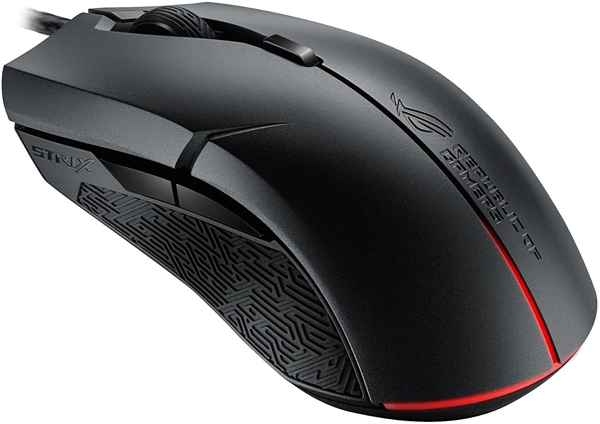 Check Today's Price of ASUS ROG Strix Evolve ➜➜
I found this mouse to be sleekish with dark grey-blackish all over with a red stripe in the middle. As a mouse, it caters well to both righties and lefties.
I would say this mouse is perfect for users with medium to large hands. It is highly customizable as the top covers are changeable.
It also comes with four ergonomic styles. Also, the mouse has Omron switches, which can last 50 million clicks.
As far as the lighting is concerned, it has four different brightness levels that you can control and customize using the Armoury II software.
The mouse doesn't come up with an internal weight control system. Also, the configuration software has some issues.
Pros
»

Looks attractive

»

For lefties and righties
Cons
»

The rubber sides aren't grippy.

»

Only two DPI settings
7. ASUS ROG Strix Impact II: Electro Punk Edition
If you're looking for something different, something out of the box, this mouse, this edition of ASUS ROG Strix Impact II, is something you can watch out for.
The ASUS ROG Strix Impact II: Electro Punk Edition comes with some superb features:
Push-fit socket design
Six programmable buttons
3 RGB zones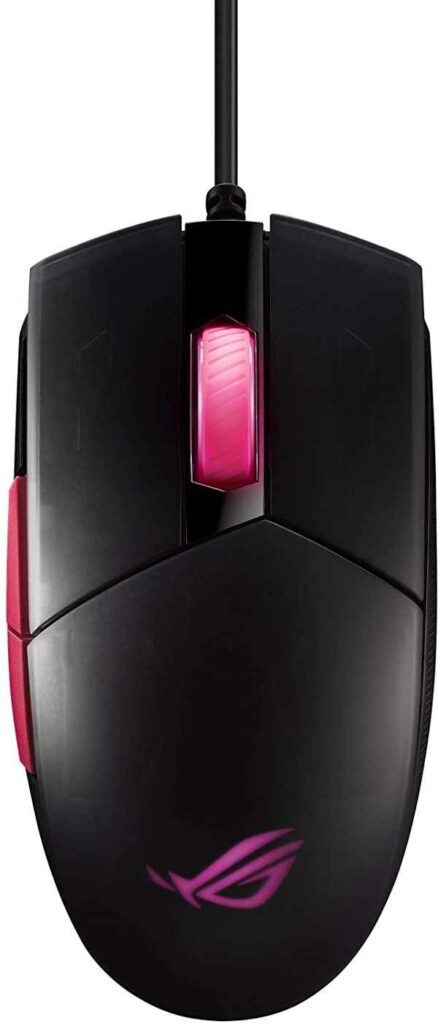 Check Today's Price of ROG Strix Impact II: Electro Punk ➜➜
ASUS has tried something out and out different in the case of this mouse. Like as it goes by the name, it's a theme-based mouse that adds a different sort of aesthetic value to your system.
This mouse has almost no downside to its design. It might look like an ambidextrous mouse, but in reality, it isn't the one.
This mouse has left, and right-clicked buttons with the Omron switches that rates with 50 million clicks on the upper part. Even if they wear out, you will have the freedom to replace them with other Omron models.
The scroll wheel that this mouse has a rubber grip with a rubber surface patterned with angular textured lines.
With the plastic made body, this mouse feels excellent and provides utmost comfort to your palm.
As for other features, the 6200 DPI, along with a 220 IPS, is reasonable enough for the price tag it has.
Therefore, all I can say is that this ASUS ROG mouse's price tag is an excellent option to buy.
Pros
»

It had a smudge-resistant surface.

»

Affordable
8. ASUS ROG Strix Impact
In case you are looking for a minimalistic option, then this Asus aura mouse is a suitable choice to make. The ASUS ROG Strix Impact sports some decent features:
It is Ambidextrous
Pixart PMW sensor
Comes with non-slip rubber grip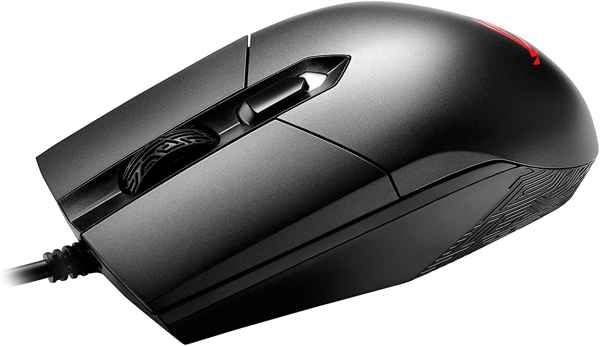 Check Today's Price of ASUS ROG Strix Impact ➜➜
Talking about its texture, it has a glossy black finishing all over its body. The body is of plastic with the Mayan inspired pattern.
It is light in weight, which makes it much more comfortable to handle. In the body, the left and right buttons are apart. Such a design allows you to have fast and tactile responsiveness while gaming.
Besides, Omron switches are there, which can last up to 50 million clicks. It has a 5000 DPI optical sensor.
You'll find a rubber grip on the sides and the scroll wheel, making it easy to handle. As for the RGB lighting, it is customizable using the Armoury software.
Pros
»

Simple yet compact design

»

Affordable

»

Suitable for playing MOBA games
Cons
»

Not a fit for large hands

»

Not suitable for sweaty hands
9. ASUS TUF Gaming M5
The ASUS TUF Gaming M5 comes with some decent features:
Long-lasting build
Six programmable buttons
6200 DPI optical sensors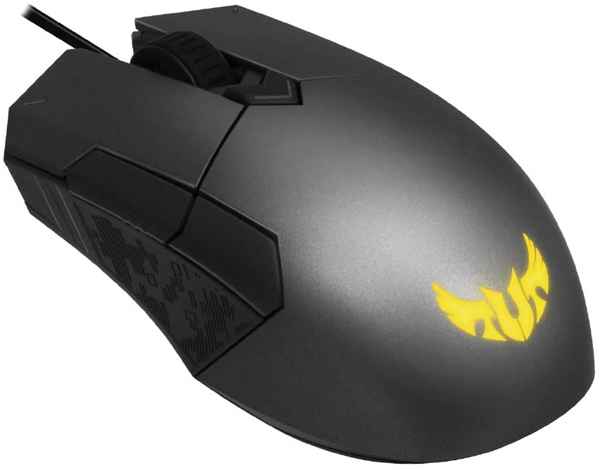 Check Today's Price of ASUS TUF Gaming M5 ➜➜
As for its body, it has a shell-like shape with a plastic build. Despite the plastic body, I assure you that it's sturdy enough. The sides have a concave shape with a gripping all over that works very well.
Omron switches are there in this model, and their responsiveness is somewhat okay. The scroll wheel is compact and smooth enough. Besides, there is a DPI switch button behind it that is remappable using the armory software.
As 6200 DPI sensors are there in this model, you will find the performance smooth and highly responsive. Trust me; you won't face any lag. Though it might be a bit small in size as a mouse, I still feel it has an excellent value for money.
Overall, it is a good one to choose as a mid-level option as your ASUS aura mouse.
Pros
»

Responsive buttons

»

Good build
Cons
»

Not a fit for large hands
Aura Sync Mouse Buying Guide 
Finding the right mouse can prove to be a struggle. You have to consider many factors, like how the mouse looks, how comfortable it is, the type of button used, the sensors, etc.
These details should be taken into account seriously while buying the right Asus aura mouse of your choice. They will have a significant impact on the performance you are going to receive.
Here are the factors that you need to consider while buying the best Asus ROG mouse:
Wireless/Wired
This factor is one of the most common factors while choosing a mouse. A lot of things are dependent on it.
Wireless ones tend to be more sought by the users compared to the wired ones. Though, they do have few issues like lagging.
In the wired ones, the biggest problem is that it creates clutter around the workstation. Other than this, they are good enough to be a part of your system.
Optical Vs. Laser Mice
The main difference between optical and laser mice is that the optical one uses an LED light, whereas the laser mouse uses a laser to trace movement.
That is why the optical mice work better on flat and dark surfaces. At the same time, the laser ones can work on a better range of areas. Laser mice are more responsive as well as the precision provided is better compared to the optical ones.
The only thing that gives optical mice an edge is the steadiness level of the mouse.
DPI Sensors
Higher DPI ratings don't imply that the mouse will have a higher sensitivity and performance. DPI mainly shows how fast your pointer moves.
Not every time faster is considered better. Therefore, you need not worry at all about higher DPI. You can go with ones with mid and lower levels.
Size of the mouse
Not every mouse will be the right fit for your palm. Not every mouse will provide you utmost comfort.
So while choosing the mouse, you should go for that option, which seems to fit your palm and provides comfort.
FAQ
Question: How aura sync affects the performance of the mouse?
Answer: Aura Sync software helps in controlling the RGB elements of the mouse. You can customize lighting profiles as well as the color schemes used in the lighting.
Question: Are wireless aura sync mice better?
Answer: Wireless mice tend to be more powerful and sensitive. They do not create clutter in your workstation. Also, their precision is better than the wired ones.
Final Thoughts
Now, as we are on the fag end of this blog, I hope I have been able to make you clear about the best available aura sync mouse.
From the list I compiled, if you want to have a wireless mouse, I will suggest choosing the ASUS ROG Chakram. It is by far the best wireless gaming mouse by ASUS.
For a shortened budget, you can go for ASUS ROG Strix Evolve or ASUS TUF Gaming M5. They come with decent specs within that price tag.
I hope this helps with your cause. Still, any query arises, do let me know.