Building a rig with a standard PC case is the norm. It's a regular practice done by everyone.
How about you stand different from the crowd?
If your workstation doesn't have enough space on the right side, then there is nothing you can do other than opting out for an inverted case. But will it be feasible?
Don't worry, mate!
In this article, I will review nine of the best inverted ATX cases, which would solve your problem to a great extent.
So, what's waiting for? Let's dive in.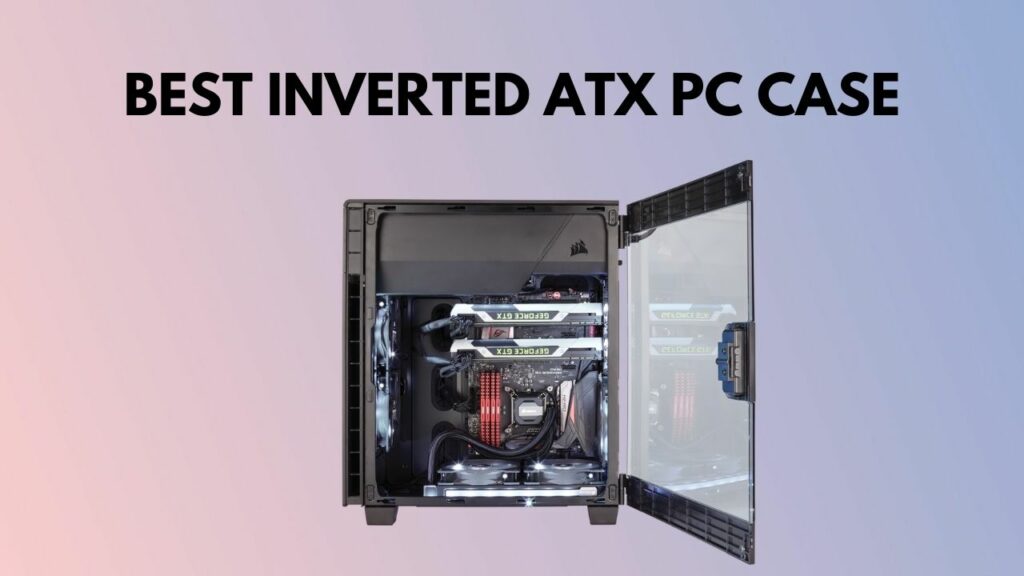 Best Inverted ATX Case Reviewed
For building a rig, we mainly use conventional PC cases. These are cases that we usually place on the right side of our desks or workstations.
But what happens if you want something out of the box?
That is when an Inverted ATX case would become a handy option. These are some not-so-used options liked by people who want to have a change. But the question is, are these PC cases relevant enough?
To be honest, yes, they are. And in this article, I will talk about a few of those models quite thoroughly. Also, check out some best 240mm CPU coolers.
Here are the best inverted ATX cases:
1. Silverstone LD01B Lucid
Silverstone is one of the most prominent brands that produce cutting-edge PC cases. Especially, their Lucid family is revered for offering some of the neat-looking cases.
That said, the Silverstone LD10B Lucid is one of the most transparent PC cases that comes with an mATX chassis.
It sports the following features:
Form factor: Micro-ATX
Three-sided tempered glasses
Expansion slots: 5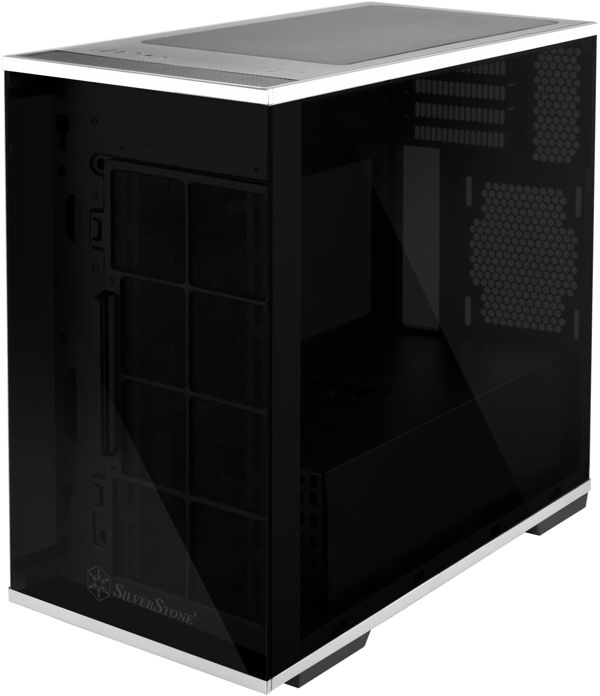 You will like this case for its diversified usefulness. If I have to point out two crucial traits, it has to be the inverted motherboard tray and mATX form factor.
The best part is that this PC case was designed mainly to save space on the right side of your desk or workstation.
Isn't that a great prospect?
I believe it is, and I know you'll agree with me on this. Check out some awesome AM4 socket-compatible cpu coolers.
Now, you might be tired of using all those builds that you made using plastic cases. But your tiredness will end as this model is offering you something different.
It's a perfect option to choose if we want to switch from plastic or steel-made PC cases.
You would find that the three side panels are made of tempered glass. And what's more interesting is the presence of chrome strips in the framing. Check out some of the best graphics cards for ryzen 9 5950x.
Chrome strips weren't something you would find in the LD01 Lucid. But in this upgraded version, its presence is there.
It adds a nice touch to the build, and the best part is that you won't need to get rid of the dust filters From the top, bottom, and rear panels.
Now, upfront installing two fans eats up much space of the case. As a result, installing a cooling solution would get tough. Better if you install it on the rear part of the case.
As far as the airflow is concerned, I would say that it's okayish. Mainly because the GPU is projected upwards, which plays a part in the case of better cooling.
Though there are USB 3.0 ports, you would have appreciated the presence of USB 3.1 Gen2. Also, having no pre-installed fans might not be feasible for everyone. Check out some budget-friendly CPUs for RTX 3070, 3080, 3090 series.
Nonetheless, the Silverstone LD01B lucid is an attractive-looking PC case. Its price might be on the higher side, but given its specs, I would say it's worth buying.
Pros
»

Looks attractive

»

Robust build-up

»

Dust filters are present on all sides

»

Good radiator support
Cons
»

Absence of USB 3.1 Gen 2

»

High price

»

It comes without pre-installed fans
2. Thermaltake Core G3 Tower Case
Thermaltake is well-known for its wide range of PC components. Their line of PSUs and CPU coolers has earned them a good reputation.
That said, they also produce some quality PC cases, which can be viable options for many.
This model from Thermaltake comes with the following features:
Form Factor: ATX
2x 120 mm fans
Transparent side panels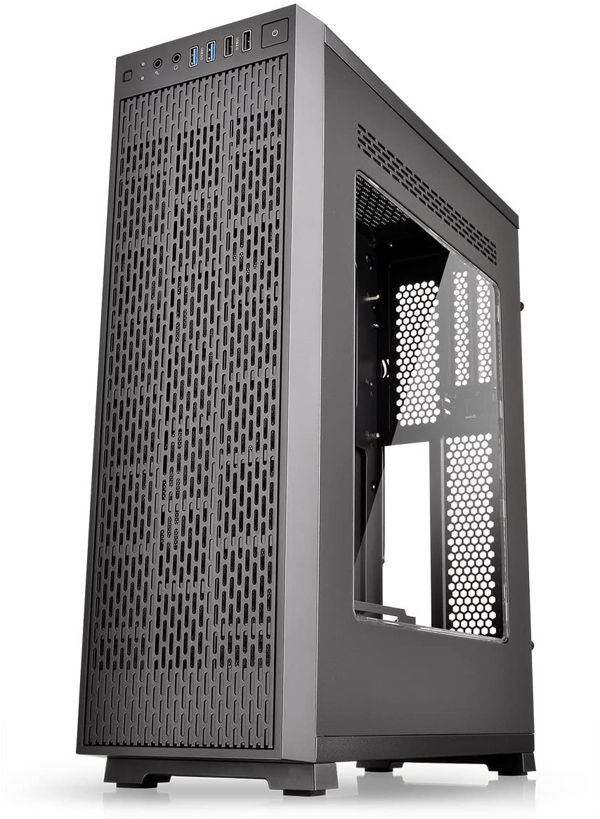 If you are into compact PC cases, this model might be one good option for you. It is one of those PC cases that doesn't consume that much space, which is a good trait for a PC case model.
Now, the market consists of a vast number of cases with tiny chassis. But among all of them, this slim-looking case makes the mark. It's entirely made out of steel, and you would notice this thing after removing the side panels.
That said, the styling in the design of this PC case is simplistic. For the people who prefer minimalism, this PC case would be a great choice.
When you set this case on your desk and observe it, you notice that all the components are inverted inside. You would see the face of the GPU rather than its edges.
When it comes to the CPU cooler, you can accommodate something with a height of 110 mm at max. Eventually, it means that you have to opt for a low-profile air cooler.
You also need to know that this model doesn't come up with cable management grommets. Also, there isn't much space available on the rear panel where you can just tie up the cables. That's why inside the case, it's not so tidy. And that somewhat makes the cooling performance a tad like just another SFF PC.
But this is what you get at a low price. The rear portion of the case has no issues; it is well ventilated. But one problem you might face is the noisy situation. Don't forget to check out the best alternatives to dark rock pro 4 cpu cooler.
You might be wondering, how can a PC case get noisy?
Well, in this regard, you need to know that since it's a compact PC case, it often gets hot inside. As a result, the fans spin faster to mitigate it, resulting in a noisy situation.
Moreover, what I would suggest is not to use this case for high-end components. It's pretty suitable as a good budget case that you can accommodate in a small space.
Pros
»

It comes with a minimal design

»

Cheap
Cons
»

Below average acoustic performance

»

Poor cable management
3. Raijintek Thetis Classic
As a brand, Raijintek has a variety of PC components under its belt. However, it is mainly known for its top-tier PC cases.
That said, this model from them comes up with the following specifications:
Form Factor: ATX
2x USB 3.0 ports
280 mm VGA card compatible
Anti-vibration rubber pads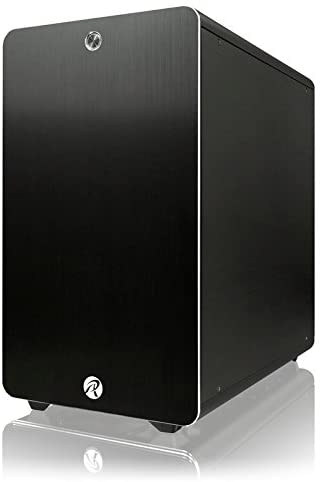 The Thetis classic is the upgraded version of the STYX model. It is better than the STYX in most aspects. Since I got the chance to use both models, I can assure you that the Thetis classic is a level up.
That said, you can label this model as a big thing that comes in a small package. It sports an indigenous design that enhances space efficiency.
It is the best option if you want to facilitate full-size components in an SFF build as a PC case.
The best part is that you can easily carry it under your arm, making it very flexible to move.
Now, when it is about the looks, it has a simple texture all over. The all-black coating may look elegant to some extent, but it may even look bland to some.
This model also sports only one case fan, which means you need to spend some additional ones on adding extra fans. But the single fan that it possesses performs well enough to its potential.
The aesthetic of this case is also alluring. Maybe it is not the best of class, still good enough to catch your eyes.
Also, the airflow is limited due to some reasons like lousy cable management. That's why heat gets trapped when the loads are high. As a result, in some situations, performance isn't up to the mark.
Lastly, I wouldn't suggest this PC case to the newbie builders. Only those pro at building gaming rigs can make the best of this particular PC case.
Pros
»

Takes less space

»

Inexpensive

»

Easy to carry
Cons
»

Cable management is hectic

»

Heat gets trapped

»

Limited airflow
4. Be Quiet! Dark Base Pro 900 Rev.2
When it comes to PC cases, why should a brand be Quiet! would miss out.
As a brand, be Quiet! has made a name for themselves with top-class PC components. I am a massive fan of their cooling solutions and PSUs. The ones that I used from them always turned out to be efficient.
Now, coming to the PC cases, they do have some top-end models. And the model that we are talking about is one such.
The Dark Base Pro Rev.2 comes with some fantastic features as following:
Form Factor: Mid-Tower ATX
Expansion slots: 8
3x Silent Wings 3 PWM fans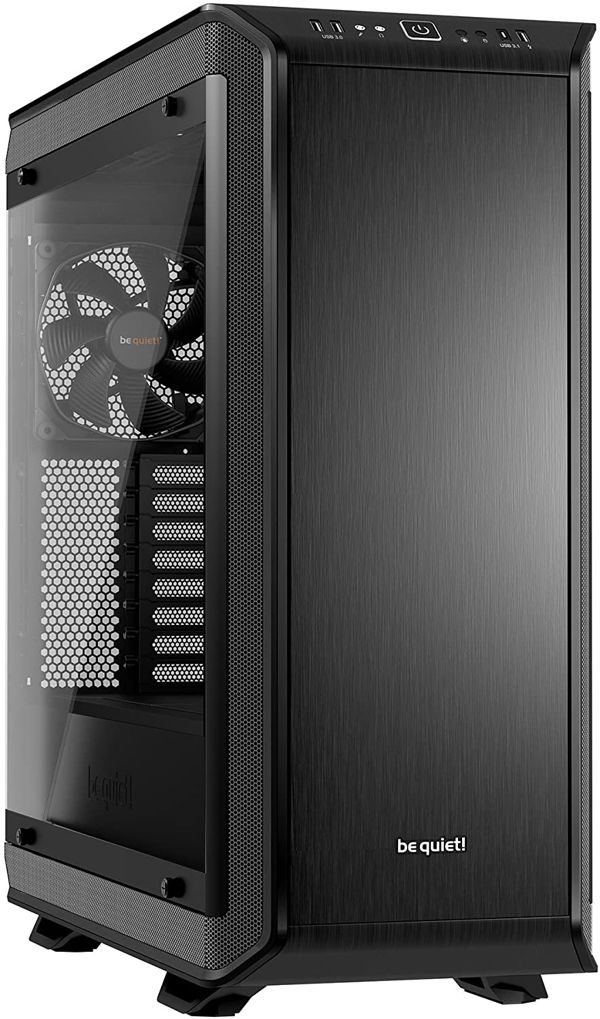 As a PC case, it's the upgraded version of the Dark Base Pro 900, which itself was a class-leading option. It was well-revered in terms of design and build quality. And the Dark Base Pro 900 Rev.2 is precisely the with some additional features and some new bling.
The best part is that this PC case gives you the option of building something compact with many uniqueness.
To be honest, it's pretty heavy compared to the other contemporary compact PC cases. A staggering weight of 14 kg is pretty much high… isn't it?
And that is mainly because of the aluminum and steel buildup.
The main aim of this PC case model is simple. It wants to give you the chance to include everything you need. It has ample space so that you can't complain about missing out on components. Also, this PC case model would help to ensure proper ventilation.
There is enough space for radiator mounting and also for the tubing for the custom loop cooling solutions. The flexibility you'll get in tubing or installing pumps and reservoirs is unprecedented.
Therefore, if you prefer custom loops in your system, the problem is already solved.
Do you know what gives it an edge over its previous version?
It's the updated I/O ports, faster fans, and the PCB that enables more RGB lighting.
Also, the addition of the black strips on the side panel of the window makes it look quite attractive.
Now, this PC case is also highly modular. If you don't like the PSU shroud and want to remove it, you have complete autonomy. You can even invert the motherboard or shift the rear trays with utmost ease.
And all of these traits enable you to have your personal touches on the build to a great extent.
However, this PC case isn't that good for holding any AIO cooling solutions. Also, compared to the previous version, it doesn't offer many storage options. Apart from these things, a few of my friends told me that the PSU mounts baffled them. But I didn't find any issue with mounting.
Moreover, it's one of the finest Inverted ATX cases that you find at a reasonable price. If you are a PC case modder, I am sure that you'll like this model. Ignoring a few issues, in my opinion, it's definitely worth a shot.
Pros
»

Top-notch build-up

»

Modular chassis

»

Ample amount of space

»

Flexible cable management
Cons
»

Less storage mounting options
5. Coolermaster Cosmos C700P
It would be a sin to miss out on Coolermaster when talking about the best Inverted PC cases.
As a brand, Coolermaster offers a wide range of components. Their cosmos line offers the best of the best models, and this model we are discussing here is a heavyweight option.
It sports the following specifications:
Form factor: E-ATX Full Tower
Alternative rear panel
Versatile layout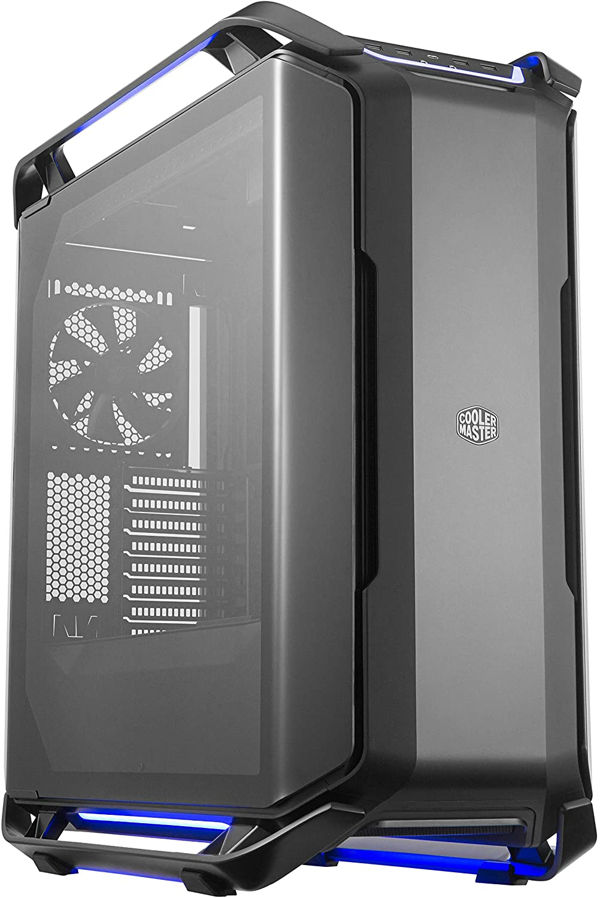 This PC case is humongous. It weighs around 22 Kg, which speaks a volume about its size and stature.
That said, it is made up of high-quality materials, making it one of the most durable inverted PC cases out there in the market.
From Coolermaster's perspective, this is the most modern take on this line of PC cases. Through this PC case, I would say they have introduced a class-leading model after a very long time.  What you will like the most is its highly customizable chassis.
Also, whenever you feel that you need to change something, this case offers you that flexibility. You can easily shape your build based on the ever-changing hardware dynamics.
It can't get better than this. Isn't it?
But that's not enough. This PC case has more to offer. It comes with very high modularity. That means you can simply set this case apart with minimal effort. As easy as it gets. The best part is that you can place the HDD trays anywhere around the rack.
In this regard, the only issue you might face is while changing the GPU. It"s a pretty complex process, to be honest.
The exterior of this inverted PC case looks dashing. If I compare it with the original Cosmos Line of PC cases, there is an upgrade. In this version, you would find USB 3.1 Gen 2, absent in the previous models.
I found the built-in lighting to be overwhelming. It looked great when I tested this PC case powered on with components.
However, the only thing you'll find mediocre is the fan controller. The traits that this controller sports are pretty basic.
Other than this, this inverted PC case sets the bar top high for other models. It's definitely worth the money you would be spending on it.
Pros
»

Highly modular

»

Top-notch build quality

»

Built-in RGB

»

Lots of space for radiators
Cons
»

Heavy

»

Fan controller with limited features
6. Dark Flash DLX22 Neo
Now, let me talk about a PC case that might be a viable option to many.
It is a model from Dark Flash, which can be your ultimate PC case for left-side setups.
It comes with the following specifications:
Form Factor: Mid-tower micro ATX
Expansion slots: 7
Independent PSU shroud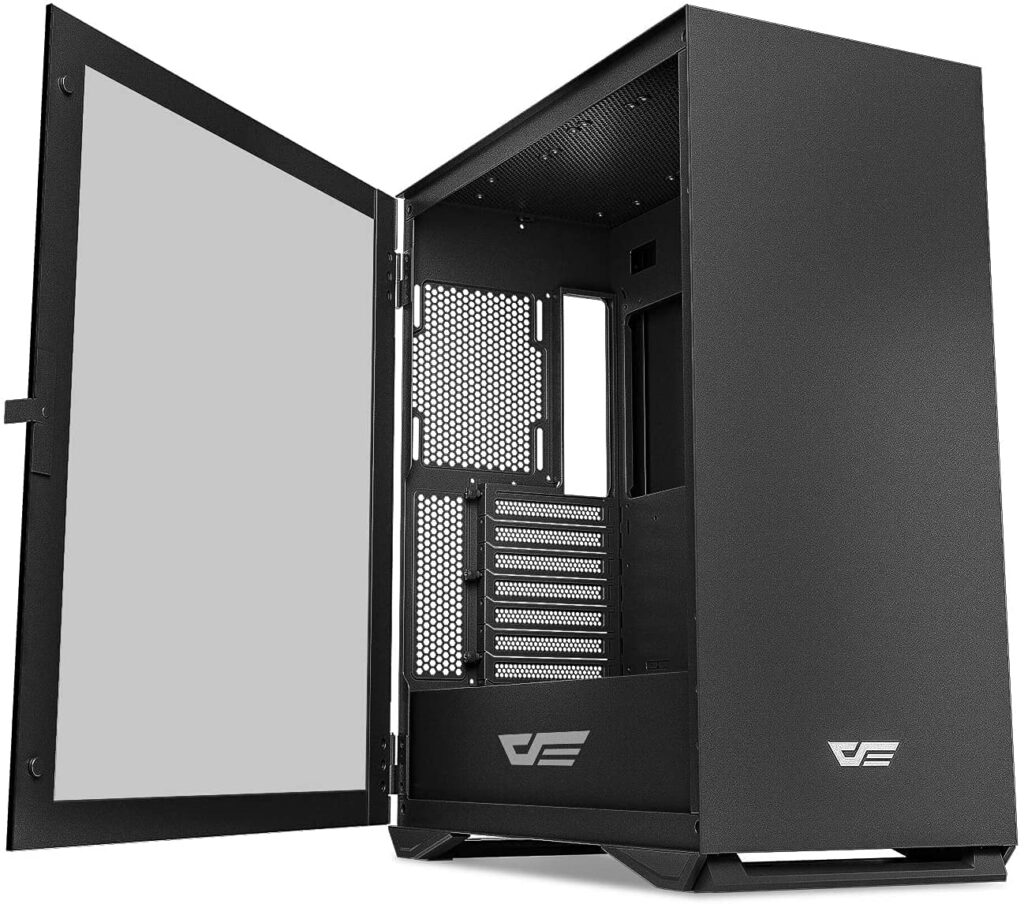 Firstly, let me talk about its design. To be honest, if you are a minimalist, I can assure you that you will like this PC case.
It looks straightforward and clean. That is why at first glance, you wouldn't find anything that would be a standout feature.
The front panel present in the case is made of steel and is quite flexible to pull off. And that said, the chassis stands on plastic feet.
What will amaze you the most is its sturdiness. This PC case is by far the most sturdy one on this list.
Also, the powder coating all over the PC case is implemented very well. Eventually, it makes the whole thing scratchless to some extent.
The best part is that there are ample cable management holes around the space of the moboard. That is quite amazing, considering it is an affordable option.
Since it is within the range of affordability, the water cooling support that it gets is simply outstanding considering its size.
Other than this, this case has enough outlets for air ventilation. The humid air can pass through quite easily.
As for my opinion, I won't suggest this PC case for creating a rig with high-end components.
But as a regular option, it is an excellent deal.
Pros
»

Easy to set apart

»

Excellent rigidity

»

Budget-friendly
Cons
»

Not for a high-end option
7. Be Quiet! Silent Base 802
We all know that be Quiet! is a top brand for CPU components. It doesn't need any elaborative introduction.
That said, this particular PC case from them is one of the best you can get.
It comes up with the following features:
Number of slots: 9
Form Factor: Mid-tower ATX
3x Pure Wings 2 fans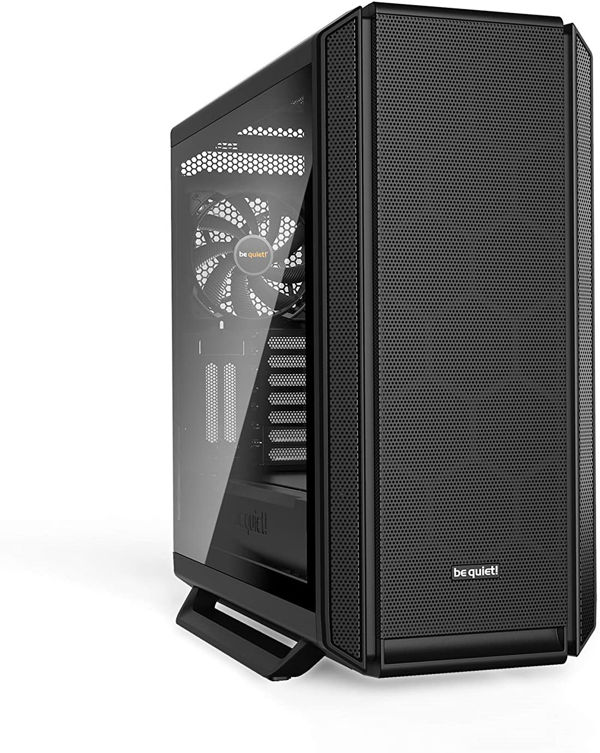 This model is the upgraded version of the Silent base 801. In comparison to it, the interior structure and the design for this model are the same.
Be Quiet! mainly focuses on the exterior as it provides much flexibility.
I found the texture on the whole body decently done. One of the best parts about this inverted PC case is its buildup.
It looks and feels very solid, to be very honest.
You'd love to install the components inside this case. As it provides you enough space so that the whole process turns out to be smooth.
The cable management is also terrific, in my opinion. There are many cutouts, which helps to keep the interior of the case neat and clean.
You can only complain about this inverted PC case because it is more expensive than its previous version.
It is a perfect option to go with, especially for the high-end components.
Pros
»

It comes with ample space

»

Enough storage mounts

»

Durable buildup
Cons
»

Pricier than the previous version

»

Some may not like plastic elements
8. Darkflash V22 White
As a brand, Darkflash stands for innovative products. They are one of the few companies that are producing inverted PC cases.
This model from them has the following features:
Expansion slots: 7
Form Factor: Mid-tower ATX
Hinged tempered glass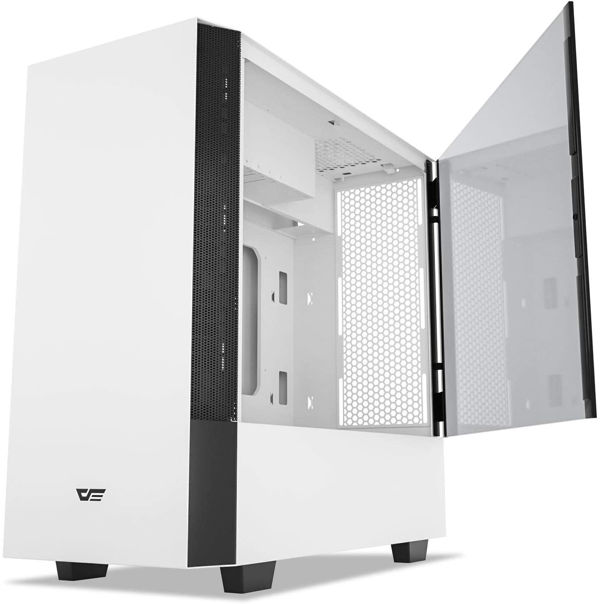 You can find the touch of NZXT and fractal design in the styling of this brand. They almost follow similar patterns. And that is a good thing because they all look good. Aesthetically, this model is by far the best iteration from this brand. It gave me the vibes of something a high-end brand like Apple would make. The elegance in the whitish touch looks very soothing.
You will like the cable management features of this case. They are very well implemented so that no one has any grounds for complaints.
What's more interesting is that the glass panels have some great fastening methods supported by magnetic clips. Also, the part for the motherboard is spacious enough.
Now, if you talk about your system's performance using this case, I can assure you that it would be decent enough. The acoustics are commendable, and the heat also doesn't often get trapped inside.
Overall, this inverted ATX case looks refined. Its luxurious design is quite alluring to the eyes.
However, custom cooling is a no for this particular PC case. Better if you choose liquid cooling.
Pros
»

Classy design

»

Decent cabling

»

Magnetic clips
Cons
»

The front panel is stiff

»

Not for custom water cooling
9. Seasonic Syncro Q704
Seasonic, as a brand, is well known for its top-class PSUs. In fact, they have gained all their fame by positioning as one of the leading players in the PSU market.
However, they have experimented with other components. And this inverted PC case is just one of them.
It comes with the following features:
Removable air filters
4x Nidec fans
Expansion slots: 7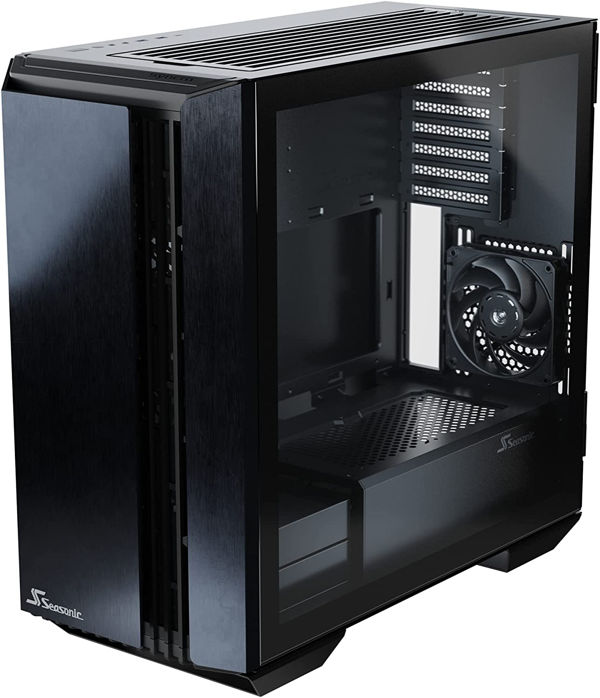 Since it's an inverted PC case, like every other option, it's a bit unusual. But if I have to point something out, in particular, I would say the way the cable runs to the motherboard and the GPU is quite interesting.
That said, it has an awesome cable module that eases the whole cabling process. Everything starting from the construction, aesthetics, and even the I/O panels everything is of top quality. The dust filter is also of the topmost quality, which is pretty easy to clean and remove.
The best part of this PC case is the 4x pre-installed Nidec fans. These fans are the best of class and help significantly in the cause of flowing hot air.
When I tested this PC case, I found that they move the air efficiently, eventually enhancing the cooling.
It almost leaves little or no room for complaints.
But if you seriously have to point out some issues, I would say that the HDD brackets of this case are stiff to remove. It often gets tough to get access to HDDs.
Also, you might find the placement of the GPU quite odd. But as far as cooling solutions are concerned, it supports both custom loop and AIO.
Ending up, the price of this inverted ATX case might not please people looking for budget options. But if that's not a problem, it's good to go with.
Cons
»

Price

»

HDD brackets are tough to remove
What is an Inverted PC Case?
A PC case is called inverted when it sports an inverted layout design. In this type of PC case, both the motherboard and the components are installed to face downwards.
Therefore, you can say that an inverted case is something unconventional that is mainly placed on the left side of your workstation or desk.
Types of Inverted PC Cases
Before buying an inverted case, you need to know its characteristics quite thoroughly. However, inverted PC cases can be of various types, so that the traits may differ.
Here are some of the prominent types of inverted PC cases that you can buy:
Standard Inverted Case
When an inverted PC case has a typical inverse layout in the interior, it can be called a Standard Inverted Case.
That means it is the PC case where inside per motherboard, another component related to it is mounted upside down. To sum up, it is that kind of a case where simply you can traditionally mount the motherboard.
Flipped Inverted Case
In this type of PC case, you will have the ability to flip it upside down to get an inverted layout. The best part is that you will have the freedom to make a choice.
That is, depending on your liking or taste, you can just make the placements of the component and the PC case.
And Do you know the reason behind it?
It's just that these PC cases sport a symmetrical design that allows this sort of flexibility.
This type of PC case may not enable you to have the same benefits that you will get on a model with the proper inverse layout. And that is because the initial installation and positioning of the components remain similar.
The only edge you will get with this PC case is placing it on the other side of your desk or workstation.
Also, there is no issue with a clear view of the transparent window panel from both these sides.
Modular Inverted Case
These types of inverted cases are the expensive ones. In this type of model, you will find multiple designs with different layouts.
That is, it can have either a regular layout or even the inverse one.
Some options offer rotatable 90-degree layouts. Moreover, this type of PC case model is highly modular and offers flexibility to the highest standard.
Advantages of Inverted PC Case
The most prominent advantages of the Inverted PC cases are listed below:
Enhanced Airflow
For your CPU's better performance, you need to ensure that the temps inside it remain at an optimum level.
That said, it is only possible when there is a proper circulation of air out of your system.
Airflow for a PC Case is crucial. If pressure doesn't come inside, then there are possibilities of some adverse situations. Without proper airflow, the fans will produce hot air again and again in a loop. As a result, the cooling performance will become lackluster, eventually affecting the CPU performance.
Now, most PC cases with unconventional layouts offer better airflow performance than those with standard layouts.
You want to know the reason, then listen. In most of these models, the fan in the front is placed in a way so that they can blow cool air right at the main components like GPU, CPU, RAM, etc.
The best part is that most of these PC cases don't have a hard drive tray or even the PSU in the space between the moboard and frontal fans. This eventually results in a better cooling performance due to direct airflow without any kind of hindrances.
Also, if your case possesses a graphics card supporter, you don't make sure that there is any kind of obstruction with the graphics card fans.
Styling
If you want something unusual and unconventional, there is nothing better than an inverted PC case.
Because most users go for the regular ones as they don't have enough knowledge about these cases or just want to take the hassle.
When you build a setup using this type of model, your gaming rig becomes the center of attraction.
Lastly, all I can say is it is something fancy or show-off among your mates.
Left side Setup
There can be situations when you don't have much space left on the right side of your desk. Then you would have no other option other than placing it on the left side.
This is where inverted PC cases come into play.
Through this type of model, you can view the transparent window panel from the right side. As a result, it gets easier for you to enjoy the view of the RGB component inside, which isn't possible if you had used a regular PC case.
Acoustics
Most of the PC cases with inverted interior offers better acoustic performance than the ones with traditional designs.
The reason is simple. Inside the inverted PC case, the dynamics are vastly different compared to the regular ones. And since the components have direct airflow in some situations, it dramatically affects the system's overall cooling.
For the regular PC cases, it is not the same. In most situations, the components don't have a direct airflow. That is why cooling takes time, and the fans run faster to meet the deficit.
The result is what you know—a more noisy situation due to increased loads. On the other hand, for the inverted PC cases, there are no such issues.
Why buy an inverted PC case?
There are a lot of reasons that can motivate you to buy an inverted PC case. Firstly, if you don't have enough space on your workstation, you need to shift to the left. This is where a PC case with an inverted layout can help you.
There are a lot of manufacturers who add the side panel windows on the left side. They do it based on the notion that everyone would place their PC on the right side of their desk.
But when the situation is such that you have a small space or your desk isn't wide enough, you can't use a regular model.
However, an inverted PC case can be the optimal solution in this regard. You can just put it on the left side and get a clear view of the components.
Secondly, these types of models look very cool and influence the overall performance of your system.
You might question how it influences the performance?
The reason is simple. When you have your GPU on the top part, hot air is eventually flowed out quickly with the help of case fans. However, this is not the situation for any regular setups. Thus there is a slight influence of the case type on the overall cooling.
And lastly, inverted cases give a better view of components than the regular ones.
Is an Inverted PC Case worth it?
Buying the proper PC case matters a lot. You would always want to pick a PC case that meets your needs perfectly and has ample space for enough hardware.
There are PC cases that offer a lot of innovation while some do not. Everything matters while choosing because it would affect the performance of your build at the end of the day.
Now, you already know about the advantages of inverted PC cases. But the question remains, whether it is worth it over a Case with a regular layout.
To answer this, you have to look into various aspects.
First of all, the size of the PC case matters when you're buying it. And just like the conventional models, all of the sizes are available for the inverted PC case. Be it ATX, mATX, or even E-ATX, you will find every type of option.
Another thing is considering the type of cooling solutions you can accommodate. Fortunately, the inverted PC cases can hold all types of cooling solutions. You would find models that can sport all types of solutions, and some models can hold particular types of options.
All you need to do is make a firm decision about what type of cooler you want to include.
Lastly, the pricing decides everything. Compared to conventional models, inverted cases don't really differ in terms of pricing. Be it high-end or budget, you would find every type of options.
To sum up, all I can say is that Inverted PC cases are definitely worth it. Given the pricing and advantages, I assure you that you won't be disappointed.
Final Thoughts
Inverted PC cases are some of the coolest options that you can choose to build your gaming rig. These are awesome, in my opinion, when you consider the uniqueness they offer.
In this review guide, I listed down the fines inverted ATX PC cases that you can find in the market. After my research and testing, I rate the Coolermaster Cosmos C700P as the best-inverted PC case you can get on the market.
However, the other options are also good in their ways. If you consider the be Quiet! Dark Base Pro 900Rev. 2, it is the best modular case you can get. The Silent Base 802 from the same brand stands for utmost flexibility. And the rest of the models from the list also offer various specializations.
But you need to select a specific option, which I hope you'll successfully do after reading this guide.
As I conclude, if you feel confused or are unsure about anything, do let me know. I am always there to solve your issues so that you get a better experience.